This
article
was originally published on
this site
You have a lot of options when it comes to deciding on a website platform. There's Squarespace and Wix and Weebly and Joomla and WordPress and Drupal and…lots more. While that choice can be overwhelming, two of the main contenders for a content management system (CMS) for a lot of people seem to be WordPress vs Drupal. Both were released pretty concurrently around two decades ago, but WordPress was a blogging platform versus Drupal beginning its life as a CMS. Over time, WordPress has moved into overlapping a great deal with Drupal, and we want to help you choose between the two platforms by comparing them head-to-head.
WordPress vs Drupal: Who are They For?
When it comes to WordPress, the platform is easily accessible to anyone. Between the WordPress.com version where you can get a free site with limited functionality and a yoursite.wordpress.com domain, it takes very little effort to get started. Even the self-hosted WordPress.org that we're going to be discussing in this article has a quick install from most hosting companies.
Drupal actually hits this same demographic, only without the .com version. It's a free, open-source platform like WordPress, and most hosting companies have a quick installer within their site tools. It's very easy for anyone to get set up. But while WordPress's interface and messaging helps many new users acclimate to their new dashboard, Drupal doesn't have great messaging.
Both platforms, however, offer a modular experience that grants users the flexibility to create the site they want by extending features and design through plugins and add-ons. WordPress does this in a slightly more user-frendly way, while Drupal tends to be more aimed at users who are experienced in web design in some capacity.
WordPress vs Drupal: Ease of Use
Over the past few years, WordPress has come a long way in terms of user-friendly design and experience. Drupal, despite a lack of initial messaging on how to navigate and make use of the platform, has a fairly low learning curve for anyone who has a bit of experience administrating a website backend.
WordPress
Learning WordPress is much easier than it once was. With the plethora of blogs and tutorials out there, users who are confused about any aspect can learn quickly and easily about any topic. Which is great because when opening up the dashboard for the very first time might be a tad overwhelming.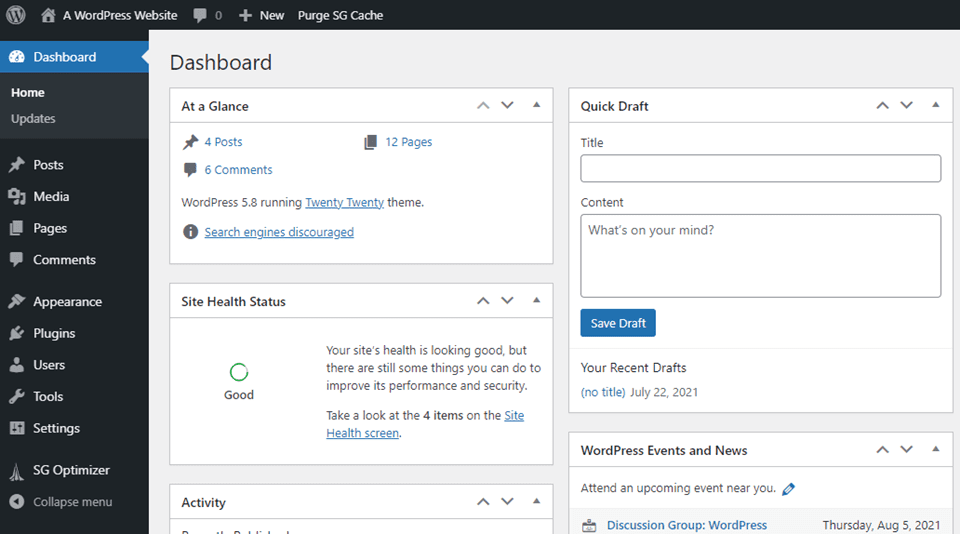 In general, the dashboard is easy to navigate and relatively self-explanatory. However, it can take some time to get a feel for where things are and under which heading certain settings and options live. It can be a little frustrating to figure out which settings are under the Settings tab, which functions live under Tools, and which options are in the Theme Customizer and which are contained within the theme or plugin settings themselves.
Eventually, those confusions work themselves out as you use the platform. But on initial use, you might occasionally be a little flustered.
Of course, the real question regarding WordPress's ease of use is dependent on what kind of site you intend to create. Because WordPress can create any kind of site, the theme and plugin suite you choose will drastically affect usability. If you use WooCommerce, lots of extensions, and various forums and user-management plugins to run a membership site, your learning curve and ease of use dramatically increases over a more simplified website focused on simply content creation.
For the most part, though, WordPress has a low-to-moderate learning curve and even those without lots of technical expertise can find user-friendly themes and plugins to walk them through the process of creating and managing their sites.
Drupal
Users just get kind of dropped into Drupal. Luckily, the interface is actually rather intuitive and well-labeled, though there is no initial messaging on where to go to begin.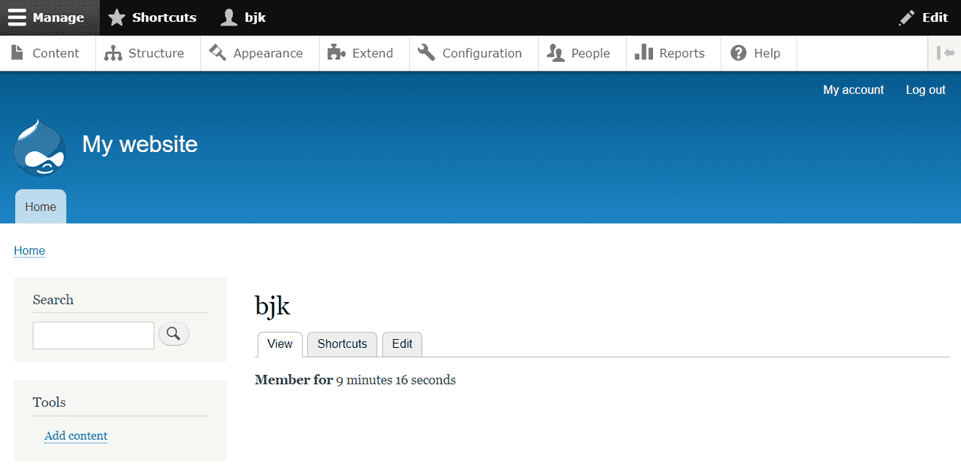 However, even from the first time you log in, there are Add Content links. And, like WordPress, a menu invites you to Extend via modules and customize with different themes. Users have access to the Structure tab. This actually solves one of WordPress's biggest stepping stones for new users. It consolidates the various options and settings for site construction in one place instead of having them spread out and compartmentalized.
The downside to this consolidation is that using any of these settings is a bit more technical than in WordPress. If you're coming into Drupal with no web experience, both the interface and terminology used can be a little off-putting. However, if you're used to various web admin back-ends, learning and using Drupal's is a big step up from other platforms such as Joomla.
WordPress vs Drupal: Customization
Everyone wants a nice looking website. That goes without saying. So the customization options for design are definitely something to take into consideration when looking at WordPress vs Drupal. You also have to think about the customization of features, too. And how easily you can create, launch, and then modify the kind of site that you want. Be that publishing, ecommerce, membership, or anything else you might need.
WordPress
WordPress is about customization from the ground up. With plugins being a major part of adding features and design elements, you can create (or download and install) any and all features your website could ever need. Additionally, the theme-based structure for design gives designers and developers free rein on their creations.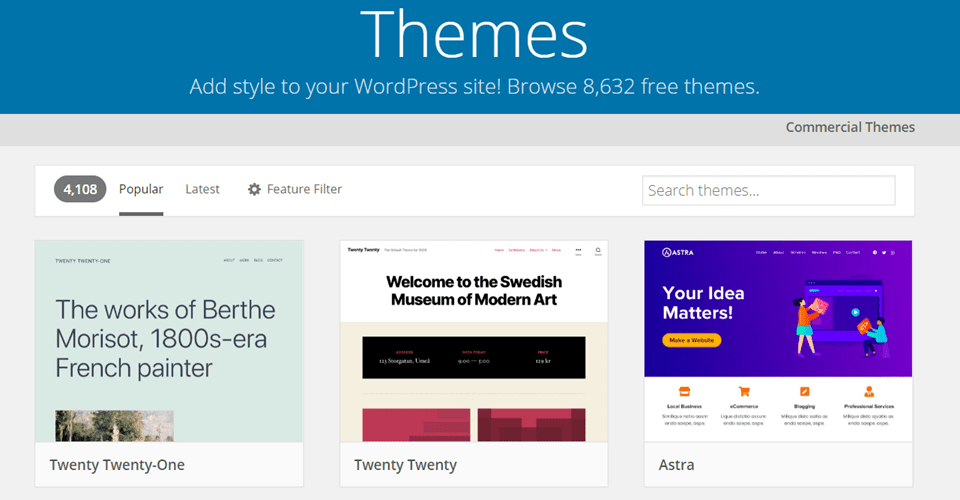 With a whole industry having sprung up around the plugins and themes in WordPress, you can be sure that someone has created the perfect theme and plugin for you. You just have to find it. Some of them are free (or freemium) through WordPress.org repositories, while others are premium products you can license directly from the developers or through marketplaces like CodeCanyon.
Either way, there are no limitations in the WordPress world. Users with zero technical experience can create amazingly designed websites using page builder themes/plugins like Divi and add any functionality they can think of through plugins like WooCommerce, MemberPress, GiveWP, PublishPress, GamiPress, or literally thousands of others.
Drupal
Like WordPress, Drupal is a modular CMS that relies on external developers to help provide what users need. With that in mind, it's incredibly easy for users of pretty much any skill level to extend Drupal to fit their needs.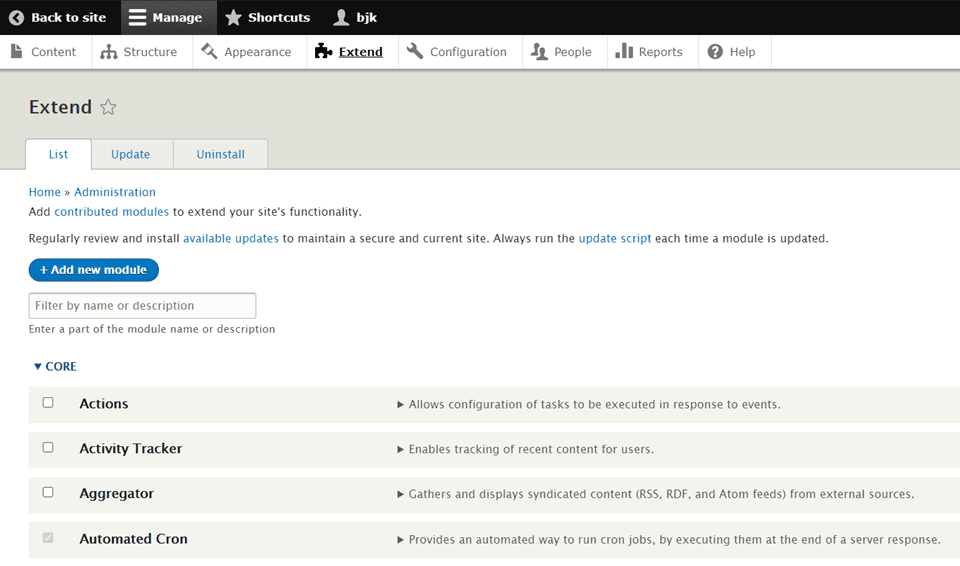 With a large Add New Module button dead center of the page that takes you directly to the Modules tab in the extension library, Drupal makes it easy on you to find what you need.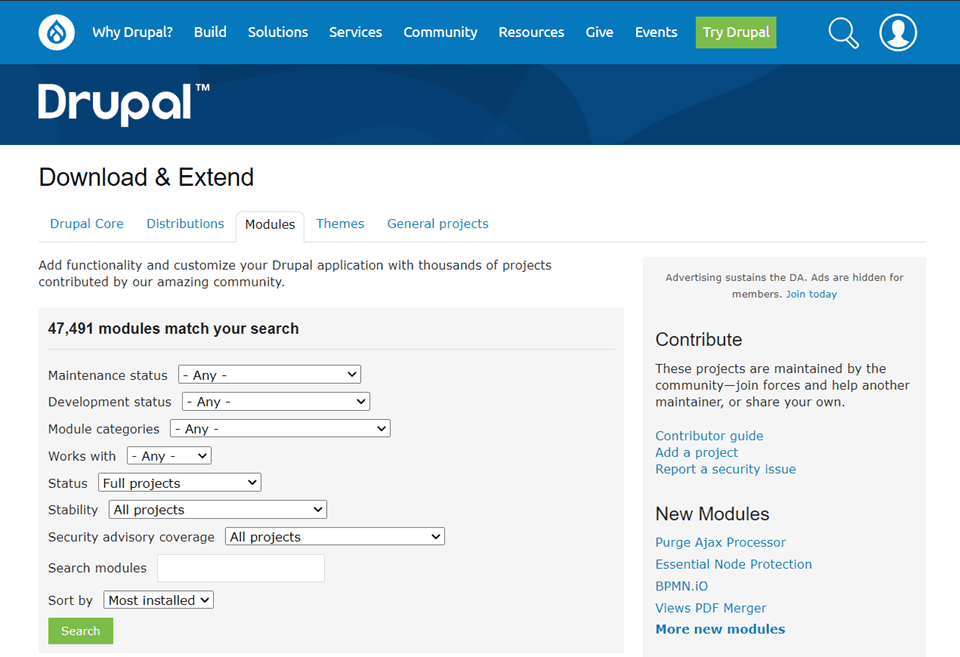 The Themes tab is directly beside the one for Modules, and it works in much the same way. The themes that developers have created for Drupal are great, but many of them do require a lot of technical knowledge of CSS, JavaScript, and HTML to really get in and make them shine. While page builders and drag-and-drop editors are becoming standard among WordPress sites, Drupal themes generally take a more manual process.
That said, the installation process is the same for both WP and Drupal. You download an archive file, go back to the dashboard, upload it, and activate it. You can't do this automatically from the repository in Drupal, but if you're a command line user, each page has an installation command you can paste in using Composer.
It comes down to how comfortable you are with design and knowing what you need for your site. If you go in with a clear design and functionality plan, Drupal is pretty simple to handle. But if you're piecing it together as you go, the interfaces and community in WordPress may be better suited for you.
WordPress vs Drupal: Publishing
You can't have a website without content. And in some way or another, you're going to be creating content for your website. Even the most barebones sites have pages and pages of content that has to get there somehow. WordPress always has an advantage in publishing content because of its roots as a blogging platform. However, Drupal isn't that far behind because of how easy and well-designed the publishing tools are.
WordPress
WordPress is all about publishing. Over the past few years, the buzzwords from Automattic and the WordPress foundation have been "democratize publishing," which pretty much sums up their stance. While WP is absolutely a capable and well-crafted CMS that can handle any sort of site, all the functionality used on those sites comes down to being based on posts and pages.
Publishing in WordPress, be it a post or a page or even a product in your ecommerce store, comes down to using either the Classic Editor or the Block Editor and any number of meta-boxes and custom fields in a custom post type.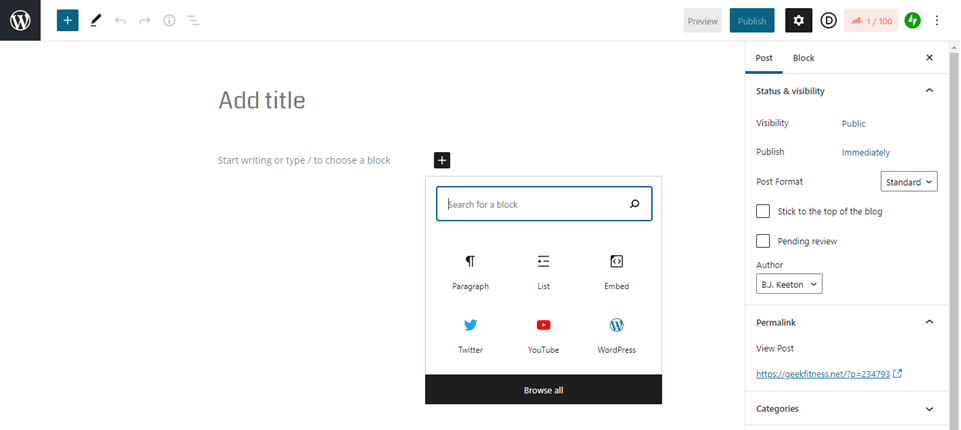 Additionally, you can separate and categorize your content in WordPress using parent/child taxonomies and tags. No matter how you want to display your content, you can. Different themes come with various post/page templates, too, so you can often set your content to look differently based on what focus it has. You might have specific templates for posts with audio or video players, for instance.
And the publishing options only expand when you introduce advanced themes and plugins. It's very hard to get lost in publishing with WordPress because it is very simple. That said, the Block Editor that comes in WordPress by default after version 5.0 is not a WYSIWYG editor with an interface like a word processor. That is a bit of a bump in the publishing workflow until you figure out how it works.
After that, it's pretty smooth sailing.
Drupal
Drupal uses a WYSIWYG editor for its content, and it works great. You will find that a Content menu item in the main dashboard. The next page is well-messaged. and you know exactly what kinds of content you can make. Basically the same as WordPress: posts and pages.



The editing pages are clean and concise, and writing content is absolutely no problem. We ran into no issues in pasting from Google Docs, either, which can be a pain in WordPress.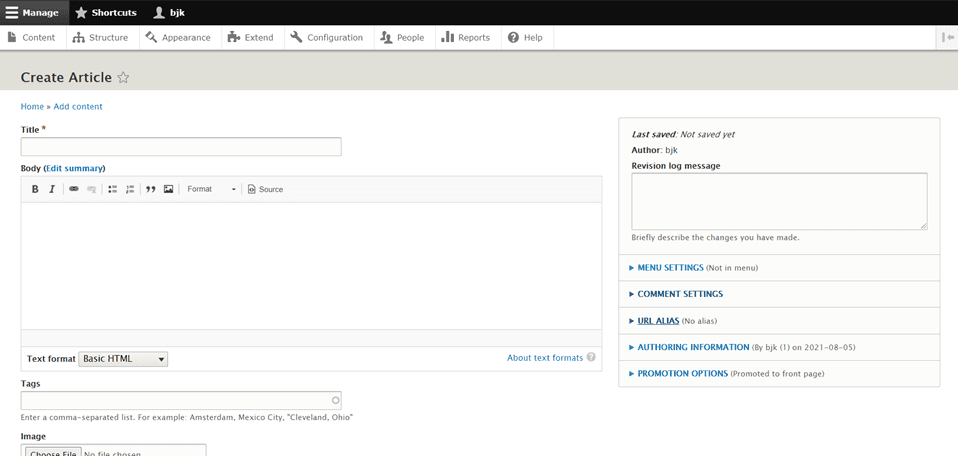 All of your options are available in one screen, and they're easily navigable. If you need to customize the categories and taxonomies on your site, you can do that under the Structure menu, as we mentioned above.
Also, Drupal has an amazing feature that we wish WordPress would add in: the revision log message.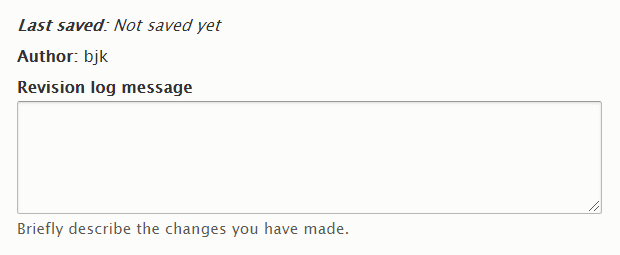 Like a commit message in GitHub or a comment in your code, you can leave a quick message about what you fixed in this update. If it was grammar and mechanics or substantial changes, it goes here. These notes are not for public readers, but instead for your team (or yourself) when looking back and seeing the history of an article or page. This is an amazing, quality of life feature that more CMS platforms should have by default.
Drupal's publishing tools are definitely less-advanced than WordPress. WP makes creating specialized and highly formatted content a cinch. But Drupal gives you a quick, clean, and painless writing and publishing experience. And that means a lot.
Conclusion
WordPress is the easier platform to get into for beginners. The learning curve is slightly less steep, and the interface has come a long way from where it once was. You get many options for customization, and the default tools are pretty user friendly and relatively intuitive. You can make any kind of site you want, but the tools for that often come in plugins and themes, so you have to do some research, but any kind of site you want is at your fingertips with the right tools.
Drupal does have a bit more of a learning curve, and that's mainly from being a more technical product. If you're not new to website management and creation, Drupal likely won't be a challenge for you at all. It does take a bit more design and development skill to get into working order than WordPress, but the experience is smooth and painless and the platform is powerful enough to do whatever you need. Provided that you have the expertise to create it. (Or to find and tinker with the right modules.)
What have your experiences been with WordPress vs Drupal?