This
article
was originally published on
this site
WooCommerce vs Shopify is a tough match-up. Shopify claims that over 1,700,00 businesses use its platform. WooCommerce, on the other hand, has more than five million active installations. That means we're talking about two eCommerce giants, with each taking an entirely different approach to helping you build an online store.
In this article, we're going to compare WooCommerce vs Shopify when it comes to setup, payment processing, customizability, and price. Along the way, we'll tell you which eCommerce platform excels in each area, to help you decide which option is the best fit for you.
Let's get to it!
WooCommerce vs Shopify: Hosted vs Self-Hosted eCommerce
Although both Shopify and WooCommerce can help you create an online store, they offer very different user experiences. The primary difference between the two options is that one is self-hosted and the other is hosted.
Here's what that means:
WooCommerce. WooCommerce is a WordPress plugin. You can install the Content Management System (CMS) on any server of your choice, are fully free to edit the WooCommerce and WordPress code, and can use both tools for just about any type of project you want.
Shopify. Shopify is a Software-as-a-Service (SaaS) platform. It provides you with hosting, eCommerce software, maintenance, and support. That means less control over your store, but an easier setup process.
WooCommerce itself is free. However, you still have to pay a monthly or yearly fee for hosting the WordPress website that's using WooCommerce (unless you run your own server). In return, the combination of WooCommerce and WordPress gives you full freedom when it comes to your eCommerce projects: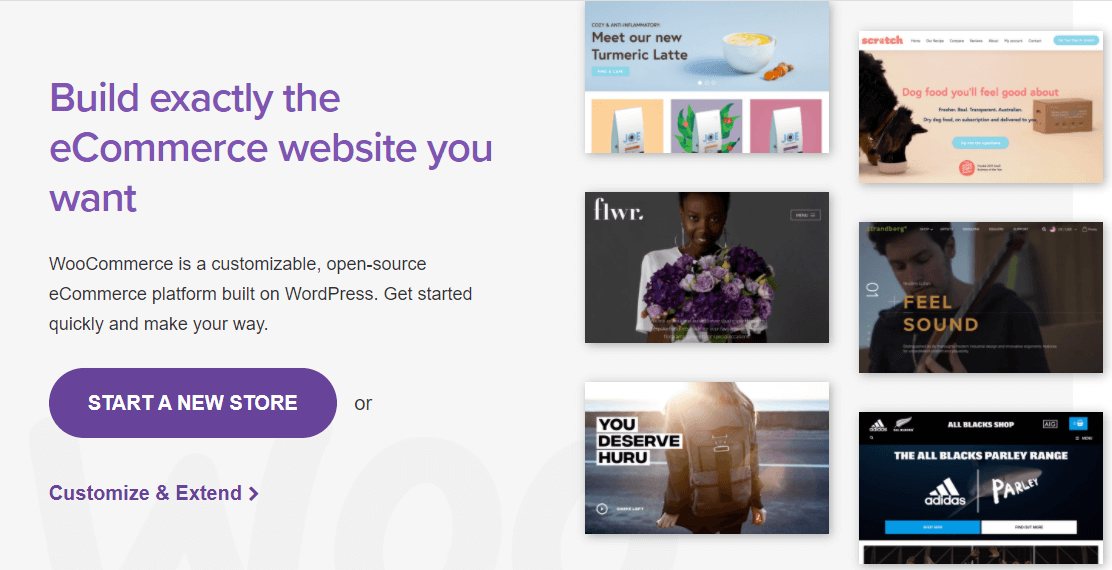 Shopify as a platform is all about providing businesses with easy-to-use tools for launching an online store. As a hosted platform, it combines all of the features you'll need in one package: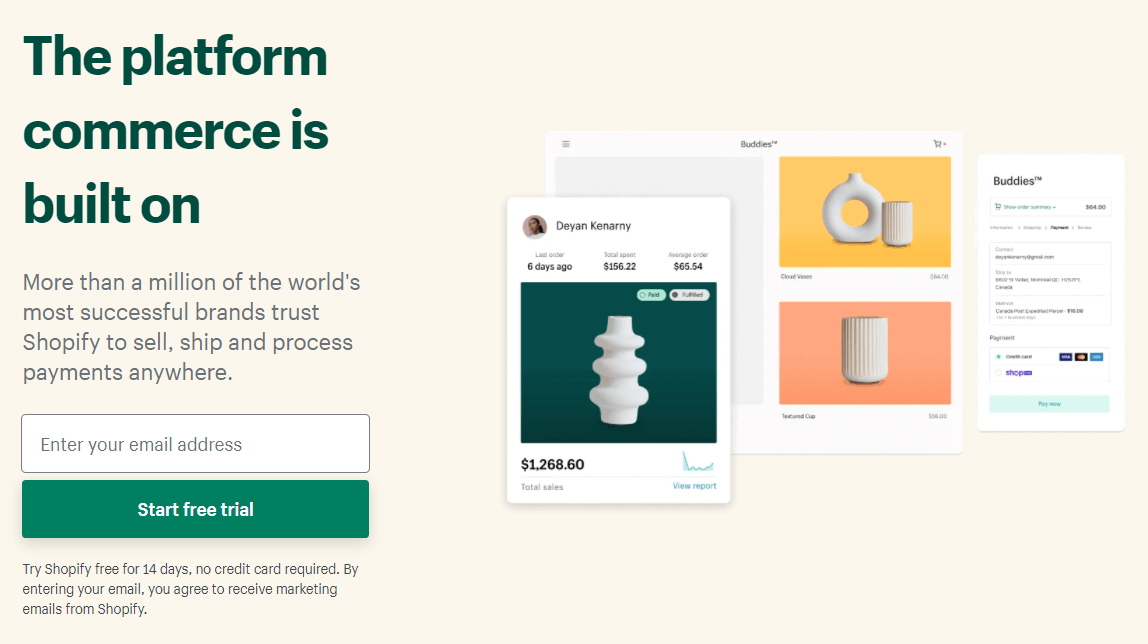 Due to its nature, Shopify is a less flexible platform than WooCommerce. However, that's not necessarily a bad thing, as we'll explore throughout the rest of this article.
Setting Up a Store in WooCommerce vs Shopify
If this is your first time setting up an online store, you'll want to know how difficult (or simple) each platform makes that process. Let's start with WooCommerce.
WooCommerce
As we mentioned earlier, WooCommerce is a WordPress plugin. This means that before you get to work on your store, you have to go through a series of steps, including:
Signing up for a hosting plan
Installing WordPress
Finding and installing the perfect WooCommerce theme
Setting up WooCommerce
This process doesn't take much time if you're already familiar with WordPress and you have a web host in mind. If this is your first time looking for a web host, however, you'll need to budget plenty of time for research.
Installing WordPress is a painless experience, and in many cases your web host will do it for you. Some WordPress hosting services offer "eCommerce" or WooCommerce plans, which is a fancy way of saying that they'll pre-install WooCommerce and some other useful tools for you.
Once you get to work with WooCommerce, the plugin will launch a wizard that will help you configure your store and set up some basic pages for it: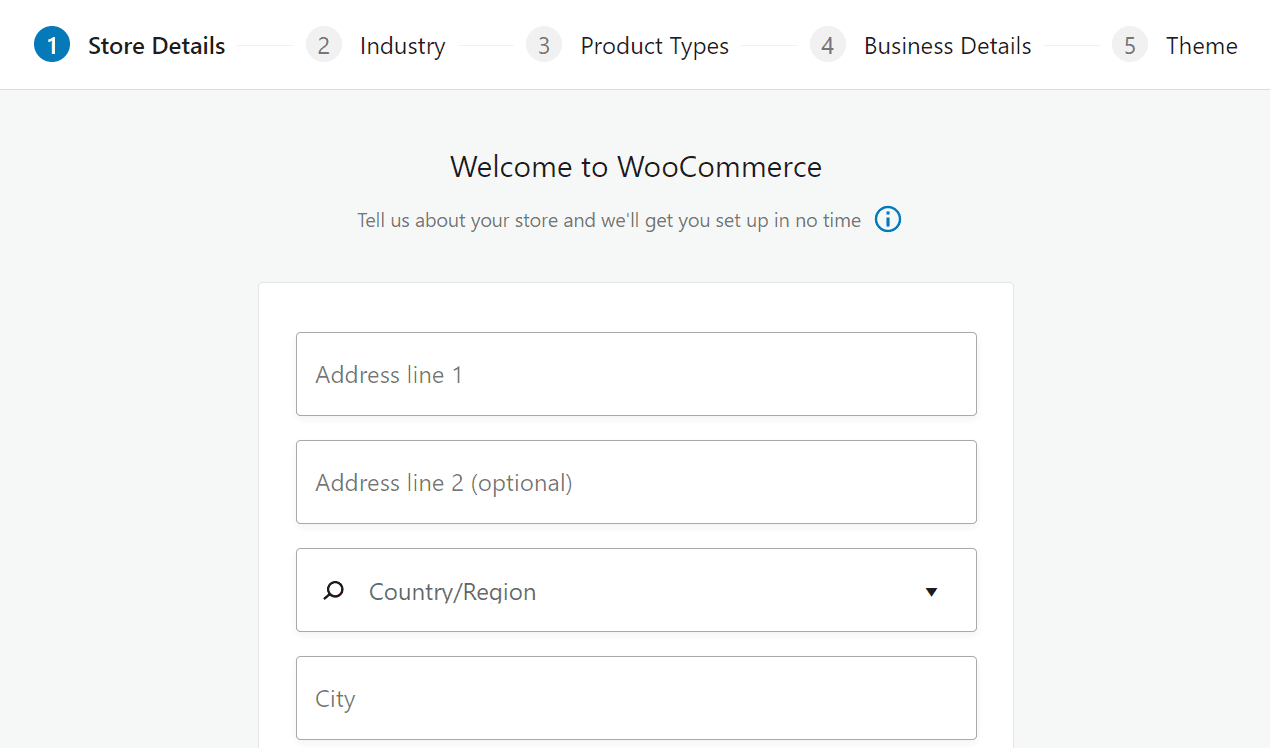 After your store is ready to go, you can start adding products. The plugin adds a Products tab to your site's dashboard, and lets you use the WordPress editor to set up new products for your store:


Overall, adding new products to WooCommerce is simple, but it's not as "visual" a process as with some other eCommerce platforms.
Shopify
With WooCommerce, you have to go through several steps to get your store up and running. When you're using Shopify, the process boils down to two parts:
Signing up for a Shopify account
Configuring your store
When you log in for the first time, Shopify will ask you a few basic questions about what kind of project you're working on: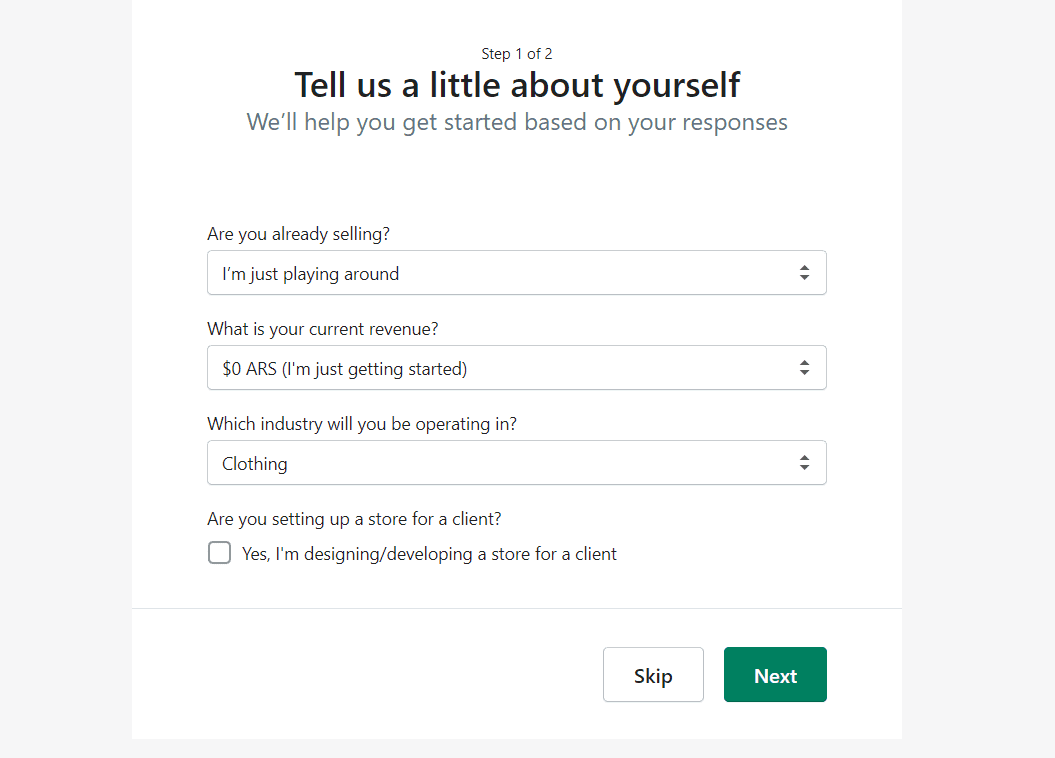 Shopify will also ask you for some personal information, which it needs to process your store's payouts. As soon as you get to the dashboard, you'll be able to start adding products. Overall, the Shopify product editor offers a more streamlined experience than WooCommerce does: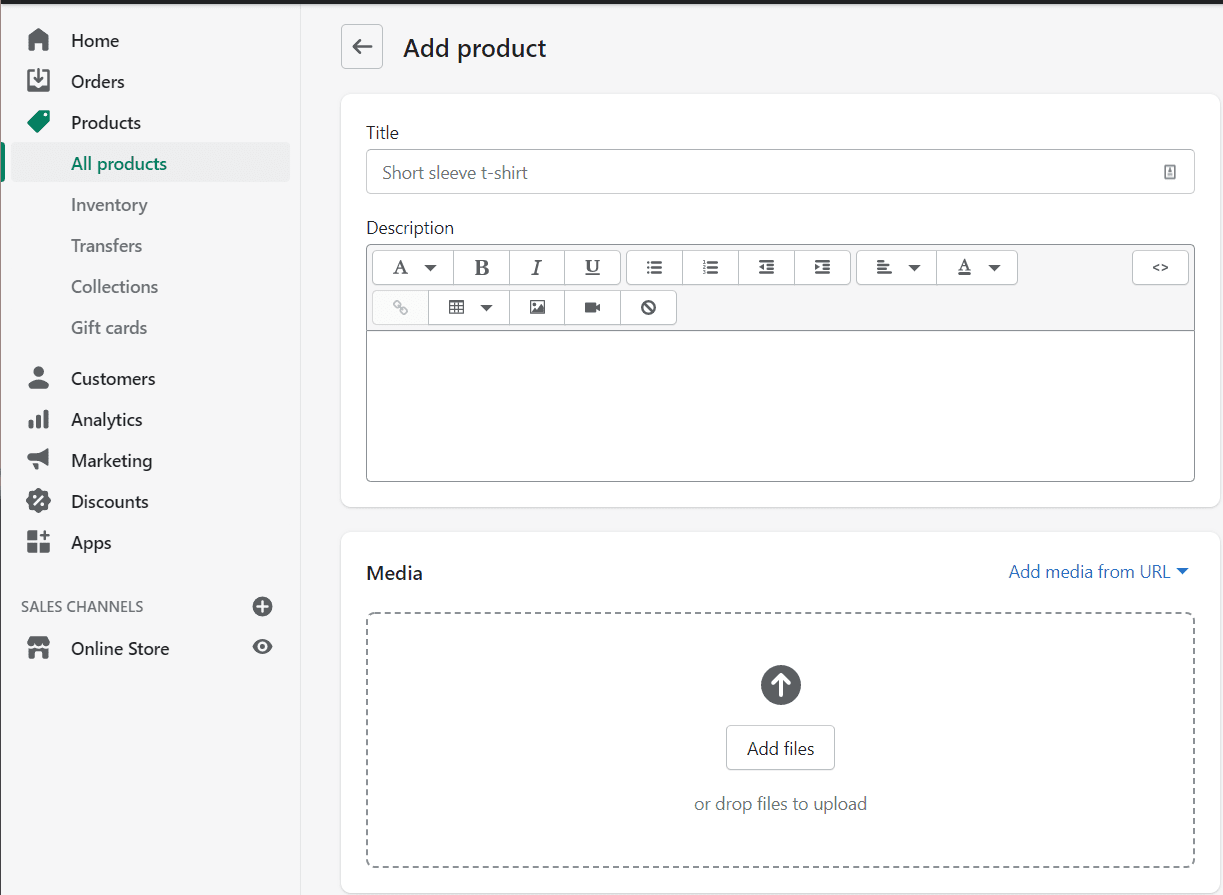 Both Shopify and WooCommerce enable you to add a lot of details for each product in your store. You can specify prices, set up Stock Keeping Unit (SKU) numbers, track stock, configure shipping, and more.
One standout feature that Shopify offers is built-in basic Search Engine Optimization (SEO) options for products: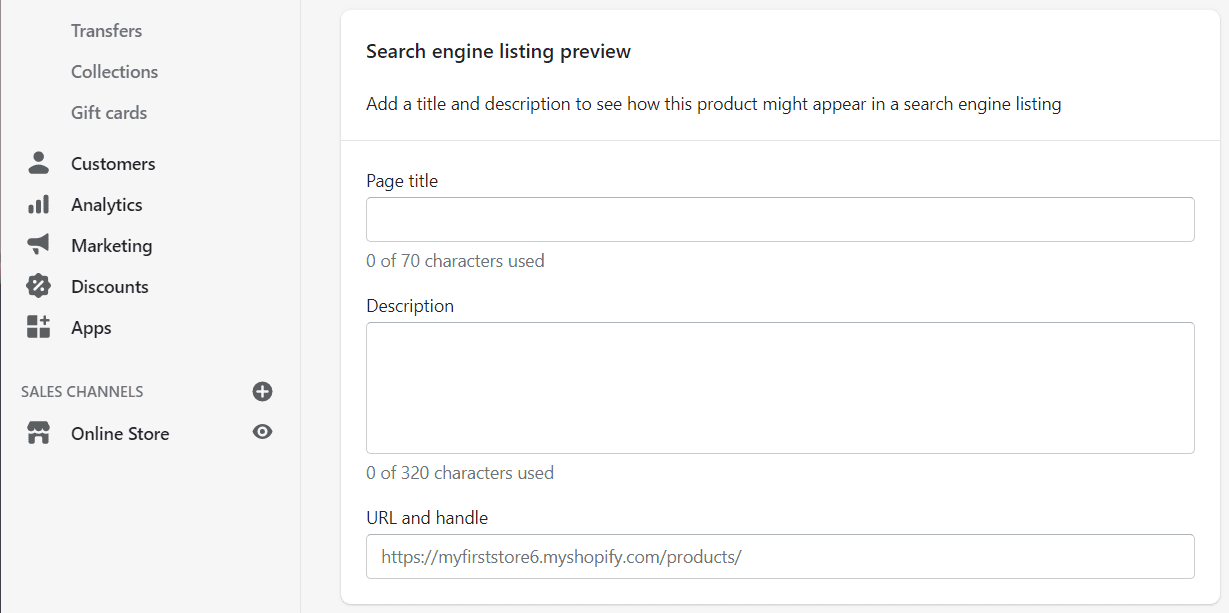 To get that same functionality in WooCommerce, you have to use an SEO plugin. With the right tool, you'll get access to a lot more features than what Shopify offers out of the box.
Verdict: If you're familiar with WordPress, setting up WooCommerce and adding products will be a walk in the park. On the other hand, if you're new to eCommerce, Shopify offers a much more streamlined setup experience.
Configuring Payment Options in WooCommerce vs Shopify
An online store can only be successful if you offer payment options that your customers want to use. You'll want to have access to as many options as possible, so you can pick the best ones for your store.
WooCommerce
With WooCommerce, you get access to several payment processors out of the box. The plugin lets you choose from several options during the setup wizard, including Stripe and PayPal. However, you can always enable additional methods through the WordPress dashboard: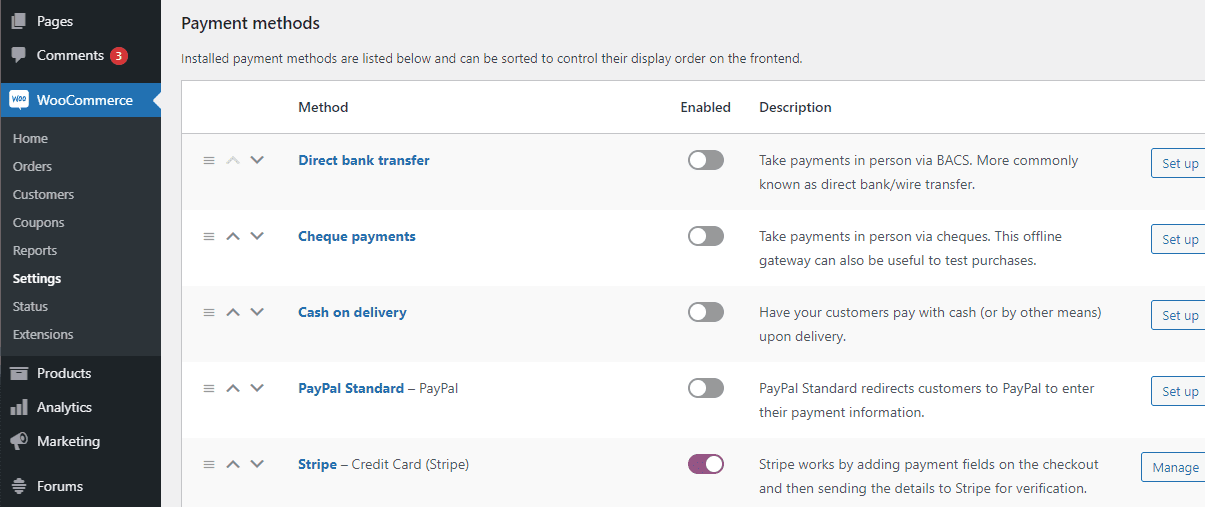 If you want to set up additional payment methods, you can always browse the WooCommerce "extensions" store. Extensions are simply plugins that add new functionality to WooCommerce, such as support for additional payment processors: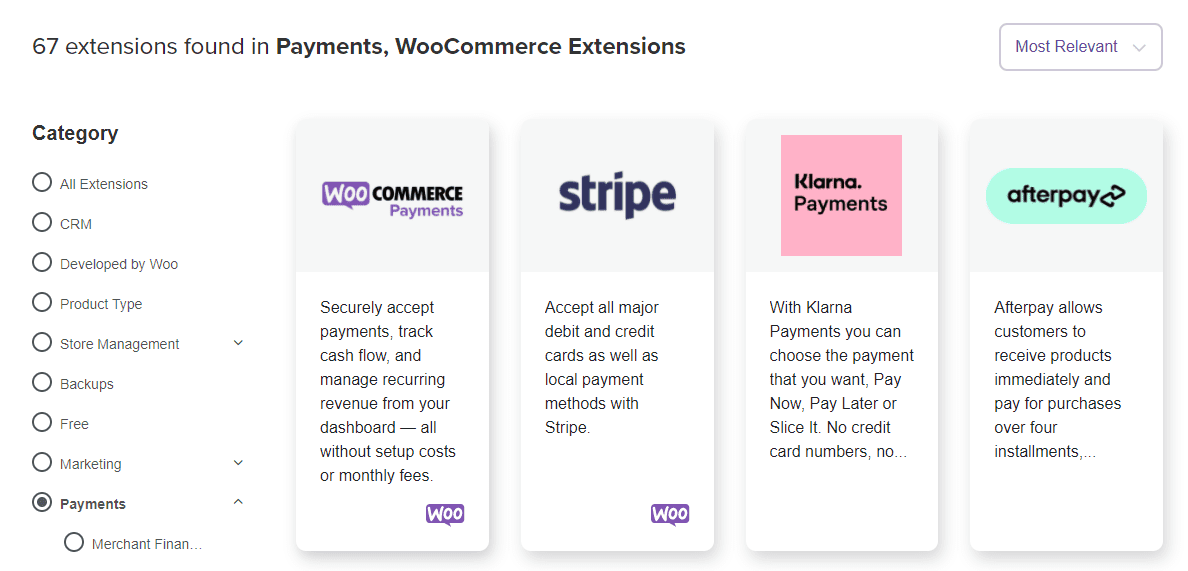 These add-ons enable you to integrate almost any payment processor you want into your store. The downside is that a lot of WooCommerce extensions are pay-to-play, and they can get fairly expensive.
Shopify
Shopify also supports a broad range of payment processors. The platform promotes PayPal as its main option, but it also gives you access to several third-party providers and what it calls "alternative payment methods".
Configuring Shopify to work with third-party providers is simple. The platform will offer you a list of options, and it explicitly tells you which are not available in your country: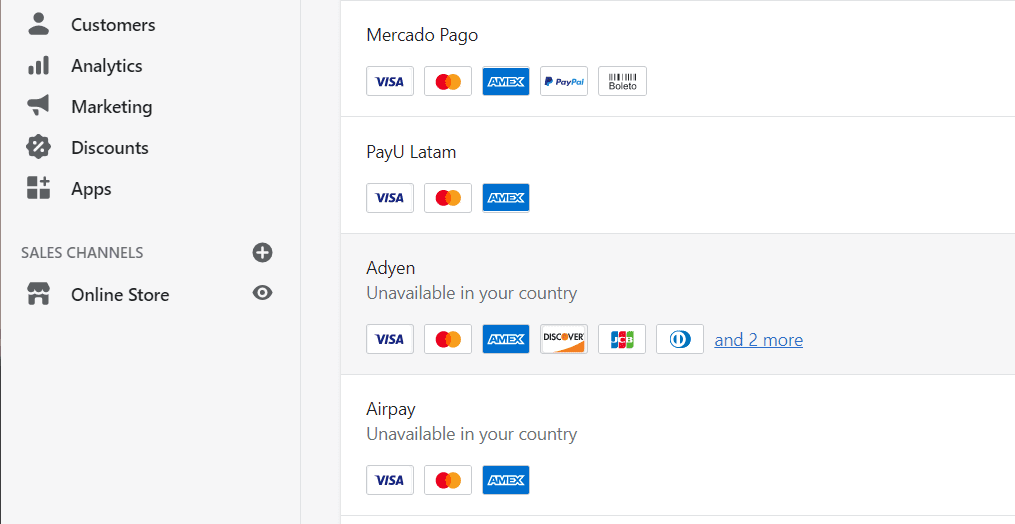 When you add a new payment option, Shopify will inform you if you need to create an account and how to connect it with your store. It also tells you how much that specific payment processor charges in fees, which is very useful.
As we mentioned briefly, Shopify also supports some alternative payment options. Among those, you'll find payment processors that enable customers to pay using cryptocurrency and local payment options in their regions: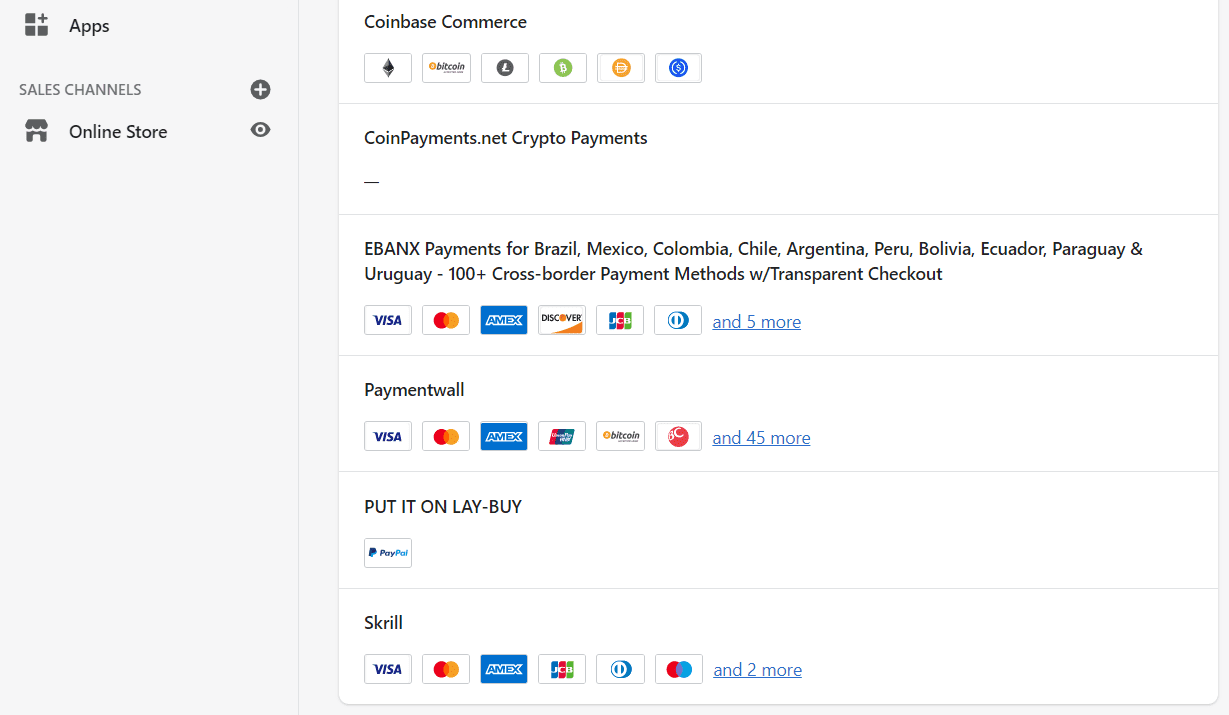 It's also worth noting that all of these options are built into Shopify. Unlike with WooCommerce, you don't need to pay for extensions that add specific payment processing options to your store. Shopify does offer extensions (free and paid), which it calls "apps", but not for this functionality.
Verdict: If you're looking for very specific payment processing options, WooCommerce extensions can be your best bet. However, Shopify gets a thumbs-up for incorporating so many options without requiring additional tools. Out of the box, however, both eCommerce solutions give you access to the basic payment processors that most stores use (such as Stripe and PayPal).
Customizing Your Store with WooCommerce vs Shopify
If you want to make your store your own, you'll need the ability to add new features and to change its style. In that area, both WooCommerce and Shopify offer some impressive options.
WooCommerce
Customizability is where WooCommerce shines. Since you're using WordPress, you can customize your website and store in almost any way you can imagine. WordPress offers thousands of themes and plugins (both premium and free) that enable you to add new and exciting functionality to your projects.
For example, you can look for WordPress themes that integrate with WooCommerce out of the box. Some themes, such as Divi, enable you to use advanced visual builders to customize your store and product pages: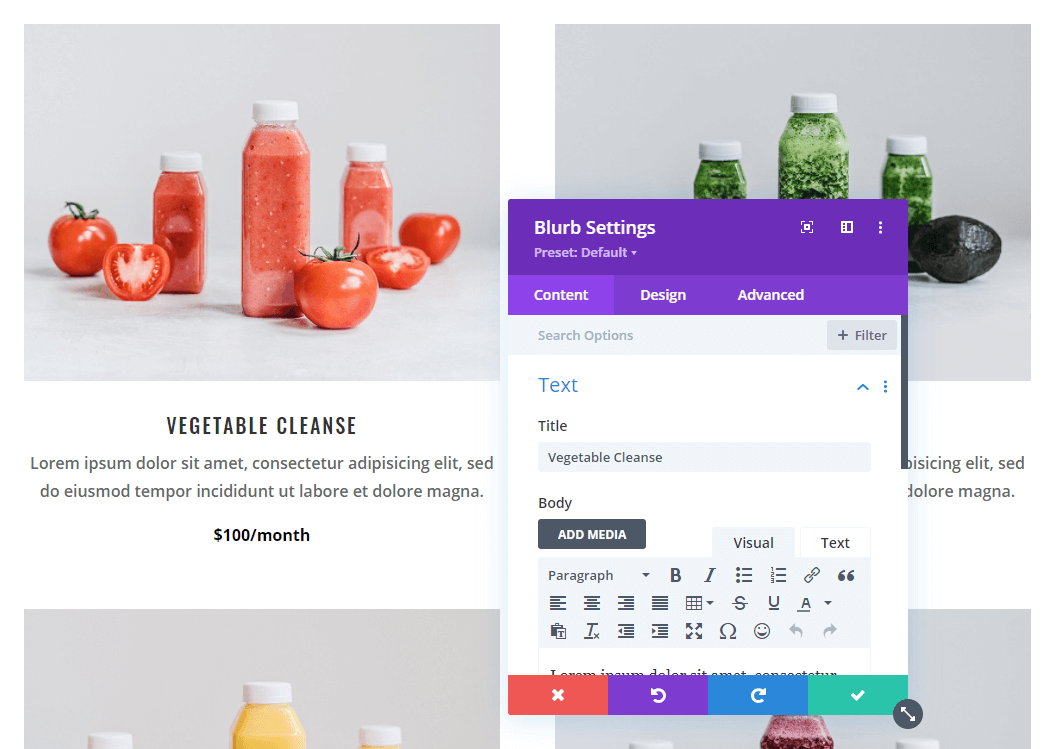 With WooCommerce, you have a level of freedom to customize your store that hosted platforms such as Shopify simply can't match. You can even alter your site's foundational code (or hire a developer to do so for you).
The trade-off for that freedom is that you're always learning something new about how to use WordPress and WooCommerce. If that sounds like a good deal to you, then WooCommerce's customizability is its primary selling point.
Shopify
Shopify offers a broad range of customization options for its users. You get access to an app library that gives you plenty of options for adding new functionality to your store: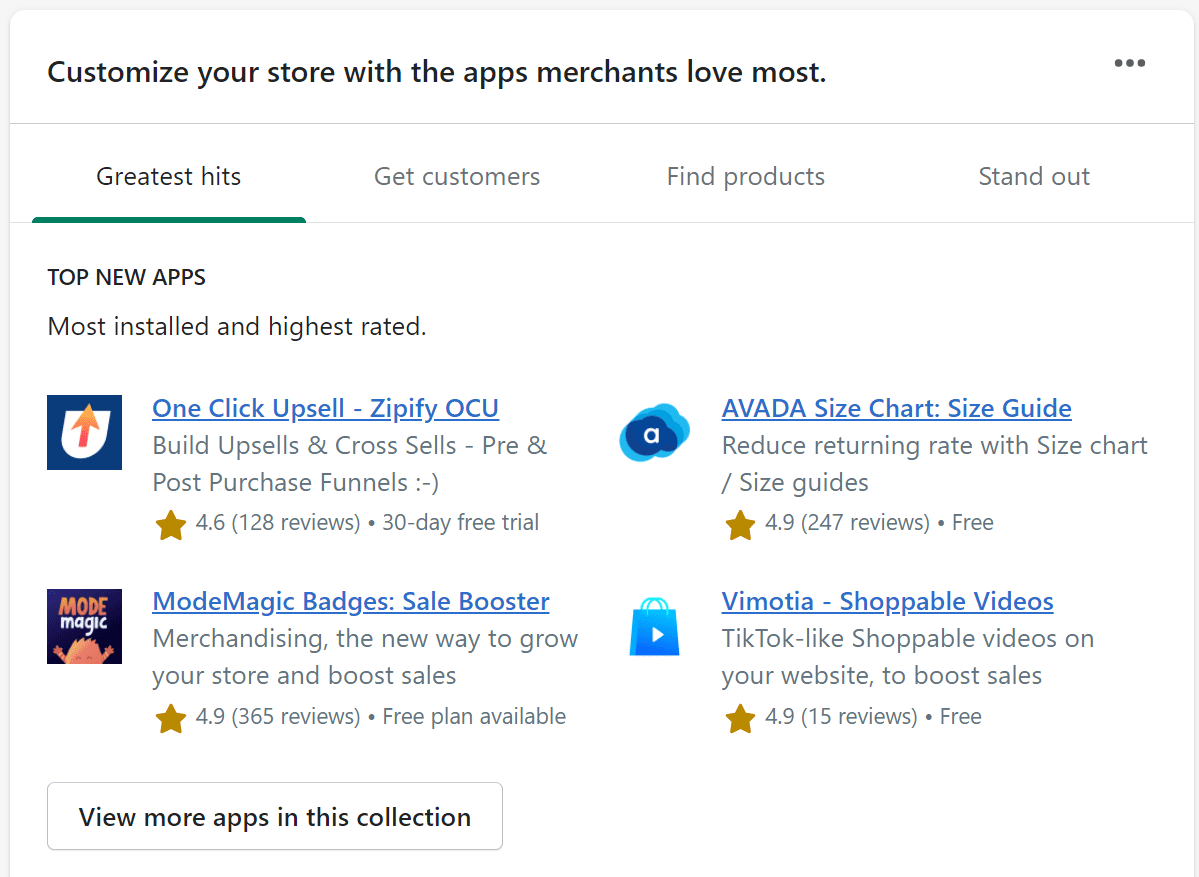 Just as with WordPress, some of Shopify's apps are free and some are premium. However, the selection of apps is magnitudes smaller than what you'll get with WordPress and WooCommerce. Also, where premium WordPress plugins usually charge you for a yearly license, most paid Shopify apps work on a monthly subscription model.
As far as themes go, Shopify offers a modest selection of free options: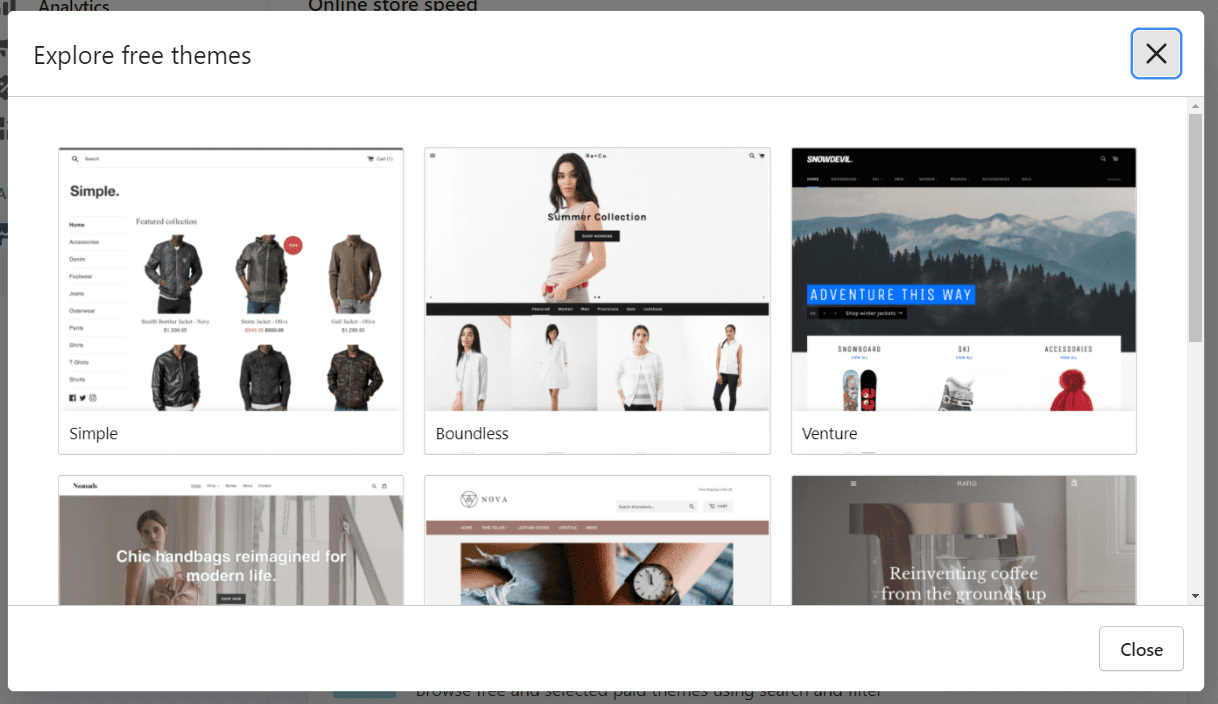 When it comes to premium themes, the selection is much broader. However, Shopify themes tend to be much more expensive than their WordPress and WooCommerce counterparts, with most starting at around $180.
Verdict: The level of freedom that WordPress and WooCommerce offer is unmatched. Shopify is a customizable platform, but due to its hosted nature, it can't compete with WooCommerce. Moreover, WooCommerce and WordPress are so popular that there are almost no features you can't add to your store using plugins.
How Much Does WooCommerce vs Shopify Cost?
Ultimately, the biggest deciding factor between WooCommerce vs Shopify will likely be your budget. With that in mind, here is the basic pricing you'll be looking at:
WooCommerce
Shopify
eCommerce Software
Free
Included with each plan
Plans
Free
$29, $79, and $299 per month plans
Setup fees
None, and some web hosts set up WooCommerce for you
Included with each plan
Hosting
Hosting plans start at around $5 per month
Included with each plan
Domain name
Included with some web hosting plans
Not included – .com domains start at around $15 per year
Store and website maintenance
Depends on your hosting provider and plan
Included
Plugins and apps
On average, premium plugins start at around $10-20 for yearly licenses
On average, monthly app subscriptions start at around $5-20
Themes
On average, premium themes start at around $29
Official premium themes start at $180
On paper, WooCommerce is the cheapest option out of the two. You can set up WordPress and WooCommerce for less than $20, including hosting and a domain. With Shopify, you need to spend at least $29 for its basic plan, and then pay extra to register a domain.
If you want to use Shopify apps, those costs can add up quickly too. Monthly subscriptions will end up costing far more than yearly fees for premium WooCommerce extensions. However, it's worth noting that you don't need to use premium themes, extensions, or apps for either platform – it's all up to you.
Conclusion
Choosing between WooCommerce and Shopify can be a challenge. WooCommerce is by far the more flexible option, but it also takes longer to fully master than Shopify does. If you're entirely new to eCommerce and you want an experience that's as easy as possible, Shopify is a safe bet.
On the other hand, if you're comfortable tinkering with your store, WordPress and WooCommerce offer a wealth of customization options that are unmatched. More importantly, it can be much cheaper to set up a WooCommerce store, which makes it a great entry-level option.
Do you have any other questions about WooCommerce vs Shopify? Let's talk about them in the comments section below!
Featured Image via olesia_g / shutterstock.com