This
article
was originally published on
this site
Can I interest you in a Wix SEO guide? If you've spent any amount of time optimizing your content for search engines, you probably know how challenging it can be to keep up with the latest trends. Search engine algorithms are constantly changing, and with them, search engine optimization (SEO) best practices change as well.
Here's the good news:
When you create a free website with Wix, it automatically provides you with an SEO-friendly website structure. Moreover, it offers user-friendly SEO features that give you the flexibility you need to customize the website based on your preferences.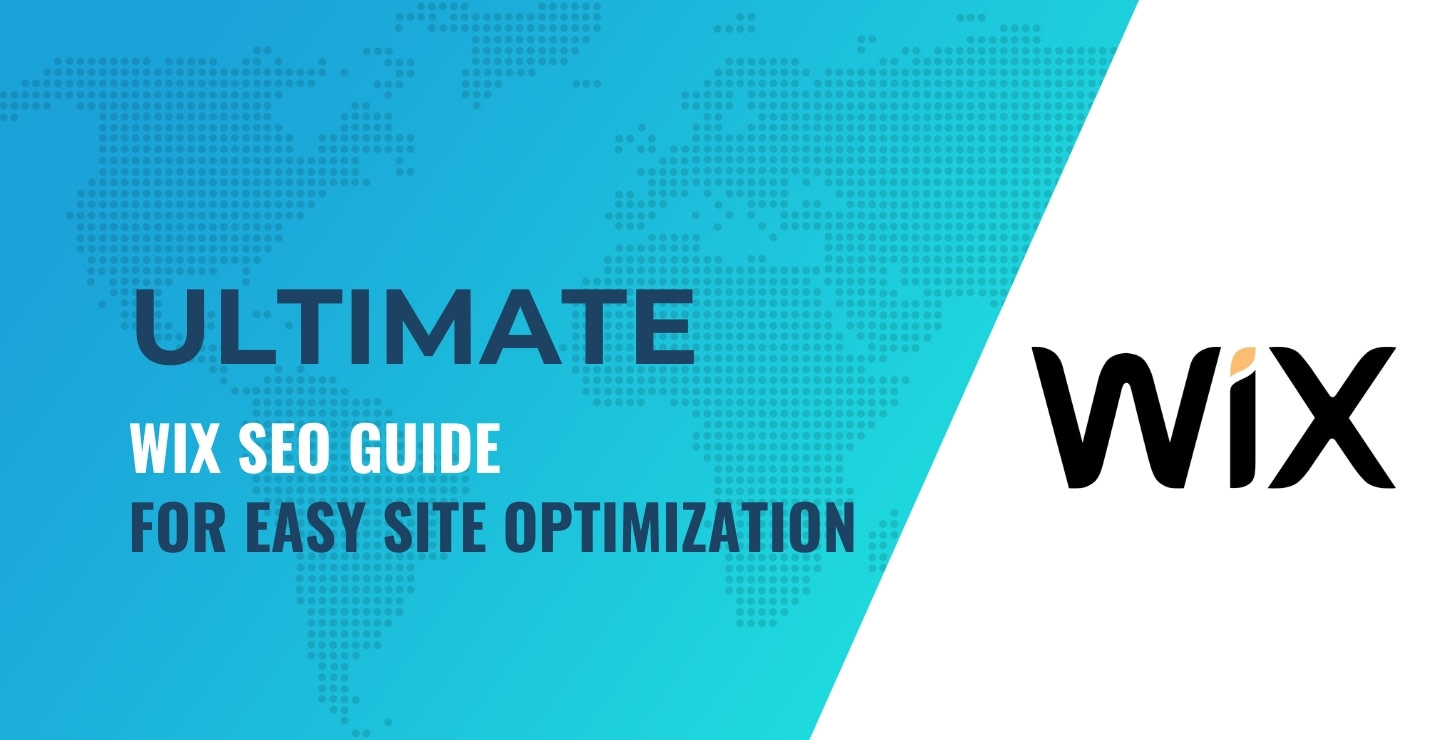 If you don't know how to use Wix's new SEO features to optimize your website and boost your productivity, keep reading.
Here's what you'll learn in our Wix SEO guide:
How to get started with Wix SEO
By default, Wix websites come with all the tools you need to be noticed by search engines. However, before using the Wix SEO Wiz to optimize your website further, you'll need to verify that your SEO status is enabled.
Set up your Wix website for search engines
To find your SEO status, go to your website dashboard and select SEO Tools. Click on General SEO Settings and toggle on "Let search engines index your site."



Wix also makes it easy for you to set up Google Analytics on your website. That way, you can track things like visits per month and other SEO performance metrics.
Remember, search engines need some time to crawl newly published websites and finish indexing them. It usually takes about three or four months before you see a new domain name appear on search engine results pages (SERPs). You can speed up the process by submitting your sitemap to Google.
Use Wix SEO Wiz
Once you've verified that search engines can find your site, you can use the Wix SEO Wiz to get custom SEO performance recommendations.
By identifying your site's weaknesses, the Wix SEO Wiz helps boost your online presence and improve on-page SEO, even if you're not an SEO expert. It also walks you through many of the SEO basics to ensure everything is in order.
On top of that, Wix SEO Wiz builds a customized SEO guide for you based on your keyword research. Wix users can add up to five target keywords to their SEO plan.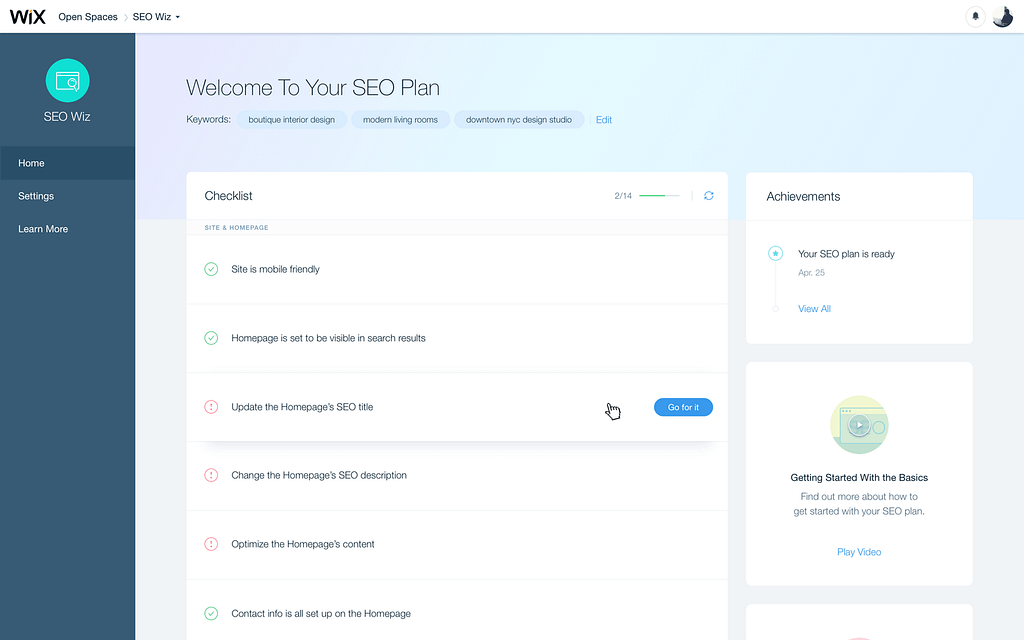 You can find the Wix SEO Wiz by clicking on Get Found on Google on your Marketing Home page. Next, click Start Now to launch the Wiz and follow the steps on the screen.
Through SEO Wiz's detailed checklists, you'll ensure your website is mobile-friendly and that the metadata is fully optimized for search engines.
Wix SEO tips
Wix websites optimize for technical SEO automatically, meaning search engine scrapers understand them easily. Wix also offers SEO Wiz, SEO patterns, and Wix blog tools to help you optimize content for on-page SEO.
Here are some best practices to follow if you want to fully optimize your Wix site for search engines and boost your organic traffic.
Use SEO Patterns
Optimizing large websites for search engines can be a hassle, but Wix helps you streamline the web design process with SEO Patterns. When you customize your website using Wix SEO Patterns, you can save time by applying the same SEO logic to multiple web pages at once.
In this way, Wix will automatically apply an SEO-optimized pattern to your pages based on the templates. These patterns use the best SEO practices for each page type, such as product pages or your homepage.


You'll see the SEO Patterns page listed in the Marketing & SEO section of your website dashboard. To edit these SEO settings, click Edit Patterns.
When editing your SEO patterns, you can use Wix's customization settings to choose how your meta title and meta descriptions appear in search engine results and social media platforms.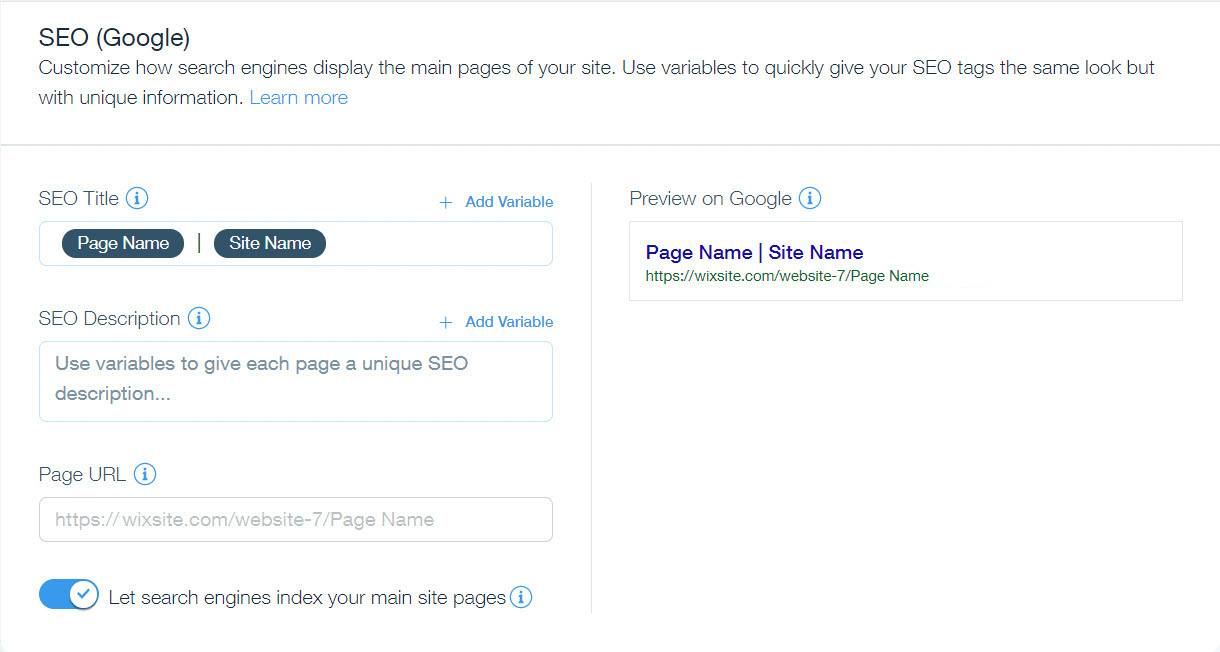 Use the given variables to apply the same logic to the same page types. You can also edit advanced SEO metadata, like canonical tags, page titles, URL structure, and other meta tags.
Focus on accessibility
Search engines take into account user experience and accessibility when ranking search results. Making a website accessible means designing it so that people with disabilities can easily navigate through it.
When you make your website accessible, you also boost your chances of being found in search. Wix automatically covers back-end accessibility requirements, like keyboard semantics, defining Accessible Rich Internet Applications (ARIA) attributes, and visual indicators.
Make sure to enable these features by going to Settings → Accessibility.


We also recommend going through the Wix Accessibility Checklist to make sure your content meets the basic accessibility standards.
It's worth noting that accessibility compliance rules vary by region. Contact a local accessibility consultant for an audit to guarantee your website is compliant.
Submit structured data
To improve SEO, you have to help search engines understand your website and its content. Submitting structured data allows crawlers to retrieve more information about your website in less time.
Structured data is a set of website details that is formatted linearly for search engine crawlers. When you submit this data type, Google is more likely to list your website in rich results pages, like widgets or maps.
To submit structured data, you first need to generate a schema markup for your website page. You can use a markup tool to do so.
Once you select a markup, add it to your Wix site page. Go to Menus & Pages and click the Show More icon on the page you want to edit. Click SEO (Google) and move to the Advanced SEO tab.
You can add the JSON-LD schema in the Structured Data section. Learn more about selecting a markup and adding structured data to your website here.
Add a Wix blog to your website
Having up-to-date, relevant content on your website gives you more opportunities to use keywords on your website and appear in search engine results.
Think about it.
If you want to boost your SEO, your website needs to have information that answers a user's question or caters to their search intent.
Adding a blog to your website is an excellent way to position your website as a relevant online resource, even if you're running an ecommerce business.
With the Wix Blog app, you can add SEO content to your website to drive more organic traffic. You can also monetize your blog with ads and subscriptions.
To start using Wix Blogs, you need to add the app to your website through the Wix app market. You can do so in two ways. The first is to select Add App on the Wix Editor, and the second is to click on the App Panel while using Editor X.
Type "Wix Blog" in the app market search bar and press Enter. Next to the Wix Blog app, click Add to site to install.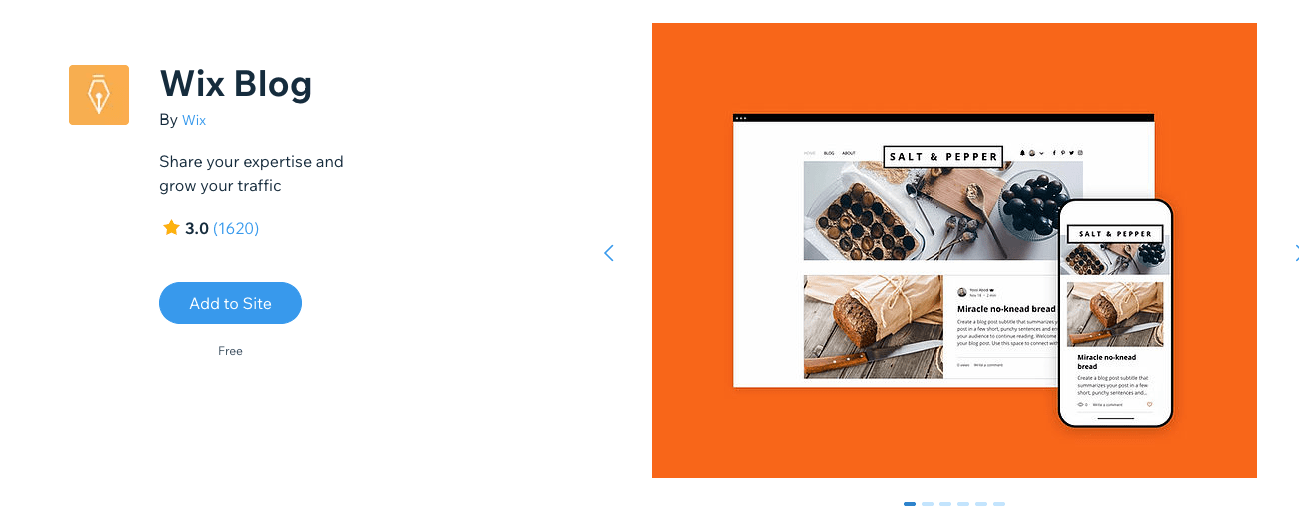 Not only will you rank higher on search engine results by adding a blog to your website, you'll also connect with members of your community, including sales prospects.
Wix SEO guide: final thoughts on how to optimize your site
SEO is an excellent way to boost your online presence and drive more organic traffic to your website. However, it's not always easy to keep up with search engine algorithms and SEO best practices.
With Wix and our Wix SEO guide, you can quickly build up your site's SEO and support your digital marketing efforts. If you follow these steps to improve your on-page SEO and accessibility, your website will undoubtedly rank better in search engines.
Wix stays on top of the latest SEO strategy best practices and trends to guarantee your website is search engine-friendly. If you want to learn more on how to build a functional and optimized website with Wix, check out our in-depth tutorial here. 👈
Do you have any questions about optimizing SEO with Wix? Let us know in the comments section below!
…
Don't forget to join our crash course on speeding up your WordPress site. With some simple fixes, you can reduce your loading time by even 50-80%:
Layout and presentation by Chris Fitzgerald and Karol K.