This
article
was originally published on
this site
Have you been looking for the best lead generation tools for WordPress and wondering, "What is the OptinMonster plugin?"
OptinMonster is hands down the best way to grow your email list, boost your site's conversions, and increase sales.
And while it's a standalone software that works for any website, it also comes as a convenient plugin for WordPress users.
That's why, in today's post, we wanted to give you 100% clarity on the question, "What is the OptinMonster plugin?"
We'll look at a few of the benefits of the OptinMonster plugin, how much it costs, and more.
To help you quickly navigate through this post, it will be broken up into the following categories:
By the end of this article, you'll know exactly what the OptinMonster plugin is, what it can do, and why it's the right lead generation tool for your WordPress site.
We'll begin with an overview of the OptinMonster plugin.
What Is the OptinMonster Plugin?
In short, OptinMonster is a premium WordPress lead generation plugin: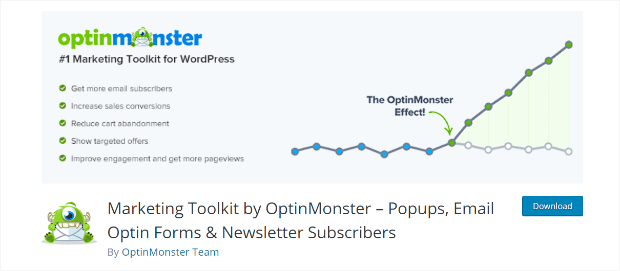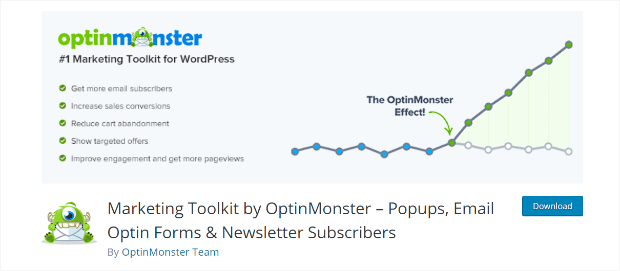 But calling it a "lead generation plugin" is a bit of a mouthful, so let's break down exactly what that means.
OptinMonster allows you to create different types of "optin campaigns." These are things you're already familiar with, such as popups, floating bars, fullscreen welcome mats, spin-to-win wheels, and more.
In fact, OptinMonster offers 9 different types of campaigns, all of which can be built in minutes.
These campaigns help you accomplish any of your marketing or sales goals, where you're trying to get users to take action.
In a lot of cases, that simply means getting people to sign up for your email address. You would do that with a popup like this: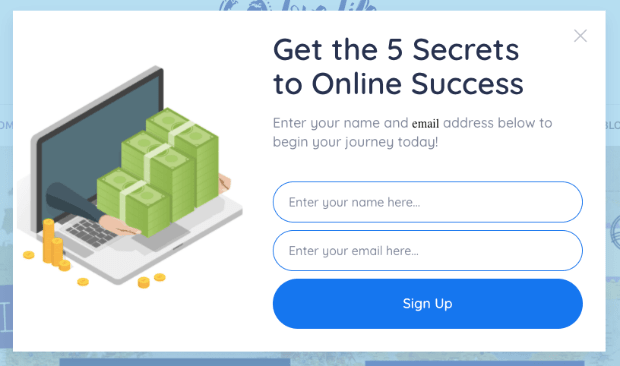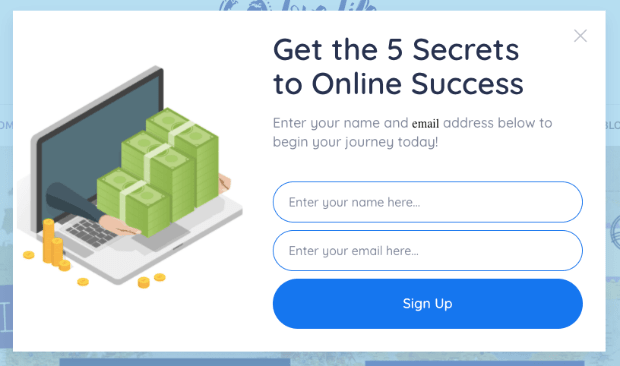 That said, OptinMonster doesn't just help grow your list. It can be used for any other call to action (CTA), such as:
Registering for a webinar
Inviting people to a live chat
Distributing audience surveys
Offering discounts and promotions
Keeping customers informed about sitewide changes
Showcasing product demonstrations
And much more…
But what really makes the OptinMonster plugin stand apart is how easy it is to use.
Anyone can create professional and high-converting optin campaigns to reach their goals in minutes, regardless of their coding or "tech" background.
How does it work?
OptinMonster comes with over 50+ pre-made templates that look great across devices: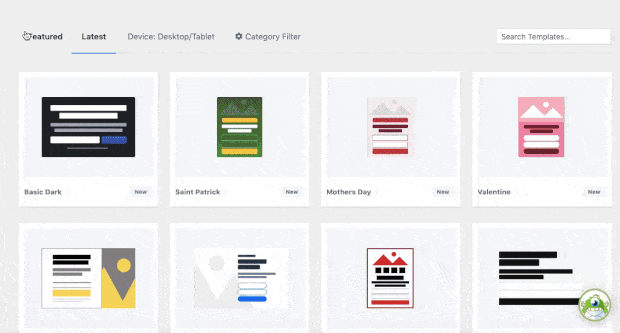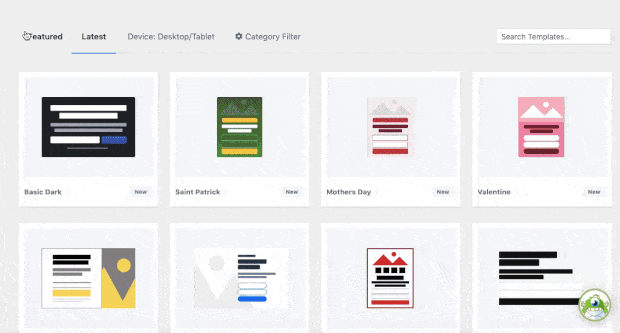 These templates are designed to save you time, energy, and headaches in the campaign creation process.
Once you've selected the right template, everything can be customized with OptinMonster's inline text editor and codeless drag and drop builder.
To change your messaging, for example, you can modify the text directly in the campaign editor: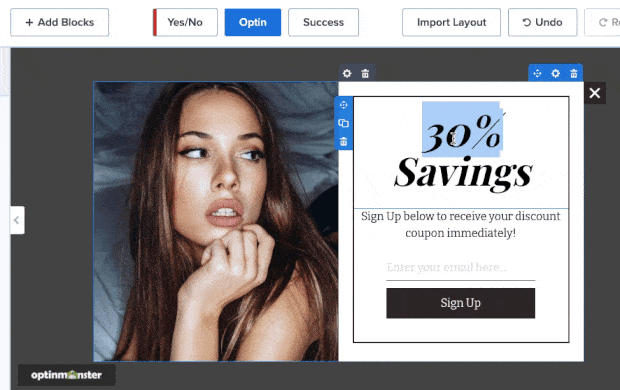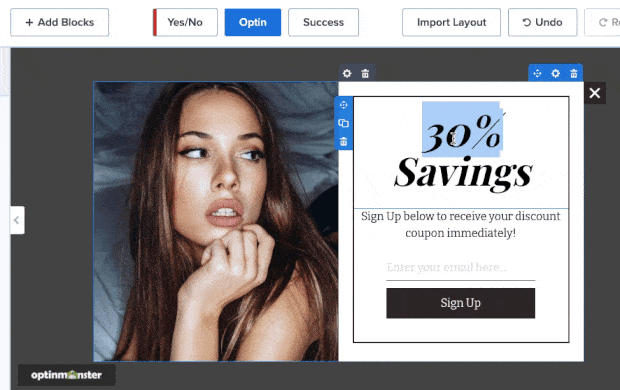 This gives you 100% control over your text's:
Message
Font
Size
Color
Background color
Alignment
And more…
And if you want to add new features to your optin campaigns, that's no problem. You can simply locate the new function you want and drop it into place: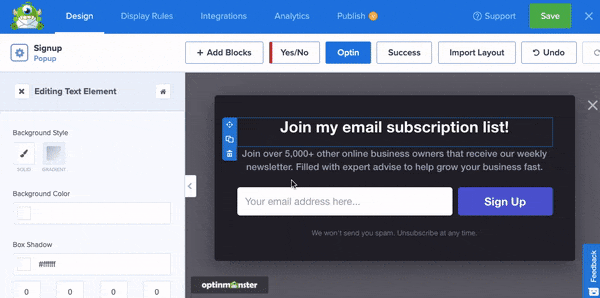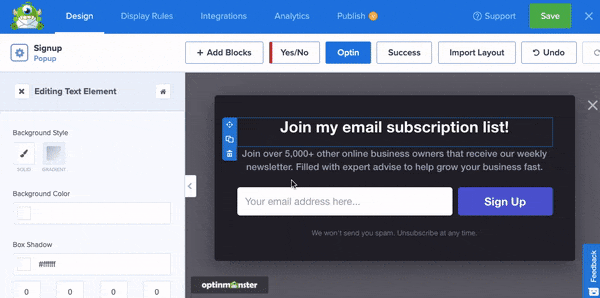 Plus, since all of OptinMonster's campaigns are made up of "blocks," everything falls neatly into place.
That means you don't need to be a professional designer to create stunning campaigns in minutes.
Finally, you'll want to show your campaigns to the right people, in the right places, and at just the right time in their customer journey.
For that, you can use OptinMonster's powerful targeting rules.
Some popular rules include:
Exit-Intent® Technology: Recover abandoning users by displaying a campaign as they're actively leaving your website.
OnSite Retargeting®: Keep users engaged by showing new offers to returning users.
MonsterLinks™: Increase engagement with campaigns that open on a button or link click.
Geolocation: Personalize the customer journey by targeting users by their physical location.
Again, these are just some of the most popular targeting rules offered by the OptinMonster plugin, though the list isn't exhaustive.
But these are the same rules that companies like Fastrack used to recover 53% of its abandoning visitors.
Or how Medstart Media increased their clients' conversions by 500%.
You can achieve the same massive success by clicking below to sign up for your 100% risk-free OptinMonster account:
Create High Converting Popups Today!BONUS: Done-For-You Campaign Setup ($297 value) Our conversion experts will design 1 free campaign for you to get maximum results – absolutely FREE! Click here to get started →
Before moving forward, let's make sure that we're crystal clear on something…
Because, at this point, you might be wondering, "OK, so what's the difference between OptinMonster as a standalone software and the OptinMonster plugin?"
The only difference with OptinMonster for WordPress users is that it's way more convenient to set up and work with.
That's because you can do everything directly from your WordPress dashboard, rather than switching between tabs to create, test, and view your optin campaigns: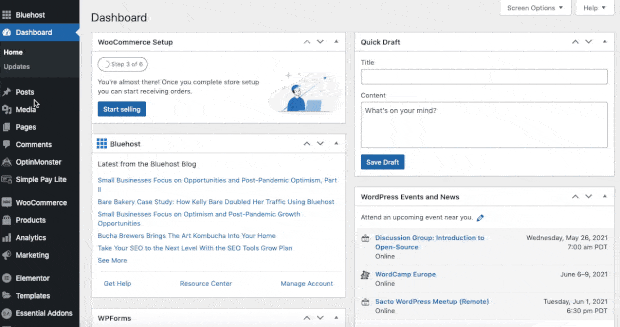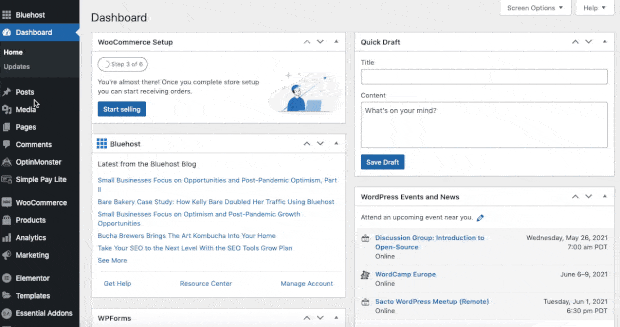 Apart from that, you can expect the same features, pricing, and support with the OptinMonster plugin as you'd get with OptinMonster for other website platforms.
But if you're not familiar with OptinMonster at all, let's see what you can expect from this premium lead generation plugin.
What Do You Get With the OptinMonster Plugin?
Here is a quick overview of some of the features you can expect with the OptinMonster plugin
1) Unique Campaign Types – Keep users engaged by presenting offers through multiple campaigns types, such as:
Popups
Floating bars
Fullscreen welcome mats
Slide-in scroll boxes
Gated content lockers
Gamified spin-to-win wheels
Inline campaigns
Sidebar widgets
This allows you to keep your audience engaged without training them to ignore your offers.
2) Access to 50+ Pre-Made Templates – Get a headstart on campaign creation with over 50 pre-built templates that look great across mobile, tablet, and desktop devices.
3) Drag and Drop Builder – Build campaigns FASTER with OptinMonster's codeless drag and drop builder. This lets you modify templates in minutes rather than hours.
4) Powerful Targeting Rules – Personalize the customer journey and get higher conversions with advanced targeting rules, such as:
Exit-intent
Scroll depth
User inactivity
MonsterLinks™ (clickable popups)
Geo-location
Device-based targeting
Page-level targeting
Cookie retargeting
OnSite follow-ups
HTML elements and JavaScript variables
And much more…
These rules let you present offers to the right people, in the right places, and at just the right times to maximize conversions.
5) A/B Testing – Stop leaving leads on the table and rely on concrete data to know which campaigns are performing the best.
6) Actionable Insights – Make smarter marketing decisions by having access to data that shows how people are responding to your campaigns and offers.
7) Mobile Campaigns – Reach more users by creating campaigns specifically designed for users coming from their smartphones.
8) Coupon Wheels – Engage your audience with gamified spin-to-win wheels, proven to increase conversions for businesses of all sizes.
9) Stellar Support – Never feel "stuck" when you're working with OptinMonster's unmatched support team.
10) Integrations With ESPs – Throw email marketing on autopilot by seamlessly integrating OptinMonster with your email service provider (ESP).
11) Audience Segmentation – Increase sales by creating segmented contact lists in your ESP and organize them straight from your optin campaigns.
These are a few of the key features of the OptinMonster plugin, though there are many others.
But, by now, one thing should be clear: the OptinMonster plugin gives you all the tools you need to grow your email list, increase conversions, and boost sales across your site.
It's the reason why 1,213,437+ websites trust OptinMonster to help them scale their business.
With that in mind, let's look at a few of those websites currently using OptinMonster and see the results they got.
7 Examples of OptinMonster Campaigns
1. Shotkit
Shotkit is a website dedicated to professional and amateur photographers. The goal is to help photographers find the best gear on the market.
Here's a simple campaign they used to attract new leads: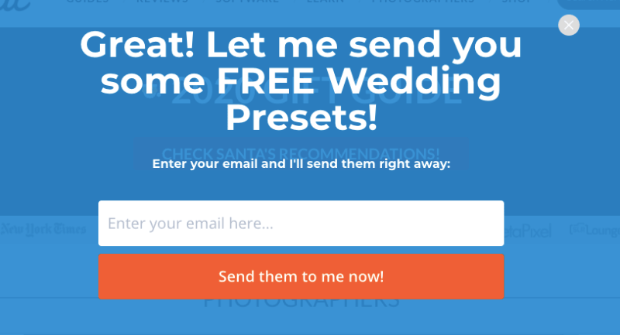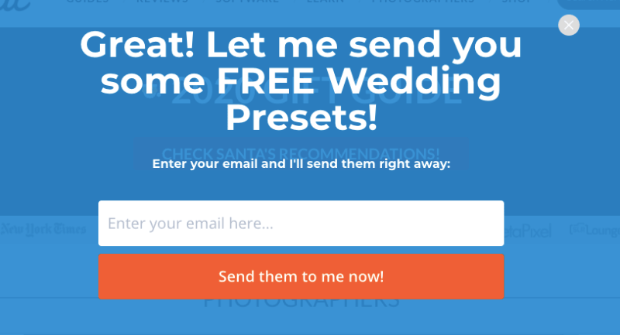 The result? They saw a 60% increase in their conversion rates and now attract 40+ NEW leads every single day.
2. Adam Enfroy
Adam Enfroy is a solopreneur and blogger who started in 2019. In that year, he grew his list to over 11,000 subscribers with a popup like this: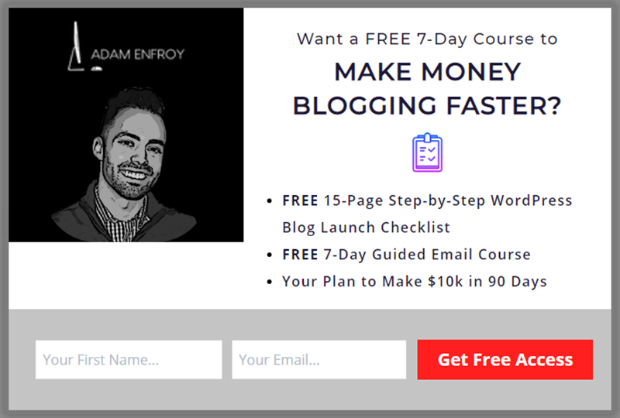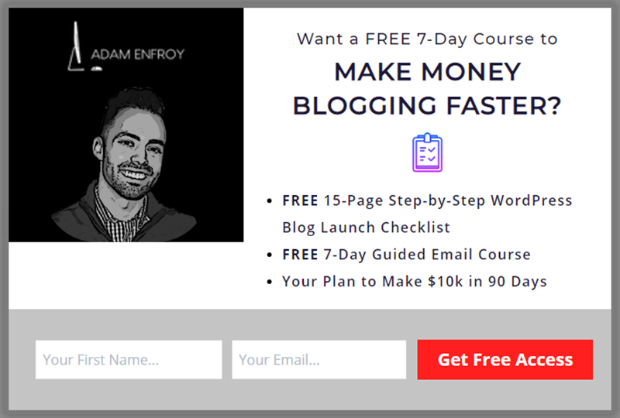 The results? Adam began making over $20,000 in affiliate sales within that year.
Just one year later (in 2020), he generated $812,718 in sales from his blog.
3. Crossrope
Crossrope is a fitness company that specializes in training through jump ropes.
They wanted to grow their list, so they set up the following campaign: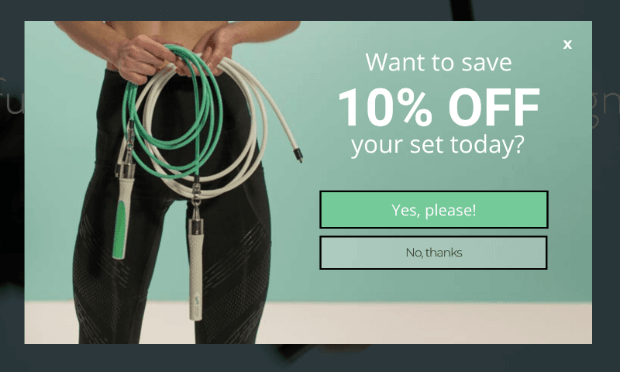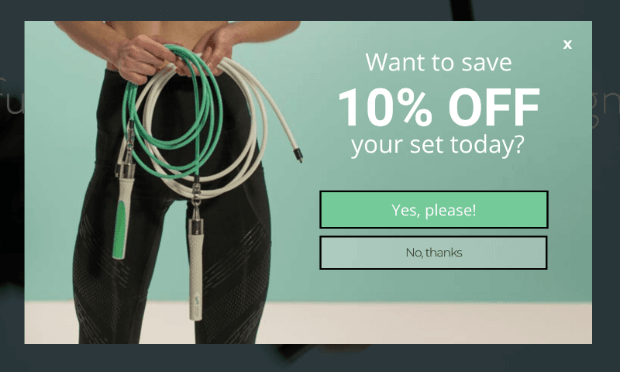 The result? With this popup (and others like it), they were able to EXPLODE their list by 900%.
4. SnackNation
SnackNation is a delivery-based company that delivers healthy snacks to your home or office. When they started using OptinMonster, they built campaigns that looked like this: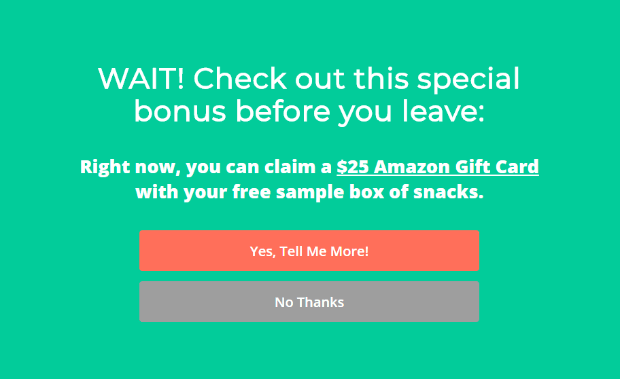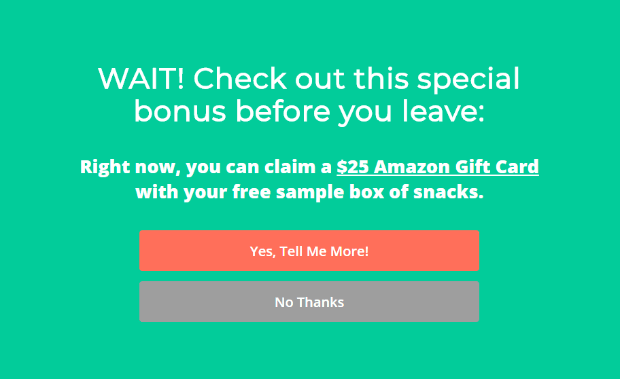 The result? SnackNation was able to recover 31.85% of abandoning visitors, covert 15-25 sales a day, and add 1,200 segmented leads every week.
5. Cosmetic Packaging
Cosmetic Packaging distributes laboratory-grade packaging containers for cosmetics. So, as you can imagine, it's pretty niche.
They set up a few campaigns like this: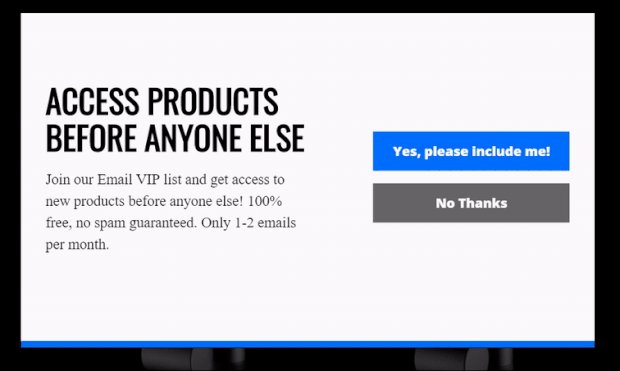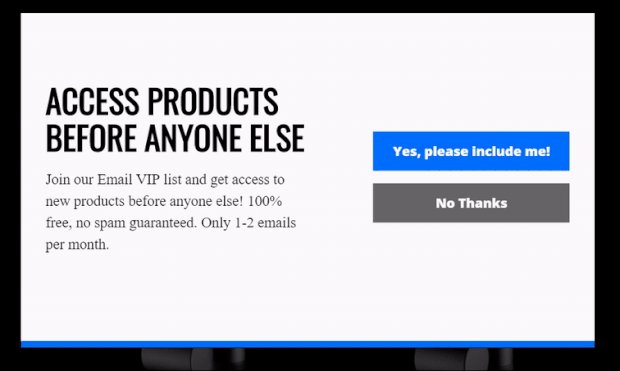 The result? Cosmetic Packaging saw a sales increase of 2,326.72% and an increase in email subscribers by 754%.
6. Paint Your Life
Paint Your Life is a small business that creates handcrafted memories from your family photos. These remakes can be done with paint, charcoal, watercolors, and more.
They used page-level targeting to create personalized campaigns like this: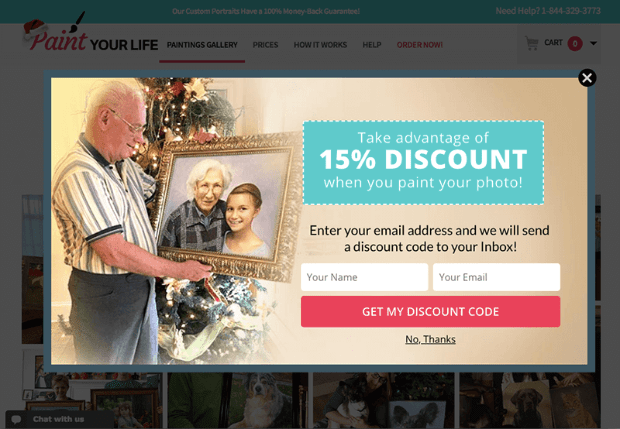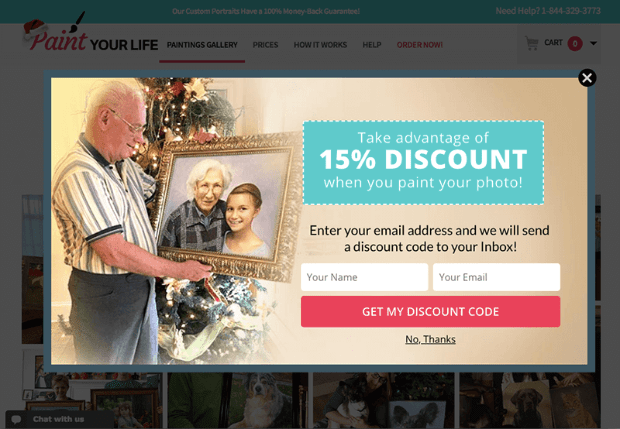 The result? Paint Your Life converts 28.57% of their site's visitors and transforms 6.58% of their site's traffic into email subscribers.
7. Flywheel
Flywheel is a managed WordPress hosting company that started in 2012. They wanted to increase engagement on their site, so they put up a few campaigns like this: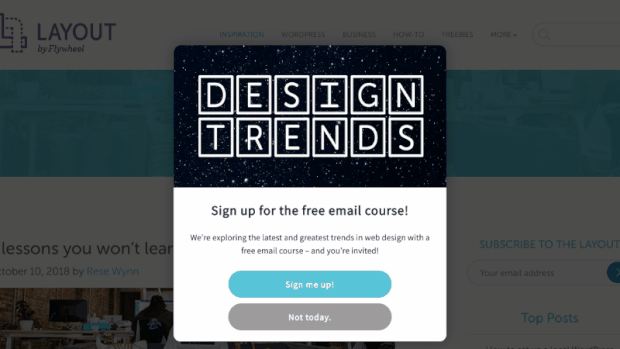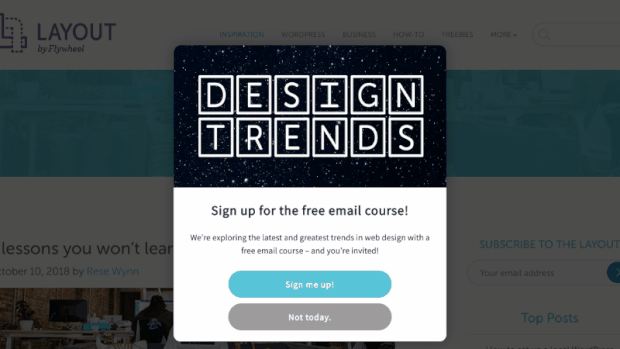 The result? Flywheel had a 4.7% increase in targeted conversions, a 660% increase in impressions, and they saw a 1% boost in results from quick A/B testing.
Again, the companies we just looked at aren't professional marketing agencies.
They're businesses and blogs, just like yours, that wanted to grow. And when they switched to OptinMonster, that's exactly what they did.
You can too by clicking below and starting your 100% risk-free OptinMonster account today:
Create High Converting Popups Today!BONUS: Done-For-You Campaign Setup ($297 value) Our conversion experts will design 1 free campaign for you to get maximum results – absolutely FREE! Click here to get started →
And that's all for today. We hope this post helped answer the question, "What is the OptinMonster plugin."
If you enjoyed this post, you definitely want to check out the following resources:
These articles will give you more information on how OptinMonster can help you grow your list and how to profit from that list as you master email marketing.

Published by Nathan Thompson
Nathan Thompson is a father, a writer, and a lover of travel (in that order). When he's not wrestling with his kids, you'll likely find Nathan giving his eyes a much-needed break from screens with a good book or planning a family trip with his awesome wife.