This
article
was originally published on
this site
Are you looking to add a map to your website? A contact page is much more useful with a map. A post about your favorite places for Chinese food is much easier to understand with a map full of pinpoints. A travel blog is that much more fun when you (and you readers) can see at a glance all the places you've been. There are many reasons to include maps on your WordPress site, and no matter what your reason is you should have an easy and efficient way to do just that.Below is a roundup of 30+ of the best mapping plugins available. We've included a good mix of free and premium plugins to help you map out whatever it is you need to. So grab a plugin and start creating lovely maps for your WordPress posts and pages. Adding maps to your website doesn't get any easier!
Note: You may have to create your own Google API key to use some of the below map options.
Disclaimer: WPExplorer is an affiliate for one or more products listed below. If you click a link and complete a purchase we could make a commission.1. Maps Marker Pro

Maps Marker Pro is a top WordPress mapping plugin that makes adding informative maps to your site easy. It works with a variety of systems – Google, Open Street, Bing, HERE and TomTom maps are all compatible. Plus you can upload your own custom maps to use (a great option if you're using the plugin to add a mall map, a map of your hotel, a seating map of your wedding, or some other specialty type map).
With Maps Marker Pro at your disposal it's easy to enhance your website using the included features. It's easy to design and customize your maps using the more than 600+ built-in frond and back end settings. Plus it's Gutenberg compatible, so you can quickly access your maps when building posts or pages (or you can use shortcodes is you're a Classic Editor fan). But there are also advanced features that really make Maps Marker Pro standout.
For example, you could add a map with GPX Tracks to display your route, distance, pace or even elevation to a blog post – a great addition for running bloggers or mountain bike enthusiasts. Or use the integrated polyline support to draw geometric shapes on your maps – which could be used to highlight traffic zones, or to map out a garden landscape. There's also a live geolocation feature, so you can add your map pin and allow it to update as you move – somthing you might want to add if you're participating in a Spartan race. The possibilities are endless!
Also, when setting up Maps Marker Pro you don't have to worry about obtaining an API key. Instead, you can use one of the supported geocoding providers including TomTom, Algolia Places, MapQuest, LocationIQ and Google. You can learn more in the plugin's geocoding guide.
Other great features include custom map pins, marker layers, integrated address search, QR code, marker popup descriptions, keyboard navigation support (for accessibility) and more. Maps Marker Pro also ships with an impressive 46 translations included, as well as compatibility for popular translation plugins like WPML and Polylang. It's even RTL and UTF8 ready for display language flexibility. And for developers, you'll be happy to know the plugin offers fully featured APIs if you want to create a custom app or integrate your own third party services.
2. MapSVG Interactive Vector, Google & Image Maps

MapSVG is one of the best mapping WordPress plugins you can choose. This interactive mapping solution makes it easy for your to build vector, Google or image maps. The plugin includes powerful features for markers, tooltips, latitude and longitude coordinates, custom event handlers (on click, mouse over, after load, etc), form building, custom CSS and more. You can even add your own stats using choropleth maps – which is perfect for demographics, weather mapping, etc.
MapSVG also includes a built-in live preview within the control panel, so you can easily make and view tweaks to your map while you're building. Other notable plugin features include 100+ country/world maps, custom colors, region links, map market directory list, map object custom fields (text, date, radio, checkbox, WordPress post, image, status, regions, marker) and more. Checkout the live demo to see what else MapSVG has to offer.
3. Interactive Geo Maps

Want to build stunning maps for your website – complete with interactive features like zoom, market clusters, colored legends, heatmaps, tooltips, live filters and more? With Interactive Geo Maps you can! This feature rich map plugin includes more than 250+ maps with advanced features to create custom maps for your site.
Whether you're a travel blogger visiting places around the globe, a business with multiple locations, or a real estate agent showing off key features of a neighborhood – maps are a great way to enhance your website. And Interactive Geo Maps is just the plugin to help. The pro version of this plugin includes customizable color regions, markets, tooltips, 10+ map projections, advanced zoom, marker connecting lines, overlays, text labels, drilldown maps, and more. Plus getting started is easy. Just install the plugin, use the built-in options to design your map, then insert it using the shortcode or custom Gutenberg block.
4. Toolset Maps

Next on our list is Toolset Maps – an easy way to build custom maps for your WordPress site. If the name sounds familiar, you might have used Toolset before, one of the most popular ways to add custom post types and fields to WordPress. And you'll be happy to know Toolset Maps is just as powerful. The plugin enables you to create your own one of a kind maps specific to your website, without PHP or coding knowledge. Whether you want to display a map based on a specific content type (like real estate listings), add filters or geolocation to display nearby results, or display your map in multiple languages (Toolset Maps is compatible with WPML) everything you need is at your fingertips.
Toolset Maps includes many powerful features built-in to make map creation easy. Use options for custom fields, map marker design, zoom level, map type, street view, conditional filters (including distance), and more to design your map. Toolset Maps works great with Google and Azure – so take your pick! There's tons more that Toolset Maps can do (including working great with most top WordPress themes), so why not give it a try?
5. Interactive World Map Free WordPress Plugin

The Interactive World Map is a free mapping plugin you can use to add a fun and clickable World map to your site. Add links, images and text on hover plus change map colors using the visual editor. When you're done, just use the shortcode to insert your map on any post or page. All maps are responsive and fast loading, so your SEO shouldn't be effected in any way. And if you want to build a local map, checkout the developer's premium customizable interactive maps for the USA, Europe, Asia and more.
6. Hero Maps Premium

Want to create impressive full screen maps? Look no further than Hero Maps! This premium WordPress plugin supports full screen, hero maps along with tons of options for easy drag & drop map building, CSV mapping location upload, customizable map markers, map filters, fixed or full layout, custom shape layers, color skins and more. This advanced mapping plugin is full of options!
7. Interactive World Maps

Interactive World Maps is a premium WordPress plugin that you can use to add large scale maps to your website. This plugin is perfect for showcasing where you've been in the world, documenting your various office location worldwide, or for listing global historical points of interest (7 wonders anyone?). Create your own customizable maps showing the entire world, or just a specific continent, country, state or (if in the USA) metropolitan area. Plus you can add interactive tooltips for each location to include additional information or even images.
8. MapPress Easy Google Maps

Map Press is a free WordPress plugin that uses the latest and greatest Google API so you can add maps to your posts and pages. The plugin works great with custom post types and multisite installations, plus it includes useful features such as shortcodes, street view support, custom text,real-time traffic and more. Plus if you ever decide you want more, there is a pro version you can upgrade to.
9. Progress Map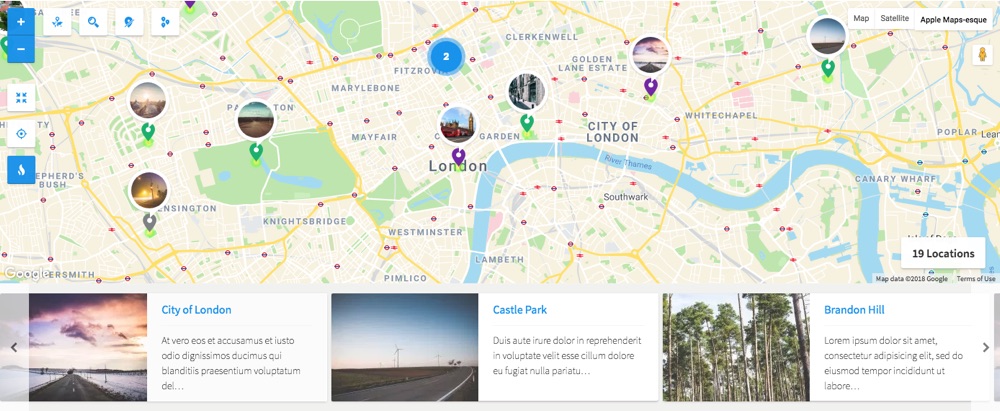 Progress Map is a premium WordPress plugin designed for listings. The idea is that you can add a variety of locations based on your website. This could be your favorite burger joint, your real estate listings, your hotel locations – anything goes. Plus, all the location you add will be shown on your awesome Google map and on a custom carousel just below the map. The plugin is easy to setup, has multiple map layouts, supports custom markers, works with mobile touch-swipe navigation and much more.
10. WP Google Maps

The free WP Google Maps plugin is a quick and simple way to add Google Maps to your WordPress site. Simply type in addresses to add markers (you can even click and drag markers into place), choose a map type (e.g. roadmap, satellite, etc.), and then use the included shortcode or widget to add your map to your site.
11. 5sec Google Maps PRO

5sec Google Maps PRO is a premium WordPress plugin with great mapping features. First off, the plugin includes a visual map builder so you can see your pins as you add them and make changes as needed. Then, to make things easier for you the developers included 10 unique skins, support for unlimited color overlays, 15 pin icons (plus the option to add custom icons), auto-language select and easy to use shortcodes. Plus you can add per-pin setting such as animations, tooltips, directions and more.
12. Symple Shortcodes: Google Maps

And, if all you want is a simple Google Map – checkout our free Symple Shortcodes WordPress plugin. The plugin makes it easy to insert maps by using the Symple map shortcode (all you have to do is add in the location title, address, height and the zoom), and it's compatible with most WordPress themes (we recommend it for use with all of our free WordPress themes). It's a great option to add basic single location Google Maps, as well as lots of other useful elements (buttons, accordions, social icons, and more), to your WordPress powered site.
13. Mapify.it

Mapify.it is a premium WordPress plugin that is really one of the best ways to add a custom map to your website. This flexible mapping plugin makes it easy to add Google maps to your website, but you can get really creative with custom maps too. Add pins with tooltips to a group photo, include hotspots on a work of art – think outside the box! Plus the plugin includes plenty of animations, custom markers, video support, gallery options, lightboxes, multisite integration and more. It even includes a PSD file if you want to create a map mockup for a client before you get started.
14. WP Google Maps (Lite)

The WP Google Map free WordPress plugin is a great way to create unlimited maps with unlimited locations to add to your WordPress posts or pages. Use the various features in the plugin to create responsive maps with custom markers. The plugin even includes support for traffic, trail and terrain layers for even more mapping possibilities. Plus there is a pro version if you ever want added features (like custom skins, tables, contact forms, etc.).
15. Responsive Google Maps

Responsive Google Maps is a premium WordPress plugin that has been tested and styled to create pixel perfect maps for your WordPress website. Create maps based on coordinates or addresses, then use the handy shortcode to add your map to any post, page or other text area. There are a whopping 40 pre-defined color skins, 10 marker colors and a live map preview (so you can see what you've created).
16. CP Google Maps

CP Google maps is a free WordPress plugin you can use to create custom Google Maps related to your content. You can add ad many locations as you need, and the plugin will even display additional related entries to your post. And that's not all, you can add your own markers, embed the map in multiple languages and customize options such as the zoom, map type, margins, sizing and more.
17. Interactive Map Builder Plugin

The Interactive Map Builder plugin is a map building solution that will allow you to create beautiful and interactive maps for your website. It's not your average plugin, Interactive Map Builder takes it too a whole new level so you can build custom maps that suit your specific needs.
18. Maps Builder Google Maps Plugin

The Maps Builder by WordImpress is a quick and intuitive way to create your own customizable Google maps for your website. Use the built-in features like the live map builder, Google Places integration, unique map market icons and of course super intuitive interface to build your maps in no time at all.
19. Mapplic Custom interactive Map WordPress Plugin

Mapplic is a premium interactive map plugin with advanced option for building a map for your business website. Create vector and image maps, add unlimited landmarks or floors, use the built-in country or world maps, add deep linking, and build fully responsive touch ready maps for anything!
20. Intergeo Google Maps Plugin by Themeisle

The Intergeo Google Maps plugin is a great way to build maps on your WordPress website. The plugin keeps it simple with option for position, zoom, controls, multiple locations, color styles and markers. Need more? They also offer a full premium version over at Themeisle.
21. Advanced Google Maps Plugin for WordPress

If you have a physical, offline presence, the amount of business you drive is dependent on the number of people that can find you. And how will your potential customers find you? Using a map, of course – it isn't rocket science!
The Advanced Google Maps plugin is arguably one of the most sophisticated Google Maps plugins on the market today. The plugin is feature-rich and supports just about any type of map imaginable. You can overlay colored shapes and lines on your maps to convey specific messages to your visitors, and the plugin supports all the "skins" available with Google Maps – including street view, map view, Earth view, panoramic view, and 45° Imagery view.
You can add an unlimited number of locations to a map, and maps can be inserted on any post/page using a shortcode, or in any widget area using a dedicated widget. The most impressive feature the Advanced Google Maps plugin supports is the ability to add "layers" to your maps. This means you can add directions, cycling routes, traffic levels, and weather layers to your map. You can add multiple layers to a map, which provides visitors to your website everything they could possibly need to know when trying to find you.
The maps are fully responsive and can be customized using one of the 500+ ready-made markers, or you can design your own custom marker. Or add custom shapes as map highlights, create custom map skins, display multiple routes, add custom layers (traffic, transit, bicycle, etc), create clusters, add your own custom directions and so much more.
22. Basic Google Maps Placemarks

Even thought this free plugin is named the Basic Google Maps Placemarks plugin it really isn't that simple – it's just super simple to use. The plugin creates a custom post type for your maps that you can customize with icons, map type, zoom, placemarks, filters etc and then easily insert anywhere with a shortcode.
23. Google Maps Widget

The Google Maps Widget free WordPress plugin makes it easy to add no nonsense maps to your website fast. The plugin supports Google maps thumbnails, lightbox, general map options (size, type, color scheme, zoom, etc) and of course widget options for title & address. It's a great quick and easy options to add maps to your sidebars, footers and any other widget ready areas.
24. Google Maps Builder for WordPress

The free Huge-It Google Maps Builder for WordPress is built on the freemium model, which means there is both a free and premium version of the plugin. However there are so many awesome features in the free version it's a great fit for most websites looking to add Google maps. Build unlimited maps, insert unlimited markers, add shapes or circle locators, enable traffic/transit layers etc. Plus maps are all automatically responsive!
25. Image Map Pro for WordPress

Image Map Pro is an interactive premium image map builder. Why limit your creations to Google maps? With Image Map Pro you can create custom maps using the image (or map) of your choosing. Then add custom shapes, font icons, tooltips, mouseover or on-click actions, custom zoom, fullscreen layout and more. Plus the plugin supports easy map imports, undo/redo while building, layer duplication, custom styles and automatic updates.
26. Google Maps WD

The Google Maps WD Free WordPress plugin is a straight forward and intuitive plugin to add Google maps to any WordPress website. Just install the plugin and start building your maps. The plugin supports multiple locations, related/categorized locations, map layers, marker, map pin links, directions and more. When you're done just use the shortcode to add your map to any post or page.
27. WP Store Locator

Maps are a great way to showcase destinations for travel and leisure, but they're also super helpful for business. With the WP Store Locator free plugin you can add your store locations along with important info such as hours, phone number, url and description. Then add extra features like custom styles, map marker icons, custom meta data, driving distances and even driving directions. The WP Store Locator plugin is also fully compatible with multilingual plugins so you can create maps that are useable for all of your largest target markets.
28. Super Store Finder for WordPress


Design advanced maps for customers to find your locations with the premium Super Store Finder for WordPress. Build responsive, mobile ready maps with street view & directions for your WordPress website. Add unlimited locations, choose a boxed or full layout, enable geo location, customize styles/colors, drag & drop makers, add custom labels and more.
29. Google Maps Easy

Google Maps Easy is just that – easy. This free plugin includes an easy to use live map builder with support for media descriptions, unlimited markers, customizable options and an easy to use shortcode to insert your maps. Plus the plugin is compatible with most themes and mobile devices.
30. Simple Google Maps Shortcode

The Simple Google Maps Shortcode is exactly what it sounds like – a straight forward and easy to use mapping shortcode. Use the pw_map shortcode parameters for address, map width and height, wheel scroll and disable controls to quickly tweak the settings for your map. Maps are cached with the WordPress transients API, and the plugin is already setup to work with the Google API.
31. iMapper – WordPress Image Mapper/Pinner

The iMapper premium WordPress image mapper/pinner is an advanced custom mapping plugin to add interactive and animated pins to your own images (whether you're uploading a mall map, a product flat lay, or something else). Add custom pins with tooltips, slideouts, tabs, links, bubbles, filters and more. The plugin also support Google fonts, custom styles, lightbox (image/gallery), and actions.
32. 360° Panoramic Image Viewer

While it's not a traditional style map, the 360 Panoramic Image Viewer is a premium plugin to add custom hotspots and scrolling to your panoramic images. The plugin enables you to upload your 360 images, manipulate and optimize them for an improved user experience, then add in hotspots (using a map element). This is a fun an creative way to add interactive tours of your city, restaurant, or offices.
33. Map List Pro

Map List Pro is a premium WordPress plugin that would be a great addition to any WordPress website. With this plugin you can add detailed maps and lists that are searchable and sortable – so your readers can see your whole map, or just the bits and pieces they're interested in. Plus Map List Pro comes preloaded with 25 different map styles, support for images, auto-zoom, custom markers, category markers and filters (as mentioned before).
34. Jetpack Contact Info & Map Widget

Already using the Jetpack plugin? Well, it should be no surprise that this all-in-one WordPress solution includes a simple way to add Google maps to your site. Just use the Contact Info widget – which features simple fields for your address, optional Google map, phone and business hours. If you're already using Jetpack for your site this is a quick and easy option.
Wrap-up
There you go – 30+ awesome WordPress mapping plugins that you can use to share your office locations, favorite places, local attractions and more. Have you used any of the above plugins? Let us know how it worked out for you, or if you have any recommendations.