This
article
was originally published on
this site
If you're making an online purchase, chances are high that you'll end up using either Stripe vs PayPal to pay for it. Both processors have a large international foothold, but especially dominate in the US. That means if you want to launch an online store that caters to as many customers as possible, you'll want to offer one of the two options (or even both).
In this article, we'll compare Stripe vs PayPal and give you a full breakdown of how each platform works. We'll discuss the key differences between them, and talk about when it makes sense to use each.
Let's get to it!
An Introduction to Stripe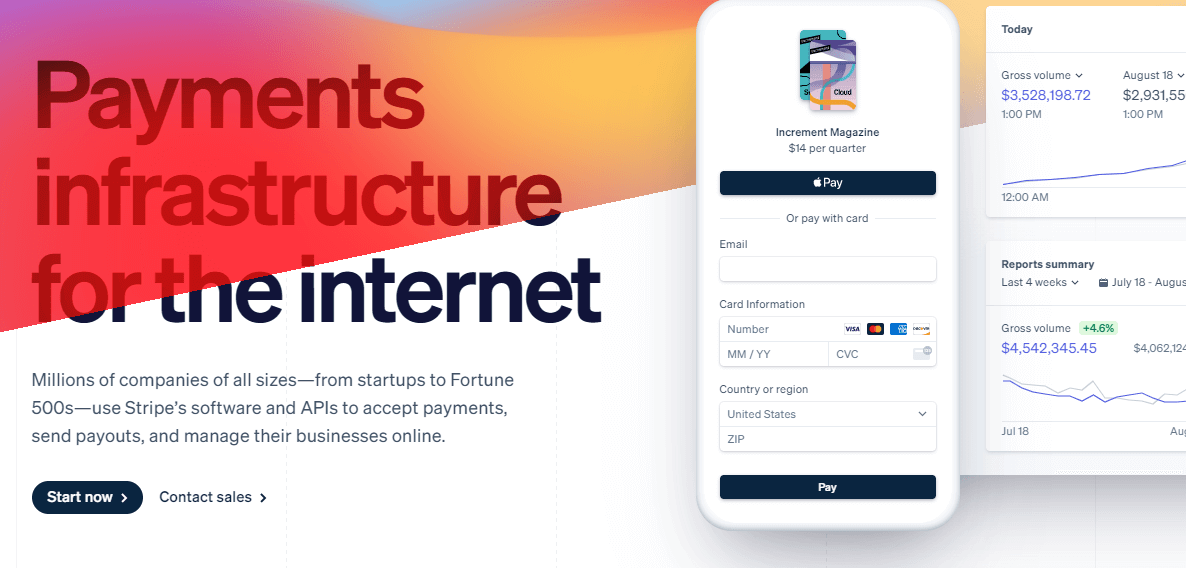 Stripe bills itself as a "payment infrastructure" platform. It offers a broad catalog of services beyond just payment processing, including invoicing and billing software. You can also use Stripe to help manage fraud and risk within your business, and to process sales taxes.
Overall, Stripe's service portfolio is incredibly broad. However, online payment processing remains at the core of the platform. With Stripe, you get access to:
Hosted payment pages
Integrated payment processing within your website
Support for one-off and recurring payments
Support for multiple payment methods
Multiple payout options (and support for multicurrency payouts)
With Stripe, you can enable users to pay using a broad range of methods. The service supports credit cards, as well as online wallets such as Apple Pay, Google Pay, WeChat Pay, and more. Customers can also pay using debit and direct bank transfers. On your end, Stripe gives you the option of cashing out directly to your bank account.
Overall, Stripe is one of the best processors you can use if you want to give customers multiple payment options. However, it's somewhat limited when it comes to international availability. At the moment of this writing, Stripe is available in "only" 44 countries.
Pricing and fees: Stripe fees start at 2.9% plus $0.30 per transaction for credit card and wallet payments. For bank debits and transfers, the service charges 0.8% plus a variable fee that caps at $5.
An Introduction to PayPal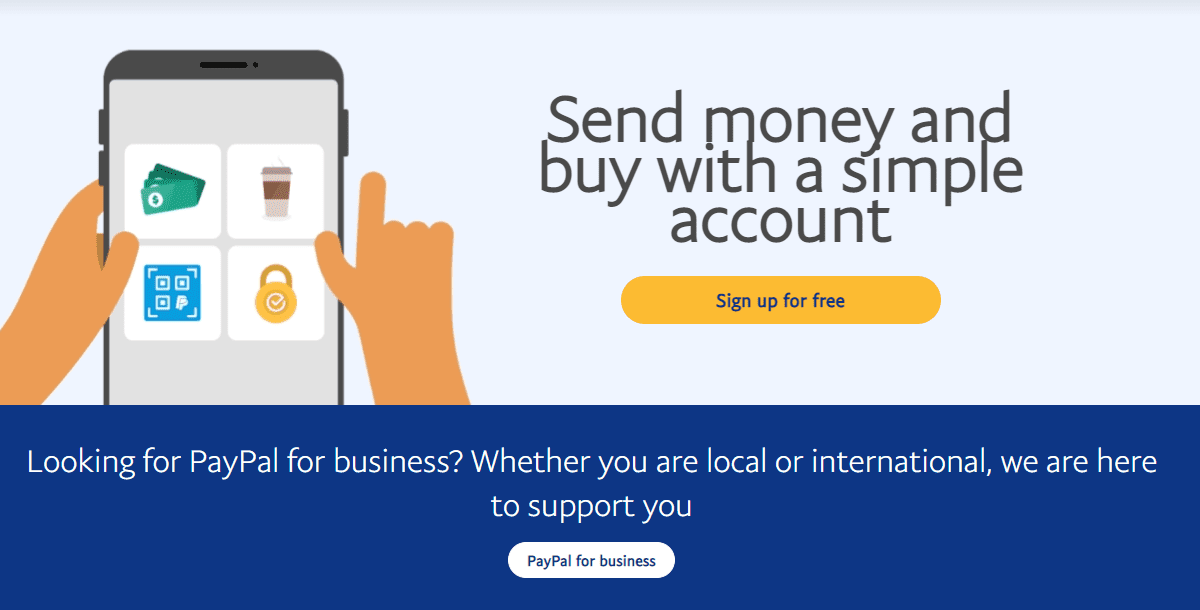 PayPal is one of the biggest names when it comes to online payments. The service is popular among both businesses and individuals, as it enables you to open an account and get access to a "wallet". You can use PayPal to send and receive money or payments, and withdraw your balance to a bank account whenever you like.
However, there's a significant difference between the features available for businesses and individuals using PayPal. Let's talk about some of what you'll get access to with a PayPal for Business account:
PayPal payment buttons that redirect users to the platform
Custom PayPal checkout that you can integrate within your website
The option to enable customers to pay using credit and debit cards, PayPal balances, or bank transfers
Support for one-off and recurring payments
Variable withdrawal options depending on your location
PayPal doesn't offer customers as many payment options as Stripe does, since it doesn't support third-party wallets. Moreover, payment and withdrawal options vary depending on where you're using PayPal from. In some jurisdictions, PayPal does offer additional payment methods, such as cryptocurrency.
The biggest advantage that PayPal has is its broad availability. PayPal offers its services in 161 countries at the time of this writing. That means that you can use PayPal to process online payments almost anywhere in the world, which sets it apart from most other processors.
Pricing and fees: PayPal charges 2.90% plus $0.30 for credit card transactions. For international purchases, the service charges an additional 1.50%.
Stripe vs PayPal: 4 Key Differences
There's no one payment processor that's a perfect fit for every store. Choosing between Stripe vs PayPal can be challenging, so we're going to compare both services on a few key criteria to help you decide.
1. Pricing and Plans
Both Stripe and PayPal enable you to sign up for an account for free. With Stripe, you get to choose between an Integrated and a Customized account. Integrated accounts get access to all of the features we discussed earlier, as well as standard pricing fees: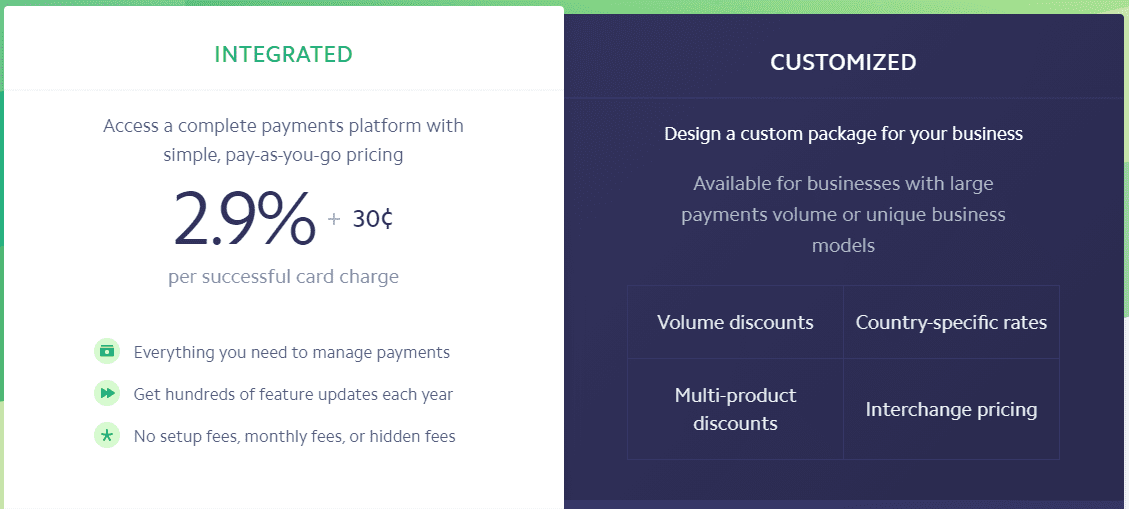 Stripe's fee system is remarkably straightforward. The platform charges a standard 2.9% plus $0.30 for credit card transactions, and 0.8% plus a variable fee for bank transfers. We say "standard", because that's what most payment processors will charge you for accepting credit cards.
You can get access to lower fees, but custom plans are only available for businesses that complete significant numbers of transactions. If you run a growing business, you'll likely use the Integrated plan.
PayPal's pricing and plans system is a bit more complex. As a business, you get to choose between two types of accounts, which are:
PayPal Payments Standard. This is the basic business plan, which you can use to redirect users to PayPal for processing payments.
PayPal Payments Pro. This type of account will cost you $30 in maintenance fees per month. On top of PayPal's default payment methods, you'll also be able to process sales over the phone or via virtual terminals. This plan also lets you add a custom checkout page to your website.
Both types of PayPal business plans charge you the standard 2.9% plus $0.30 for credit card transactions, and an additional 1.5% for international sales. However, here's where things get complicated – since PayPal is available in over 160 countries, it also supports several local payment methods. This means that its fees change depending on which methods your store has available.
All in all, both Stripe and PayPal offer a similar fee system (at least in the US and other major markets). However, Stripe offers you the option of integrating payment flows within your website on its Integrated plan. To do the same with PayPal, you'll need to opt for the PayPal Payments Pro plan. As far as pricing and plans go, therefore, Stripe has the edge.
2. Regional Availability and Multi-Currency Support
PayPal is available nearly worldwide, and it enables you to open accounts from 161 countries. That gives it a clear edge when it comes to regional availability. However, it's important to understand that PayPal doesn't offer its full range of services in all of the countries it supports.
In practice, there are 83 countries that cannot receive payments. Customers in those areas can only send payments by linking credit cards with their accounts. Some of the countries on that list include Bolivia, Paraguay, and Aruba. If you reside and do business in a major international market, however, chances are you'll be able to access PayPal's full range of services.
It's also worth noting that although PayPal is available all over the world, it only supports 25 currencies. For payments outside of those currencies, you'll need to pay conversion fees (2.5% when they apply).
Stripe, on the other hand, is available in only 44 countries. However, it supports over 135 currencies. In practice, you'll still be responsible for conversion fees (1% when they apply), but the support for a broad range of currencies makes it easier to process international payments.
Even with restrictions in some regions, PayPal wins by a broad margin when it comes to availability throughout the world. However, Stripe supports a larger number of currencies. Therefore, which is best in this area will depend heavily on where your customer base is located and how they tend to pay.
3. Payment Methods
Most users pay for online purchases with their credit cards. For both PayPal and Stripe, credit card processing is a core functionality: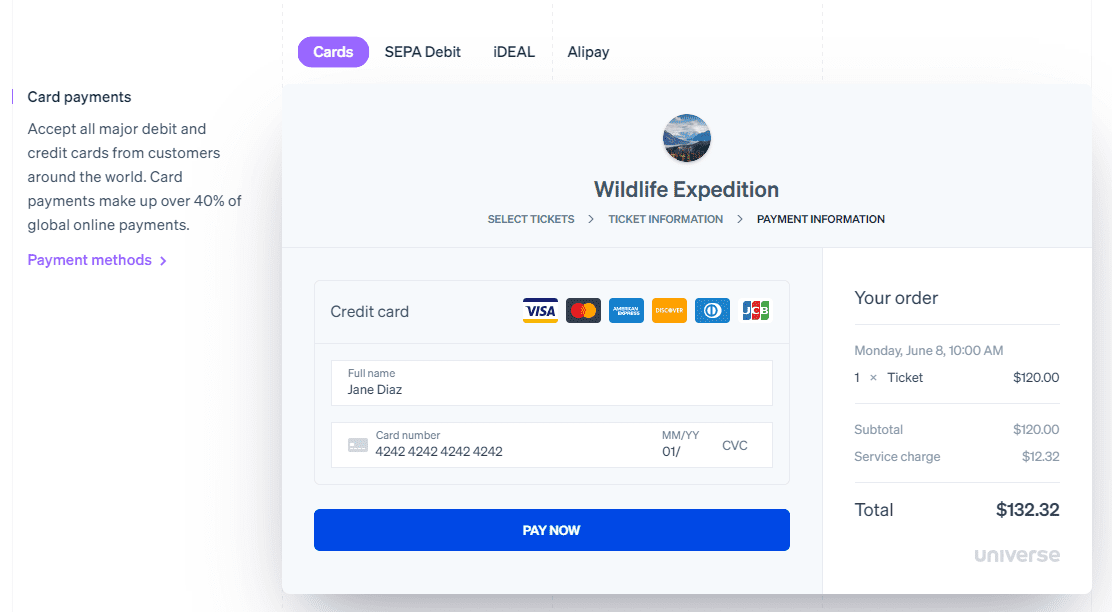 However, it's important to understand that in 2021, a lot of users prefer to pay using other methods. For example, if they don't have access to credit, they might need to pay using bank transfers. Other customers will prefer to use "wallets" or apps tied to their smartphones, where they can connect multiple cards and hold balances.
With that in mind, here's a quick overview of what payment methods are supported by Stripe vs PayPal:
Payment Methods
Stripe
PayPal
Credit card
Yes
Yes
Debit card
Yes
Yes
Bank debit
Yes
Yes
Digital wallet
Yes (Apple Pay, Google Pay, WeChat Pay, Alipay, Microsoft Pay, Mercado Pago)
Yes (Only Venmo)
Cryptocurrency
No
Yes*
In-platform loans or credit
Yes
Yes
On paper, both platforms offer a similar selection of payment methods. However, it's important to note that Stripe has an edge when it comes to bank debits and digital wallets. PayPal only supports bank debit payments in specific regions. Moreover, Stripe integrates with the most popular digital wallets, whereas PayPal only supports Venmo (and only in the US).
As far as cryptocurrency goes, PayPal enables you to buy and sell within its platform, as well as use these currencies to pay for products. However, that feature is only available in the US for now. Stripe, on the other hand, doesn't offer any cryptocurrency integration.
4. Ease of Use
When comparing Stripe vs PayPal, you'll find that the latter is much easier to pick up for non-technical users. Signing up for a PayPal account and managing it is remarkably simple, since the platform offers a very user-friendly dashboard.
Stripe, on the other hand, offers a much more intricate command center. Its dashboard enables you to manage third-party integrations, and access in-depth reports, developer resources, and even test data: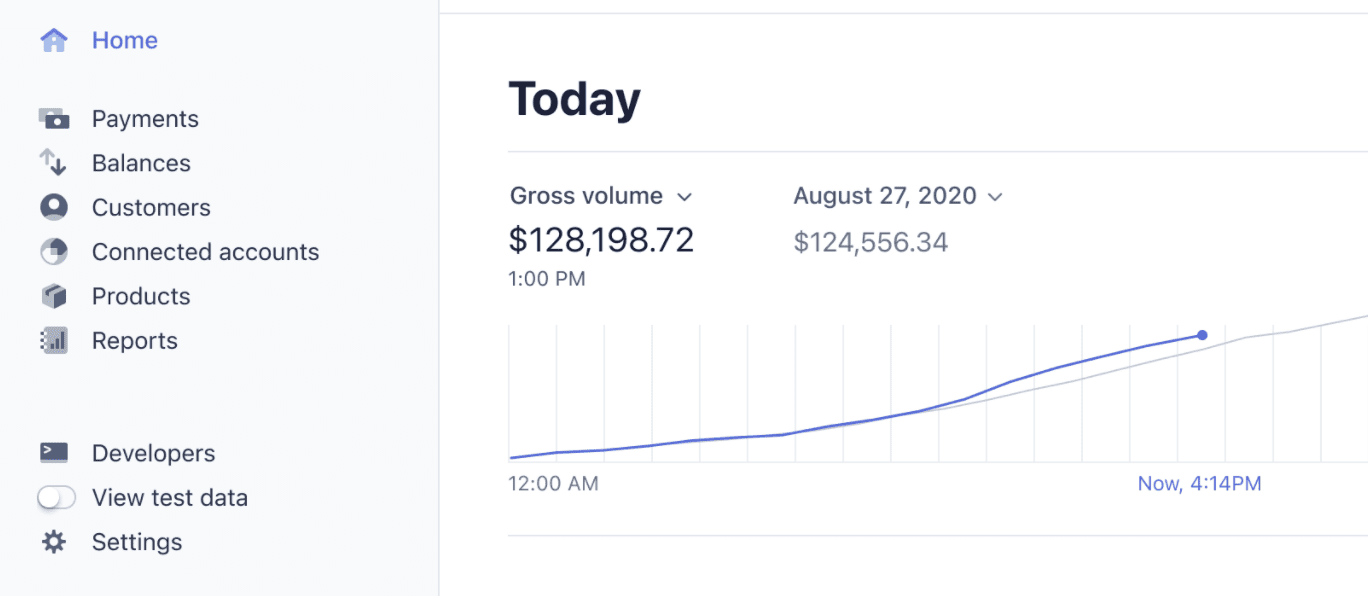 Setting up either payment solution on your website should be relatively simple. Both PayPal and Stripe offer multiple integration options. In PayPal's case, you can add Buy Now buttons or a custom checkout to your website (or both):



Adding payment forms and buttons to your website using PayPal is a very straightforward process. On the other hand, creating a custom payment flow using Stripe often requires the help of a developer. However, the trade-off is that Stripe gives you far more control over how your checkout process works.
If you're using WordPress, the most popular e-commerce plugins support both PayPal and Stripe. That makes integration even simpler, as all you have to do is choose which payment processor to use, and connect your accounts with your e-commerce plugin of choice.
Conclusion
Ultimately, if you can offer both Stripe and PayPal as payment options on your website, that's your best option. That way, you enable customers to choose their preferred platforms. If Stripe isn't available in your region, however, it's best to use PayPal and consider integrating other payment processors for customers who can't use it.
In most cases, we recommend against using only Stripe as a payment processor, unless you primarily do business in the US. Since PayPal has a bigger international footprint, customers are much more likely to be familiar with it. However, as far as features go, Stripe does have a clear edge over PayPal.
Do you have any other questions about Stripe vs PayPal? Let's talk about them in the comments section below!
Featured Image via Julia Tim / shutterstock.com