This
article
was originally published on
this site
Trying to choose between Squarespace vs WordPress to build a website?
In 2021, these are the two most popular tools to create a website with. WordPress powers 40.6% of all the websites on the internet, while Squarespace powers ~1.7%.
However, raw popularity numbers don't tell the full story, so you shouldn't automatically assume WordPress is better for you just because it's so much more popular.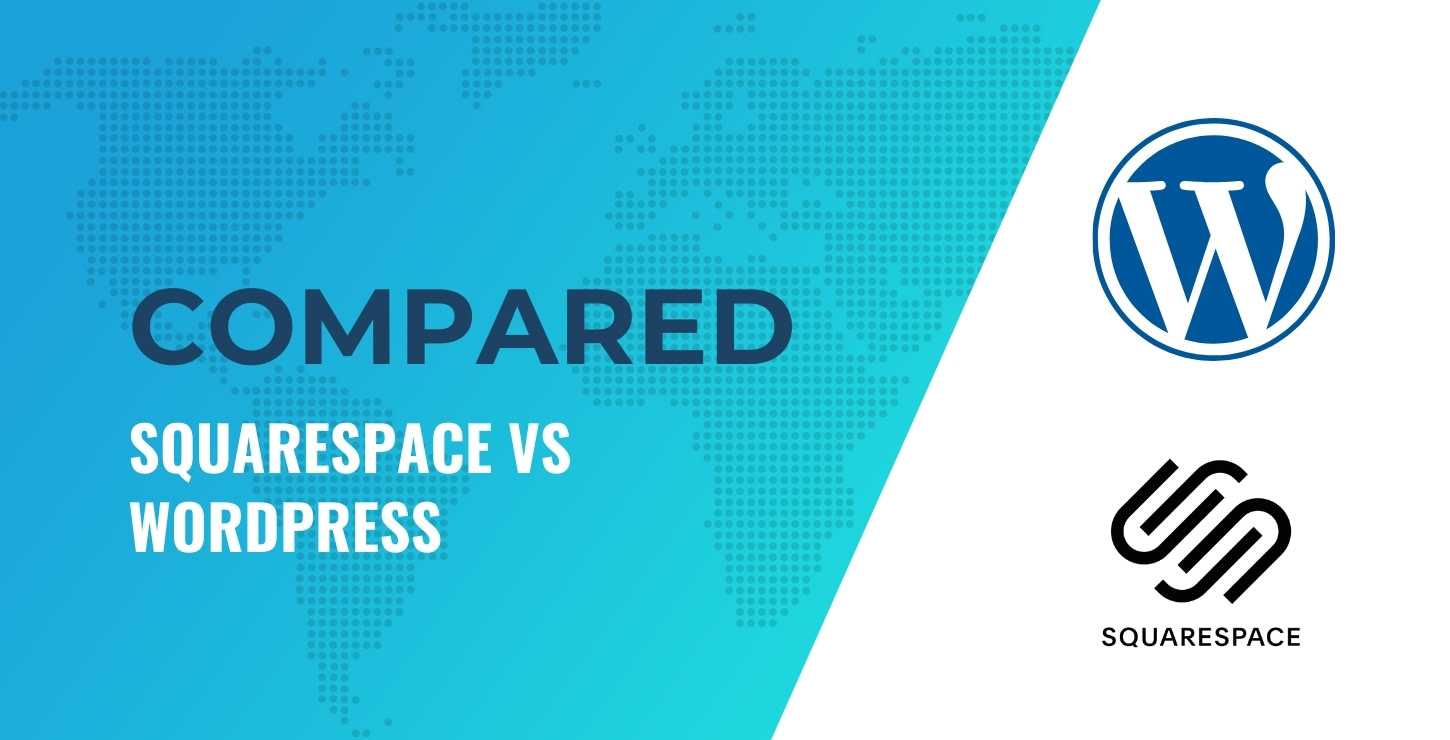 There are some important differences to understand between these two platforms. And those differences will help you decide which is the best for your website.
In our hands-on Squarespace vs WordPress comparison, we'll dig into those key differences so you can be confident you're picking the best platform for your website. In total, we'll compare these two platforms in five key areas:
Squarespace vs WordPress: The main difference in a nutshell
Before we get to the other comparisons, let's kick things off with the main difference between Squarespace vs WordPress:
⚠️ Note about WordPress – we're talking about WordPress.org, not WordPress.com. When most people say "WordPress," they mean the open-source WordPress software at WordPress.org – you can learn more about the difference here, if you're interested.
🤔 Ok – so what's the difference between a "hosted tool" and a "self-hosted tool"? And why the heck should you care about that?
Hosted website builder (Squarespace)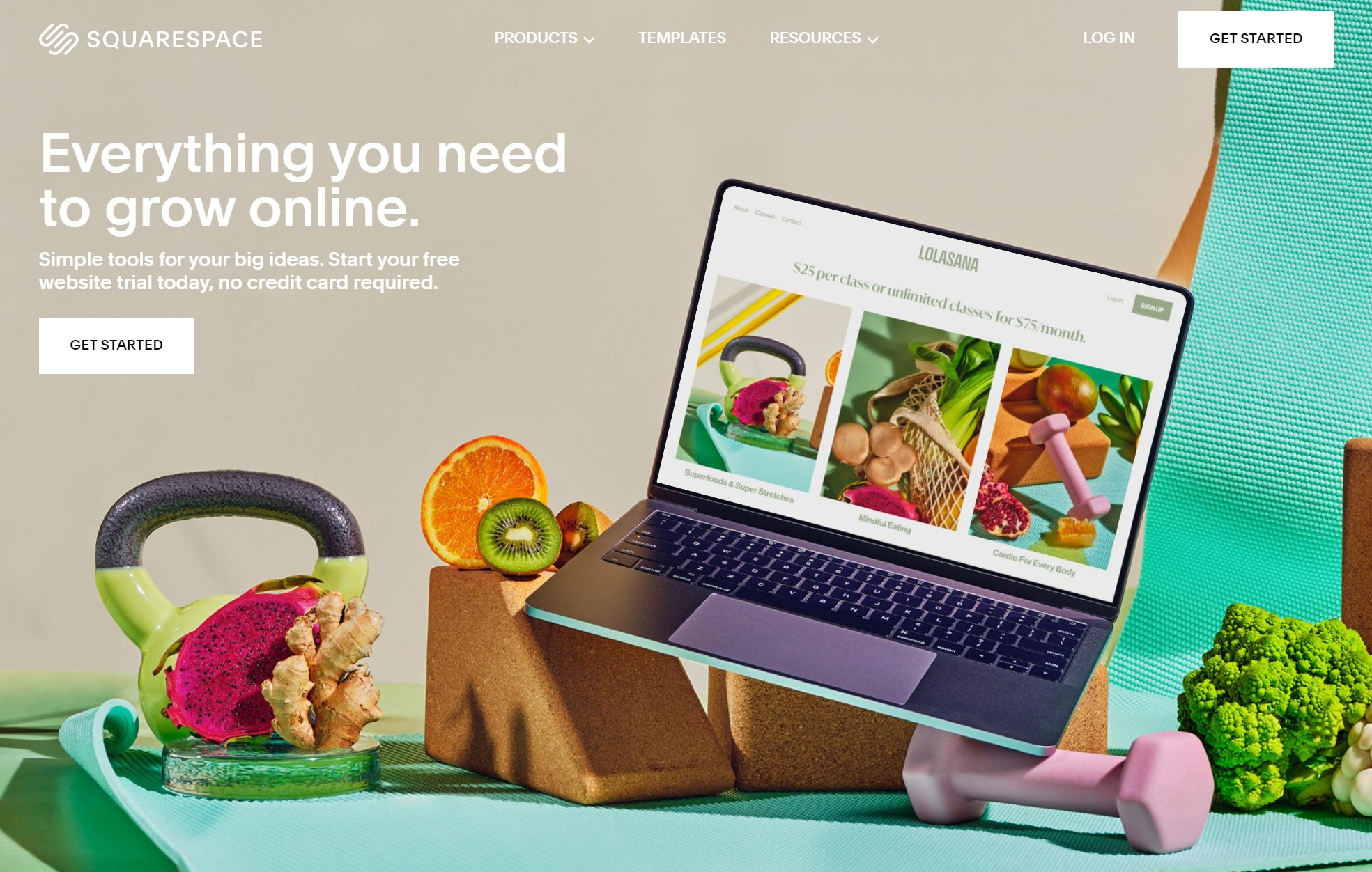 With a hosted tool like Squarespace, you never need to interact with the underlying software that powers your site. You just register for an account and use the front-facing tools to design your site.
What's more, you never need to think about security, maintenance, etc. The service takes care of all that for you.
Let's look at a real-world analogy – housing. You can think of a hosted website builder kind of like a serviced apartment.
With a serviced apartment, all you need to do is move in. The furniture is already there, you have someone to do your cleaning and laundry, etc. You just bring your clothes and start living.
From a simplicity standpoint, the hosted approach is undeniably convenient – it's so simple and hands-off!
But the downside is that you lose some flexibility because you're only allowed to do what the service allows you to do. If there's a feature you want to add that the service doesn't support, you don't have the ability to go in and edit things directly (or more likely, pay a developer to do that for you).
Similarly, if you had a serviced apartment, you can't just go in and redesign the whole thing if you decide that you want to change the furniture and aesthetic. You're stuck with what's there.
Self-hosted open-source software (WordPress)

With WordPress, you'll take the open-source WordPress software and install it on your own web hosting (don't worry – it's not as complicated as it sounds).
Because you're the one hosting the software, you have the full power to tweak it in any way imaginable (or install pre-made tools from developers to make changes to your site).
Going back to our housing analogy, WordPress would be like buying your own house. You can make all the changes you want – no one can limit you. But with great power comes great responsibility – if the roof springs a leak, you're going to be the one who's fixing it.
Similarly, you're going to be the one who's responsible for maintaining your site (though there are services that can make it easier).
Overall, the self-hosted, open-source approach is great for flexibility. But that flexibility comes at the expense of some simplicity and ease of use.
Squarespace vs WordPress: What can you build?
Next, let's talk about the different types of sites that you can build with WordPress and Squarespace. This will accomplish two things:
It will let you know if the platform can actually build the type of site you need it to.
It will give some more insight into the differences in flexibility between the two.
Squarespace vs WordPress
Type of site
Squarespace
WordPress
Here's what the icons in the table mean:
✔️ – the platform creates this type of site with zero issues.✔️❌ – the platform can kind of create this type of site, but it's a bit limited or awkward. Basically, it works in a pinch, but it's not ideal.❌ – the platform cannot create this type of site.
Small business website
✔️
✔️
Portfolio website
✔️
✔️
Blog
✔️
✔️
Online store
✔️
✔️
Membership website
✔️❌
✔️
Online course
✔️❌
✔️
Directory website
❌
✔️
Booking website
✔️
✔️
Social community
❌
✔️
Forum
❌
✔️
Wiki/knowledge base
✔️❌
✔️
Multilingual website
✔️❌
✔️
Podcast website
✔️
✔️
As you can see, both platforms are pretty equal when it comes to simple websites. For example, if you want to create a website for your restaurant, either will be fine. But when it comes to more complex websites like membership sites, directories, online courses, social communities, etc. then WordPress definitely has the edge.
So if you think you might want to, say, add an online course to your blog at some point in the future, WordPress will give you more flexibility to make that addition.
Squarespace vs WordPress: Ease of use and setup
When you're choosing between WordPress vs Squarespace, one of your biggest considerations is probably how easy each platform makes it to create a website.
First – some good news:
Both Squarespace and WordPress are something a non-technical person can use to create a site.
Even if you've never made a website before, you should be able to handle it with either platform.
With that being said, Squarespace is a little bit simpler, so it has the edge if that is really important to you. Let's go through it…
Squarespace
Creating a website with Squarespace is super simple – you just head to Squarespace and register for an account.
This will launch the Squarespace setup wizard where you'll enter some basic details about your site. You'll also be able to choose from Squarespace's many pre-built templates.


From there, you can edit your site using the Squarespace dashboard and design editor – more on that next.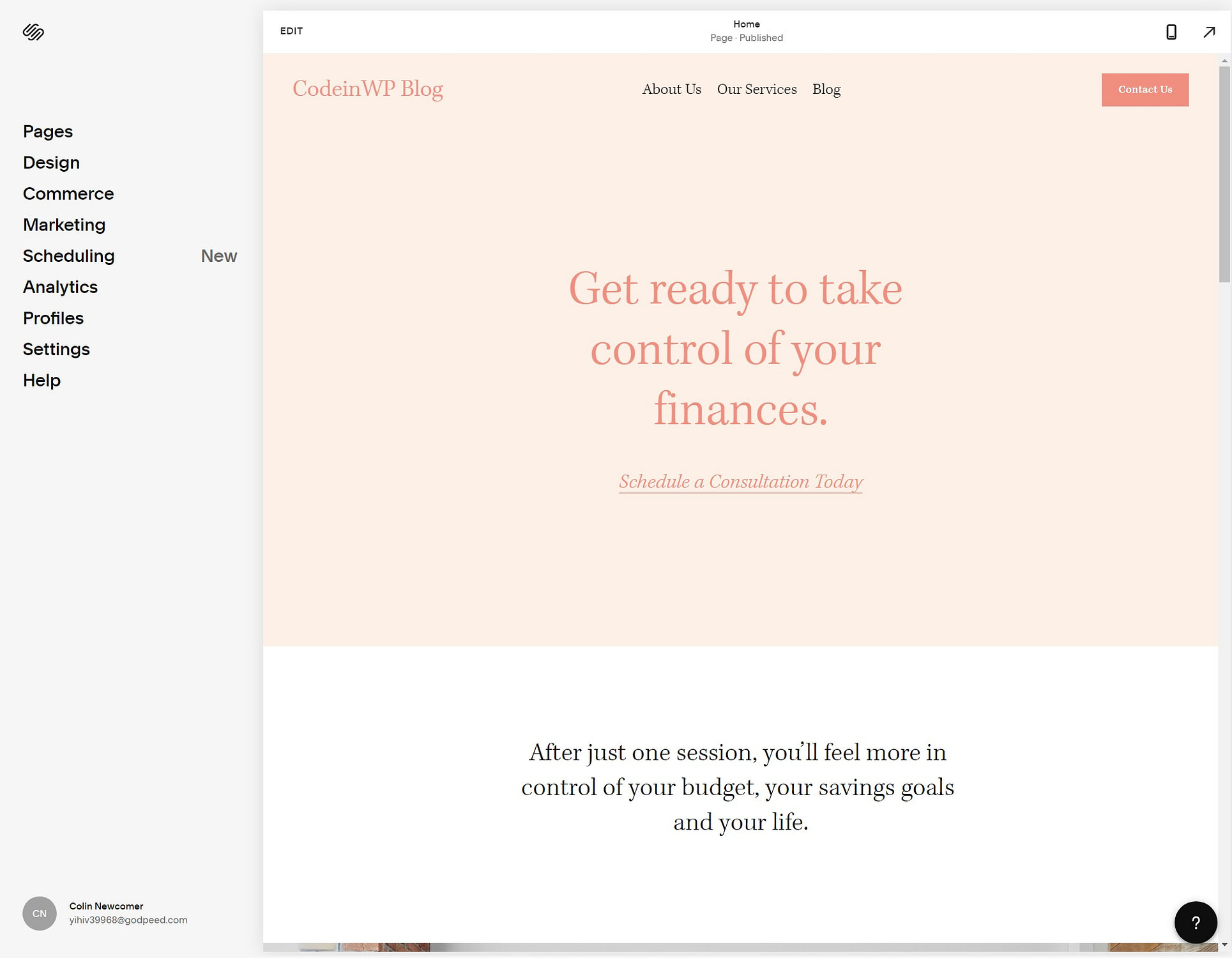 That's it – it's super easy. You can have a working website with just a few minutes of getting started.
WordPress
Creating a WordPress site takes a few extra steps, but it's still pretty easy.
To begin, you'll need to purchase web hosting. This is what will power the WordPress software and make your site available to visitors. At most host services, you'll also be able to purchase your domain name at the same time – some even give you a free domain for the first year!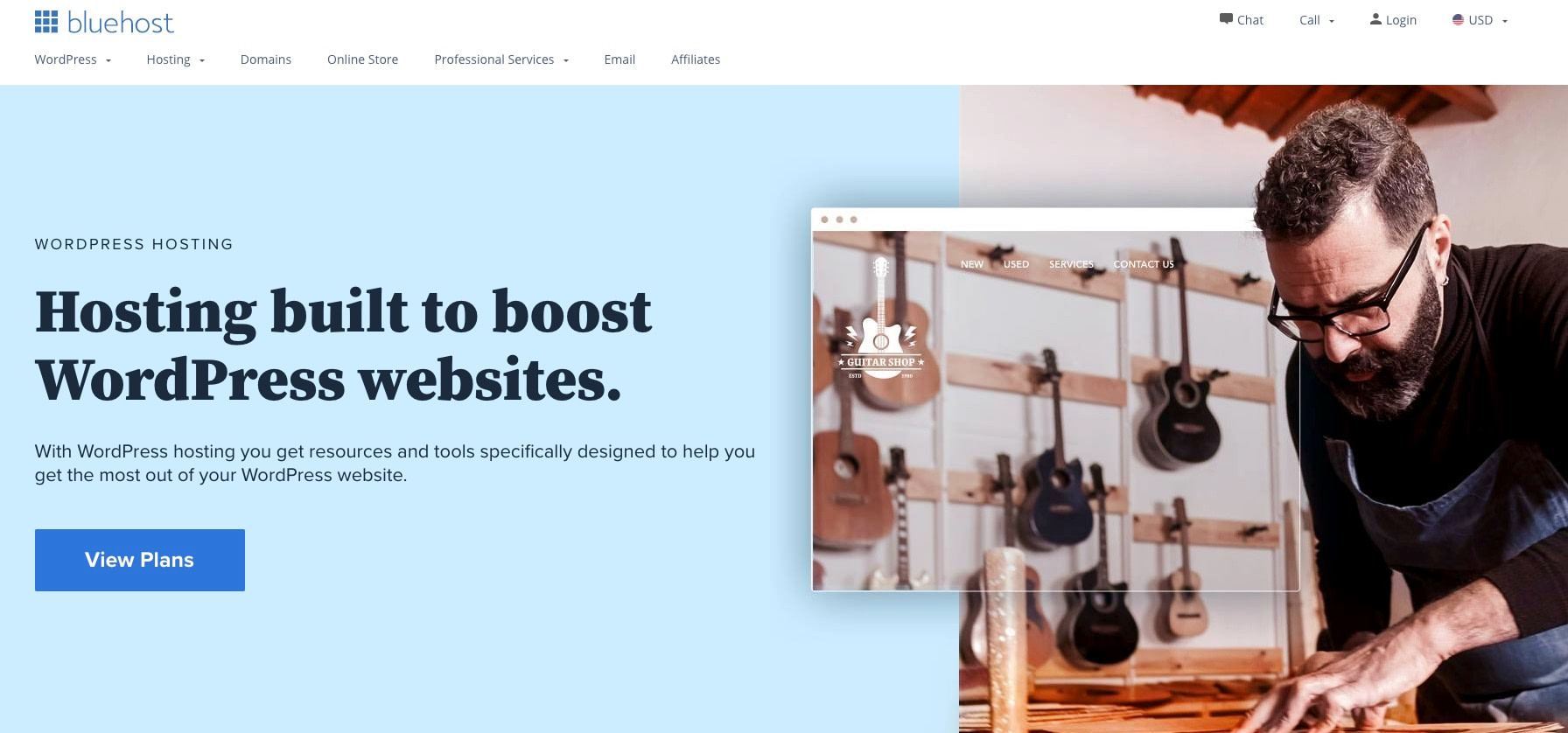 Once you've purchased hosting, you can use the host's WordPress installer tool to install the WordPress software. All web hosts offer these tools because WordPress is so popular – you usually just need to click a few buttons to set it up.
For example, to install WordPress with Bluehost, you just enter a few basic details about your site and Bluehost does the rest:


Once you install the WordPress software, you'll be able to manage your site using the WordPress dashboard – it looks something like this:

Squarespace vs WordPress: Designing your site and creating content
Next, let's talk about what it's like to control the design of your site. Both platforms are pretty flexible, but WordPress will give you more control over the design of your site and WordPress also offers a lot of different ways to edit your site, which lets you pick the editor that you like the best.
Squarespace
Above, we showed you how you can kickstart your Squarespace site's design by choosing one of the pre-built templates. Now, let's look at the options you have for customizing that template and creating your own content.
The Squarespace editor gives you basic drag-and-drop control, but you don't have full control over every part of your page.
Specifically, it uses a section-based approach. You'll put together the design of a page with different sections – kind of like assembling Lego blocks.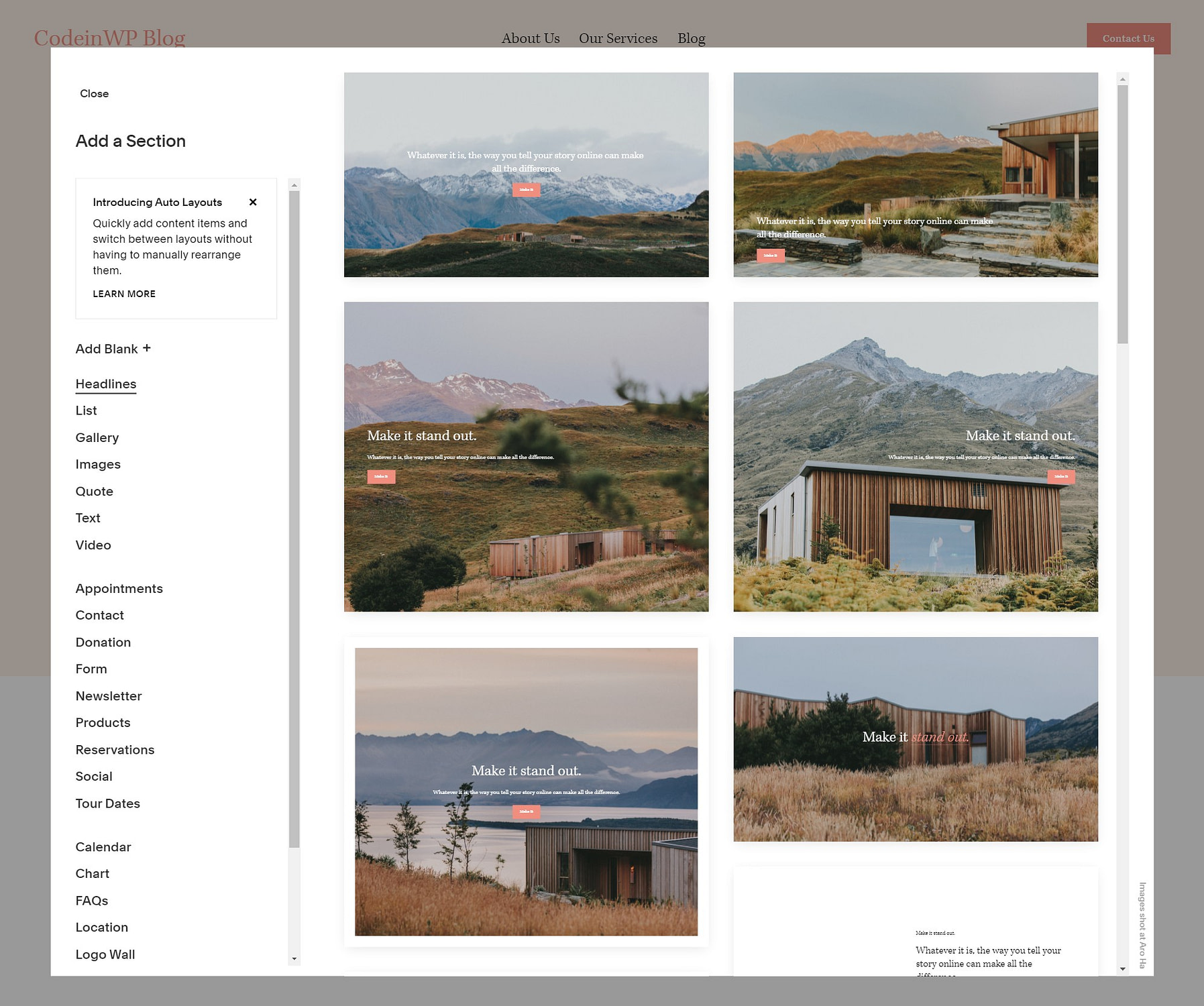 Within each section, you'll be able to add new content blocks and change their order with drag-and-drop.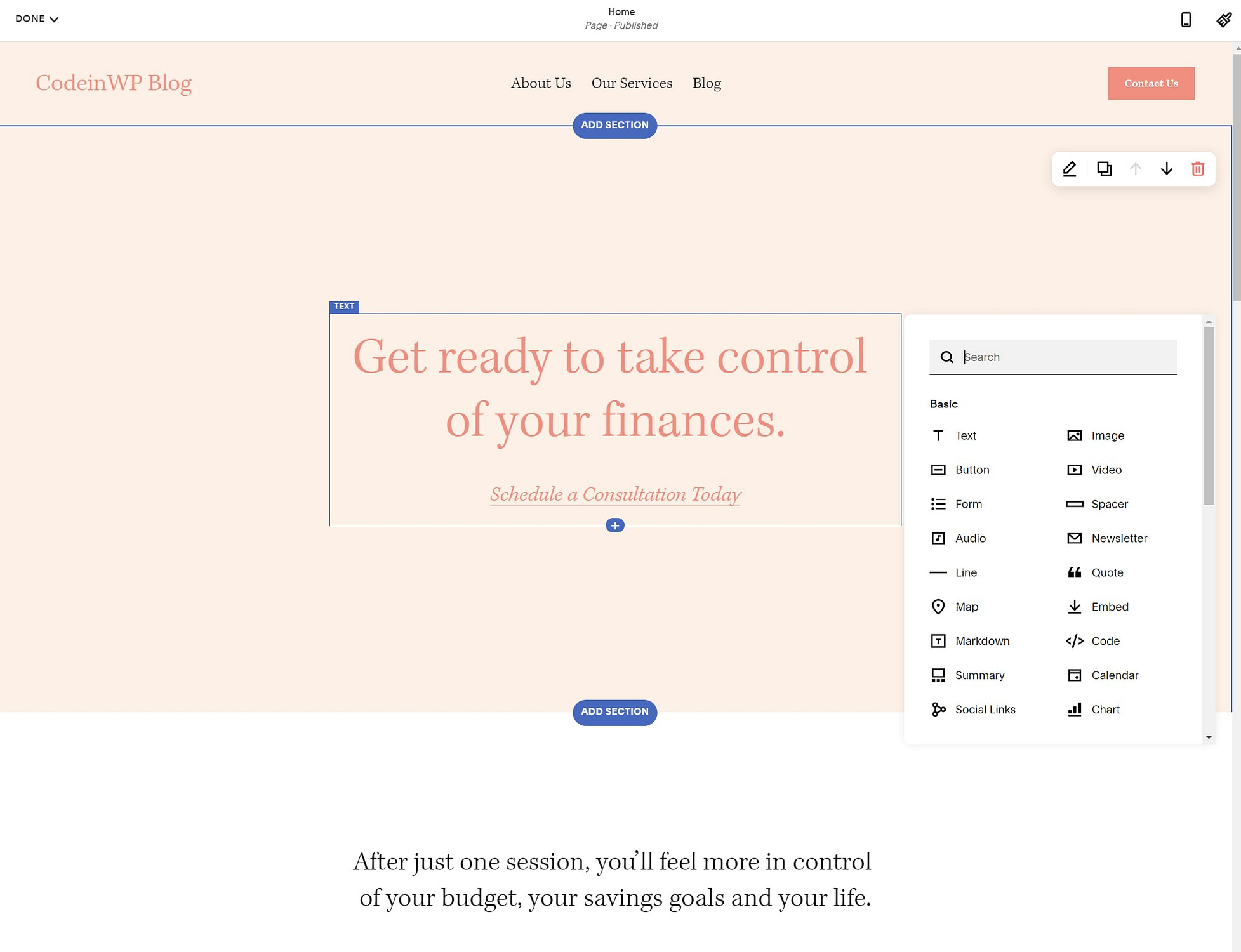 Overall, Squarespace makes it very easy to choose a design and customize it with your own content. However, users who want to really dig in and customize the design at a very detailed level might feel constrained by Squarespace's section-based approach.
If you want true visual, drag-and-drop design flexibility, WordPress is probably the better option.
WordPress
WordPress gives you multiple ways to create content, which is nice because it lets you choose your preferred approach.
First, to control the basic design of your site, you can install a WordPress theme, which is the equivalent of Squarespace's templates. You can find thousands of free WordPress themes plus thousands more premium themes. Check out some of the best WordPress themes here.
Many WordPress themes now include their own templates. For example, the free Neve theme offers 80+ different design templates:


From there, you get your choice of a few different content editors.
By default, WordPress sites use the block editor. It's fine for creating blog posts or basic designs, like a simple multi-column layout. However, it's not a true visual, drag-and-drop design experience.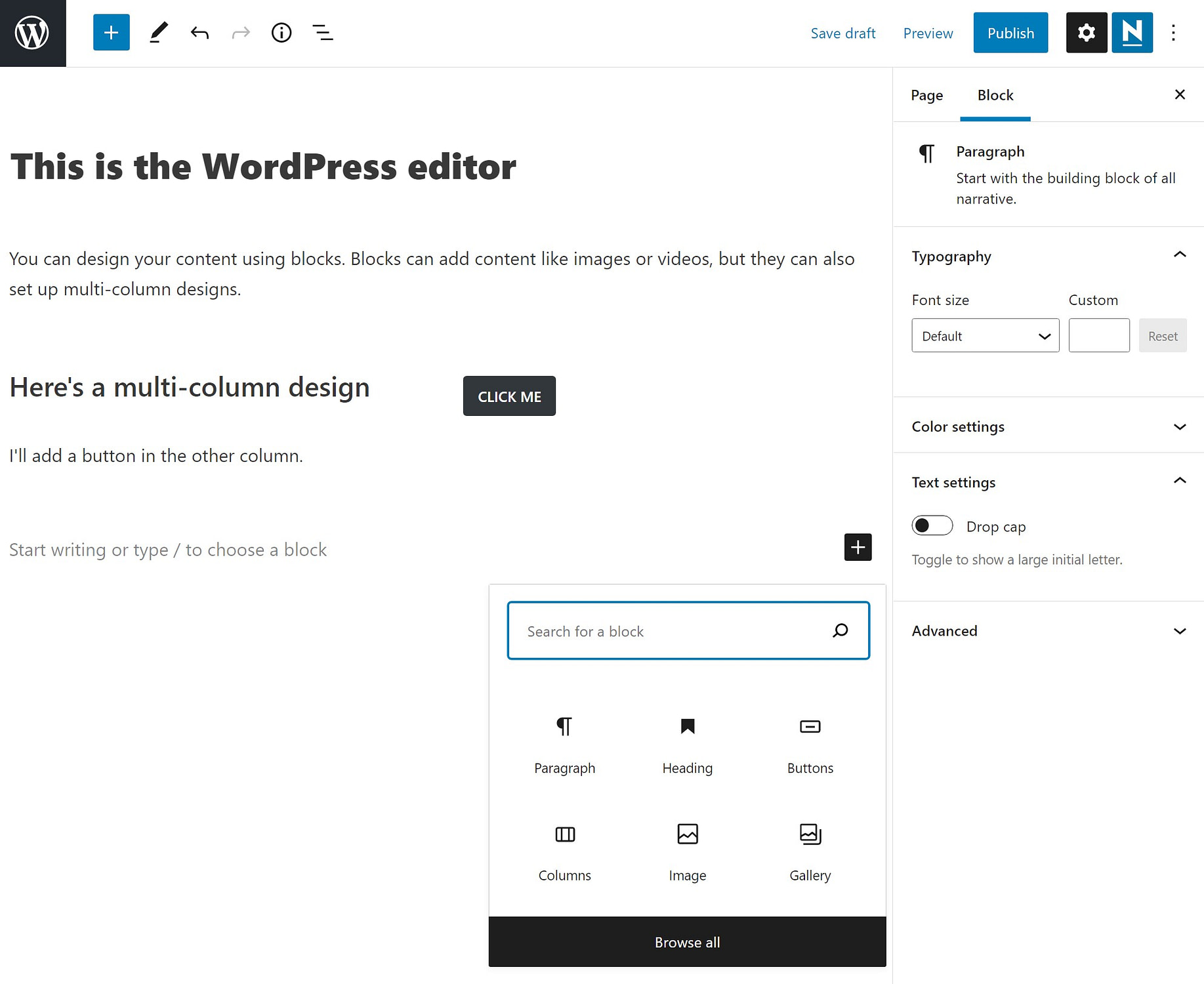 If you want to add that full visual experience, you can install something called a page builder plugin. Essentially, these are like alternate design editors that you can plug and play. There are a lot of different options, which is nice because it lets you choose the editor that works best for you.
I'll use Elementor as an example, though, because it's the most popular WordPress page builder plugin.
Once you install Elementor, you'll get a new option to launch the Elementor editor when you create content. It's a true visual, drag-and-drop builder. You'll design using a live preview of your page and you can easily move stuff around and change up designs: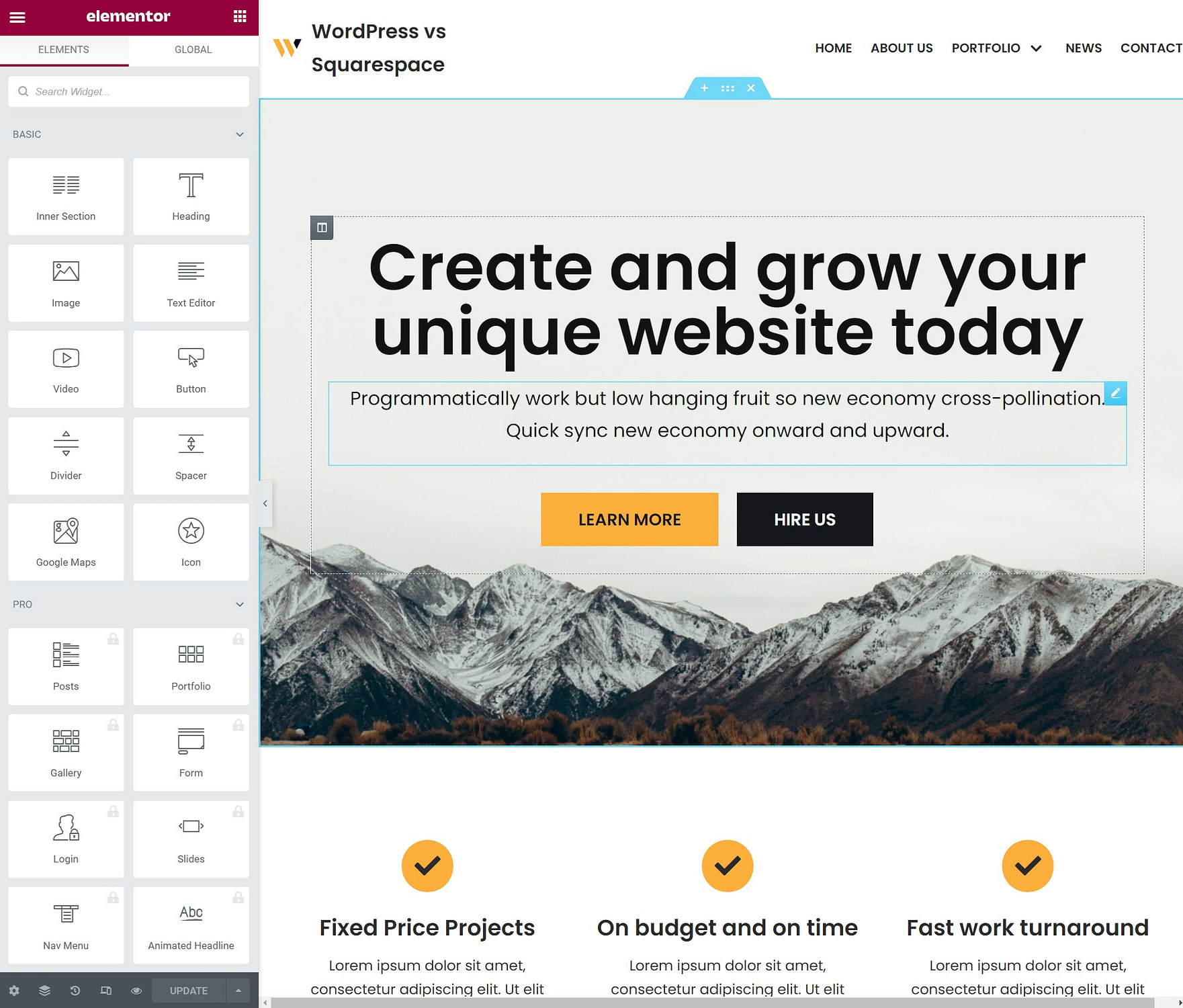 Squarespace vs WordPress: Extensibility and flexibility
Next, let's talk about the options that you have for adding new features to your website and just generally extending your website.
For example, what if you decide you want to add an online course? Or what if you decide you want to connect to a new email marketing service?
There are two ways in which you can add features and functionality to your site:
Using a pre-built "extension" or "plugin".
Directly editing your site's code (or hiring a developer to do that).
Here, WordPress is the clear winner. No matter how you look at it, WordPress is more flexible. Let's take a look…
Squarespace
We already talked about some of Squarespace's flexibility limitations when we discussed the difference between hosted and self-hosted platforms. To recap – because Squarespace is a hosted tool, you have very limited access to your site's "code", which means you can't always hire a developer to make a change if needed – some changes just won't be possible.
However, Squarespace has improved a bit when it comes to the second type of flexibility – extensions. Previously, Squarespace didn't allow third-party extensions, which was quite limiting.
Now, Squarespace does allow some third-party extensions. However, the list is still very limited. For example, at the time that we're writing our Squarespace vs WordPress comparison, Squarespace only lists 25 extensions.
Basically, unless Squarespace can do exactly what you need it to with its built-in features, you're probably going to get frustrated.
WordPress
WordPress is a dream when it comes to flexibility, which is a big reason why it is so popular.
First off, because it's open-source software, you can always hire a developer to directly edit the code of your site, which means your possibilities are pretty much endless.
However, you don't usually need to resort to this because WordPress has an absolutely massive collection of extensions, called "plugins".
At the official WordPress plugin directory, you'll already find ~60,000 free plugins with a wide range of features. Beyond that, you can find thousands of other plugins at marketplaces like CodeCanyon or via independent developer websites.
Plugins can add small features, like a contact form or a review box. Or, they can add big features, like turning WordPress into an eCommerce store or launching an online course.
If you want to check out some of what they can do, you can browse our collections of the best WordPress plugins or some essential plugins for all sites.
Squarespace vs WordPress: Pricing
Comparing Squarespace vs WordPress pricing can be tricky because there are a lot of variables. Both can be cheaper in certain situations, though WordPress has the potential to be a little cheaper for some websites.
Squarespace pricing
Squarespace's costs are very straightforward. There are four preset pricing plans. You can pay monthly or pay annually to get a 25-30% discount off the monthly prices: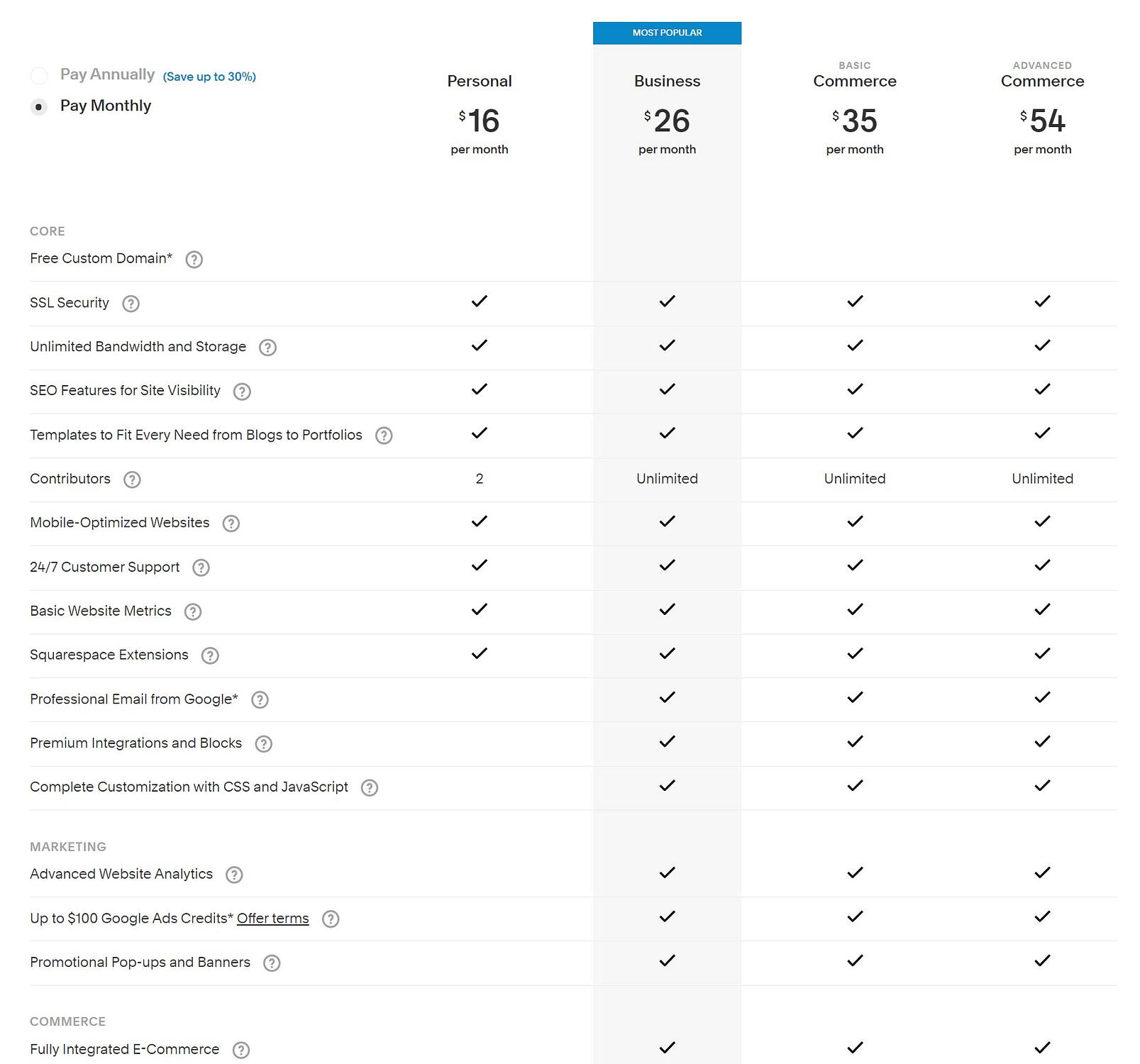 Squarespace will also give you a free domain name if you pay annually, though you'll need to pay $20 to renew it after your first year (which is a bit expensive – the normal cost is ~$12).
To learn more, check out our full breakdown of the Squarespace pricing plans.
WordPress pricing
WordPress pricing varies more because you get to make some choices regarding your costs.
But first – the good news:
The WordPress software itself is 100% free.
However, to run the WordPress software, you'll need web hosting, which isn't free. You can find free WordPress hosting for testing, but we don't recommend it for serious sites.
If you use cheap WordPress hosting, you can find options for as little as $2-3 per month, which is a lot cheaper than Squarespace. These cheap options won't work for high-traffic sites, but they're totally fine for getting started or hosting low-traffic portfolios/blogs.
For example, Bluehost starts at $2.75 per month (when paid for three years upfront) and also gives you a free domain name for your first year.
So for simple sites without a lot of traffic, WordPress can be a lot cheaper.
However, for high-traffic sites, you might need more powerful hosting, which can turn out to be more expensive than Squarespace. For example, premium managed WordPress hosts like Kinsta or WP Engine start at $25 and $20 per month.
You also might spend some additional money on premium WordPress themes or plugins depending on the features and design that you want.
TL;DR: WordPress can be cheaper than Squarespace for simple websites, but you shouldn't assume that WordPress will always be cheaper in all scenarios.
Final thoughts on Squarespace vs WordPress
Overall, choosing between Squarespace vs WordPress really comes down to what you value.
As I touched on earlier, both of these tools (and all website creation tools in general), exist on a spectrum of "simplicity → flexibility." The simpler a tool is, the less flexible it is. And the more flexible a tool is, the less simple it is.
So when you're deciding between Squarespace vs WordPress, you're really deciding where you sit on that spectrum:
If you value flexibility above all else, WordPress is the clear choice.
If you value simplicity above all else, Squarespace is the clear choice.
The tricky thing, though, is that a lot of people fit somewhere in the middle, where both simplicity and flexibility are important. And that's why I think WordPress is the best choice for most people – it strikes a better balance.
WordPress isn't as simple as Squarespace, but it's still simple enough for non-technical people to use. Yes, you'll have a slightly larger learning curve and you'll need to deal with setting up your own hosting. But for most people, putting in that extra time is worth it the added flexibility that you get.
Even if you don't need that flexibility right now, you might appreciate it in the future. For example, maybe you're just launching a blog right now, which both tools can handle with no issues. But what if you decide to launch an online course two years down the road once your audience has grown?
With WordPress, that's no problem. But with Squarespace, you'll need to deal with awkward workarounds or integrate with another third-party tool.
To sum up:
If you want the simplest tool, go with Squarespace. It'll be fine for basic websites, so if that's all you need (and will ever need), it might be best for you.
If you want the most flexible tool, go with WordPress.
If you fit somewhere in the middle where you want something "pretty simple" but still flexible, WordPress strikes the better balance for most people.
To get started with Squarespace, you can follow our step-by-step Squarespace tutorial.
To get started with WordPress, you can choose a hosting provider from our list of the best WordPress hosting and then follow our step-by-step tutorial on how to make a WordPress website.
Still have any questions about choosing between WordPress vs Squarespace? Let us know in the comments section!
…
Don't forget to join our crash course on speeding up your WordPress site. With some simple fixes, you can reduce your loading time by even 50-80%:
Layout and presentation by Chris Fitzgerald and Karol K.
* This post contains affiliate links, which means that if you click on one of the product links and then purchase the product, we'll receive a commission. No worries though, you'll still pay the standard amount so there's no cost on your part.