This
article
was originally published on
this site
Shopify vs Squarespace is a common comparison for would-be store owners. However, on the surface this doesn't make sense. For starters, Shopify is more of an ecommerce tool that sometimes links into other platforms. In contrast, Squarespace is more of an all-around solution to build a website. As such, you'll often wonder what there is to compare.
You can find the answer throughout a number of areas. Of course, the key and core features of both platforms will sway you in one direction or the other. However, you'll also need to align your goals to your budget, decide whether you can market your site, and figure out whether the ecommerce functionality is up to snuff.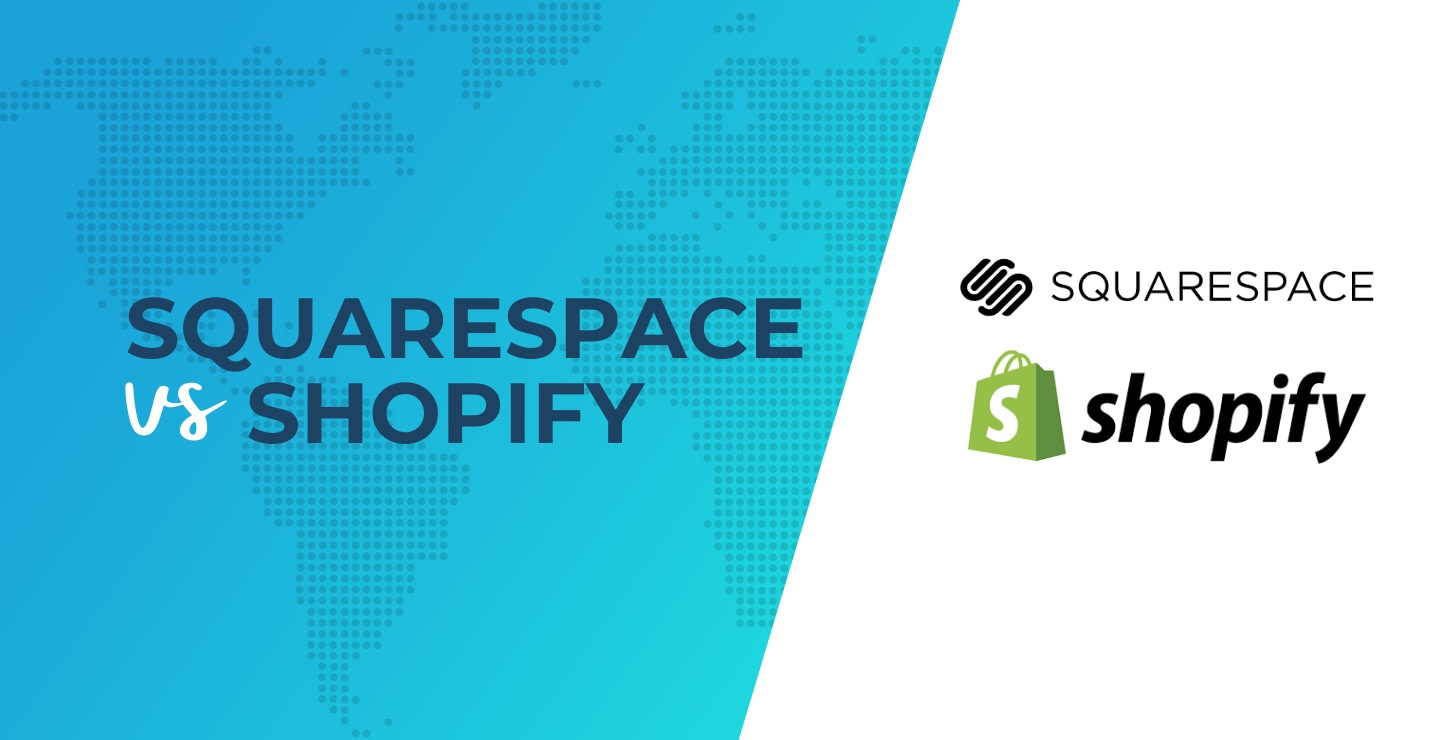 Because of this, we've put together a deep dive into Shopify vs Squarespace. We're going to look at elements such as the all-around feature set, the search engine optimization (SEO) functionality, and pricing. We're also going to tackle what each one can offer with regards to ecommerce, and even aspects such as the user interface (UI).
📚 Table of contents:
Shopify vs Squarespace: Introducing both platforms
Shopify – as the name reveals – is an ecommerce platform that is a direct competitor to WordPress as far as usage statistics go. Because of this, you won't have a reason to investigate this solution if you don't need to build an online store. While there is blogging functionality and features to help you build a full site, that's not the primary purpose.
However, that ecommerce functionality is killer compared to Squarespace, which is more of a site builder than a store. Much like Shopify though, you can press its feature set into service to build a functional ecommerce platform that might just be what you need to succeed.

Both platforms use different pricing tiers that restrict functionality based on which one you choose. We'll discuss this later, but Squarespace is the more affordable option at first glance, although that may not tell the full story.
On the whole, both platforms have a lot to offer. If you want to see the breakdown at a glance, take a look at this table:
Shopify vs Squarespace
Platform
Features
User interface
Pricing
Ecommerce
SEO
Shopify
⭐⭐⭐⭐
⭐⭐⭐
⭐⭐⭐
⭐⭐⭐⭐⭐
⭐⭐⭐
Squarespace
⭐⭐⭐⭐
⭐⭐⭐⭐
⭐⭐⭐⭐
⭐⭐⭐
⭐⭐⭐
For more depth, though, read on to find out which website platform is a better fit for your store!
Shopify vs Squarespace: The core features
You won't get far if the core features of your platform don't help you succeed. For this first section, we're going to look at what each platform has to offer in a general sense. Later, we'll take a further look into some specifics.
Shopify
As you might imagine, Shopify's marquee features cover ecommerce. However, you'll also want to know about the site building tools. Shopify has you covered here:
There are over 60 store themes to choose from that don't need any customization if you don't want to do it. There are also some free options in the catalog. The rest come with a cost in the three-figure range.
You can use a visual builder to create your store's layouts, using drag-and-drop functionality.
If you have development skills, you can use HTML and CSS to customize your store's look and feel.
There is content management system (CMS) functionality included, but it's not going to be to the standard of WordPress and other platforms.
On the ecommerce side, there is lots to consider:
You get robust inventory management, for both digital and physical products.
The settings to manage your store are also comprehensive. For example, you can work with customer account information, refunds, coupons, dropshipping, and much more.
There are full analytics within Shopify to help you understand where your traffic comes from, and how it converts.
This is only the tip of the iceberg. Of course, WordPress uses plugins and themes to extend the functionality of your site. This is no bad thing, and means you can tailor your site to your exact requirements. Shopify takes this approach and runs with it. You'll often use extra apps to add features to your site. You might find comfort in this modular approach.
Squarespace
We've covered Squarespace on CodeinWP a number of times, which should show you what our opinion is on the product. It's a stellar solution if you want to encapsulate the whole website building experience into one interface. When it comes to site building features, you have plenty to choose from:
There are lots of templates available, which all look fantastic. However, there aren't many dedicated ecommerce templates to choose from.
You can build an online portfolio with ease, thanks to customizable galleries, password-protection, and much more.
Much like Shopify, there is blogging functionality in the box, and Squarespace does better here than most of the competition.
There is a suite of SEO tools available to help you promote your site, and let others find you.
You also get to view analytics for your site, which will help you refine your design and presentation.
If you find that the built-in functionality lacks something you need, Squarespace lets you integrate a number of third-party apps into its ecosystem. What's more, there is great support for smaller devices, including a dedicated video studio app that will help you market your store better across the web.
🏆 Winner: Tie
This is a tough battle, because both Shopify and Squarespace look to achieve different things. Based on ecommerce functionality, Shopify is hard to beat. However, if you have simple store needs but want to focus on marketing your products, Squarespace is the best option.
Shopify vs Squarespace: User interface and design
UI is a subjective aspect of any app or site, but it does matter. As such, everything else about a solution can be spot on, but if the UI fails, it can hamper your experience. This next section will look at how both Shopify and Squarespace 'feel'. Of course, we'll do our best to explain what we like and what we don't, but this will be one area where you may have to take each platform for a spin yourself.
Shopify
Shopify lays out all of the options you need within a left-hand sidebar, and leaves the bulk of the page for the smaller details:
There are starting points to help you, although we did have to go hunting for them. It's not clear what to do when you first set up a store.
When it comes to working on your site, you'll have to use a visual editor. Note that this is not a drag-and-drop affair – you'll add blocks and elements from a document tree of sorts on the left-hand side, and you'll see your choices reflected in the preview panel:
It's okay, but underwhelming. You can achieve whatever you need to, but in some cases you might have to search around for information on how to do it. The editor is not as good as other solutions, for certain.
Squarespace
Squarespace offers a minimalist interface, which is no bad thing. It will take only a couple of minutes to choose a starting template and get to work. You'll find the various functionality pages on the left-hand side, and a preview of your site across the middle of your site: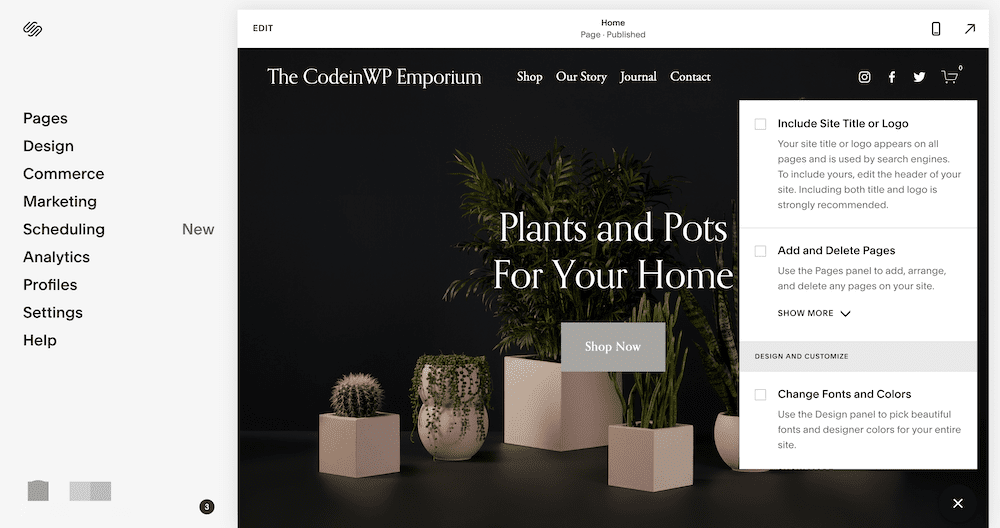 Once fantastic feature is the checklist on the right-hand side. This gives you some starting points to work on, and once you complete the list, you'll have a full-featured live site.
If you use a page builder, such as Elementor, you'll be at home within the Squarespace editor, too. Each section shows clear separators and marking, with contextual options for each section. This is a lot like the Block Editor in WordPress, and it's intuitive and lets you design your site quickly:
On the whole, Squarespace is a joy to use, and it's rare you'll become lost when using the UI.
🏆 Winner: Squarespace
I like the way Squarespaces lays out its features, and guides you along the way. The editor is also stellar, and Shopify pales in comparison here. We found Shopify to be confusing in places, although you'll motor around the interface once you get used to it.
Shopify vs Squarespace: Pricing
If your budget doesn't match the pricing tiers for your chosen solution, there's no point in pressing on with it. As such, cost is a key factor, and the next section will break down how Shopify and Squarespace compare.
Shopify
The pricing for Shopify is straightforward. There are three primary tiers to choose from:
Basic Shopify. For $29 per month, you get simple functionality. However, you get no reporting, the highest transaction rate, and have a restricted set of international ecommerce options.
Shopify. Here you get more staff accounts, standard reporting, and better payments rates (including USPS Priority Mail Cubic pricing). Also, you get some international shipping options, but not everything. This plan costs $79 per month.
Advanced Shopify. The top tier gives you the full experience, including advanced reporting, third-party shipping rates, and the ability to set different prices per international region. For this, you'll pay $299 per month.
There are also a couple of extra plans to choose from too:
Shopify Plus. This begins at $2,000 per month, so will be out of the price range for all but enterprise-level users. You'll use it for super high-volume stores.
Shopify Lite. Think of this as a combined PayPal button and Point of Sale (POS) system. For $9 per month, you can take payments in person, and add Buy Now buttons to products on your site.
We'd say that most users will opt for one of the lower tier main Shopify plans, or Shopify Lite. If you sell in person, the latter could work out well for you, especially if you already have a website, but want to add simple ecommerce functionality.
Squarespace
Squarespace follows a similar route to Shopify, in that it offers a few tiers that ramp up the features based on how much you spend per month. There are four to choose from:
Personal. This $12 per month entry tier offers no ecommerce functionality, and is really a taster of the full Squarespace experience.
Business. $18 per month nets you some basic ecommerce functionality here, such as the ability to take donations and offer gift cards, along with full ecommerce integration. You also have some basic marketing tools, such as Google Ads credits, full access to the Video Studio app, and a way to create promotional pop-ups and banners.
Basic Commerce. This $26 per month package builds on the Business tier, in that you can offer a checkout on your domain, use a POS terminal, sell products on Instagram, and much more.
Advanced Commerce. The full $40 per month experience adds to the Basic Commerce package to give you advanced shipping and discounts functionality, the ability to sell subscriptions, and abandoned cart recovery.
In reality, you'll only consider the Basic or Advanced Commerce tiers, because these offer near or full functionality. For the money, they are great deals, and could be all you need for associated stores or small offerings.
🏆 Winner: Squarespace
Shopify is fantastic as an ecommerce solution, but it's expensive. For the full Squarespace experience, you'll pay around 25–50% less than Shopify, which could sway you. Even so, Shopify operates in such a focused niche that it's hard to turn our nose up at what's on offer for the price. If your budget allows for it, Shopify could be a long-term and viable solution.
Shopify vs Squarespace: Ecommerce functionality
It's obvious that an online store needs the right blend of ecommerce functionality, that's also powerful enough to achieve your goals. In this section, we'll see how Shopify and Squarespace compare when it comes to ecommerce tools and features.
Shopify
If Shopify didn't have near-perfect ecommerce functionality, it wouldn't command such respect. There are myriad options to choose from, and despite how much you can achieve with them, none of it is overwhelming:
You'll zip around the interfaces for adding products, managing customers, and working with orders. We like these editing experiences more than the visual theme editor.
The analytics are great too, and we like how you can glean lots of insights from only one page. It feels like a dependable solution to manage your store, unlike the site building functionality.
Squarespace
Much like building your site, you can't go wrong with Squarespace's ecommerce functionality. You'll get another checklist to complete, that involves adding products, choosing payment gateways, and assigning shipping: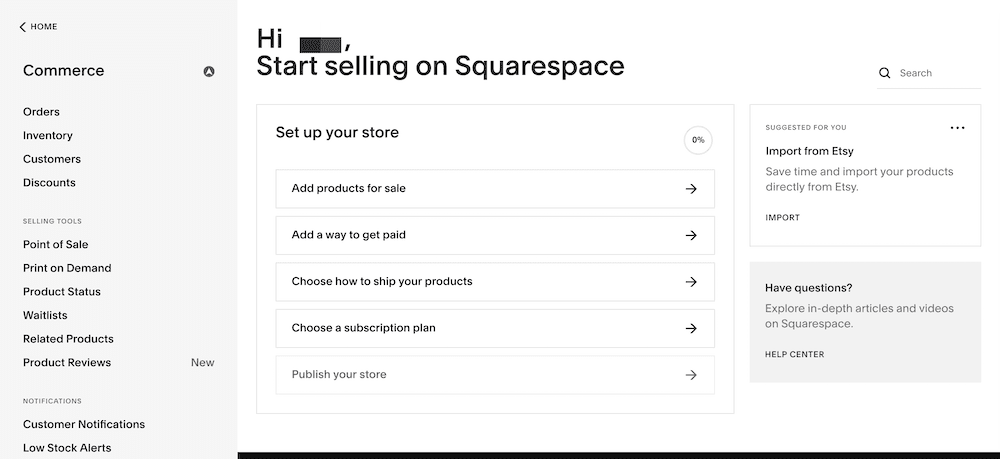 Each ecommerce process is stepped, which means Squarespace holds your hand along the way: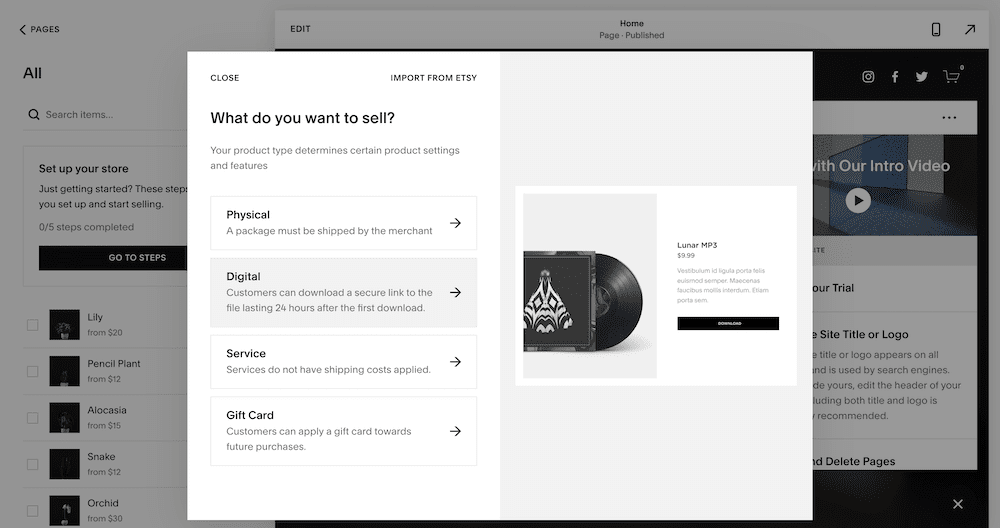 Each product you add is visible on the left-hand side of the screen, and this is where you edit each one: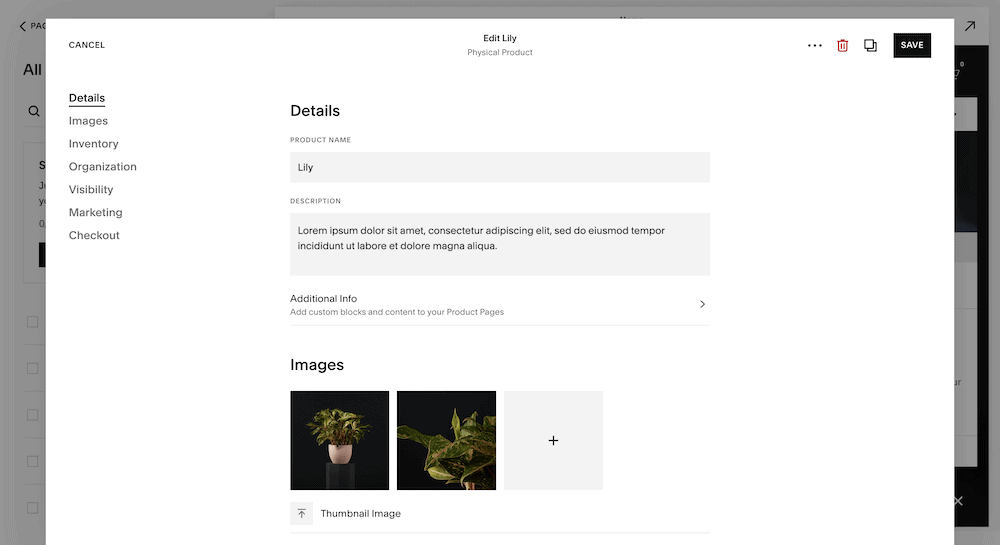 It's basic and functional, but at times, this is exactly what you need to go live fast. If you want to refine your store after the fact, you can do so. You're able to add variants, set the shipping, organize each product, set its visibility, and refine your marketing and checkout options, all from an individual product pane.
🏆 Winner: Shopify
Of course, Shopify will rule the roost here. However, Squarespace isn't too far behind. There's lots to do, and it's all easy to access. I like Squarespace just as much as Shopify, although the dedicated platform for ecommerce wins out.
Shopify vs Squarespace: Marketing and SEO
If your store looks great and you stock fantastic products, you need to make sure others can find it. As such, both Shopify and Squarespace offer options to help you market your site and get it to the top of search engines. Over the course of the next section, we'll look at what each has to offer.
Shopify
Shopify offers a lot of marketing options, but does so through additional apps. This makes sense in some situations, because you can develop a modular store, rather than having to strip away or ignore functionalities: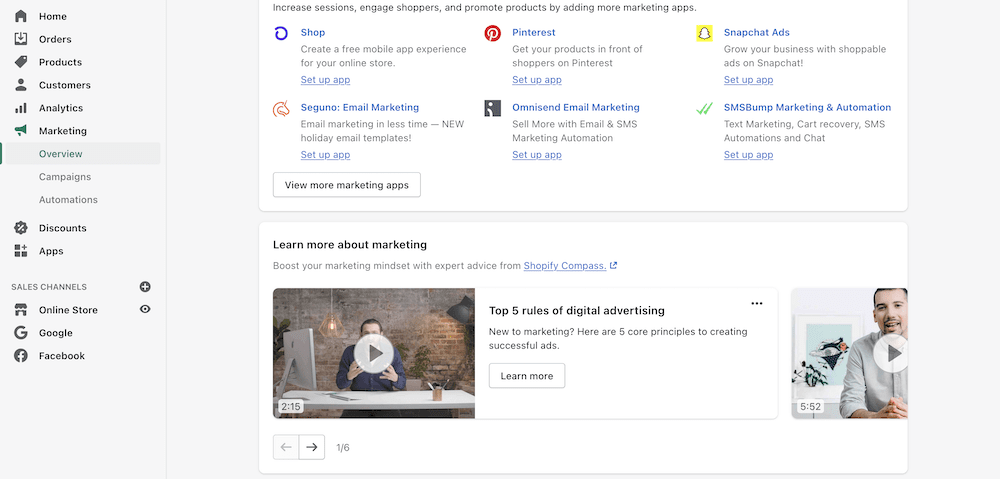 As an aside, there are a number of helpful videos to guide first-time marketers, which I like. However, I didn't see any SEO-related features or functionality, which is not what I'd expect from a leading solution.
While there are automated and built-in features, I'd prefer more direct control over these elements, rather than leaving it to Shopify. Overall, Shopify is a mixed bag here: good on marketing functionality, but poor on SEO.
Squarespace
Each of the options for SEO and marketing are under the Marketing page. On the left-side of the screen, there are sections devoted to Discovery, Engagment, and Promotion: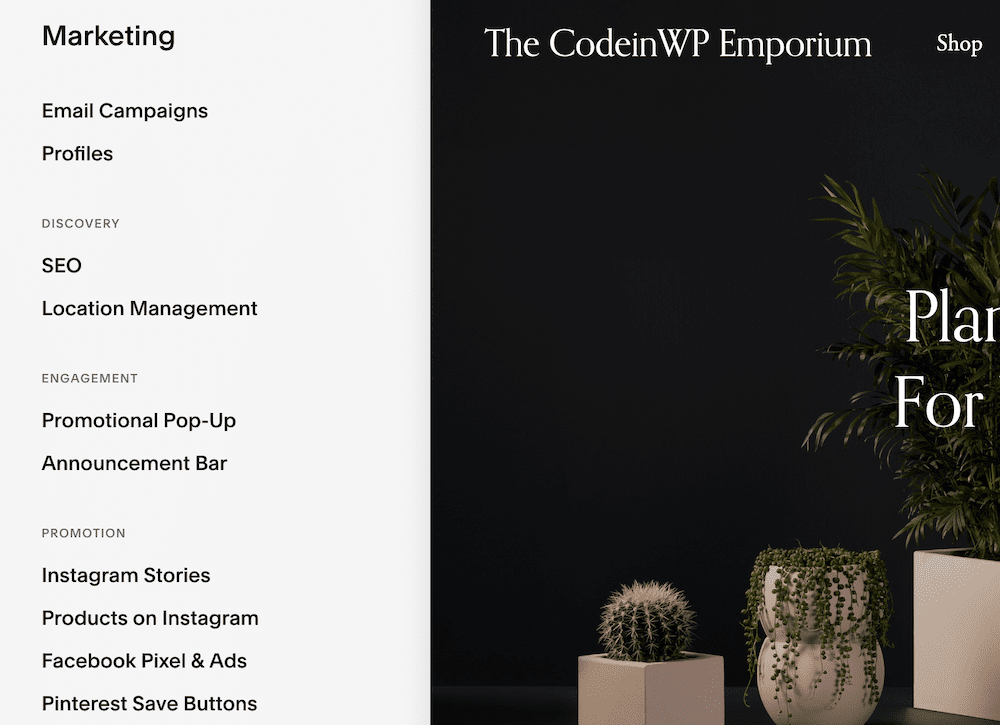 However, I don't think this is as intuitive as a dedicated WordPress SEO plugin. It's hard to know what to do, or where to start, and it's the one area of Squarespace that doesn't feel like it's user-friendly. For example, there's a link out to an SEO checklist, but little guidance. We could see users skipping over this vital aspect of running a store.
Winner:🏆 Tie
Squarespace doesn't do enough with regards to SEO and marketing for our tastes. In contrast, Shopify does a lot right for marketing, and almost extends the top-notch analytics to help you put together a super strategy to promote your store. However, it lacks in SEO features, which marks it down.
Shopify vs Squarespace: CONCLUSION
Overall, the comparison is close in a number of areas, and clear cut in others. For a quick summary, here's our table again:
Platform
Features
User interface
Pricing
Ecommerce
SEO
Shopify
⭐⭐⭐⭐
⭐⭐⭐
⭐⭐⭐
⭐⭐⭐⭐⭐
⭐⭐⭐
Squarespace
⭐⭐⭐⭐
⭐⭐⭐⭐
⭐⭐⭐⭐
⭐⭐⭐
⭐⭐⭐
However, if you need some extra impetus to choose Shopify or Squarespace, here's our summary of both:
Consider Shopify if…
You want to run an online store, but don't care too much about CMS functionality.
You want to apply a theme that's dedicated to ecommerce without the need for customization.
Your plans for your store are grand (Shopify is great for stores of all sizes).
You run a small team without ecommerce knowledge (Shopify is straightforward to run).
You develop ecommerce sites and want to incorporate great functionality.
Consider Squarespace if…
You have simple store needs, as there aren't lots of advanced options available.
You want a more well-rounded site that also includes a store.
You have a low budget (Squarespace is cheaper than Shopify in most use cases).
You like the idea of running a site from one dashboard and don't want to incorporate other platforms.
It could be that you like the sound of Squarespace for another type of site. If this is the case, you might want to check out our site builder comparison article. However, if Shopify seems like your cup of tea, but you want to see how it stacks up against more competition, here's a head-to-head vs Wix.
Which side of the fence do you sit when it comes to Shopify vs Squarespace? Let us know in the comments section below!
…
Don't forget to join our crash course on speeding up your WordPress site. With some simple fixes, you can reduce your loading time by even 50-80%: