This
article
was originally published on
this site
Are you looking for a PushEngage review that will help you determine if it's the right tool for your business?
Or maybe PushEngage is totally new for you, and you'd like a cursory overview of the software.
Either way, you're in the right place. Because in today's post, we're going to break down what makes PushEngage the BEST push notification software on the market.
We'll look at this tool through the following categories:
By the end of this post, we're confident you'll agree that PushEngage can be one of your company's strongest assets.
But before diving into this PushEngage review, let's get clear on what the software is and what it does.
What Is PushEngage?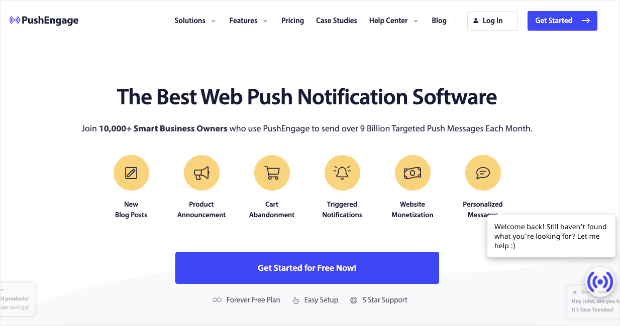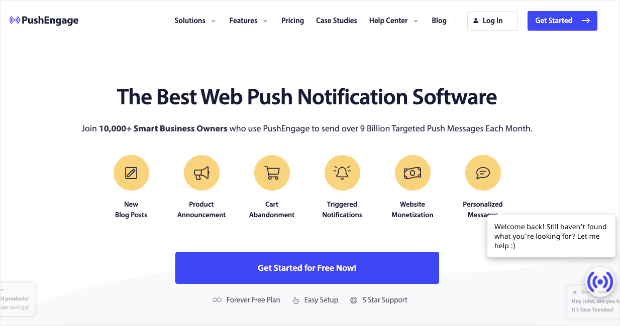 PushEngage is the world's best push notification software. Not only is it easy to set up and install (as you'll soon see), but it gives you direct access to a larger audience.
How? Through highly targeted push notifications.
These are small, non-intrusive popups with a linkable message. That makes push notifications great for:
Boosting SEO: Send more traffic to new posts or pages when it's released. This increases pageviews and, in turn, shows search engines like Google how popular your content is.
Growing Your Email List: Redirect users to a landing page where you can capture their email addresses and grow your list.
Driving More Revenue: Share discounts, gift cards, or any other promotion/offer you have to motivate your audience to make a purchase.
Reducing Cart Abandonment: Recover lost customers by sending them reminders about items still in their carts.
These are just a few of the benefits of using push notifications, though there are many others.
The point is that push notifications are a fast and effective way to communicate with your prospective leads and current customers.
And the best part is that you can likely grow your push notification subscriber list FAST. That's because you won't ask for any personal information like their name or email address.
Instead, users simply need to click Allow when they reach your website to start receiving push notifications immediately.
But now you're probably thinking, "Push notifications sound great! But who has the time or patience to set up a new marketing channel?"
That's where a push notification software like PushEngage can help you out.
So, now, let's turn our attention to our PushEngage review to find if it's really the best push notification software for YOUR unique needs.
PushEngage Review: Is It Best?
For our PushEngage review, we'll be analyzing the tool through the following categories:
Feel free to jump to the section that interests you most. Otherwise, let's get started.
1. Ease of Use
Let's be honest: most marketers and business owners are stretched for time.
In the digital world, there's truly always content to create, posts to repurpose, and pages to optimize. That's why you need to make sure that any tool you start working with has a low enough learning curve.
After all, even the most effective marketing tool on the planet would be useless if it's too difficult for you to use it.
That's why we're big fans of PushEngage: it makes it EASY for anyone to start using push notifications immediately.
That's because PushEngage doesn't require any coding or "tech skills" to set up and manage.
Instead, you'll simply need to add a bit of code to your site. You can also use the WordPress plugin or Shopify app if you're website was built with those platforms.
The point is that once you've configured PushEngage in 10 minutes or less, you'll be able to send targeted notifications to your audience. And the user dashboard couldn't be easier to navigate.
You'll just need to add information to a few clearly labeled field boxes: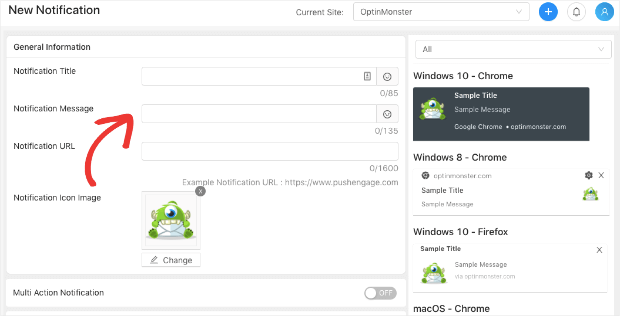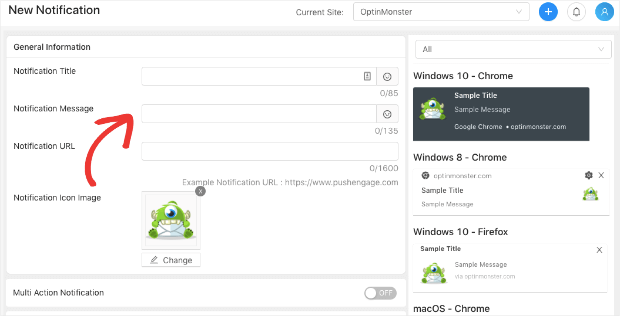 And just like that, your notification is ready to go to your pre-defined audience.
At the end of the day, if you're concerned about push notifications being too technical for you, don't be.
PushEngage is a tool that makes the process incredibly easy and has an impressively low learning curve.
2. Platform Flexibility
As you're looking for the right push notification software for your business, it's important to think about your site's future.
That means investing in tools that aren't just good for the short-term, but that also fit in with your long-term goals.
In other words, you want to make sure that the tools you use are flexible enough to work with other website platforms.
Why? Because the platform you used to build your site today might not be the best solution for your business tomorrow.
Let's say you built a quick site with Wix, for example. And it was great when you were just starting out.
But now that you're getting more traffic, you need to expand your marketing strategy with tools that aren't as Wix-friendly.
So you decide to switch to another platform like WordPress.
That means all of your existing tools need to be WordPress compatible, or you'll be left trying to replace that tool.
This is one of the things that makes PushEngage such a strong asset to your digital marketing strategy: it works with ANY website.
If you're using WordPress, PushEngage comes as a convenient plugin: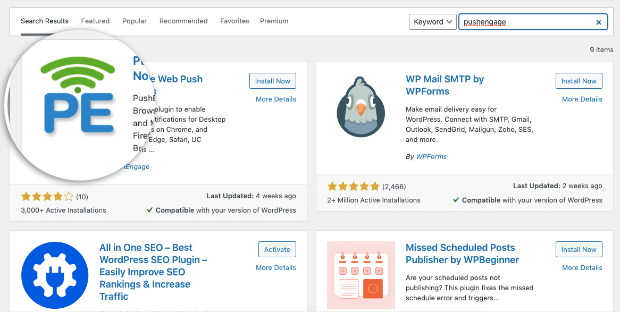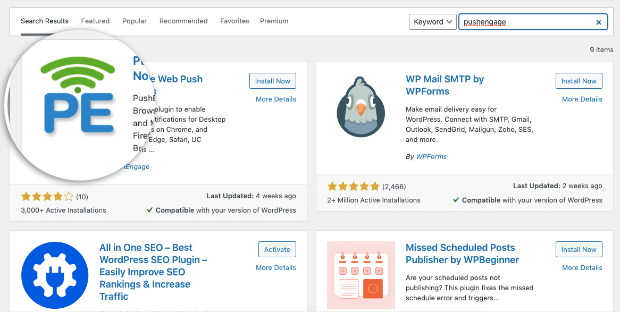 Or you can use the Shopify app to boost sales for your eCommerce store: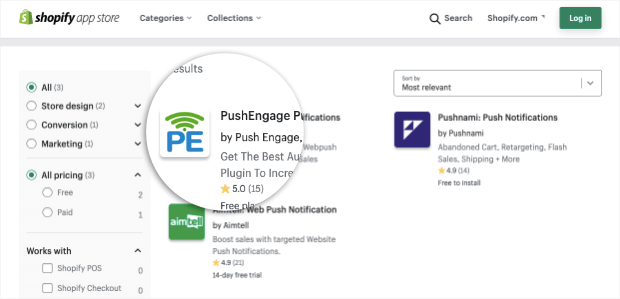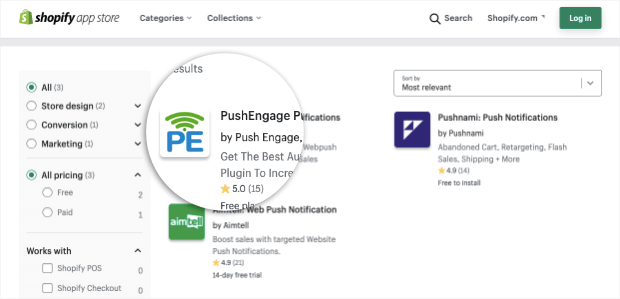 Using something else? That's not a problem.
All you need to do is inject a small snippet of code into your site's template file (like you'd do when connecting Google Analytics).
No matter which website you're currently using or migrate to in the future, PushEngage will have you covered.
3. Audience Segmentation
So far in this post, we've covered how easy and flexible PushEngage is to use.
But now, let's focus on what makes it so powerful. And one of its strongest features is the ability to segment your audience.
"Segmenting your audience" (or "audience segmentation") simply means organizing your target audience into smaller groups of people with similar interests or demographics.
This allows you to personalize your messaging even further and, in the end, increase conversion rates across your site.
Let's say, for example, you sell clothing online. Your target audience consists of people in their 30's and 40's who value stylish clothes at affordable pricing.
You decide to run a new deal on women's tank tops, and you want to let your audience know about it.
But sending this message to your entire audience wouldn't be very efficient. That's because you know that this offer wouldn't appeal to men on your subscriber list.
If you've properly segmented your audience, though, this won't be an issue. You could send this deal to women who have specifically looked at tank tops (or related products) in the past.
Then you can send other personalized offers to different segments of your audience (like men who've added shoes to their cart in the past, for example).
You can even take things a step further by segmenting your audience based on their purchase behavior. That would mean you'd have separate contact lists for people who like:
T-shirts
Jeans
Shoes
Sunglasses
Sportswear
Or any other category of product you sell. When someone purchases one of these items, you can add them to that segment of your list.
When you have deals for those types of products in the future, you'll have a highly targeted list of people to send it to.
In fact, this is the same strategy we use here with OptinMonster's push notifications: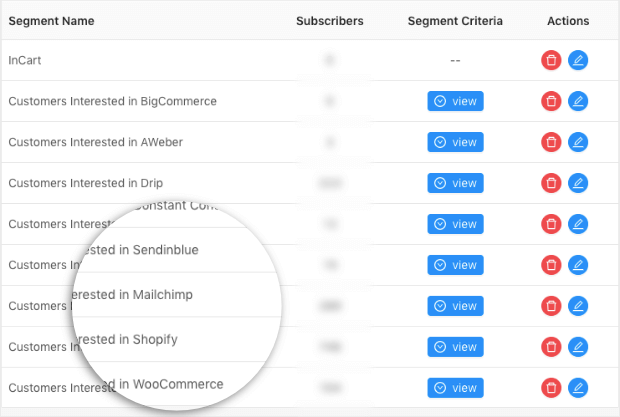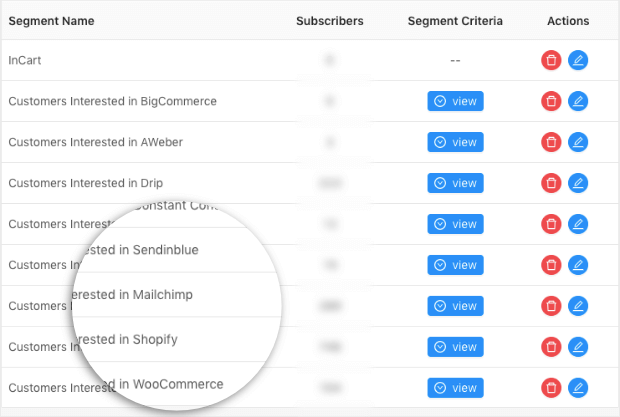 We break down the audience based on which email service provider (ESP) or eCommerce platform our subscribers use.
Why? Because we want to make sure we're ONLY sending relevant information to our audience instead of sending out random notifications.
This not only drives more sales, but also drastically improves the user experience (UX) and creates more loyal customers along the way.
4. Campaign Scheduling & Automations
As we already mentioned, most marketers and business owners are always short on one thing. It's not always money, and it's not always energy.
But it's always time.
That's why many clever business owners like to plan their content in advance. That means using tools, apps, and software that allow them to create automated workflows and schedule campaigns in advance.
This is what PushEngage allows you to do with push notifications in 2 ways:
Campaign scheduling
Automated "drip" series
Let's look at both in a bit more detail.
a) Campaign Scheduling
Scheduling your campaigns with PushEngage couldn't be easier. From the dashboard, you'll be able to assign times and dates to your push notifications: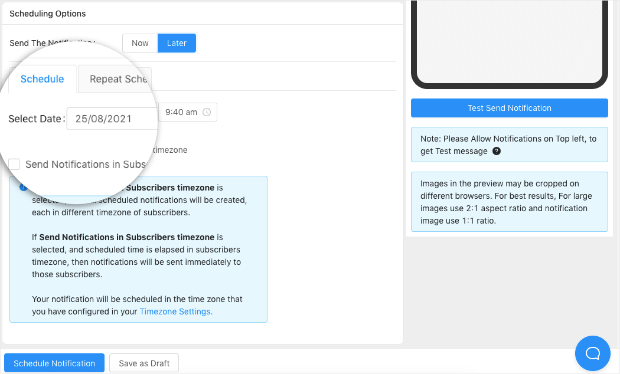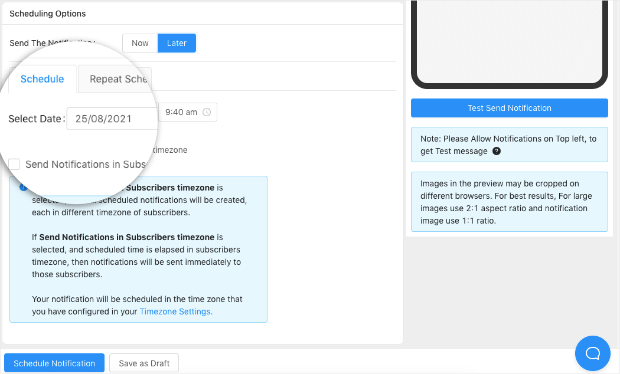 This allows you to plan out campaigns, schedule them, and go back to focusing on growing other parts of your business.
You can even adjust the sending schedule to be dynamic. That means you can send notifications when it's a specific time zone for your audience.
If you schedule this kind of campaign for 9:00 am, for example, it would be 9:00 am local time. Someone in New York would get this at 9:00 am EST, and someone in Los Angelos would get the same message at 9:00 am PST.
This is great for figuring out the best times to send messages to your specific audience for the best results possible.
b) Automated "Drip" Series
You've likely heard the term "drip series" when it comes to email marketing.
This is when you have a set of automated messages that are triggered by new subscribers. The most common type is a "welcome series."
When someone joins your mailing list, for example, they'd automatically receive a few emails over the course of a week.
These emails would give new subscribers valuable content, the information they need to start using your product, or simply guide them through your sales funnel.
And with PushEngage, you can do the same thing with push notifications: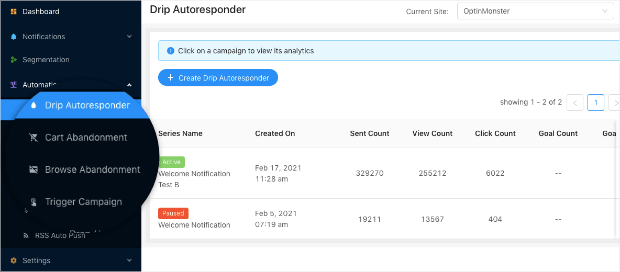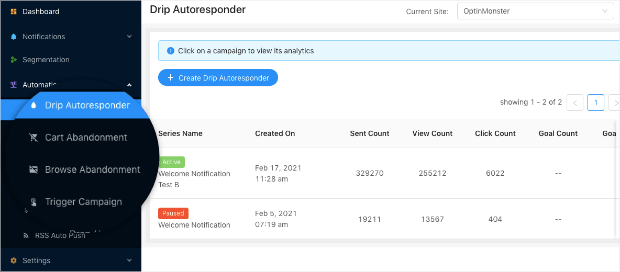 This allows you to set up automated campaigns for your new subscribers.
That means when someone allows your site to send them notifications, you can send things like:
Popular and high-converting blog posts
New offers, sales, and discounts with your online stores
Reminders about upcoming events
Redirects to landing pages to grow your email list
And much more…
You can also send automated campaigns to help reduce cart and browser abandonment.
The point is that once you've set these automations up, you can leave them on autopilot. Then you can watch as your conversions automatically skyrocket.
5. Smart A/B Testing for Optimized Results
In the last section, we talked about how your push notification automations can boost conversions.
But here's the question: how can you be 100% sure you're getting the most conversions possible?
For that, you'll need PushEngage's powerful A/B testing features.
A/B testing is a process through which you send different messages to the same audience segment to see which is most effective.
The notifications are typically the same with ONE change to the image, heading, or message.
You might, for example, send a notification where everything is identical except the headline. So message A's headline looks like this:
Trying to Grow Your List?
And message B's headline looks like this:
Grow Your List FAST!
Both messages will go to a small portion of your audience to see which one gets more open and click-through rates: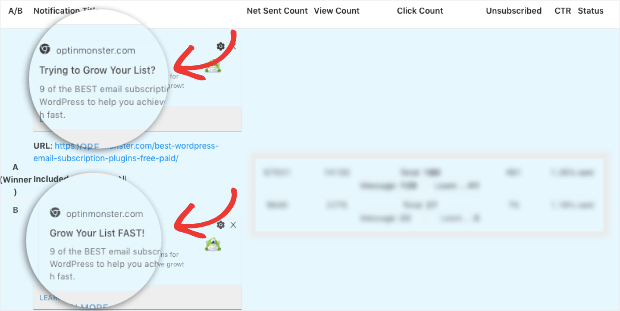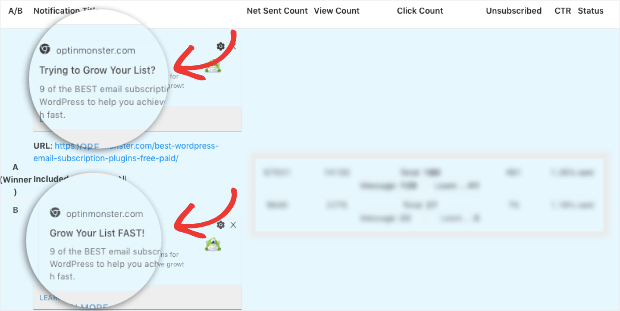 Then the winning message will automatically get sent to the rest of the subscribers on your list.
This allows you to be confident that you're never leaving any conversions on the table.
Instead, you can A/B test your notifications to get the best results in the least amount of time.
6. Affordability
Whenever you're shopping for a new tool, pricing is always a factor.
This is especially true because we've just gone through several concrete benefits of how PushEngage can grow your business. Which means you're probably wondering, "How much does PushEngage cost?"
That's the best part: not only is there a free version of PushEngage, but paid plans start at only $9/month. Here's a breakdown of PushEngage's pricing:
Free: $0/month and gives you up to 500 subscribers.
Business: $9/month with up to 100,000 subscribers.
Premium: $29/month with up to 500,000 subscribers.
Enterprise: You'll need to contact the PushEngage support team for a custom plan.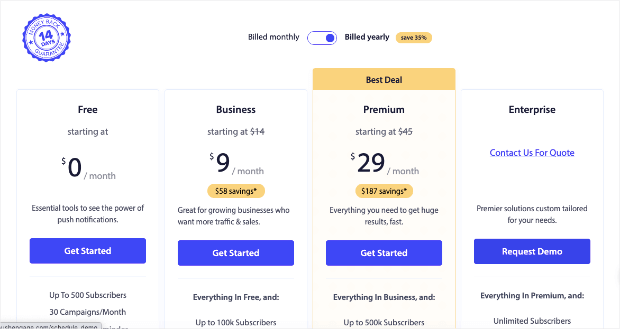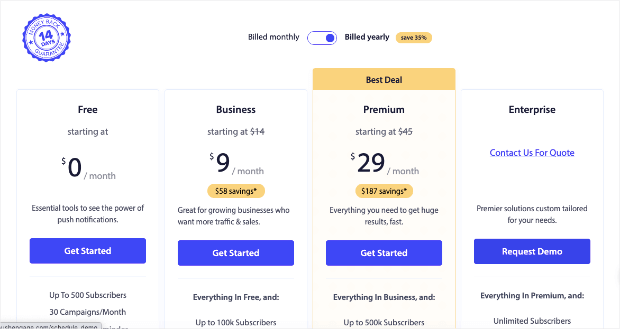 As you can imagine, you'll unlock more advanced features as you upgrade plans.
But with a 14-day money-back guarantee (no questions asked) AND a totally free version to begin with, there's literally no reason NOT to get started.
Want to see PushEngage in action for yourself? Try it out 100% risk-free today!
Verdict: Is PushEngage BEST for Push Notifications?
In this PushEngage review, we've looked at a few benefits of using the push notification software.
But the question remains, "Is PushEngage the BEST tool for sending these notifications?"
If you're serious about growing your business, then we're 100% confident that PushEngage is a tool worth investing in.
This software can help you:
Grow your mailing list
Share special offers, and discounts
Boost sales
Reduce cart and site abandonment
And much more…
Plus, it works with any platform and doesn't require any technical skills to set up.
And with a powerful analytics dashboard, targeted A/B testing, and advanced audience segmentation, you'll see conversions SOAR in no time.
So what are you waiting for? Go sign up for your PushEngage account and start getting higher conversions today!
And that's all for now. This has been our in-depth PushEngage review.
We hope you found this post helpful. If you did, you'll definitely want to check out the following resources:
These articles will have even more information on how you can attract new leads, grow your mailing list, and drive more revenue today!

Published by Nathan Thompson
Nathan Thompson is a father, a writer, and a lover of travel (in that order). When he's not wrestling with his kids, you'll likely find Nathan giving his eyes a much-needed break from screens with a good book or planning a family trip with his awesome wife.