This
article
was originally published on
this site
Are you looking to optimize your SEO to outrank your competitors? If so, then you need to conduct a keyword gap analysis.
Optimizing your SEO for top performance is a many-pronged, multi-stage process. In addition to keyword mapping and other strategies that boost your SEO, identifying and repairing gaps in your strategy can help improve your site's performance.
Keyword gap analysis can help you become more aware of the SEO keywords your competitors are using. The process can also uncover search terms you could be using to gain better rankings in the SERPs.
In this post, we'll share how to take the keyword analysis process from the research stage all the way to content that publishes and ranks.
Ready to learn more about keyword gap analysis? Let's dive in.
What is Keyword Gap Analysis?
Keyword gap analysis is also commonly called "competitive keyword analysis." So when you see either term, know it's referring to the same thing — the process of comparing your website to your competitors' and looking specifically at which keywords they're using that you are not.
You can then take the data you glean from this analysis and use it to incorporate those keywords into that "gap" your website has in content.
This tactic is important for your website's overall SEO strategy because it broadens your site's reach. When you capture more of the keywords that your competitors are using, in addition to what users are searching for, you're more likely to be found in search.
How to Conduct a Competitive Keyword Analysis
Want to conduct your own keyword gap analysis, you'll need to start by selecting an SEO research tool. We've rounded up some of the best keyword mapping tools in this article. Here at Elegant Themes, we use SEMRush, so we'll use that tool to walk you through the steps.
SEMRush has a dedicated competitive keyword analysis tool. From your home page, click the Keyword Gap link in the left-hand navigation menu.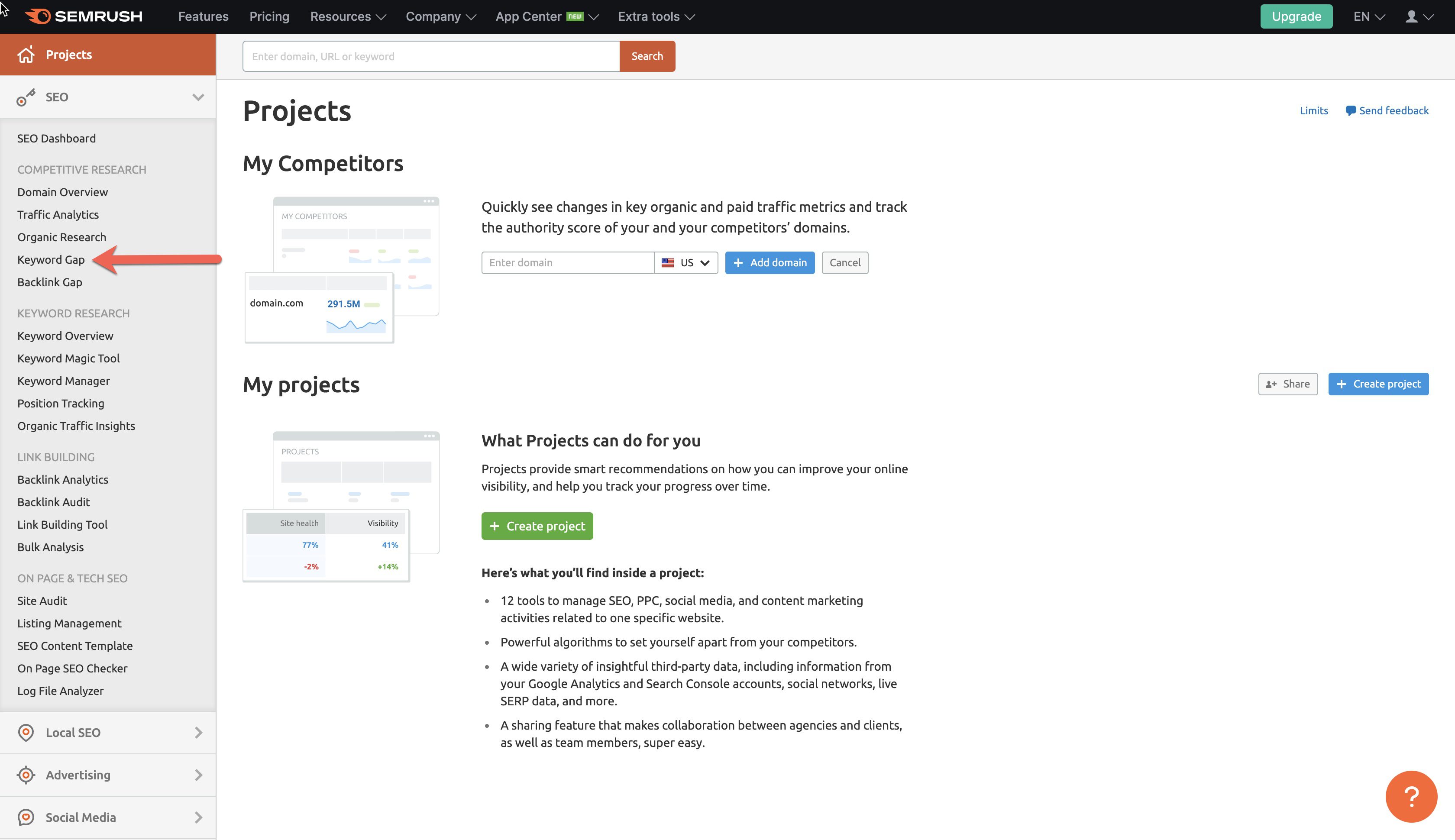 From here, you'll see a dashboard where you can enter the URL of the site you're working on, as well as up to three competitor domains. Enter your URLs, then click Compare. This tool will then show you the gaps between your site and all three competitors simultaneously.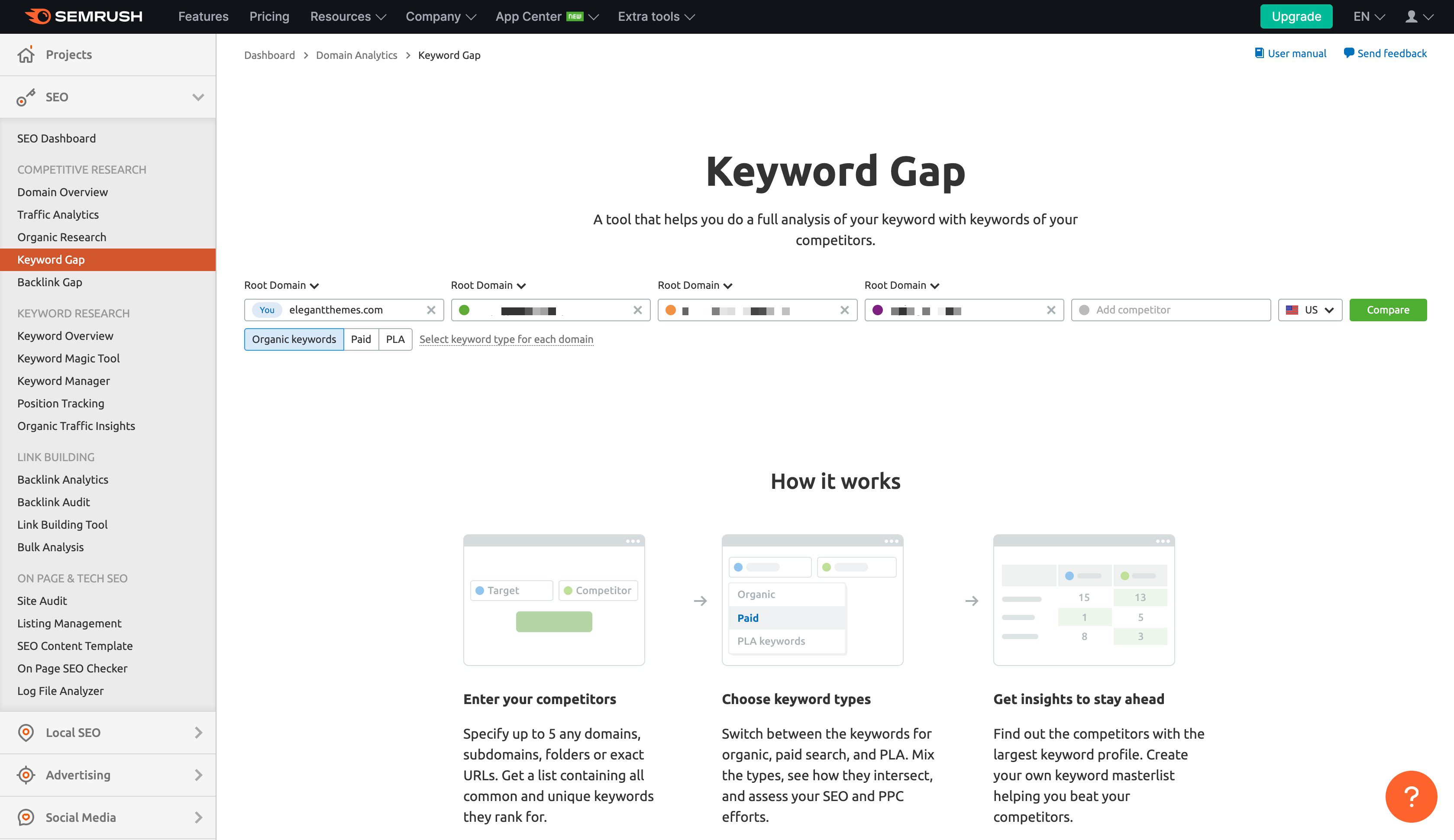 Once the analysis is complete, SEMRush returns a page of detailed results containing the keywords you want to analyze. You'll see a list of Top Opportunities, as well as a Venn diagram that will give you an idea of the areas where you overlap with your competitors, keyword-wise. Mouse over the diagram circles to see more details.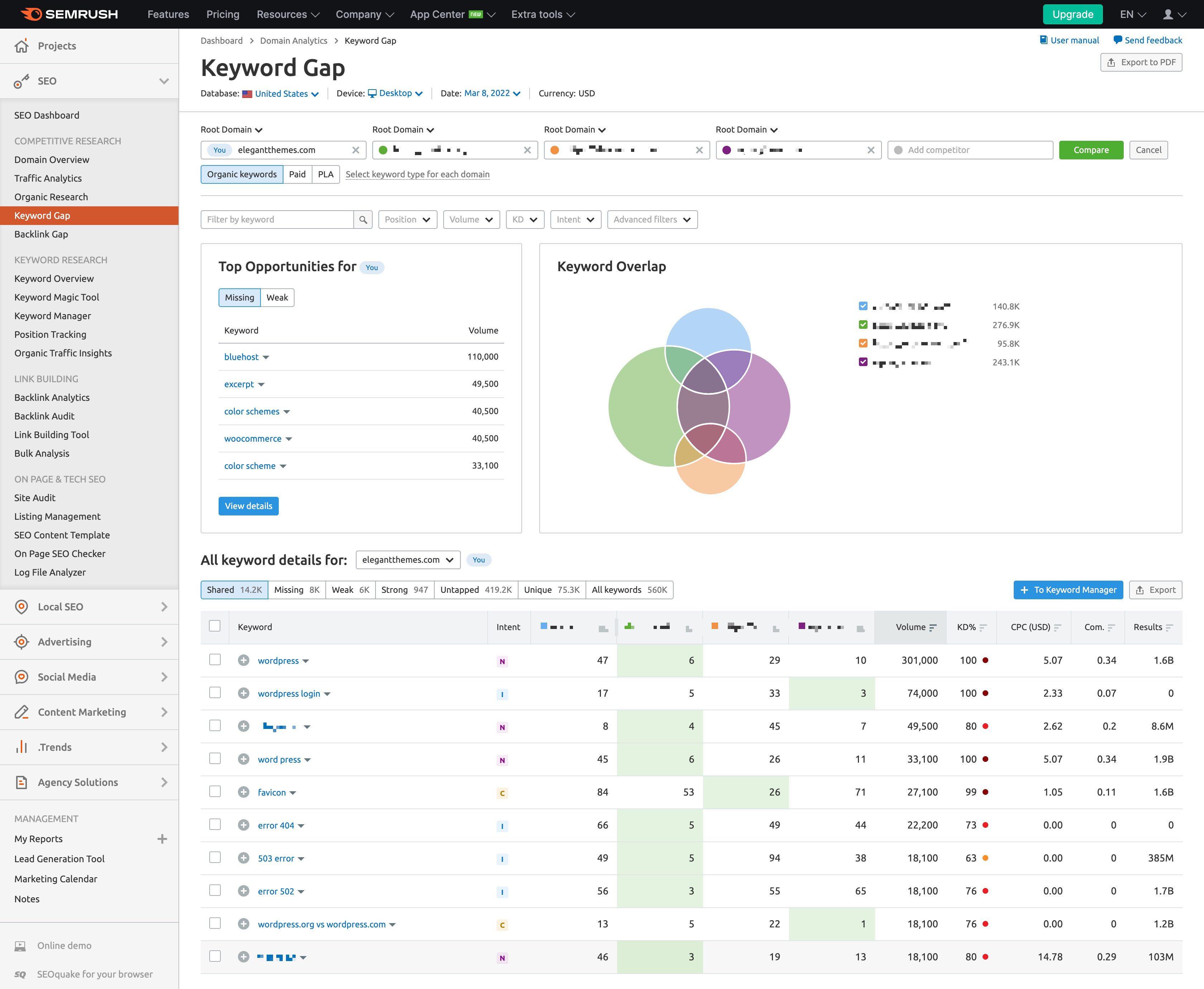 Scroll down to view a table that contains all your domain's keyword details. You will see tabs that reveal your shared keywords, as well as missing keywords. You'll also be able to analyze weak, strong, untapped, and unique keywords.
Notice that the columns reveal search intent, individual results for competitor sites, and specific stats for each keyword. At a glance, you can see details such as each word's search volume, keyword density, and cost per click (CPC).
Analyze Missing Keywords
Next, look at the missing keywords by clicking the Missing tab at the top of my spreadsheet. From there, a long list of keywords not currently used on the domain will open up. This is one of the most useful tools for successful competitive keyword analysis.
If you want to export your missing keywords, click the Export button at the top right of the spreadsheet. You can download the data to an Excel spreadsheet or a CSV file.
Right away, you may see two keywords that will work together in one piece of content: color schemes and color scheme. If you were to write a blog post about WordPress website color schemes, those would be two keywords that could work well together and filling the gap you've found.



Take a look at the search volume on the keywords you've chosen to analyze. Color schemes has a search volume of 40,500, while color scheme has a volume is 33,100. Both keywords have a fairly healthy search. Looking at the intent for both, SEMRush says the words are normally searched for informational purposes. (Mouse over the letters in the Intent column for more information.)
In addition to search volume, check into the difficulty. This is the first red flag. With a difficulty of 93% and 98%, respectively, it's going to be harder to rank for these keywords even with content built specifically around them.
Take a Closer Look at One Keyword From Your List
Next, click one of the words you'd like to take a closer look at in your keyword gap analysis. In this case, it's color schemes.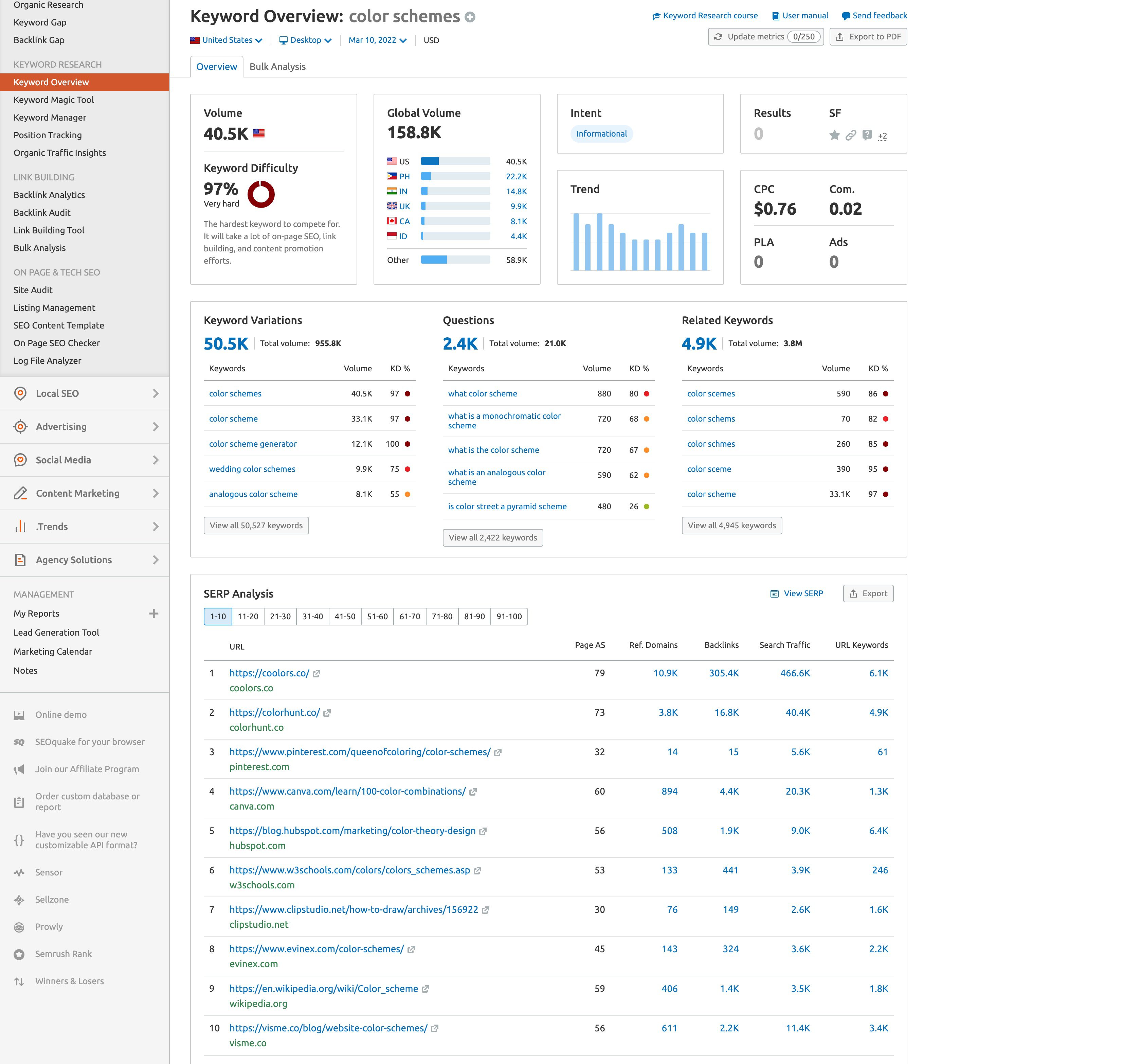 Even though that high level of difficulty is definitely worth taking a pause to consider, you can see the search volume for this term is fairly high. That means lots of internet users are searching for it every month, so it may be worth building out some content with this phrase and a few variations on it.
Creating Content to Fill a Keyword Gap
You'll notice that there are three categories of variations in the examples above: Keyword Variations, Questions, and Related Keywords. Out of these lists, a few variations stand out that could make for great additional pieces of interesting content:
color scheme generator
what is a monochromatic color scheme
what is an analogous color scheme
Let's say that you want to map a keyword cluster. You'd do that by…
writing a general blog post explaining color schemes in website design
building out that cluster to include articles about specific color schemes (like monochromatic and analogous)
working on a series of articles collecting the best color scheme generators and tools
showing how to use those various tools through a series of tutorials
All the articles would fit together in a coherent way and give audience members several related topics to read about when they visit the blog. You could breadcrumb them together, using the first article as a piece of cornerstone content.
And don't forget to check individual keywords for the articles you're writing. For example, if you were to write an article about monochromatic color schemes, you would need to research that individual keyword and choose a few variations to work with. Because the phrase what is a monochromatic color scheme won't flow well in an article, you will need to find a few variations such as monochromatic color scheme(by itself) to incorporate and set as the target key phrase.
Incorporate Your Keywords Into Your Content
Once you've conducted all your research and are happy with the direction you're taking your SEO optimization, it's time to incorporate the new keywords into your existing content. While you are definitely going to need to write new content in the manner we discuss above, you might have content in the site's archive that can simply be audited and adjusted to fit the correct keywords you found in the gap analysis.
If you own a self-hosted WordPress website, installing a plugin such as Yoast SEO or Rank Math will help you maximize your keywords. These plugins will give you tips on how to optimize your content, including how many times a keyword should appear in a given piece of content.
Conclusion
Now that you know how to conduct keyword gap analysis, it's time to find the gaps in your website's SEO. Take your time and analyze your options for the best possible keyword combinations — but remember, SEO optimization is an ever-evolving, ongoing job. It's likely a good idea to perform a semi-regular SEO audit and a periodic competitive keyword analysis so you can stay up to date with your competitors' strategies.
How do you feel about analyzing the gaps in your keyword strategy? Is it a process you enjoy? Leave us a comment and let us know what you think.
Featured image via Sammby / shutterstock.com