This
article
was originally published on
this site
Are you looking for the best lead generation software to grow your list?
Two popular options on the market are OptinMonster and PopupAlly. Both provide users with the ability to create popup campaigns to grow their list.
But out of the two options, which would be the best tool to scale your business?
Today, we're going to answer just that in this guide: OptinMonster vs PopupAlly. We'll look at the following categories to see which software offers you the best bang for your buck:
Campaign types
Ease of use
Targets and Triggers
Pricing
But before we start, let's get clear on what each software is and what they do. We'll start with PopupAlly.
What Is PopupAlly?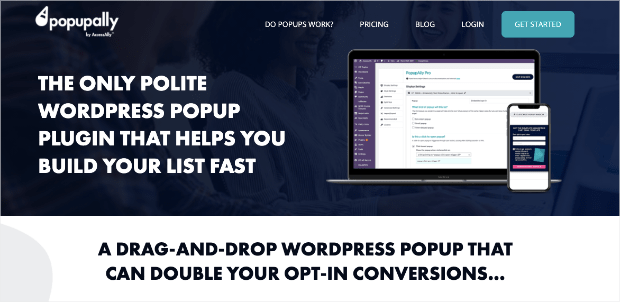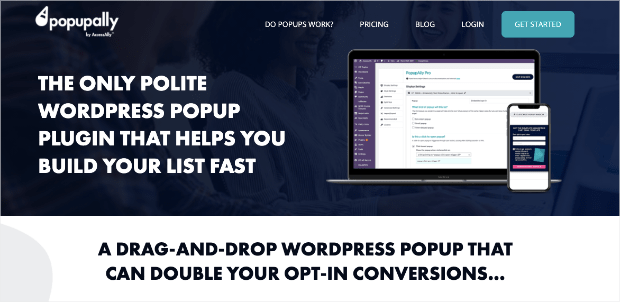 PopupAlly is a WordPress plugin that allows you to create popups for your site. With PopupAlly, you can quickly build popups with their drag and drop editor.
From there, you can use their targeting rules to show these popups in selected areas (and at selected times) across your site.
The popup campaigns are also mobile-friendly, so you can rest assured that you're not leaving any conversions on the table.
The biggest benefit to PopupAlly is that it's simple to use. This makes it a great option for beginners but, as we'll see, it also means it may not be the best tool for scaling your growth.
Now that we know what PopupAlly is, let's turn to OptinMosnter.
What Is OptinMonster?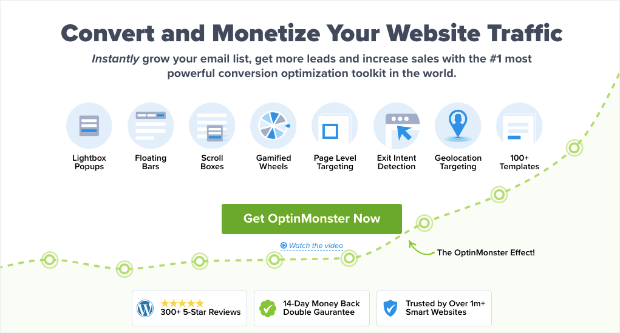 OptinMonster is the world's #1 lead generation tool. It allows you to quickly and easily create "optin campaigns" like popups, floating bars, slide-in scroll boxes, and many others.
The goal is to help businesses of all sizes grow their email list, boost conversions, and scale their profits.
The advantages of OptinMonster are clear: it's the most reliable, affordable, and powerful lead generation software on the market.
Not only is it easy to use (which we'll see below), but it saves you massive amounts of time. You can create professional optin campaigns in a matter of minutes.
Then you can target these campaigns ot the right people, in the right places, and at just the right time in their customer journey.
This level of personalization allows you to maximize your profits and your company's growth.
Curious if OptinMonster works as well as people say? Just check out some of these success stories that OptinMonster customers have shared:
You can achieve the same massive results by starting your 100% risk-free OptinMonster account. Ready to get started? Just click below:
Sign Up For OptinMonster Today!
BONUS: Done-For-You Campaign Setup ($297 value)Our conversion experts will design 1 free campaign for you to get maximum results – absolutely FREE! Click here to get started →
Now, let's jump into our OptinMonster vs PopupAlly review.
OptinMonster vs PopupAlly Review
In this post, we'll be looking at each software through the following categories:
Campaign Types
Ease of use
Targets and Triggers
Pricing
Let's get started!
1) Campaign Types
First and foremost, we need to address a BIG difference between these two lead generation software.
PopupAlly focuses exclusively on creating popups for your WordPress site, but this is the only type of campaign you can create: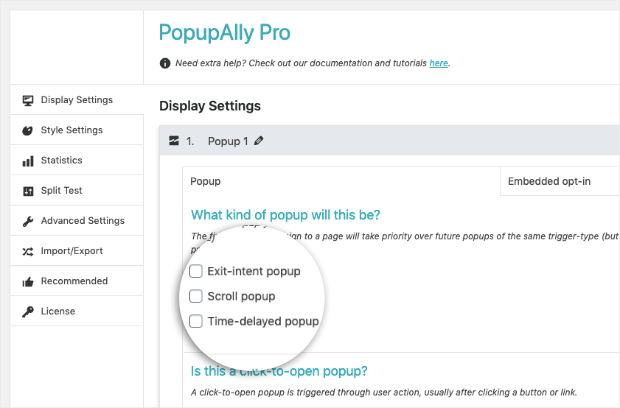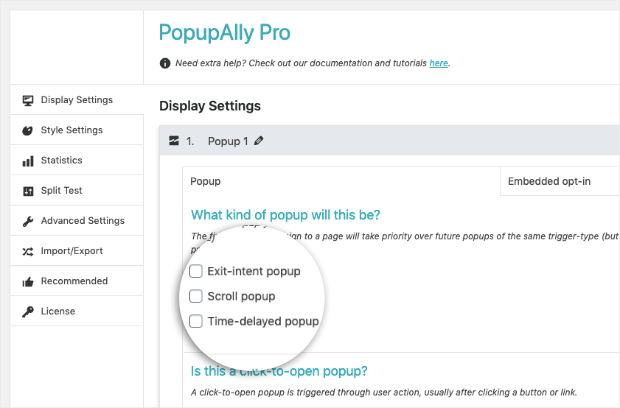 This means you'll be working with a handful of popups to help grow your list. That said, this can be a benefit to total beginners who don't know where to start.
Having more limited options will focus your efforts on a single strategy which, again, can be helpful at the beginning.
The problem is when you try to scale. Attracting new leads with a single method is difficult for any business and can lead to "popup fatigue."
That happens when users continuously see the same types of campaigns across your site and learn to ignore them.
OptinMonster, on the other hand, has tons of different campaign types you can use, such as:
Popups
Floating bars
Fullscreen welcome mats
Slide-in scroll boxes
Inline campaigns
Spin-to-Win discount wheels
And many more…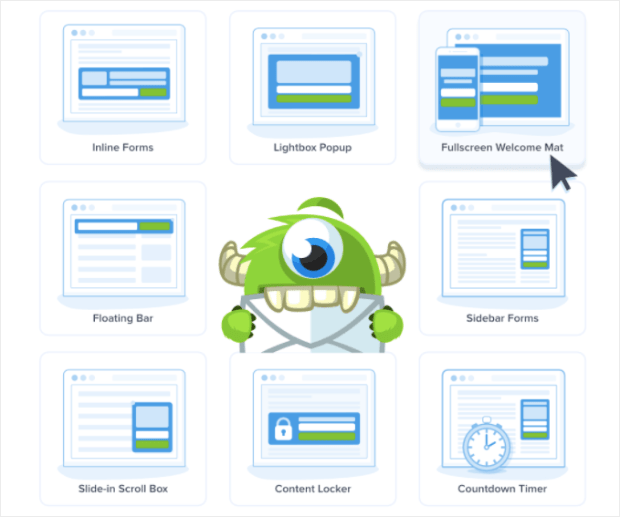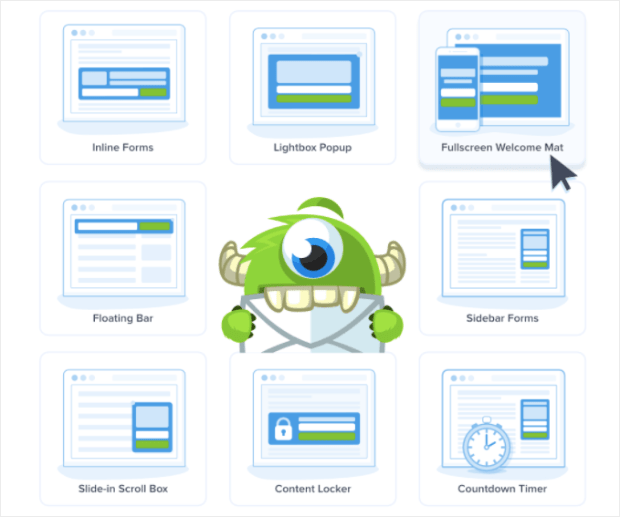 This is important because it prevents popup fatigue from occurring.
You can create a popup across your site for more general offers or promotions. But you can create a list of other campaigns to grab your audience's attention, too.
For example, you could create a floating bar to let customer's know about free shipping:



Or you could create a fullscreen campaign to ensure your site's visitors notice what you have to offer: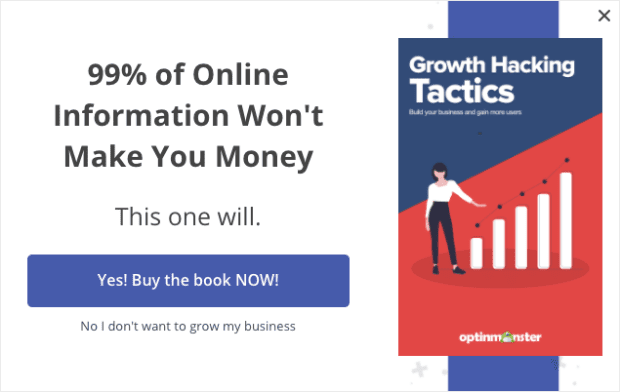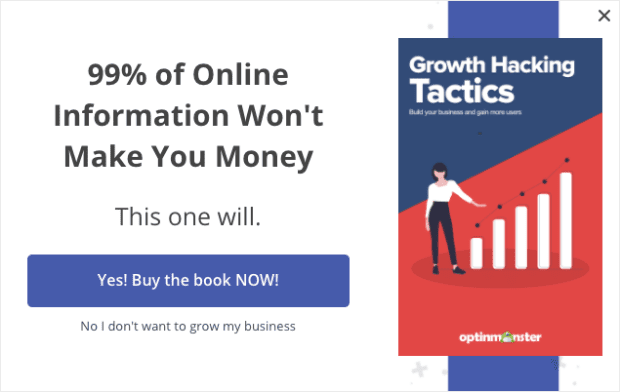 With OptinMonster, you have so many options to get the right campaign in front of the right people.
Rather than relying on a few popups across your site, you have an entire tool chest that you can use to get as many conversions as possible.
Winner: In this category, OptinMonster is the winner, hands down. It comes with a variety of campaign types businesses can use to grow, whereas PopupAlly only offers one.
Now let's look at how easy each software is to use.
2) Ease of Use
When it comes to which is easier to set up, OptinMonster vs PopupAlly, both can be installed like any other plugin you've downloaded in the past.
Once they're in your dashboard, however, things are a bit different.
When you look at PopupAlly for the first time in your WordPress dashboard, this is what you'll see: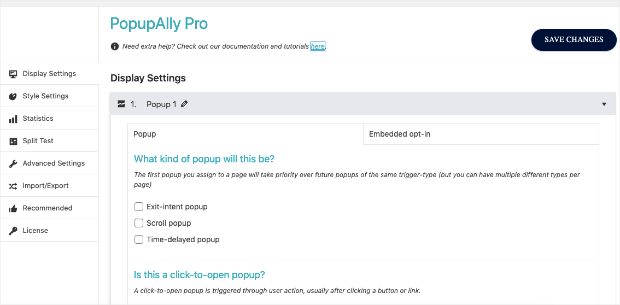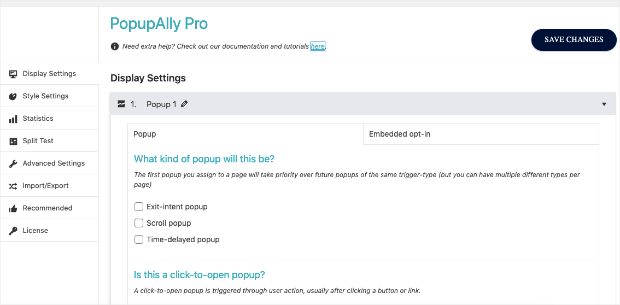 You can select the type of popup you want:
Exit-intent
Scroll
Time-delayed
Clickable
Embedded
But it's not clear where you go to edit the popup itself. Eventually, you find that it's in the Style Settings tab. And one of the first things you need to do is add the "sign up HTML" from your email provider: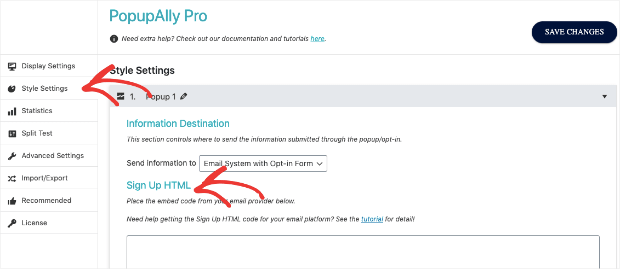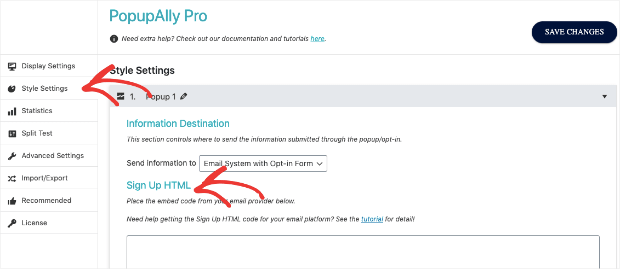 This is HTML code provided by your email service provider (ESP) to ensure that your new leads go to the right contact list. If you need help, though, they provide tutorials for finding the "sign up HTML" from your ESP.
Then you'll select a template: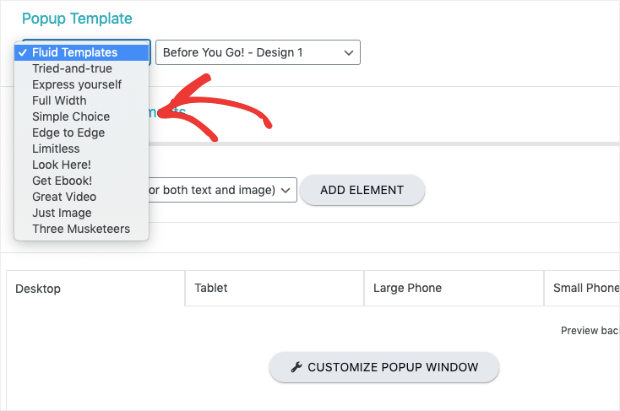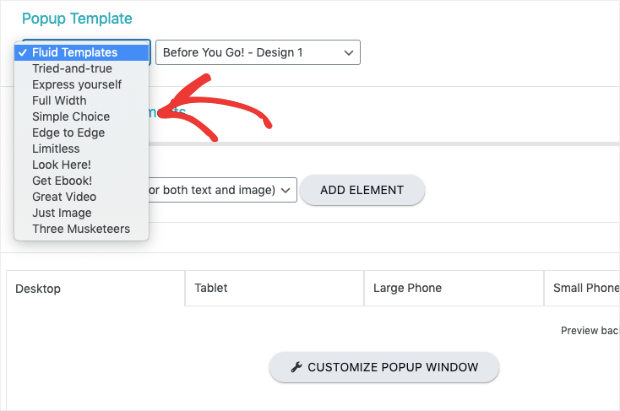 And you can even add a handful of elements to the campaign: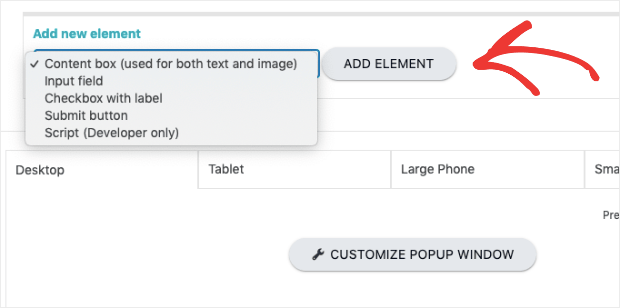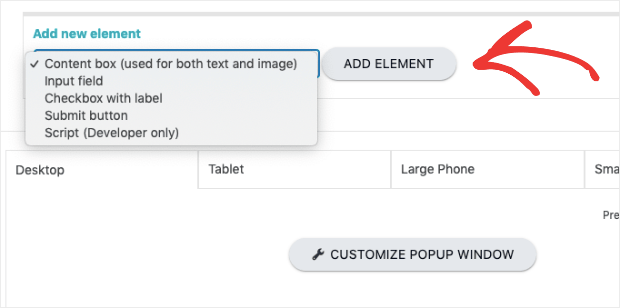 And you'll finally reach the preview of your popup campaign where you can make a few other modifications. When you click on an element in the preview, a new window pops up so you can edit that element: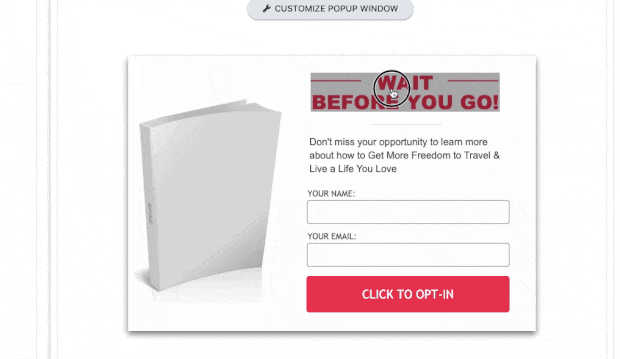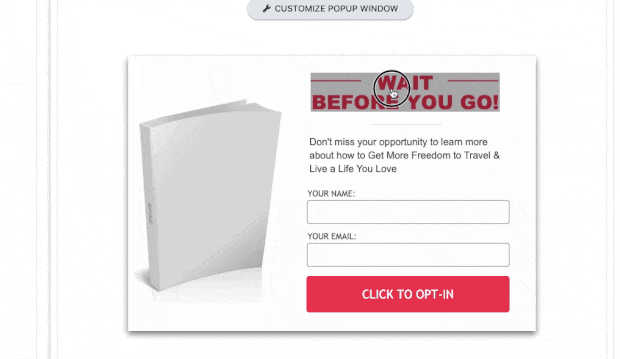 Now that we've seen the process with PopupAlly, let's turn to OptinMonster.
OptinMonster offers the most user-friendly experience when designing any part of your campaign. From your WordPress dashboard, you'll simply select the campaign type you want: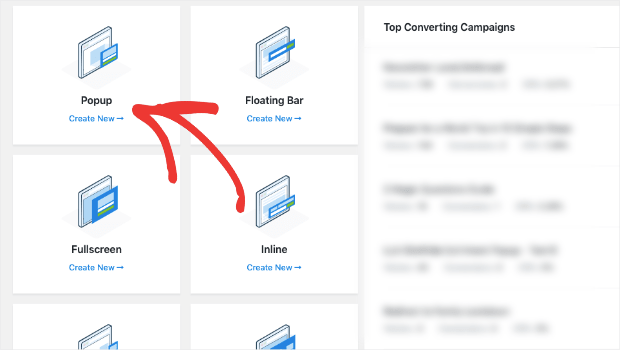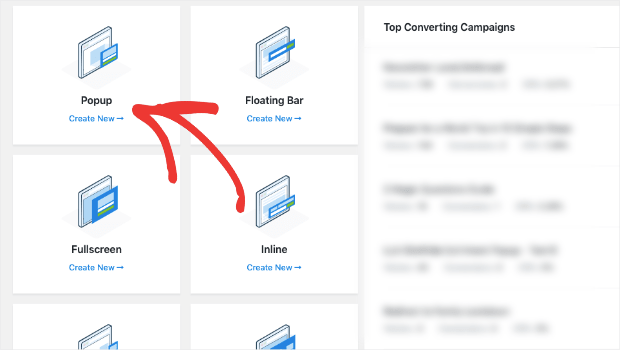 Then you can view and select any of OptinMonster's pre-made templates: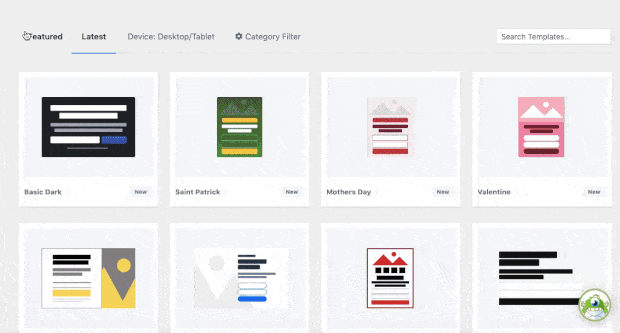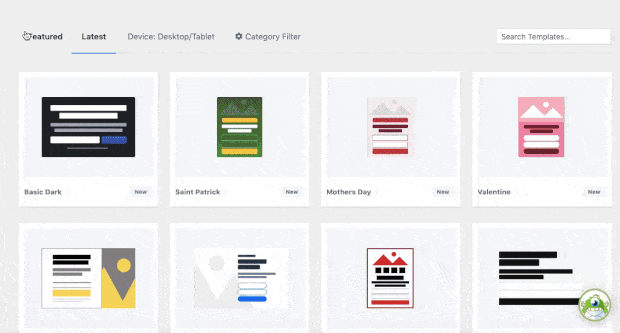 Then once you're in your campaign builder, everything is incredibly simple. To change any text in your optin campaign, you can use our inline editor: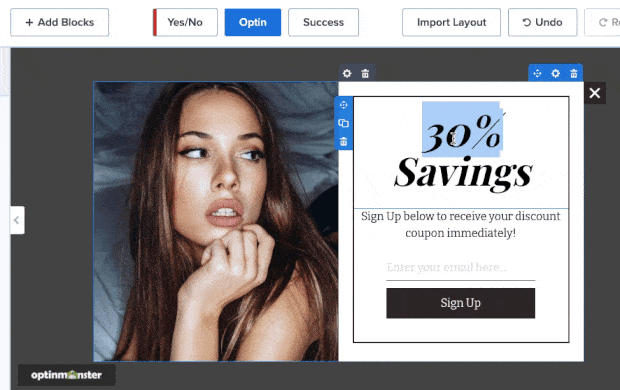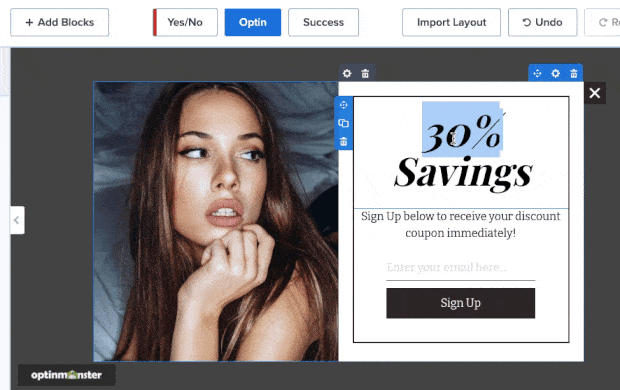 And if you want to add any elements to your campaign, that's just as easy, too.
You'd click + Add Blocks to drag and drop new features from the left-hand side menu: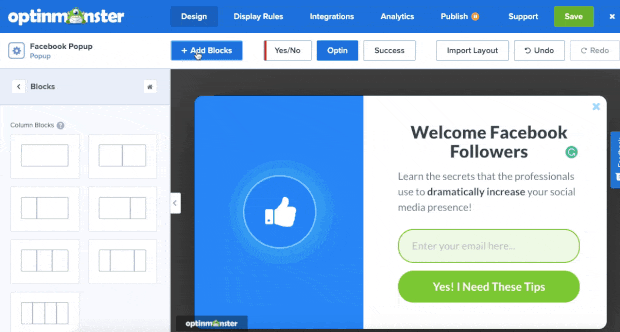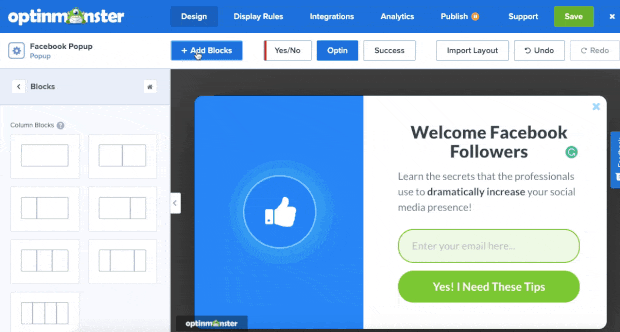 In just minutes, you can create stunning popups, floating bars, fullscreen welcome mats, and much more.
The best part is that you don't need to have any coding or design experience at all to get started. Instead, anyone can create professional-looking and high-converting popups in the least amount of time possible.
From there, you can hook up these campaigns to your email provider by selecting your ESP from a drop-down menu: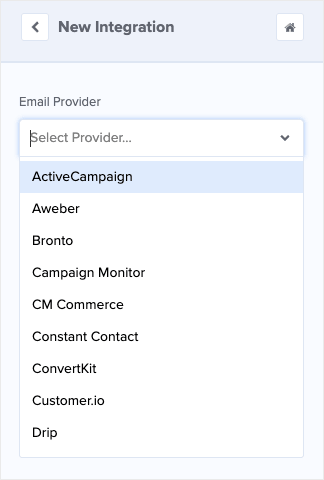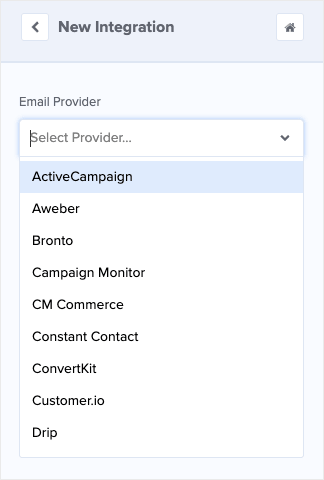 That's because OptinMonster natively integrates with 30+ of the most popular email service providers on the market.
That means most marketers won't need to track down any HTML code to set things up.
When that's configured, all you'll need to do is set up your display rules (which we'll cover next) and click Publish.
Winner: Again, in this category, OptinMonster comes out the clear winner. It's more intuitive to use and breaks things down into clearer steps for designing the perfect campaign for your business.
3) Targets and Triggers
To get the most conversions possible, you need to show your popups to the right people, in the right places, and at just the right time in their customer journey.
For that, you need tons of targeting rules and triggers.
PopupAlly offers a handful of targeting rules and triggers. With this plugin, you can create:
Exit-Intent Popups: Displays when users are actively leaving the website.
Scroll Popup: Shows as users scroll a pre-determined percentage of your page or post.
Time-Delay Popup: Appears after a pre-determined amount of time.
Clickable Popup: User-clicks trigger this popup to open.
Embeddable Popup: Emeds into your pages or posts.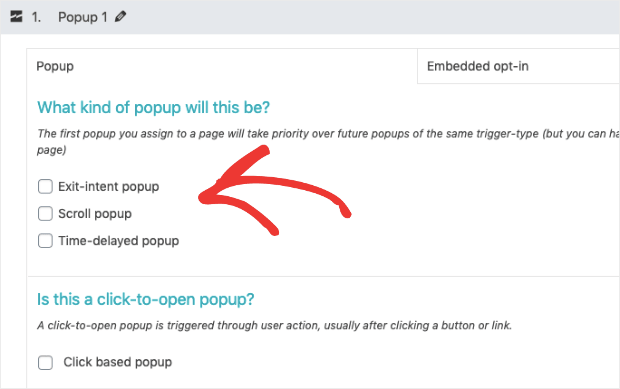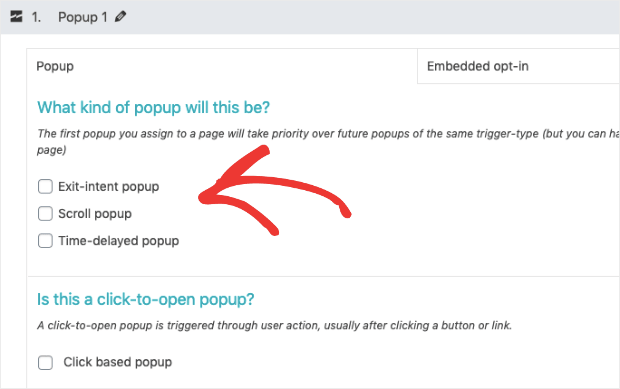 From what we can tell, however, there is no way to set your popups to specific pages or categories of your site.
Even reading through PopupAlly's documentation, it seems each of your popup campaigns will be applied to your entire site.
Again, this can be good for beginners but makes it more difficult to scale over time.
OptinMonster, on the other hand, gives you 100% control over where, when, and to whom your popups appear.
In fact, OptinMonster offers the most advanced triggers and targeting rules of all the lead generation software on the market.
Not only does OptinMonster offer all the rules provided by PopupApply:
Exit Intent® Technology
Scroll-Depth
Time-Delay
MonsterLinks™ (Clickable)
Inline (Embeddable)
But it also offers many others, such as:
Onsite Retargeting®: Show new campaigns to returning visitors based on how they've integrated with campaigns in the past.
AdBlock Detection: Get around AdBlock technology to reach up to 70% of users who never would've seen your popup in the first place.
Inactivity Sensor™: Grab your users' attention with a popup when they haven't engaged with the browser page after a specified amount of time.
Geo-Location: Target users based on their physical location.
Device-Based Triggers: Display messages to people based on what device they're currently using.
HTML Elements: Make your campaigns appear when users get to specific parts of your pages or posts.
And tons of other options to help you personalize your messaging and boost conversions. OptinMonster has an entire menu of great targeting rules and triggers to choose from.
Plus, all of these options are easy to configure with the display rules menu: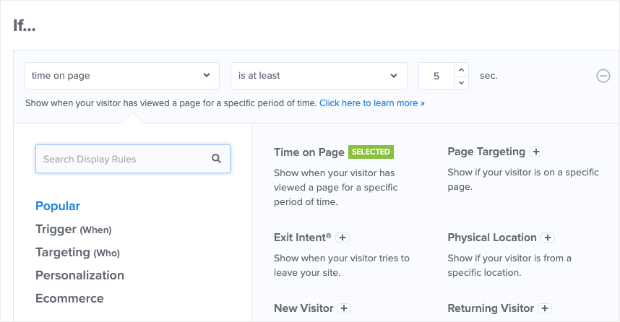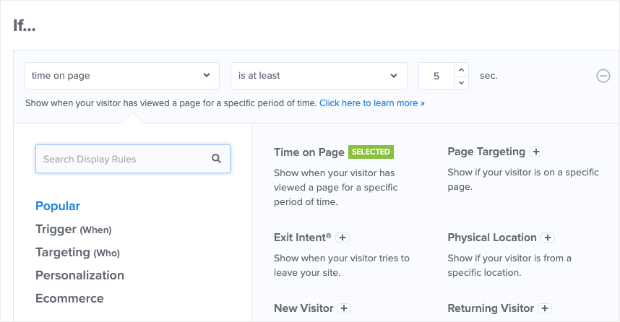 In just a few seconds, you can make sure that your popup campaign is reaching the right people and getting as many conversions as possible.
Finally, OptinMonster offers a ton of targeting rules specifically for eCommerce with big platforms like:
WooCommerce
BigCommerce
Shopify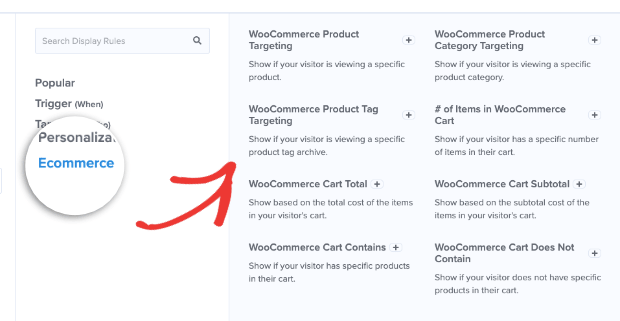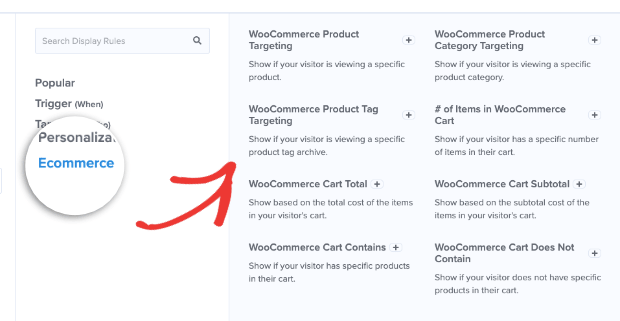 These targeting rules are geared toward getting higher profits from your online store. This includes showing your popups when:
Specific items have been added to the cart
The cart sub-total has reached a certain amount
The cart has a specified number of products in it
Visitors are viewing certain product pages
And more…
These options allow you to cross-sell, downsell, and upsell more effectively to generate more revenue in the least amount of time possible.
Winner: OptinMonster is by far the better option in this category. It gives you more targeting rules and triggers to personalize your messaging and increase conversions.
As a result, you can expect higher conversion rates (and sales) from using OptinMonster.
4) Pricing
When you invest in any new tool, price is always a major factor. You want a tool that's as reliable as it is affordable.
And for a lead generation tool, you'd ideally want to use a software that can pay for itself in new leads and profits generated.
Let's start with PopupAlly.
PopupAlly's pricing is very simple: $99/year.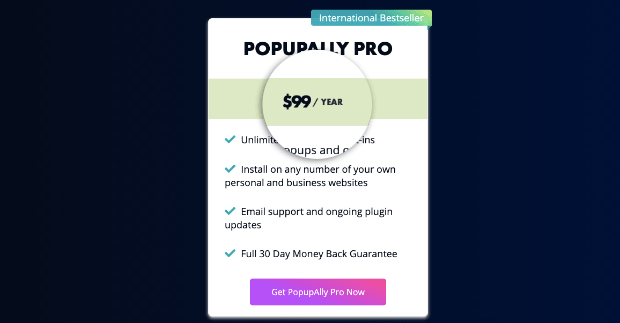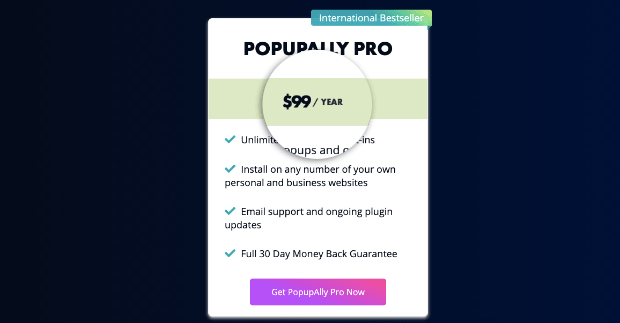 This gets you unlimited popups, you can install it on as many sites as you want, you'll get email support, and there's a 30-day money-back guarantee.
OptinMonster's pricing, on the other hand, breaks down in the following way:
Basic: $9/month
Plus: $19/month
Pro: $29/month
Growth: $49/month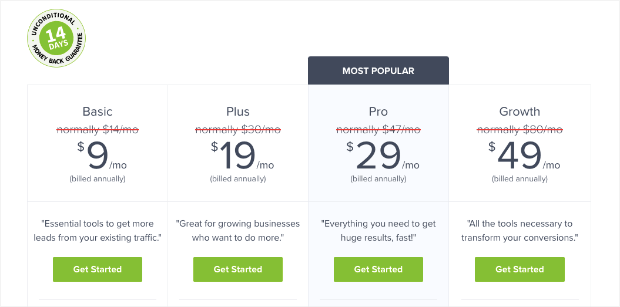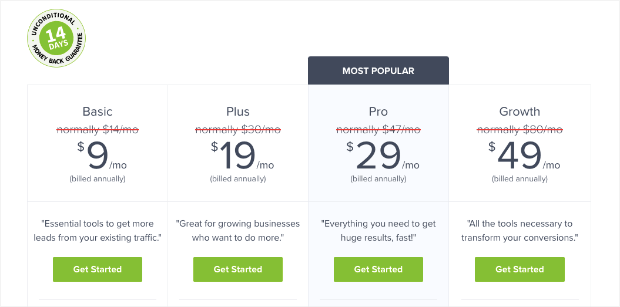 With each plan, you unlock new features to help you scale your business even more.
This is important because it means you'll never pay for advanced features you aren't ready to use. Total beginners can start with the Basic plan. As their business and profits grow, they can move up to different level plans based on their unique needs.
Now, at first glance, it appears that PopupAlly is the cheaper solution.
But it's important to remember what you can do with each tool for what you're paying. Even on OptinMonster's lowest tiered plan, you have more campaign types and triggers than you have with PopupAlly.
And while you'll pay $18 more over the course of the year, you'll have more tools to achieve a MUCH LARGER return on investment (ROI).
Winner: PopupAlly is definitely the cheaper option here. But when you take into account everything you get with OptinMonster for the smaller discrepancy in price, we still think OptinMonster gives way more value for what you pay.
OptinMonster vs PopupAlly: Which Is BEST ?
In this OptinMonster vs PopupAlly review, we covered 4 categories:
Campaign Types
Ease of Use
Targets and Triggers
Pricing
And in each category, OptinMonster came out the clear winner. But there was much more we could've covered, too.
OptinMonster's support, for example, is unmatched by competing tools. Or you could look at the advanced split testing and analytics reports OptinMonster offers in comparison with limited reports by PopupAlly.
In every way, OptinMonster is the dominant lead generation tool for people who are serious about growing their business.
Want to see it in action for yourself? Click below to sign up for your 100% risk-free OptinMonster account today:
Sign Up For OptinMonster Today!
BONUS: Done-For-You Campaign Setup ($297 value)Our conversion experts will design 1 free campaign for you to get maximum results – absolutely FREE! Click here to get started →
And that's it! This has been our review of OptinMonster vs PopupAlly.
We hope you found this resource helpful. If you did, you might also want to check out the following posts:
These articles will have everything you need to determine if OptinMonster is the best lead generation tool for your business.

Published by Nathan Thompson
Nathan Thompson is a father, a writer, and a lover of travel (in that order). When he's not wrestling with his kids, you'll likely find Nathan giving his eyes a much-needed break from screens with a good book or planning a family trip with his awesome wife.