This
article
was originally published on
this site
At OptinMonster, we're never satisfied with having a tool that's "good enough," and we refuse to give customers anything less than our 100% best.
That's why our team is constantly hard at work, updating OptinMonster and ensuring that it stays the top lead generation software on the market. And, today, we've got two fun product updates to announce:
Campaign previews no longer use an iframe
You can access a list of your Monster Leads™ directly in the OptinMonster plugin
Let's take a look at each new development and why they're so important for your continued success with OptinMonster.
Campaign Previews
Recently, we updated our Publish screen to make it more user-friendly. This page allows you to easily switch your campaigns from Draft to Published. Or, you can schedule your campaign to run at specific times.
But another part of the Publish screen is to give you the chance to preview your new campaign: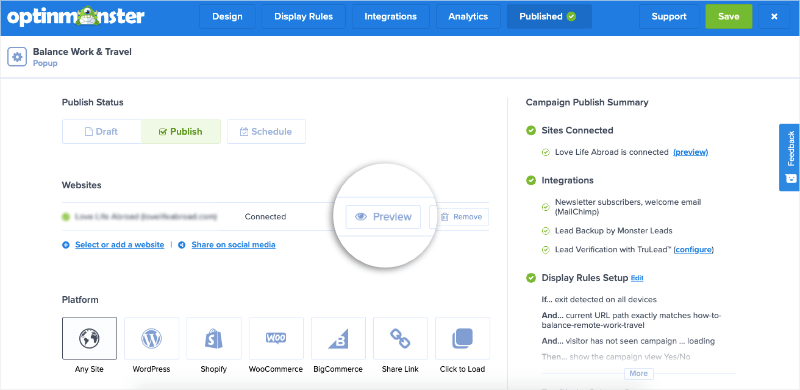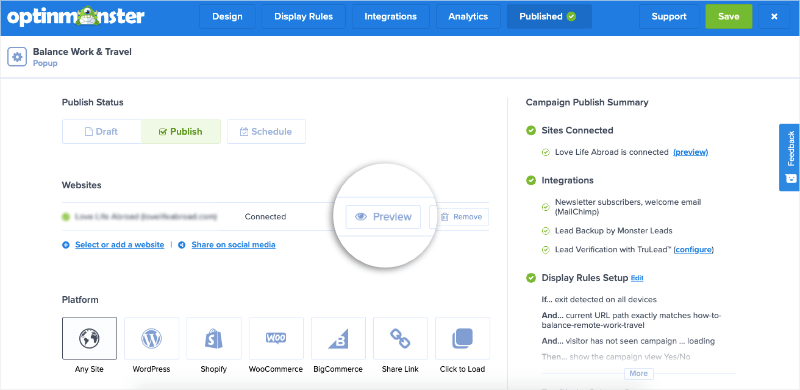 This helps you make sure it looks and functions the way you want to get the highest conversions possible.
Up until now, though, the preview used an iframe to show what your campaign would look like on your site. While this was effective for most of our users, it wasn't the best solution for everyone.
And that means it wasn't a good enough solution for OptinMonster. Here's why:
Some of our users were finding it difficult to preview their new campaigns. The problem was usually one of two things:
Either the user's web host wouldn't allow OptinMonster's iframe to run on their site
Or the user's had worked with Google Tag Manager (or another Tag Manager) to place their OptinMonster embed code
Without getting too technical, the bottom line was that about half of our users were struggling to view their OptinMonster campaigns–which is unacceptable.
So, now, we've made some improvements to make your campaign's preview appear on your actual site. And since it no longer relies on an iframe, all of our users can easily see what their campaign will look like before going live.
Here's an example of an OptinMonster campaign that's being previewed on a live site (though the campaign isn't live yet):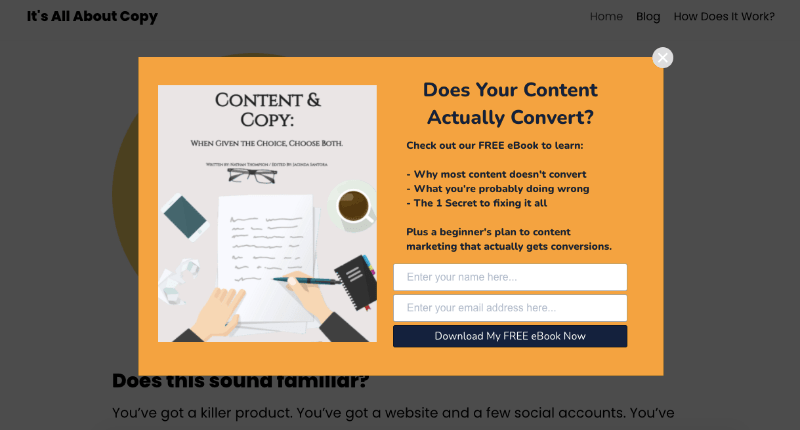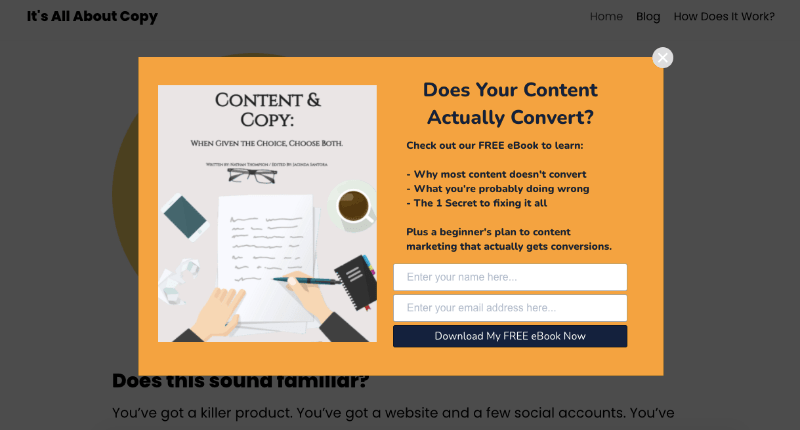 This is a function that all users can now use without any problems. It may seem like a small change, but it has a huge impact on thousands of our customers.
And that wasn't the only thing we've been working on…
Access to Subscribers from the Plugin
As you know, OptinMonster is one of the best ways to grow your email list. It lets you create stunning campaigns to get new subscribers for newsletters, webinars, survey forms, and more.
Traditionally, when a person signs up to your email list, their contact information would go to the email service provider (ESP) integrated with their OptinMonster account.
But we'd always taken things a step further with Monster Leads™: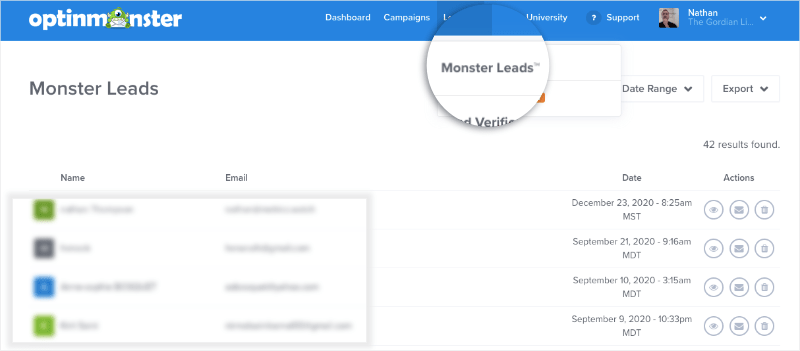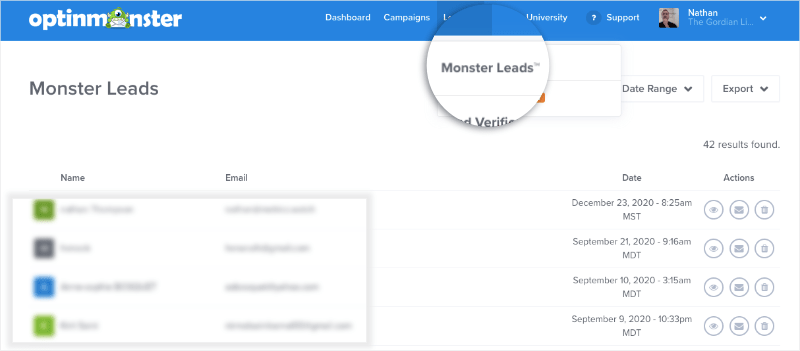 Monster Leads allow you to store your new leads separately from your ESP. This has a few major advantages for you, including:
Letting you generate leads even before committing to an ESP
Receiving real-time notifications for new leads added to your list
Sending emails to specific leads straight from your OptinMonster dashboard
Storing a backup list in case you lose access to your ESP or the account is suspended and/or blocked
In the past, you've only been able to access this list from your OptinMonster dashboard. And while this is a perfectly fine solution, there was another way to make this even easier for our WordPress users:
Making the list accessible directly from their WordPress dashboard.
Now, you can access and track your Monster Leads list from your OptinMonster plugin: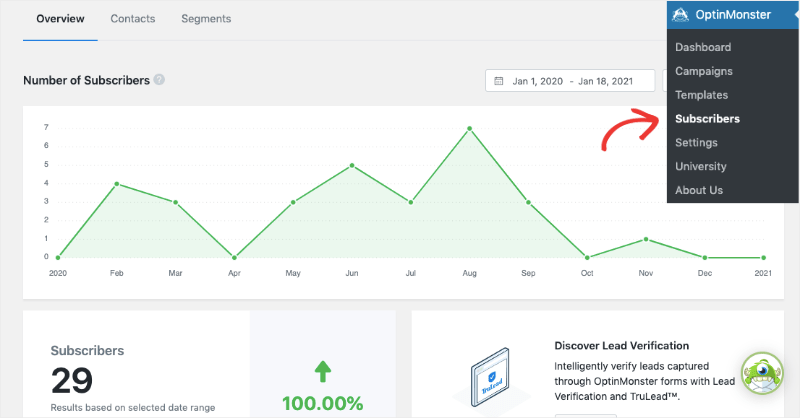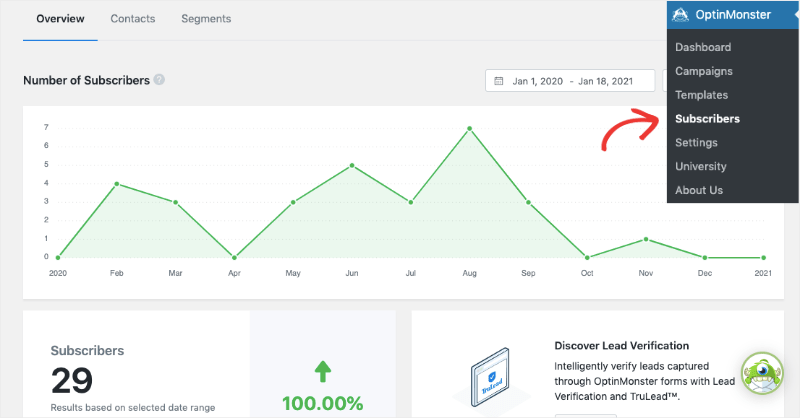 When you're in the Overview tab, you'll get a quick visual summary of how many new leads you've added over the last few days.
Then, you can switch to the Contacts tab to view a list of your new subscribers: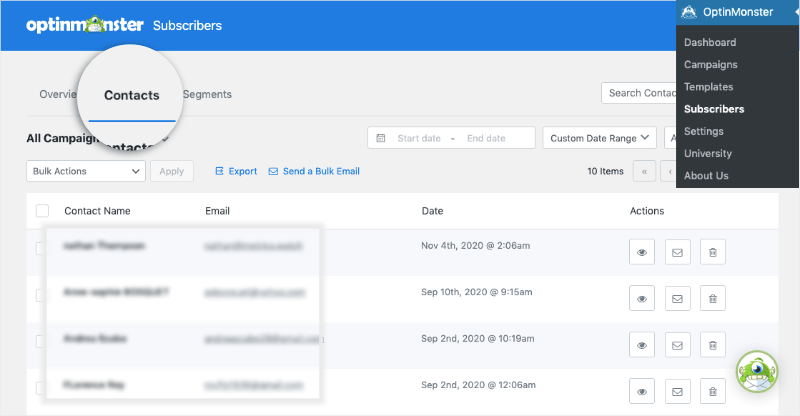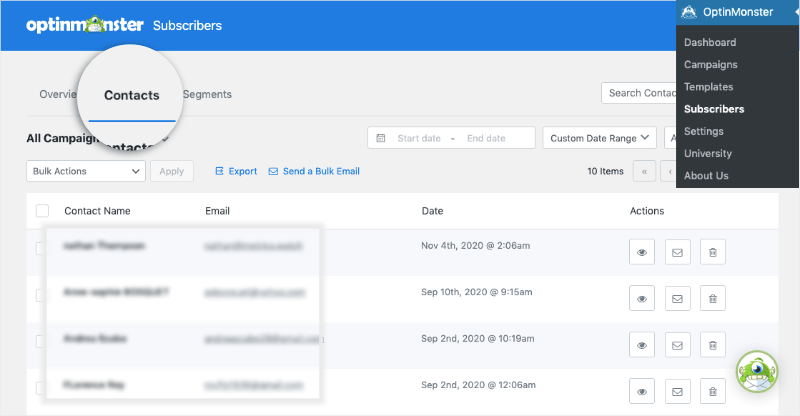 And finally, hitting the Segments tab will allow you to view the same list but broken down by various tags you've given to parts of your audience.
In the end, you get faster access to the contacts you need to boost your ROI. Plus, you never need to leave your WordPress dashboard to get that information.
That's all for today, but we've got lots of big changes coming your way soon. So hang tight and join our mailing list to stay up-to-date as we continue to improve what's already the best solution for growing your list, increasing conversions, and driving more sales.
Not using OptinMonster yet? Sign up for your 100% risk-free OptinMonster account today to start getting new leads fast.