This
article
was originally published on
this site
Why learn how to write a business plan? Business plans lead to focus, clarity, and better communication of a brand's inner workings. It's also become more common for people to see business plans as ways to get funding for a company. But that's not really how it works.
Business plans had been around long before Silicon Valley and the entrepreneurial tech revolution. They're meant for visualizing the current state of your company while also projecting what's possible for the future.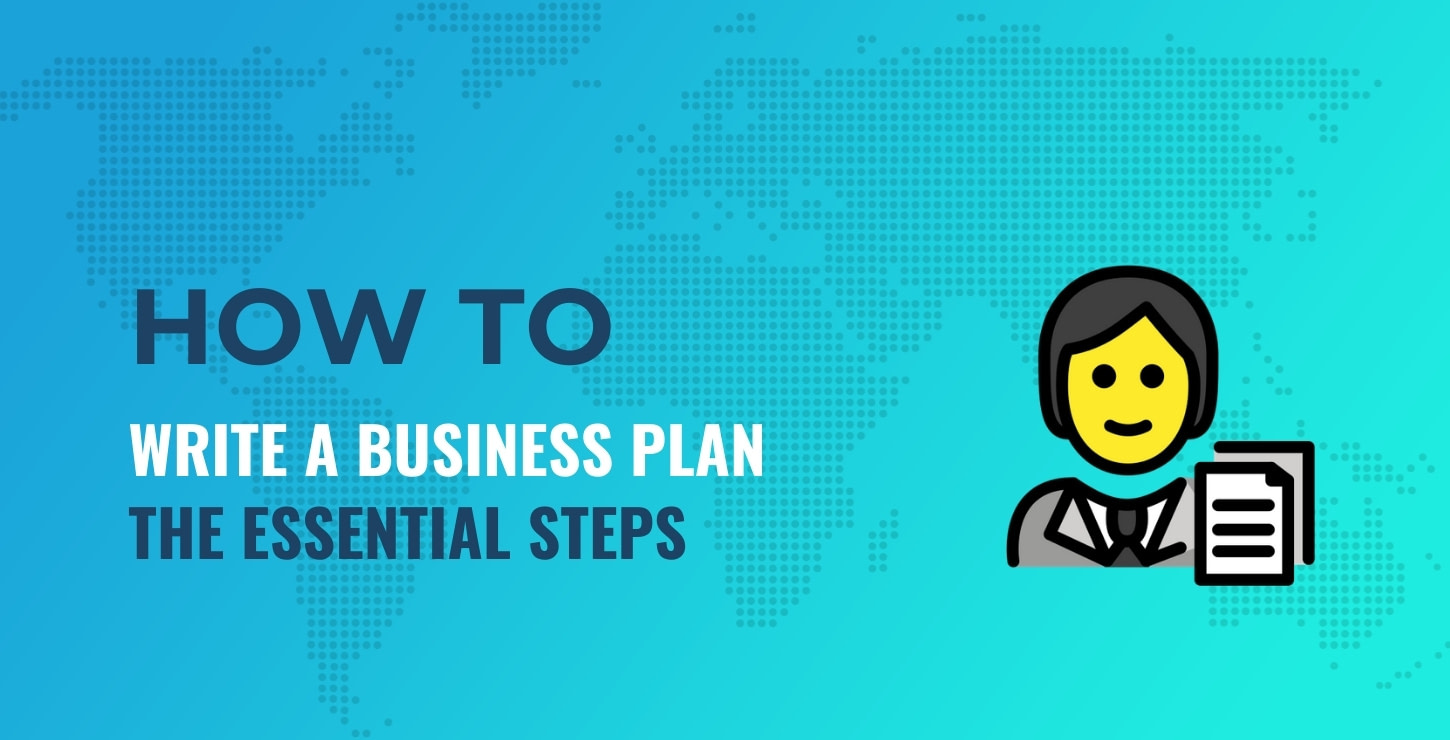 In this article, we'll cover how to write a business plan that actually benefits your brand and drives potential customers and investors your way, for all types of businesses, from consulting to eCommerce.
What's a business plan and why do I need one?
Think of a business plan as a roadmap. It's a way to put information about your business on paper for your own reference, including details like what you sell, the company mission, revenue potential, and the people who work for the business.
In addition to the financial and operational specifics, a business plan takes it a step further by helping you visualize the future of the company, with projections, your target customer base, and strategies for growth.
You may think that keeping the business plan in your head is all you need, but we encourage you to spend a significant amount of time writing it down. A written business plan helps you with the following:
Idea creation and evaluation – A business plan helps with laying out your ideas and testing them to see which ones you should focus the most time on.
Research and development – Research within a business plan involves customer analysis, product potential, and competitive advantages.
Planning for the future – This is arguably the most important reason to write a business plan. It clarifies the scope of your company and highlights which resources you need going forward.
Pitching for partnerships – Sometimes a business plan gets passed over to potential partners, like investors and other companies in your industry that want to collaborate.
Recruiting – Although you probably won't show the business plan to potential hires, it's an excellent resource for you to look at and communicate your overall vision and plans for the future.
Industry awareness – A business plan helps with outlining your competition, understanding the market, and seeing where your company stands within that environment.
How to write a business plan – step by step
The structure and content of your business plan must make sense. This isn't an attempt to present your business as if it's wildly successful already. We're not writing a fantasy plan but, rather, a roadmap, a blueprint, for a successful business – with realistic expectations and objective statements that strive to clarify rather than sensationalize.
Starting out with a blank page may seem intimidating, but that's why we're here to guide you through the entire process.
All business plans vary in which content gets included, but a solid start to any business plan has the following elements:
Let's take it from the top:
Executive summary
The executive summary serves as the introduction and overall roundup of your company's purpose and goals for the future.
It's an excellent start to the entire business plan for those who want a quick taste of your objectives, and it can also help when you need to remind yourself of your brand's overall purpose and potential.
This isn't an opportunity to hype your company or make it look more special than it is. Rather, you're tasked with summarizing a clear description of your company, usually in no more than one page. Some executive summaries go as long as two pages, but anything past that shows you're lacking focus and unable to describe your purpose in a few short paragraphs.
Here's a reasonable start to your executive summary layout:
A quick description of your company, with your company name.
A brief explanation of its products and services.
A short summary of your business objectives.
A summary of the target market.
An explanation of viability, including information about your competitive advantage and competitors. This is the part where you explain what makes you different.
A review of your projected growth potential.
Funding requirements to meet your goals.
An executive summary works similar to an elevator pitch, where you're packing all the essential details into one small section. The goal is to tighten and refine your overall concept and determine how to grab attention right from the start.
Here's an example of an executive summary from the Small Business Association (SBA):

Company description
The next section of the business plan highlights elements like your mission statement, principal members within the company, and your overall legal structure.
Here's an example:


The mission statement shows a one or two-sentence declaration about your company's primary mission or goal.
Management and organization
The principal members should only include a handful of the main stakeholders, including people like the owners, founders, or executives.
Finally, the legal structure refers to how your business is legally organized, whether that's as a sole proprietorship, S-corp, LLC, or one of the many other business formats set up for taxes and payroll.
Market research
The Market Research section of any business plan dives into specific details about your industry, serving as the first part of the business plan that doesn't summarize information from further into the plan.
Market research often includes sections to explain your industry, customers, company advantages, and any regulations you may encounter along the way.
Consider the following elements to cover in the Industry section:
How similar businesses in the industry function.
The size and scope of businesses in the industry.
Who you would work with.
The current state of that industry.
Potential growth opportunities for the market.
After that, the Customers section includes information like:
A detailed target customer profile, with information like age, profession, and income of your ideal customer.
Pain points those customers usually encounter.
How your company plans to resolve those pain points.
How you intend on targeting those customers.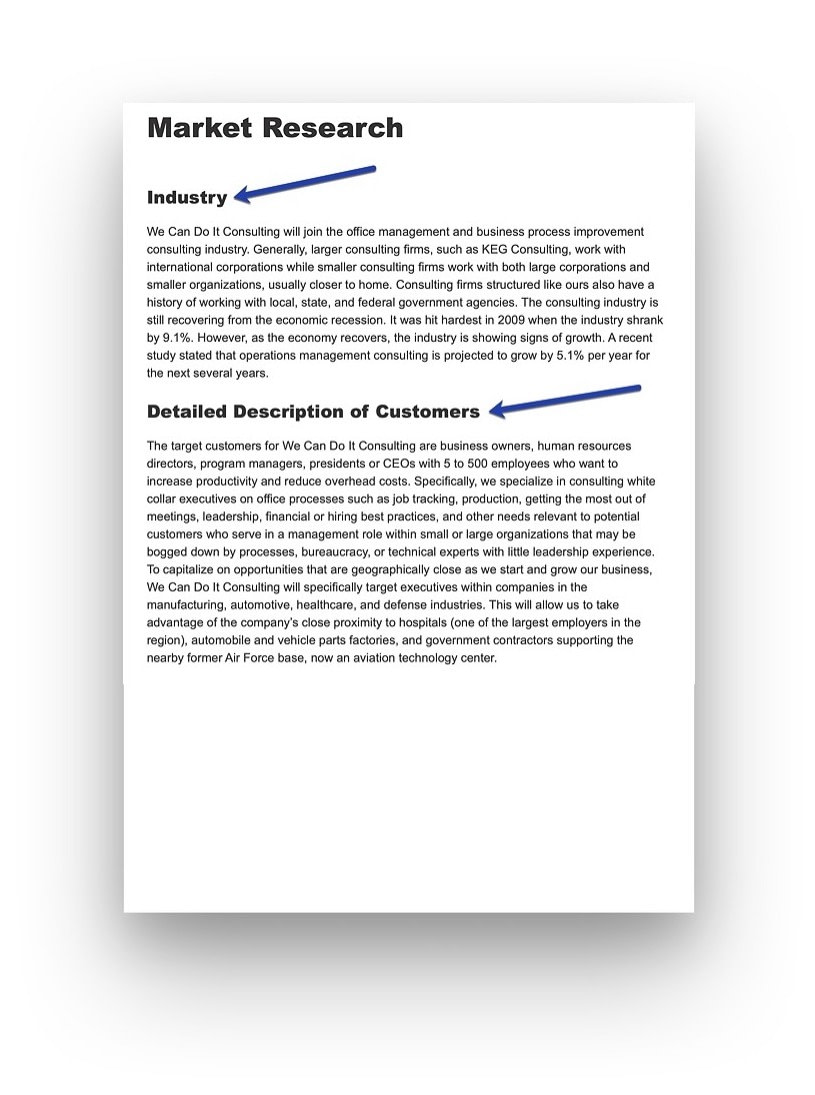 An excellent way to continue the Market Research section is by focusing on your company's advantages. These are often outlined with bullet points. Consider these talking points for your Company Advantages:
Pricing advantages.
Cost-cutting opportunities.
Location and work-life advantages.
Talent and staffing credentials.
Past work experiences and market research.
It's not always required, but make sure you research any regulations that apply to your business, too.
Include the regulations in a separate section with mentions about licensing, tariffs, copyrights, and industry requirements.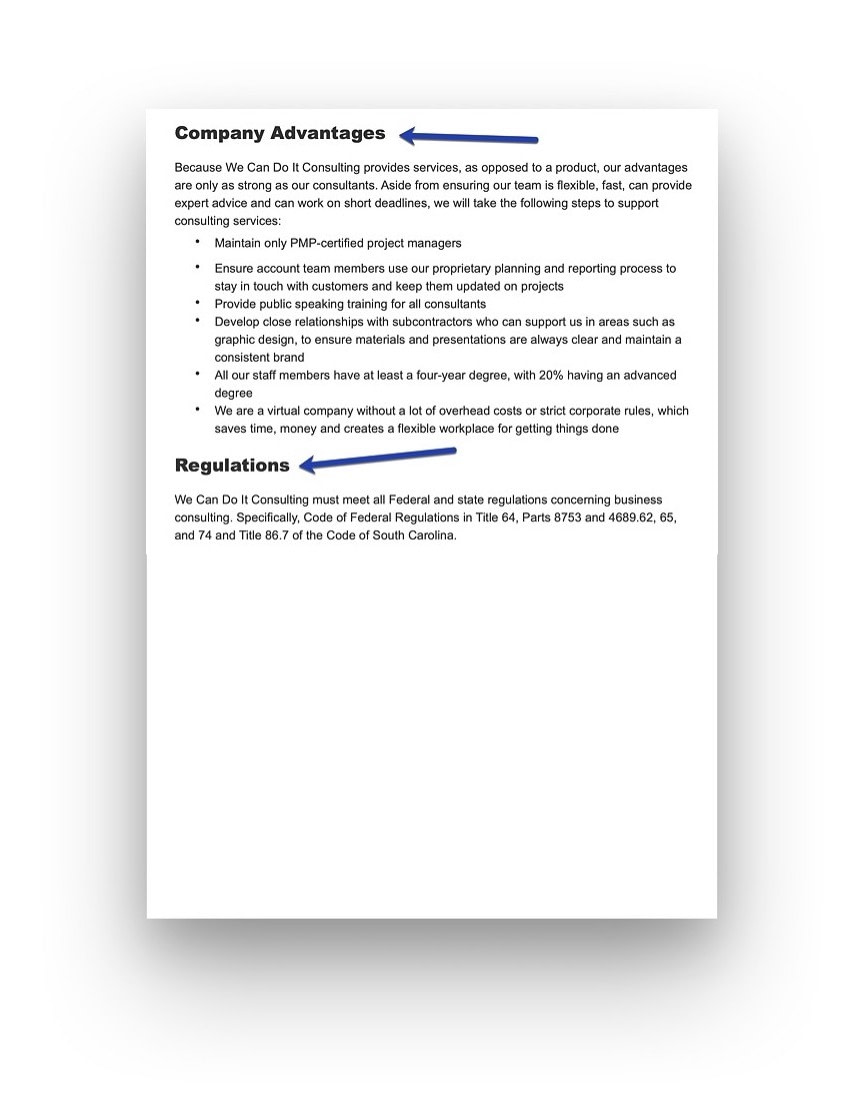 Services and products offered
The process of learning how to write a business plan eventually goes into the next section of Services and Products. The section breaks down the core offering from your company, or what you sell.
You may only sell services, like the ones specific for a consulting firm. On the other hand, you may only focus on selling products, like with an eCommerce store that sells toys. Either way, only talk about services or products you have plans to sell or are currently selling.
For example, a consulting company might make a list of all services offered to its clients. These services may include things like web design, image editing, customer relationship management, and analytics.
Moving forward, it's important to explain your pricing structure. This helps you and future business partners understand how you make money. It's also a solid benchmark for the future when you will need to price new services or products.
A pricing structure for a service-oriented brand has hourly, monthly, or per-project services, with specific pricing so you can put an actual number to those services.
Finally, go into two more sections for the product lifecycle and intellectual property rights. The Product Lifecycle section may end up short if you sell services, but it's still important to show if you require contracts or some sort of approval process.
Intellectual property rights include all copyrights, patents, and trademarks made for your company. This may end up empty, but you should consider protections for logos, products, and even the name of your company.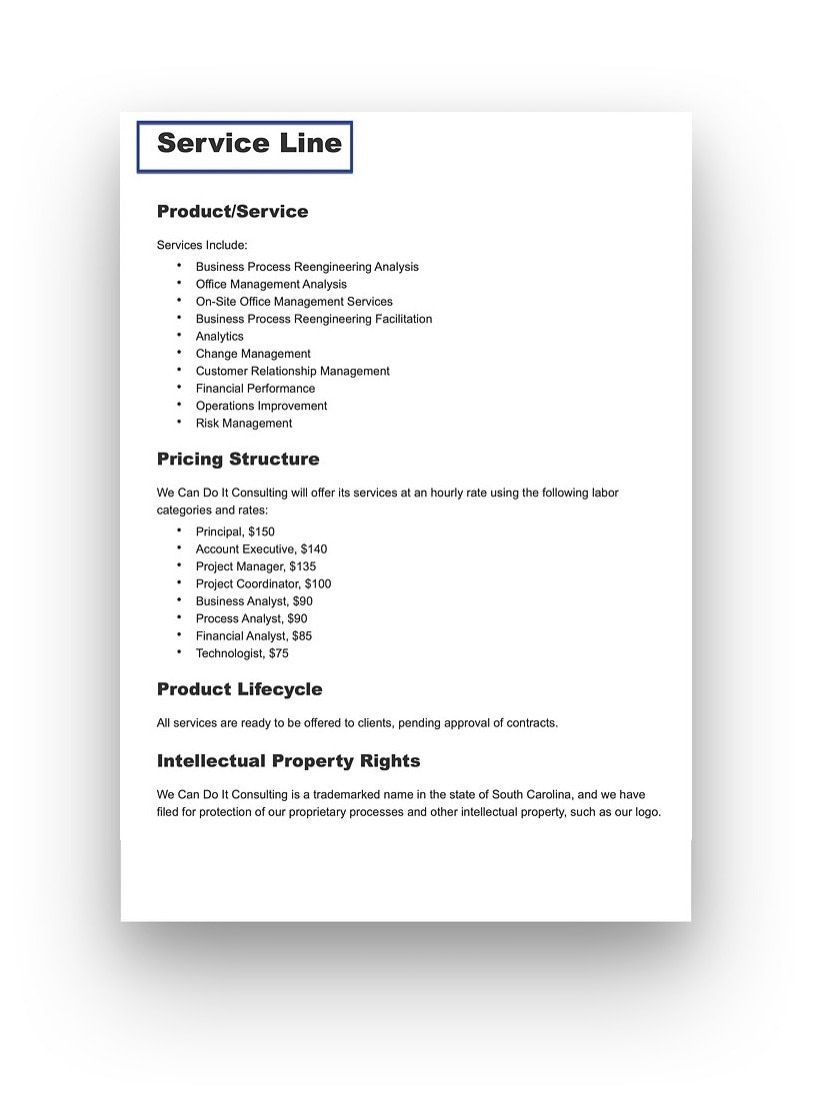 The previous example explored the Services and Products section for a consulting company that only sells its services.
Below, you can find an example of a business that sells physical goods.
It's similar to the service-based company but with a few changes:
You should highlight specific pricing for all products sold.
You can have a bulleted list with descriptions of those products.
It's not a bad idea to explain how you make your products.
The product lifecycle tends to have a longer description, explaining how it goes from the manufacturer to you and then to the customer.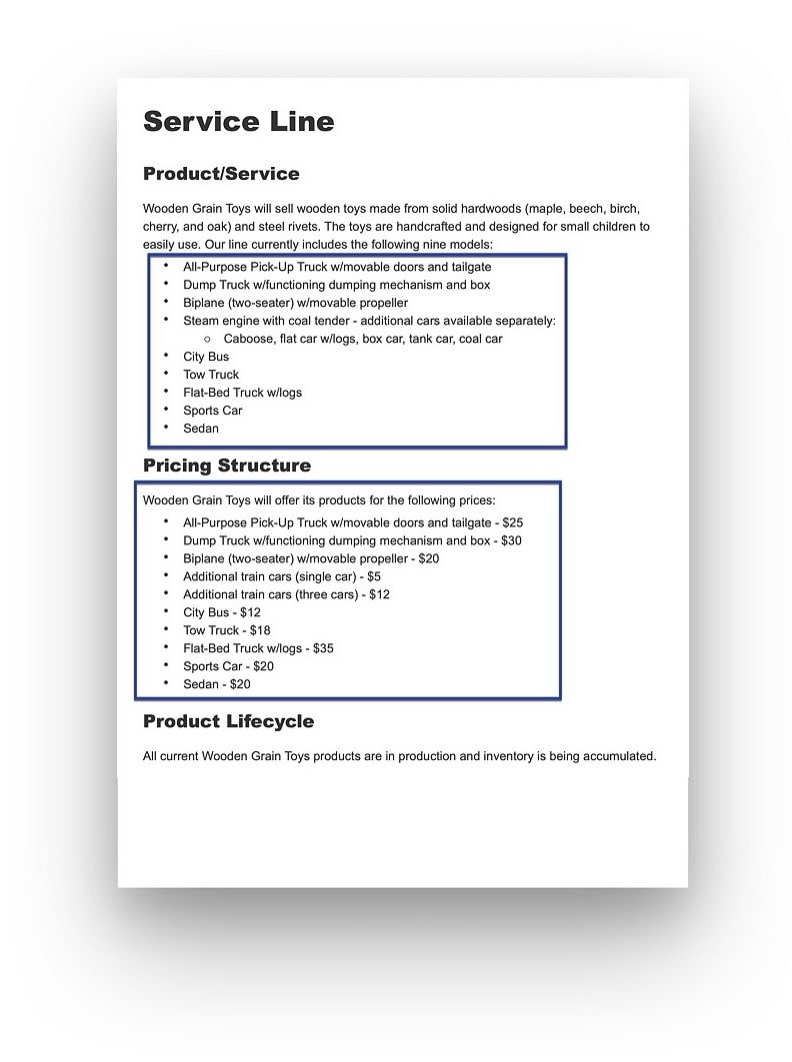 Research and development
The Research and Development part of a business plan can have its own headline or go right under the Products/Services section. We recommend covering details like:
How the research process works.
Trends and product ideas you're already pursuing.
Customer pain points that may provide any potential for future products or services.
Marketing
The Marketing section has significant value since that's the main way you bring in new customers and propose that previous customers come back for your products or services.
We like organizing the Marketing and Sales segment into the following parts:
Growth strategy – Make a list of how you plan on growing your business, whether that's through email marketing, advertisements, or networking at events.
Communicating with customers – Explain the main ways in which your company will/does communicate with its customers. Some examples include social media, email marketing, and meeting with business owners in your industry.
How to sell – Talk about your current sales operation, with details on who runs the sales team, how many salespeople you have, and how many customers each one brings in every month. Also, share plans for increased sales in the future.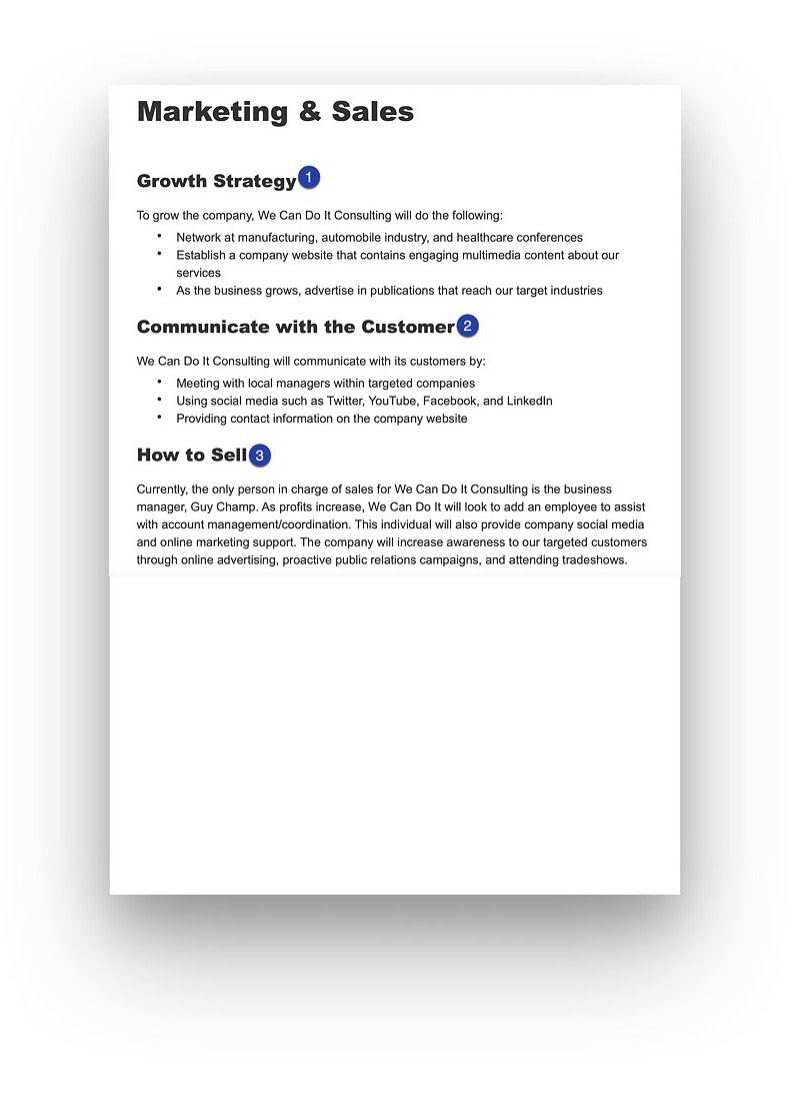 Financials and logistics
Although not recommended on the Small Business Association website, financials and logistics often get listed depending on your current situation.
For example, there's no need to write a long financial statement if you're launching a startup. However, a seasoned business, or even one with a small startup capital, must disclose its financials in order to remain transparent with potential partners and to give yourself an idea of where you stand with cash flow and funding. This is also an excellent area to expand upon how you plan on funding future operations.
Here's a list of financial documents to consider adding (add them as attachments; don't clutter your business plan with these documents):
An income statement
A balance sheet
A cash flow statement
A logistics and operations plan comes into play if you want to explain exactly how you intend on making your ideas a reality.
Here are some sections to include in the Logistics section when learning how to write a business plan:
Inventory – How much inventory do you currently have on hand? How much do you plan on housing in your storage facilities? Are there plans for inventory management software or shipping partners?
Shipping and fulfillment – What type of fulfillment will you embrace? This could be anything from third-party fulfillment to dropshipping.
Equipment – Computers, printers, supply chain machines, and more. Include all equipment items that serve a direct purpose in creating your products or offering your services.
Facilities – Outline all facilities within your supply chain. This includes where your staff works and where products get stored. Think about office space, warehouses, and manufacturing facilities.
Production processes – Your production process tells a story of how your products go from raw materials to your customer's doorstep. You can talk about manufacturing, wholesale, and shipping partners. Make sure you explore the time frame in which it takes to make one product and how you plan on dealing with purchasing spikes, like during the holidays.
Suppliers and manufacturers – This section highlights the specifics of where you source your products or get your raw materials. Explain the partnerships you have for manufacturing, and discuss where the products are created.
Final tips and best practices for writing a business plan
Learning how to write a business plan is the easy part. The true test comes when you actually sit down and write it. Luckily, creating a business plan can be a lot of fun, especially if you're excited about launching a new company with lots of growth potential.
We encourage you to use this business plan guide as a starting point. Every business has its own requirements, so you're more than welcome to adjust the sections for your industry and the products sold. For example, a startup won't have as many financials, but a more mature company interested in funding would want to attach all financial statements.
Having said that, here's a list of final tips and best practices to improve your business plan and make sure it's the best it can be:
Maintain a consistent tone and style – Stick to a professional tone unless a core part of your business is being fun or whimsical. Also, have one person write the business plan. After that, ask for edits. Those edits should only be accepted and changed by the original writer. You don't want multiple people writing a business plan.
Keep it as short as possible – The primary business plan should be as short as possible, where you cut out all the fat that's not necessary. Two pages is a good starting point. Larger companies may need more. Consider a maximum of 20 pages when attaching complementary documents, like financial statements.
Spend a significant amount of time researching your industry – It's easy to talk about your own company, but that could block your view from the true state of the industry. Use independent sources to understand how easy or hard it is to penetrate the market – and acknowledge that in the business plan.
Don't sensationalize your business or use buzz words – Again, no one wants to read about your fantasy company or how your business will "revolutionize" the industry. Scrap all that to make yourself sound poised and realistic.
Stick to one primary goal and make it clear – Do you want to secure funding? Are you trying to launch your first product? Talk about your main goal (just one goal) somewhere in the business plan.
Understand your audience – This is another research-heavy area – seeing how you may need to adjust your language or modify ideas depending on who's reading the business plan. A version for your mom should look dramatically different than the business plan for potential investors or business partners.
Let us know in the comments if you have any questions about how to write a business plan. Also, share your thoughts on the alternative tactics you've used for your own business plans.
…
Don't forget to join our crash course on speeding up your WordPress site. With some simple fixes, you can reduce your loading time by even 50-80%:
Layout and presentation by Chris Fitzgerald and Karol K.