This
article
was originally published on
this site
Are you trying to learn how to make money from your newsletter?
Growing your email list can be tough. And driving tangible revenue from that list?
Well, that's even tougher.
But if you're feeling discouraged, don't worry.
Because in today's post, we're going to teach you how to make money from your newsletter.
Before we do, though, let's get clear on the types of newsletters you might try to monetize.
That way, you have a better understanding of how each kind of email campaign should function in your overall marketing strategy.
Ready to get started? Let's dive into the list.
5 Types of Email Newsletters
Here you'll find the most common types of email newsletters. They include email newsletters for:
Already familiar with these types of emails? No worries.
Feel free to skip to the next section on how to make money with email newsletters.
1. Email Newsletters for eCommerce Websites
Email newsletters are a great way to drive sales by showcasing featured products or using coupons to entice subscribers to make a purchase.
In your newsletter, why not include a coupon with a bold header mentioning the discount?
You could even add an option that subscribers can simply click to automatically apply the discount to their cart. Subscribers love it when things are easy.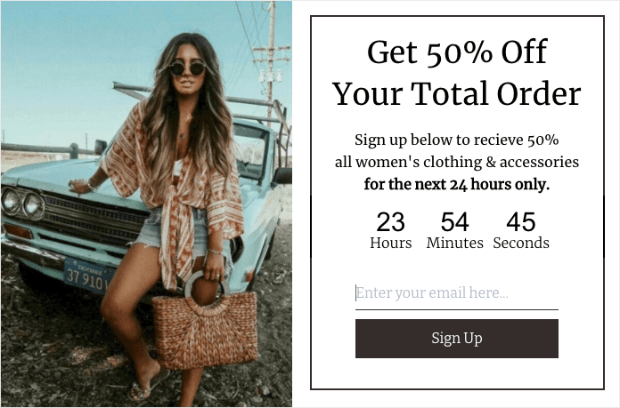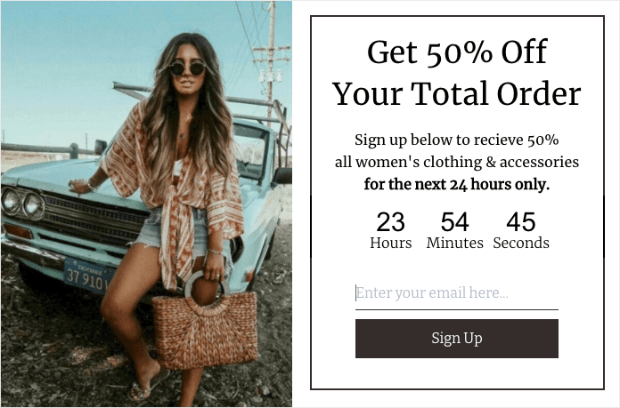 And the best part? Ecommerce emails convert.
A recent study found that 59% of consumers say email marketing emails influence their purchasing decisions.
Want to get even more out of your email marketing?
If you run an online store, email marketing is hands down the most effective tool for recovering abandoned carts and converting so-called "lost" sales into revenue.
2. Email Newsletters for Publishers
Publishers can use email newsletters to connect with customers by providing helpful tips and information related to their niche.
Here's an example from OptinMonster: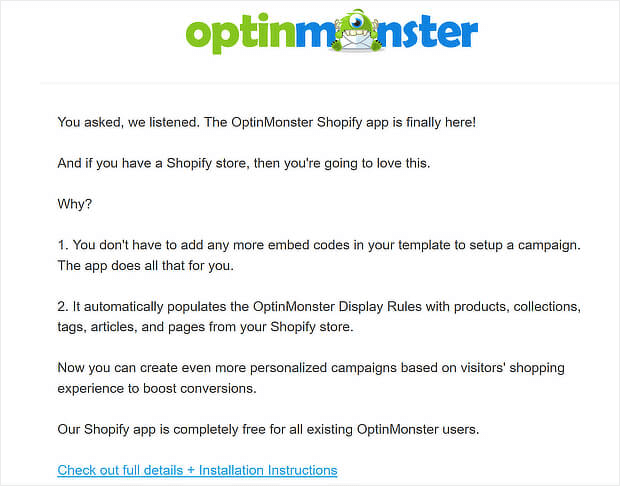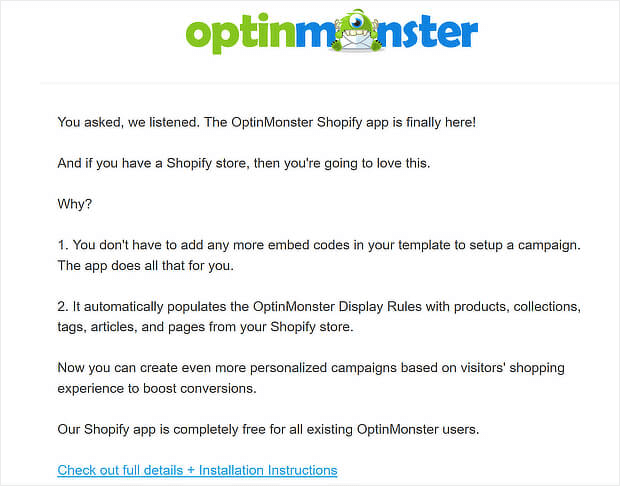 If you need to start a blog or other content-driven type of site (and, trust us, your business will thank you for it), email marketing is the best way to build your audience.
While having content on your site will do a lot to improve your site's search rankings, there are 3 awesome ways content and email marketing can work together to create a strong following:
Your content gives you a built-in reason to reach out to previous visitors and customers, encouraging them to come back to your site.
You build a loyal audience that looks to you as an authority in your industry.
Your content and its presentation are controlled and owned by you.
And since the only cost is your time, it's the perfect way to attract your target audience on a budget.
3. Email Newsletters for Small Businesses
Email newsletters are also a really good way to boost your social following or traffic to your site, so don't forget to add links and callouts!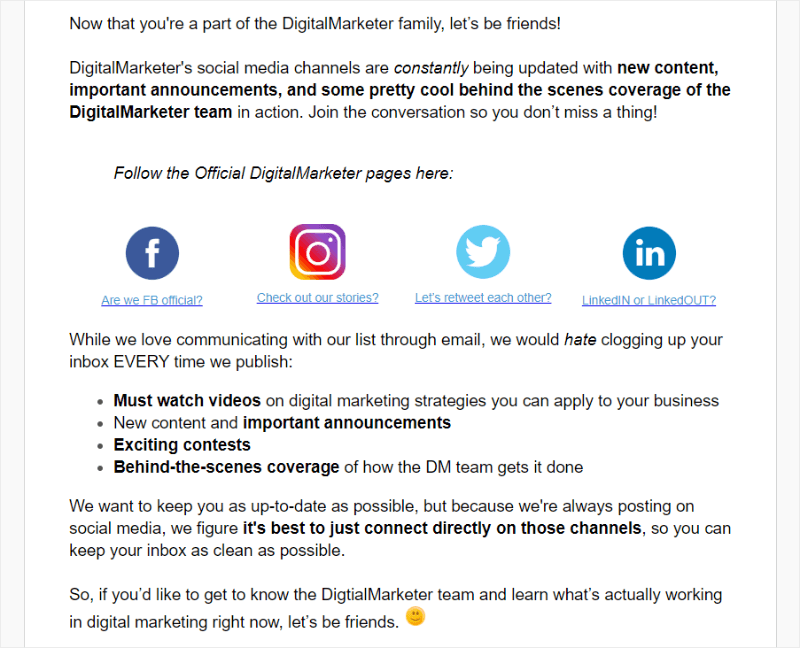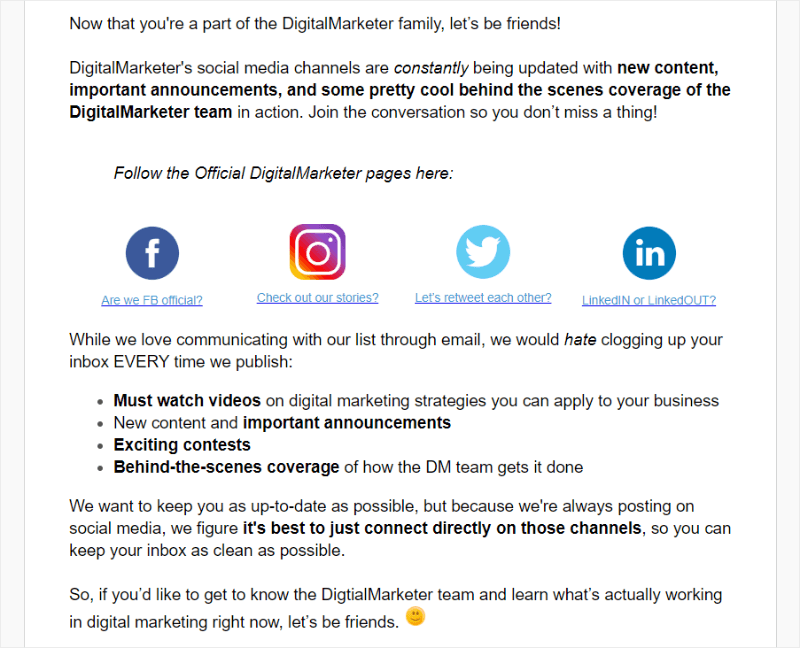 With a 4400% ROI, email marketing is also the most cost-effective marketing channel, making it the perfect way for small businesses to stretch their marketing dollars.
4. Email Newsletters for Nonprofits
Nonprofit newsletters help you to connect with their subscribers, really engaging with people and inspiring them to take action.
Similar to small businesses, nonprofits need to take advantage of email marketing's high ROI to make their marketing dollars go a long way.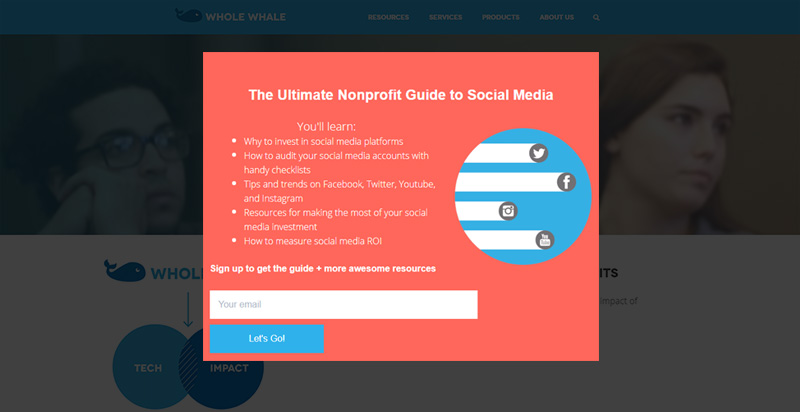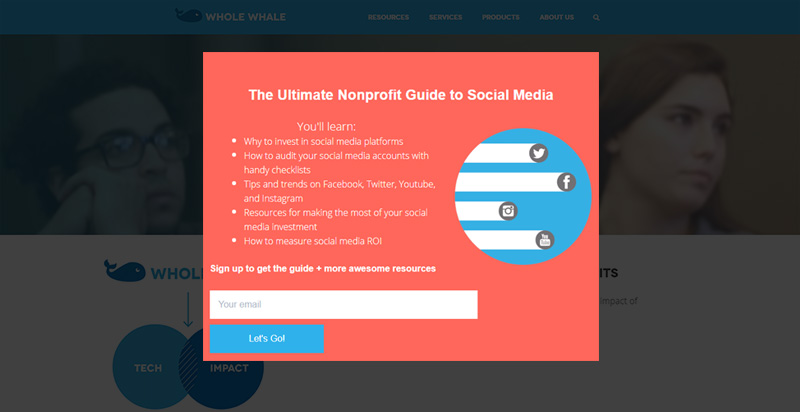 Email marketing makes a huge difference for donations.
And it makes a difference in the amount of the donation, too.
While social media brings in more donations overall, they tend to be smaller dollar amounts. Email, on the other hand, brought in 33% of donations greater than $1,001.
Looking for more ways to increase donations?
Check out these 7 tips to boost your donations with OptinMonster.
5. Email Newsletters for Education
Educational institutions need to reach out to many different audiences for many different reasons. Since email lists can be easily segmented, this makes email marketing a perfect fit!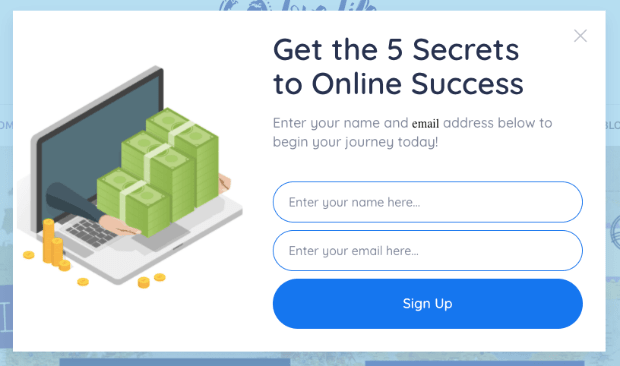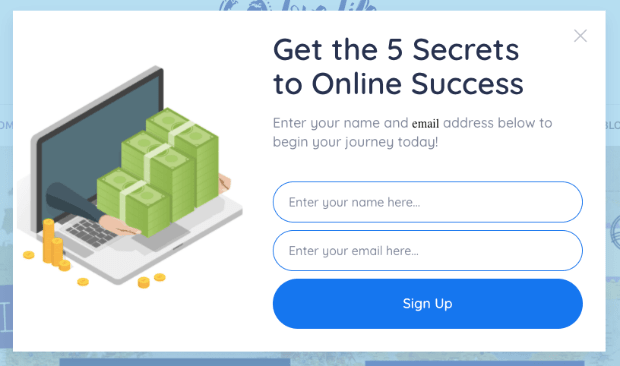 Depending on the target audience, email newsletters can be customized to reach parents, students, faculty, or other audiences for fundraising, events, announcements, or other activities.
We just covered 5 examples of how email newsletters can benefit a variety of industries, but there are more newsletter examples out there.
You can probably see why 40% of B2B marketers say email newsletters are most critical to their company's content marketing success.
Now that you know just how important email newsletters are, let's look at how you can make money from them.
How to Make Money With Email Newsletters
In addition to delivering information to your subscribers and driving visitors to your site, you can use your email newsletter to make money in other ways.
Before we dive into our tips, though, let's get one thing clear: even the BEST email copy will be useless if you don't have a robust mailing list to contact.
That's why the first step in making money with email newsletters is growing your email list.
And for that, there's simply no better tool than OptinMonster: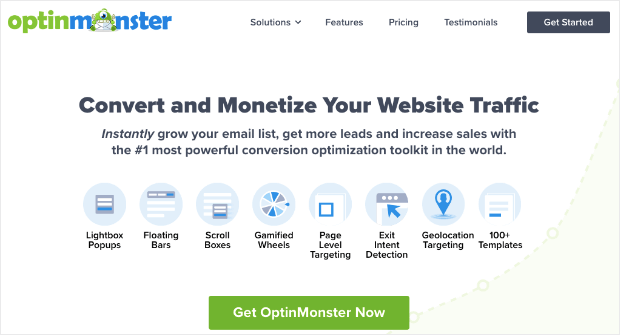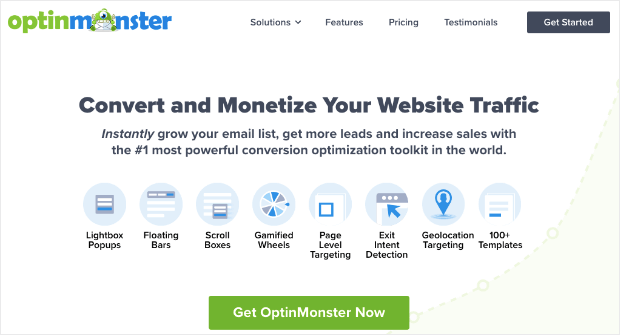 OptinMonster is the #1 lead generation toolkit on the market. It allows anyone to quickly and easily create stunning optin campaigns in minutes.
By "optin campaigns," we simply mean things you're already familiar with, like popups, floating bars, fullscreen welcome mats, and more.
The goal of these campaigns is to grow your list and get more leads in your email funnels.
Here's how it works…
Everything starts by selecting one of OptinMonster's campaign types and templates.
This tool comes with over 50 pre-built templates that save you time, energy, and headaches in the campaign creation process: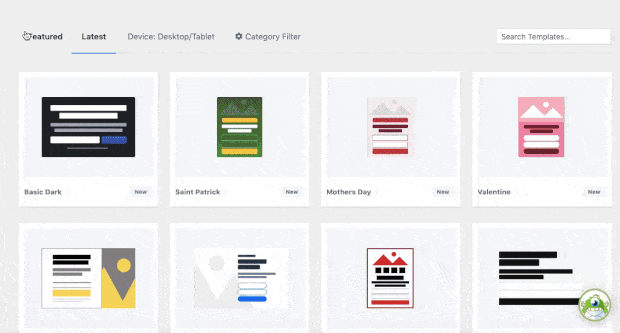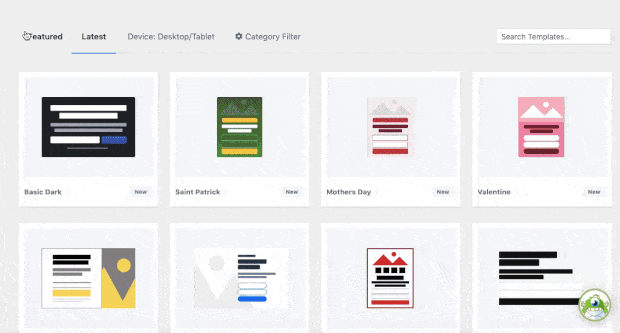 These designs are fully responsive and work great across devices.
From there, you can make modifications with the codeless drag and drop visual builder.
This allows you to make your campaign look and say what you want in just a few clicks: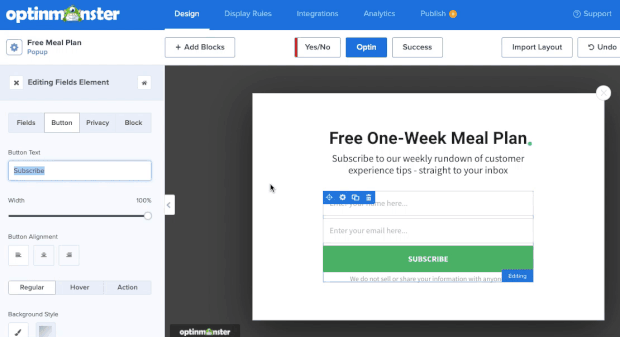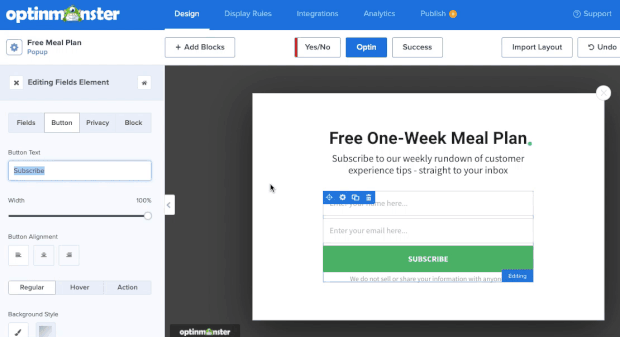 There's nearly ZERO learning curve here, and everything can be done in a matter of minutes.
And since everything comes in pre-defined "blocks," all of your campaign's features fall neatly into place.
But designing the campaign is only half the battle.
The other half is showing it to the right people, in the right places, and at just the right times in their customer journey.
For that, you can use OptinMonster's powerful targeting rules.
Some of the most popular examples include:
Exit-Intent® Technology: Recover abandoning visitors (and carts) as people are actively leaving your website.
OnSite Retargeting®: Keep users engaged by showing fresh campaigns to returning visitors.
Geolocation: Personalize the user experience by targeting people based on their physical locations.
MonsterLinks™: Boost conversions by transforming your campaigns into a clickable text-based link for all your email newsletters.
These are just a few of the most popular options you can choose from, though there are many others.
Finally, you can sync OptinMonster to your email service provider. That means your new lead will seamlessly flow to the right contact list in your ESP.
This allows you to turn your email marketing strategy on autopilot.
Sound too good to be true?
OptinMonster is how Crossrope was able to EXPLODE their list by 900%.
Or how Shotkit is able to add 40+ NEW leads every single day.
You can get the same massive results by clicking below and starting your 100% risk-free OptinMonster account today:
Grow Your Email List Today
BONUS: Done-For-You Campaign Setup ($297 value) Our conversion experts will design 1 free campaign for you to get maximum results – absolutely FREE! Click here to get started →
And now that we know HOW to grow your list, let's look at how you can monetize those emails once you do.
1. Sell, Upsell, and Cross-Sell Your Products
When it comes to email marketing in eCommerce, upsells, downsells, and cross-sells are your best friends.
While you're likely familiar with those terms, let's take a quick look at each one to make sure you're crystal clear on their function:
Upsell: You pitch a product that's more expensive than what you're customers have already purchased in the past.
Downsell: You add a product that's less money than what the customer currently has in their cart.
Cross-sell: You promote related products regardless of pricing.
If you're able to track your customer's purchase history, adding these newsletters to your campaigns will be a breeze.
You'll simply write a few emails for your most popular products and send them to your audience.
For even better results, make sure you segment your audience, too.
This is where you organize your contact list to write more personalized email copy.
For eCommerce stores, you can segment your audience by purchase history. This allows you to make more targeted offers to your audience, which, in the end, leads to higher sales.
2. Promote Seasonal Sales
Another way to make money with your email newsletters is to promote your seasonal offers. This would be for major holidays like:
Halloween
Black Friday
Winter holidays
Valentine's Day
Labor day
And more…
Or you can simply run specials that are unique to YOUR store.
The point is that you should be sending these offers to your mailing list to increase your site's bottom line.
Plus, OptinMonster has TONS of pre-built templates that you can use to capture MORE leads for your holiday promotions: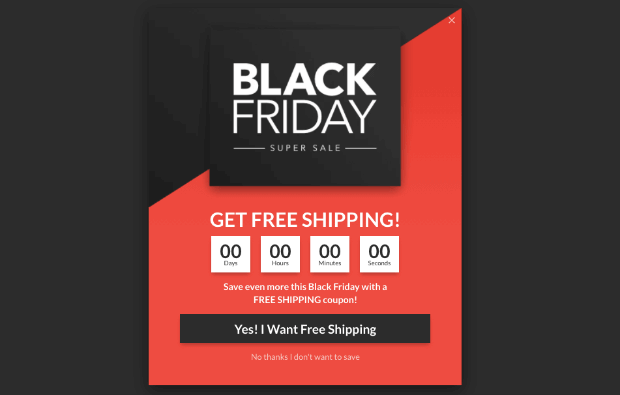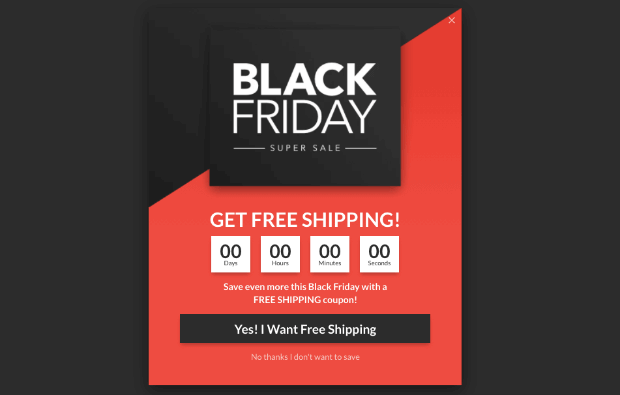 Need some help with your holiday marketing? Check out this in-depth resource: Last-Minute Holiday Marketing Guide for Busy Marketers.
3. Showcase Affiliate Products
If you've been working in digital marketing for a while, then you're probably familiar with how affiliate marketing works.
Here's a quick refresher:
You promote affiliate products on your site
People buy those products from your unique links
You get a commission from those sales
It really is that simple!
For a more in-depth look, check out this helpful resource: How to Make Money While You Sleep With Affiliate Marketing.
That makes your email marketing newsletters the perfect place to pitch affiliate products to your audience.
In fact, Human Food Bar was able to grow their email list and generate $17,000+ in affiliate sales with OptinMonster: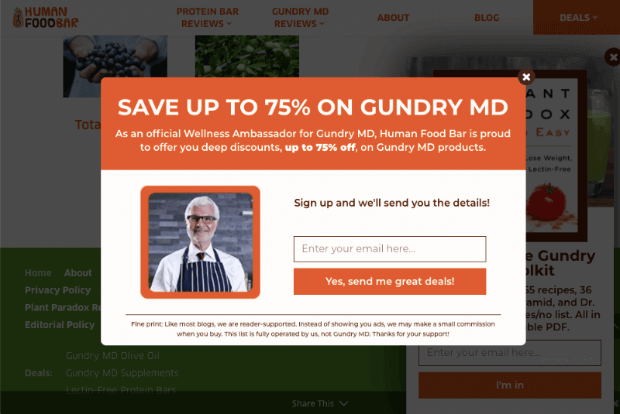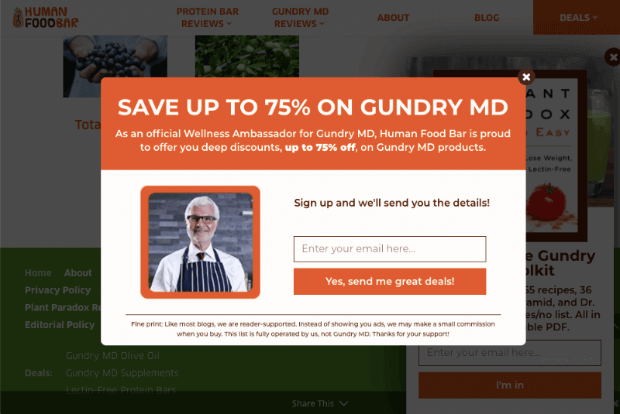 But remember, the goal isn't to SPAM your audience.
Writing over-the-top sales pitches for all your products and sending out 5 emails a day is a great way to kill your deliverability rates.
Instead, think of affiliate recommendations like you'd suggest something to a friend: you can do so every once in a while for quality products, but it shouldn't be the core of your email marketing strategy.
4. Reduce Customer Churn
Our last tip isn't spoken about as often but is essential when trying to keep revenue high for your business.
Emails are an EXCELLENT way to nurture the relationship you've built with leads.
But it's also great for nurturing your relationship with current customers.
That's because email campaigns give you more chances to connect with and impress your clients. You can do so by giving loyalty rewards, members-only discounts, or VIP content only for your subscribers.
And while this won't generate MORE profits than you already have, it prevents you from losing money in the future.
Sometimes the best way to keep revenue high requires you to keep the customer base you already have.
And there you have it! You just learned 4 easy ways to make money with email newsletters.
But, again, everything starts with getting high-quality leads to your email list. Click below to start growing your list today!
Grow Your Email List Today
BONUS: Done-For-You Campaign Setup ($297 value): Our conversion experts will design 1 free campaign for you to get maximum results – absolutely FREE! Click here to get started →
We hope you found this in-depth guide on how to make money with email newsletters helpful. If so, you may be interested in the following posts:
These tips will have everything you need to take your email newsletters to the next level.

Published by Nathan Thompson
Nathan Thompson is a father, a writer, and a lover of travel (in that order). When he's not wrestling with his kids, you'll likely find Nathan giving his eyes a much-needed break from screens with a good book or planning a family trip with his awesome wife.