This
article
was originally published on
this site
Do you want to lock content in WordPress to grow your subscribers?
By adding a content locker to your best content, you can skyrocket your email list.
Using a content gating plugin is the easiest way to add content lockers to your WordPress site without any code.
In this article, we'll look at how you can create a content locker for premium subscribers on your WordPress site.
Why Add a Content Locker in WordPress?
Adding a content locker to your WordPress site is a great way to grow your subscribers and social media followers.
When you lock useful content, you're giving your site visitors a reason to share your content or subscribe to your list.
So, how do you add a content locker to WordPress?
There are a few different ways… And it all depends on what you're trying to achieve. For example, if you want to grow your email list, you can ask for an email address to unlock the content.
Let's take a closer look at the different content lockers you can add to your site:
Social locker: prompt users to share your content on social media in order to get access to your content
Optin content locker for WordPress: require users to sign up for an email list to provide access
Password protect pages: use WordPress's built-in password protection to lock content
Membership sites: set up a membership site to restrict access to certain content
If you're looking for an easy way to grow your subscribers with content lockers, OptinMonster is the best bet.
OptinMonster is the best content gating solution that lets you easily create an eye-catching content locker campaign on WordPress.



OptinMonster comes with 50+ content locker templates. And, it takes just minutes to add your content locker to any part of your WordPress site.
But are content lockers effective for adding subscribers?
Trading Strategy Guide used OptinMoster's content lock feature to add nearly 11,000 email subscribers to its list in a little over a month.
And it's quick and easy, too.
Today, we'll create and publish this content locker for WordPress in under 30 minutes.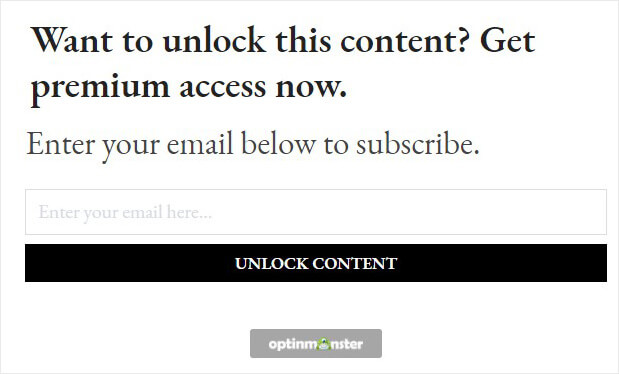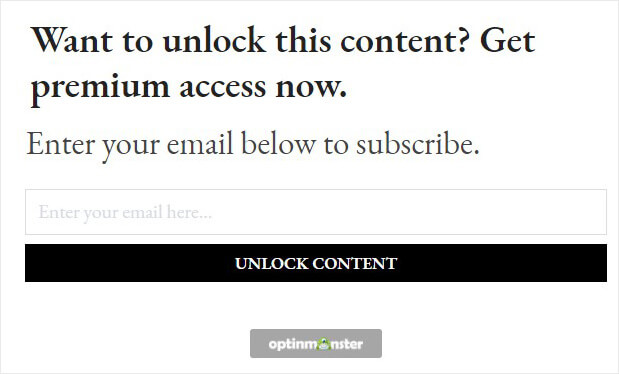 Let's begin.
How to Lock Content in WordPress for Subscribers
Today, we'll look at two ways to lock content in WordPress for premium subscribers:
But, if you want to get started with an optin locker for WordPress right away, sign up for OptinMonster below.
Get Started With an Optin Content Locker Today!
Method 1: Enable Content Locking With an Optin Form
We'll start by creating an optin form for locking your content on WordPress. It's one of the fastest, simplest ways to enable content locking.
Step 1: Create a Content Locker Campaign
First, you will need to log into your OptinMonster account.
Select Create New Campaign from your dashboard.



Next, choose your campaign type. For this tutorial, we'll go with Inline.



Now, you will need to select a template. OptinMonster offers 65+ templates, and they all work great across any device.
Let's go with the Action template. This is the perfect template for our content locker optin because it's simple enough to keep our reader's attention on a single call to action.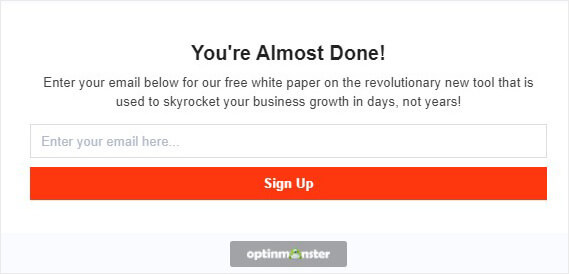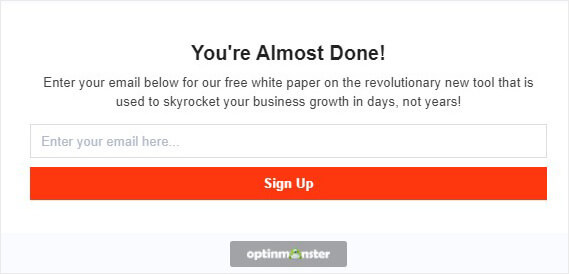 Now, you will be prompted to name your campaign. Click Start Building to enter the OptinMonster editor.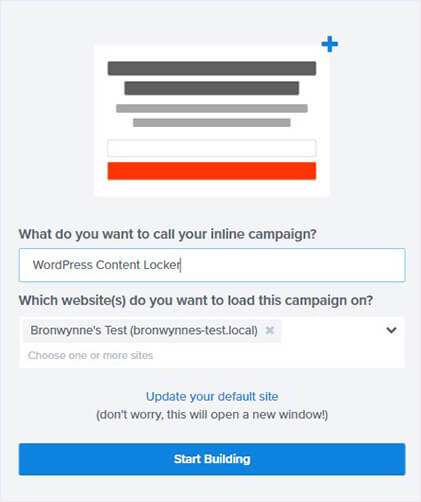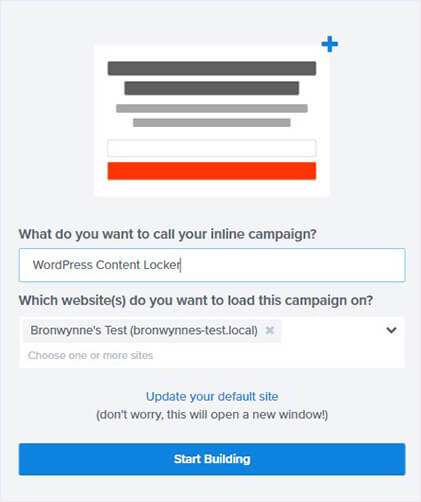 Step 2: Activate the Content Locker
In this step, we will need to activate the content locker.
OptinMonster makes it super simple to use this feature. All it takes is a couple of clicks.
From your OptinMonster editor, click Inline Settings on the left-hand side.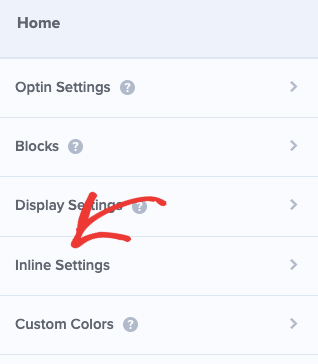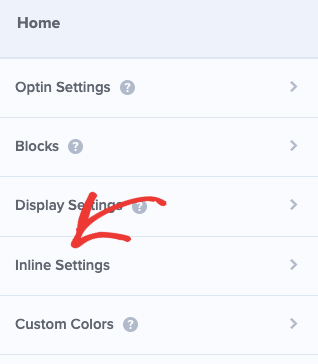 Next, turn the toggle switch Lock Content Below Campaign? to green.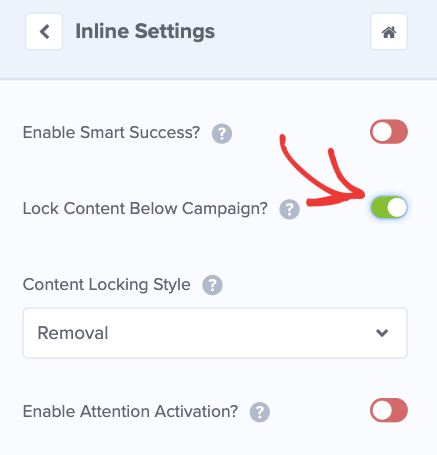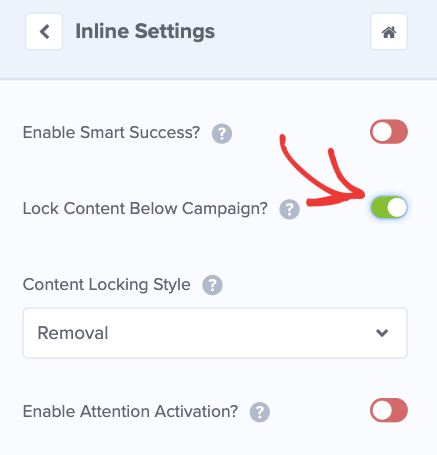 Now, you will need to select the style of content locker you want.
Here, you will have two options:
Obfuscation: blur the content below the content locker
Removal: completely remove the content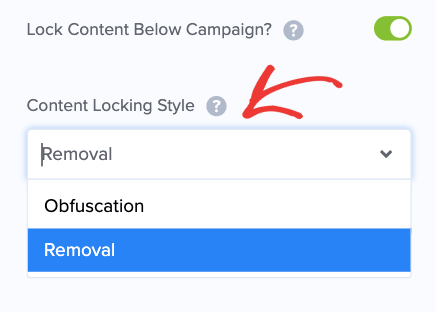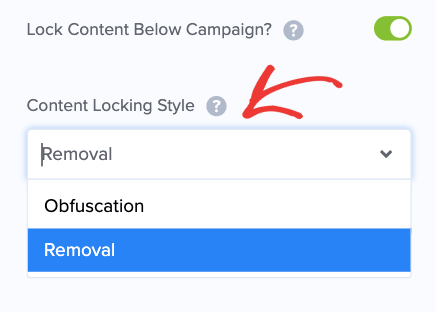 Once you've activated the content locker, you're ready to customize your optin in the drag and drop builder.
Step 3: Customize Your Content Locker
Customizing anything on your content locker is incredibly easy in OptinMonster's drag and drop builder.
You can change the colors, fonts, and text to match your brand and style. Even if you've never created an optin form, you won't have any problem working in the editor. This means you'll spend far less time customizing your option.
Let's take a closer look.
If you want to change the text, simply click on the optin to add your own copy.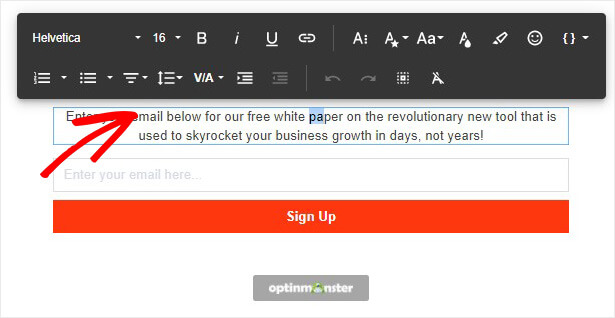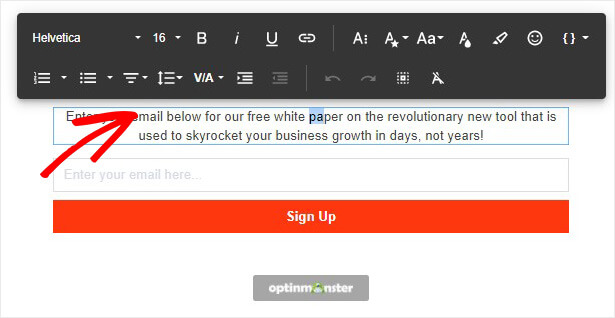 Similarly, to edit your button, simply click on it.
Then, you will be able to edit the colors, fonts, and button text.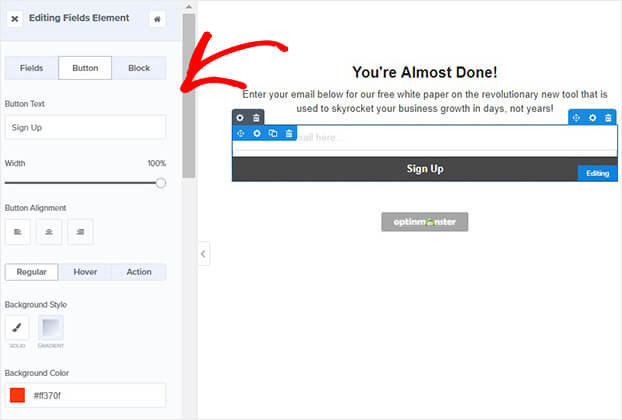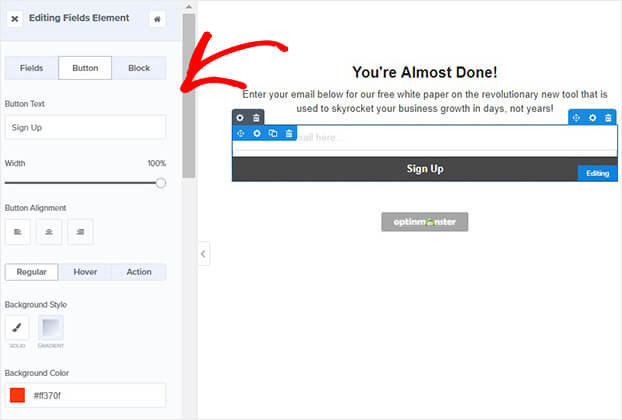 Editing any other part of your content locker optin is just as easy.
You can add just about anything to your optin. In OptinMonster, we call these elements blocks, and these include:
All you need is to click Add Blocks at the top of the OptinMonster editor.



Then choose the element you want to add. You can easily drag in into place on your optin.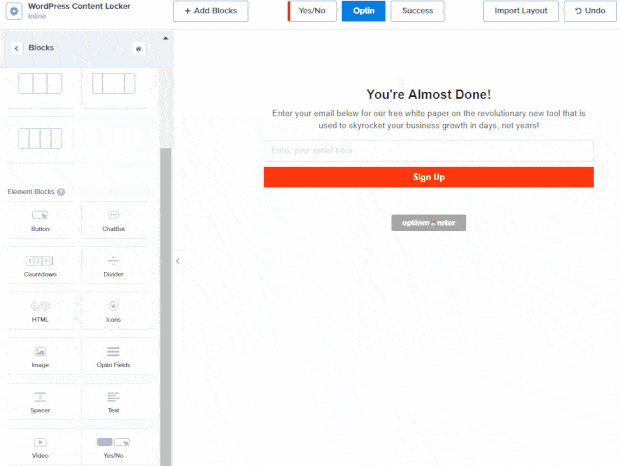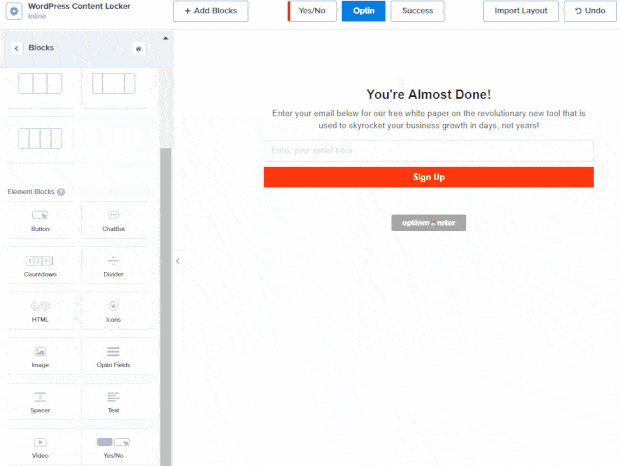 Once you're happy with your optin, you can use OptinMonster's Success view to let your site visitor know they've been subscribed.
You can also edit your Success screen to match your optin.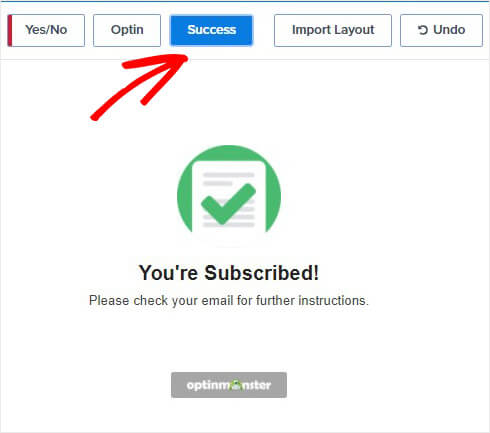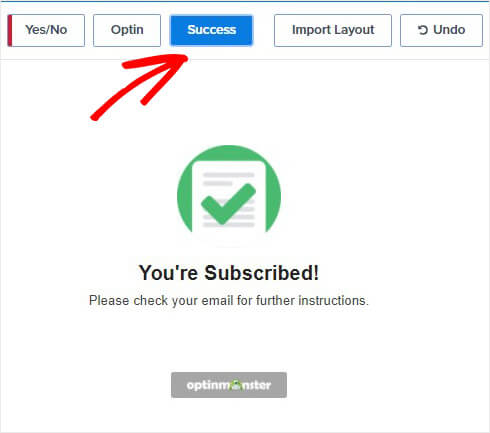 Next, we'll connect OptinMonster to our email service provider.
Step 4: Add Your Email Integration
Adding your email integration in OptinMonster is simple.
Select Integrations from the top of your editor.



Then, choose Add New Integration.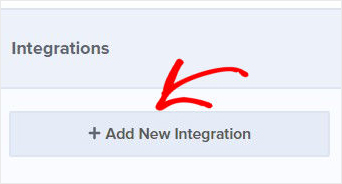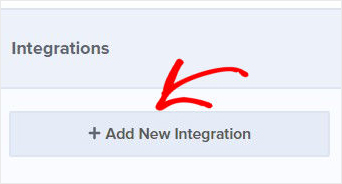 Now, find your email integration from the drop down menu.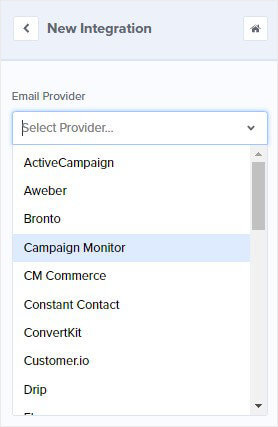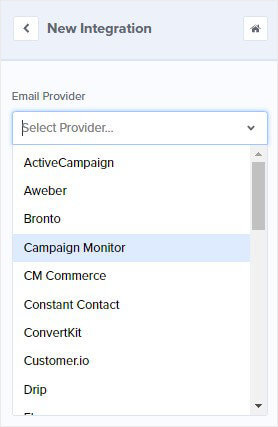 Follow the prompts to sync with your email service provider.
Step 5: Embed Your Content Locker in WordPress
Now, you're ready to embed your content locker in WordPress.
First, you'll need to install and activate the OptinMonster plugin. Here's a quick guide for connecting OptinMonster and WordPress. Don't worry. It's quick and easy.
Then, hit Publish at the top of your editor.



Toggle the post status to Live.



Now, log in to your WordPress dashboard.
Click on the OptinMonster icon. This will take you to the list of campaigns.



See if your campaign appears in the list. If not, click Refresh Campaigns.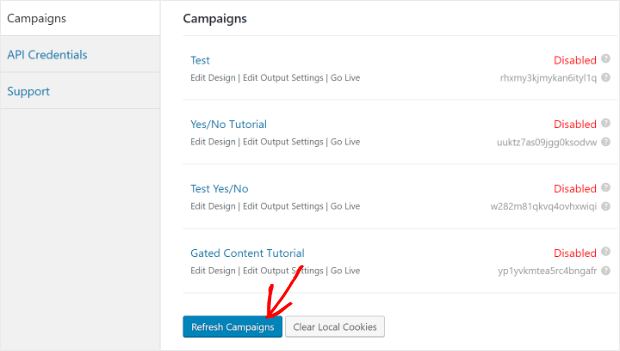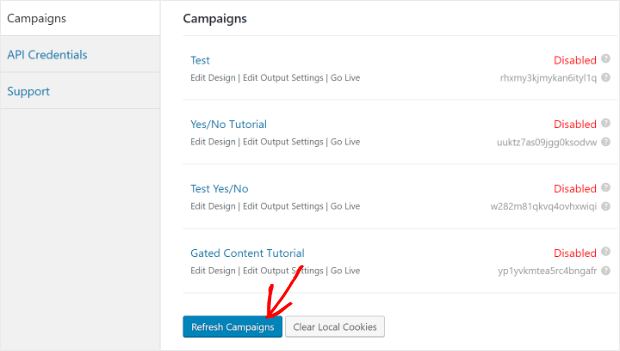 Then find your content locking campaign and click Edit Output Settings: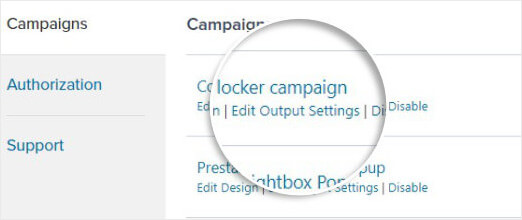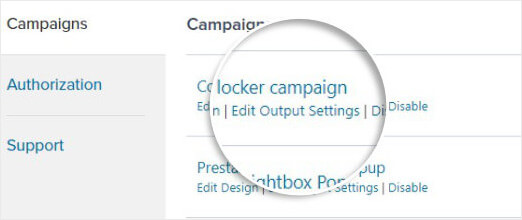 Make sure that the Enable campaign on site box is checked:
This will allow you to use the shortcode for your content locker. Now just copy the shortcode: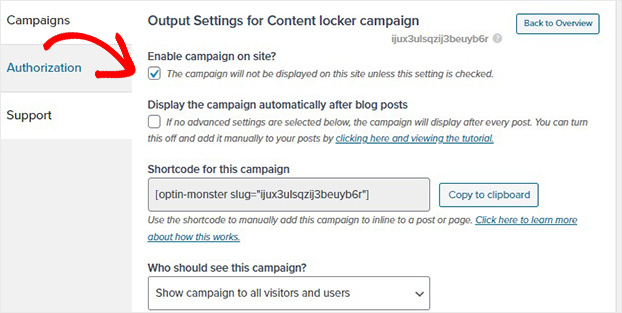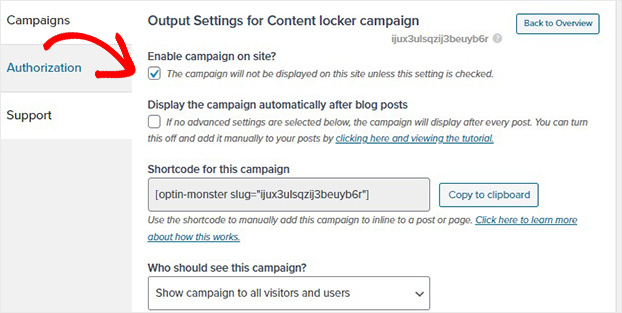 The final step is to add your code to where you want to lock your content.
Method 2: Use MemberPress to Create a Content Locker
In this method, we will use the MemberPress plugin to gate content.
Step 1: Download and Set Up the Plugin
First, you will need to sign up for MemberPress. Then, you'll install and active the WordPress plugin. Here's a simple guide on how to install and activate a WordPress plugin.
The next step is to add a payment gateway. This will allow your premium subscribers to pay to unlock the content.
Select MemberPress»Settings»Payments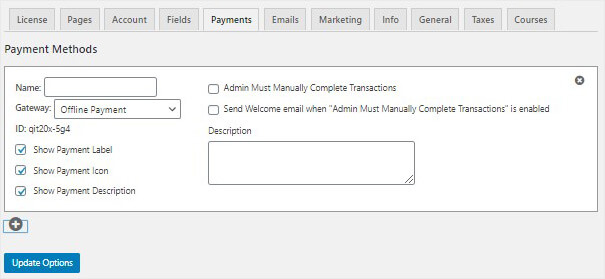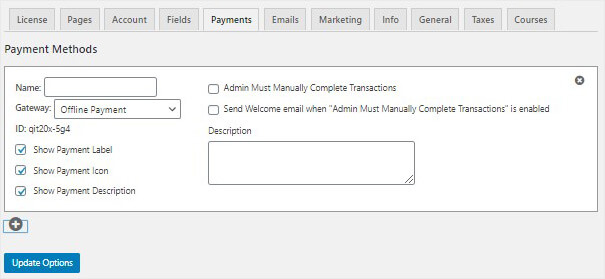 From here, you can add different payment gateways, including
Offline payment
PayPal Express Checkout
PayPal Standard
Stripe
Step 2: Create a Content Locker Subscription
Next, you want to create the details of the content lock.
Click MemberPress»Add New.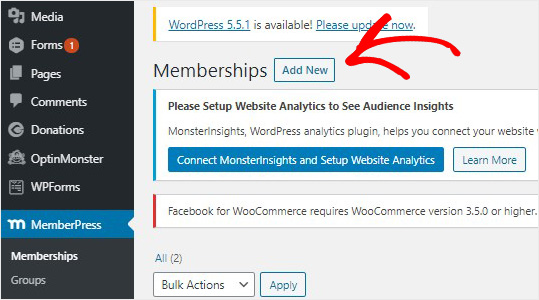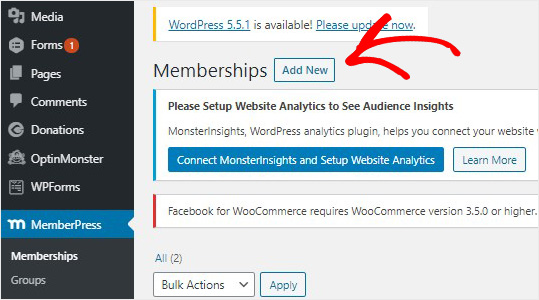 Now you can decide on the cost of the content and billing type.



When you're done, click Publish.
Step 3: Determine the Content You Want to Lock
Now, you will need to determine which content you want to add.
And, you can do this using MemberPress rules.
This will control which content will be locked.
Select Rules»Add New.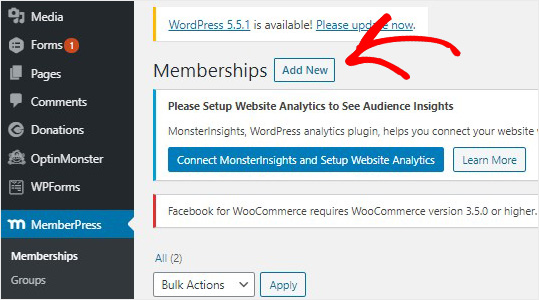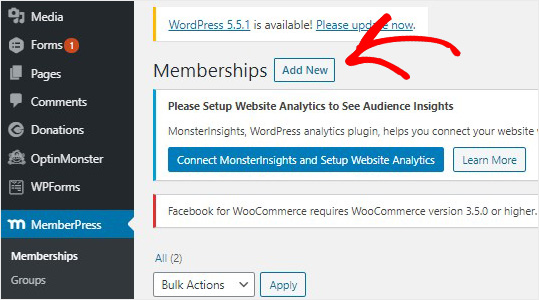 From the drop-down menu, select which content must be locked for premium subscribers.
Then, under Access Conditions, choose the campaign you created in step 2.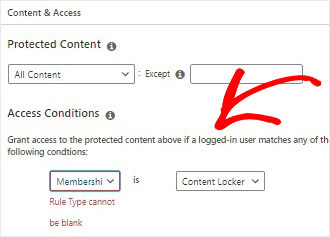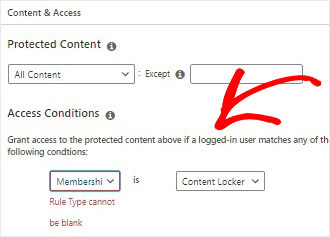 That's it. Now, you have two easy strategies for locking content in WordPress.
Get Started With an Optin Content Locker Today!
Content lockers are a great way to boost engagement on your site. But, this approach only works when you're creating the right kind of content.
Check out these articles for proven tips for creating compelling content:
Ready to create an optin content locker that will explode your email list? Get started with OptinMonster today.
Published by Bronwynne Powell
Bronwynne Powell is a writer for the web. Her background is in journalism, PR, and tech startups. When she's not writing, she's running after her two young children or listening to supernatural podcasts.