This
article
was originally published on
this site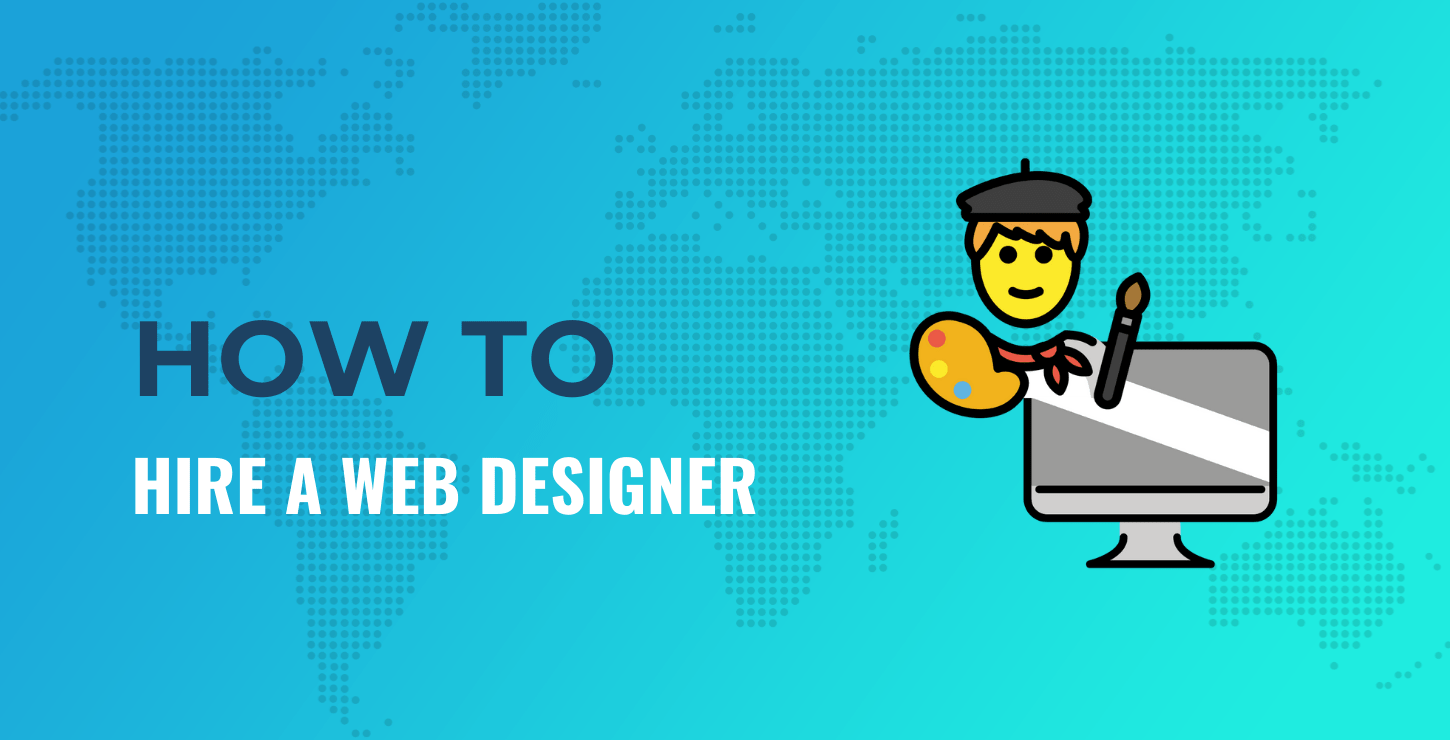 Be sure to save this article, so you can refer to it as you enter each new step in the process!
How to hire a web designer in six steps
1. Understand what you're looking for
Before you can find the right person for the job, you need to know what the job is. Specifically, there are five pieces of information you'll need to know:
What type of designer you need. There are three types of web designers. The type you probably think of first is a graphic designer, who creates the graphic layout of a website. There are also UX designers, who focus on how customers experience your brand and products, and UI designers, who focus on how customers interact with the technology of your site. Many web designers have skills in more than one of these areas.
What content management system (CMS) you want to use. Content management systems like WordPress are used to organize your website. Many web designers specialize in working with a specific CMS.
What the timeframe of this job is. You should know when you want to release the website and how much time your designer will have to work on it. You may also want to consider hiring a permanent web designer or looking for a web designer who offers some kind of ongoing maintenance package, so you don't have to deal with site updates yourself.
What your budget is. A web designer can cost anywhere from a few hundred dollars to several thousand. Setting a budget ahead of time can help you quickly narrow down potential designers.
What the payment structure is. The two main options here are to either pay an hourly rate or to pay per project. Personally, I recommend always looking for designers who accept payment per project, as this ensures that you stay within your budget.
👉 You'll also want to familiarize yourself with some basic web design terms so that you know what to look for in a portfolio; I'll share some of these in step three.
2. Search for a designer

Google search results for "freelance web designer WordPress"
The next step in how to hire a web designer is to actually start your search. There are four ways to do this:
Look at websites you like
Some websites list the designer at the bottom of every page, so if you see a website you like, you might be able to figure out who designed it by scrolling down.
Search on Google
Any worthwhile web designer will have a website or at least a professional portfolio on a site like DesignHill. These portfolios will show up when you search for relevant terms like "UI web designer" or "WordPress web designer." You can also add your industry to find designers who have made websites similar to what you want.
Note that the first page of Google results will often be cluttered with freelance marketplaces; to find individual freelance web designers, you'll want to look at the second page.
Look at freelancer marketplaces
These are websites where freelancers can publish their portfolios and sell their services. Many of these sites also let users review freelancers, so you can see for yourself if a freelancer works well. You can check out our collection of tips for Fiverr buyers to learn more about how these sites work (the focus is on Fiverr, but most of the tips apply to all freelance marketplaces).


Ask for referrals
Ask other entrepreneurs in your industry who had their websites designed. The best way to do this is to ask friends directly because they'll be more likely to give you detailed information about what working with their designer was like, but you can also ask on social media.
👉 I recommend using two or more of these options to gather 10-15 potential designers. For now, just skim their profiles to determine if they're the right type of designer and if their pricing fits within your budget. The next two steps in this process will help you narrow that down to the one person best-suited for the job.
3. Examine portfolios closely
Next, it's time to take a closer look at the portfolios of your potential web designers.
There are several things to consider as you scroll through each of the sites:
👉 Choose 2-4 designers with exceptional portfolios and reviews, then move to the next step.
4. Reach out to previous customers
This is the most time-consuming part of the search process, and many entrepreneurs skip it, but there's no replacement for talking to someone who has worked with your potential designer(s). People will say things in a conversation that they might not say in a review.
You can find these clients by going to a designer's portfolio and looking at the reviews and testimonials. This often lets you see not just the names of websites the designer worked on, but also the names of the people who acted as the point of contact for each job. This is key because you want to talk to someone who worked with the designer directly. In some cases, the person's name will be listed with a link. More often, however, you'll need to find information about that person through either Google or LinkedIn.
Once you've found the contact information for the person who reviewed your potential designer, you can reach out with a quick email saying something like this:
Dear (Name),
I hope this email finds you well. I run (your business) and am reaching out to ask you about your experience working with (Designer), as I am considering them for our website. If you're willing to take a moment to answer some questions, either in this email or through a Skype/Zoom meeting, I would greatly appreciate it.
you
You can also ask your questions directly in your first email to save time. The main things you should ask about are how easy the web designer was to work with, if they responded to comments and requests in a timely manner, and if they produced the website they promised in the timeframe they promised.
👉 I recommend giving 1-2 weeks for each person to respond. Once you've heard back, you can cross any designers who are difficult to work with off your list and move on to the next step.
5. Contact the designer
The next step in how to hire a web designer is to reach out to the designer(s) who made it through your vetting process. Some designers may sell their services as "products" through a site like Fiverr, but I recommend reaching out to them directly anyway. This gives you a chance to get to know a bit more about the designer before you hire them. You'll also get to negotiate for exactly what you need, rather than buying a bundle of services and paying for things you're not going to use.
Your message should include a few key pieces of information:
The business you're building a site for
An overview of the functionality you need (static pages, blogs, ecommerce capabilities)
The number of pages you want designed
Your timeline
Your budget
👉 Give the person 1-2 weeks to respond. At that point, you can either send a follow-up email or move on to the next person on your list; the choice is yours.
6. Negotiate a contract
Most freelance web designers will have a boilerplate contract to work with, but you'll want to at least thoroughly read the contract before you sign it. In some cases, you might even want to present your own contract.
The contract doesn't need to be complicated, but it should include a few key things:
Statement of work. A section that outlines the scope of the project and lists the deliverables that the freelancer is expected to create.
Review and approval information. How content will be reviewed/approved.
Termination information. Details on how/when each party can terminate the contract, plus what will happen to any completed work and payments.
Copyright information. Who owns what rights in relation to the content being created.
Designated legal jurisdiction. The contract and any related disputes will be considered under the laws of this specific location.
👉 You can get a better understanding of this by checking out our guide to freelance contracts.
Final thoughts on how to hire a web designer
You may want to hire the first web designer you find and get started on your website right away, but it's important to do your due diligence to make sure you hire the right person the first time. After all, your website is the face your business shows to the online world. You want to make sure potential customers like what they see.
There are a few things to remember to make sure you get the best designer for the job:
Be clear about the type of web designer you want and how much you're able to pay before you start looking
Use multiple search methods to find a variety of web designers
Take a close look not just at the number of sites a person has created, but the quality and functionality of those sites
Look at reviews and testimonials
Reach out to at least one person who has worked with the web designer you're considering
Give potential web designers all the information they need to assess their interest in your project in the first message
Pay close attention to the contract and don't be afraid to ask questions if there are things you don't understand
We hope you now have a basic understanding of how the process of hiring a web designer is best executed and where to make your first steps. Let us know in the comments if you have any questions.
…
Don't forget to join our crash course on speeding up your WordPress site. With some simple fixes, you can reduce your loading time by even 50-80%: