This
article
was originally published on
this site
Every business can use more leads and conversions, right? Optimized landing pages can help you grow your business through increased brand awareness, online traffic, and developing trust with your target audience. In this post, you'll learn how to create a landing page that converts traffic into leads and leads into customers. All in less than 5 minutes and without any coding.
Let's go…
What is a Landing Page?
Before we dive into how to create a landing page, let's clear up any confusion about what a landing page is (and isn't).
A landing page is a page of your website that focuses on a single, specific call to action. It's a lead generation tool that encourages visitors to provide their contact info in exchange for the offer you're promoting.
A strong call to action is vital to getting a conversion. For guidance, check out our post on how to write the perfect call to action.
Why Use a Landing Page?
Since they focus on a single call to action, they're great for lead generation. Visitors who get to a particular landing page are likely already interested in the offer on that page, they just need a little push to go the distance.
Optin landing pages also help you connect with customers and keep those customers interested in your brand through targeted marketing. Once you've converted a visitor to a subscriber, you have the chance to move them further along your sales funnel.
So, how do you create a landing page?
SeedProd is the best landing page builder. It allows you to create beautiful landing pages easily using a drag and drop builder.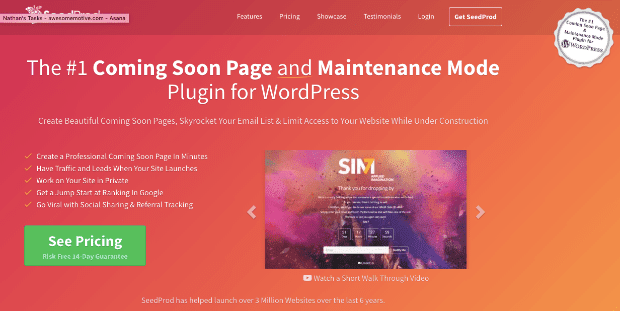 Using SeedProd, you can choose from stunning landing page templates. As a result, you're able to able to landing pages that convert without writing any code.
How to Create a Landing Page for a Website
To follow along in this tutorial, you'll need a SeedProd account.
It's quick and easy to create an account. You can get started on the SeedProd website and follow the prompts to download the plugin.
Here's a quick guide for installing and activating a plugin.
Once you purchase the plugin, you'll get your license key.
Grab your key and over to WordPress.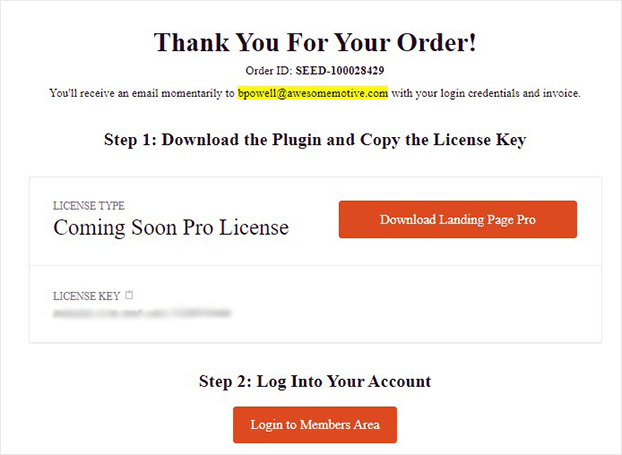 Select SeedProd from your WordPress dashboard.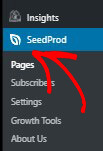 Now, you'll see a welcome screen. Add your license key here to activate the plugin.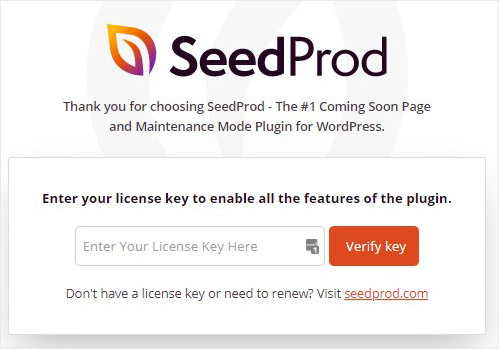 Now, you're ready to create your landing page.
Step 1: Choose Your Landing Page Type
First, click the Create Your First Page button.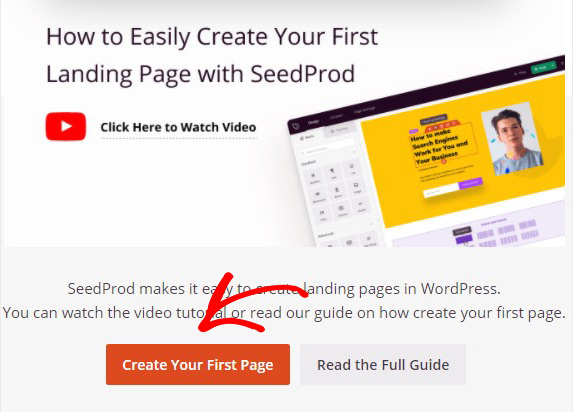 Once you click the button, you will be on the landing page dashboard.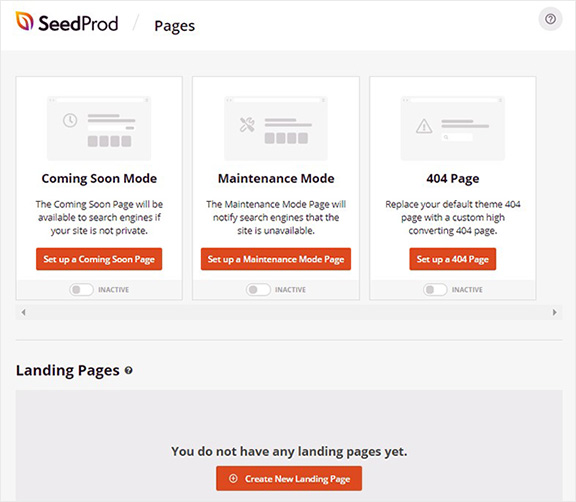 Here, you will see the following options:
Coming Soon Mode
404 Page
Then, click the Add New Landing Page.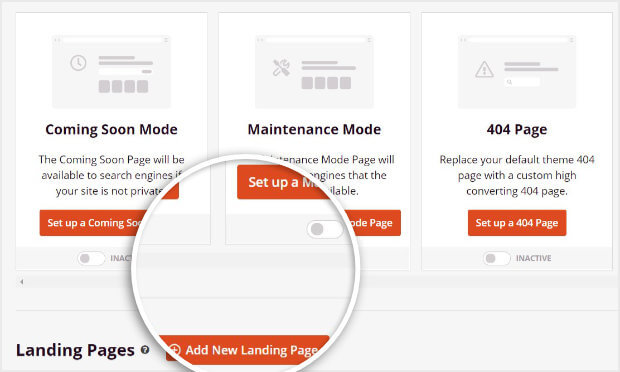 The next step is to select a landing page template.
Step 2: Choose a Landing Page Template
SeedProd comes with several stunning prebuilt landing page templates. This means you don't need to spend hours designing a landing page from scratch.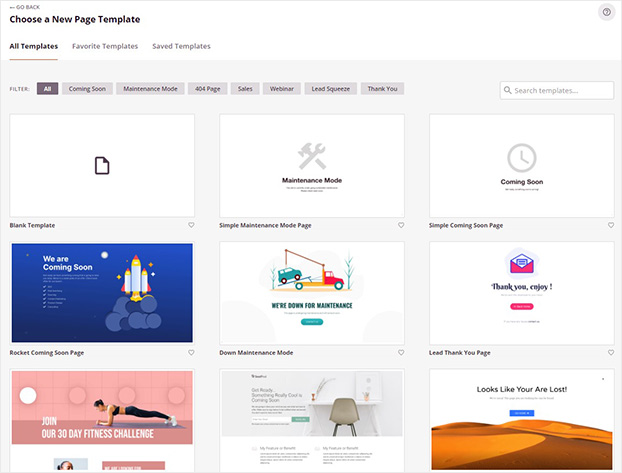 The landing page templates are divided into different categories:
Coming Soon
404 Page
Sales
Webinar
Lead Squeeze
Thank You
For this tutorial, we'll go with the Ebook squeeze template.
Hover over the template until a red tick appears. Then click on it to select the template.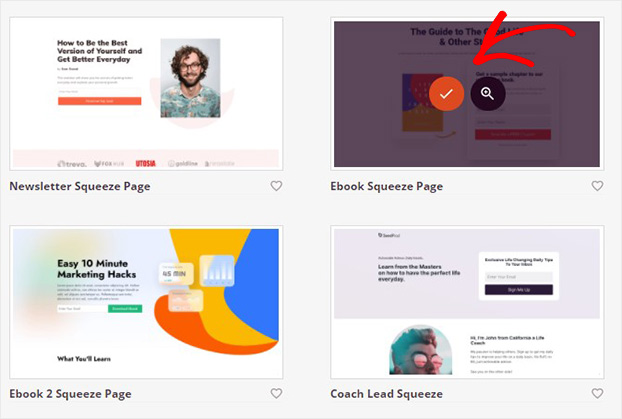 Next, give your landing page a name.
Now, click Save and Start Editing the Page to enter the drag and drop builder.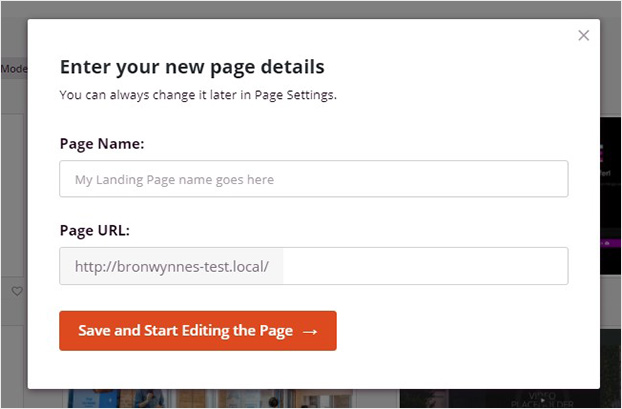 Step 3: Customize Your Landing Page
In this step, you'll design your landing page in SeedProd's visual drag and drop page builder.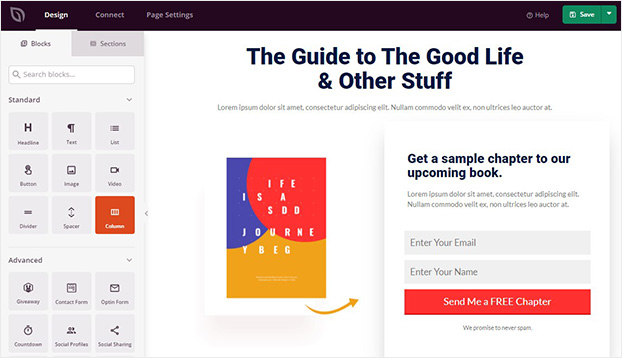 It's quick and easy to customize your landing page in SeedProd.
Everything you see on the page, like the text and images, is divided into elements called Blocks and Sections.
To change anything on your page, simply click on the block.
Let's try that with the text.
So, we'll simply click on the text block. Then, we can make our changes directly on the landing page.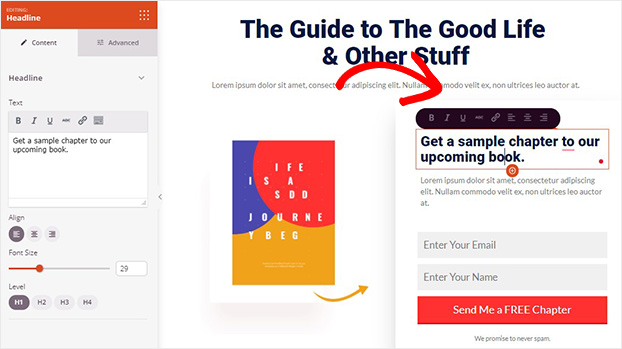 For more editing options, select the Advanced tab. It allows you to change the color and spacing.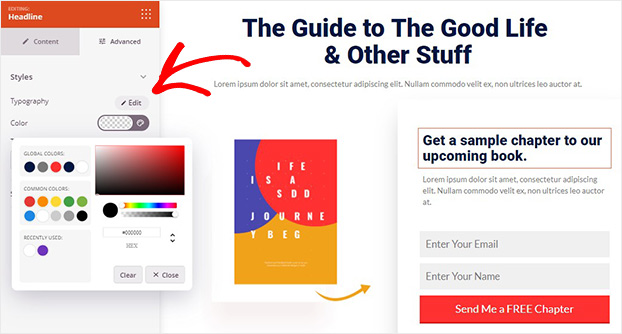 You can also easily add any block to your landing page, like:
Headlines
Text
List
Button
Image
Video
Just click on the block and drag it onto your landing page.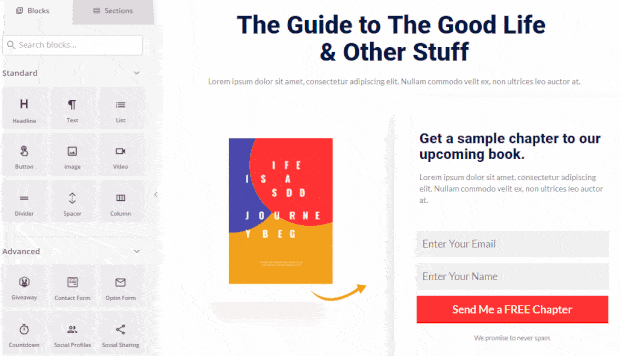 In addition to these blocks, you can also use Advanced blocks.
These elements are specifically designed to increase lead generation.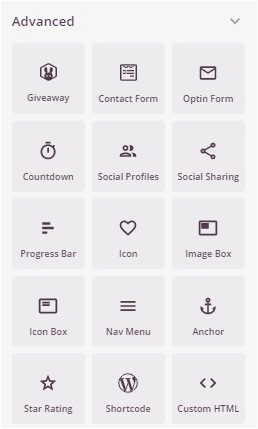 Again, just drag and drop the block you want to add to your landing page.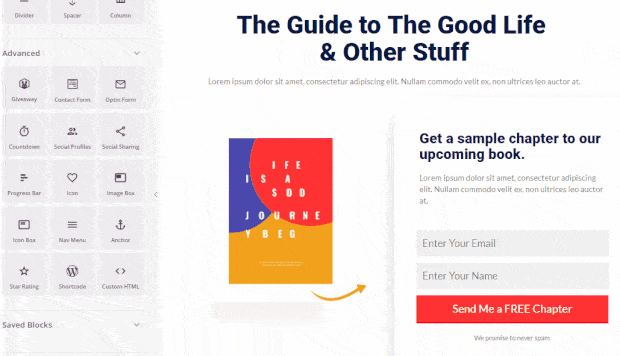 Then, you can also choose from prebuilt payouts.
Head over to Sections.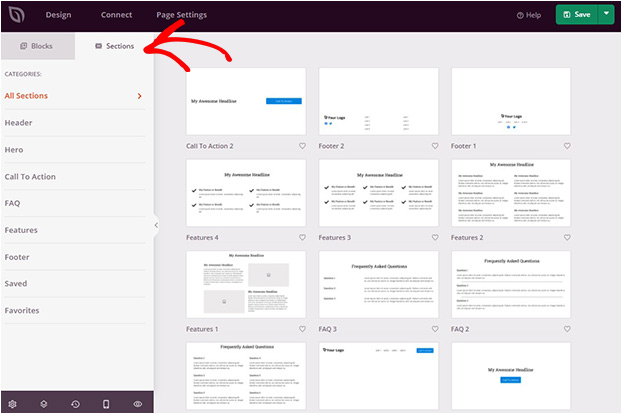 From here, you can add:
And more.
To add a section to your landing page, hover over it and click the plus icon.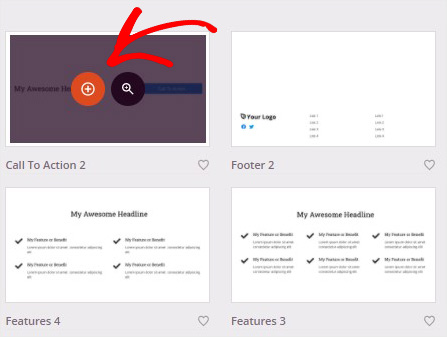 Then, the section will be added to your landing page.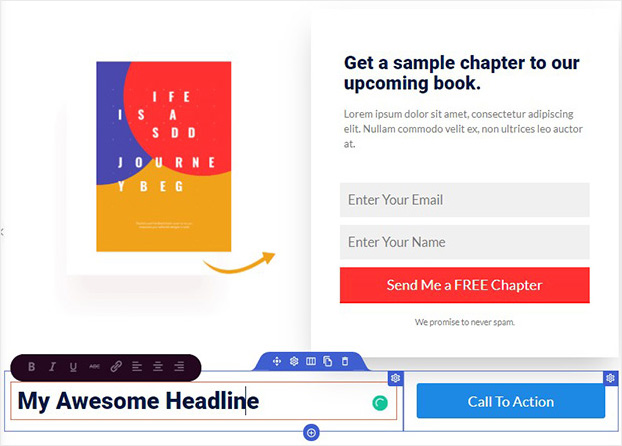 SeedProd also lets you keep your landing page similar to the rest of your website.
Click on Global Settings. Then, you can see the color, font, and background image.



From here, you can customize the colors, fonts, and background to match your website.
Save your design as you work by clicking the Save icon at the top of the builder.
Step 4: Connect Your Email Service Provider
Collecting email addresses is simple with your SeedProd landing page. Connecting the plugin with your email service provider takes just a few minutes.
Head over the top of the editor and click Connect.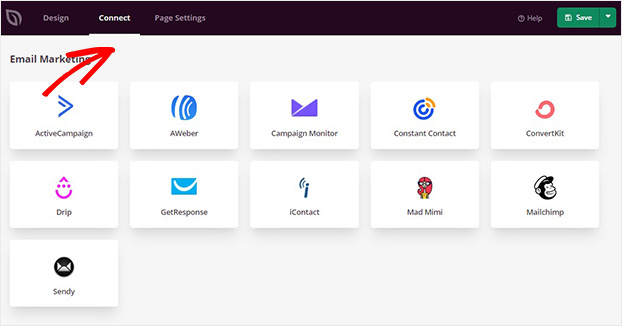 Find your email service provider and click Connect. Then, follow the prompts.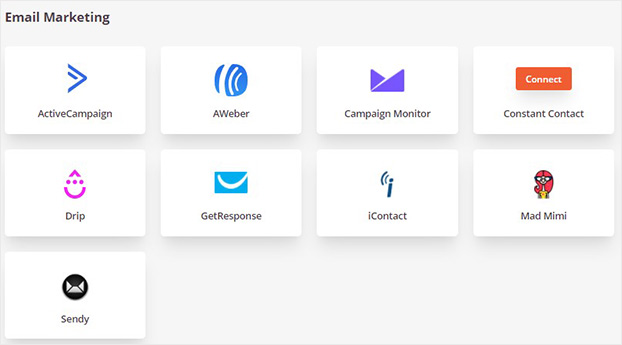 Now, email addresses will be automatically added to your email service provider.
Step 5: Configure Your Landing Page Settings
The next step is to configure your page settings.
Here you can edit SEO and customize your header.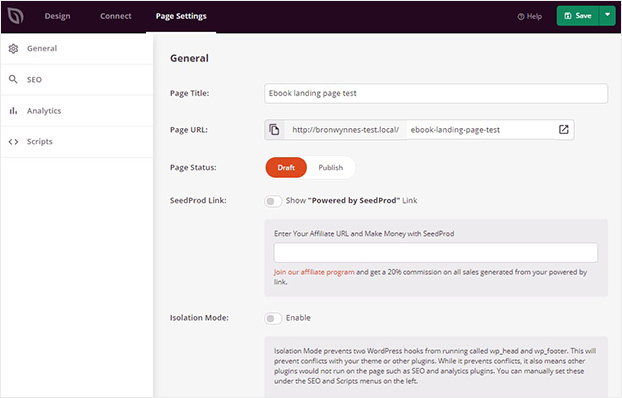 Step 6: Preview and Publish Your Landing Page
Once you are ready, you can publish your landing page.
And, SeedProd lets you preview your landing page before it goes live.
Find the preview icon at the bottom of the builder.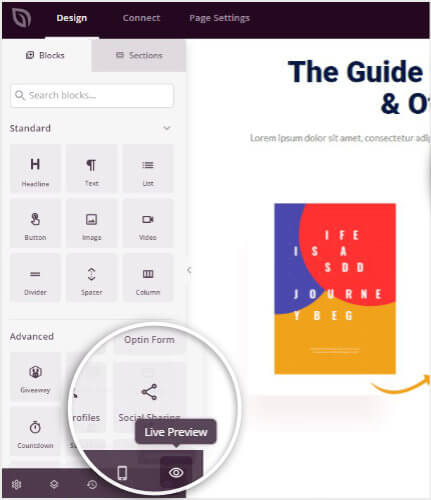 Then, then you're ready, click Publish.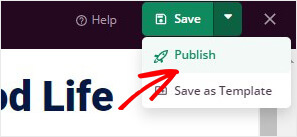 You'll get a notification when your landing page is published.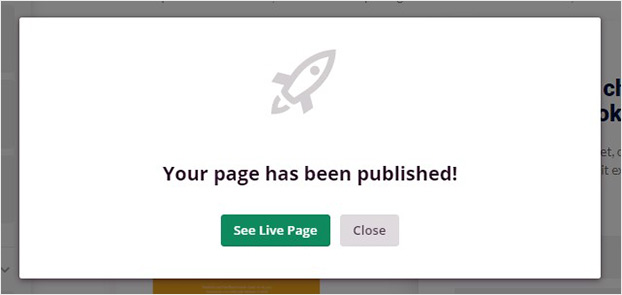 That's it. Your landing page will now be live.
An OptinMonster Alternative to Landing Pages
An alternative method for creating a landing page is adding an inline optin form to your web page.
This option lets you turn any web page into a lead generation machine. And all it takes is adding an embed code to your web page.
OptinMonster is the best inline lead capture form builder. Using OptinMonster, you can easily design stunning inline campaigns in a drag and drop builder.



With OptinMonster, you'll get 50+ inline campaign templates that you can easily customize. You can sign up using the link below.
Step 1: Create an OptinMonster Campaign
To start, you need to log into your OptinMonster account.
Then, choose Inline Campaign.



The next step is to select your template.
Today, we will go with Magnet.
Then, name your campaign and click Start Building to enter the editor.


The next step is to customize your template.
Step 2: Customize Your Inline Campaign
Designing your inline campaign is super simple with OptinMonster.
All you need to is click on the optin form to change anything about it.
To change the text, simply click on it. Now, you'll be able to make your changes using the inline text editor.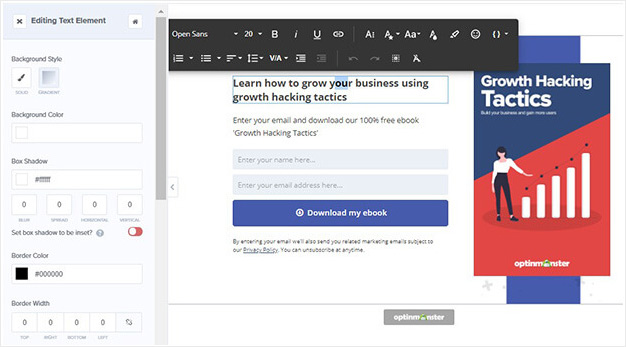 Similarly, to change the image, click on it.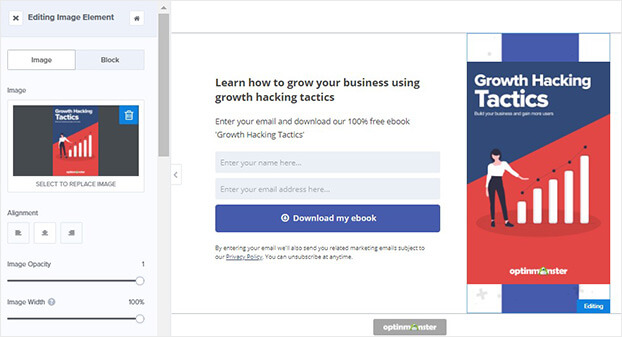 Plus, you can add anything to your optin form, like:
Images
Video
Optin fields
Just click Add Blocks at the top of the editor.



Then, drag and drop the block into place on your form.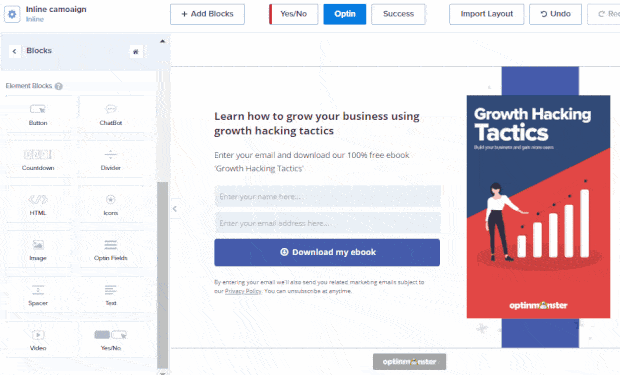 Step 3: Publish Your Landing Page
The final step is to add your campaign to your website.
First, make sure your site is connected to OptinMonster.
Here is a simple guide for adding OptinMonster to your website.
Head over to Publish.



If you're using WordPress, you just need to add the shortcode to your website.
So, head over to WordPress. Head over to the OptinMonster plugin screen and click Refresh Campaigns.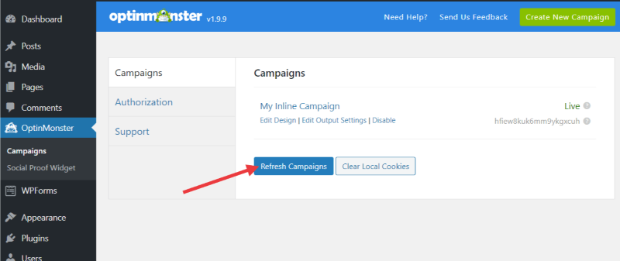 Then, select Edit Output Settings.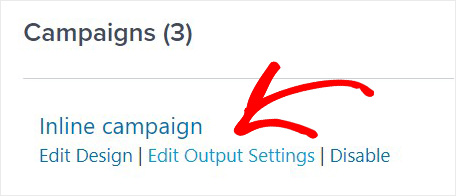 Make sure the Enable campaign on site box is checked.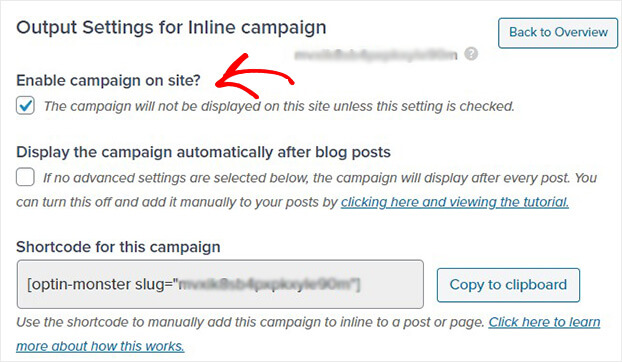 Finally, copy the shortcode and paste it on your landing page.
That's it! Now you have two easy methods for creating a landing page.
We hope you enjoyed this article. If you did, you might want to check out these resources:
Ready to create a landing page that converts? Get started with OptinMonster today.
The post How to Easily Create a Landing Page (in Under 5 Minutes) appeared first on OptinMonster.