This
article
was originally published on
this site
Do you want to make email marketing easier by connecting Constant Contact to your WordPress site?
By integrating Constant Contact with WordPress, you can automate the process of growing your email list and sending broadcasts to subscribers.
That's why, in today's post, we're going to show you the BEST way to connect Constant Contact with WordPress.
Before we dive into the tutorial, though, let's get clear on 2 different ways you can add Constant Contact to your site. Then we'll show you the easiest and fastest solution, so you can have Constant Contact integrated in minutes.
Let's get started!
2 Ways to Add Constant Contact to WordPress
Constant Contact is one of the most popular email marketing service providers in the world.
They let you send broadcast newsletters and drip series to your email list. And Constant Contact makes it really easy for beginners to get started with email marketing.
If you don't have an account with them yet, sign up for your risk-free Constant Contact account now. Constant Contact offers a 1-month free trial, so you can test the software before you decide it's the right one for you.
To connect to WordPress, there's a Constant Contact Forms plugin. You can find it in the WordPress repository and install it on your site.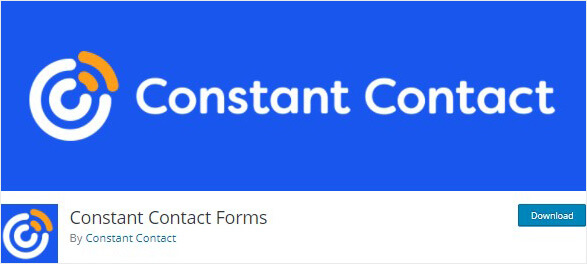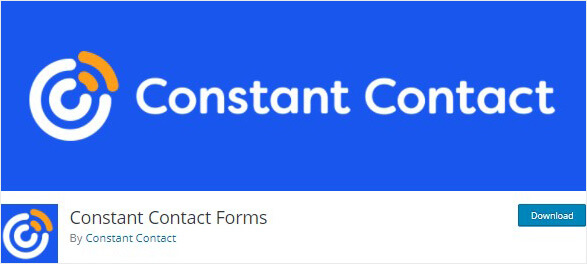 The plugin lets you add signup forms to your WordPress site. And anyone who signs up will automatically be added to your Constant Contact email list.
While Constant Contact is one of the best email service providers, its signup form is limited in terms of what you can do.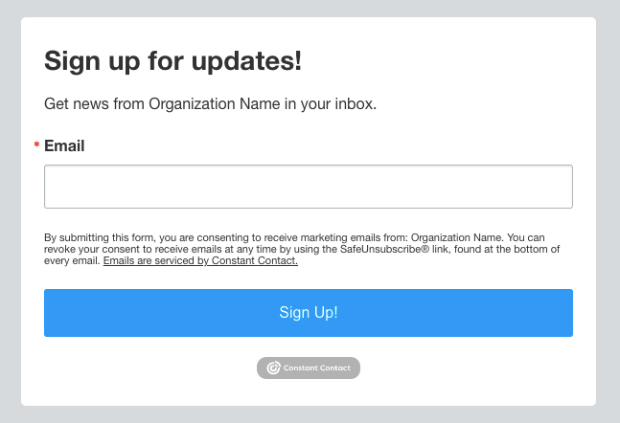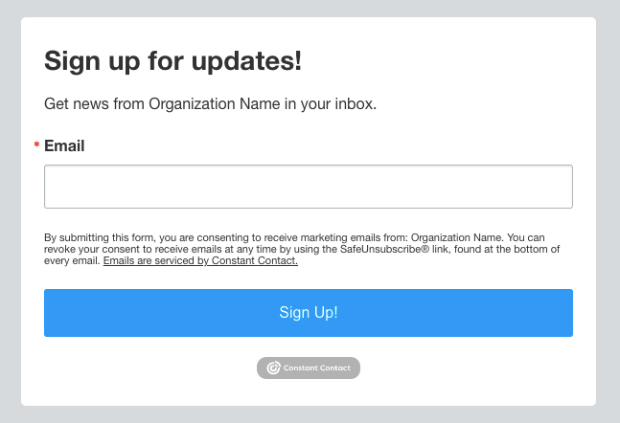 If you're serious about building your email list, their native signup form simply might not be enough. And here's why:
The format is very simple and outdated
It's difficult to customize these forms to suit your brand and theme
Most Constant Contact users will have the same form on their site
You can't incentivize people to become subscribers
There are no options to target visitors
Today, we want to show you a more powerful way to use Constant Contact with your WordPress site. And that's using the world's #1 lead generation tool, OptinMonster.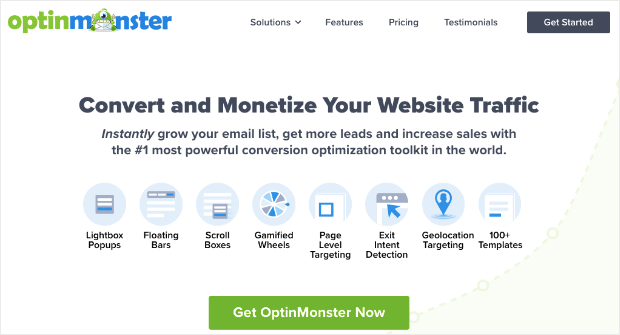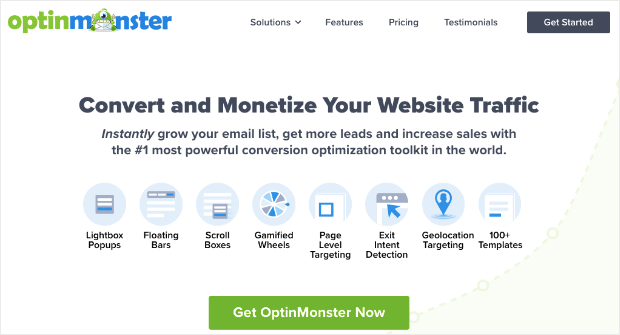 OptinMonster is a premium WordPress plugin that makes it really easy to target visitors and grow your email list. It lets you create stunning campaigns like popups, floating bars, inline forms, gamified wheels, and much more.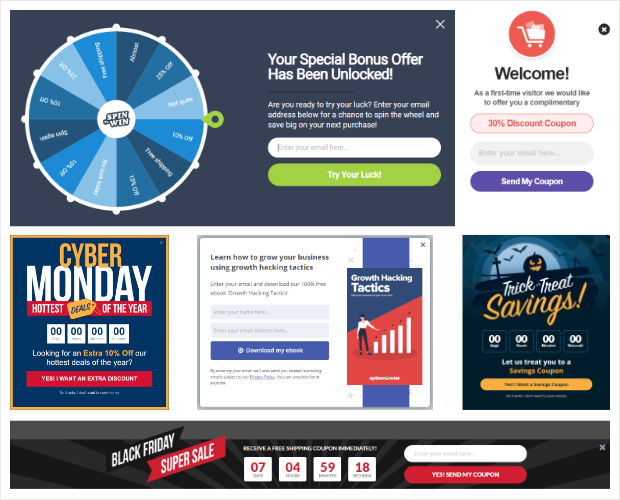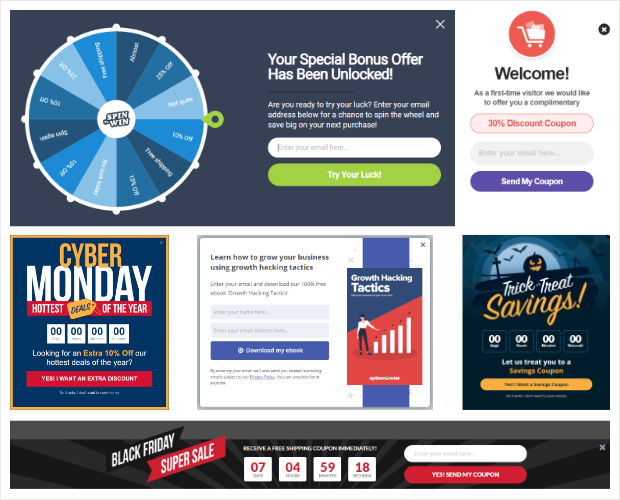 OptinMonster has 50+ templates and a drag and drop builder to create campaigns in minutes.
Then you can connect your signup forms directly to Constant Contact at the click of a button. That way, your new subscribers will automatically be added to your email list.




Plus, OptinMonster comes with powerful targeting rules so you can show campaigns to visitors based on what they like, what they're viewing, or where they're coming from.
Some of the more popular targeting rules include:
Exit-Intent® Technology – recover abandoning users to people actively leaving your site.
Onsite Retargeting® – keep users engaged by showing new campaigns to visitors who have engaged with a signup form in the past.
Page-level – leverage user interest by tailoring your offers to users based on the content they're browsing.
Location-based – personalize the user experience (UX) by targeting visitors based on their physical location.
Referral source – speak more directly to consumers based on the 3rd party website or social platform they're visiting from.
Time-based – display campaigns based on the time a user spends on the page or schedule the best time and place for your campaign to appear.
MonsterLink™ – boost engagement by showing offers based on button and link clicks.
These are just a few of the more popular targeting rules, though there are many others.
In fact, OptinMonster has a ton of display rules for you to narrow in on your audience and show them signup campaigns. This level of personalization not only increases UX (because you're showing offers users actually WANT to see), but it also has a massive impact on your conversions.
Need proof? Check out how Win In Health increased revenue by 300% using OptinMonster with a Constant Contact integration.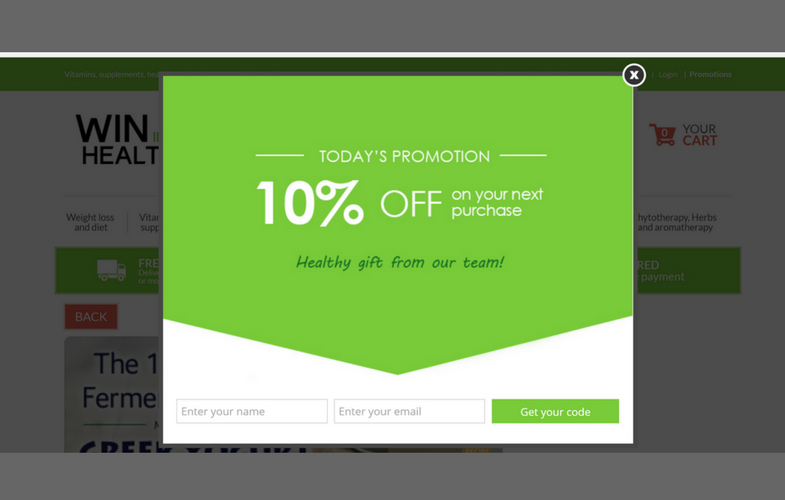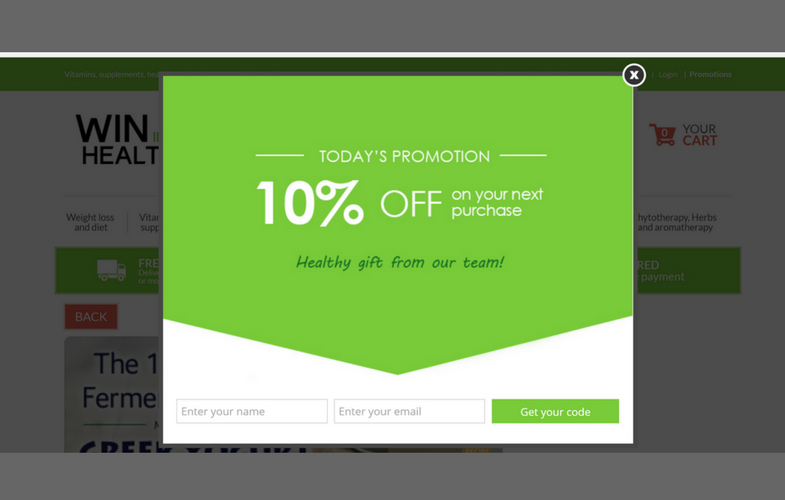 Constant Contact also recommends OptinMonster to get more subscribers and increase sales! You can get started with OptinMonster directly from your Constant Contact dashboard.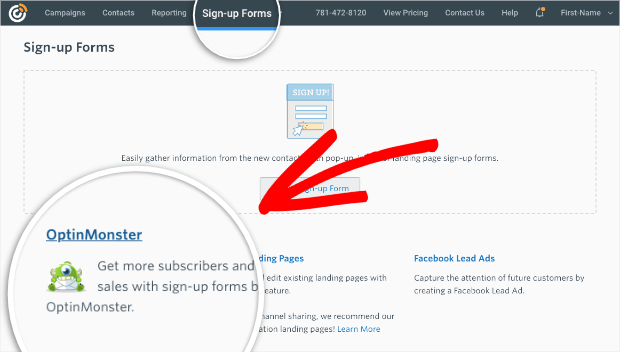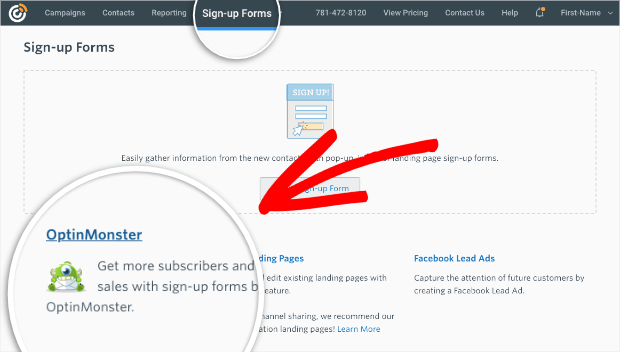 Ready to connect Constant Contact to WordPress using OptinMonster?
Get Started With OptinMonster Today!BONUS: Done-For-You Campaign Setup ($297 value) Our conversion experts will design 1 free campaign for you to get maximum results – absolutely FREE! Click here to get started →
Now let's dive into our tutorial and connect Constant Contact to WordPress using OptinMonster.
How to Connect Constant Contact to WordPress
In this tutorial, we'll show you how to create an OptinMonster campaign and connect it to your Constant Contact account in a few easy steps.
Step 1: Sign up for OptinMonster
The first thing you'll want to do is sign up for OptinMonster. For more details, follow our guide on how to install OptinMonster on WordPress.
It's super simple and can be done just like you'd install any other plugin on your WordPress site. Need a bit more help? No worries! Just check out this in-depth guide: How to Install a WordPress Plugin: 3 Easy Methods.
Then, from your WordPress dashboard, you can access the OptinMonster page and use the setup wizard to upgrade your account.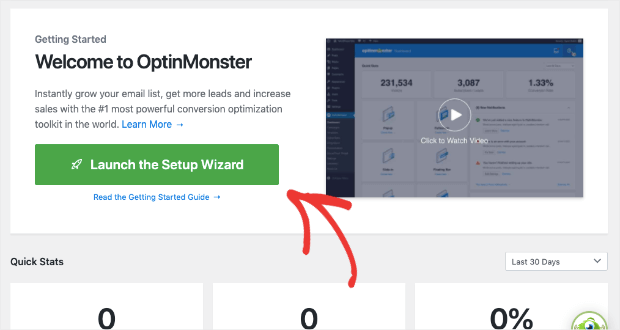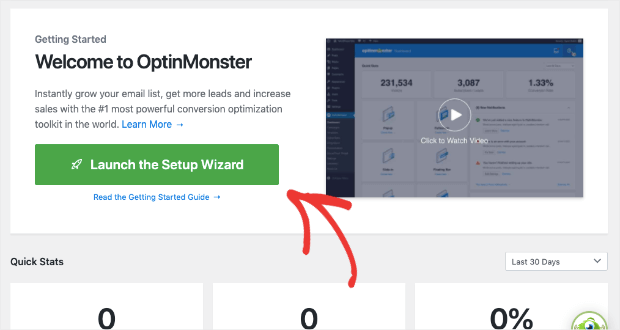 You can follow the on-screen instructions to connect your site to OptinMonster. When that's done, you're ready to create a campaign.
Step 2: Create an Optin Campaign
From your WordPress dashboard, open the OptinMonster page and choose a campaign type, like a popup.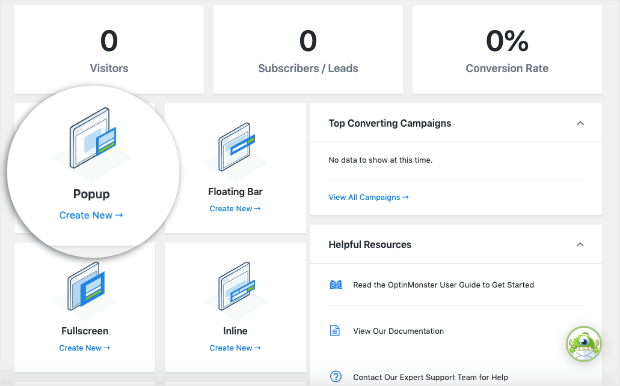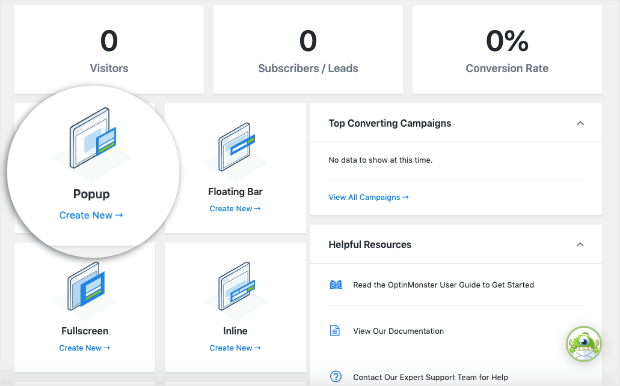 This will open the templates page. You can explore these templates by hovering over them to get the preview option.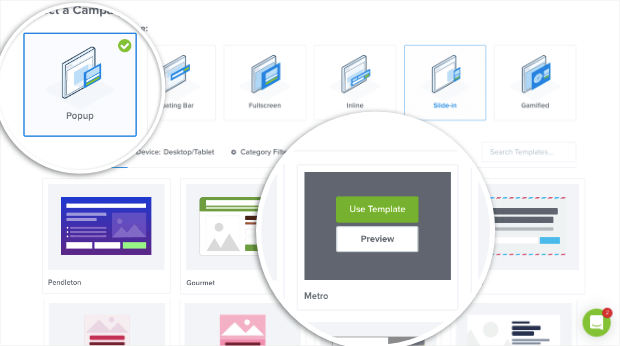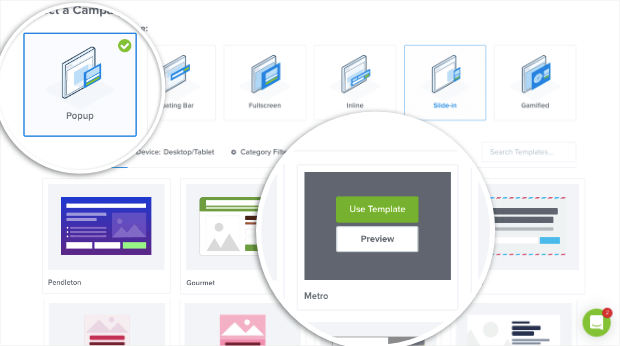 When you select a template, OptinMonster's campaign builder will open up where you can make changes using the codeless drag and drop builder.
To edit the messaging, for example, simply select the text you want and write your own "copy" (the persuasive language you use to get your site's visitors to take action).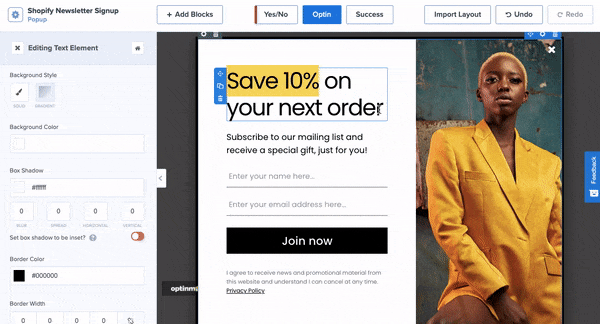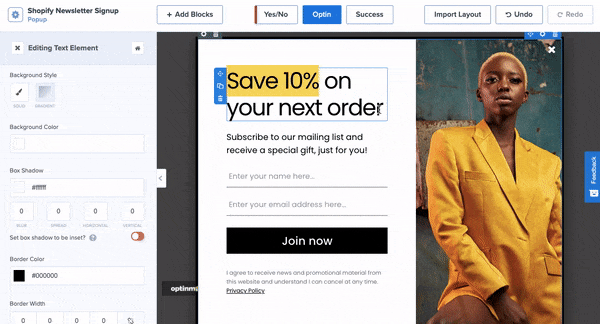 And if you want to add more elements (like video, images, buttons, or more), click on the 'Add Blocks' button.
Then you can drag and drop a new block into your campaign.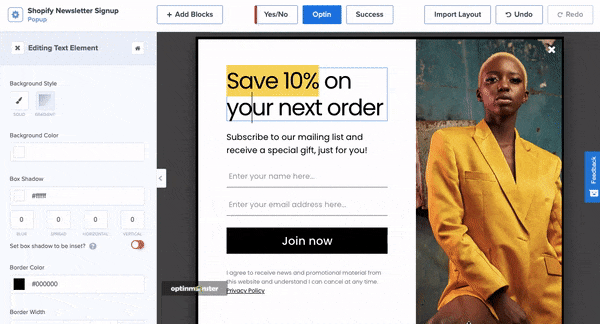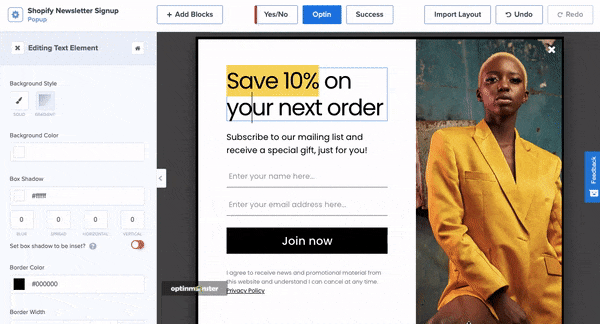 For more detailed steps, follow this guide to create your first OptinMonster campaign.
When you're done designing the campaign, we want to quickly show you how to target your visitors with personalized campaigns to improve lead collection exponentially.
Step 3: Adding Target Rules to Your Campaign
One of the best features of OptinMonster is that you can target your visitors based on their activity, interests, location, and much more.
You'll find these options under the Display Rules tab in the OptinMonster campaign builder.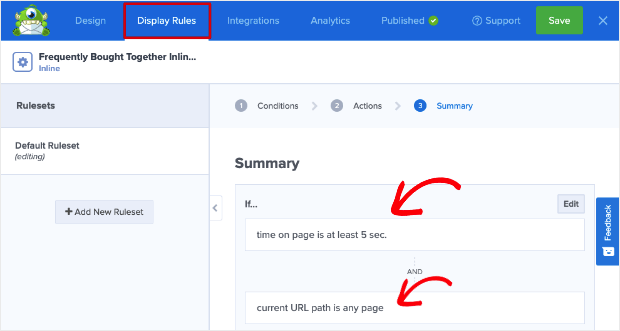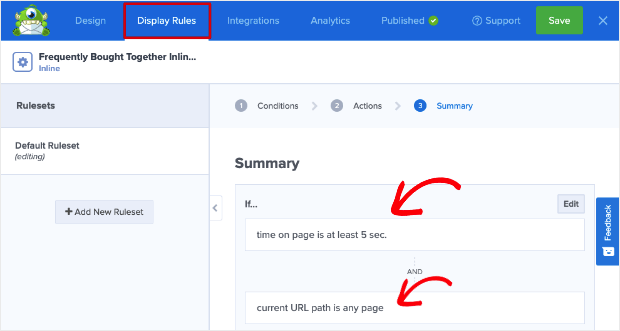 By default, OptinMonster displays your campaign to visitors that spend at least 5 seconds on any page. You can edit the default rules and select your own.
For instance, you can target visitors that are about to leave your site using the Exit-Intent® rule.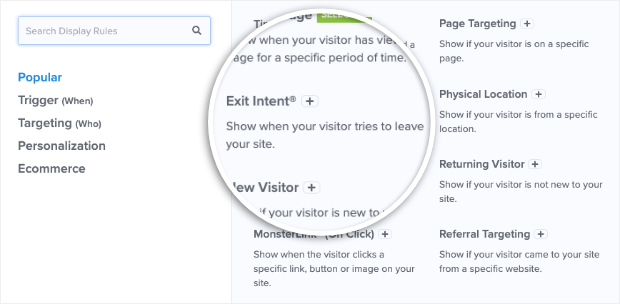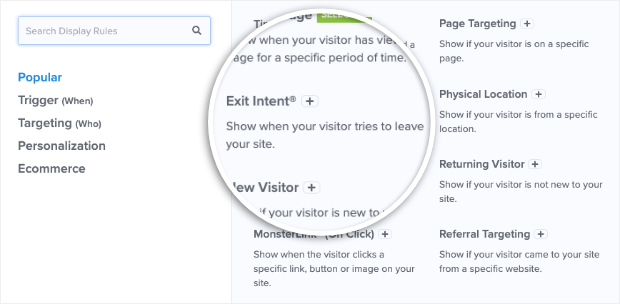 This means the campaign will appear as they're about to hit the close or back button in their browser. That means you can ask them to subscribe to your emails before they're gone forever.
Next, you can also decide which pages this campaign appears on. We'll show you how to make it appear only on blog pages.
In the second default rule which is already set to Page Targeting, open the second dropdown and select the 'contains' option.




A new field will appear where you can type in 'blog'. This means OptinMonster will display the campaign only if the URL contains the word 'blog' in it.
With these rules in place, your campaign will appear only to visitors who are viewing any blog page and are about to leave your site.
These are just a few options for your targeting rules, but OptinMonster has tons of display options. It even has display rules for eCommerce sites to show campaigns based on products in the cart, product page, product tag, and much more!
And by combining Exit-Intent® with eCommerce targeting rules, you can create super powerful campaigns. Check out how Fastrack recovered 53% of abandoning visitors using OptinMonster's targeting rules.
When you've set up your campaign to target visitors better, you're ready to connect it to Constant Contact.
Step 4: Sync OptinMonster with Constant Contact
Inside the OptinMonster campaign builder, open the Integrations tab and click on the 'Add New Integration' button.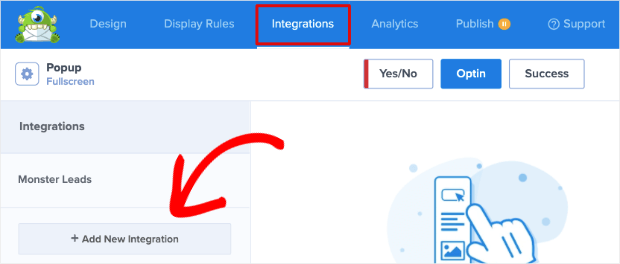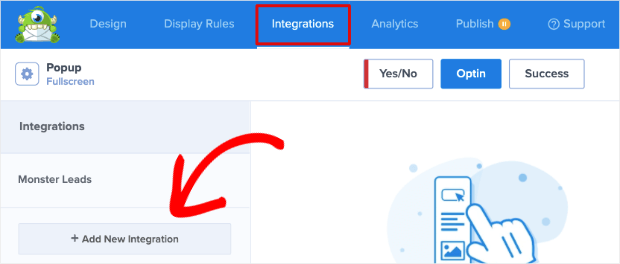 A drop-down menu will appear with the list of available email service providers (ESPs). Select Constant Contact.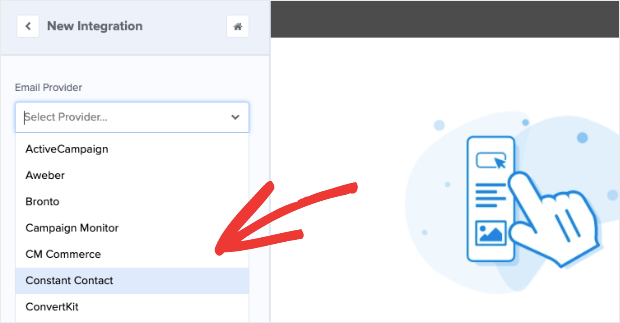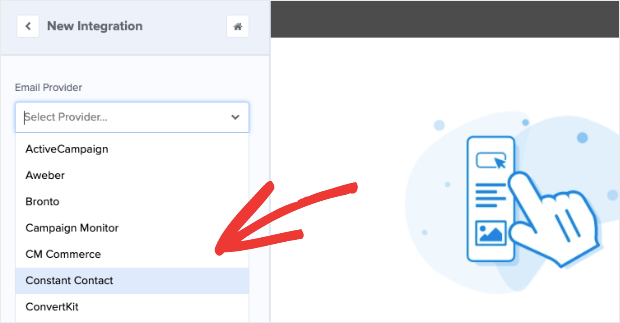 Next, click on the 'Register with Constant Contact' button.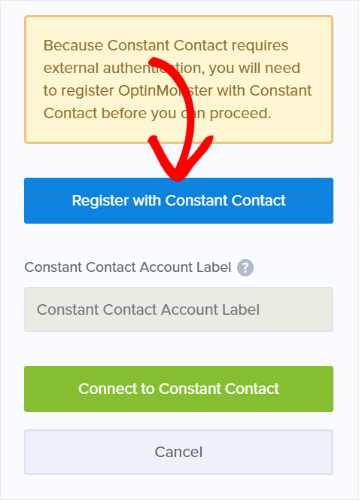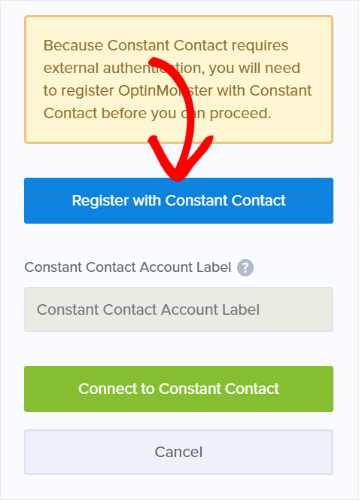 A popup will appear where you can sign in to your Constant Contact account.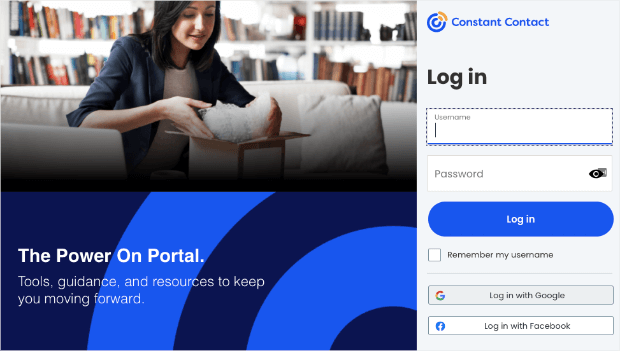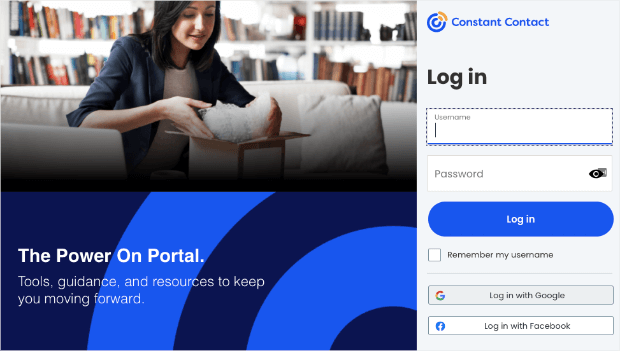 When you do that, Constant Contact will ask you if you want to grant OptinMonster access to your account. Select 'Allow' here.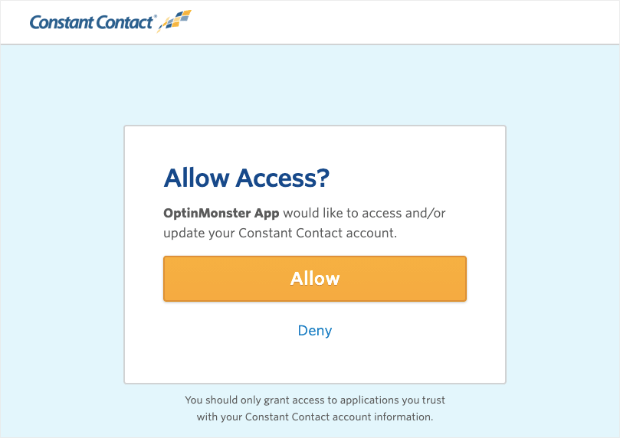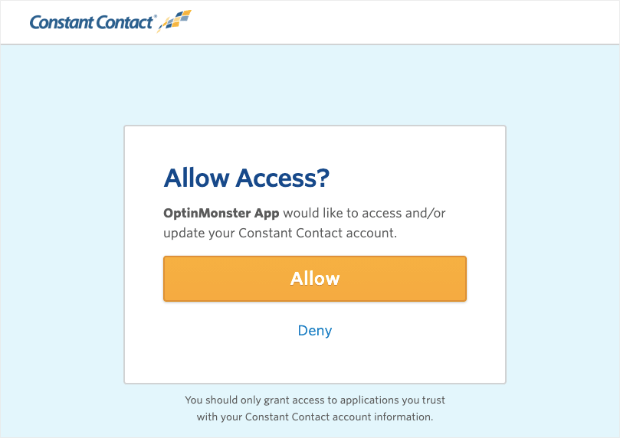 After this, you'll be taken back to the OptinMonster builder where you can add a unique label to easily identify this connection. Then click on 'Connect to Constant Contact' to complete the integration.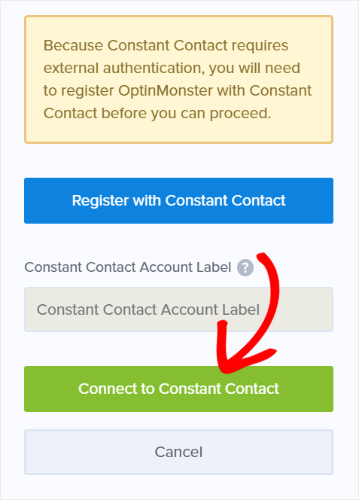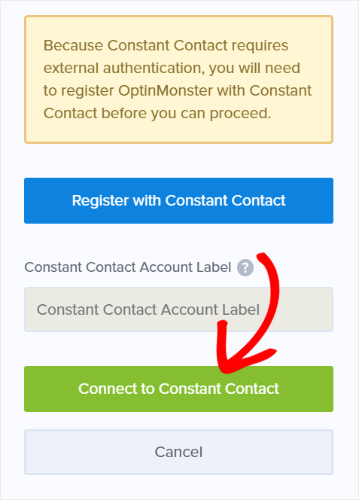 Now you'll see a drop-down menu called 'Email Provider Lists'. This is helpful if you have multiple audiences in Constant Contact.
You can choose to add subscribers from this campaign directly to the list of your choice.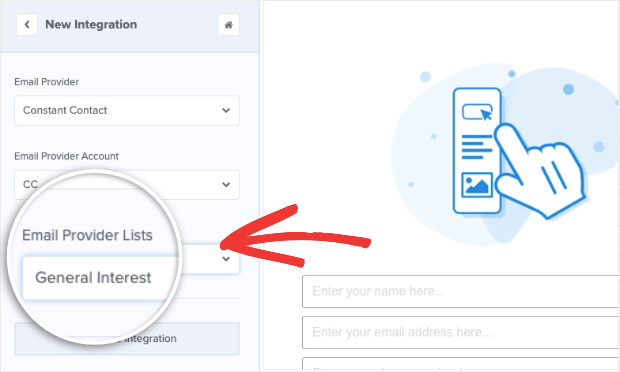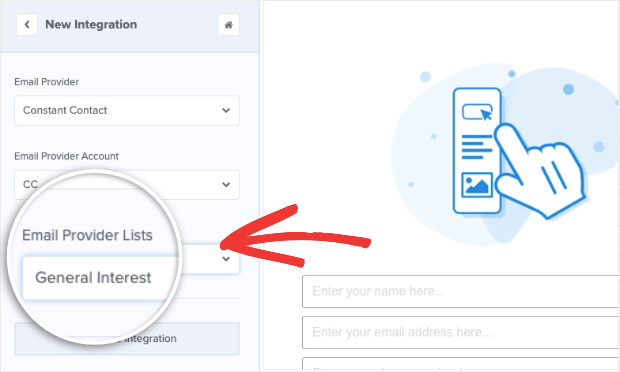 This helps you organize or "segment" your list for more personalized email marketing. In turn, that leads to more conversions and higher sales from your email marketing campaigns.
With that, your WordPress site is successfully connected to Constant Contact through OptinMonster.
Now you can go ahead and publish the OptinMonster campaign on your site.
Step 5: Publishing Your OptinMonster Campaign
To make the campaign live, switch to the Publish tab in the OptinMonster campaign builder.
You'll see an option to preview the campaign to see how it would look on your website.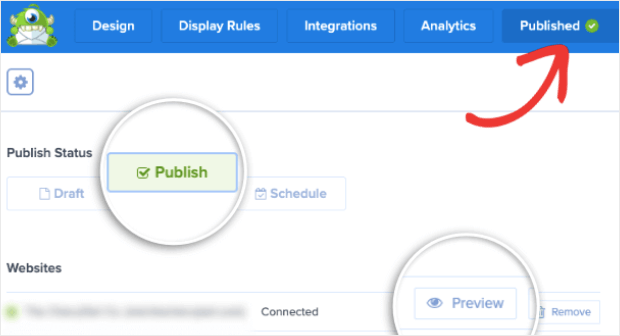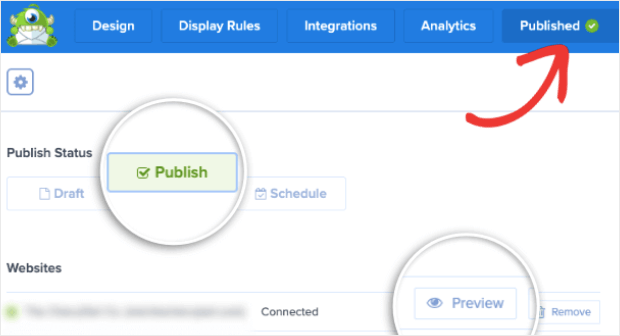 When you're ready, set the status to 'Publish' here.
Next, head over to the OptinMonster » Campaigns tab in your WordPress dashboard.
Make sure the campaign status is set to Publish here as well.




Your campaign is now live on your site, and it will automatically add all emails collected to your Constant Contact account.
Going forward, when you create a new OptinMonster campaign, connecting to Constant Contact will be even easier.
Since you've already registered with Constant Contact, you'll simply need to select it under the Integration tab before you publish your campaign.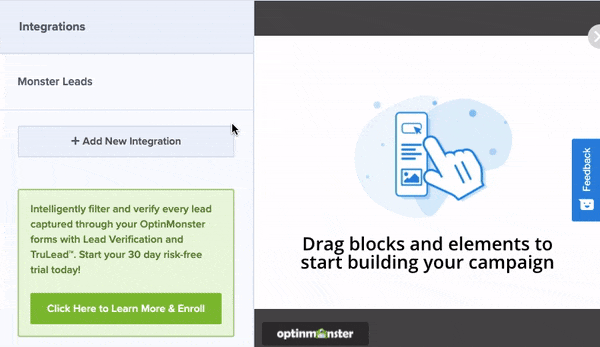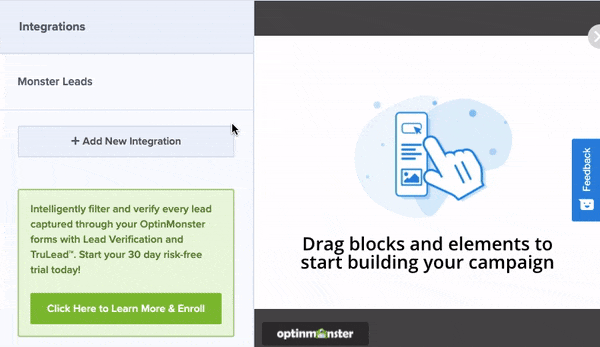 Now that your WordPress site is all set up to collect leads through OptinMonster, we want to show you a few tips on how to manage your leads.
Managing Leads in Constant Contact
Constant Contact makes it very easy to manage your contacts, segment your lists, and stay organized.
That way, you can send targeted emails and set up drip campaigns to reach out to your audience depending on what they signed up for.
For instance, if someone signs up for your newsletter, you'd want to add them to the newsletter broadcast list. And if someone fills out a contact form, you'll want to add them to a business leads list.
To segment your audience, inside the Constant Contact dashboard, open the Contacts tab and click on the Create List button.




A popup will appear for you to add a name for the new list. You can create a separate list to collect all leads from OptinMonster in one place.




Once you've done that, the list will appear in your Constant Contact dashboard.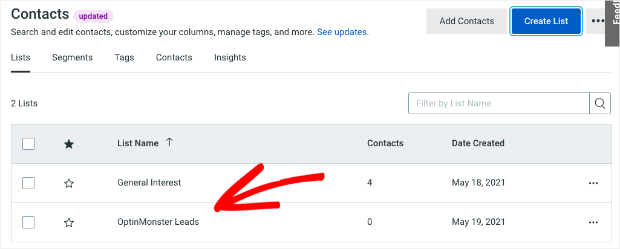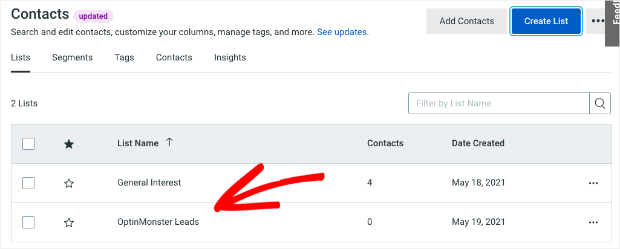 Now when you build an OptinMonster Campaign and select the Constant Contact integration, you can choose this list in the Email Provider List menu.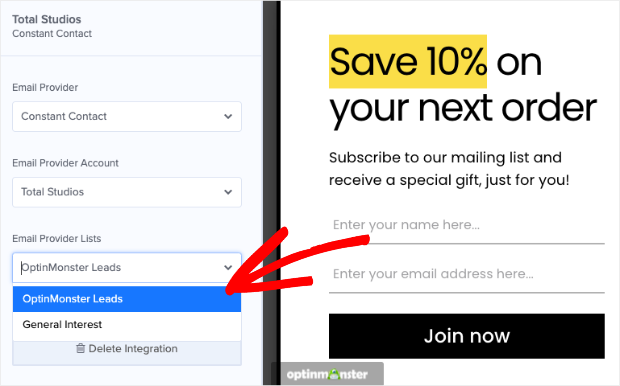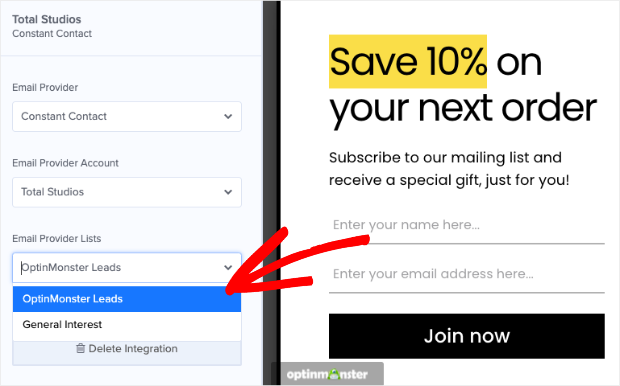 With this segmentation in place, when a visitor signs up to an OptinMonster campaign, their name and email address will automatically be added to the OptinMonster Leads list.
Now, when you're scheduling or sending an email in the Constant Contact dashboard, you can select the OptinMonster Leads list and your email will go only to subscribers of OptinMonster campaigns.




This is just one example of how you can organize your Constant Contact list, though there are many others. You can also create lists based on your offers (like "eBook signup" or "webinar attendee") depending on your goals and lead magnets.
And that's all we have for you today!
If you haven't signed up for OptinMonster yet, what are you waiting for? Get your 100% risk-free OptinMonster account now by clicking below:
Get Started With OptinMonster Today!BONUS: Done-For-You Campaign Setup ($297 value) Our conversion experts will design 1 free campaign for you to get maximum results – absolutely FREE! Click here to get started →
We hope you found this tutorial helpful in connecting Constant Contact to WordPress. For your next steps, you may want to learn how to create a Constant Contact popup to capture more email subscribers.
We also have a few other resources that you should definitely check out:
These posts will help you improve your email marketing efforts and grow your Constant Contact subscriber base.
Published by Melinda Bartley
Melinda is a writer who started penning stories for kids when she was just a kid herself. When she's not writing, you'll find her running her animal welfare org or spending time with her dogs and her big fam!