This
article
was originally published on
this site
We all need a place to keep our notes together – there's no doubt about it. Some people fall back on the classic paper notebooks, while others opt for digital tools. If you prefer the latter, read our Evernote vs Notion comparison to see which app is best for you.
Even though Evernote and Notion have the same purpose, they differ in features, design, ease of use, pricing, and a few more aspects. To spare you some time, we've tested the tools and put the conclusions in this post.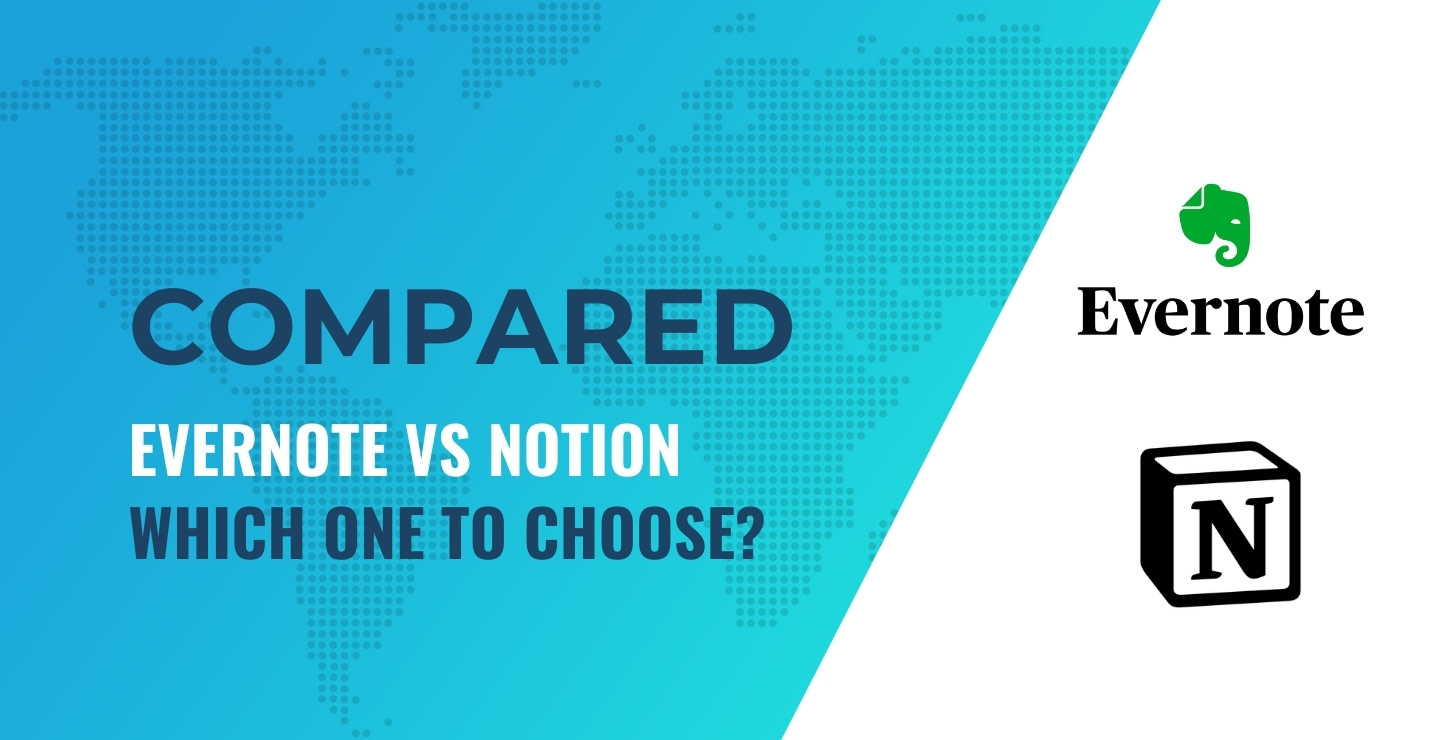 Stay with us and spot the differences (and similarities, too) between the two apps.
Let's dive in!
Introduction to Evernote vs Notion
Before analyzing their most important features, you might want to know why we picked Evernote vs Notion for this comparison.
Evernote and Notion are two of the most popular note-taking apps on the market. They offer all-in-one solutions to keep all kinds of notes organized in a single platform.
For instance, thoughts, meetings, ideas, goals, checklists, tasks, journals, planning, links – everything can be added there. All these notes types will be easy to track thanks to pre-made templates that both apps offer.
Evernote and Notion differ from other alternative apps by being more than just digital notebooks. They can also serve as project management and productivity tools. Moreover, they let you sketch or design your pages in beautiful styles and insert all kinds of multimedia files into your notes.
What is Evernote?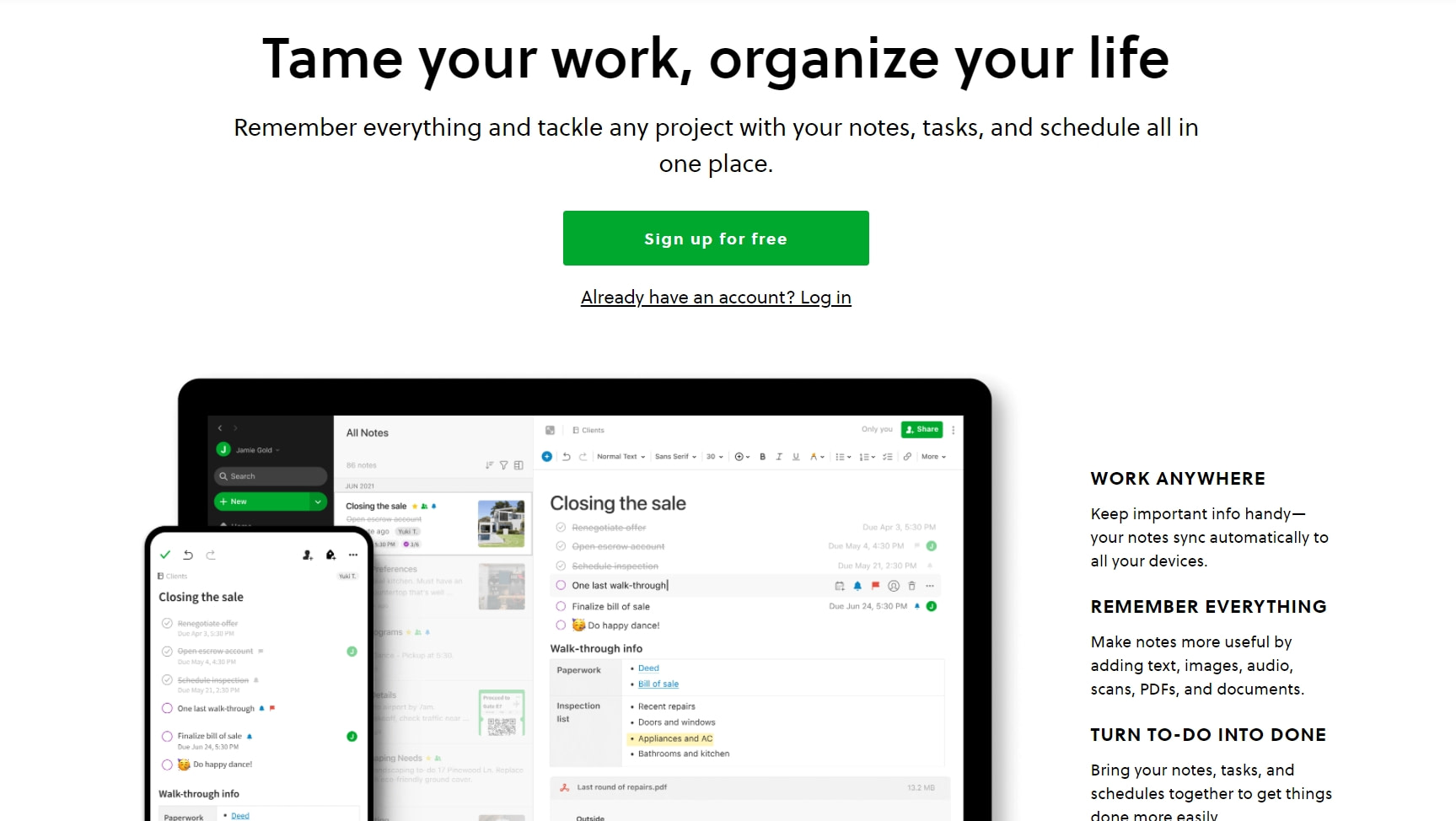 Evernote is one of the original note-taking apps that hit the market a while back. However, it is still great for any kind of project – professional, personal, or team-based.
Evernote goes beyond just simple notes. You can use it to organize your tasks, workday, daily habits, and other personal projects. The interface is customizable, so you can bend it to your liking.
Furthermore, it lets you add calendars, schedule tasks, break a note/task into sub-tasks, sketch ideas, assign team members, import files, bookmark links, and connect the app to various external platforms.
What is Notion?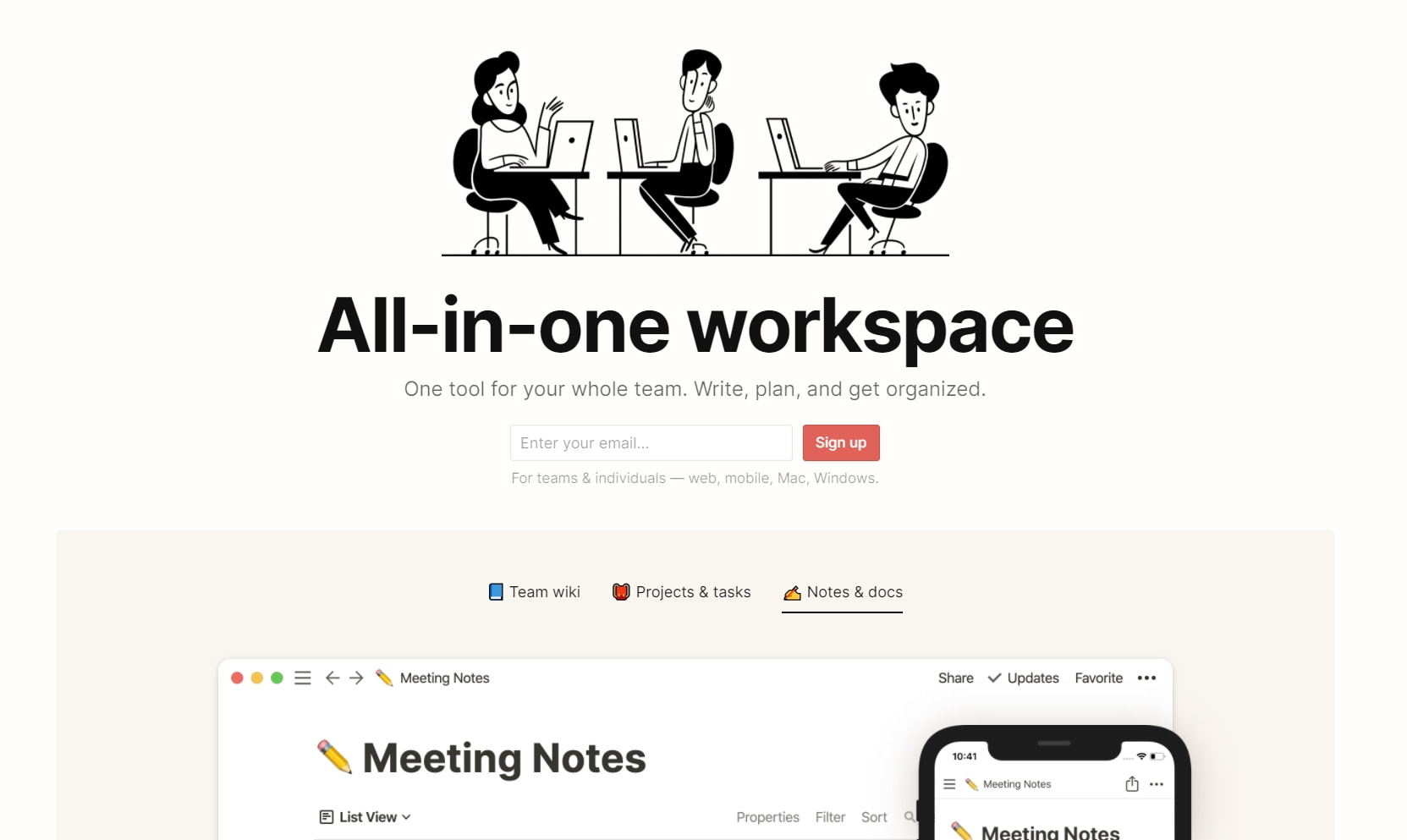 Notion is an all-in-one workspace for people who want to keep all their notes, tasks, projects, to-dos, and habits organized. You can use it for yourself or for your entire team to improve the workflow.
Additionally, Notion has tons of pre-made templates that serve various note-taking purposes. The designs and the multipurpose functionality mix up beautifully to create a product that keeps you more productive and helps you get more things done.
Notion is certainly more modern of the two tools. The interface is slicker, more visual, and also allows for better customization vs what you get from Evernote.
Evernote vs Notion in detail
At first sight, both tools seem to work in a similar way. But the more you dig in, the more differences you'll notice. Hence, we got into the specifics and compared Evernote vs Notion more in depth.
Here's what we'll cover in this post:
1. Features
Both apps provide a large range of features that go beyond just notes and docs. With Evernote and Notion, you can write diverse content that you can save and get back to anytime you want. But they do offer many other things that simplify your workflow and boost your productivity.
Let's see what those are!
Notes & tasks
✅ built-in task module
✅ tasks are created manually with templates
Team workspaces
✅
✅
Device sync
only two devices in the free version
multiple devices allowed
Templates
50+
250+
Search and filters
✅
✅
Calendars and reminders
✅ Google Calendar integration
✅ in-app calendar blocks
Integrations
Google (Calendar, Gmail, Drive), Salesforce, Slack, Microsoft Teams
Slack
Web Clipper
Chrome, Safari, Firefox, Edge, Opera, IE, mobile app
Chrome, Safari, Firefox, mobile app
Drag-and-drop interface
✅
✅
Compatibility
Windows, Mac, Linux (beta), Android, iOS
Windows, Mac, Android, iOS
Sketches
✅ built-in sketch module
❌
Embeds & attachments
✅
✅
Document scanning
✅
❌
Let's look into some of the more important features one by one:
Notes
Adding notes is the main purpose of both tools. You just need to open the platform of your choice, log in, and click New (in Evernote) and New page (in Notion). A new empty page where you can take notes will appear. You can personalize your notes by adding images, checkboxes, tags, templates, and more.
A note in EvernoteA note in Notion
Tasks
In Notion, you need to create a task yourself by finding an appropriate template or build one from scratch and add your custom fields – due dates, tags, assignments.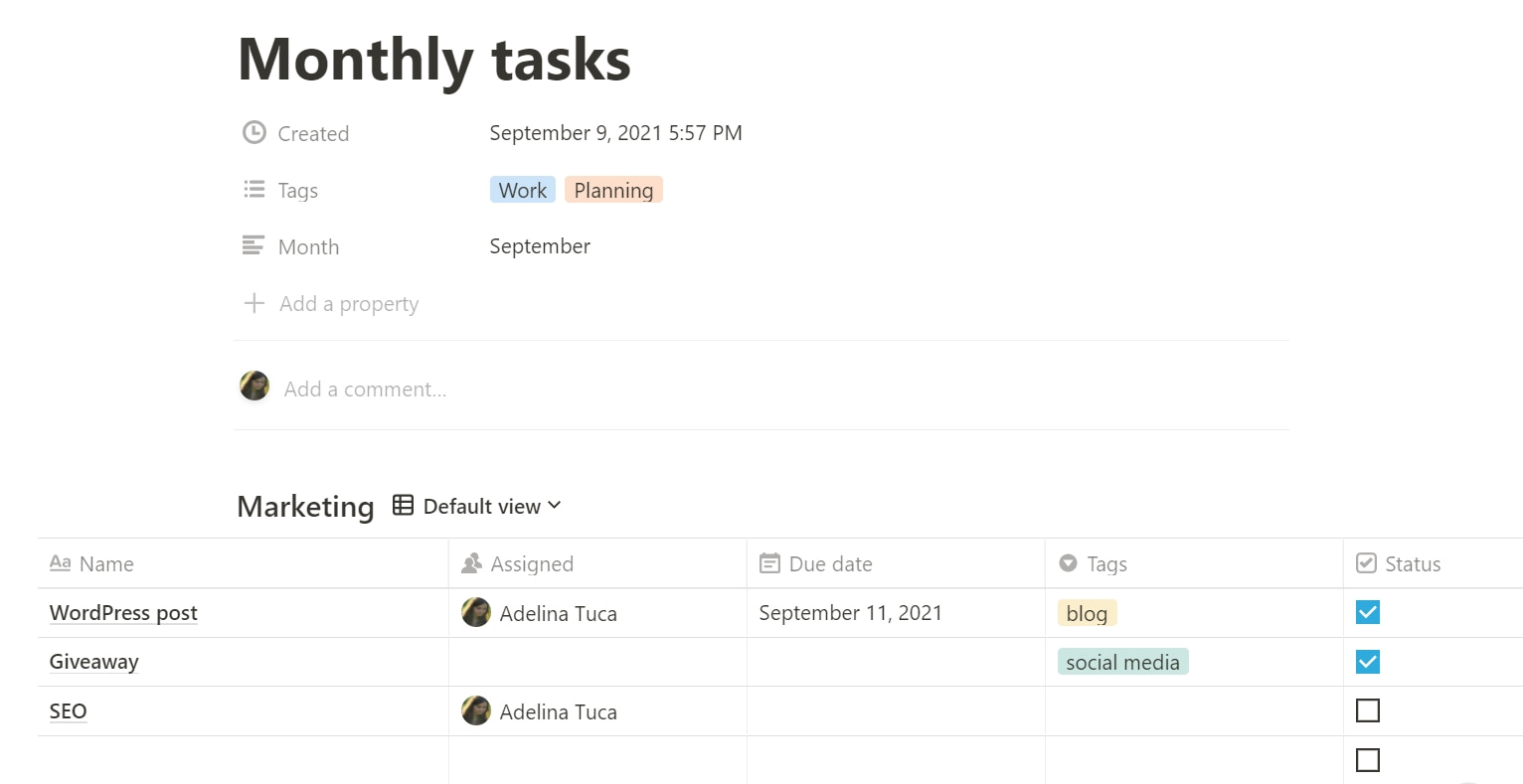 Tasks in Notion
Evernote has a built-in functionality for tasks, which means that you can add them in a few clicks. However, you need to upgrade to the premium plans to be able to add due dates, assignments, and notifications to a task.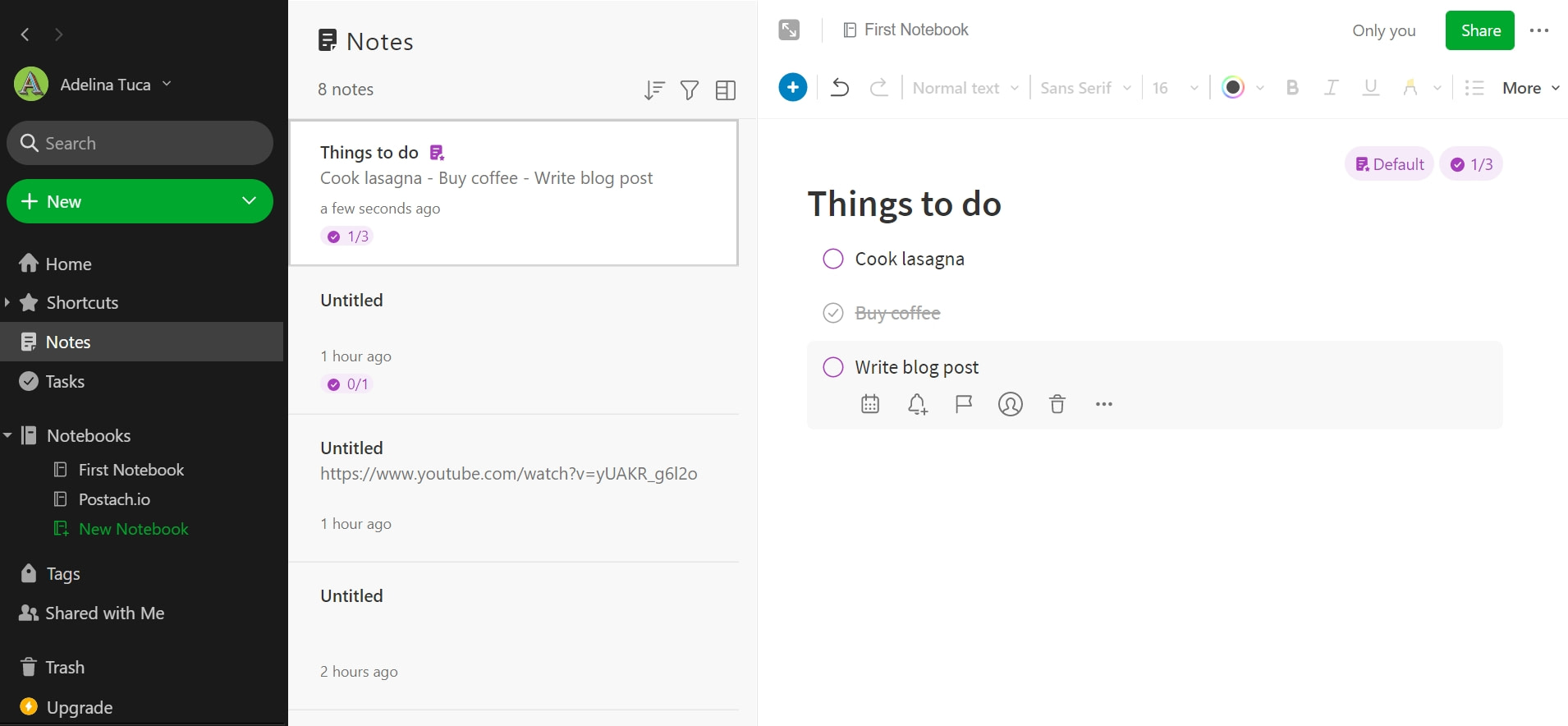 Tasks in Evernote
In other words, you either create tasks manually for free in Notion or let Evernote create them for you in a few clicks (but pay if you want to add due dates, assignments, and flags).
Home dashboard
In both apps, you can customize your launch page (home dashboard). While Evernote works with widgets and blocks, in Notion you can create wikis, where you can add shortcuts to all your content and pages that you want to access quickly.
Homepage example in EvernoteHomepage example in Notion
Workspaces
When it comes to creating workspaces, you can do it for free in Notion, but you are not allowed to invite other members. To add new members, you must upgrade to the Team plan. Another limitation in the free version of Notion is that you can share your files with five guests only.
On the other hand, to create workspaces in Evernote, you need to upgrade to the Teams plan. Once you upgrade, there won't be any limits regarding the number of members and guests.
Web clipper
Evernote and Notion let you save various links from the web. This is done with the Web Clipper extension that each app has a version of.
Those web clippers are quite easy to use. Just click a button, and you'll have the web page you're browsing converted into a note or page.
Sketches and attachments
Both apps let you draw and attach all sorts of external files to your notes and pages. It's essential to mention that it's easier to sketch in Evernote because it has an integrated Sketch feature. You just need to click on New → Sketch and start drawing.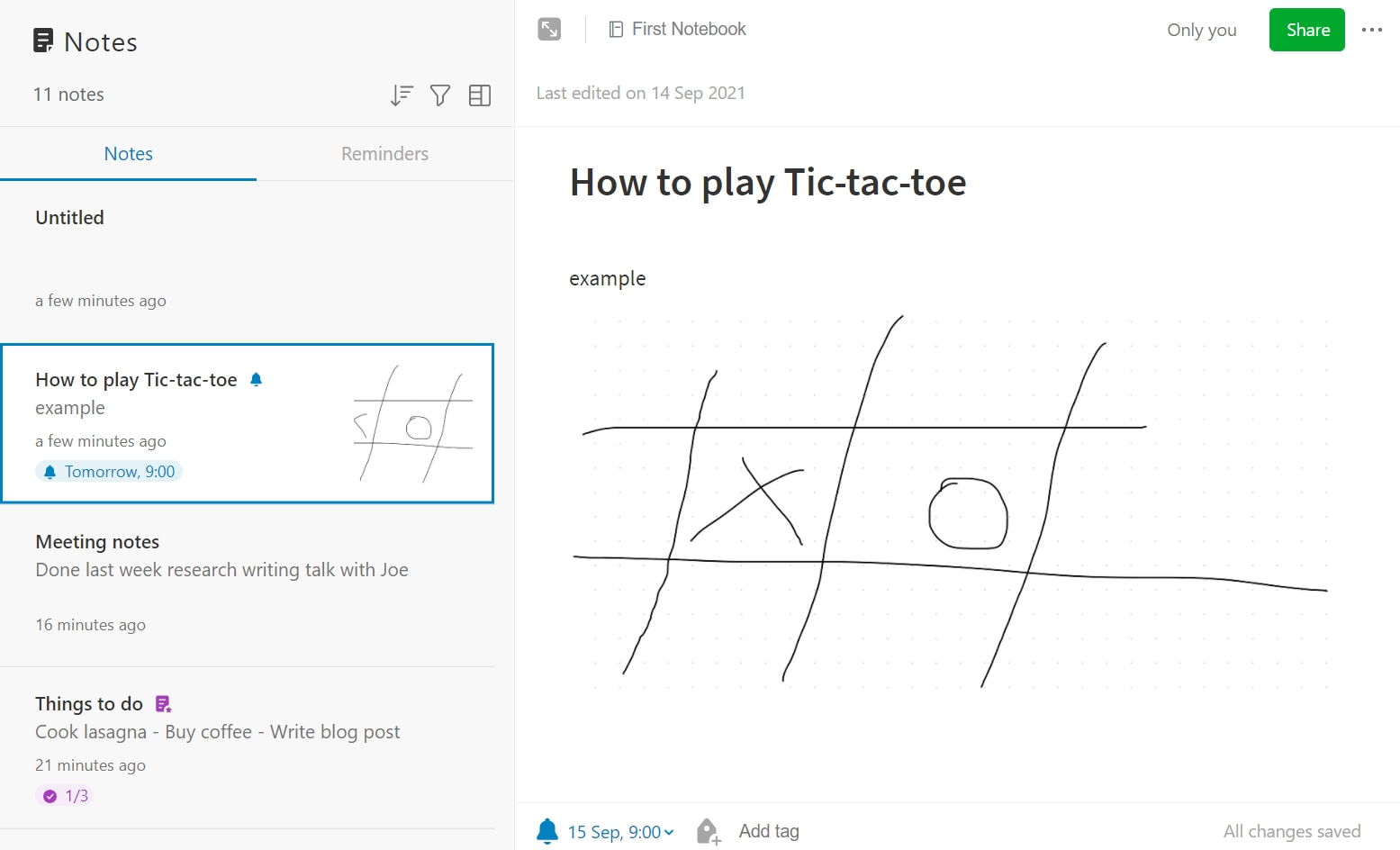 Sketch in Evernote
In Notion, things get a bit more complicated. You can only draw somewhere outside the app, then embed the file in a Notion note. You can't draw inside the note directly.
Device synchronization
First off, let's reemphasize that both tools have multiple versions that can run on Windows, Mac, Android, and iOS. Evernote works on Linux as well. Plus, of course, you can access both tools via the web browser directly.
Now, onto device synchronization. What it means is simply that any changes you make on one of your connected devices will be visible on another device as well. For instance, if you use both the mobile app and the desktop app, any edits that you make via mobile will show up in the desktop app as well (and vice versa).
However, it's important to mention that Evernote only allows you to sync your notes between two devices in the free version.
🏆 Winner: It's close to a tie when it comes to the diversity of the features that both tools offer. However, we'll pick Evernote as the winner here. We appreciate the fact that Evernote provides built-in modules for sketches and tasks, plus other functionalities, like document scanning or homepage widgets.
You may also be interested in:
2. Ease of use
In the ease of use department of our Evernote vs Notion comparison, the former is simpler and less confusing. Evernote is straightforward and doesn't give you a feeling of anything being complicated.
On the other hand, Notion does require a bit of patience to understand how certain things work. Sometimes, Notion will make you work extra when you create certain templates or files. Add that to the many times when you have to google something to learn how to do it.
In other words, a casual user won't know how to use Notion right off the bat. Therefore, you need time to figure out how to make pages look the way you want, what a certain button does, or how to integrate third-party apps with Notion.
For example, it's less intuitive and takes more time to create tasks in Notion because you need to find an appropriate template and add the properties/fields of the tasks yourself.
In Evernote, it's easier to create tasks because the tool comes with a dedicated task module. As a result, it contains the pre-defined properties of a task, which you just need to fill with your content.
Create a task in NotionCreate a task in Evernote
In short, Notion does provide most of the features that you will find in Evernote, but it looks a bit crowded and overwhelming. You only get an interface with a bunch of templates that you need to organize and customize yourself until you bring it to an okay form.
Evernote's interface is the opposite. It's easier to grasp and nicely organized – it has separate modules for notes, tasks, and sketches. The fact that it uses widgets is another big advantage for users because you can organize your dashboard in no time.
🏆 Winner: Evernote gets the gold medal here thanks to its straightforward interface that everybody can grasp. It automates most of your actions, while in Notion you always need to take an extra step to build things manually. That said, this doesn't mean that Evernote will be the easier to use tool for everybody. Once you learn your way around Notion, working with the tool on a daily basis can become very intuitive.
3. Design
Evernote has 57 templates for work, school, and personal life.
Evernote templates
Notion, on the other hand, has many *many* more templates for various uses: in human resources, for students, nonprofits, startups, remote work, personal goals, planning, hobbies & fun, wikis, travel, portfolios, journaling, etc. That makes a total of almost 300 templates targeted to specific use cases for both personal and professional projects.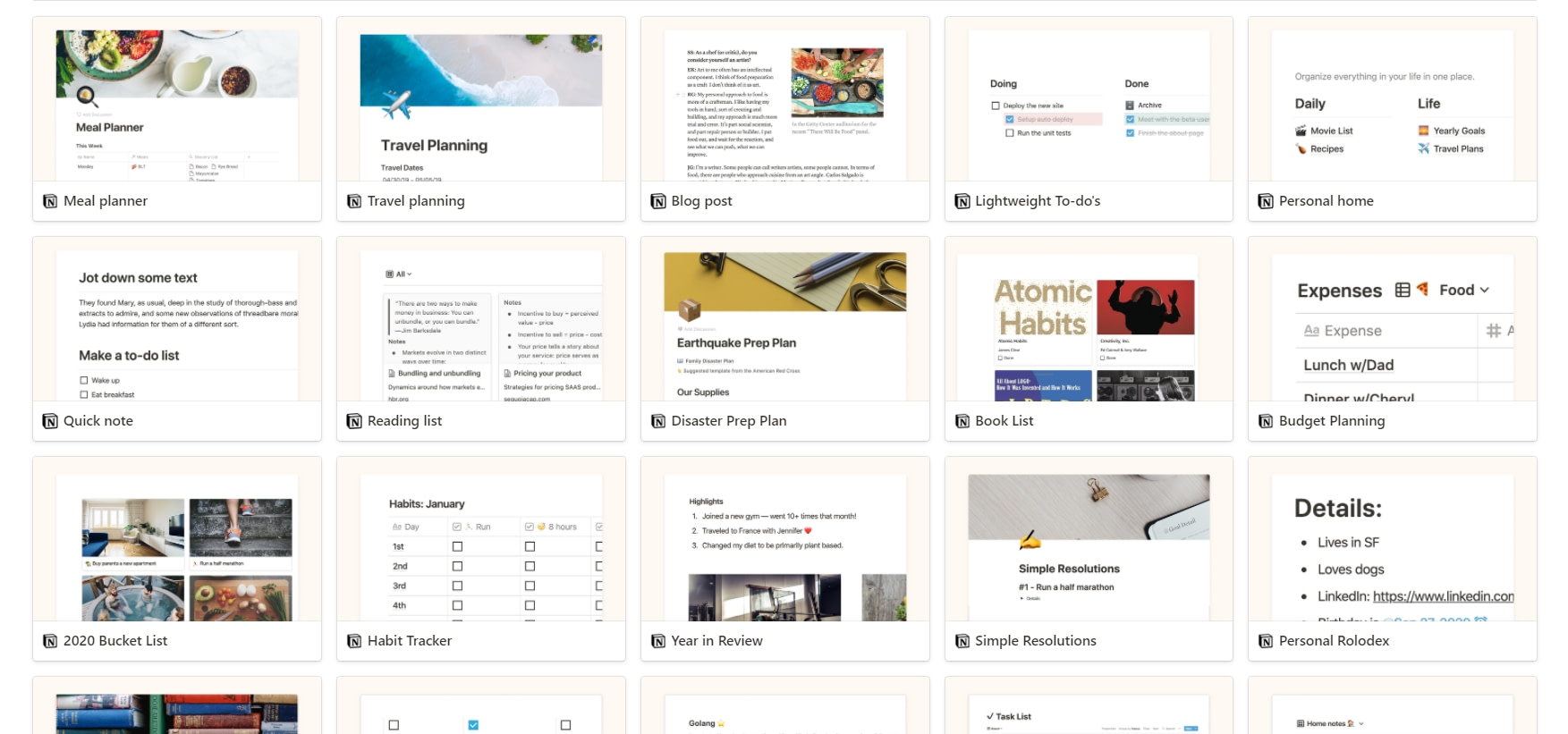 At a first sight, Notion looks friendlier and gives you possibilities to create gorgeous workspaces, files, agendas, and overall create more eye-pleasing notes. In addition, it brings several timeline views, tables, lists, calendars, Kanban boards, gallery views, etc.
Evernote is more straightforward in functionality, but when it comes to design, it looks rather simple. Not minimalist, but just simpler than Notion.
If you are here for simplicity and effectiveness and do not care much about aesthetics, then you will probably like Evernote's design. If you need something fancier, you'll probably love Notion's looks.
🏆 Winner: To conclude, Notion brings many more options for you to build pages that are more appealing and diverse. It has a template for almost anything you could think of, and all the templates look stylish and modern. Hence, Notion wins the design duel.
4. Integrations
Evernote has six native integrations, while Notion only has one.
Evernote connects natively with Google Calendar, Gmail, Google Drive, Salesforce, Slack, and Microsoft Teams. Moreover, it allows you to display these integrations as widgets on the home dashboard. None of the integrations is available in the free plan, though.
As for Notion, it only connects natively with Slack. To integrate other apps, you need to create APIs and get into technical matters (as in use code). This is time-consuming and difficult to do for casual users.
As an alternative, you can use a tool like Zapier or Automate.io to integrate both apps with third-party tools automatically.
As a side note, you can attach and embed various files (upload or insert a web link) to both Evernote and Notion notes and pages.
🏆 Winner: Since Evernote provides more native integrations than Notion, we have a winner. The fact that the process of integrating these tools manually in Notion is cumbersome and technical adds up to the final result.
5. Pricing
Both Evernote and Notion are free. But the free versions come with a few limitations that you can remove by upgrading to higher tiers.
Evernote pricing plans (per month):
Free
$2.60 – Personal
$3.35 – Professional
$12 per user – Teams
In Evernote's free version, you can sync the app to two devices only, write notes, set basic tasks, add three widgets to the home dashboard, upload 60 MB of files, save web pages in the app, and attach files to your notes.
To sync unlimited devices, add due dates to tasks, get access to more widgets, connect to Google calendar, set notifications, and create custom templates, you must upgrade to the Personal plan.
If you are looking to integrate Evernote with Slack, Microsoft Teams, Salesforce, and other apps, you need to buy the Professional plan.
Notion pricing plans (per month):
Free
$4 – Personal Pro
$8 per user – Team
If you would rather use the free version of Notion, here's what you get – unlimited pages and blocks, 5 MB of file uploads, five guests to share your files with, app sync across multiple devices, and the API feature to create integrations with third-party tools.
If you want to upload unlimited files and share your Notion activity with more people, you need to upgrade to the Personal Pro plan. In this plan, you also get to see the history of everyone's activity in Notion.
In the Team plan, you are allowed to invite unlimited members to your workspaces (you can't add any members – except you – in the other two plans).
🏆 Winner: There is no clear winner in the pricing sector because both tools have pros and cons. Both come with limitations in the free plan, but none of them denies access to an essential feature that would force you to upgrade.
Evernote has an advantage if you need it for your own use only – that's because the Personal and Professional plans are cheaper. On the other hand, Notion's Team plan costs less, which makes it an attractive solution if you're going to be working together with other people.
In conclusion, you'll spend less on Evernote if you use it for yourself but you will save money with Notion if you want a tool for your team.
Final thoughts on Evernote vs Notion
This sums up our Evernote vs Notion comparison. The main goal of this post is to simplify your decision-making by highlighting the difference between these two note-taking tools.
Obviously, there's no perfect solution for everybody. Therefore, you will choose the tool that ticks most of the needs for you personally or your team.
To help you pick, here's the comparison table again:
Notes & tasks
✅ built-in task module
✅ tasks are created manually with templates
Team workspaces
✅
✅
Device sync
only two devices in the free version
multiple devices allowed
Templates
50+
250+
Search and filters
✅
✅
Calendars and reminders
✅ Google Calendar integration
✅ in-app calendar blocks
Integrations
Google (Calendar, Gmail, Drive), Salesforce, Slack, Microsoft Teams
Slack
Web Clipper
Chrome, Safari, Firefox, Edge, Opera, IE, mobile app
Chrome, Safari, Firefox, mobile app
Drag-and-drop interface
✅
✅
Compatibility
Windows, Mac, Linux (beta), Android, iOS
Windows, Mac, Android, iOS
Sketches
✅ built-in sketch module
❌
Embeds & attachments
✅
✅
Document scanning
✅
❌
If we were to give you a recommendation, we'd have to say that there are two ways to go about when choosing between Evernote vs Notion:
First, if you are an individual who needs a simple, straightforward note-taking app for work and/or personal projects, Evernote seems to be the optimal option for you. Mainly because you can set it up quickly, customize your homepage in a few steps, and create notes/tasks in a user-friendly and easy-to-grasp interface.
Secondly, if you are an individual who loves to build a complex system of notes and keep evidence of a lot of things/projects from work and life, you will enjoy Notion more. It's better at giving your projects that personal touch via its modern and varied templates.
Do you have any questions about Evernote vs Notion? Let us know in the comments section below!
…
Don't forget to join our crash course on speeding up your WordPress site. With some simple fixes, you can reduce your loading time by even 50-80%:
Layout and presentation by Chris Fitzgerald and Karol K.