This
article
was originally published on
this site
Are you looking for a lead generation software, but you're not sure which will get you the highest conversions?
If you're serious about growing your email list and driving more sales, then you'll need a powerful lead generation software. But like most online merchants, you may not be sure which of your options is the best.
That's why, today, we're going to compare two popular choices: Convert Pro vs. OptinMonster. We'll look at both from the following perspectives:
Ease of use
Campaign options
Targeting rules
Performance
Support
Pricing
Before we dive into our comparison, however, let's get clear on the products we'll be looking at.
What Is Convert Pro?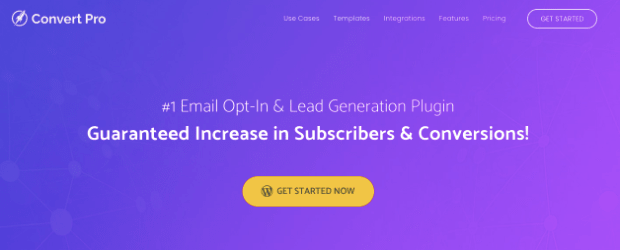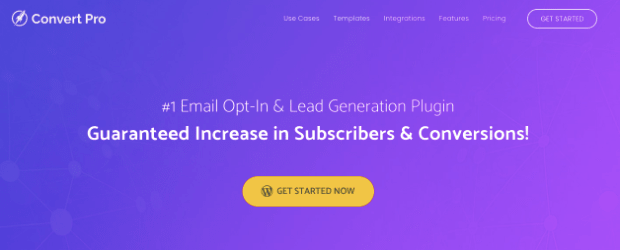 Convert Pro is a lead generation plugin exclusively for WordPress. Its goal is to get you more sales, more leads, and higher conversions.
They have a user-friendly campaign designer, offer various campaign types, and integrate with most email marketing solutions on the market.
Convert Pro also offers various triggers and targeting rules to help you capture more leads and properly segment them in your email list. They also have a support team available to help you troubleshoot any problems you run into.
Now let's turn our attention to OptinMonster.
What Is OptinMonster?
OptinMonster is the world's #1 lead generation software and plugin for WordPress: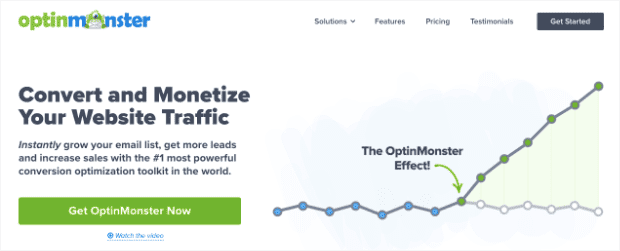 OptinMonster is the best conversion optimization software that helps you create marketing campaigns for lead generation, sales, shopping cart abandonment, and more. In short, it helps you convert your visitors into leads and customers.
OptinMonster does this by helping you craft the perfect optin campaigns for your company's goals with pre-built templates that make your campaigns look stunning. Plus, our drag and drop editor allows you to build your campaigns even if you have zero tech skills to begin with.
That means you can make high-converting campaigns in a matter of minutes with zero coding skills required. More on that in just a moment, though.
Want to give it a shot? Just click below to start your risk-free OptinMonster account today:
Increase Conversions and Grow Your List Today!
Convert Pro vs. OptinMonster: Which Is Best?
In today's post, we'll check out the differences between OptinMonster and Convert Pro. Now, in some areas, the 2 tools offer similar user experiences (UX).
When it comes to designing your campaign, for example, both make the software very easy to use. They offer various templates that work across all devices, allow you to modify text directly in your campaign, and give you the flexibility to add new elements to each optin form.
But in other areas, these tools have key differences that are important to understand if you're looking for the highest conversion rates possible.
So, now, we're going to show how OptinMonster is the better option for a lead generation plugin in the following categories:
Ease of use
Campaign options
Targeting rules
Performance
Support
Pricing
Let's dive in!
1) Ease of Use: OptinMonster vs Convert Pro
Both Convert Pro and OptinMonster offer an easy-to-use drag and drop builder. With Convert Pro, you can easily drag and drop a design element anywhere you want within the campaign: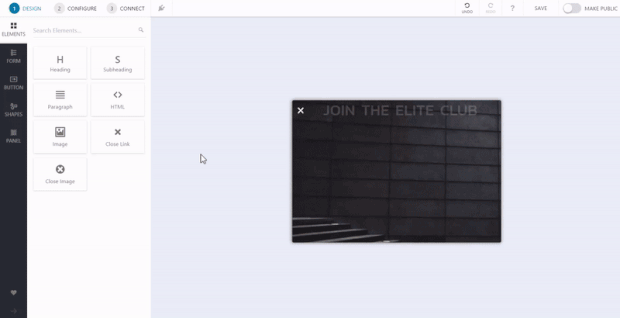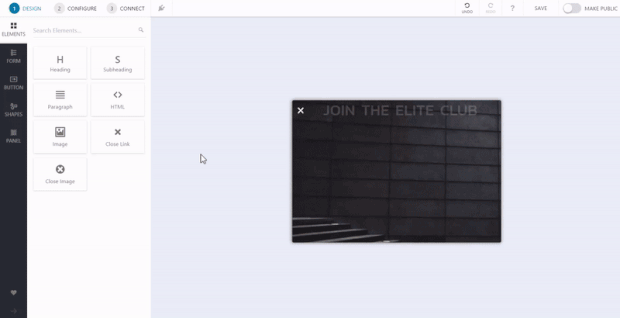 While this may seem like a cool feature to have, the reality is that unless you have a good handle on design principles, you'll end up making campaigns that look distorted.
OptinMonster, on the other hand, uses column blocks for organizing layouts and design elements. The advantage is that columns make sure that design elements in the campaigns are aligned uniformly across a spread.
But since we still use a drag and drop editor, adding new elements that are totally aligned is incredibly easy: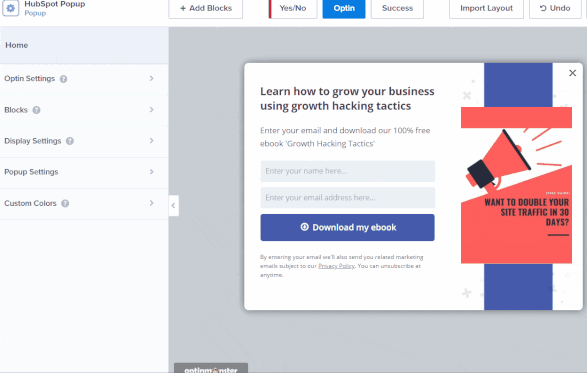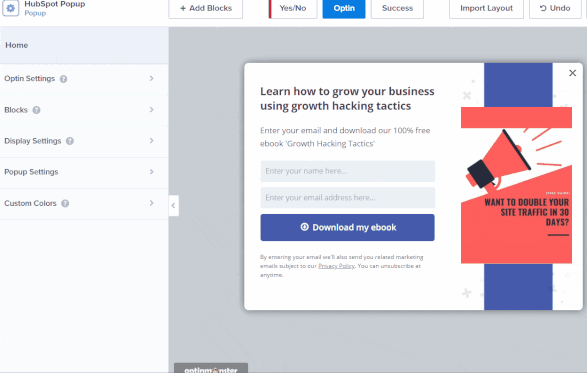 That means, even if you're an absolute beginner in designing, you can rest assured that your campaigns would look stunning all the time.
So when talking about ease of use, OptinMonster comes out ahead. Even though both editors are easy to use, OptinMonster makes it easier to create perfectly uniform and stunning campaigns.
2) Campaign Types: OptinMonster vs Convert Pro
Convert Pro has a variety of campaign types that you can use such as :
Modal popups
Slide-in scroll boxes
Inline campaigns
Full screen popups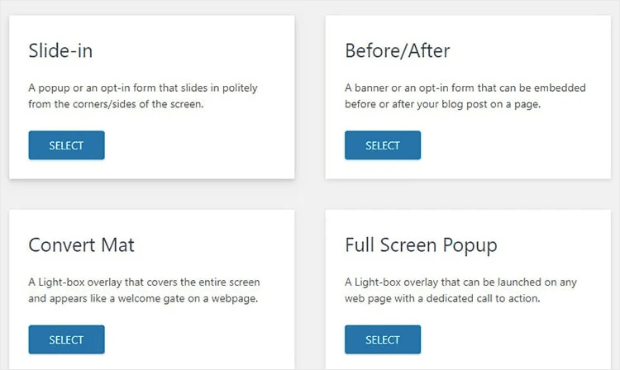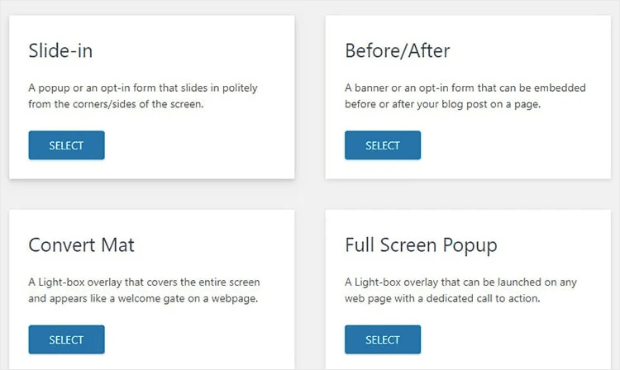 And much more. In fact, Convert Pro offers more campaign types than many of our competitors. But more than our competitors doesn't mean more than OptinMonster.
That's because there are 2 valuable campaign types offered by OptinMonster that aren't available with Convert Pro:
Gamified popups
Content lockers
Both of these campaign types are incredibly effective at boosting conversions. Let's quickly look at both.
1) Gamified Popups: These show a spin-to-win wheel that you can fully customize to engage your site's traffic: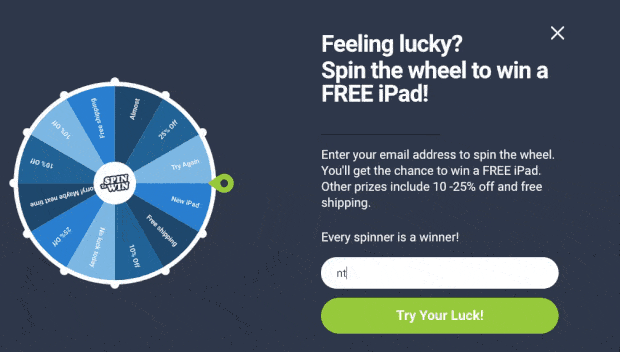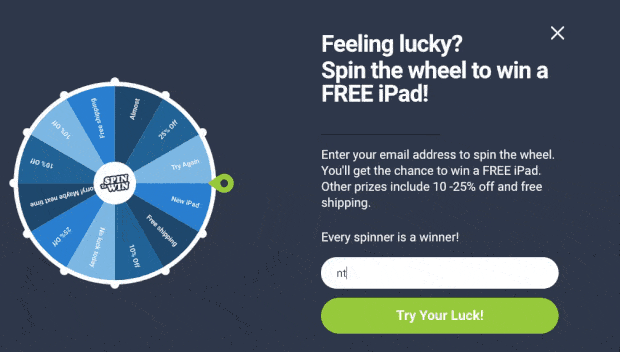 You can modify the colors, text, font, optin fields, and much more to make this gamified popup get more conversions.
The fact is that gamified campaigns are a huge asset to any marketing strategy.
For more information on how these campaigns work (and a few examples of famous brands using them), check out this helpful post: How to Create a Spin-to-Win Optin to Easily Boost Engagement.
2) Content Lockers: This campaign allows you to add an optin form directly to your page's content, and it will block all the content underneath until the user subscribes: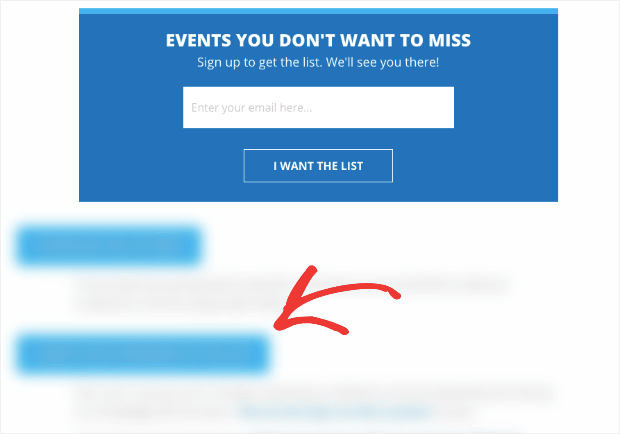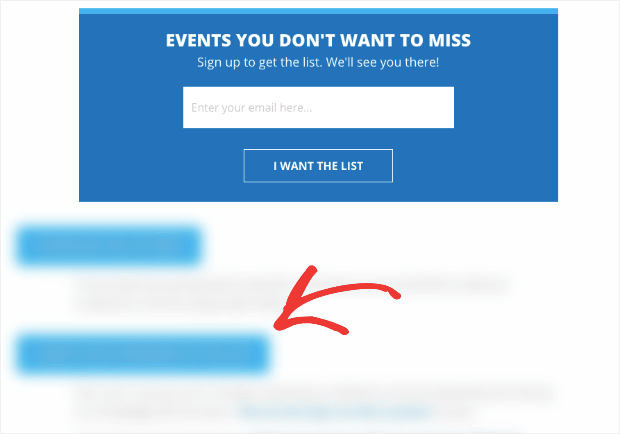 This allows you to give your site's traffic a taste of your content but save the premium information for your subscribers.
It's such an effective campaign that Whole Whale saw a 62% increase in conversions and doubled their email list.
So while OptinMonster offers all of the campaign types as Convert Pro, we also offer a few other options to further engage your audience.
That means more conversions, more leads, and, ultimately, more sales.
3) Targeting Rules: OptinMonster vs Convert Pro
Designing the perfect campaign is only half the battle for getting users to opt into your offers.
The other half is about showing the campaign to the right people at the right time in their customer journey.
For that, you need a huge variety of targeting rules and triggers to determine who sees your campaign and when.
Convert Pro does have a variety of targeting rules and triggers such as:
Exit-intent
Time delay
Scroll depth
On button click
Geolocation
And more. Again, they offer many targeting options that surpass our competitors.
But OptinMonster is still ahead in this category.
Here are a few unique targeting rules offered by OptinMonster that aren't natively available with Convert Pro:
OnSite Retargeting®: Show returning visitors new content and optin forms to keep them engaged with your website
OnSite Follow Up Campaigns®: Create drip campaigns to display new optin forms based on how users have interacted with campaigns they've already seen
Smart Tags: Personalize your campaigns with your visitor's name or location to build deeper connections and increase conversions
Plus, if you're working with WooCommerce, Shopify, or Bigcommerce (two of the largest eCommerce platforms in the world), then we have even MORE targeting rules that help you: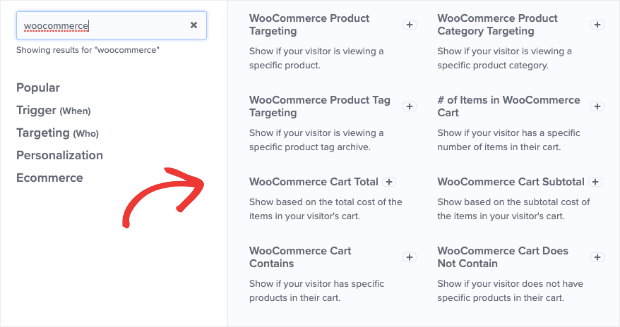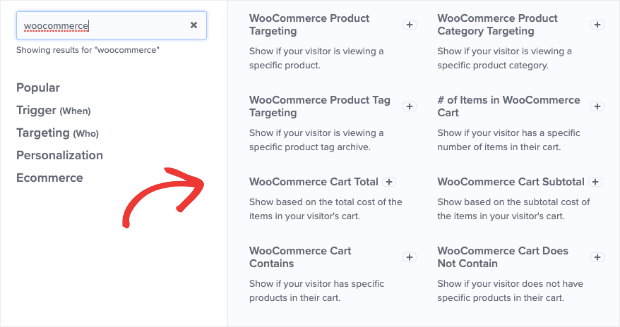 These native targeting rules are incredibly easy to configure, require zero coding skills, and sync seamlessly with your eCommerce platform.
They also allow you to drive more conversions and get more sales from your online store.
4) Performance: OptinMonster vs Convert Pro
One thing that many business owners and marketers forget is how much bandwidth it takes to run a website. Especially one with lots of traffic.
And since Convert Pro only works with WordPress, that means it relies on your shared hosting plan to support its functionality.
In other words, Convert Pro will use your site's bandwidth to work the way you want it to.
So if your site gets a lot of traffic and requires your campaign to be seen, used, or closed many times throughout the day, you're looking at the following problems:
OptinMonster, on the other hand, is a SaaS product. That means we host everything on our end. When people see or sign up for an OptinMonster campaign, it's NOT using our clients' bandwidth. It's using ours.
But what does this mean at a practical level?
Let's say you're running a small business online. And, for some reason, one of your marketing strategies brings tons of traffic to your site. Good news, right?
Only if your hosting plan is equipped to handle the added bandwidth required by a software like Convert Pro.
That's because, again, Convert Pro relies on your hosting plan to function.
If you're using OptinMonster, however, you can show all of your campaigns to your site's traffic without using any of your own bandwidth. Instead, our self-hosted software takes care of that for you.
And if you're a larger site running a blog or a big eCommerce store, then it's even worse.
That's because you likely have tons of traffic, and you're already paying higher fees for your hosting plan.
Using a tool like Convert Pro can drastically slow down your site, hurt your UX, and increase your overall hosting costs right from the get-go…
…if it doesn't crash your server in the meantime.
That's why when it comes to the performance aspect of lead generation plugins, OptinMonster always comes out ahead.
Our self-hosted plugin works independently of your hosting plan, so you never have to worry about slowing down your site and annoying your visitors.
5) Support: OptinMonster vs Convert Pro
Whenever you're researching a new tool, there's bound to be a learning curve. That means you need to have stellar support in place to help you troubleshoot your problems as they arise.
That way, you never feel alone while working on your lead generation campaigns.
Convert Pro has a few channels for support:
Submit tickets via email
Check the blog
Documentation that can be found from a search bar in their support section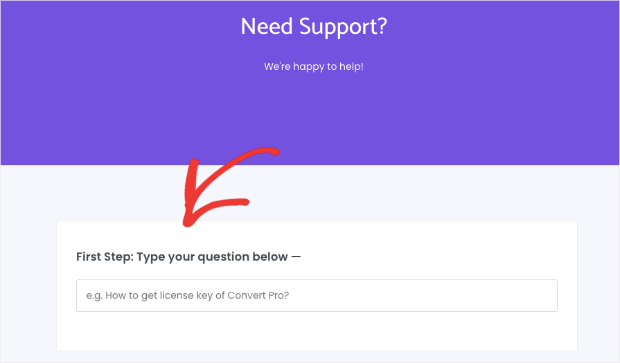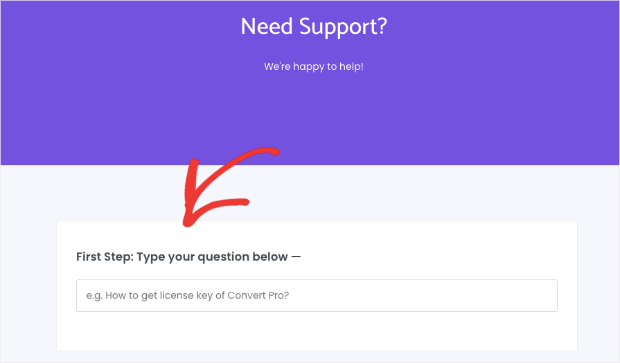 OptinMonster, on the other hand, is known for its amazing support staff. You can reach out to us in the following ways:
Live chat for instant problem resolution
Email tickets for more in-depth queries
Social media
YouTube
Blog
Documentation with guides and tutorials
That's why our support team gets such great feedback from 3rd party review sites. Here's one from G2:



And here's another from Capterra:



Finally, here's one last satisfied customer from TrustPilot: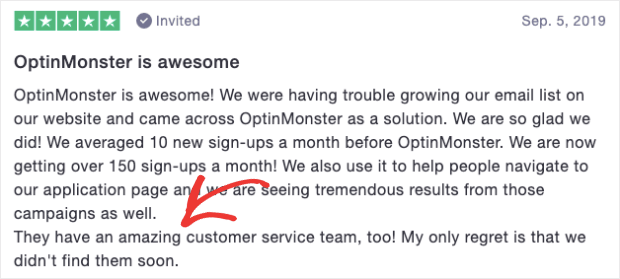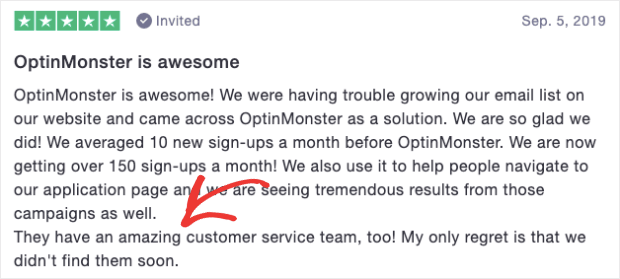 At the end of the day, we pride ourselves on hiring only the best customer service representatives to handle all your problems.
We also give you plenty of channels to reach out to us, including live chat, so we can help you handle your problems as quickly as possible.
6) Pricing: OptinMonster vs Convert Pro
Convert Pro offers 2 plans:
Convert Pro: $79/year (on sale from $99/year)
Agency Bundle: $249/year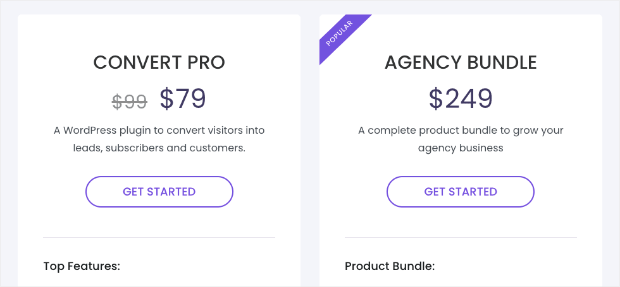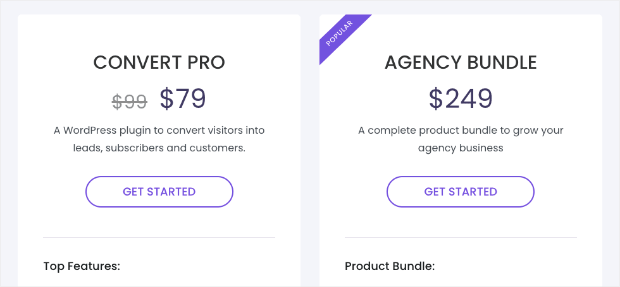 You can also purchase lifetime access at a higher price point.
OptinMonster, on the other hand, breaks pricing down into the following:
Basic: $9/month (up to 3,500 pageviews)
Plus: $19/month (up to 15,000 pageviews)
Pro: $29/month (up to 50,000 pageviews)
Growth: $49/month (up to 250,000 pageviews)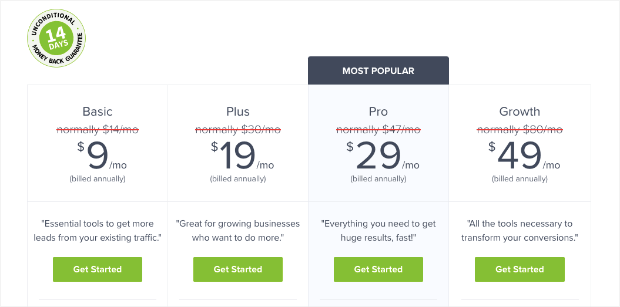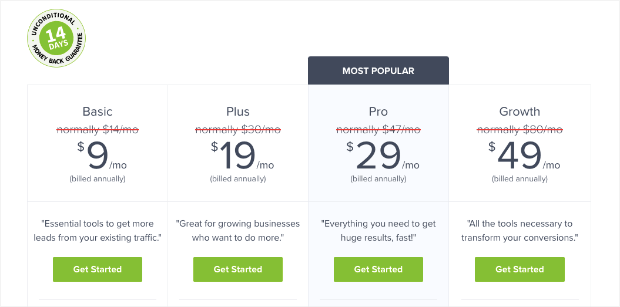 We think it's important to give our clients the tools they need when they need them. That way, smaller businesses can start with the Basic or Plus plan and upgrade as we help their company grow.
In other words, we want to make sure that you only pay for the tools and features you are using.
So while OptinMonster appears more expensive at first glance, our pricing model is created to help you grow into advanced features.
Convert Pro, on the other hand, is a really good option for small businesses that plan on staying small.
Once you start gaining traction, though, you're looking at higher hosting fees, more bandwidth taken from your server, and the same limited tooling that won't encourage scaled growth.
That's one of the many reasons why OptinMonster is known for being the best lead generation plugin on the market and at the fairest price.
Want to check it out? Click below to sign up for your risk-free OptinMonster account today:
Increase Conversions and Grow Your List Today!
Convert Pro vs. OptinMonster: Which Is Better?
Convert Pro is a good lead generation software that only works for WordPress and can be good to get you started.
That said, if you're not looking for "good" and would rather have the best, then OptinMonster is definitely the way to go.
Simply put, we offer more:
Campaign types
Targeting rules
We also price our products to meet your specific needs based on your business's size and scope.
We hope you found this article helpful, especially if you're trying to decide between OptinMonster vs. Convert Pro. For more helpful information, you may enjoy the following resources:
These articles can help you determine whether or not OptinMonster is the right lead generation tool for your business.

Published by Nathan Thompson
Nathan Thompson is a father, a writer, and a lover of travel (in that order). When he's not wrestling with his kids, you'll likely find Nathan giving his eyes a much-needed break from screens with a good book or planning a family trip with his awesome wife.