This
article
was originally published on
this site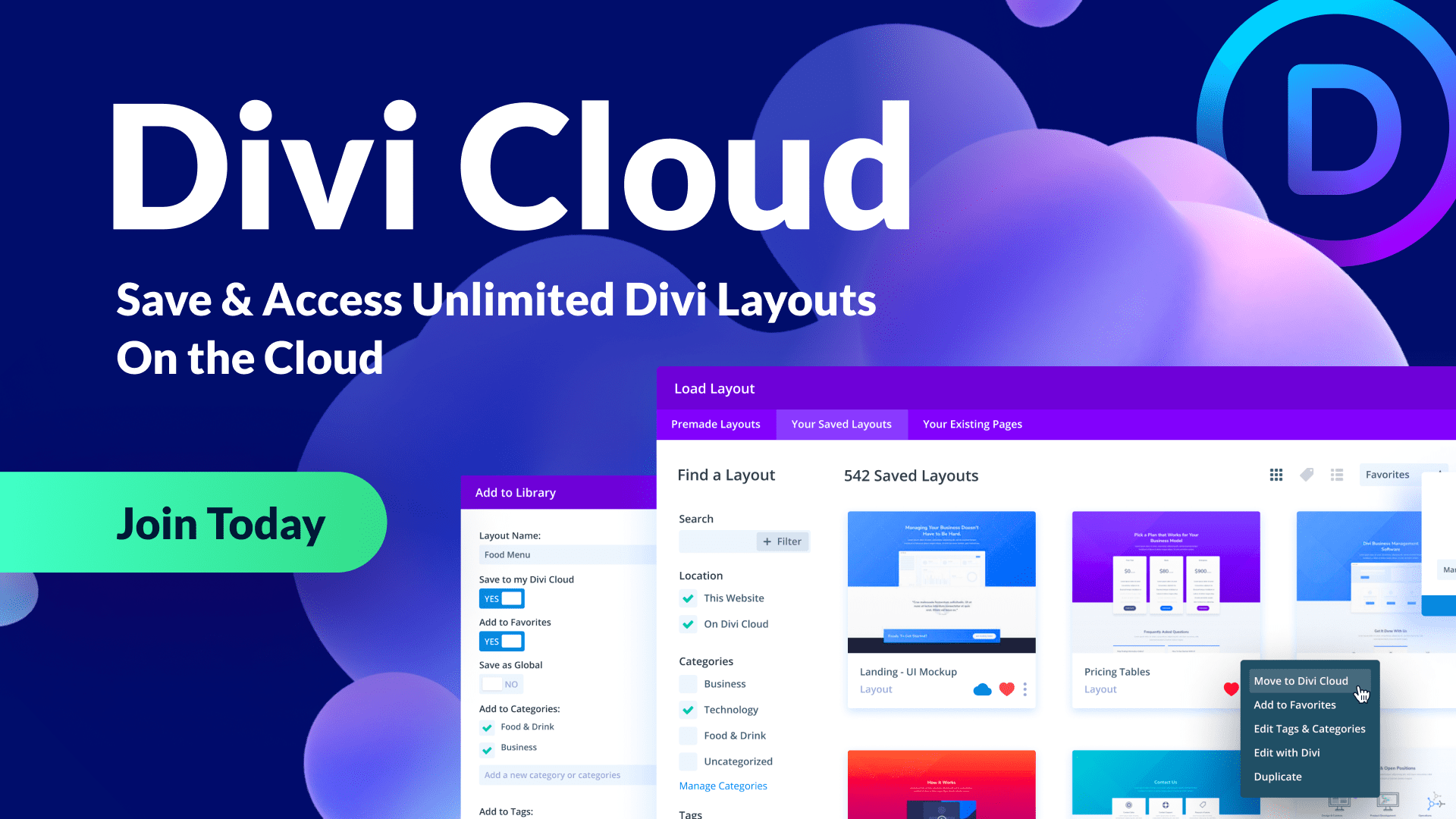 Manage Local And Cloud Libraries Inside The Visual Builder
Now you can manage your entire Divi Library from within the Visual Builder. No need to use the WordPress admin interface and no need to leave the Visual Builder at all! You can do absolutely everything using the new Divi Library popup.
Import & Export Layouts
Now you can import layouts to your Divi Library while you are inside the builder. Simply drag a Divi .JSON file into the popup, or click the portability icon. Divi will import those layouts to your local library, or if you choose, directly to your Divi Cloud. You can also export layouts from within the Divi Library popup. Simply right click on any layout and "Export."
Edit Layouts
If you want to edit a layout in your library, simple right click and choose "Edit Layout." Divi will open up the layout in a new instance of the Visual Builder. No need to use the WordPress admin to locate and edit the layout.
Preview Layouts
You can click the "Live Preview" button to see a live version of any layout in your library. Divi will also generate a screenshot for any layout that you save to Divi Cloud.
Rename, Recategorize, Retag
Every item in your Divi Library can be renamed, recategorized and retagged from within the Visual Builder. Everything is updated right away, so yo don't need to leave or refresh the builder either.
Manage Categories
Not only can you recategorize items, you can also create, rename and delete categories. You can manage both your local categories and your Divi Cloud categories without leaving the Visual Builder.
Manage Tags (Folders)
Just like categories, you can also manage your local and cloud categories from within the Visual Builder. Tags are also visualized as folders within the interface, giving you a new way to organize and browse your library.
Favorite Items
Clicking the heart icon will favorite an item. You can filter and order the list by favorites to quickly locate the layouts that you use most often.
Duplicate
Any item with your library can be instantly duplicated. No need for duplicate post plugins.
Delete & Restore
You can also delete layouts from within the Divi Library popup. Any item you delete will be moved to the trash. The Divi Library Trash is also browse-able from within the popup, and you can easily restore items from the trash if you deleted them by mistake.
Save To Cloud
Moving a layout from your local library to your Divi Cloud library is as easy as clicking the cloud icon. Once you click the cloud icon, that item will become available on every new website you build.
Import To Cloud
You can also import library collections directly to Divi Cloud by clicking the "Import To Divi Cloud" option during import. You can quickly upload hundreds of layouts to your Divi Cloud library at once.
Search, Filter & Sort
Finding layouts is fast and easy in the new Divi Library popup. Instantly search your entire library and sort/filter the list to narrow down the results. Searching layouts is fast even when you have thousands of items in your library!