This
article
was originally published on
this site
Whether for professional gaming, instructional webinar videos, or feeds from music concerts or award shows, live streaming offers an entertaining way for people to share their ideas, interact with peers, and show their skills and talents. If you're interested in getting into the live streaming game, it's important to begin the process with the best streaming software.
This way, you don't waste time with clunky software, or tools that don't work well for streaming in the first place. In addition, using suitable streaming software means that you'll spend less money, feel more comfortable launching your channel, and minimize any frustrations along the way.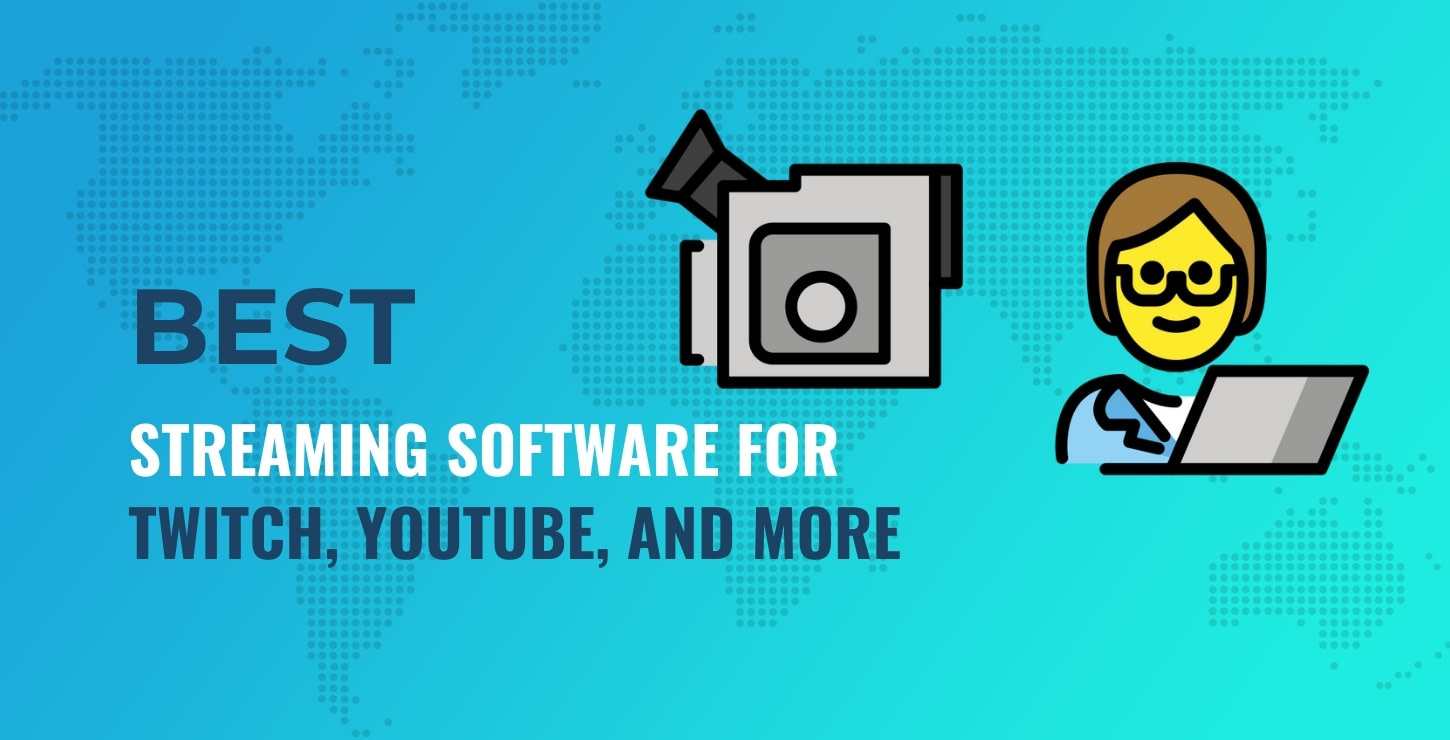 What to look for in the best streaming software for Twitch and YouTube
The best streaming software offers a collection of features not found in typical screen capture and recording software. Although each one is different, here are the essential features:
Real-time, high-performance audio and video capture tools with options to create scenes, add webcams, and include overlaying text or images.
Local or cloud backups to save your work for editing later.
Simple tools for including overlays, filters, and other designs to make your stream more professional or fun.
Direct streaming tools to connect to the most popular streaming services, like YouTube, Twitch, and Facebook.
Alerts to see when your viewers make comments, join the conversation, or send you a tip.
An audio mixer to implement sound adjustments, like gain and noise suppression.
Multiple capture sources, video modes, and property adjustments.
Hotkeys for completing actions like switching between scenes, pausing streams, and muting certain audio sources.
Previewing and quick editing tools to alter and view your live stream right before it gets published.
Take a look below for an in-depth analysis of each of the best streaming software options available.
Note: Keep in mind that fees for tips and donations through payment gateways, like PayPal and Stripe, aren't factored into the pricing sections.
1. OBS Studio


OBS is a household name in the streaming world due to it being an open-source project, a free download, and because it's fairly easy to understand.
We like it most because it allows you to enable a live stream without hogging computer resources. You simply link up a source or two, start talking, and add your own effects as the stream goes along. Not to mention, OBS includes support for making dozens of scenes at one time. After that, you connect or upload directly to Facebook, YouTube, or Twitch.
⚙️ Features:
Versions for Windows, Mac, and Linux.
Video recording and live streaming that's high-performance and easy on your computer.
Effects and overlays with options like capture cards, images, and text.
Scene creation by linking to multiple sources, such as webcams, browser windows, and more.
Support for an unlimited number of scenes.
An intuitive audio mixer for taking control of the sounds in your live stream.
Configuration options for color ranges, devices, resolution, and output modes.
An incredible Settings panel with sections to modify settings for audio, video, and streams.
Configurable hotkeys for you to add effects, switch scenes, and move around the interface with simple clicks.
A customizable user interface that allows you to move around the modules within the software.
A feature called Studio Mode for previewing and modifying your scenes prior to publishing them.
A multiview tool for seeing several scenes at once and cueing them up for the next segment.
💵 Pricing: As an open-source project, OBS is completely free to download and use.
It also doesn't have any paid plugins or upgrades.
2. Streamlabs OBS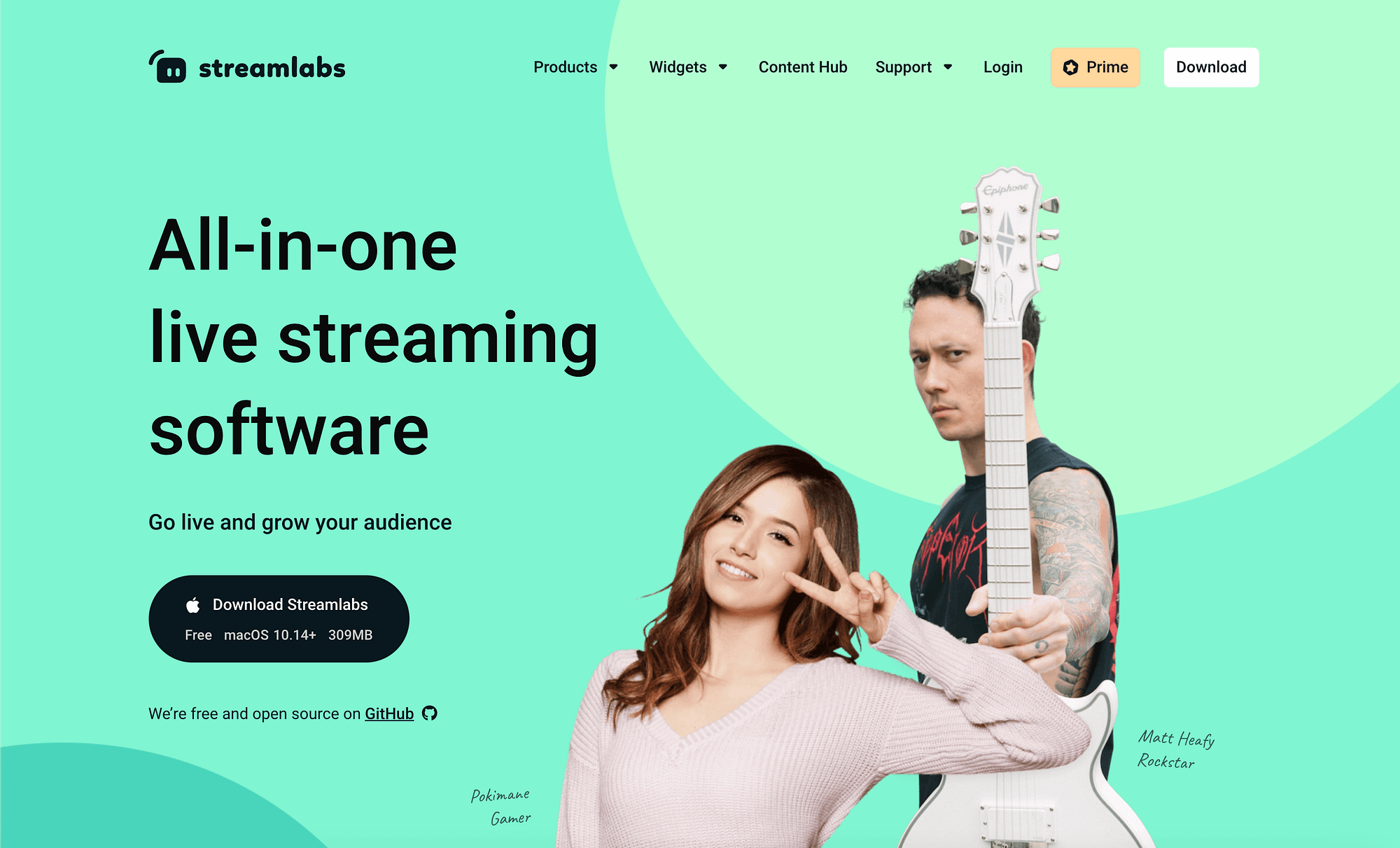 Streamlabs OBS has a similar name to OBS studio, but the OBS simply stands for Open Broadcaster Software and lacks any relation to the previous tool. Having said that, Streamlabs OBS also functions as a free and open-source solution with tools to stream to places like YouTube, Twitch, and Facebook within seconds.
Streamlabs OBS has a simpler, more intuitive interface when compared to OBS Studio, so we like it best for people just getting started with streaming, or at least those who are not as tech-savvy.
⚙️ Features:
Versions for Windows and Mac.
Live streaming support for Twitch, YouTube, and Facebook.
A supplementary remote control app called Streamlabs Deck.
A gaming overlay feature for displaying what's going on in a game while also having chats, recent events, and other elements on the screen.
Selective recording for you to choose the sources you want recorded at any time.
A layout editor to completely customize the way your streaming software looks.
Quick alerts that appear when someone tips you during your live stream.
A built-in text-to-speech setting.
The option to go live right away or record for later editing.
Instant replays or an option to save replays for later use.
Over 46 apps for enhancing your live streams with options for music players, implementing advanced overlays, and more.
💵 Pricing: Free.
3. vMix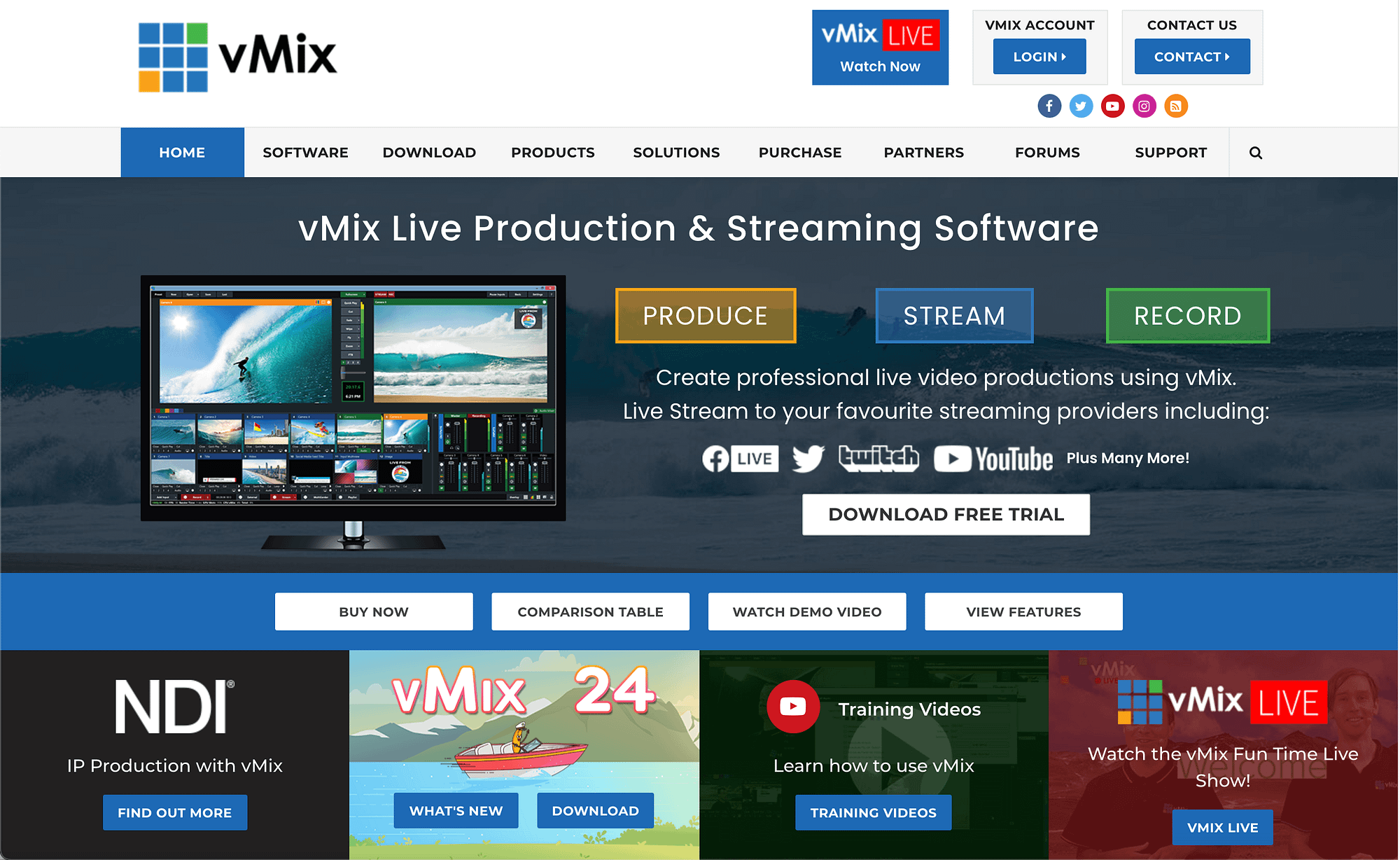 Although vMix is great for Facebook Live, Twitch, and YouTube, it also supports a much longer list of streaming platforms with its live production and streaming features. Production, recording, and streaming elements are all packed into the software with tools for live streaming in up to 4K resolution and support for sources like DVDs, images, and PowerPoint.
vMix will be suitable for those interested in a more professional-looking interface. It's a bit more confusing for beginners, but we know that experienced streamers enjoy when a wide spectrum of features gets crammed into the default interface. Essentially, vMix enables you to take advantage of what you'd expect to receive from professional production equipment. However, you gain access to it for a fraction of the price.
⚙️ Features:
Support for Windows.
Live streaming to services like Twitch, YouTube, Facebook Live, and Ustream.
Simultaneous streaming, output, and recording.
Multiple input sources such as DVDs, audio files, web browsers, and video cameras.
SRT (secure reliable transport) support for improved streams, even in case of a bad internet connection.
A touch screen interface for controlling the stream remotely from other devices.
Professional monitoring and color correction with options for changing gamma, gain, and saturation.
Up to four overlay channels with a combined multiview feature.
An input multiview for presenting multiple inputs on one screen.
Live video effects with settings to rotate, zoom, and crop.
A built-in audio mixer with options for muting, delaying, and compressing.
An option to add calls on your live stream with support for up to eight guests at one time.
Virtual sets for presenting a professional background.
Animated graphics with 3D acceleration support and multiple HD sources.
Transition effects such as vertical wipes, crosszooms, and fades.
💵 Pricing: There is no free plan, but you can sign up for a 60-day free trial.
Basic HD: $60 for lifetime use, basic HD resolution, free updates for 12 months, 4 total inputs, and 1 overlay channel.
HD: $350 for lifetime use, HD resolution, 1,000 inputs, 4 overlay channels, 12 months of updates, and added features, like a video list and SRT outputs.
4K: $700 for lifetime use, 4K resolution, 12 months of updates, 1,000 inputs, 4 overlay channels, and added features like two external outputs, scripting, and PTZ control.
Pro: $1,200 for lifetime use, 12 months of updates, the same 4K resolution, inputs, and channels from the previous plan, and added features, like more SRT outputs, more cameras for replays, and more callers.
Max Plan: A subscription of $50 per month that gets you everything from the Pro plan as long you keep your subscription active.
4. Wirecast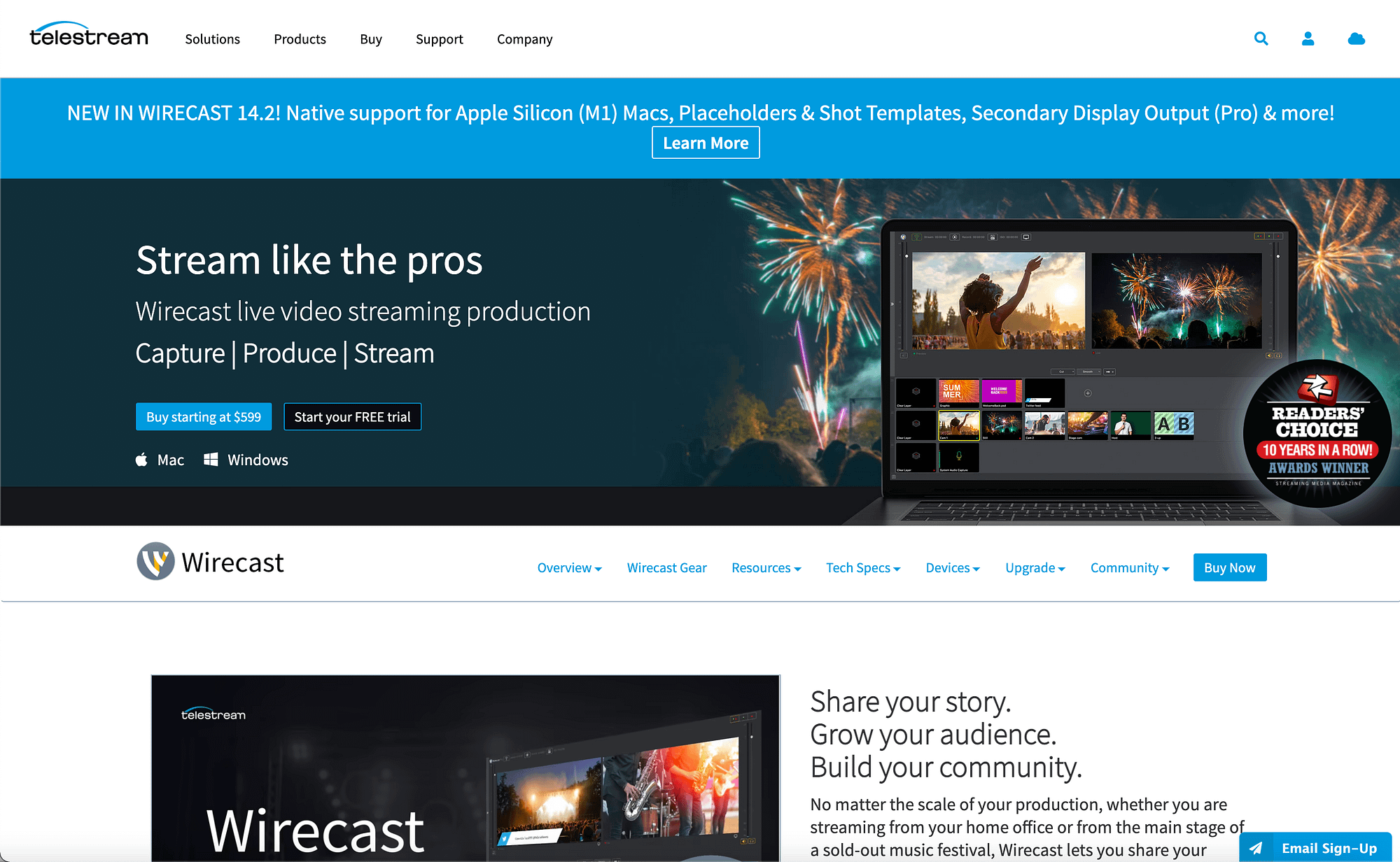 Wirecast helps you capture, stream, and produce within a reasonable amount of time, like a pro, and with a reasonable price tag. It's been used by professionals for worship services, live event production, education, and live sports, with a long list of popular streamers calling Wirecast their go-to software.
As one of the more high-powered streaming solutions, Wirecast is something to consider if you'd like to improve your overall production and push your stream to other platforms, like Vimeo Live, Microsoft Azure, or one of the dozens of Wirecast partners.
⚙️ Features:
Support for a wide range of popular and unique streaming services, like Facebook Live, Periscope, Vimeo Live, YouTube, Churchstreaming.tv, and Wowza Media Systems.
Expanded output options for virtual cameras, NDI, and secondary displays.
ISO recording to achieve a clean, untouched file.
A 17-grid multi-viewer design to look at all sources.
Rapid streaming and recording with offline editing, archiving, and recording.
Hundreds of graphics and tiles.
A social media integration with tools for running polls and seeing comments.
A feature for sportscasters to show scoreboards, clocks, and replays.
A stock media library with over 500k music clips, videos, and photos.
Support for unlimited sources such as microphones, cameras, and IP cams.
Professional audio mixing.
💵 Pricing: Wirecast offers a downloadable free trial and two premium one-time payment plans:
Wirecast Studio: $599 for unlimited inputs, five main mixing layers, custom transitions, an audio mixer, unlimited destination outputs, free support for a year, social media integration, integrated text and tiles, and two remote guests.
Wirecast Pro: $799 for everything in the previous plan, along with seven remote guests for conferencing, pro audio FX, PTZ camera control, sports production tools, virtual sets, and multiviewer output.
5. XSplit Broadcaster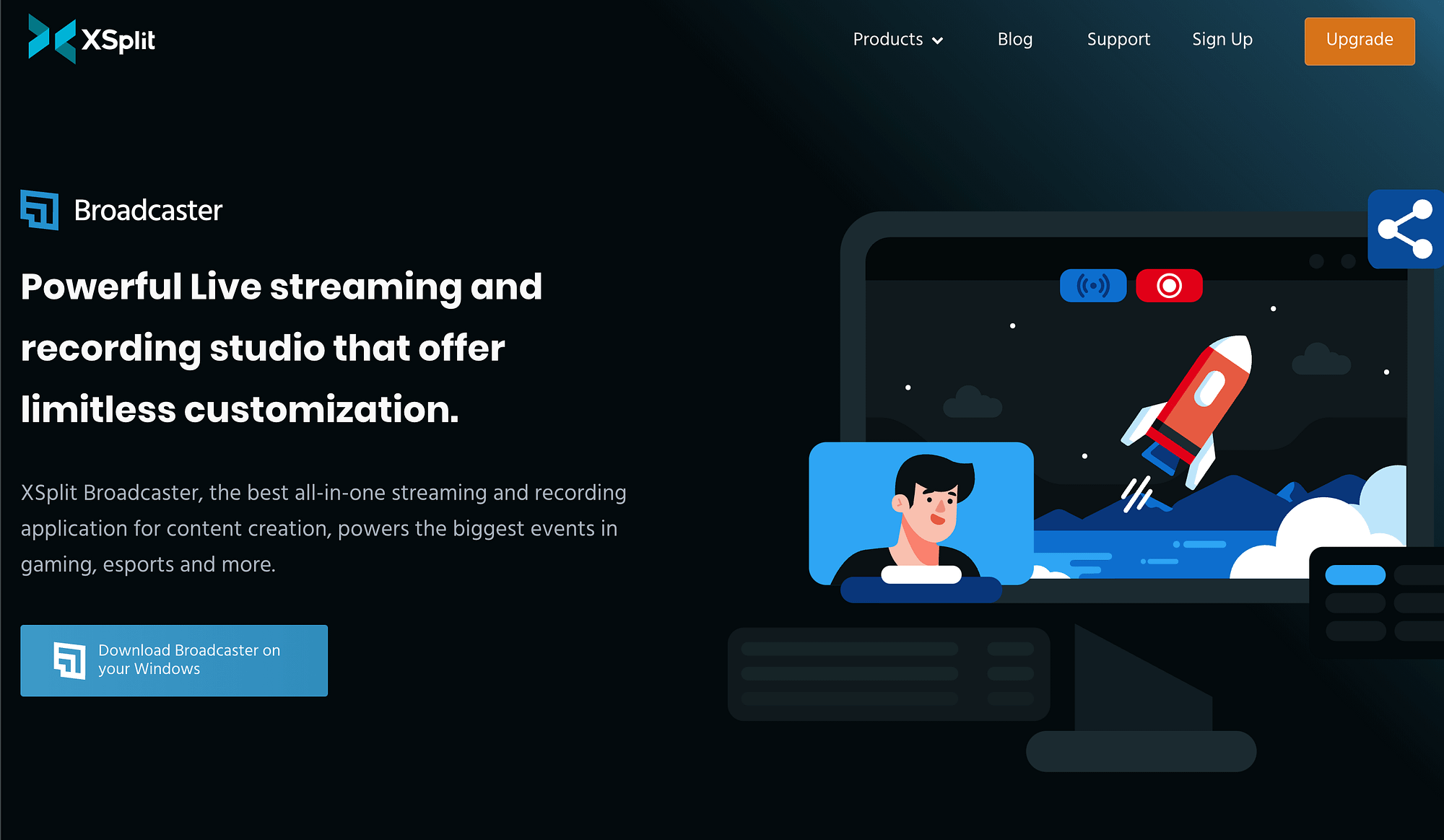 The XSplit Broadcaster software offers advantages in streaming customization, especially when it comes to gaming and e-sports. The Broadcaster is the primary tool from the XSplit suite, but you can also download solutions for presenting, running virtual cams, connecting your webcam, and capturing a screen.
In general, the XSplit Broadcaster interface looks like a safe choice for beginners, but advanced users can expand upon it with high-powered API customizations.
⚙️ Features:
Support for Windows.
A large plugin store with downloads for things like whiteboards, replay sources, and gamepad visualizers.
Top-notch recording features with support for multiple tracks, post-production, and streaming multiple scenes at once.
Streaming to platforms like Twitch, YouTube, and Facebook Live.
Options to save scene presets.
A noise suppression setting that minimizes unwanted background noise.
A media slideshow for looping videos and images.
A source masking feature for modifying the shape of any input.
A split mode for switching scenes or previewing.
An adjustment panel to change the audio levels for individual scenes.
Custom transitions.
A projector output feature for putting scenes on another display.
💵 Pricing: XSplit Broadcaster offers a free version with limited features. It's basically a free trial. The real plans are as follows:
Broadcaster Premium One Month: $15 per month for all features.
Broadcaster Premium Three Months: $30 every three months.
Broadcaster Premium 12 Months: $60 per year.
Broadcaster Premium Lifetime: A $200 one-time payment.
Which is the best streaming software for you?
Still having trouble deciding on the best streaming software? View our final recommendations to complete your search:
If you have any questions about the best streaming software for Twitch, Facebook Live, and YouTube, let us know in the comments below.
…
Don't forget to join our crash course on speeding up your WordPress site. With some simple fixes, you can reduce your loading time by even 50-80%:
Layout and presentation by Chris Fitzgerald and Karol K.