This
article
was originally published on
this site
Daily commute to the office may soon be a thing of the past. Thanks to some of the best remote desktop software, office-goers are no longer bound to their desks. This type of software allows you to access and manage remote computers, mobile devices, and servers from home or just about anywhere. It's great for the WFH lifestyle, large organizations, or even businesses that offer technical support / troubleshooting to a large number of users. Without a doubt, it increases the overall productivity of the individual as well as the organization.
The best remote support software offers both on-demand remote support and unattended access. Besides, it should have customization options to tweak the software based on your requirements. Data security is another aspect of remote access software that you should seriously look into. Safeguards can include end-to-end encryption, inactive session timeout, user-based access and multi-factor authentication.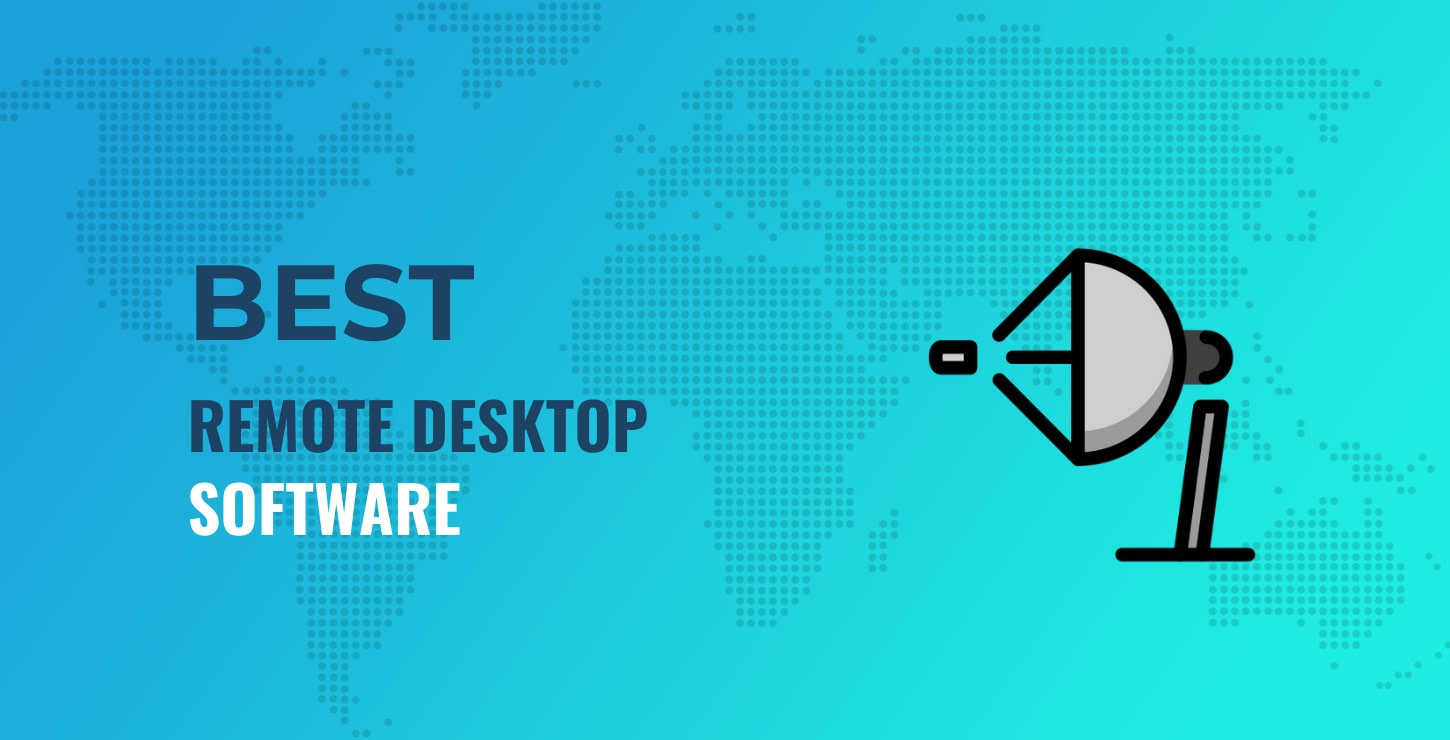 Features to look for in the best remote desktop software
While choosing remote desktop software, you should check out these features:
The possibility to access any computer from anywhere, and from any device or web browser.
Capability of managing files, transferring data, and printing docs.
Screen sharing and collaboration in real time.
Support for multiple platforms and operating systems (Androids, iOS, Windows, macOS, Linux) and web browsers.
Access to a couple of machines concurrently.
Secure encrypted file transfers for sending files, patches, and updates.
Security aspects, like unique keys for each computer, locking remote screen, and more.
Support for use over cellular data or Wi-Fi for remote access.
Voice and video chat, plus video conferencing.
Best remote desktop software in 2021
💸 Pricing:
Free trial for seven days. Annual Plans start at $29.62 (Consumer) and scale to $52.12 (SOHO), $187.12 (Team) and $374.62 (Enterprise). Rates are applicable for the first year, and the number of computers that you can access increases with the higher plans.
🧰 Key features:
Unlimited platform-independent remote access
Always-on, unlimited concurrent access
File transfer and remote printing
Remote reboot
Video conferencing solution
View multiple monitors of a remote computer on a single screen
Set roles and access permissions for users
Computer grouping
Track your activity with remote access and web activity logs
Remote access from Android, iOS, Chromebooks and Kindle
💸 Pricing:
Free, you'll need a Microsoft account though.
🧰 Key features:
Connects to remote PC, desktops and virtual apps
Configure your PC for remote access and download the assistant
Works with PCs running Windows Professional, Enterprise or Windows server
Connects remotely through a remote desktop gateway
Rich multi-touch experience that supports Windows gestures
Secure connection to your data and apps
High quality video and audio streaming
Simple management of your connections from the connection center
Sign in to your Microsoft account to access this app
Install on up to ten Windows 10 devices
💸 Pricing:
Free.
🧰 Key features:
Connect easily with your computer, at home or anywhere
Share screen with team members
Secure access from any device
Collaborate in real time
Give or receive support remotely
Uses latest web technologies like WebRTC
Works with both Android and iOS devices
Connect to another computer using a one-time access code, to be confirmed every 30 minutes
To end a sharing session, simply click Stop sharing
Download the app to your mobile device for access from any other device
💸 Pricing:
Free for personal use. 15-day free trial for commercial use. Single user Business license at $1499/mo, Multi-user Premium license at $3099/mo and Corporate license for Teams at $6599/mo, all billed annually.
🧰 Key features:
High-speed connection and end-to-end encryption
Connect to your desktop – in unattended or sleep mode too
Compatible with Androids, iOS, Chrome and Linux
Pre-built integrations with popular IT and business apps
Supports up to ten meeting participants
Mass deployment to hundreds of devices in the higher package
Multiple sessions at a time
Assign and manage up to 500 devices using centralized setting policies
File sharing and remote printing
Add-ons for enhanced functionality
💸 Pricing:
15-day free trial. The Standard, Professional and Enterprise packages cost $12/mo, $18/mo and $28/mo respectively for up to five technicians. The price comes down with the increase in the number of technicians. Unattended access is an add-on that starts at $12/mo for 25 computers.
🧰 Key features:
Cloud-based remote support and remote access software
Browser-based console to perform a whole range of actions remotely
Ad-hoc or on-demand remote sessions with no prior installation
Invitees can also join remote session via email invite
Unattended remote sessions both inside and outside LAN
Mass deployment options available
Secure, encrypted file transfer to send updates and patches
Voice or video chat for faster resolution
Reboot and reconnect remotely
Ideal for providing support to a wide customer base
💸 Pricing:
Besides the customized Enterprise Plan that allows on-premise installation, there's the Essentials Plan ($9.90/mo) and Performance Plan ($19.90/mo/user). They give you unattended access to one managed device and up to 3,000 managed devices respectively.
🧰 Key features:
Secure and reliable remote desktop connections
Low latency and high frame rates even at low bandwidth
High level of security through encryption, password protection and two-factor authentication
Runs on all common operating systems and devices
In the cloud or on premises
Transfer files and print remotely
Create a whitelist to allow only authorized addresses to connect
Collaborate with your team
Set up unattended access
Automatically roll out on multiple computers and configure as required
💸 Pricing:
Personal Plans are available at $19.99 for one year and $34.99 for two years. They allow you to operate one user account and connect up to five computers and unlimited mobile devices. Business Plans cost $49.99 for one year and $89.99 for two years. They allow unlimited users.
🧰 Key features:
Allows you to run your desktop apps on mobile devices
Lock'n'Go Magnifying Glass feature for easy selection
AppLauncher to launch any desktop apps on mobiles
Optimize screen resolution as desired
Combine with iPad multitasking for increased productivity
Access files on remote PCs, cloud or locally within file manager
Share files with co-workers directly from computer or mobile
Access your remote PC from any web browser
Use microphone input from mobile device with remote desktop apps
Account Administrator can create and manage users
💸 Pricing:
Pricing is linked to the number of unattended access agents. For instance, it's $38/mo for 25 agents and $67/mo for 50 agents.
🧰 Key features:
Unattended access to remote PC
Helps monitor and support machines anywhere without disruption
Secure access with encryption and two-factor authentication
Easy-to-read simple and clear reports
Instant connectivity and scalable security
120+ integrations and extensions
Share tools among hosts during remote sessions
Manage user permissions by grouping users into roles
Run multiple pre-configured reports for actionable insights into remote sessions
💸 Pricing:
For individuals and small teams to access two computers, Solo at $60/year. For a multi-member team accessing multiple computers, Access Pro at $99/year. For large teams, Volume licenses at $6.19/mo/user. Different rates are applicable for Managed service providers and Help Desks.
🧰 Key features:
Unattended access to any remote machine including virtual machines and virtual desktop infrastructure
Drag and drop files between computers
Select files on remote PC and print on local printer instantly
View multiple remote screens from multiple systems
Invite users, set roles and access permissions
Chat with remote PC user inside or outside remote session
Share desktop in view-only mode via a web link
Reboot remote PC from your device – including Safe Mode reboot
Record remote sessions
Two team members can access the same remote PC
💸 Pricing:
Individuals pay $30/mo for access to two computers, Power Users are charged at $70/mo for access to five computers and Small Businesses pay $129/mo for access to ten computers. Billing is on an annual basis.
🧰 Key features:
Unlimited users and user grouping
File sharing
Remote printing
1TB file storage
View multiple remote monitors on your local screen
Complimentary access to LastPass to store all accounts
LogMeIn anti-virus powered by Bitdefender
Data transfer encryption, dual passwords and end-to-end authentication
Screen blanking and keyboard locking
Recording and session reporting