This
article
was originally published on
this site
Why do you need any PayPal alternatives? No one can deny the prowess of PayPal as a groundbreaking peer-to-peer and commerce-oriented payment processor. PayPal still functions as one of the most popular ways to send money to family and friends, and it also provides secure ways to collect money from customers. However, many people find PayPal clunky, unintuitive, and expensive, especially for international payments and sending money to friends and family.
That's why we compiled a list of the best PayPal alternatives for unique situations like ecommerce, international payments, and sending quick payments to friends.
TL;DR: PayPal has many functions, but it becomes complex and unintuitive with such a dense collection of tools. Therefore, we found the best alternatives for each of those tasks:
Stripe – An excellent PayPal alternative for collecting payments through an ecommerce store.
Apple Pay – A superior option, when compared to PayPal, for cashless, in-person, and online shopping.
Venmo – The best way to send and receive personal transactions with family members and friends.
Wise – A far cheaper way to make international transactions when compared to PayPal.
Square – The go-to PayPal alternative for accepting in-person payments from customers.
🏆 Best overall PayPal alternative for ecommerce
As a payment processor, PayPal offers services and tools for merchants to accept payments from customers with multiple payment methods. PayPal has an advantage in that it accepts credit cards, checking account payments, and the use of PayPal balances. However, PayPal has its critics who say the merchant tools aren't as clean and modern as what you get from a solution like Stripe, especially when you need to work with an embedded shopping cart or the PayPal API.
That's why Stripe looks strong compared to PayPal as an ecommerce payment gateway/processor, seeing as how it's a fully integrated suite of payment products that combine well with ecommerce platforms. Not to mention, the checkout interface is quick, modern, and beautiful, making it one of the best PayPal alternatives on the market.
⚙️ Features:
Combined tools for subscriptions, marketplaces, and regular payment processing, whereas you must sign up for multiple products to get all this from PayPal.
Send and accept client invoices through a sleeker interface than PayPal's.
Stripe has a fraud-fighting system to identify legitimate and fraudulent customers, while also offering machine learning and authentication. PayPal has fraud protection and dispute resolution but it's been known to take a long time to resolve problems.
Accept close to the same number of currencies as you would with PayPal.
Process more payment methods through Stripe while still having the option to include a PayPal button just in case someone wants it.
Stripe has a wonderful mobile app with reports, invoicing, and payment collecting tools.
Offer an option for customers to Buy Now and Pay Later, much like you can do on PayPal.
The 24/7 customer support through email, chat, and phone beats out the troubles we've found with PayPal support.
💵 Pricing:
Although this doesn't include any additional credit card rates, Stripe has a simple fee structure of 2.9% + 30¢ per transaction, making it almost identical to PayPal.
ACH direct debit – 0.8% with $5 cap. Much cheaper than PayPal's standard fee.
Billing for recurring invoices and subscriptions – 0.5% per transaction. Much cheaper than PayPal.
Regular invoicing – 0.4% per invoice. Cheaper than PayPal.
International payments – An additional 1% per transaction. Again, lower than PayPal.
In-person card processing – 2.7% + 5¢. PayPal fees depend on the location, but the standard is 2.7% + 30¢ in the US.
👉 Note: PayPal fees are all over the place, making it tricky to figure out how much each transaction costs based on location, transaction type, and payment method. Stripe, on the other hand, has a simple fee structure that most can understand. That's definitely a big plus for Stripe as one of the best PayPal alternatives.
💳 Best alternative for online and in-person cashless shopping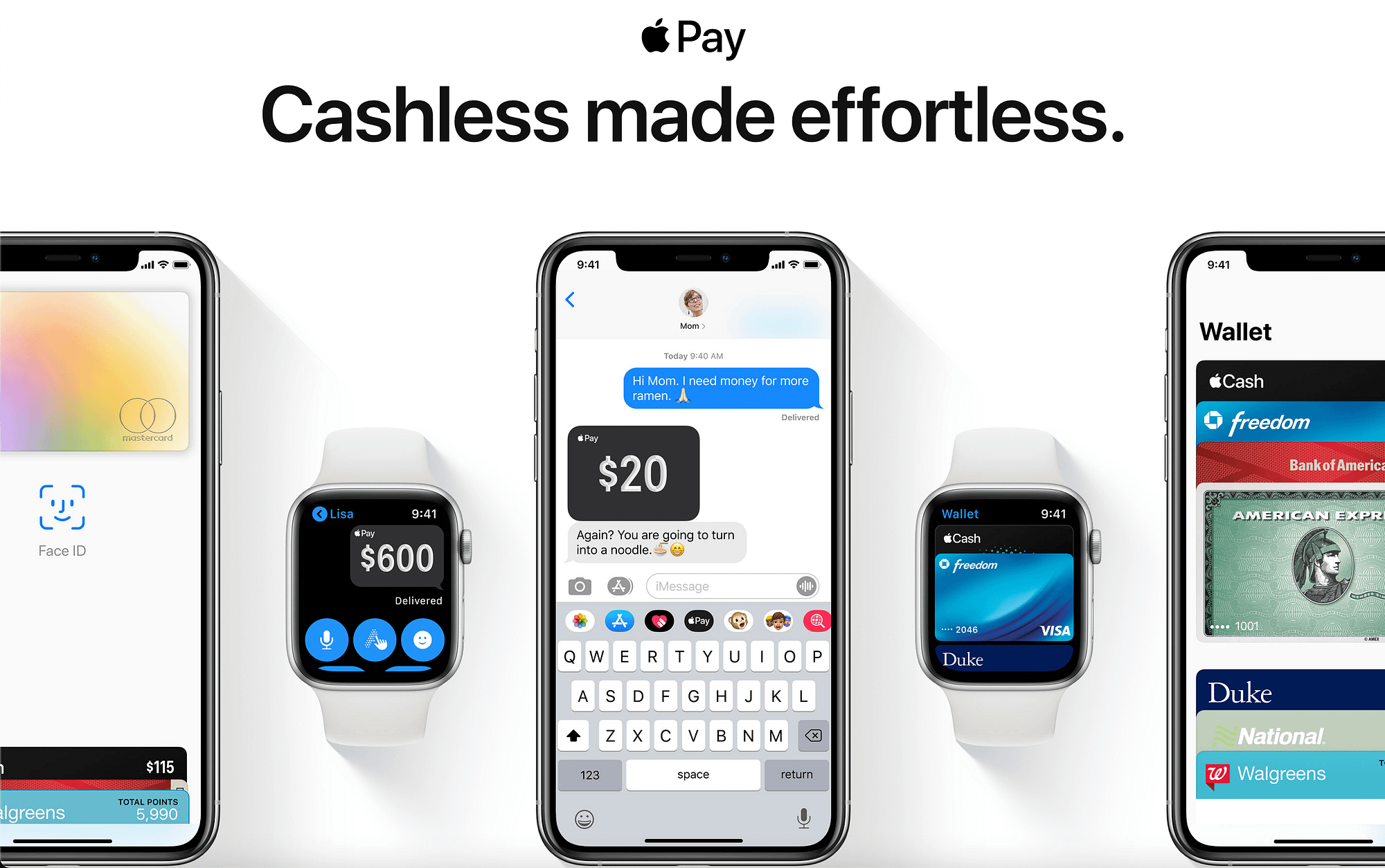 PayPal isn't exactly known for its cashless in-person wallet, but it's certainly a viable option when shopping online. PayPal lets you link your checking accounts to its system and process payments anywhere PayPal is accepted. That works out well online, but in-person transactions get a little tricky. First of all, many people simply opt to link their PayPal account to Apple or Google Pay. That adds another step into the process that's not necessary.
It seems to make the most sense to either link your debit cards, checking accounts, and other payment methods directly to Apple or Google Pay, whichever one is offered on your phone. Apple Pay, for instance, lets you purchase items online and scan your phone at point-of-sale systems without taking out your wallet. It's all contactless and removes the need to have PayPal on your phone at all.
⚙️ Features:
Apple Pay supports nearly every major US bank, debit card, and credit card.
It only takes a few moments to link your payment accounts to Apple Pay. You then find the cards in your Apple Wallet app.
No personal transaction data gets stored unless you're using Apple Cash, which is only for fraud prevention.
No card numbers get stored on your device or shared with merchants, securing all your financial information.
Apple Pay works on your phone, tablet, and wearable tech, like the Apple Watch. PayPal lacks much of this support.
You can also send money to friends and family in the app or through a text.
The online shopping system has a touch ID and facial-recognition security measure that isn't available on PayPal.
Apple Pay offers a digital credit card that gives 2% cashback.
💵 Pricing:
Both Apple Pay and PayPal allow for online and in-person payments without any extra fees to the consumer.
The standard transfer into your bank account is free for PayPal and Apple (it takes 1-3 business days for both). An instant transfer costs you a 1% fee ($10 maximum) when using either PayPal or Apple Pay.
In short, the fees for Apple Pay and PayPal are about the same, yet the contactless payments, smooth interface, and improved security make Apple Pay the standout for in-person and online shopping.
💸 Best PayPal alternative for sending money to friends and family (personal, non-business payments)
Venmo and PayPal both work rather well for sending personal payments, like when you owe a friend for a meal or need to send money to your child at college. And as you'll see in the pricing section, each has close to the same pricing (no fees to send or receive, unless using a credit card, taking advantage of the immediate withdrawal feature, or sending internationally).
So what makes Venmo a stronger choice for sending and receiving money for personal reasons? Why is it one of our favorite best PayPal alternatives?
First of all, Venmo's mobile-oriented social payment app offers a rapid solution to pay people by searching for their name or scanning a QR code, all while pulling funds directly from your checking account. You can also split payments, send quick gifts, and pay businesses if you want to.
And although this may not matter to some, Venmo provides an improved social user experience where you can add messages with emojis and animated stickers. The feature is simple, but it makes Venmo one of the best PayPal alternatives.
⚙️ Features:
Venmo offers a cleaner app-only interface where payments happen quickly due to its ease of use, rapid username finder, and its focus on one primary task: sending and receiving personal payments.
You can share your past payments in a social feed or turn off this feature by activating its privacy tools.
Scan a friend's unique QR code to bring up their profile and make a payment.
Create detailed, creative messages with stickers and emojis.
Store money in your Venmo balance for later or opt to send it to your checking account.
Venmo has features to split recurring bills or things like meals and vacations.
You can also pay businesses, purchase cryptocurrency, and use the Venmo debit or credit card to your advantage.
💵 Pricing:
Venmo charges nothing to transfer money from your Venmo account to a bank account in 1-3 days. An instant transfer, however, has a price tag of 1% per transfer, with a $10 maximum.
PayPal is the same way, charging nothing for a 1-3 day transfer into your bank account, along with a 1% fee (up to $10) for an instant transfer.
Venmo and PayPal also don't cost anything extra to send or receive payments from friends or family, as long as you're using a linked bank account or Venmo/PayPal balance.
Sending money via a credit card costs 3% through Venmo and 2.9% + 30¢ through PayPal. So, they're relatively similar.
Other fees apply in rare cases (like buying cryptocurrency on Venmo) but the overall premise is that you don't pay anything to send to friends or family, as long as you're not using a credit card.
🛫 Best PayPal alternative for international payments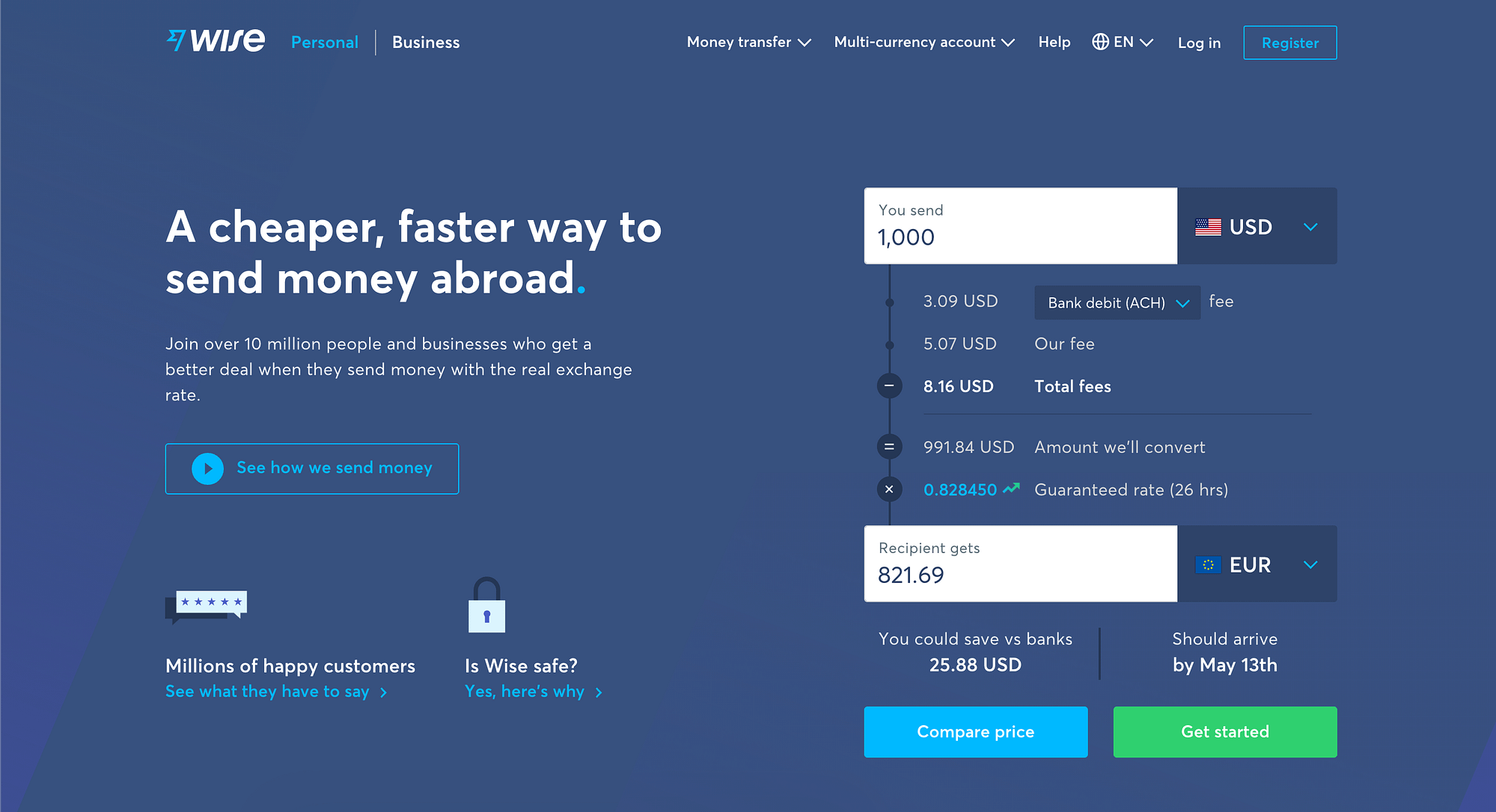 Wise (formerly TransferWise) offers one of the strongest advantages over PayPal when comparing PayPal to other payment options. In short, PayPal charges extraordinarily high fees when sending or receiving cross-border, multi-currency transactions.
It all depends on the country, but the fee for an international personal transfer through PayPal starts at 5%. It can go up to around 10% when completing business transactions or invoice payments. That's quite a rip-off.
The reason Wise came into existence was due to this particular problem. PayPal was once the gold standard for moving money from one country to another, often making it far faster and cheaper than a traditional wire or Western Union transfer.
Wise shows you the fees before you make the transaction. It has a wonderful calculator to compare with the likes of PayPal, and you don't have to worry about hidden fees or terrible exchange rates (which are usually how other transfer companies make big money, since it's so hard to calculate as a consumer. They essentially take a steep fee since no one knows what's going on). Overall, Wise is without a doubt one of the best PayPal alternatives, especially if you like saving money on international payments.
⚙️ Features:
Low exchange rates and no hidden fees for making international transfers.
There's a calculator to see how much you'll spend on fees when converting between all sorts of currencies.
Wise offers a guaranteed, upfront rate, as opposed to how PayPal doesn't tell you the true fee until after the transaction.
There's a comparison tool to figure out how Wise stacks up against companies like PayPal and Western Union for every single transfer.
Wise has a currency account to accept any type of currency and spend that money while you travel.
You receive a beautiful mobile app that links to Apple Pay and offers sleek reports.
You can make a Wise Business account to send out invoices, accept payments without a bank, and send batch payments to workers.
💵 Pricing:
It's necessary to use the Wise fee calculator for every situation, but here's an example:
Sending and converting $1,000 into EUR has a current fee (as of this article) of $8.16, which is around 0.8%, remarkably low when compared to PayPal.
And this is true regardless of currency, even though it varies a bit. Another example involves converting $1,000 to Japanese Yen. The current fee is $12.11, or 1.2%.
On the other hand, the minimum fee for international money transfers in PayPal is 5%, but business transactions often go up to 8-10%. It all depends on the country and currency. And that often doesn't include the extra fees if you use a credit card.
💰 Best option for collecting in-person payments
Square refined the point-of-sale world when it introduced its sleek "square" phone insert and app for merchants to collect payments from anyone, anywhere. PayPal followed along with the trend, but Square has consistently provided a simpler app and more features, like options to manage and pay teams, run full point-of-sale systems on iPads, and sell online through social media and an online store.
PayPal technically has most of the features offered by Square, but it's a cluster of tools you need to sign up for separately, some of which require extra fees or don't work through the basic PayPal app.
Overall, Square is one of the top PayPal alternatives for merchants that sell in-person, especially retail stores, service-based workers, and those who travel to trade and craft shows.
⚙️ Features:
Point of sale options include contactless payments, iPad point of sales, phone swipers, terminals, and registers.
Send out invoices and use a virtual terminal for collecting payments from customers.
Use the Square app to track payments, view reports, and check on inventory.
Link Square to your online store for seamless ecommerce sales.
Use Square for more advanced processing, like for appointments, recurring transactions, and selling through social media.
Manage your entire business with the Square debit card, invoices, and a virtual terminal.
Send immediate bank transfers to your workers or friends.
Use advanced marketing tools, like direct messages, loyalty programs, and gift cards.
You can even build websites with Square.
💵 Pricing:
Compared to PayPal, Square's fees are transparent and easy to figure out. The fees are all consolidated on one page and they actually tell you what's being charged prior to the payment going through. PayPal's website is a mess with different pages for fees, and even online transfers don't show the fees upfront.
Having said that, Square has the following fee structure:
2.6% + 10¢ per transaction for in-person, card-present payments. PayPal's in-person fee is usually 2.7% + 30¢, but it changes by region.
2.9% + 30¢ per transaction for online transactions. This is usually the same as PayPal, but PayPal has extra fees for certain circumstances.
1% per transaction for ACH bank transfers. Unless sending personal payments, PayPal goes up to 2.9% + 30¢ for ACH transfers.
3.5% + 15¢ when you use a card on file or manually type in the card number.
A summary of the best PayPal alternatives
PayPal still maintains its position as a wonderful solution for sending and receiving payments, particularly if you're invoicing for services rendered. However, several companies have taken the individual features offered by PayPal and significantly improved upon them.
Here's a roundup of our recommendations in case you still have questions about which PayPal alternatives work the best in certain situations.
Share your thoughts in the comments section below if you have any questions about these best PayPal alternatives. Also, let us know if you like any other options for paying, getting paid, and/or sending money.
…
Don't forget to join our crash course on speeding up your WordPress site. With some simple fixes, you can reduce your loading time by even 50-80%:
Layout and presentation by Chris Fitzgerald and Karol K.