This
article
was originally published on
this site
Are you looking for cheap web hosting in Australia?
Sure. Who hasn't looked at those cheap web hosting deals everywhere else and sighed? All of us, right? When it comes to the internet in Australia, we're all in the same incredibly expensive boat.
While there are legitimate reasons for the high cost of everything "internet" in Australia, it doesn't mean cheap web hosting is always going to be out of reach. In fact, you can get web hosting in Australia for around $10 AUD a month.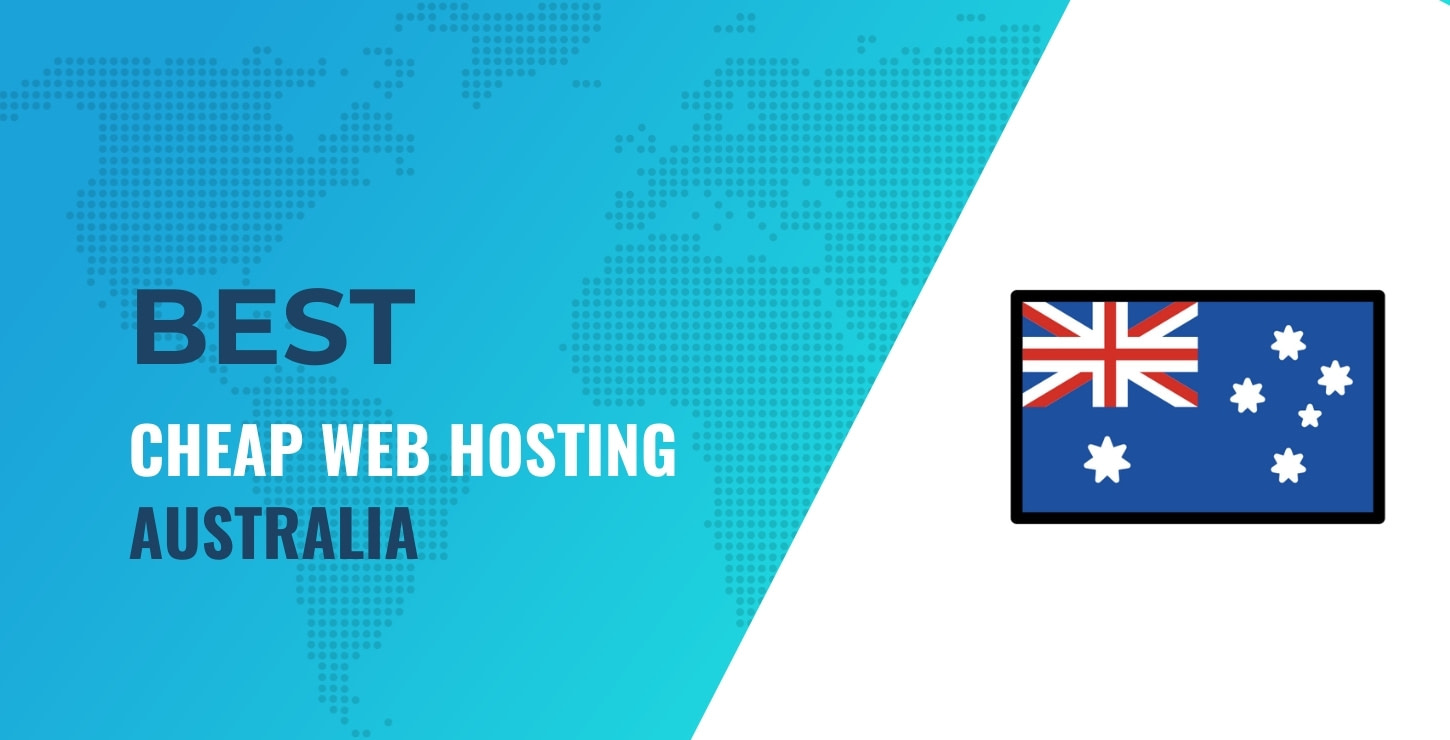 You won't even need to take too much of a risk with random hosts you've never heard of. Depending on your needs, you'll find a host to match in the following list:
Best Cheap Web Hosting Australia
VentraIP
HostPapa
Hostinger
Panthur
Bluehost
Starting monthly price
$5 AUD (renews at $10) GST incl.
$4.35 AUD (renews at $10.99 AUD) GST incl.
$1.39 USD (renews at $2.99 USD)
$4.80 AUD incl. GST
$5.38 AUD (renews at $12.24 AUD)
Closest server location
Australia
Australia
Singapore
Australia
Hong Kong
Storage
2 GB
100 GB
30 GB
2 GB
50 GB
Free domain
❌
✅
❌
❌
✅
Free SSL
✅
✅
✅
✅
✅
In this article, we're going to share some advice on what to look for in Australian web hosting and what you can expect to get for your monthly $10 AUD payment. With the basics settled, we'll look at each of our showcased hosts in turn and compare their features, benefits, and how much of their operation is based in Australia.
Let's get started.
What should you look for in cheap web hosting in Australia?
When it comes to finding cheap web hosting in Australia, you'll need to keep a few things in mind along the way:
You will be using shared hosting. For $10 AUD a month, it will be impossible to get managed hosting. If you don't want shared hosting, you'll need to look into VPS or cloud options.
You'll need to be careful with your storage. Cheap data is not one of the perks that comes with living in the best country in the world. With any Australian-based host, you either run into bandwidth metering, low storage options, or both.
Don't rule out an overseas host. If you're just serving images/files via WordPress, then an optimized site on a Singaporean or even a US server will load within 200 ms. You can also add Cloudflare's CDN to help deliver your content.
Base your decision on your audience's location. If most of your audience is in Australia, then a host with Australian data centers is probably still your best option. For most other countries, Singapore will work just fine.
You'll need to read the fine print. Cheap deals will usually hit you in the renewals. Before you commit to hosting, confirm the length of the initial deal and what the renewal price will be after the first period ends. Avoid the deals that offer cheap prices if you have to pay for 10 years upfront.
Read reviews if Australian-owned and operated is important. I've included two of my preferred Australian options, but there are plenty of backyard boys who offer cheap hosting. But, generally, they cut corners somewhere, usually you can't expect any support. If you can't find a review of a company, run away. Fast.
Who has the best cheap web hosting in Australia?
Now that we've talked about the unique demands of the Australian hosting market, it's time to look at the best options for cheap web hosting. While, we're comfortable recommending any of the hosts on the list, the best one for you will depend on the nature of your project and your goals going forward.
If you consider 100% Australian-owned and operated essential, then most people will suggest you start with VentraIP. I'm one of those people.
Admittedly, the price is right at the edge of what we consider the cheapest web hosting in Australia. But, I think you'll find they offer more than $10 AUD in value. Not for nothing, but they are the lowest-priced option from Australia's web hosting elite.
Obviously, you can expect things like 99.9% uptime and decent speeds, but you'll also enjoy a tempting package of goodies that are essential to launching and sustaining any web project.
⚙️ Features:
5 GB SSD cloud storage
Unmetered bandwidth
Free SSL
Free migration service
Unlimited databases
Free hourly backups
Free domain privacy
Server location: Sydney
Local support team available 24/7 by ticket and phone
They regularly run free .au domain giveaways, so if you're a new customer, ask them about it
When you bring all these features together, you have an appealing web hosting option for beginners. But that's not the only reason to start with VentraIP. You're also going to have a web host that offers the infrastructure you'll need as your site grows. When you're ready, VentraIP can switch you to WordPress hosting, VPS hosting, or a custom package built to order with the specs you need to help you scale.
VentraIP has invested in its security infrastructure to provide safety through DDoS protection as well as a Fortinet hardware firewall that checks all traffic before it hits your website.
Not only are their servers secure, but VentraIP has a solid reputation for never overselling its nodes. If anything, you'll find VentraIP refusing business rather than using oversold servers.
💳 Pricing:
The Starter plans cost $5/mo AUD for, at most, the first two years. After the initial period, the price doubles to $10/mo. Their refund policy lasts 45 days, but they'll also refund credits to your account if you cancel any prepaid service.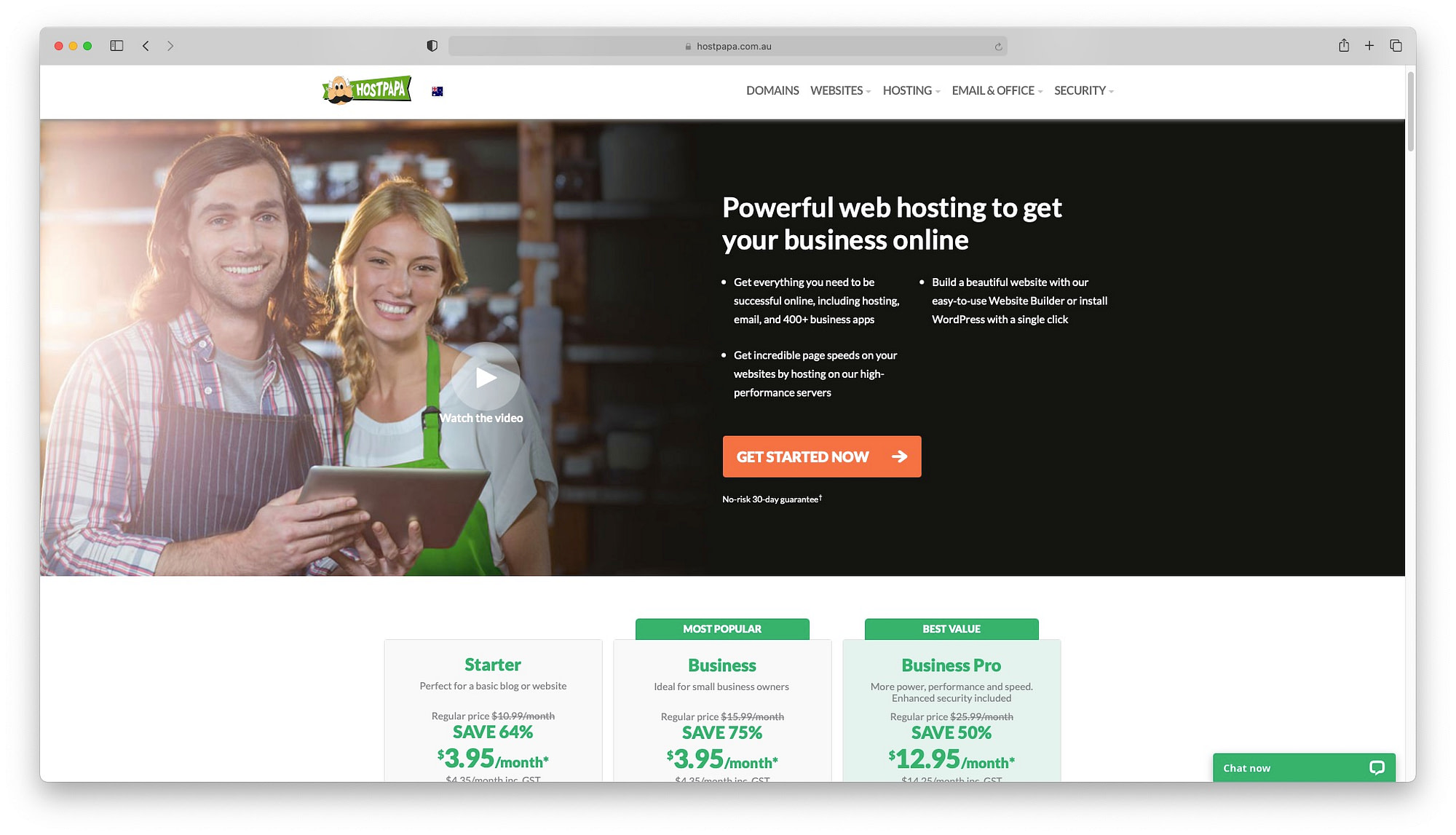 While not Australian-owned and operated, HostPapa is Canadian, so they're practically our cousins. And, their approach to the Australian market is the one with the most heart. Why?
Because HostPapa has data centers in Australia. And, better yet, they're using green energy to power them all. But this isn't the only thing giving them an edge over the other international companies offering cheap web hosting in Australia.
With a basic package that offers multiple websites and the storage space to take advantage of them, HostPapa has the most generous starter's package of all the hosts on this list:
⚙️ Features:
100 GB SSD storage
Unmetered bandwidth
Free SSL
Free domain
Multiple FTP accounts.
DDoS protection and hardware firewall
24/7 live chat, telephone, and email support.
Server locations: Australia
If you're in a rush, HostPapa offers a one-click install for the full suite of popular Content Management Systems with some support for a website builder.
💳 Pricing:
HostPapa starts at just $4.35 /mo with GST for the first year. After renewal, you'll pay just $10.99.
Hostinger offers some of the cheapest web hosting you can find. As a matter of fact, for Aussie customers, Hostinger's South-East Asian data centers make this reliable host a tempting and affordable option no matter what you plan to do online.
Because, the thing is, Hostinger prices are low no matter what Hostinger service you use. So, if you plan to launch multiple sites, or you're interested in video games, you'll find Hostinger's rates for cloud, VPS, WordPress, and Minecraft server hosting to be competitive.
But this doesn't come at the cost of speed or performance. Indeed, if you test Hostinger's performance, you'll see a bunch of sites loading within three seconds; while not remarkable, they are pretty good results, considering the Australia-Singapore data cable is currently undergoing repairs. Finally, Hostinger has been on a tear for a few years now, and I'm willing to bet their services will continue to improve.
⚙️ Features:
30 GB GB SSD storage
Around 10,000 monthly visits
Free SSL
Weekly backups
2 MySQL databases
Free website builder
Easy integration with Cloudflare
Server locations: Singapore and Indonesia
💳 Pricing:
You can get started with a Single Shared Hosting package for just $1.39 US/mo with a renewal pegged at $2.99 US/mo.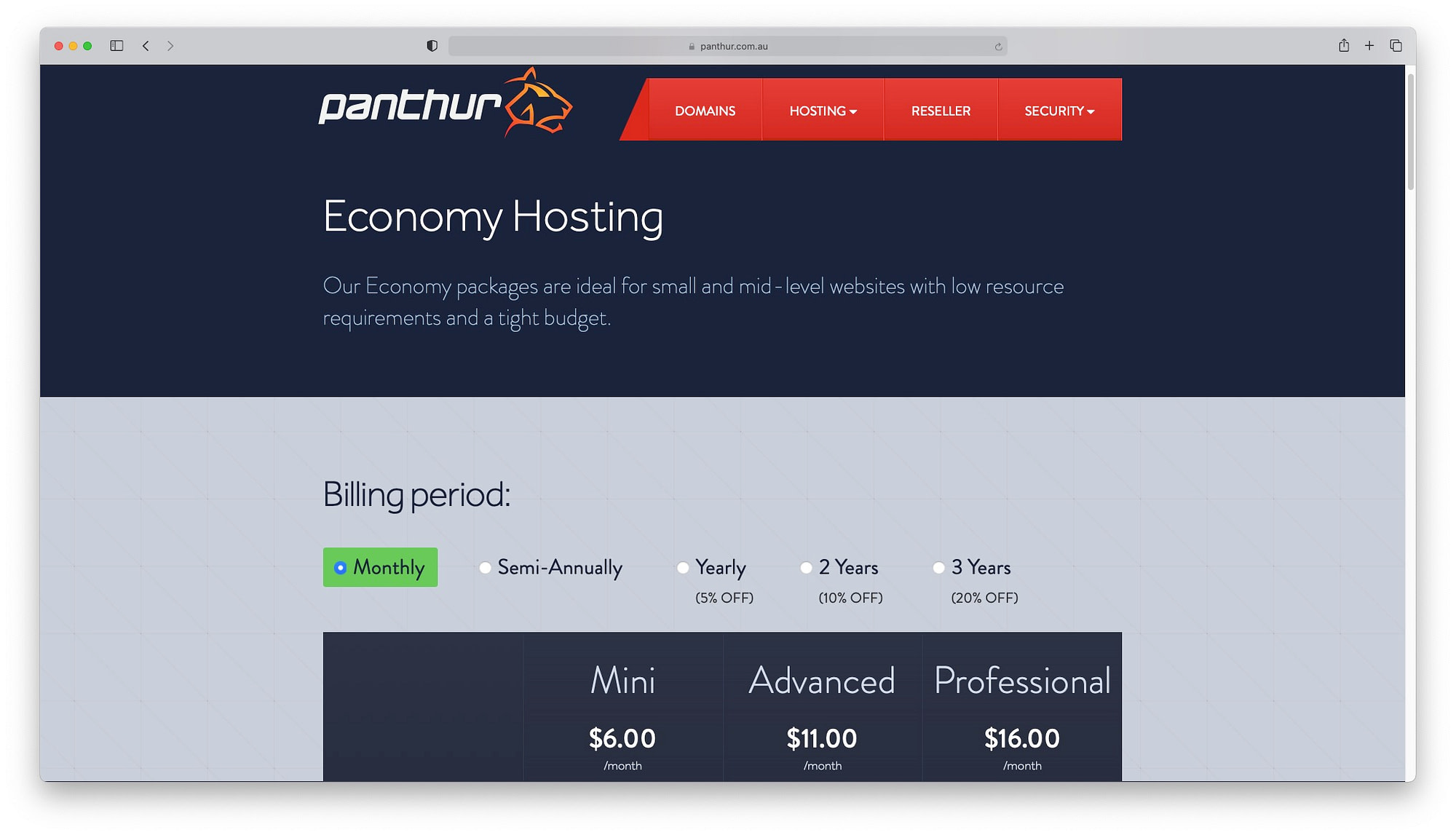 Now, it's time to consider Australia's cheapest web hosting, the local monster, Panthur. With over a decade of hosting experience, you'll find a passionate host with options tailor-made for the Australian market.
In the end, Panthur offers a no-frills service that is perfect for just getting a website up and running. Which is great, if that's what you need. But, you need to be sure they'll deliver on the routine. Panthur has the basics covered, with all of their plans using cPanel with Softaculous in place to handle the one-click installation of major CMS applications, like WordPress, Joomla, and Magento.
Fortunately, Panthur has also doubled down to specialize in standard hosting suited to personal and business websites. While this would mean you'd need to shift host if you wanted cloud hosting or VPS hosting down the line, in the meantime, you can benefit from Panthur's technical expertise, 24/7 phone and email support network, and their tech stack.
⚙️ Features:
2 GB SSD storage
Free SSL
100 GB bandwidth
Free off-site backups
Free website builder with no page limit
Server locations: Sydney
💳 Pricing:
Depending on how long you want to stick with Panthur, you can grab their Mini plan for just $4.80 AUD / mo on a three-year plan. There's no increase when you renew unless you change the terms of the plan.
What's more, Panthur does offer flexible billing periods with month-to-month plans available from $6/mo.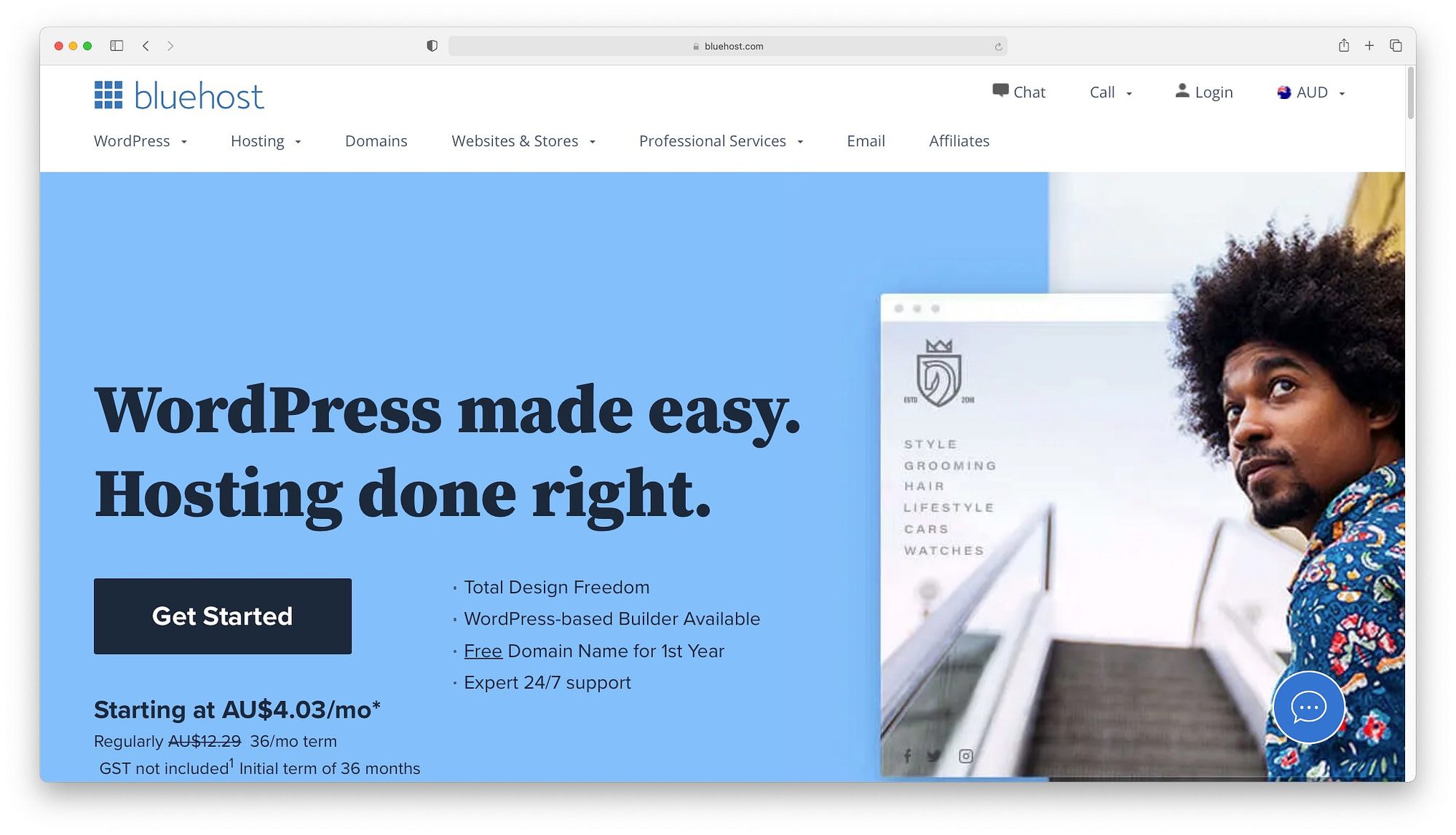 If you're flexible about Australian-owned and operated and you're aiming for a global audience, then Bluehost could be the host you're looking for. With a long history of web hosting and the WordPress.org seal of approval, Bluehost is a reliable option for building any type of website.
Of course, the only problem is that Bluehost doesn't offer any data centers in Australia. You'll find some Asian options in Hong Kong or Shanghai, but with data capacity between Australia and North Asia still underserved, you'll need to be looking beyond Australia for visitors. Having said that, it's not difficult to find Australian-Bluehost websites with acceptable time-to-first-byte scores, but they have been optimized to achieve them.
⚙️ Features:
50 GB SSD storage
Unmetered bandwidth
They offer free SSL
12 months of free domain registration
Free CDN
Website builder and other built-in tools for SEO.
Server locations: Hong Kong and Shanghai
💳 Pricing:
Starting at $5.38 AUD and renewing at $12.24 AUD, Bluehost is an affordable and reliable option for anyone with ambitions for building a large site for a global audience.
Wrapping up
We've shared our favorite web hosting options for the budget-conscious Australian website owner. While they each offer a reliable solution for launching a website, the best option for you will depend on your specific needs and priorities.
Be that as it may, you won't go wrong if you opt for:
VentraIP 🥇
HostPapa 🥈
To sum everything up, let's take a peek at that comparison table again:
Best Cheap Web Hosting Australia
VentraIP
HostPapa
Hostinger
Panthur
Bluehost
Starting monthly price
$5 AUD (renews at $10) GST incl.
$4.35 AUD (renews at $10.99 AUD) GST incl.
$1.39 USD (renews at $2.99 USD)
$4.80 AUD incl. GST
$5.38 AUD (renews at $12.24 AUD)
Closest server location
Australia
Australia
Singapore
Australia
Hong Kong
Storage
2 GB
100 GB
30 GB
2 GB
50 GB
Free domain
❌
✅
❌
❌
✅
Free SSL
✅
✅
✅
✅
✅
What's you experience of cheap web hosting in Australia? Let us know in the comments below!
…
Don't forget to join our crash course on speeding up your WordPress site. With some simple fixes, you can reduce your loading time by even 50-80%:
Layout and presentation by Chris Fitzgerald and Karol K.