This
article
was originally published on
this site
Are you obsessed with getting the highest conversion rates possible, so you can grow your list faster, drive more profits, and grow your business?
If you are, then you're in good company because the OptinMonster team is constantly striving to help small businesses do just that.
We're excited to announce four product updates that will help you reach your marketing goals. These updates include:
WooCommerce Product Education Upgrades
Today Operator Added to a Display Rule (Visited/Not Visited)
Empty/Not Empty Rule Added to Query Arguments
Let's check out each update to see how they help you get higher conversions across your website.
New Updates to Drive MORE Conversions
1) New Holiday Template Releases
One of the things customers love about OptinMonster is our collection of high-converting, easy-to-customize templates. These four new templates joined the collection:
a) Valentine's Day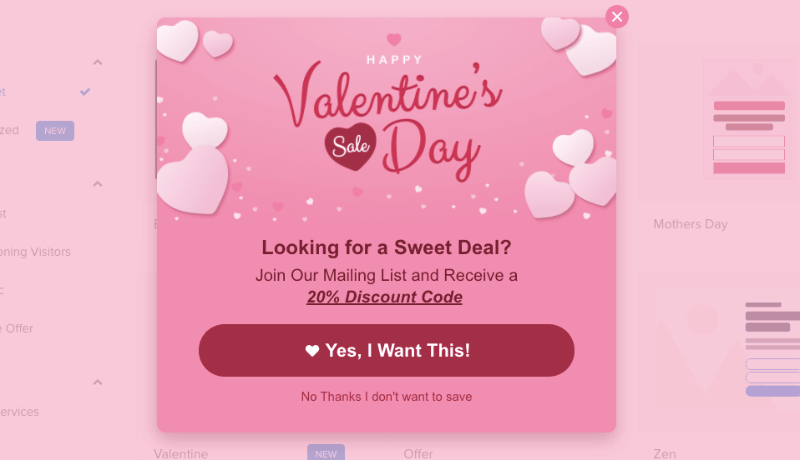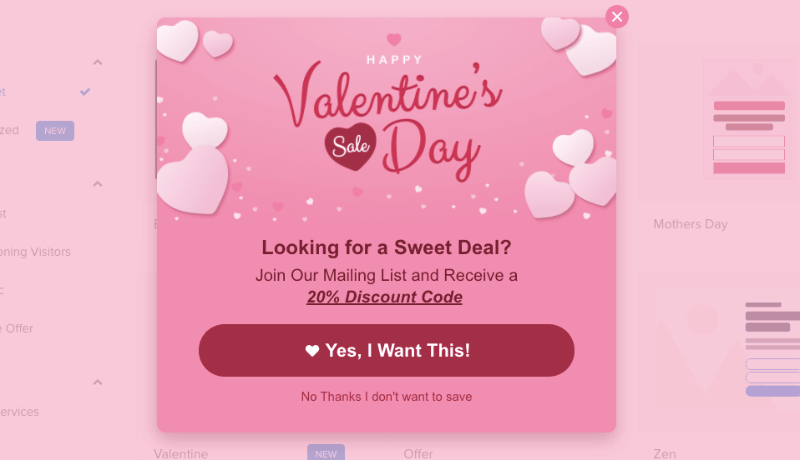 This sweetly colored template was designed to maximize your Valentine's Day sale.
b) Mother's Day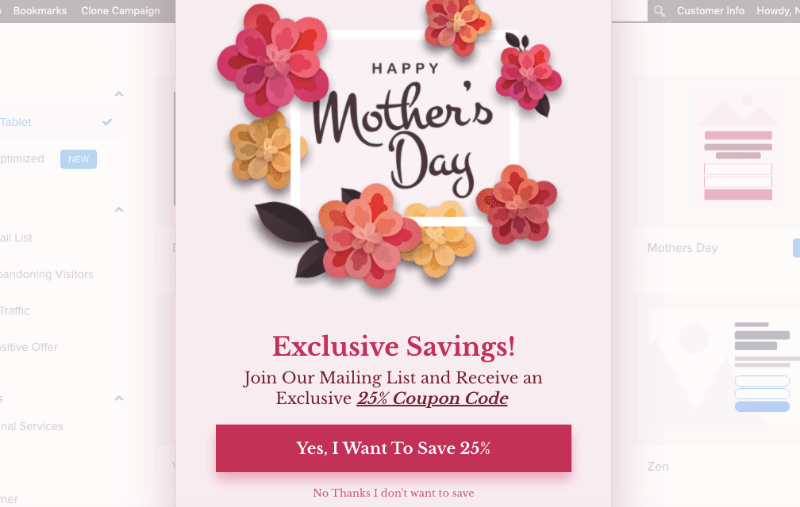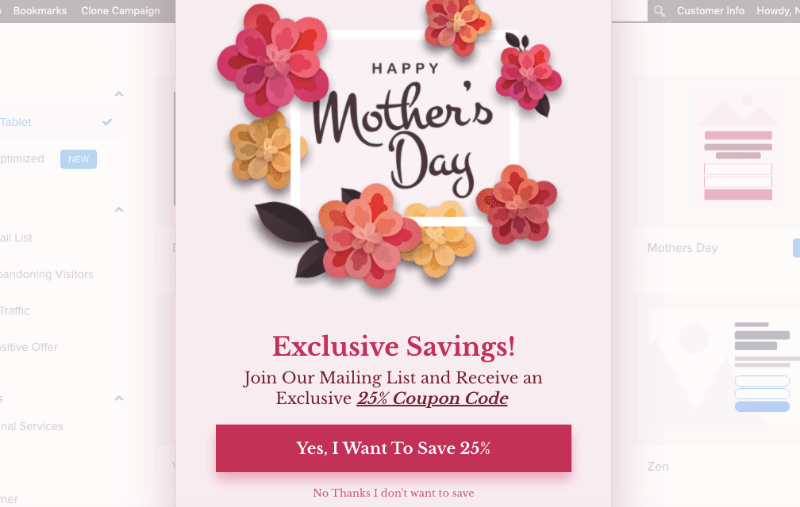 According to BigCommerce, over 20 BILLION dollars is spent every Mother's Day on gifts to honor the moms in our lives. This new Mother's Day template will help ensure your visitors know what you're offering this year for Mother's Day.
That's May 9th, 2021, by the way.
Did you know you can schedule OptinMonster campaigns in advance using our Campaign Scheduling solution? It's great for holiday sales like these.
c) St. Patrick's Day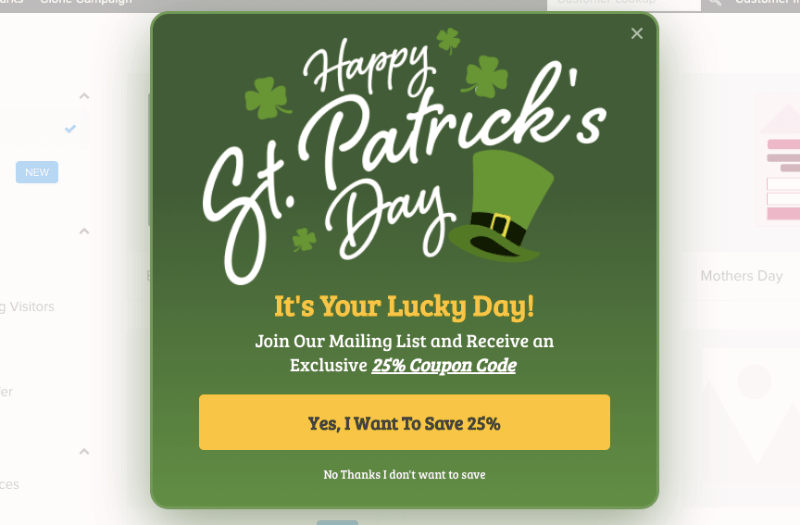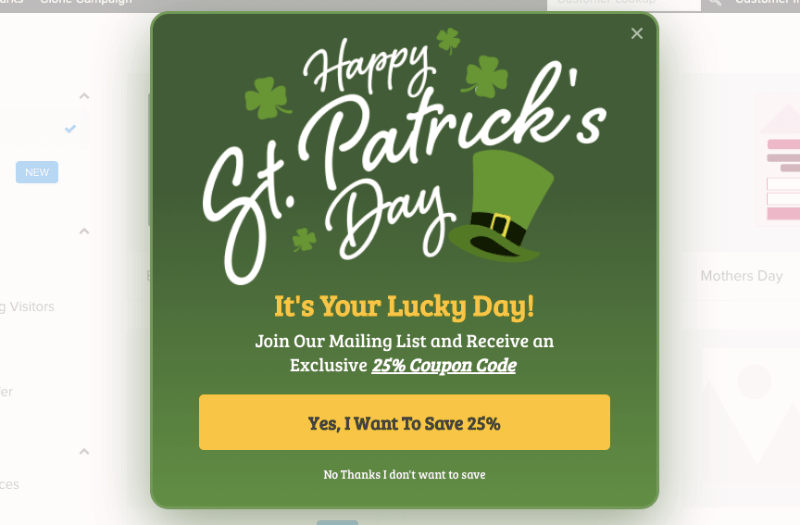 With St. Patrick's Day just around the corner on March 17, why not make your guests feel a bit LUCKY?
This is the perfect template to run a sitewide St. Patty's Day sale to fill your pot of gold.
d) Basic Dark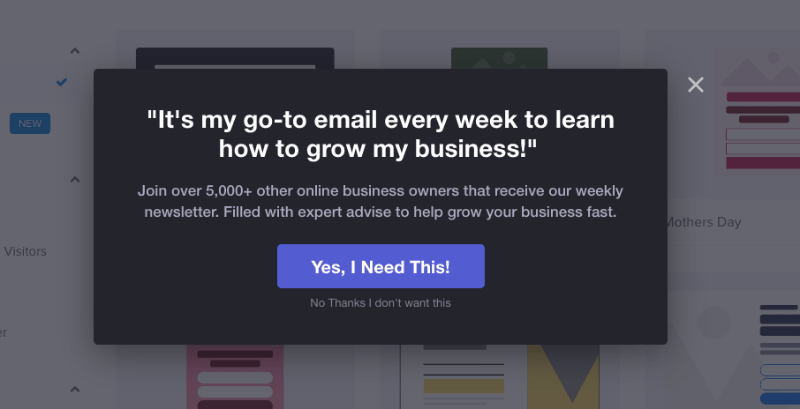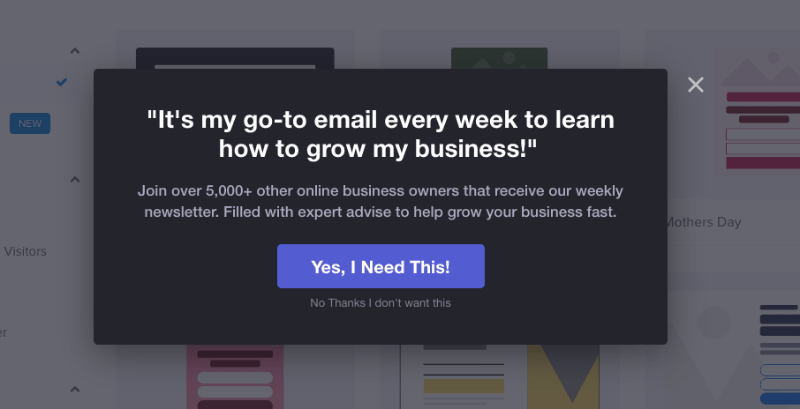 "Dark Mode" is a growing trend for major companies, including Google.
Dark mode looks sleek, it's easy on the eyes, and it saves battery life compared to white backgrounds. And if your site has a darker theme, you now have the perfect template to go with it.
What Do These New Templates Mean for You?
All of our templates have one goal in mind: to empower small businesses to create professional campaigns in minutes regardless of their technical background or knowledge.
As you can see, many of these templates can be used as-is with only a few minor tweaks to the coupon amount and code. And, OptinMonster's drag and drop editor makes it easy for you to quickly change the copy or images in these pre-designed templates.
Now that we've seen the new templates, let's look at our next product update: WooCommerce product education.
2) WooCommerce Product Education
WooCommerce is one of the most popular platforms for eCommerce, and for good reason. It's powerful, reliable, and comes with tons of great features to help you optimize sales and generate more profits.
OptinMonster unlocks powerful targeting options for stores using WooCommerce already…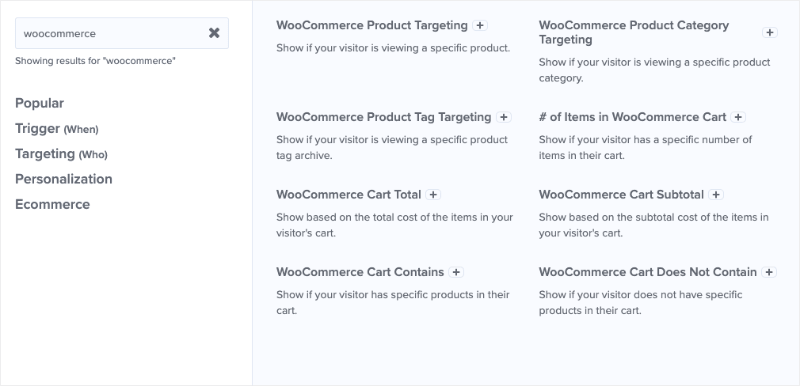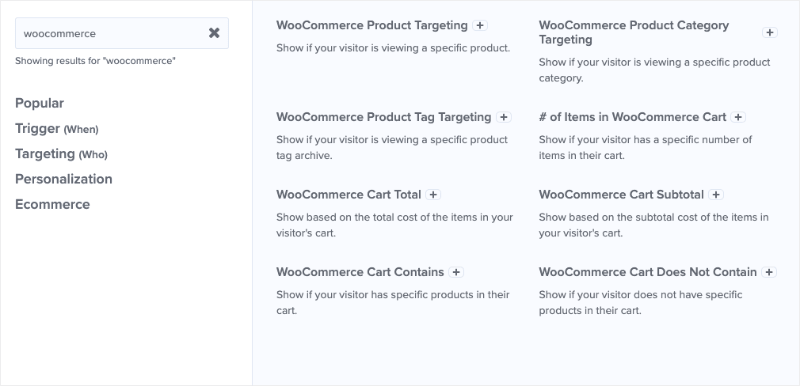 But now, we're bringing a reminder of the power of OptinMonster directly to the WooCommerce Products pages.
Why? To help you use both tools to their full potential.
On your WooCommerce Products page, you'll now see quick tips on how OptinMonster helps you accomplish these goals for your store:
Increase Conversions
Reduce Abandonment
Cross-Sell Products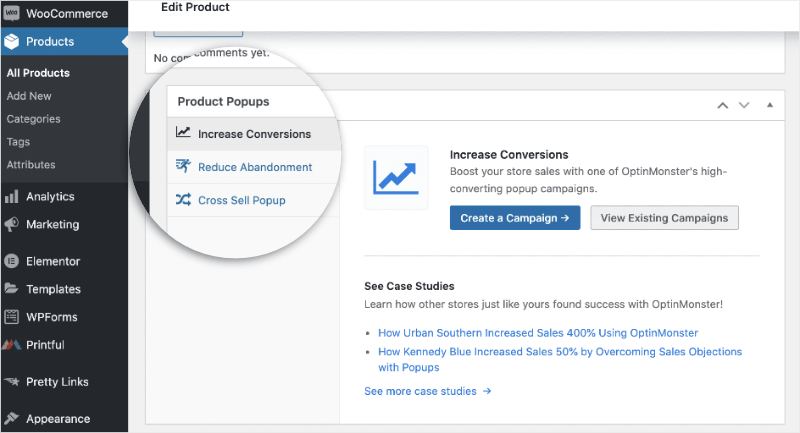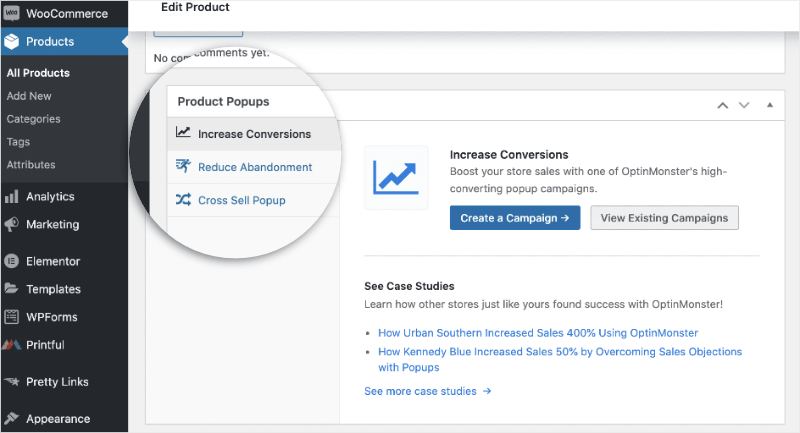 Then, directly from your WordPress dashboard, you can create and publish an OptinMonster campaigns, view your existing campaigns, or learn from relevant case studies.
That last one is important. OptinMonster provides you with case studies of other customers who've seen massive success online.
You can use these case studies as you're creating a marketing strategy to grow your list, boost conversions, or drive more profits.
And the best part is that you can do all of this from one centralized place in your WordPress dashboard.
3) Today Operator Added to Visited/Not Visited Rule
OptinMonster provides you with more advanced targeting rules than any lead generation software on the market.
And, frankly, we're always striving to add more!
The more personalized your targeting, the higher conversions you can achieve. Two of our most popular rules are:
Visitor HAS visited a URL
Visitor HAS NOT visited a URL
The goal is to target users who either have or have not visited specific pages on your website.
For example, we know that visitors who visit an About page are about 11% more likely to convert an offer than those who haven't. Using this rule, you can check to see if a user has been to your About page yet. If they have, show them your best offer because they're more likely to take it! If they haven't, show a campaign directing them to learn more about you by visiting your About page.
Again, it's this level of personalization that can really, really grow your business.
But now, we've added a new component to those rules: you can now check to see if the visitor has Visited A URL even as recently as today. Previously, you could look to see if they'd visited yesterday, or several days before, but not TODAY.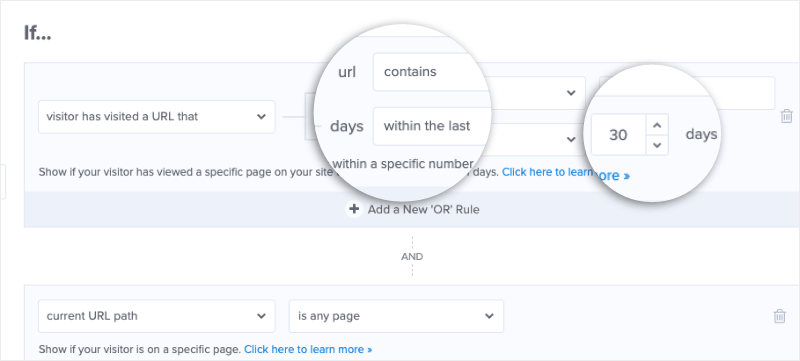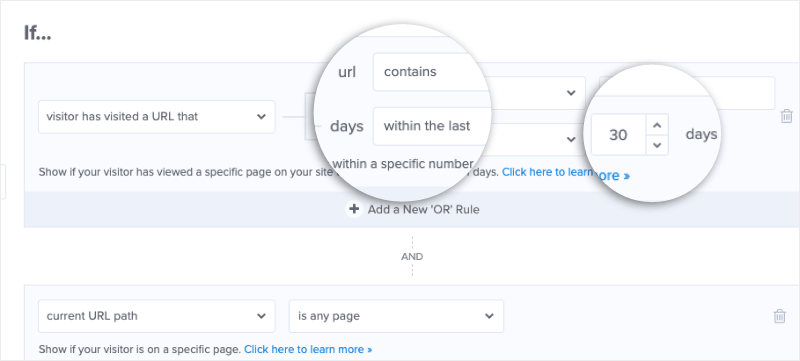 That means you need to "strike while the iron's hot," as they say.
This gives you a HUGE advantage when targeting your audience.
These options provide insight into which are the warmest leads coming into your funnel. Customers who are frequently coming to a page (or who've visited a specific URL very recently) likely have a high interest in your business or niche.
Getting higher conversions has THREE components to it. You need to send:
The right message
To the right people
At just the right time in their customer journey
Our new targeting parameter helps you master that last one to reach your site's sales and marketing goals faster.
4) Empty/Not Empty Rule Added to Query Parameters
Last, but certainly not least, we've added an Empty/Not Empty rule to our query parameters.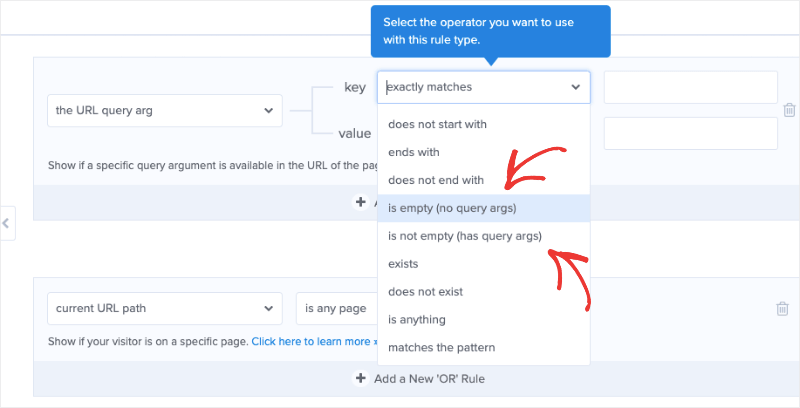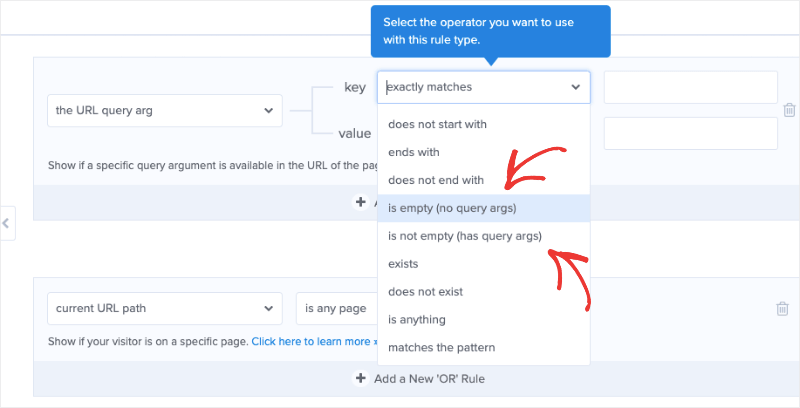 This is important because sometimes you want a campaign to appear specifically if a query is (or isn't) present.
Imagine you wanted to create a campaign for your homepage:
www.yourwebsite.com
But you also wanted to use that campaign when a specific product was added to your customer's cart, which uses the following query argument:
www.yourwebsite.com/?add-to-cart=12
In the past, if you'd created a rule to make a campaign for the query argument used above, it wouldn't show on your homepage.
That's because the campaign's display rules would always look for that query argument to trigger.
But now, you can create a rule to show when the query argument is met OR when it is empty: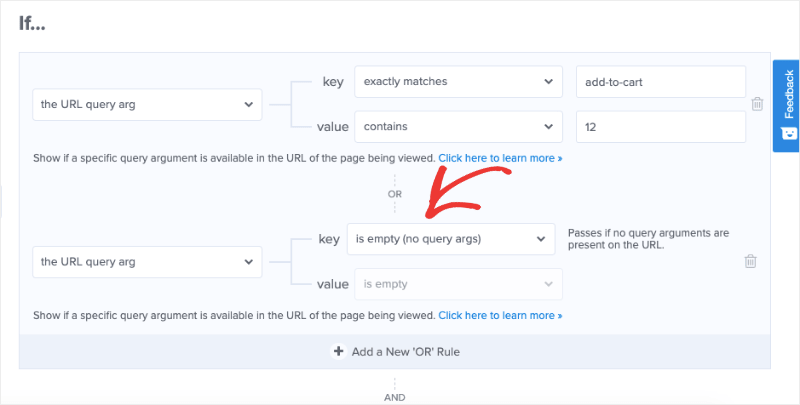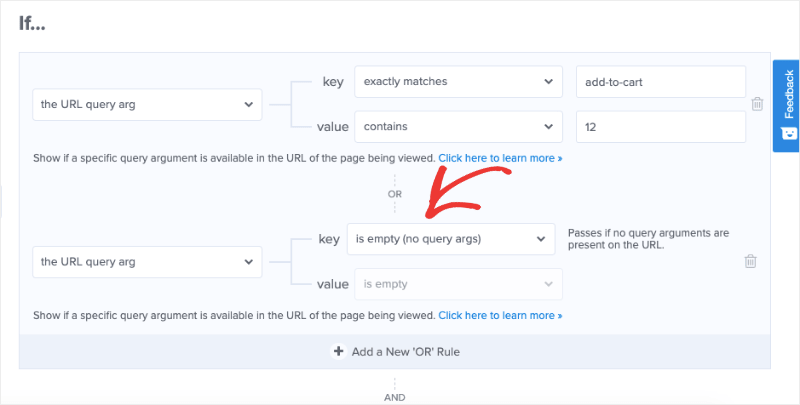 This gives you more control over where and to whom your campaigns appear. Again, this helps in your ultimate goal of increasing conversions and sales across your site.
And that's all for today!
As you can see, the OptinMonster team has been hard at work to maintain its reputation as the best lead generation software on the market and will continue to do so. We pay attention to the details so you can WIN, and win MORE OFTEN.
So stay tuned for more updates coming soon.
Want to see it in action for yourself? Sign up for your 100% risk-free OptinMonster account today!