This
article
was originally published on
this site
Did you know that Tesla makes automatic updates available for its customers?
That means if you had a car from Tesla, you'd always have access to the most up-to-date software (without needing to change cars altogether).
Can you imagine how much easier life would be if all your appliances were like that?
What if you could upgrade your home to save electricity or your bed to adjust to your sleeping patterns, all with the click of a button?
We can't speak for cars, homes, or beds, but we CAN improve your lead generation strategy (and yes, it's still with just a single click).
That's because we've recently made 2 changes:
Both of these updates make it easier AND faster to boost conversions, grow your list, and drive more revenue.
How do we know customers are loving these changes?
Because we keep seeing the social proof pile up (but more on that at the end of this post).
Let's take a look at each update in a bit more detail.
1) Onboard Faster With the Plugin 2.6.0 Release
Our team continues to build on the OptinMonster plugin. The goal is to make it as easy as possible to get more leads from your WordPress site.
And with each new improvement we make, we strive to do as much of the heavy lifting for you as we possibly can.
This version of the plugin redirects new users to our own onboarding dashboard directly after activation (rather than leaving them on the plugin repo page).
Doing so helps new users navigate their OptinMonster dashboard so they can begin generating leads more quickly.
That means you can download the OptinMonster plugin and click Activate.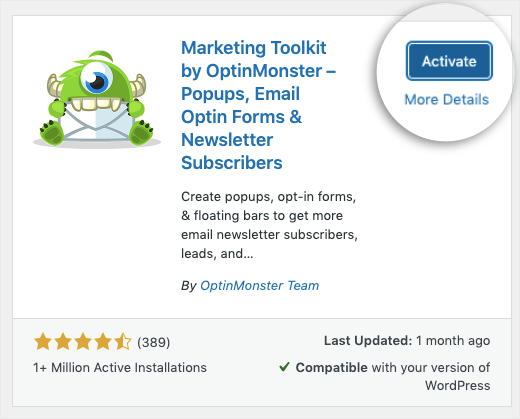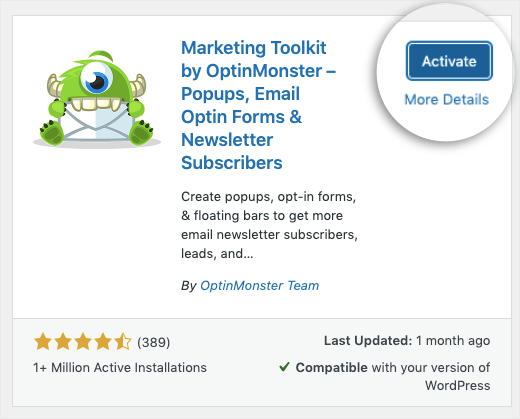 Then you'll be instantly guided through our quick and seamless account setup: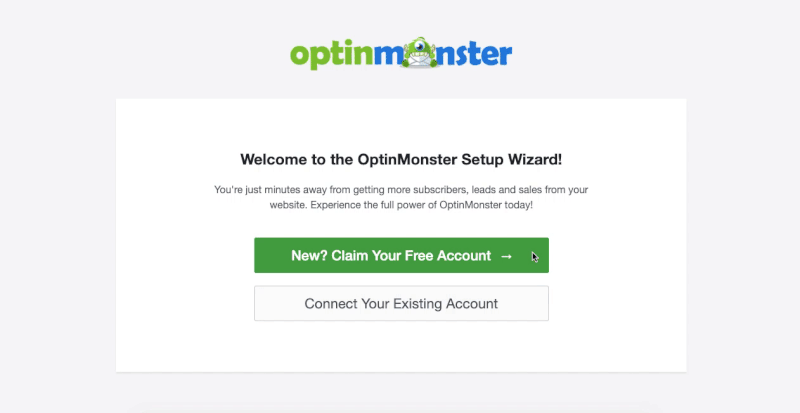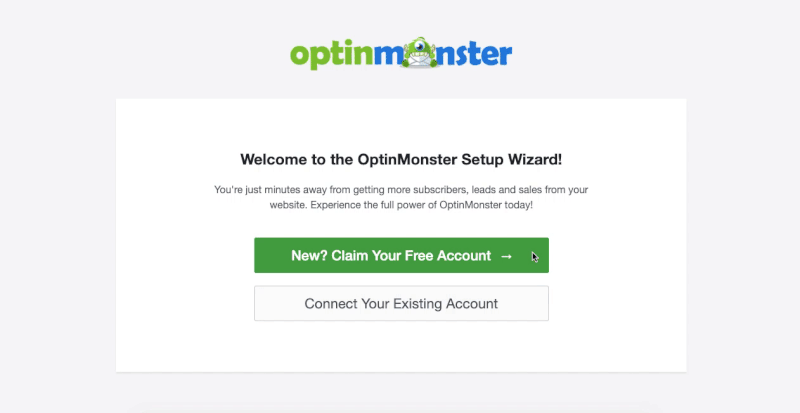 This is where we learn more about your business so we can help you grow FAST.
And as you navigate your new account, you'll also want to check out Custom Domains. That feature can open up a whole new audience of your market by getting around AdBlock technology.
Let's take a look at how this change can bring in higher conversions for YOUR store.
2) Bypass AdBlockers With Custom Domains
A few months ago, we released a new feature: Custom Domains.
This feature allows you to remove OptinMonster's URL from your site's code. And in its place, users and adblockers only see YOUR company's URL.
But your optin campaigns (like popups, floating bars, slide-ins, and so on) still work as planned with OptinMonster's custom API.
That gives you a huge advantage in 2 ways:
You'll get more leads because adblockers won't block your campaigns
Your competitors won't know which lead generation tool you're using for such massive growth
Ok, but if this was announced a few months ago, what's the big deal?
In the past, Custom Domains were available by request only.
Now, anyone can have access to custom domains through their OptinMonster dashboard.
Every OptinMonster customer can go to the Billing section of their account: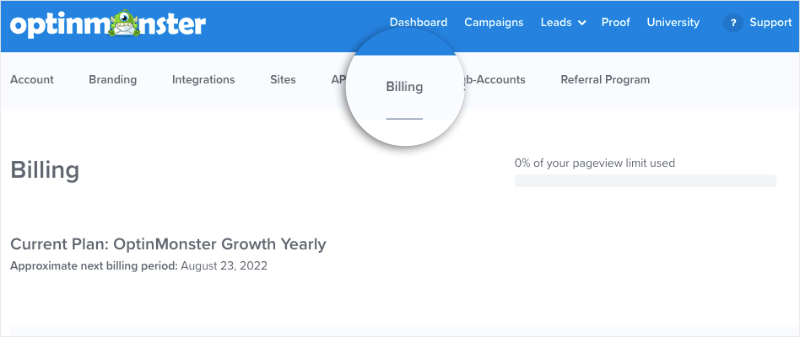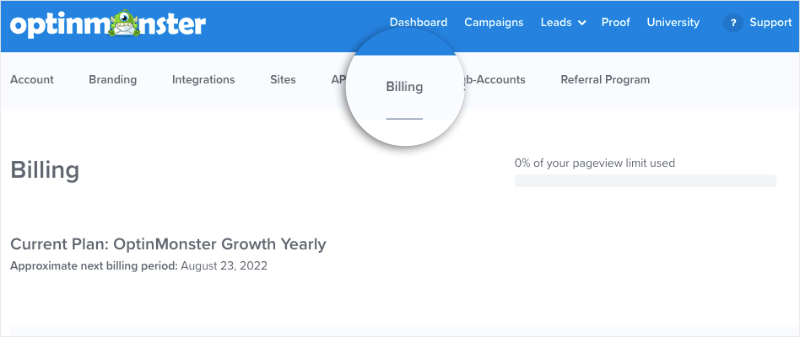 Then they can add the Custom Domains feature to their OptinMonster subscription: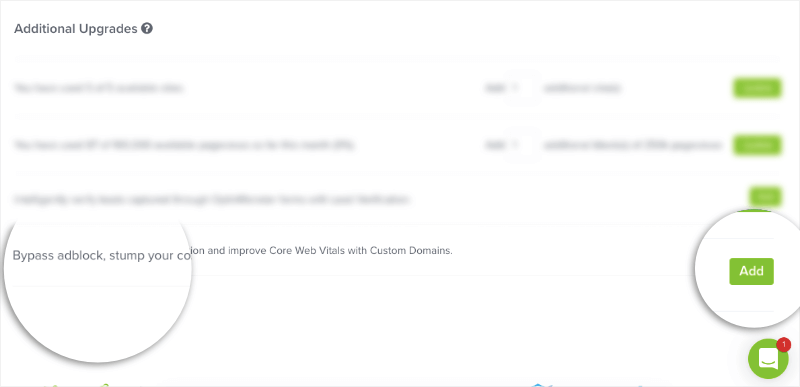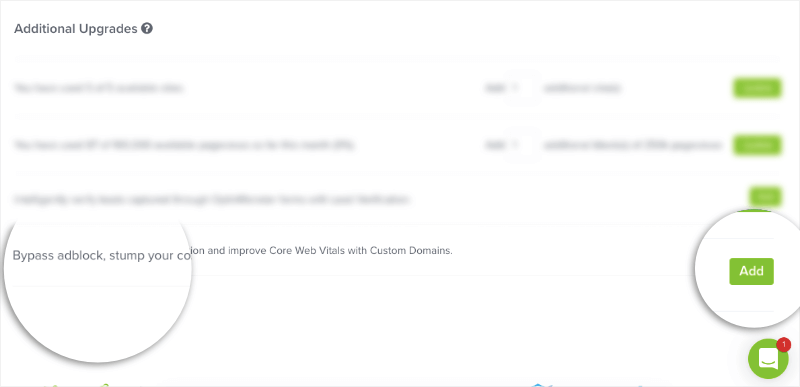 Again, this is more than just a luxury update to your account.
When you can bypass adblockers, you can present your offers to MORE users. That means more leads, a larger email list, and a big boost in sales.
And now, anyone can freely get an advantage over their competition directly from their OptinMonster dashboard.
Before wrapping up, we wanted to mention how encouraged we've been by our growing online community.
Let's look at why we're not only proud of this, but why YOU need to get involved, too.
3) Join a Growing (& Exclusive) Social Group
OptinMonster has always been a customer-centered product. That's because, at the end of the day, our success is literally dependent on YOUR success.
As we help you get more leads, we're able to update and expand our software to make it easier for your business to scale.
Plus, we really like talking with people about how to get higher conversions.
And now, we've seen our customers-only Facebook group pass 2,500 people who are growing their business just like you.
Our goal was to have a group that was built on the quality of members rather than the quantity.
But it turns out, we've got a lot of both.
This is hugely important for you if you're trying to grow your email list or increase conversions. 
When you join OptinMonster, you aren't just getting a tool. You also have a built-in community of like-minded entrepreneurs and marketers at your fingertips.
You'll be able to compare strategies, troubleshoot problems, and create new ideas by interacting with this exclusive group.
You can also share your own battle-tested conversion tips to help other business owners see the same success.
Either way, our members-only Facebook group is proof that OptinMonster isn't just a lead gen tool. It's a family, and we want you to be a part of it.
So if you're a current customer, make sure you're a part of this members-only Facebook group today.
And if you're not a part of the OptinMonster family just yet, no worries. All you need to do is click below to start your 100% risk-free OptinMonster account:
Join the OptinMonster Family Today!
BONUS: Done-For-You Campaign Setup ($297 value) Our conversion experts will design 1 free campaign for you to get maximum results – absolutely FREE! Click here to get started →
As always, we're grateful for your continued support of OptinMonster, and we look forward to bringing you even more ways to get the results you deserve.