This
article
was originally published on
this site
When's the last time you had to make a really tough decision?
You might've been so desperate for an answer that you decided to flip a coin and let chance decide.
So you pull out a quarter and toss it.
But whether or not you go along with the result is irrelevant.
What matters is that feeling you get watching the coin flip in the air. It's those few seconds when your heart beats faster, and you forget to breathe.
In this moment, you're totally and completely engaged with the game.
And you're not alone. In fact, game shows have been leveraging this suspenseful feeling for decades.
Rather than flipping a coin, many shows like The Price is Right or The Wheel of Fortune, added a spinning wheel to let luck decide whether contestants go home the big winner… or just go home.
But here's the really cool part: now YOU can leverage that feeling for your audience with ANY of OptinMonster's holiday campaigns.
That means higher conversions, more subscribers, and BIG boosts in your seasonsal sales.
See, OptinMonster has always had a spin-to-win wheel template that came in three different colors: green, red, and blue.
You've likely seen them before. They look something like this: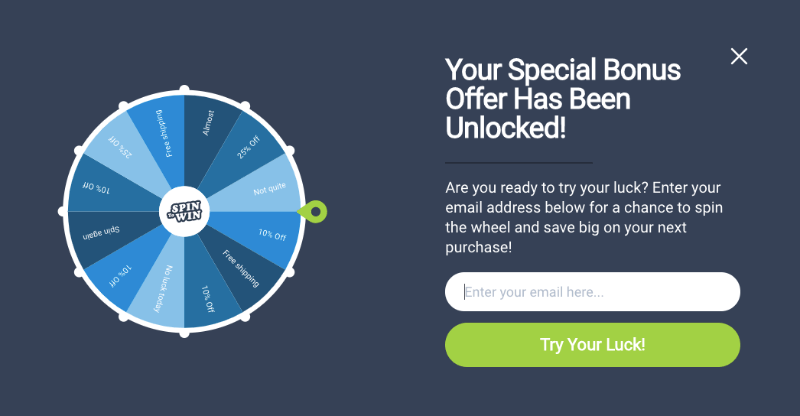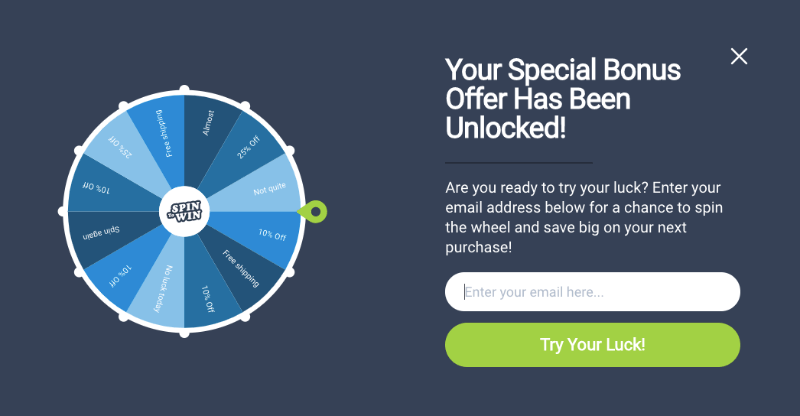 And our customers found these REALLY effective for getting higher conversions from their audience.
In other words, that means these gamified campaigns helped our customers grow their email lists and boost sales FASTER.
But we also had a line of holiday templates that helped companies like Cloudways increase their trial signups by 120% (not to mention grow their list by over 225%).
So we wondered, "How much more effective would these holiday campaigns be if we gamified them?"
Thanks to that simple question, you can now use a spin-to-win wheel with ANY of OptinMonster's holiday templates. This includes templates for:
Black Friday
Halloween
General flash sales
Winter holidays
And more…
These templates give you even more to celebrate on your favorite holidays. Why?
Because you can build, modify, and publish these campaigns in less than 10 minutes.
Imagine, for example, that you were running a special promotion in December. You're totally pressed for time, and you're getting flooded with orders.
You barely have time to eat, let alone set up an entire digital marketing campaign.
With OptinMonster, all you'd need to do is select your holiday template, modify your prizes, and you're all set!
In just a few clicks, you'd have a campaign that looks like this: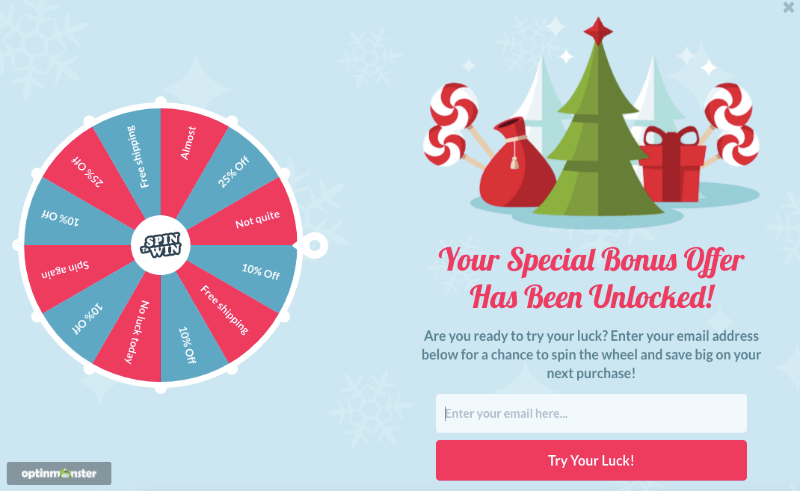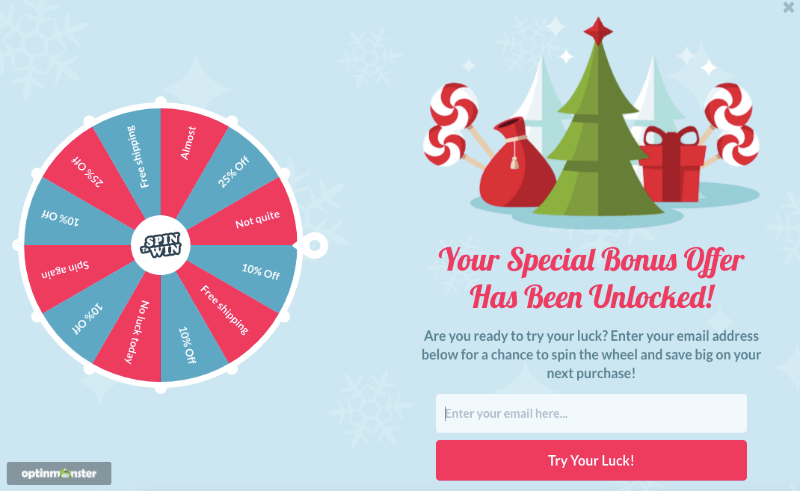 Then connect it to your favorite email service provider (ESP) and let everything run on autopilot.
This gives you more time, energy, and money for the holiday season, so you can spend it how you want to: with family, friends, and plenty of relaxation.
Meanwhile, you're still generating leads with an automated system built to grow your business.
You may have some hard decisions in life that are worth a coin toss, but this isn't one of them.
Sign up for your 100% risk-free subscription to check out our holiday template collection today:
Check Out OptinMonster's Gamified Holiday Templates Today!BONUS: Done-For-You Campaign Setup ($297 value) Our conversion experts will design 1 free campaign for you to get maximum results – absolutely FREE! Click here to get started →
BUT that's not all…
Because we've also been working on 2 new integration that will make your life a little bit easier.
2 New(ish) Integrations
You may be wondering what "new(ish)" means. That's because our first integration is more of an update than a release, but it's important enough to take note of.
Let's look at how a small change can have a big impact on your sales.
1. Updated eCommerce Integration
We've always encouraged users to leverage our eCommerce targeting rules. These allow you to show your optin campaigns to users based on how they interact with your online store (for WooCommerce, Shopify, or BigCommerce).
And one of the most popular rules was "# of items in cart."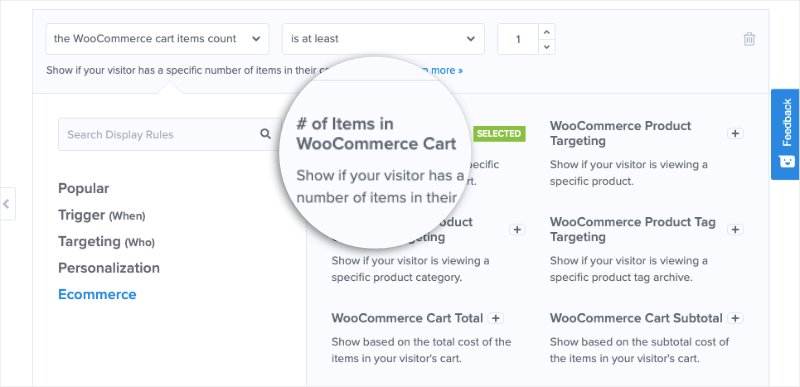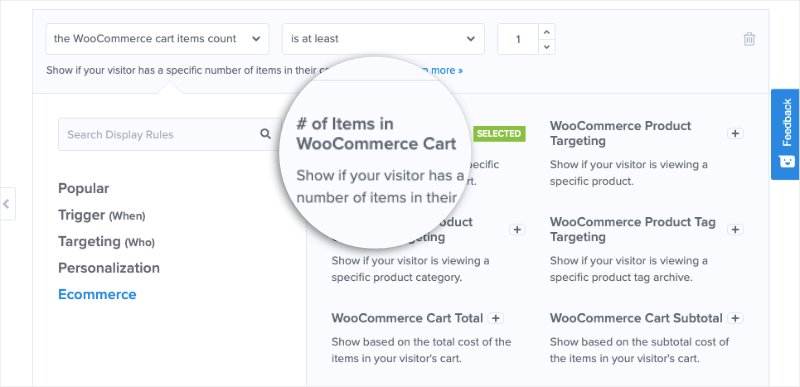 Let's say, for example, you want to show a popup campaign to customers who have 4 items in their cart. And your goal is to cross-sell a 5th product at 75% OFF.
You could use the "# of items in cart" rule to do this, but it wasn't as accurate as we wanted.
That's because this rule didn't count the total number of products in the cart. Instead, it counted the number of unique items.
In other words, customers would have to add 4 unique products to their cart to see the popup.
But we've updated this integration to strictly count the number of items, giving you more freedom to personalize the customer journey and drive more sales.
Now your customers could add 4 of the same product to their cart and trigger the campaign.
This targeting rule is more flexible, helpful, and just downright more effective, so we're happy to be sharing it with you today.
Finally, let's turn our attention to the last integration update on our list: dotdigital.
2. Dotdigital Integration
Dotdigital is an omnichannel marketing automation platform. In more simple terms, they let you import data, build audience segments, and create automated marketing campaigns tailored to your audience.
Until now, you could still connect with dotdigital using webhooks, but this wasn't a practical solution for some of our customers.
While webhooks are a convenient answer to many problems, they require a certain level of technical knowledge to set up.
It's not rocket science, but it's a far cry from "plug & play."
That's why we're so excited to announce our new native integration with dotdigital: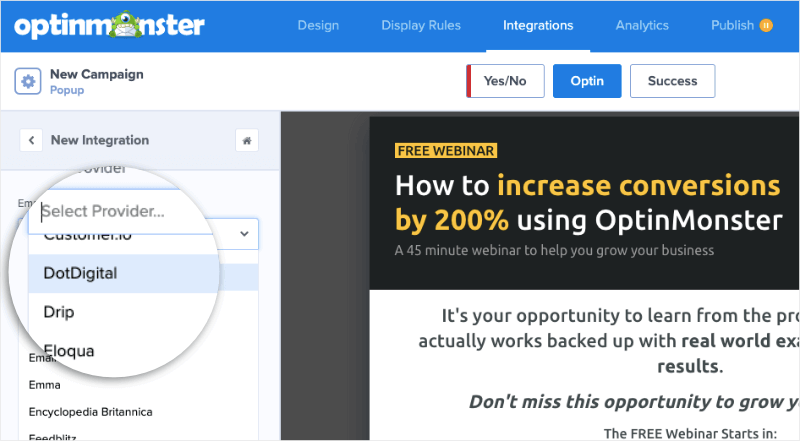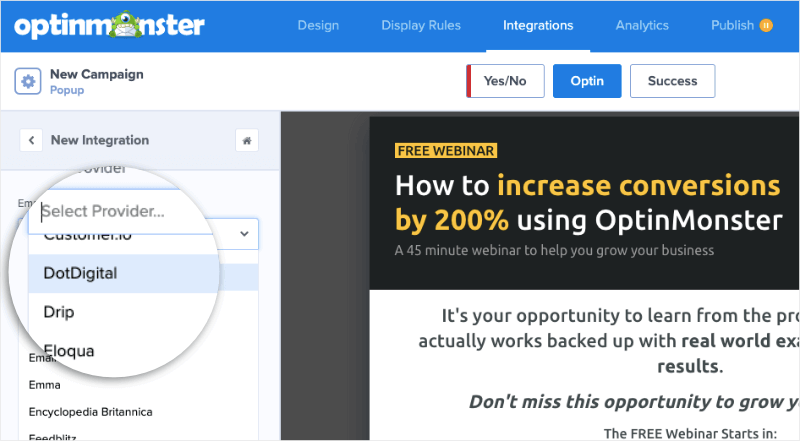 If you want to connect any of your OptinMonster campaigns to dotdigital, you just need to select it from our native integrations list.
Then copy and paste your API user email and password, and you'll be all set.
This allows you to get totally hooked up to dotdigital in less than 30 seconds.
The only thing you have to figure out now is what you'll do with all your extra time (re-binge Game of Thrones?).
At the end of the day, OptinMonster's goal is to help YOU grow YOUR business.
So what are you waiting for? Click below to get started with OptinMonster risk-free:
Check Out OptinMonster's Gamified Holiday Templates Today!BONUS: Done-For-You Campaign Setup ($297 value) Our conversion experts will design 1 free campaign for you to get maximum results – absolutely FREE! Click here to get started →
As always, we're grateful for your continued support of OptinMonster, and we look forward to bringing you even more ways to expand your business as quickly and efficiently as possible.