This
article
was originally published on
this site
Are you looking for the best social media feed tools for your website?
Social media feed tools let you dynamically display user-generated content and customer reviews on your website that are originally posted on various social networks, including Facebook, Instagram, Twitter, and YouTube.
Publishing user-generated testimonials can have a significant impact on your website's conversions. That's because humans have a tendency to trust and follow the actions and choices of other people, which is something we all do without even realizing it.
In this post, we'll explain the best social media feed tools on the market.
8 Best Social Media Feed Tools
There are several social media feed tools on the market. These applications have different pricing structures and customization options.
We've handpicked the tools that are both easy to use and powerful.
1. Smash Balloon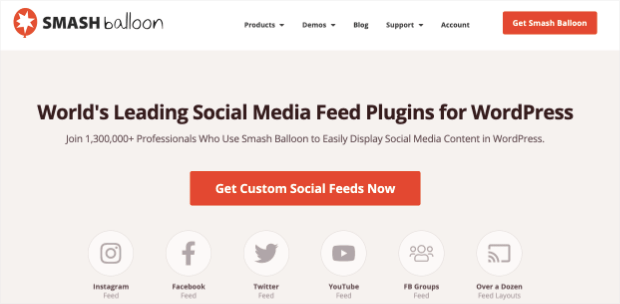 Smash Balloon is a suite of social media feed plugins that allows you to easily embed multiple social feeds on your site. It's a powerful, user-friendly tool that gives you total control over the appearance of your feed. And you don't need to write a single line of code.
Smash Balloon offers the following social media feed tools:
One great feature of Smash Balloon is that the feeds automatically match your WordPress theme and font styles. This means even the default feed will look great.
But, you can easily customize the feed to make sure it's aligned with your website and brand.
You will be able to choose from a dozen different layouts. Plus, you can show multiple feed types, like timeline, videos, photos, events, hashtags, and more. In other words, there's no restriction on the content you can embed.
Here are examples of the types of feeds you can show:
Shoppable Instagram posts
Facebook Group events, posts, and albums
Tweets that mention your account
Take a look at an example of a Facebook feed.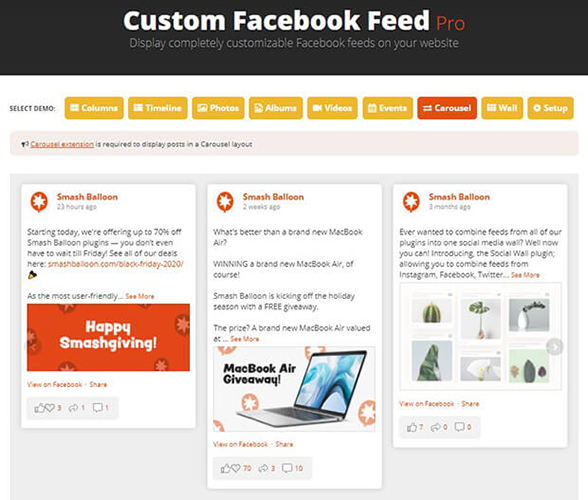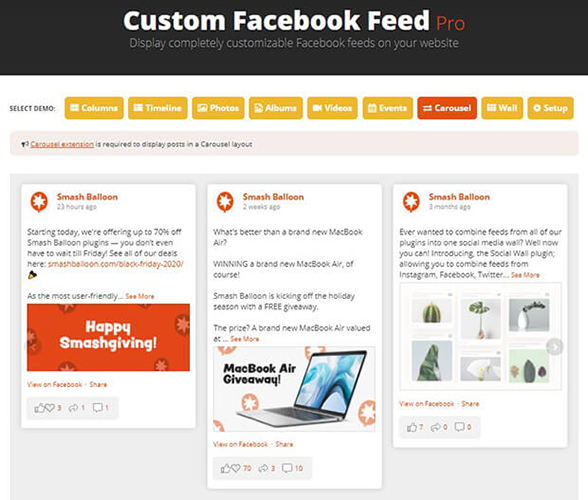 And, here's a demo of an Instagram feed: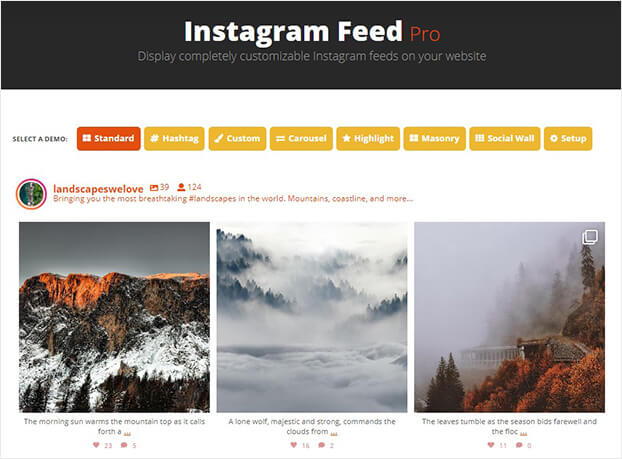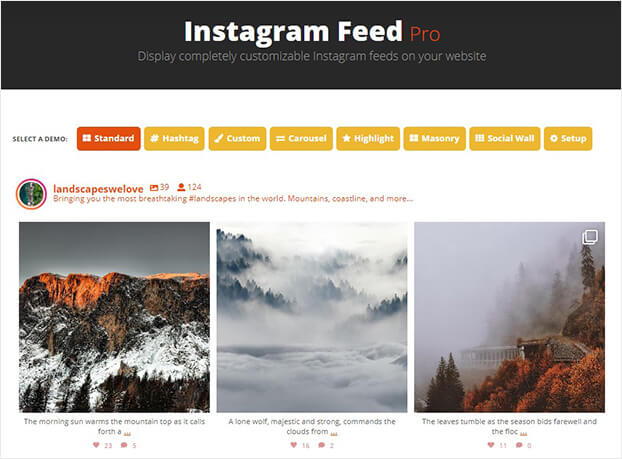 2. Social Feed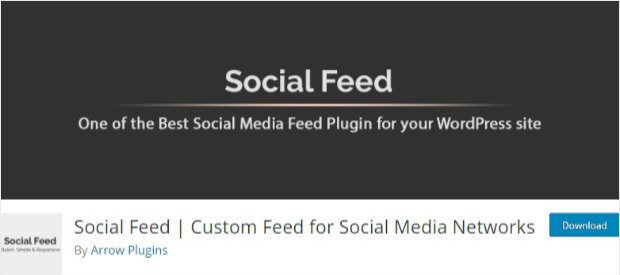 Social Feed is an easy-to-use social feed plugin. With Social Feed, you can display social feeds from Facebook, Twitter, Instagram, and more.
Display posts from a single social media account or combine multiple feeds. Social Feed is responsive so your feeds will work across all devices. You can also change how your post displays, hiding the images or text.
Since it's a free plugin, it has a lot of limitaions. As it seems, the plugin doesn't support the WordPress block editor yet. You'll have to use the shortcode for embedding your social feed.
3. Walls.io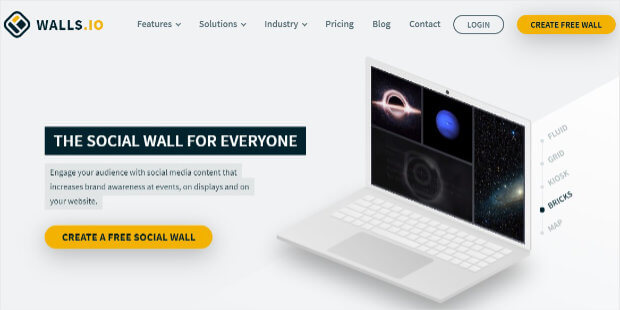 Walls.io is a popular social feed tool for events. It lets you curate social media posts to generate buzz. You can create an event-specific hashtag and encourage attendees to use this hashtag in their posts. Then, stream that content across screens at your event.
On top of that, you can also use Wall.io to add social content to your website. The plugin supports all the major social networks. Depending on the feeds you want to display, you might need to use Wall.io's API.
4. Feed Them Social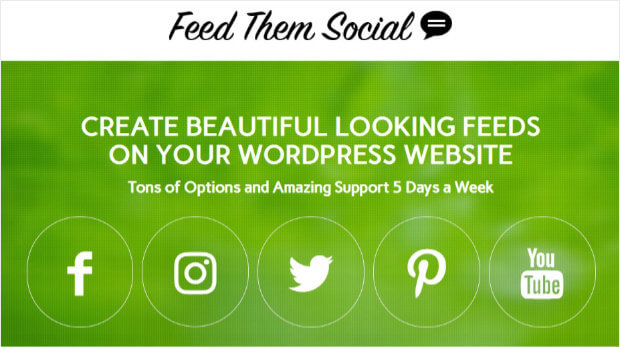 Feed Them Social is a tool for creating responsive social feeds.
With this app, you can integrate your Facebook Pages, Instagram, Twitter, Pinterest, and YouTube with your website.
You're free to show your feeds on any post, page, or sidebar on your website. This tool also lets you create responsive feeds.
The plugin also lets you embed like and share buttons so site visitors can easily engage with your social content. You'll need to add extensions if you want features like showing Facebook posts in a carousel format.
5. Curato.io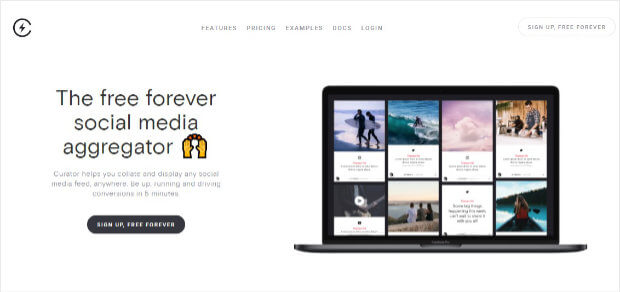 Curato.io is a free forever social media aggregator. It pulls selected posts across multiple social media accounts to display them on your website.
You can select from prebuilt themes for your layout. The tool is responsive, meaning your embedded posts will work well across all devices.
The free plan lets you use embed posts from 3 social media networks or feed. The free tool will only load new content every 24 hours and is limited to 2000 pageviews.
6. Juicer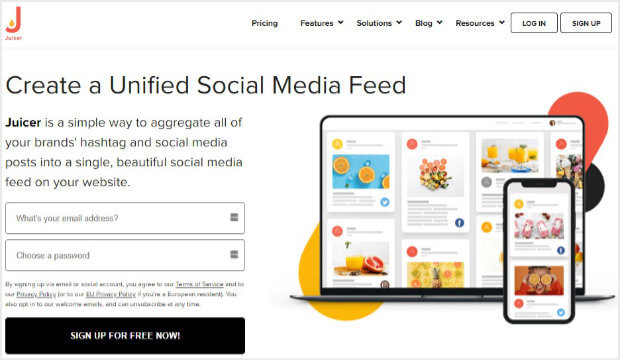 Juicer is another social media feed tool that automatically pulls content from Facebook, Twitter, Instagram, and more.
This app comes with 8 themes. And, if you're comfortable with CSS, you can style your own theme.
Juicer allows you to show your latest social media posts on your site. The best thing is that Juicer lets you show posts just one minute after they've gone live. However, the free version will only show new posts every 24 hours just like Curator.io.
7. Embed Social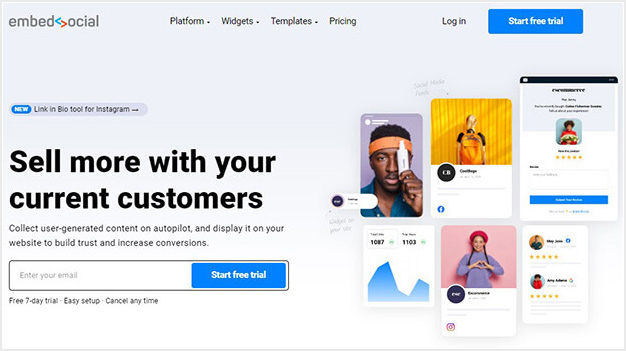 Embed Social is another popular social media feed tool. You can display your Instagram posts, Facebook Page posts, YouTube videos, and more.
It also lets you build social proof on your website by enabling you to embed your Yelp and Google reviews, too. Unlike other social feed tools, it supports social eCommerce as well. For example, you can make your social media photos shoppable with just one line of code. You can even use customer reviews to improve your online marketing and build Facebook ads.
8. Elfsight Social Feed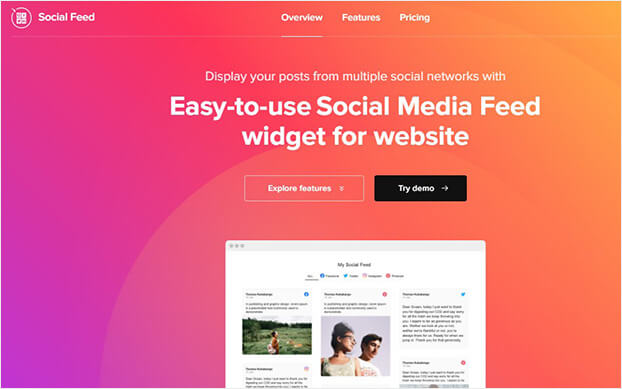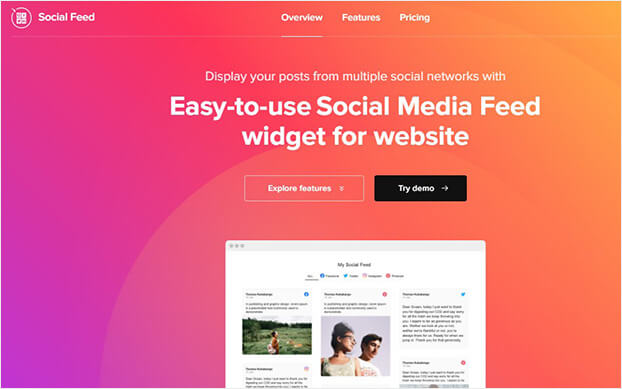 Elfsight Social Feed aggregator allows you to show your social media posts in a slider or carousel layout.
With Elfsight Social Feed, you can display your social feeds in a few different ways:
Fill an entire gallery page using its Grid layout.
Show the feeds in the classic slider or carousel
Create a social wall with a masonry layout
And more
This tool works with any social network. They do have a free plan, but it's only useful if you have 200 or fewer pageviews. The premium pricing starts at $10 per month.
If you are looking for the best social media tool, then you might want to check out the Smash Balloon suite of plugins. It's the easiest way to create custom social feeds that match your website and brand. Within minutes, you'll be able to show interactive feeds across your website.
We hope you enjoyed this article. For more details on using social media marketing on your website, check out these articles:
Want to boost conversions on your website? Get started with OptinMonster today!
Published by Bronwynne Powell
Bronwynne Powell is a writer for the web. Her background is in journalism, PR, and tech startups. When she's not writing, she's running after her two young children or listening to supernatural podcasts.