This
article
was originally published on
this site
How hard is it to find the best business card printing services?
Turns out, pretty hard. 🤷‍♂️ In fact, I've spent months searching for an answer. And, you know what? Despite missed deadlines and hiding from the blog editor for months, it worked out pretty well in the end.
How's that? – you might ask.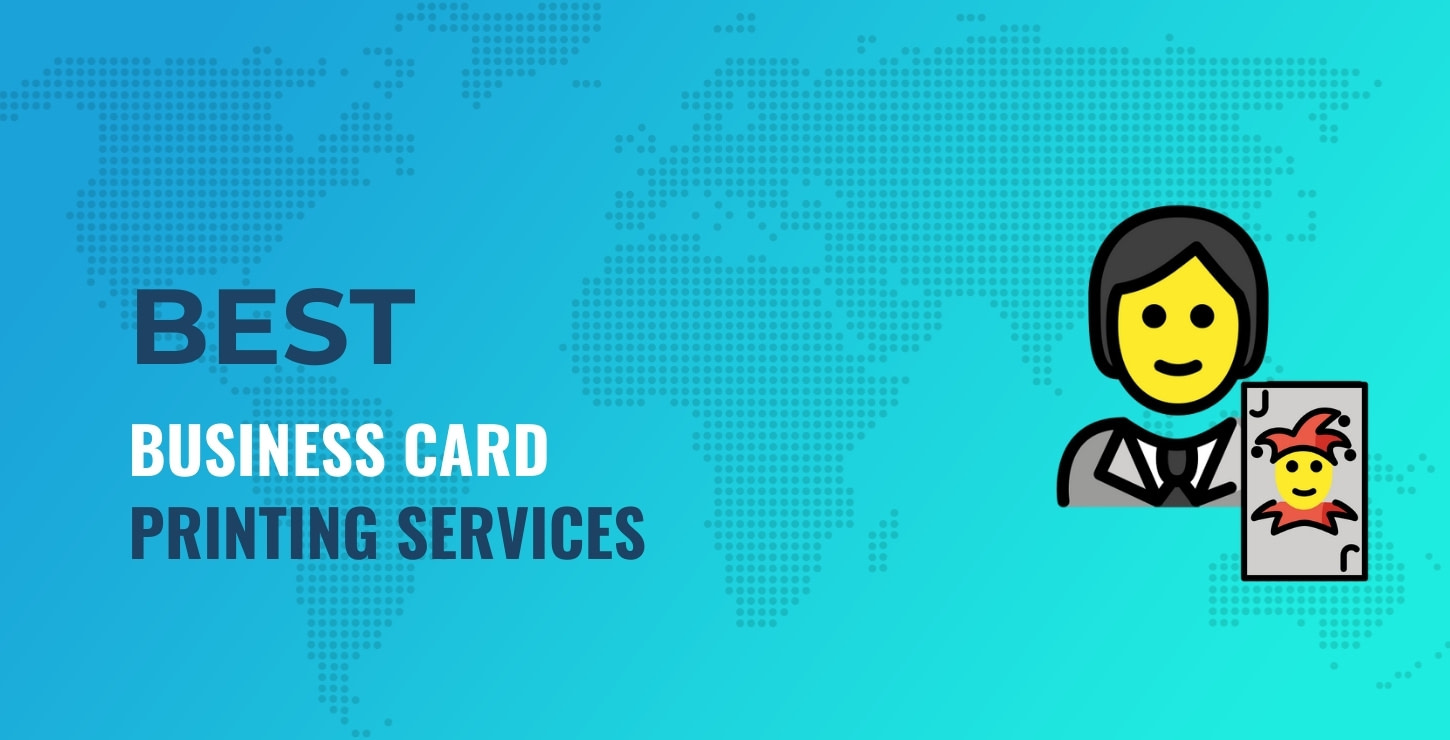 For one thing, I got a unique opportunity to really test all the business card services on our list. Not only that, but I got a taste of the actual experience you can expect when you work with any of them.
And now, I'm finally ready to share it with you. I'll reveal my entire journey from initial card design to the printing and shipping of over 800 business cards to my office.
So, let's get started!
How we're looking for the best business card printing services
Building the following list of printing services meant finding and evaluating The Internet's™ top recommendations. We pulled together customer reviews, social media buzz, company profiles and mashed them together. Now, all we needed was a test subject. Our lead designer, Mihai, stepped up to design a business card that would push each service to the limit.
Mihai's final design includes multiple text sizes, lines of different widths, CMYK colors with tonal shifts, as well as black and white in a variety of elements. It's far from a usual business card design, but it's perfect for each of the companies and their printing abilities. Check it out:
At the end, we sent the design to ten services.
Unfortunately, orders from Moo and Vistaprint never reached my desk. Moo tried their best, but UPS let them (and us) down by failing to deliver the cards twice. And Vistaprint? They accepted our order, processed it, canceled it, never spoke of our order again. If you're out there guys, we miss you.
So, here's our list of the eight best business card printing services:
The characteristics of a good business card printing service
Before we dive in, let's take just a moment to look at what makes a good business card printing service:
An easy-to-use design tool:
It should be easy to find and compare options before turning your choices into a stylish and professional business card. A good online printing service should make this easy through a straightforward interface.
Print customizations:
If you want a business card that stands out, look for special features like finishes, paper stock, sizes, corner options, and perhaps even die-cut for unique shapes.
Good guides and specifications:
You'll need marked bleed zones and safe areas to help you place design elements away from the blade's reach.
Templates:
If you don't have a design ready, then professionally designed templates can be a tremendous help. You might be able to find a service with templates organized by industry, style, and more.
File types:
While a long list of file types might seem to offer flexibility, printers generally prefer PDF, AI, and EPS files.
Professional assistance:
Using an online printing service doesn't mean losing the friendly touch of a responsive local printer. Look for extra options like design reviews, free proofs, and sample packs.
Support options:
A good customer support team should be easy to reach with a good response time. Furthermore, there's no price too high for access to a pro-active support team.
Best business card printing services compared
Here are the companies one by one, the details of their offers, and what we think of the experience:
Jukebox Print
Best business card printing service overall
From their sturdy multicolored storage box to their quick delivery, there are dozens of reasons for Jukebox Print's stellar global reputation. And, after my experience, I'm a fully signed-up member of their fan club too.
🖨️ Print quality:
Let's dive straight into the cards. The first thing I noticed was the nice and even trim that left smooth edges on every card.
If I wanted to be critical, I'd mention the cards are slightly off center. But, in the spirit of fairness, the borders were designed by an evil genius. Most cards won't have this issue.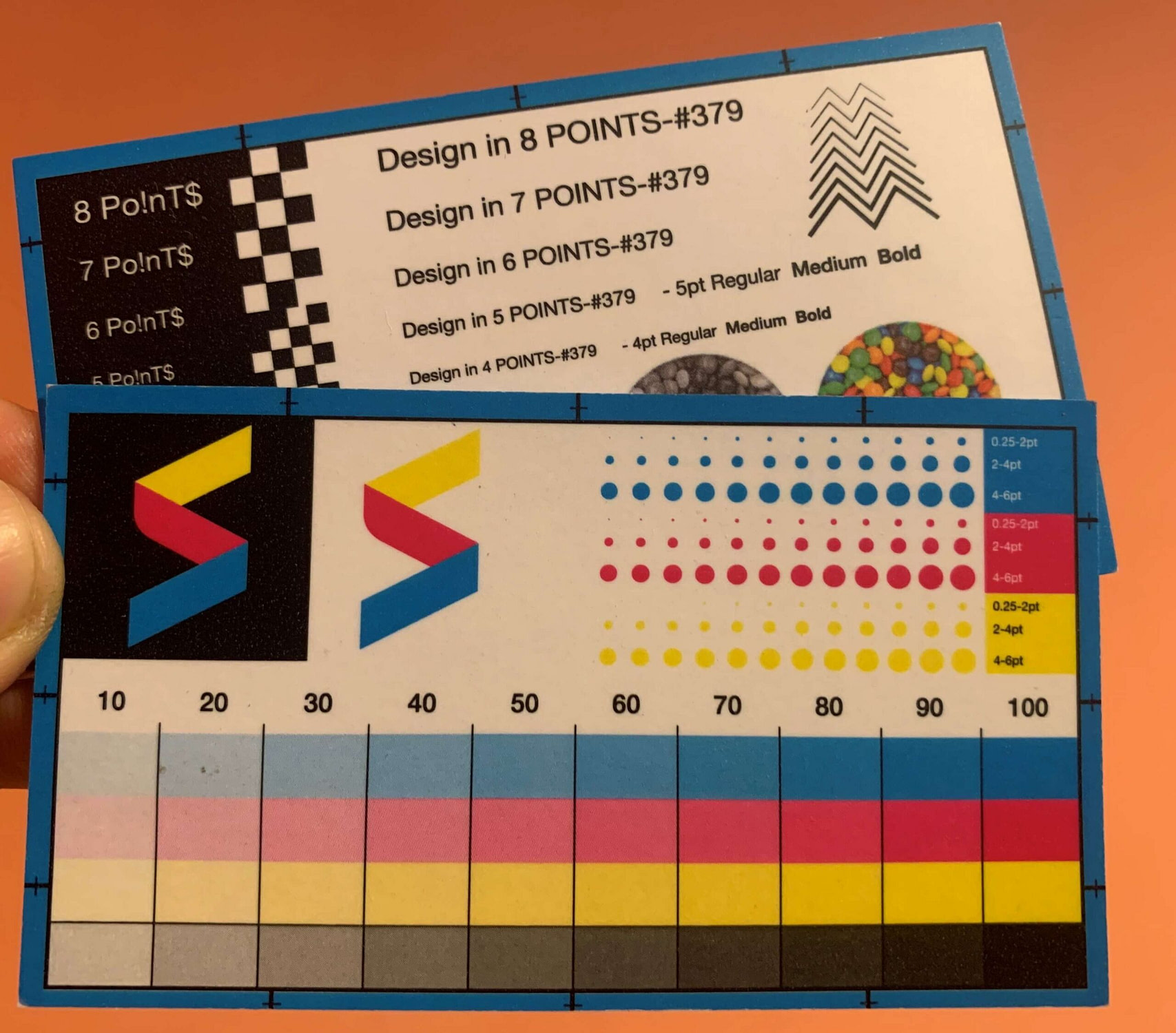 Like I said, the centering is a minor issue. Jukebox Print qualifies as the best business card printing services because:
Every card had sharp lines and distinct icons.
Consistent accuracy in color, including the changes in tone that stumped other printing services.
Our text remained readable, with no blurring into the background.
The images were perfect!
Easily the best texture with an authoritative weight in the hand.
💳 Shipping and pricing:
This quality can be a little pricey. You'll need to order at least 250 cards at $59 ($0.24 per card). But, free shipping kicks in at $49 for North American delivery.
International customers should note that you get just five days to ask for reprints. This might make Jukebox unappealing if you're outside North America.
🎨 The design process:
There are some challenges when creating your design. For instance, you need to select paper and customizations before you can upload a file.
You'll need some heavy scrolling to find guides, but the interface is easy to navigate. You also can't add files until checkout.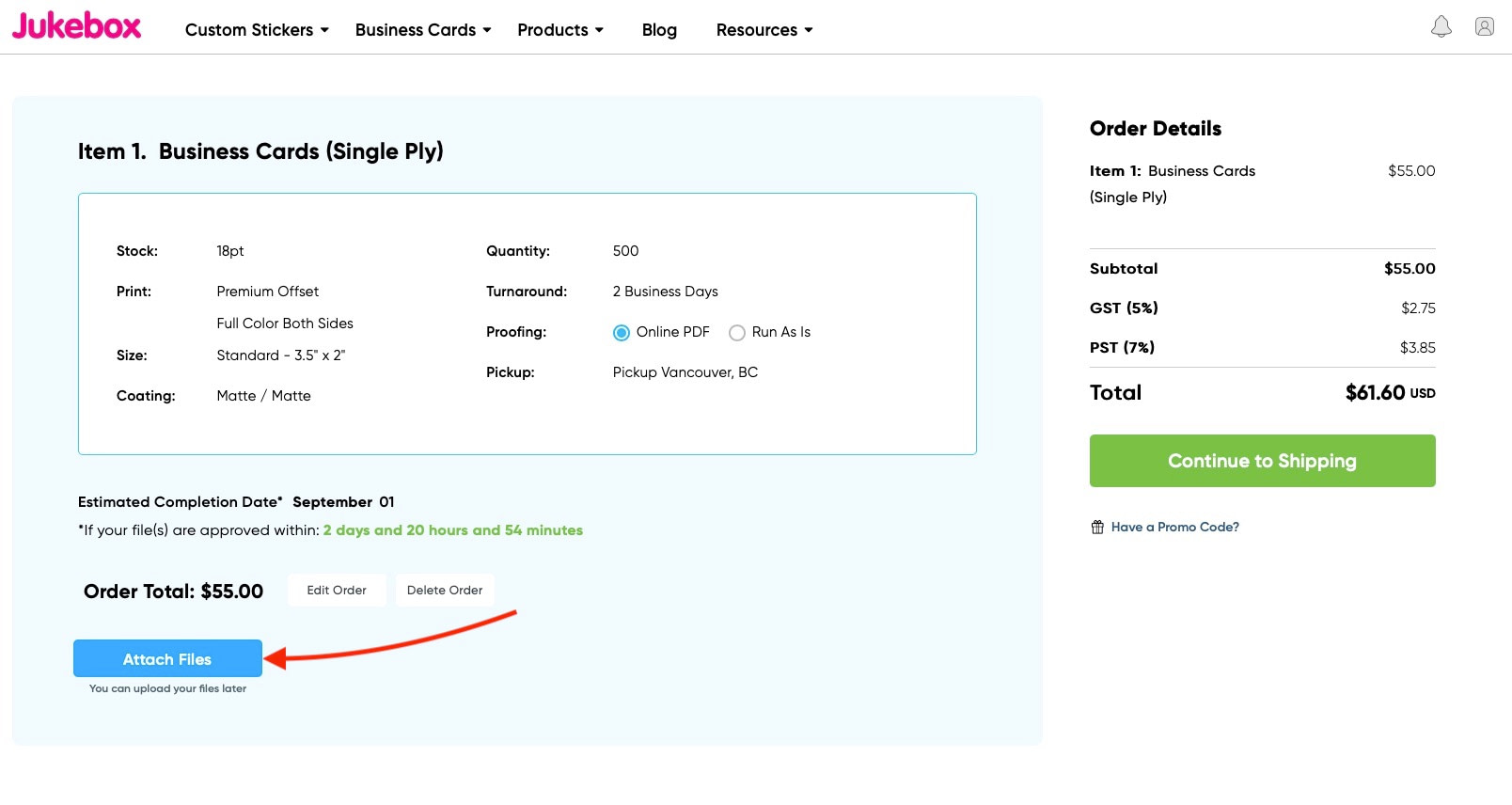 Once this is done, you can get an online proof (there's no option for hard copy proofs).
Now, they have around 280 templates, but there's no filter to help you find something for your industry. You'll save time using their business card maker.
Fortunately, it's easy to use with sliders and drop-downs, making the most of a partial drag-and-drop interface. You'll have access to standard shapes, a free image gallery, and colorful clipart.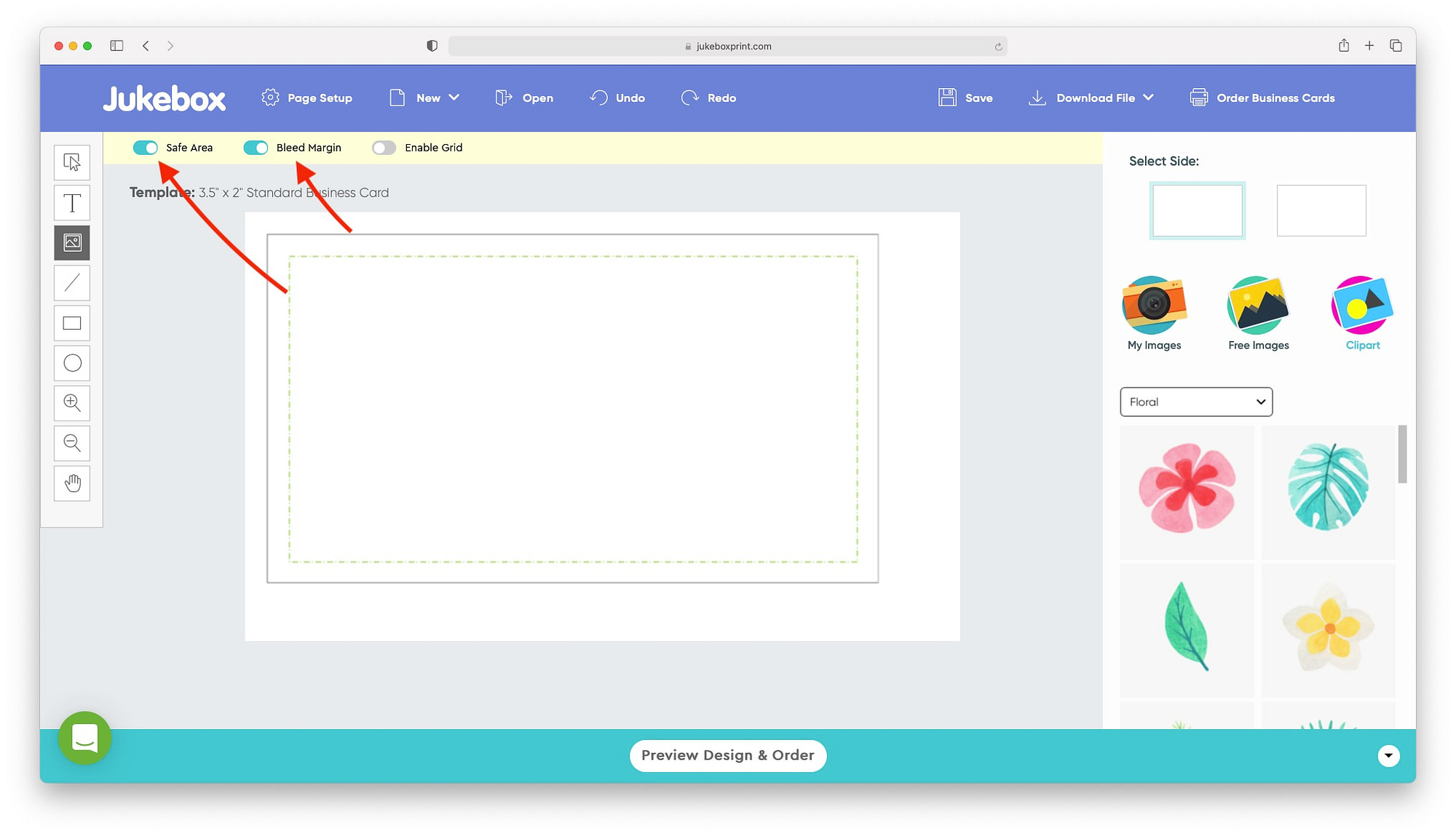 If you're using a third-party tool, you'll find Jukebox Print rejects some popular file types, like PDF or PSD, and you can't use vectors.
🤔 Card options and customizations:
Now, that might sound like a lot of complaining, so let's switch to areas where Jukebox Print shines: sorting paper options and customizations.
Everything is easy to find, and Jukebox Print offers great customizations. You'll see the dazzle of sparkles, the elegance of embossing, or the comfort of recycling. And for the more adventurous, there are stickers or wooden cards.
What are the pros and cons of choosing Jukebox Print for your business cards?
PROS
Best overall printing for accurate colors, readable type, and clear images.
A great card to hold in your hand.
Easy-to-use design tool.
Plenty of customizations for unique cards that impress.
CONS
A little on the pricey side.
The templates can be difficult to sort through.
You may also be interested in:
Elite Flyers
Best price-to-value business card printing service
To be fair, there's little that separates our top two options. But, if a lower price is a higher priority for you, then check out Elite Flyers.
With shipping options available to most countries, they're my pick for the best bang-for-buck online business card printing service.
🖨️ Print quality:
Elite Flyers cards are a pleasure to handle. They've got crisp corners, smooth edges, and a nice texture. Not a bad start.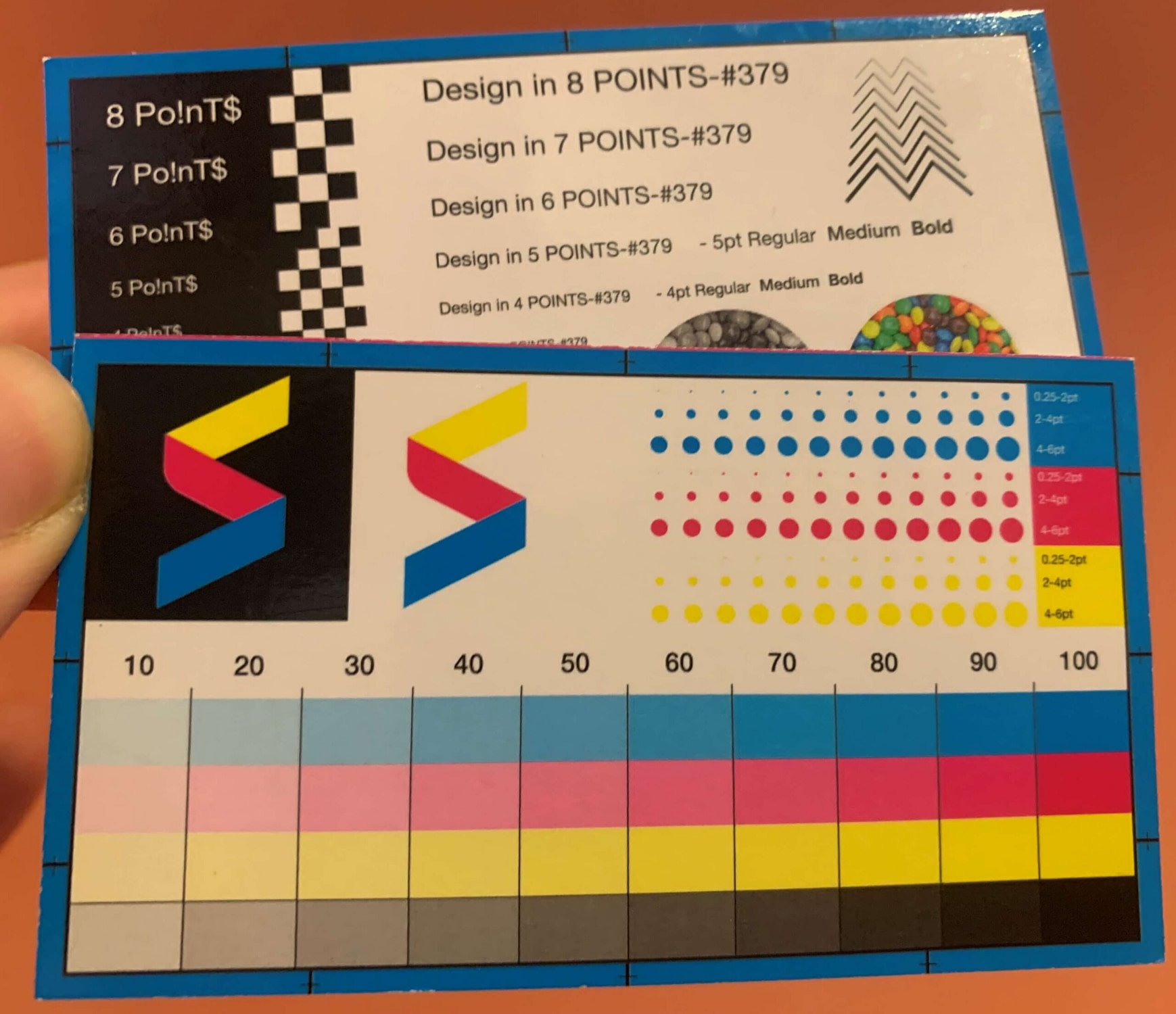 But, again, the cards are slightly off center. Not a fatal blow, but definitely an inconvenient one.
On the other hand, they have:
Colors that are really vibrant, even down to the small dots.
Clear images with no pixelation, blurring, or graininess.
Consistent tonal shifts.
No bleeding of type into the background.
Consistently sharp line work without any wide stroke widths.
💳 Shipping and pricing:
Elite Flyers offers great pricing. But, the minimum order can be high (sometimes at 500 cards). However, the short-run starts at $20 / 100 cards and shipping for under $20.
🎨 The design process:
As marvelous as the cards are for their price, both the design process and website can be difficult to manage.
For example, the business card page has tons of options but little useful information. Furthermore, once you decide on an option, you need to work to find the design tools.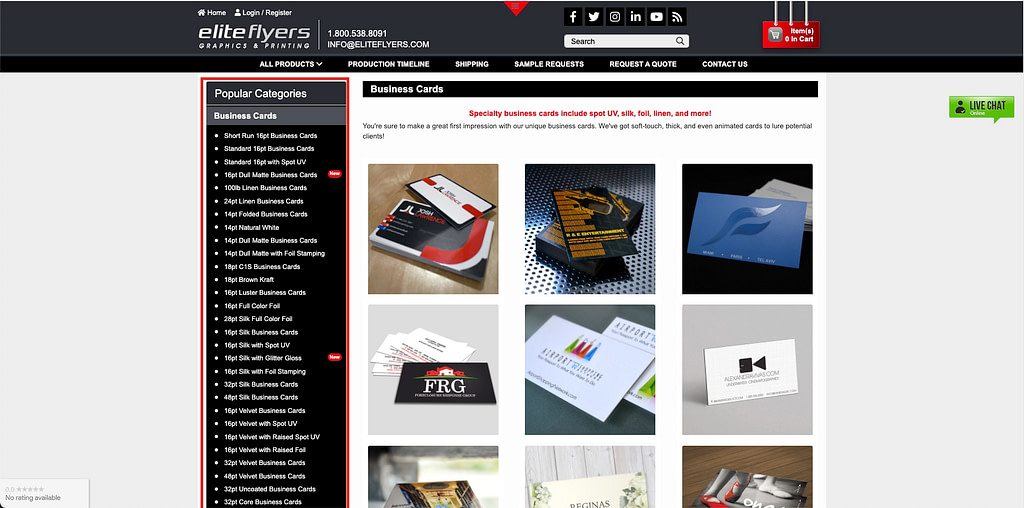 The drag-and-drop design tool has informative tooltips and access to Pixabay. But other design elements are average. I'd recommend you bring a completed design.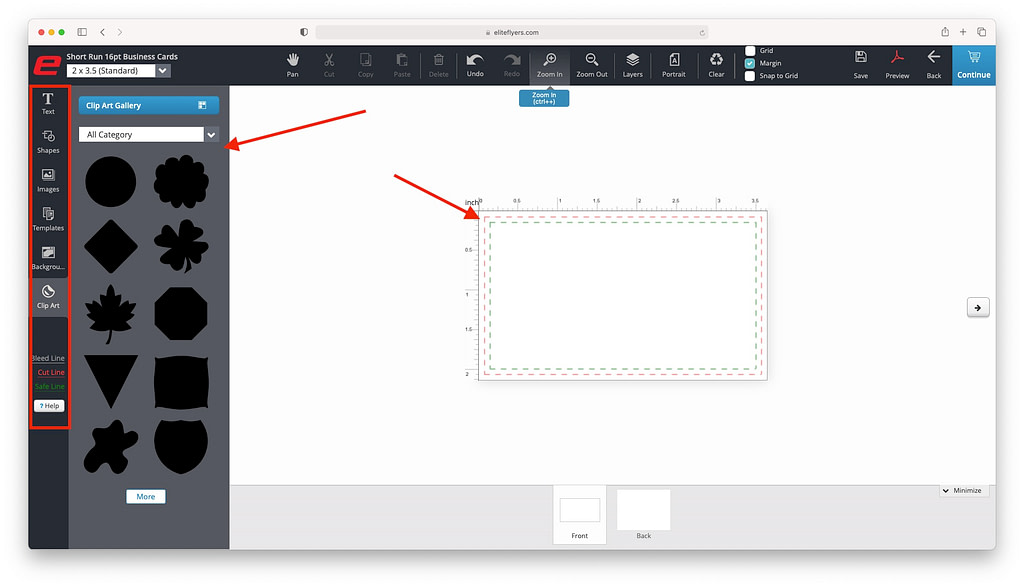 You could use over 500 pre-designed templates. But they're not well organized. And, the search function didn't yield any results (even for something like "sales manager").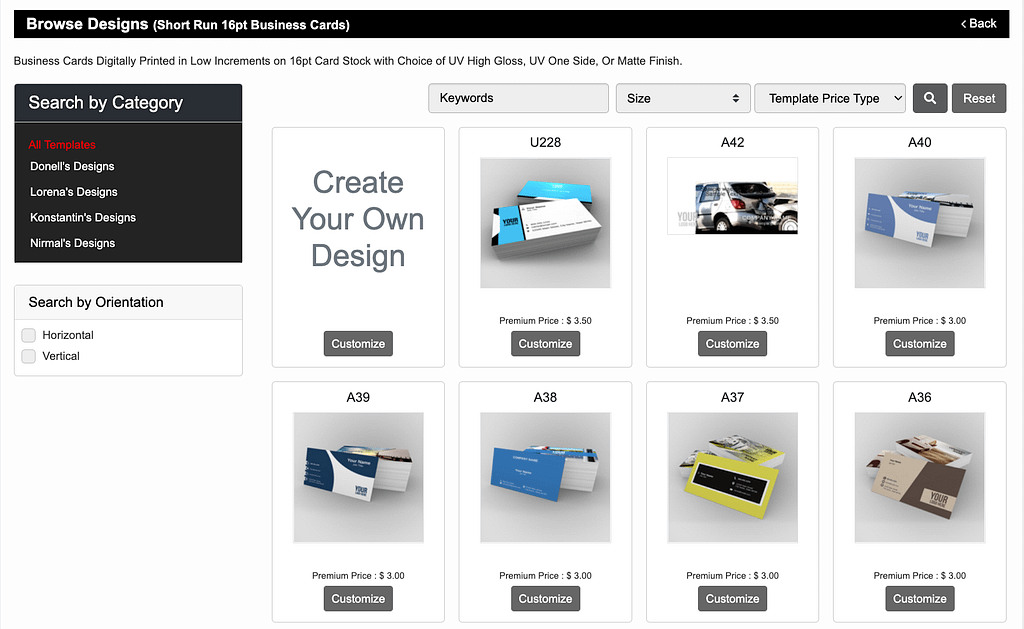 🤔 Card options and customizations:
For customization, Elite Flyers is Frankenstein's lab. I mean, you can combine anything in their arsenal of paperweights and stock. This includes things like spot UV, embossing, foils, and unique options like lenticular.
What are the pros and cons of choosing EliteFlyers for your business cards?
PROS
Great work with fine lines and small type.
Customizations you won't find anywhere else.
Access to Pixabay.
Great value for top-of-the-line cards.
CONS
Complicated website to navigate.
It's frustrating to search through the templates.
PsPrint
Best cheap business card printing service
PsPrint is the best cheap option for online business card printing. While ordering and designing can be confusing, they are known for heavy discounts, so if price is the single most important factor, start here.
🖨️ Print quality:
I really liked the cards. I mean, there's not that much separating PsPrint from Elite Flyers and Jukebox Print.
In fact, you could say PsPrint did the best job printing images. They also ticked the following boxes:
Legible text.
Consistent line work with no wavering.
But they fall short of Elite Flyers and Jukebox Print in two ways. One big and one small.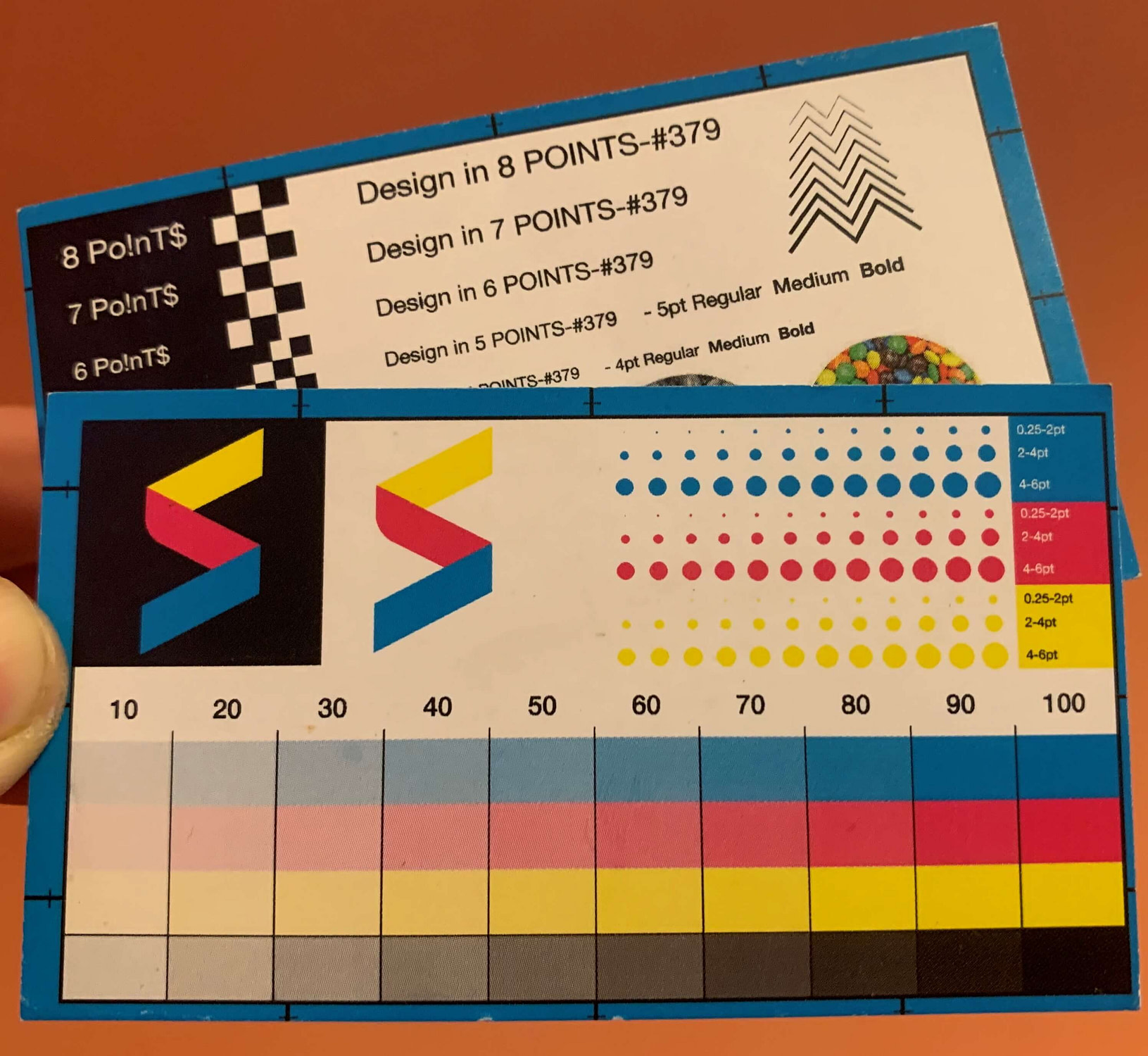 Firstly, the off-centering issue. It's enough to shunt the card sideways. Secondly, and more significantly, the colors are off. Particularly the yellow, which is slightly green.
💳 Shipping and pricing:
Starting at $17.31 for 100 double-sided business cards, they're the cheapest printing service we ranked. As a sweetener, PsPrint charges $9.95 for shipping in North America.
🎨 The design process:
PsPrint has the best design tool of all the business card printing services. They even have things like filters and transparency controls.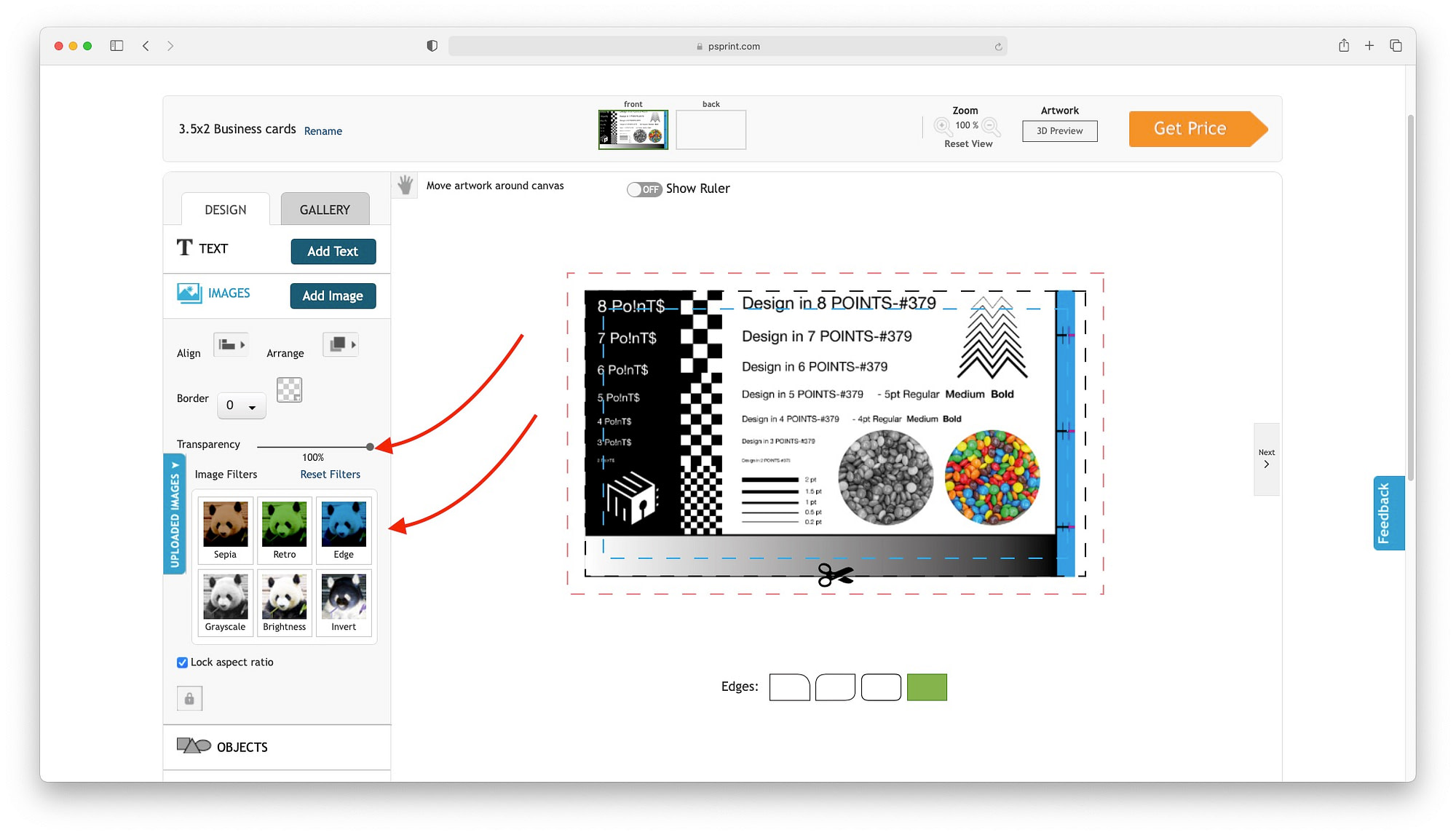 While you don't get image, clip art, or icon galleries, you'll find 250+ design templates.
For guides, there's no snap-to-grid making to help get your design right. However, if I tried to skip ahead, I was warned about design issues.
🤔 Card options and customizations:
PsPrint covers most needs with duplex cards, folding cards, and die-cut cards among the noteworthy options.
What are the pros and cons of choosing PsPrint for your business cards?
PROS
Regular discounts and special offers.
Best printing service for images.
Very cheap prices complemented by low shipping rates.
CONS
Erratic cutting and trimming.
Limited customizations.
Fewer design elements to add to your card.
PrintShop
Best business card printing service in India
An outside-the-box option for sure, but one you should consider. Based in India, PrintStop maintains a global client base. If you're willing to wait for cross-country delivery, PrintStop is a solid choice.
🖨️ Print quality:
Hey so, centering again, huh?
I'm not surprised. The design tool hated our image. I stretched it. I dragged it. You can't tell, can you? Every card has the pink "cut" border still attached.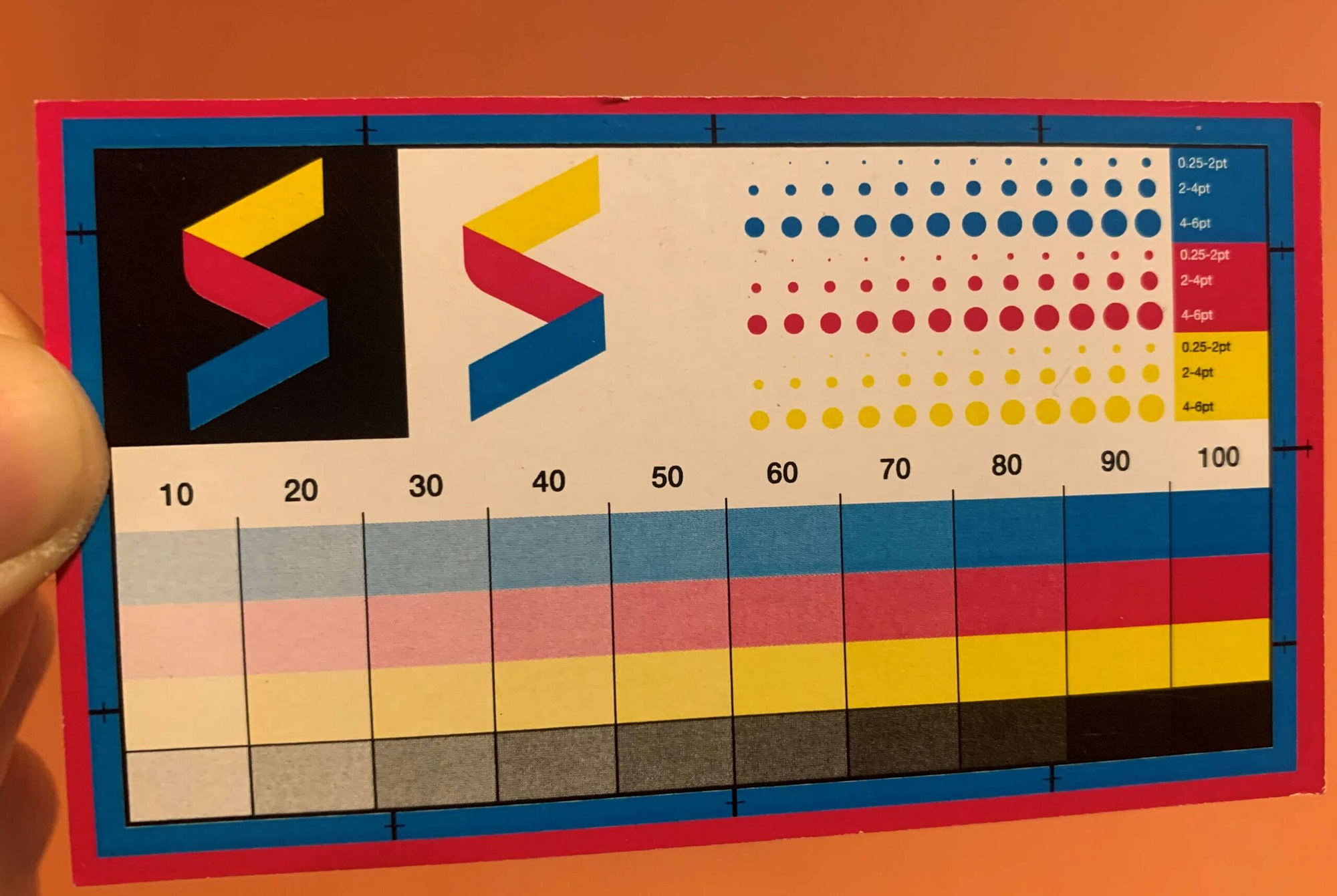 Otherwise, they nailed:
Nice trim and otherwise good centering.
Strong fine lines with visibility on the finest lines.
Consistently legible text.
Bright colors.
Consistently sharp line work without any wide stroke widths.
💳 Shipping and pricing:
You can get a hold of 100 double-sided business cards with local shipping for just ₹50. PrintStop also offers a free co-branded option for Indian customers. You can use a free template and pay just the shipping costs.
🎨 The design process:
The website is easy to navigate and the building and ordering process is a pleasure.
The design tool is easy to use, with all margins enabled by default.
It accepts popular image files, plus PDF, SVG, and QR codes. You can find well-organized paid templates, but you're still better served using your own design.
🤔 Card options and customizations:
When it comes to cards stock and finishes, PrintStop has everything from slim, plastic, three-ply, to spot lamination.
What are the pros and cons of choosing PrintStop for your business cards?
PROS
Well designed website with clear steps to follow.
The best design tool with rare elements like QR codes.
Free co-branded cards for Indian businesses.
CONS
The cutting and centering.
Some colors faded into the background.
Depending on your location, the shipping might take too long.
ExpressPrint
For fast business cards in Europe
Based in Slovakia, ExpressPrint offers budget pricing to patient shoppers. Unfortunately, the design process can be difficult to manage.
🖨️ Print quality:
But let's start out positive:
Fine line work and text legibility are top-shelf.
Sharp, clear images.
Consistent tonal shifts.
No bleeding of type into the background.
Consistently sharp line work without any wide stroke widths.
Unfortunately, the cards suffer from pale inaccurate colors. And, some of them are too far off center to be usable.


💳 Shipping and pricing:
If you're an European looking for black and white cards, ExpressPrint might work.
The cards are cheap and fast at €20 / 100 cards (VAT included). Our Romanian office got the cards just two days after printing. For speed freaks, there's even better options on ExpressPrint's detailed shipping list.
🎨 The design process:
Not fun for a beginner. It comes down to an absence of design elements like images and clipart.
You'll also need patience, as rendering changes can lead to frustrating idle time.
Usually, I'd cut corners and use a template. But there aren't enough stunning templates available. Even when you find one, they lack true customization. Basically, you can personalize a template, but you can't really make it yours.
🤔 Card options and customizations:
ExpressPrint save themselves with their custom options. You'll find die-cut and 3D polish alongside paper options that no one else provides (like postcard, plastic white foil, and more).
What are the pros and cons of choosing Express Print for your business cards?
PROS
Sharp and colorful images.
Great text legibility and fine line work.
Outstanding customizations.
CONS
Very pale colors.
Barebones design tool.
Challenging design and purchase process.
Limited templates on offer.
Canva
I'll be honest. I love Canva and I was sure they'd offer the best business card printing services.
I was wrong. I'd still recommend the design tool for making logos and YouTube banners, but the business cards just don't reach the same standard.
🖨️ Print quality:
Let's look at the good:
The text is readable with no bleeding
Our images are clear with great colors
Beyond that, the cards suffer from too-pale swatches and we almost lose the yellow on the S-shape.


💳 Shipping and pricing:
Price depends on the number of printed sides, a 100 double-sided cards starts at £19 with global free standard shipping.
🎨 The design process:
Obviously, working with Canva remains a pleasure. Everything is drag-and-drop and you can choose from 2,700+ templates in 60+ categories.
You can build from scratch with endless lists of images, graphic elements, clip art, and icons.
Unfortunately, Canva accepts just two file formats: jpg and png. You'll need to stretch images to fit on a canvas without safe zones or bleed zones. They appear later in the payment process, which means returning to your design for further tweaking.
🤔 Card options and customizations:
Not many, I'm afraid. Canva's offers just two paper types and three finish options.
What are the pros and cons of choosing Canva for your business cards?
PROS
Free shipping available.
Great design options and template library.
Great support team.
CONS
No easy access to guides.
Cards were too far off-center.
Pale colors.
Very few customizations.
Very expensive considering the final product.
Zazzle
Zazzle is a marketplace where brands, independent manufacturers, designers, and customers come together. On the back of this community, Zazzle has over 300 million products listed on its website. But what does that mean for their business card printing?
Not much.
🖨️ Print quality:
Zazzle cards impressed me with:
Smooth, well-trimmed borders
Unfortunately, the text bled into the background and the lines had thick stroke widths. Our yellow colors all have a distinct greenish-hue.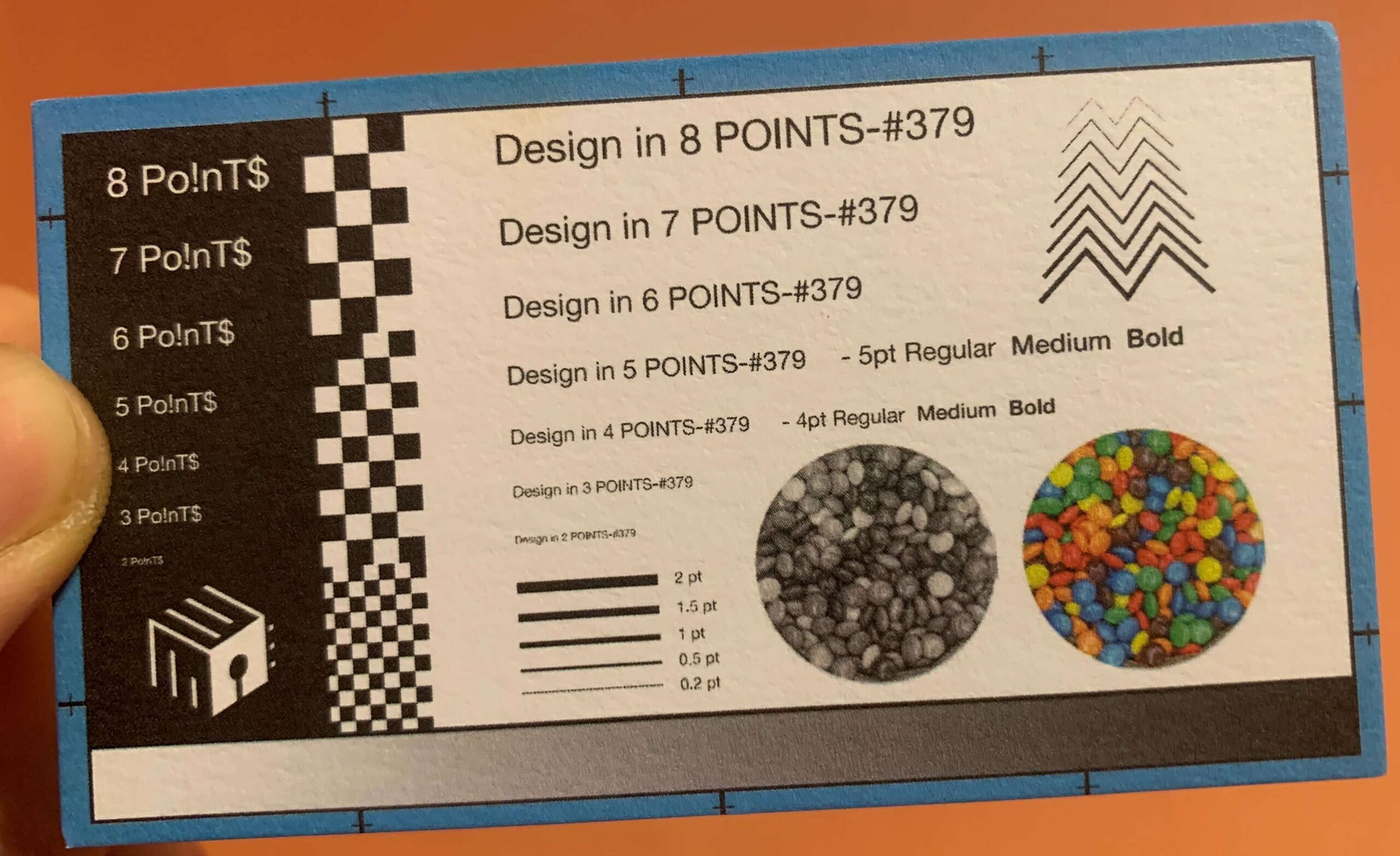 💳 Shipping and pricing:
Zazzle offers competitive prices that start at $20.95 for 100 cards, including double-sided printing.
One other thing, Zazzle regularly run hefty discounts, the starting price will probably be much lower if you stop by the website.
🎨 The design process:
Zazzle offers the most templates of any service on this list. Many of them are doubles and lookalikes, but there's still plenty of variety.
Zazzle provides a lot of graphic elements and icons, but the thick stroke width made icons feel consistently heavy. Unfortunately, the design tool is not drag-and-drop, leaving you will a lot clicking to make things happen.
🤔 Card options and customizations:
For such a huge service, the options and customizations are poor. Your paper options are limited to just three, Standard, Signature, and Premium. And special finishes, like sparkle and embossing, are only available on templates that offer little customization. You can some personal details, but that's about it.
What are the pros and cons of choosing Zazzle for your business cards?
PROS
Regular discounts and cheap shipping.
Around 363,000 templates.
CONS
Some blurring of the text.
Inaccurate colors.
Limited access to special features and customization.
UPrinting
Looking for one-off cards in a hurry? UPrinting offers quick printing on orders as low as 25 cards, making them a useful option for cards with a limited shelf-life.
🖨️ Print quality:
How do their cards hold up? Well, I liked:
Great legibility on all text elements.
Strong dark colors
On the other hand, the colors swatches lost accuracy as they got paler. This meant a lot of our yellow dots got lost in the background.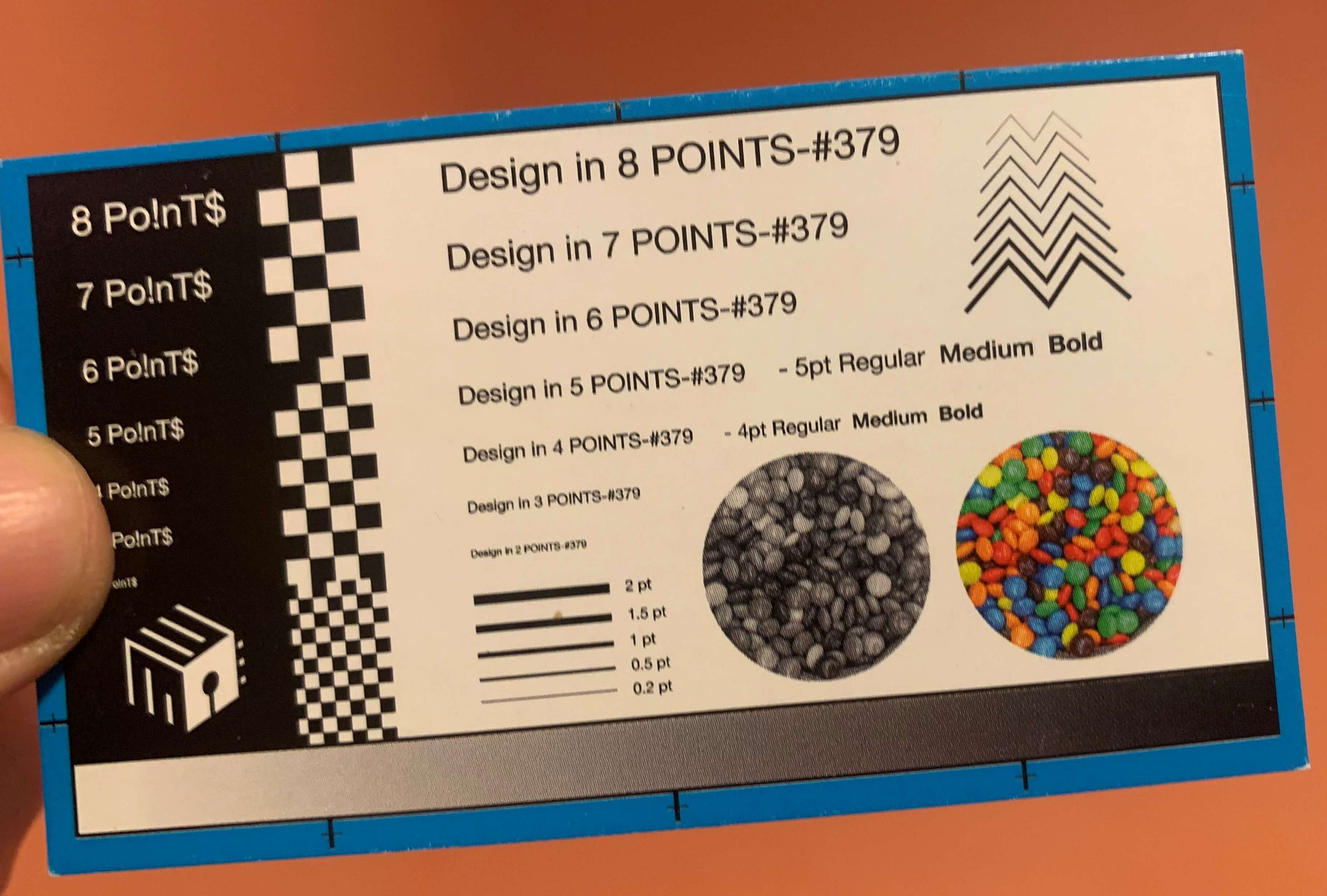 💳 Shipping and pricing:
But, it's not all bad. UPrinting offers incredibly cheap deals on 100 cards for just $10.99. Too good to be true? Yes…
You'll be stung by high shipping charges at checkout.
🎨The design process:
The design tool operates in two states: clunky or not responsive. Couple this with a limited range of elements and images that start at $2 each, and you'll start looking elsewhere.
🤔 Card options and customizations:
UPrinting offers some pretty neat customizations, like magnets, foil, and painted edges.
They also offer the most comprehensive selection of card shapes with leaf shapes, circles, and die-cut available on a range of paper types.
What are the pros and cons of choosing UPrinting for your business cards?
PROS
Legible text on the smallest font size.
Very cheap at $10.99 for 100 cards.
Wide range of customizations.
CONS
Colors were inaccurate.
Poor design tool.
Expensive images and elements.
No pre-designed templates.
Final thoughts on the best business card printing service
Choosing the one among these best business card printing services can be a challenge. With so many online options, it can be hard to know what you'll get when the cards arrive. If they arrive at all.
And that's one thing we learned in this process. If you have a local printer you like and trust, then you don't need to necessarily look elsewhere. While the best options here are genuinely good, the challenges of international or cross-country delivery might leave you with no cards just when you need them most.
To recap, here's our top selection of companies again and why they made the list:
Jukebox Print – the best business card printing service for reliable, professional results.
Elite Flyers – top-tier cards at mid-tier prices.
PsPrint – best budget-friendly card option.
ExpressPrint – the best cards for simple design and quick delivery in Europe.
PrintShop – India's best business card printing service for ease of use and professional cards.
I hope this list has been helpful and that you're now one step closer to finding your ideal business card printing service! 📇
Let us know if you have any questions about the services from this list or anything else related to business card printing.
…
Don't forget to join our crash course on speeding up your WordPress site. With some simple fixes, you can reduce your loading time by even 50-80%:
Layout and presentation by Chris Fitzgerald and Karol K.