This
article
was originally published on
this site
Are you looking for the right SMS marketing plugins to connect with your audience and drive more conversions?
SMS marketing is one of the best tools at your disposal. It allows you to directly contact your potential leads with exciting promotions and offers.
Plus, SMS is well-known for having high open rates and larger amounts of user engagement than other marketing channels.
But there are a few questions you'll need to sort out before diving headfirst into SMS marketing:
How do you get people to comfortably hand over their phone numbers so you can send them timely SMS messages?
And once you get that phone number, how do you effectively manage your contact lists?
Those are exactly the kinds of questions we'll answer today. Because, in this post, we're going to share the best SMS marketing plugins for WordPress.
Let's dive straight into the list.
7 SMS Marketing Plugins for WordPress
1. OptinMonster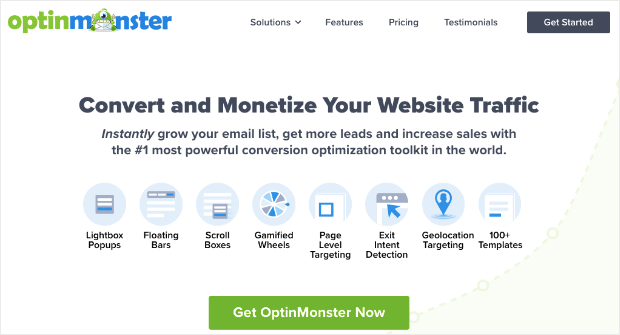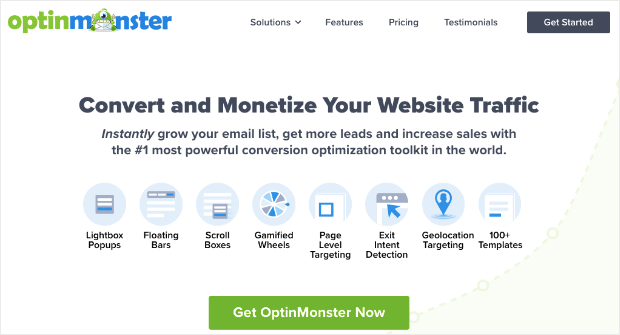 OptinMonster is a premium lead generation plugin for WordPress and the best way for you to build your list of contact numbers.
That's because OptinMonster gives you all the tools you need to build professional and high-converting optin campaigns.
These campaigns are things you're already familiar with, like popups, floating bars, fullscreen welcome mats, and more.
In just a few minutes, you can create campaigns that boost conversions across your site and improve your SMS marketing strategy.
Everything starts with using one of OptinMonster's 50+ templates: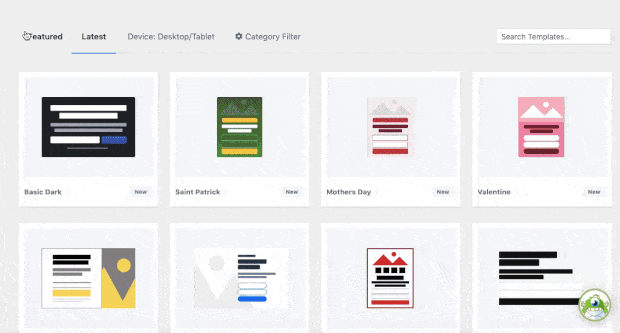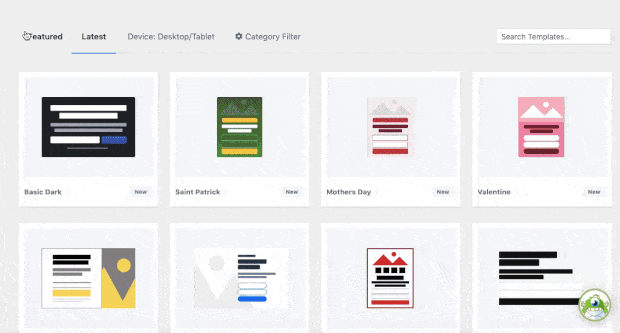 These templates allow you to get a jumpstart on your optin campaigns. In short, they save you time, money, and energy as you work towards an automated strategy for capturing leads.
Plus, you don't need to know any code or have any technical experience to customize these themes to your liking.
You can, for example, change any part of the text of your campaign in just a few clicks:




And if you want to add new features to your campaign, doing so couldn't be easier.
Simply select the feature you want to add and drop it into place: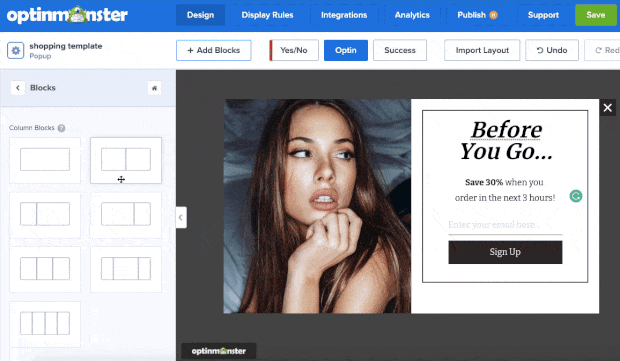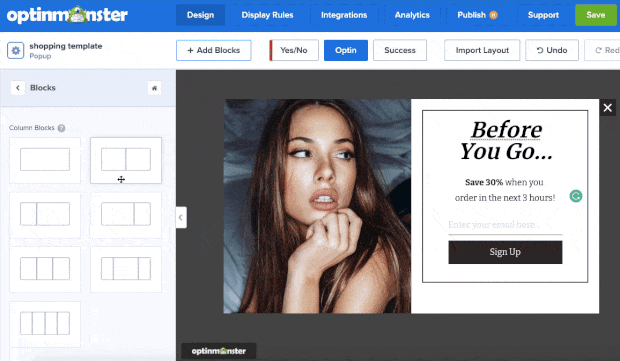 This gives you full control over your SMS optin campaign.
Imagine, for example, being able to build a popup like this one in under 5 minutes: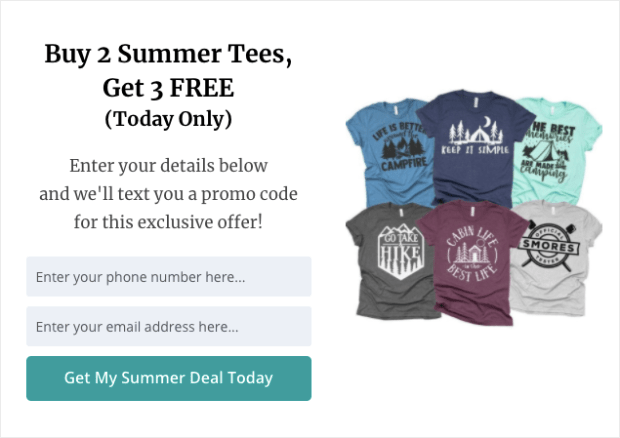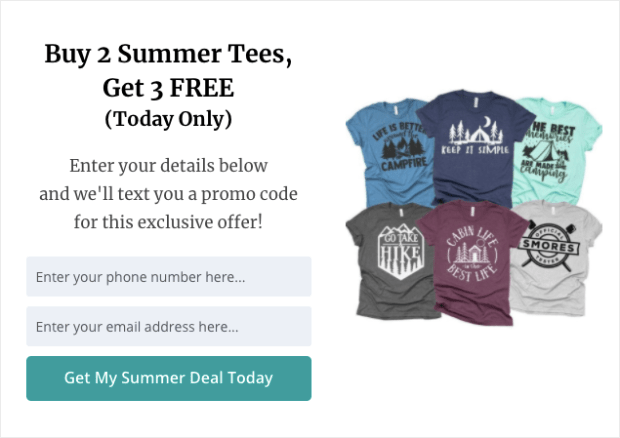 Then once you've built the campaign, you have the ability to show it to the right people, in the right places, and at just the right time in their customer journey.
You can do that with OptinMonster's targeting rules. Some of the most popular options include:
Exit-Intent® Technology: Recover abandoning visitors as they're actively leaving your website.
OnSite Retargeting®: Keep users engaged by showing fresh campaigns to returning visitors.
Geolocation Targeting: Personalize the user journey by targeting users by their physical location.
MonsterLinks™: Boost conversions with clickable campaigns that allow the user's behavior to determine which offers they see.
Again, there are many other targeting rules available, including triggers created exclusively for WooCommerce.
This helps you grow your contact list for a more profitable SMS marketing strategy.
Key Features
Codeless drag and drop builder
Works with ANY WordPress theme
Self-hosted (so it won't use your site's bandwidth)
Advanced targeting rules increase conversions
Powerful analytics dashboard optimize performance
And much more…
Price: Paid plans start at only $9/month.
Ready to see it in action for yourself? Just click below to start your 100% risk-free OptinMonster account today:
Get Started With OptinMonster Today!BONUS: Done-For-You Campaign Setup ($297 value) Our conversion experts will design 1 free campaign for you to get maximum results – absolutely FREE! Click here to get started →
2. WPForms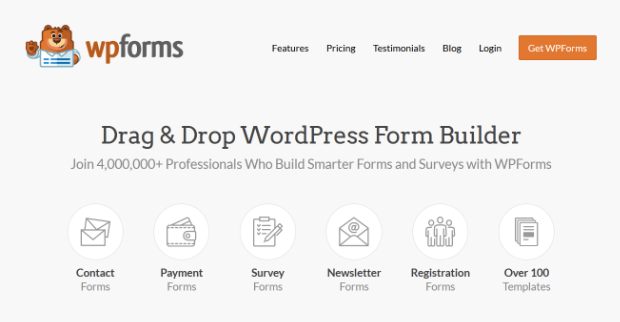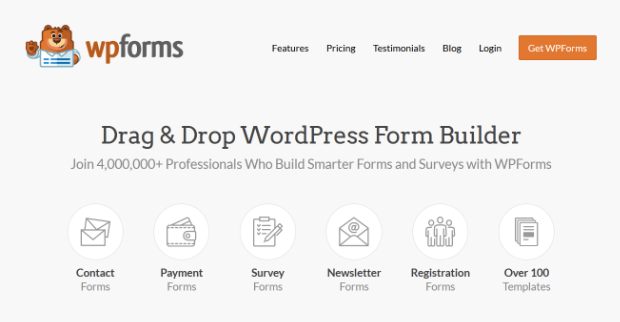 You probably know WPForms as the best WordPress form builder plugin, so what's it doing on a list for SMS marketing?
WPForms allows you to quickly and easily create any kind of form for your WordPress website, such as:
Contact forms
Payment forms
Surveys
Newsletter forms
Registration forms
And more…
And with its drag and drop visual builder, anyone can add new fields to any of these forms in seconds: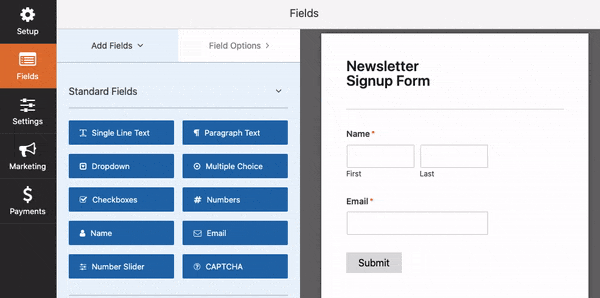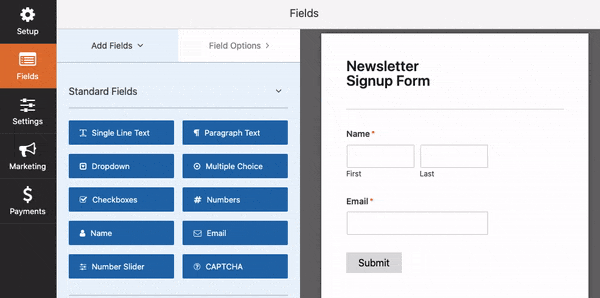 This allows you to put a place for your site's visitors to enter their phone numbers.
Plus, you can make this field optional or mandatory, depending on your marketing/sales goals.
And when you get new leads, you can have them sent directly to your email service provider (ESP).
If you're using a service like Sendinblue or Drip, for example, you'll be able to manage your SMS contacts seamlessly through that platform.
This gives you an automated lead-generating system that sends new contacts to your SMS manager. Then you can create SMS sequences that guide new subscribers down your sales funnel.
Key Features
Pre-built form templates
Drag and drop builder
Easy to install
Responsive and mobile-friendly
Entry management
Real-time notifications
And much more…
Price: Starts at only $39.50/year.
Get started with WPForms today!
3. Formidable Forms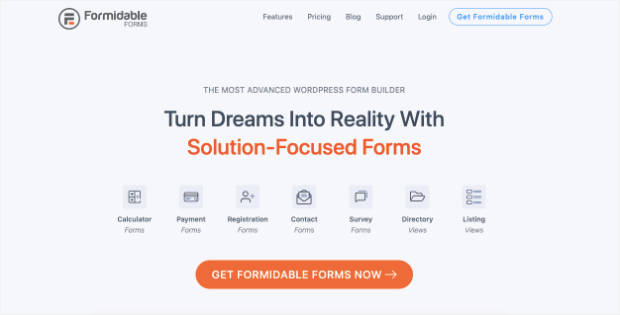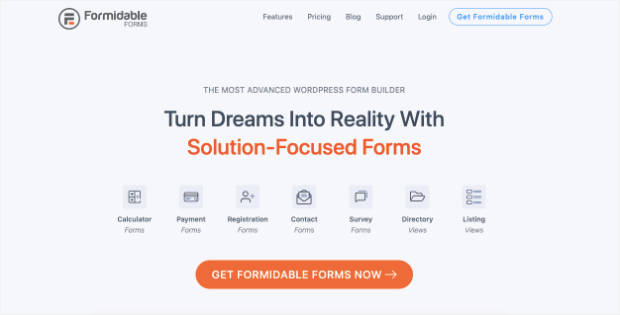 Formidable Forms is another form building plugin that you can use to improve your SMS marketing strategy. Like WPForms, you can use this plugin to create forms across your website and capture your visitor's phone numbers.
This plugin has a codeless drag and drop visual builder. That means you don't need to know any code or have any technical experience to get forms on your site FAST.
Plus, it comes with pre-built form templates to save you more time as you capture new leads on your website.
You can add phone number field boxes to any of these forms and integrate them with your favorite 3rd party marketing tools.
It has a particularly useful Twilio SMS integration to let you automatically send new leads to your SMS sequences. By combining these 2 tools, you can capture phone numbers and instantly send your best offers, promotions, and deals.
In the end, this gives you a frictionless marketing strategy that leads to higher conversions and more sales for your business.
Key Features
Drag and drop form builder
Form templates
Online form calculators (for custom quotes)
Polls and surveys
Quizzes
Conditional logic
And much more…
Price: Paid plans start at $39.50/year.
Get started with Formidable Forms today!
4. Sendinblue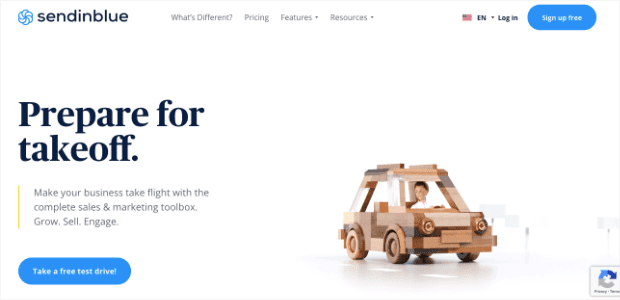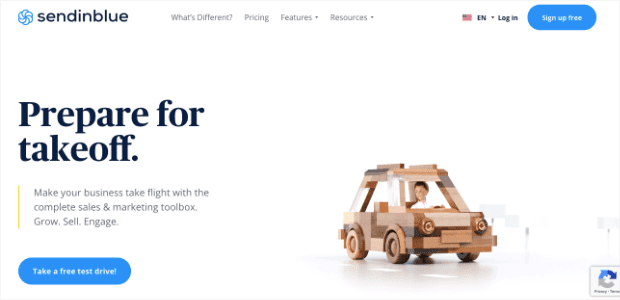 Sendinblue is one of the most popular email service providers (ESP) on the market. But it also offers SMS marketing and comes as a convenient WordPress plugin.
This simple tool gives you the ability to grow your mailing list, gather contact numbers, and send automated messages to your audience through both channels.
Plus, the plugin is totally free to use (though you'll need a Sendinblue account to do so).
With Sendinblue, SMS marketing is easy. Simply write your message, choose your audience list, and schedule it for when you'd like the message to go out.
You can also set up transactional messages to keep customers up to date. This is especially helpful for informing customers about shipping, low stock statuses, and more.
And with dynamic features, you can personalize these messages to include your recipient's name, company name, location, or other information you know about your new lead.
When you're done, review your campaign's success with detailed analytics. This lets you create a more efficient and data-driven marketing strategy.
Key Features
Free to get started
Integrates with 3rd-party marketing tools
Automated mailing and SMS sequences
Manage and segment contact lists
Powerful analytics dashboard
And much more…
Price: Sendinblue is free to start for up to 300 emails per day. Paid plans begin at $25/month. The plugin is free to use.
Get started with Sendinblue today!
5. Drip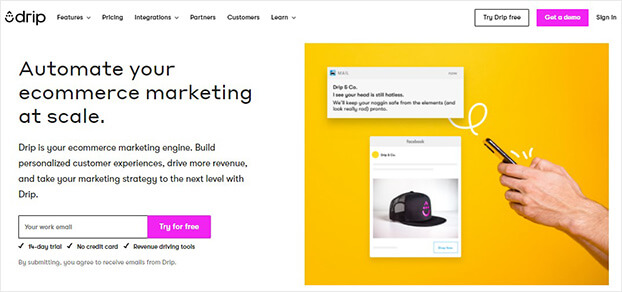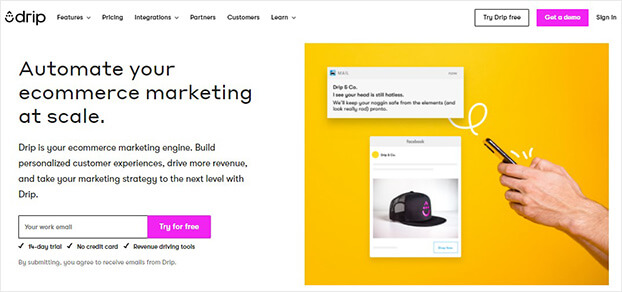 Drip is another popular ESP that gives you access to SMS marketing. In fact, Drip is often referred to as the "Mailchimp of eCommerce."
It comes with a free plugin for WordPress users and allows you to build a comprehensive SMS marketing strategy in minutes.
Once you have a Drip account, you'll be able to manage your new contacts and send automated messages directly to their phones.
Both of these messages (email and SMS) can be personalized to speak directly to the recipient. You can organize your audience lists for more targeted messaging, and you can even build sequences to guide your new leads down a sales funnel.
Over time, this will lead to higher conversions and more sales for you!
Key Features
Easy to get started
Plugin is free to use
Integrate with social media
Personalize messaging
A/B testing
Analytics dashboard
And much more…
Price: Drip accounts start at $19/month for email. You can then add $15/month for 1000 SMS messages.
Get started with Drip today!
6. Twilio SMS for WooCommerce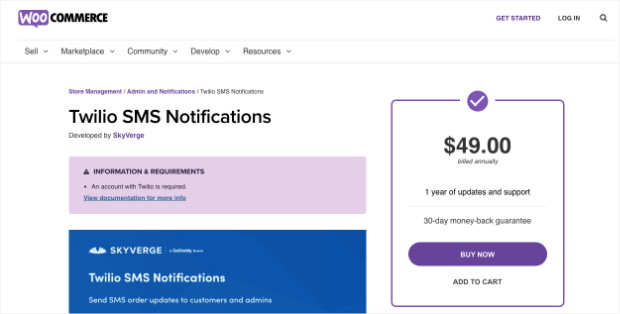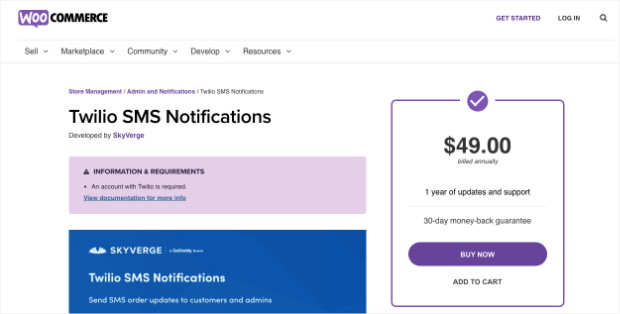 Twilio SMS for WooCommerce is a great solution for all eCommerce store owners who want to send SMS messages to their audience.
These automated messages keep your customers up to date about their orders. This goes a long way in developing more brand loyalty out of your audience.
You can also customize these messages to include the user's name, location, company name, and more.
And the best part is that, unlike email marketing, your users don't need to opt into your SMS campaigns for you to send them these messages.
Instead, you have a reliable and direct channel for contact customers, increasing their user experience (UX), and boosting sales for your WooCommerce store.
Key Features
Send transactional notifications
Keep customers up to date
Personalize messaging
Character counter to help respect character limits
And much more…
Price: This plugin costs $49 and comes with 1 year of updates and support.
Get started with Twilio SMS for WooCommerce today!
7. WordPress SMS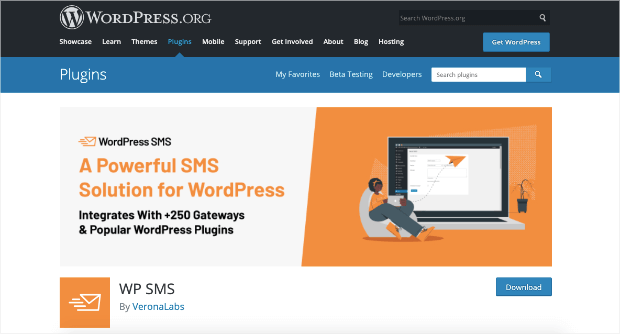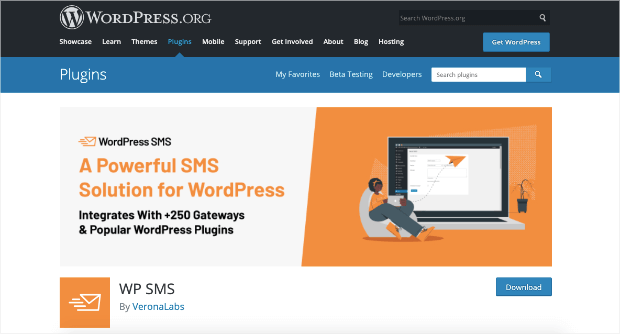 WordPress SMS is a plugin designed to use SMS to redirect users back to your WordPress site and increase your site's conversions.
It's a simple plugin that allows you to contact new leads and your WordPress admin users, depending on the situation.
These messages can be automated, so you can create drip sequences to increase sales from new customers. Plus, you have the ability to use 2-step authentication to improve security across your site.
Finally, if you have a WordPress community, allow your users to log in with just their mobile phone number. This will increase engagement among your users and improve UX.
WordPress SMS is a completely free plugin, though, for a more reliable service, you'll likely want to upgrade to the Pro plan.
Key Features
Supports over 200 SMS gateways
Use for transactional or promotional purposes
Personalize messages
Integrates with 3rd-party plugins
And more…
Price: This is a free plugin. The Pro plan costs $30 for a lifetime license.
Get started with WordPress SMS today!
And that's all for today! These have been 7 of the best SMS marketing plugins for WordPress.
Get Started With OptinMonster Today!BONUS: Done-For-You Campaign Setup ($297 value) Our conversion experts will design 1 free campaign for you to get maximum results – absolutely FREE! Click here to get started →
We hope you enjoyed this post. If you did, then you'll definitely want to check out the following resources:
These articles will have even more information on how you can improve your SMS marketing strategy to MORE drive conversions and sales today!

Published by Nathan Thompson
Nathan Thompson is a father, a writer, and a lover of travel (in that order). When he's not wrestling with his kids, you'll likely find Nathan giving his eyes a much-needed break from screens with a good book or planning a family trip with his awesome wife.