This
article
was originally published on
this site
One of the best ways to display information about products or packages is to use a pricing table. The easiest way to create a pricing table is with a WordPress pricing table plugin. Fortunately, there are lots of good choices available. In this article, we'll look at the best WordPress pricing table plugins to help you choose which is best for your needs.
1. Pricing Table by Supsystic



Pricing Table by Supsystic is the most popular WordPress pricing table plugin in the WordPress plugins repository. It features a drag-and-drop builder with unlimited pricing tables, columns, and rows. Each can include images, videos, and icons. Several free templates are provided to get you started.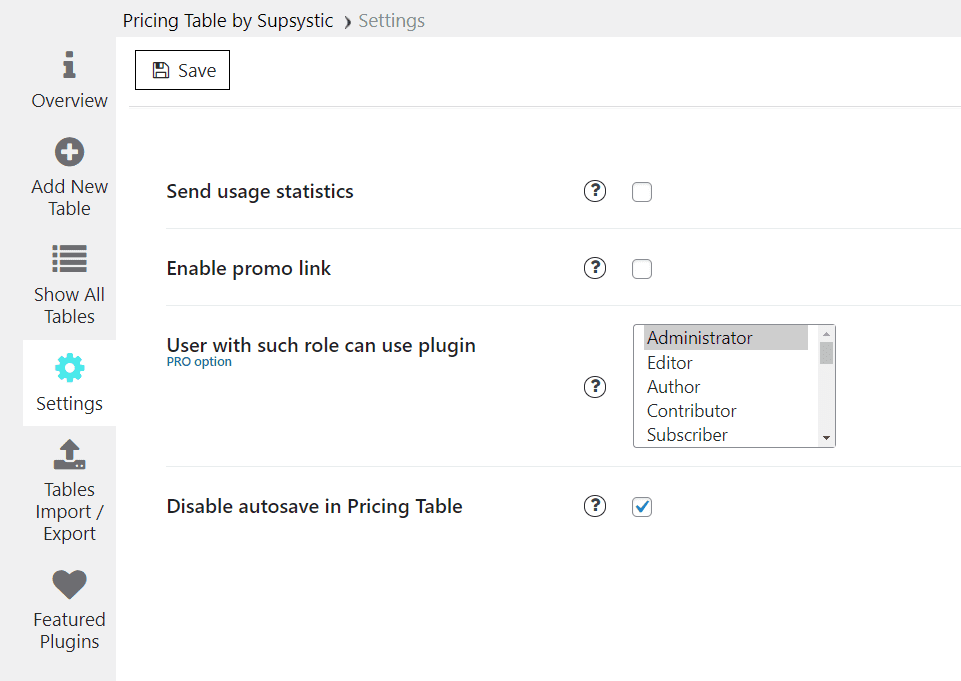 The menu system is an intuitive dashboard with tabs. Here, you can create tables, view them, adjust the plugin's settings, and import or export your tables.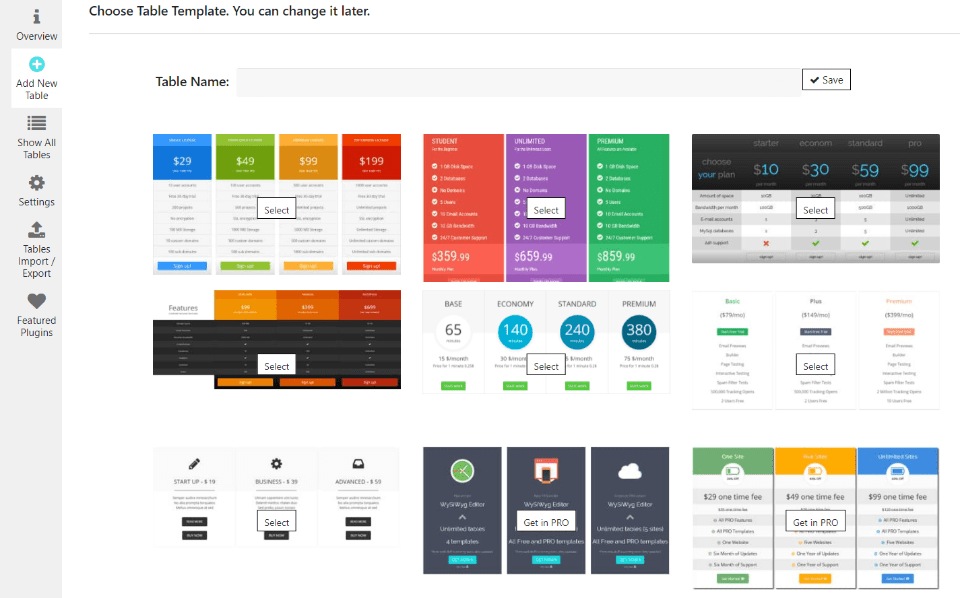 The pricing table editor includes templates to get you started. It has 7 free templates and lots of pro templates. Simply select a template, provide a name, and save it.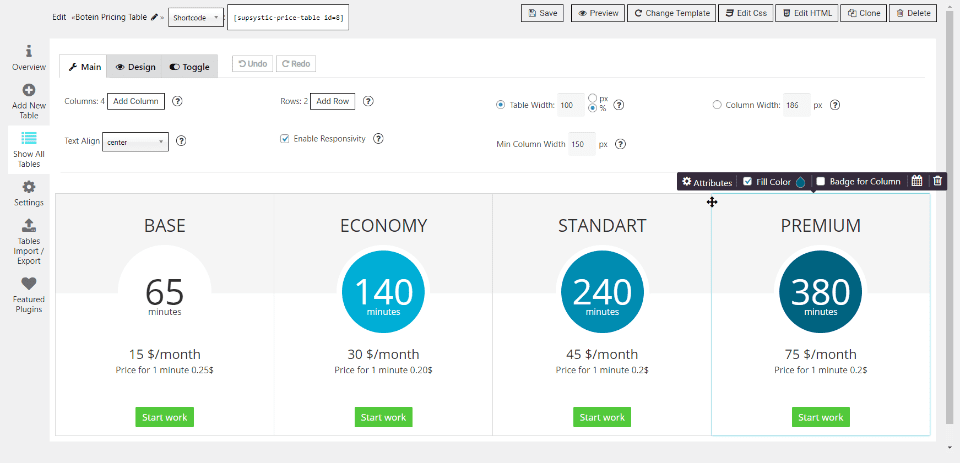 This opens a drag-and-drop visual editor with all the tools you need to build your pricing table. Tabs provide the main settings, design, and toggle (requires pro version). A set of tools appear over a table on hover. The tools allow you to adjust the attributes, fill color, create a badge, schedule the column, or delete the column. Across the top are the tools with the shortcode link, save, preview, change template, edit CSS, clone, and delete.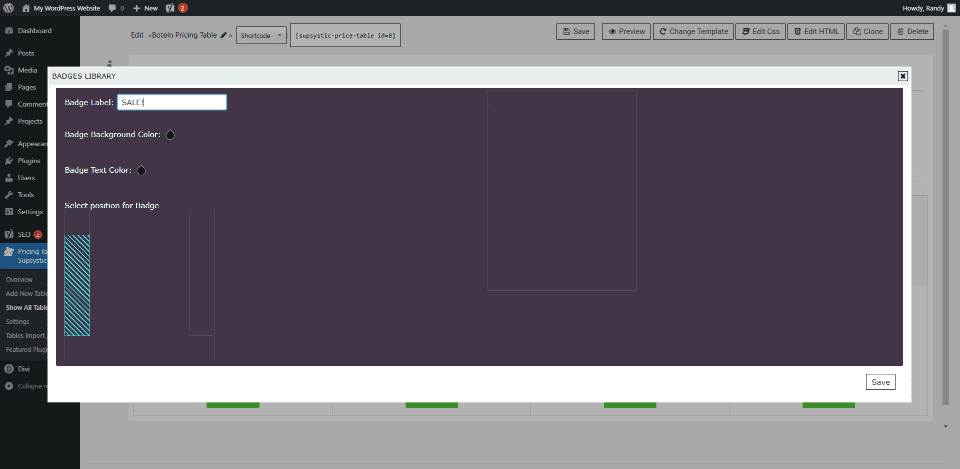 Selecting the badge option for any of the tables opens a badge editor. Provide a label, background color, text color, and choose the position.
Features
Unlimited pricing tables, columns, and rows
Add images, videos, and icons
Drag-and-drop builder
Templates
Customize columns individually
Badge editor
Schedule columns
Hover animations
Pro version adds more templates, a toggle feature, and role restrictions.
Price: Free, pro version starts at $46 | More Information
2. Responsive Pricing Table



Responsive Pricing Table is a WordPress pricing table plugin that's easy to use and provides a simple editor to create your pricing tables. Add as many pricing tables as you want and style each table individually. Add custom CSS, custom buttons, upload icons, and set a table as the highlighted plan.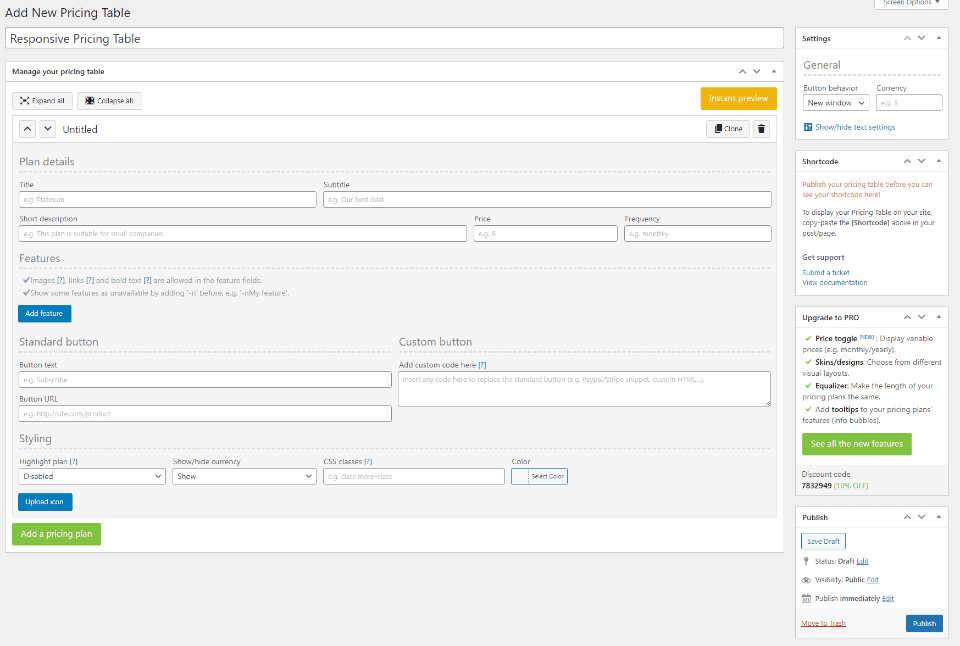 The editor provides the tools to create the pricing table's details. Add a title, plan details, features, buttons, and styling. Add a custom button, CSS, multiple features, and icons. You can add as many pricing tables as you want. The tools in the right sidebar include settings for the button behavior and currency. Once you publish the pricing table it will provide a shortcode.



Once you create the tables you can preview them live. If you set one as the highlighted pricing table, it will be larger than the others and display an icon to show that it's the preferred choice.
Features
Simple editor
Unlimited pricing tables
Shortcodes
Styling options
Upload icons
Add custom button code
Custom CSS
Pro version adds a pricing toggle, plan equalizer, layouts, and tooltips.
Price: Free, pro version starts at $19 | More Information
3. Easy Pricing Tables



Easy Pricing Tables is a WordPress pricing table plugin with a highly intuitive editor. The tables within the editor are displayed similarly to how they'll display on your website. Create unlimited pricing tables and add unlimited columns to each one. Customize featured and unfeatured columns.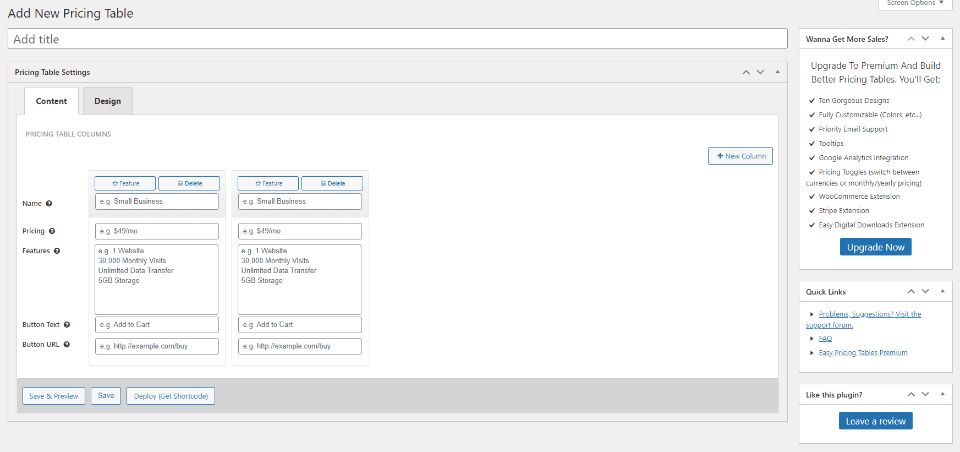 The editor includes two tabs – one for the content and one for the design. The content tab allows you to edit the columns and add new columns to your pricing table. Each one is displayed as a card that's easy to use. You have control over the name, pricing, features, button text, and the button URL. You can set one as the featured table by clicking the star above it.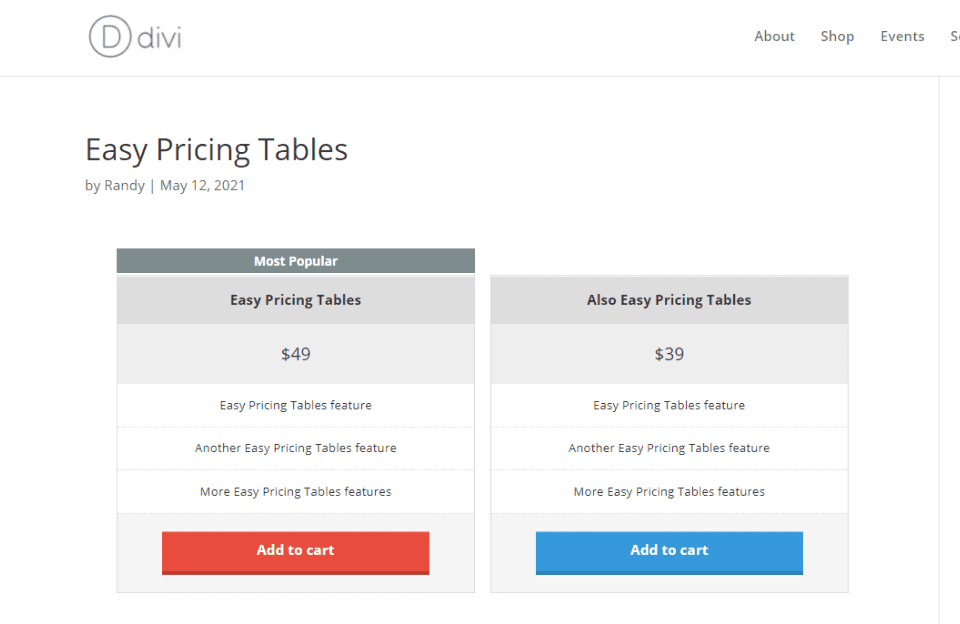 The preview shows how the pricing table will look on the front end of your website.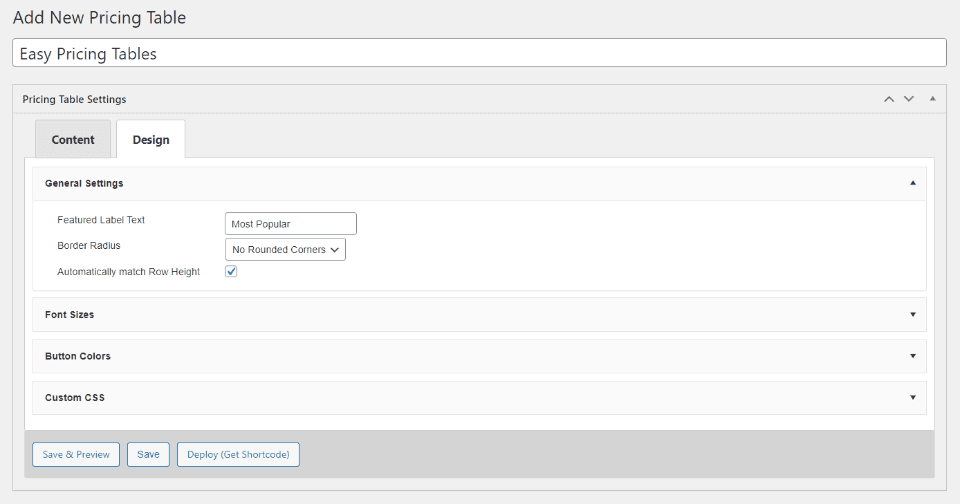 The design tab includes settings within accordions. The general settings give you control over the featured label, border-radius, and can match the row height. Other design settings include the font sizes, button colors, and custom CSS.
Features
Price: Free, pro version starts at $29 | More Information
4. WRC Pricing Tables



WRC Pricing Tables is a CSS table that will present pricing tables in multiple ways. Display the pricing table to show the features of each product separately or to show a product comparison. Create unlimited feature rows and package columns. Add ribbons, tooltips, icons, buttons, etc. Rearrange the features with drag-and-drop.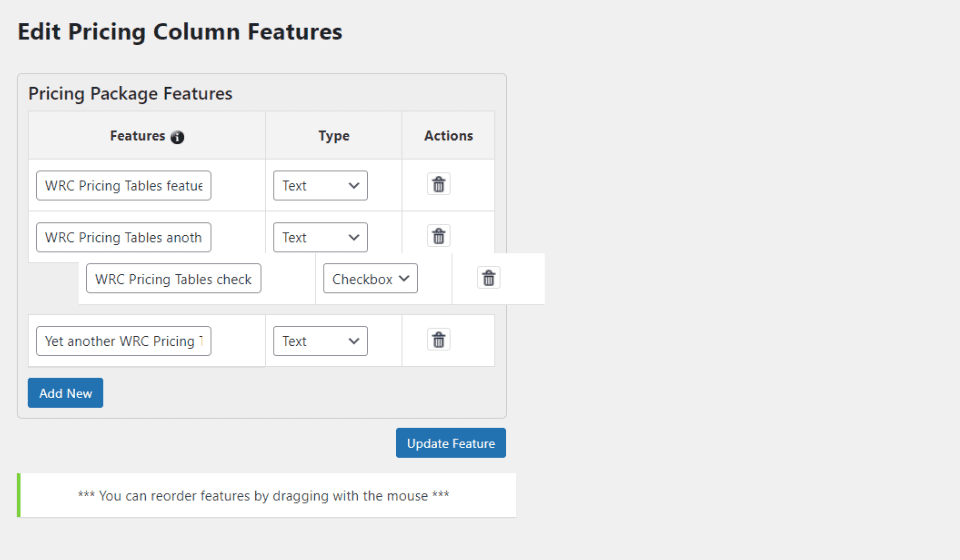 The editor is simple. Add a table name, a name for the feature, and then choose the type between text and checkbox. You can add unlimited features and create unlimited tables. Reorder the features with drag-and-drop.



Once you've created the table, you can then add columns and edit its features by selecting an option in the Pricing Tables list.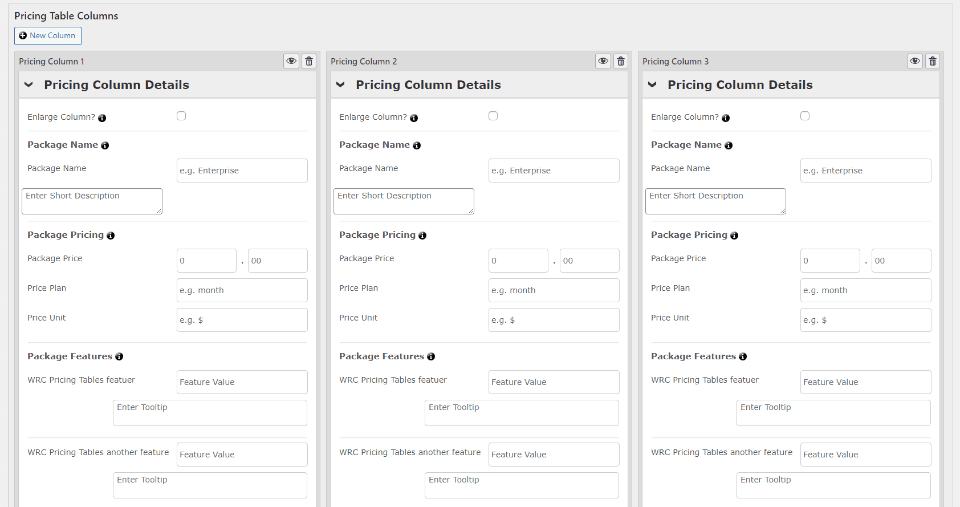 The column editor includes a lot more detail. Here. You can edit the package name, price, features, button, and ribbon. It also includes pricing table settings, which include general, structural, font, and advanced color settings. Most are fields where you'll enter values. This gives you full customization control over the pricing table. Add multiple columns and adjust each column separately. Select to enlarge a column to make it stand out.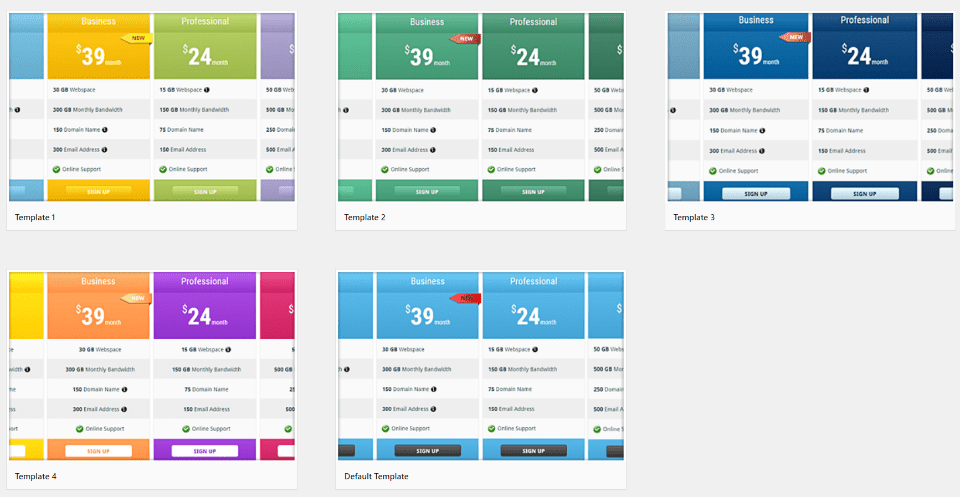 It includes 5 templates to get you started.
Features
Display individual product features or product comparisons
Add unlimited tables and columns
Detailed controls for each column
Drag-and-drop
Fully customizable
5 templates
Shortcodes
Pro version adds more templates, import/export, copy, hide, hide certain parts, PayPal, media support, toggle, and more.
Price: Free, pro version is $10 | More Information
5. ABC Pricing Table


ABC Pricing Table is an HTML and CSS WordPress pricing table plugin that creates pricing tables and comparison tables. It has an intuitive interface with simple controls. It includes 4 templates to get you started with a lot more available in the pro version. Add your text, adjust the colors, select icons, and adjust the buttons.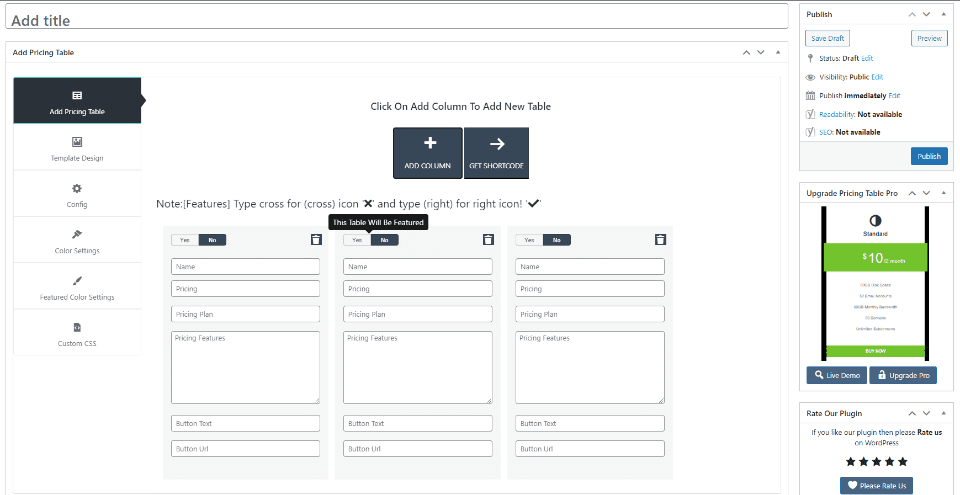 The editor includes vertical tabs for the table, template, configuration, colors, and custom CSS. All the options display, but some are locked if you don't have the pro version. Add unlimited columns by clicking the Add Column button. Make the column featured, add a name, price, plan, description, button text, and button URL.



Clicking the Get Shortcode button opens the shortcode in a modal with a copy button.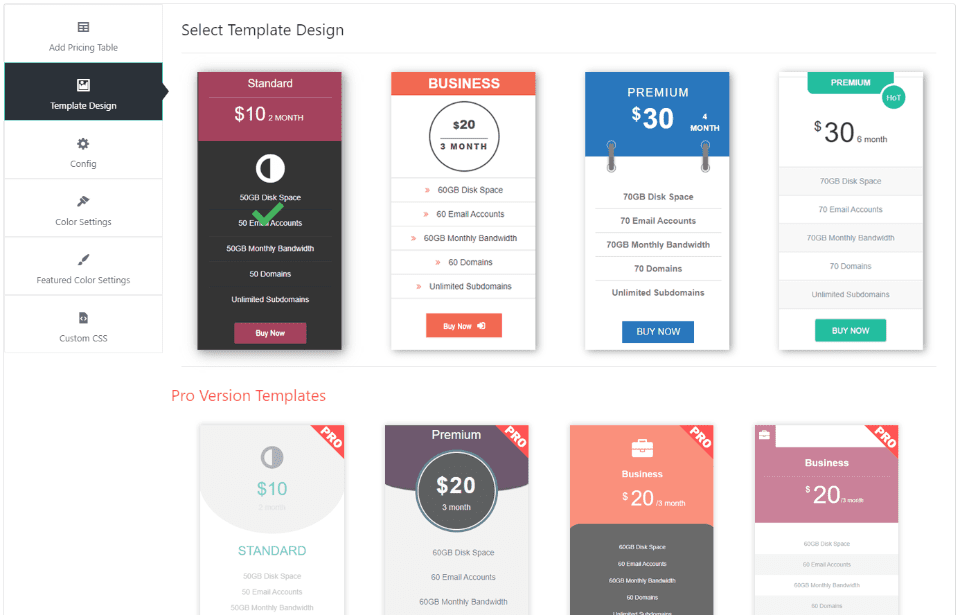 Select your template in the Template Design tab. It comes with 4 free templates.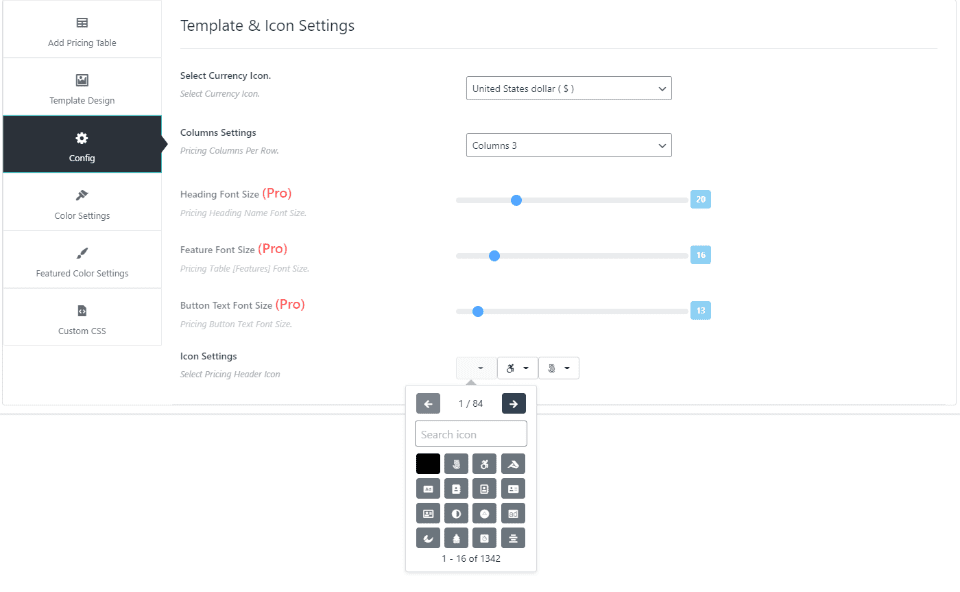 The configuration screen includes settings for the currency icon, number of columns, and icon settings. Font settings are locked in the free version.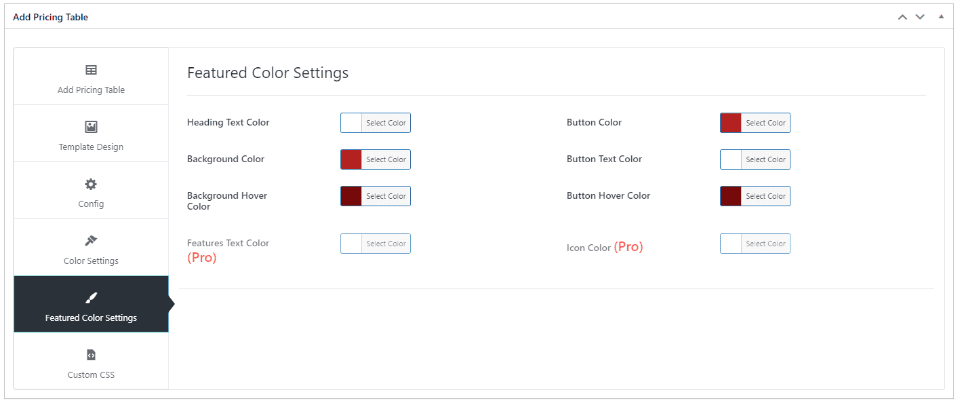 Adjust the colors for the columns and the featured column separately.
Features
Simple interface
4 templates
Color options
Column settings
Set column as featured
Features true and false
Icon picker settings
Custom CSS
Shortcodes
Pro version adds more templates, tooltips, font adjustments, button icon settings, and more.
Price: Free, pro version is $15 | More Information
6. CSS3 Responsive WordPress Compare Pricing Tables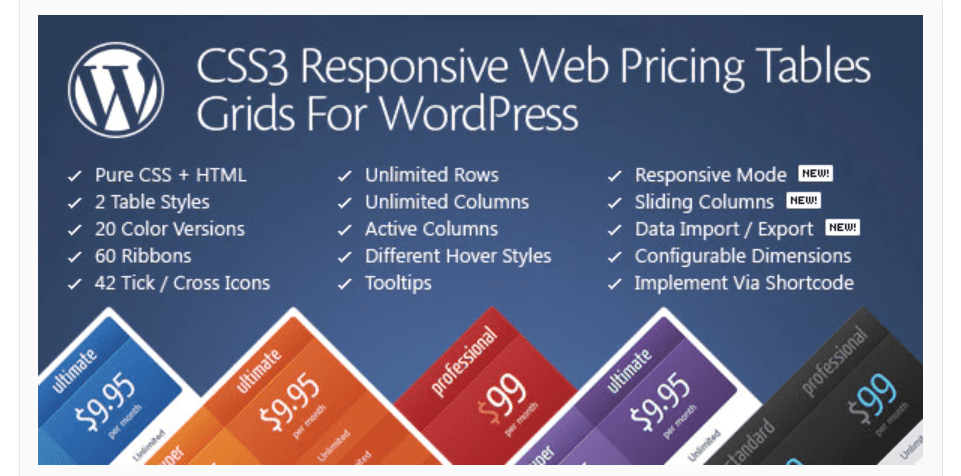 CSS3 Responsive WordPress Compare Pricing Tables is a premium WordPress pricing table plugin with lots of features. It has 2 different table styles with 20 color variations. Choose from 60 ribbons to show the best or most popular option. Show a checkmark or cross with 42 icons. It also includes hover animations, active columns, sliding columns, and lots more.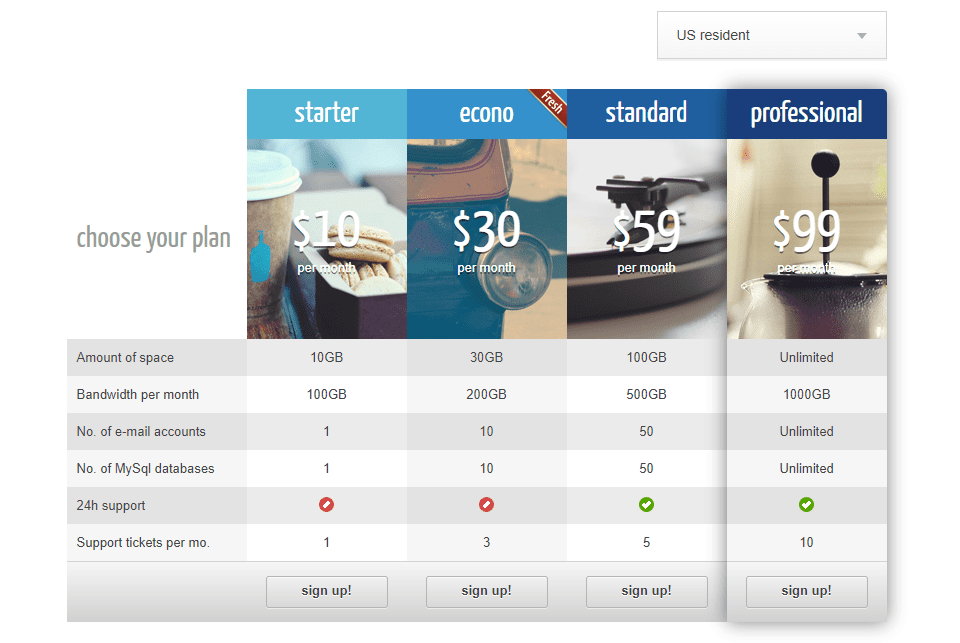 Here's a look at one of the 22 interactive examples they show on their demo page. I'm hovering over the right column to show the hover effects. It includes images, features with styled backgrounds, text, a badge, icons, and a button.
Features
HTML and CSS
2 table styles
Unlimited rows and columns
Active columns
Sliding columns
20 color variations
60 ribbons
42 icons
Hover styles
Tooltips
Import/export
Shortcodes
Price: $20 | More Information
7. Divi Pricing Table Module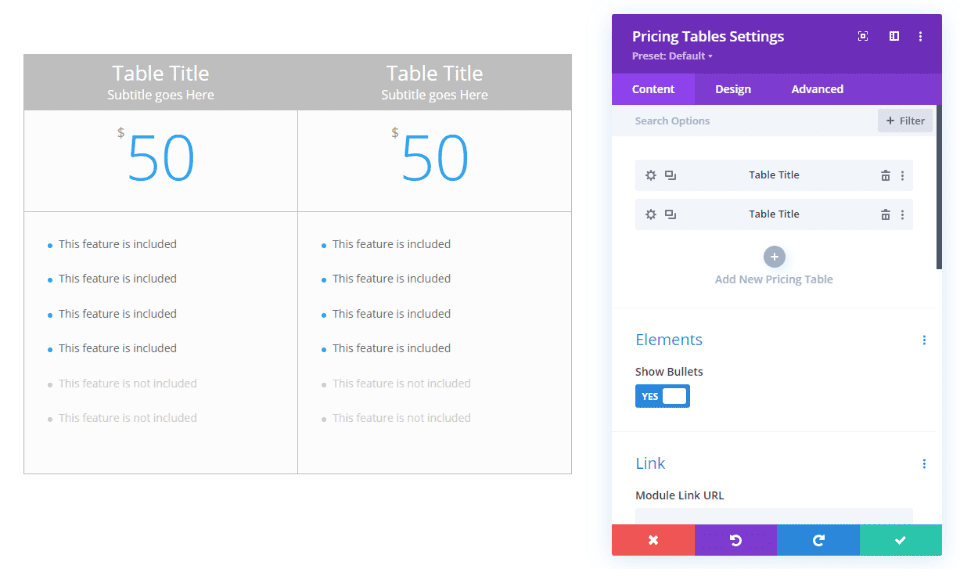 Rather than a plugin, the Divi Pricing Table module is one of the many element modules found in the Divi Builder. It includes submodules for the columns. You can also display bullets, add a link, customize the background, and style each element for the module or each pricing table individually. All the standard Divi module tools are here.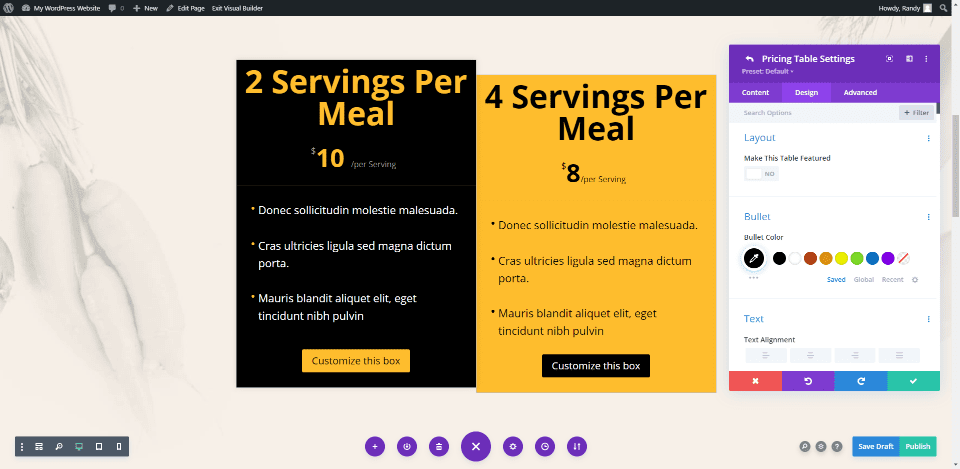 You have complete control over the styling for each element. Adjust the background of the header, body, and button independently. Also adjust the text for the header, body, excluded items, currently, price, and button independently. Show or disable bullets, make a table featured, and lots more.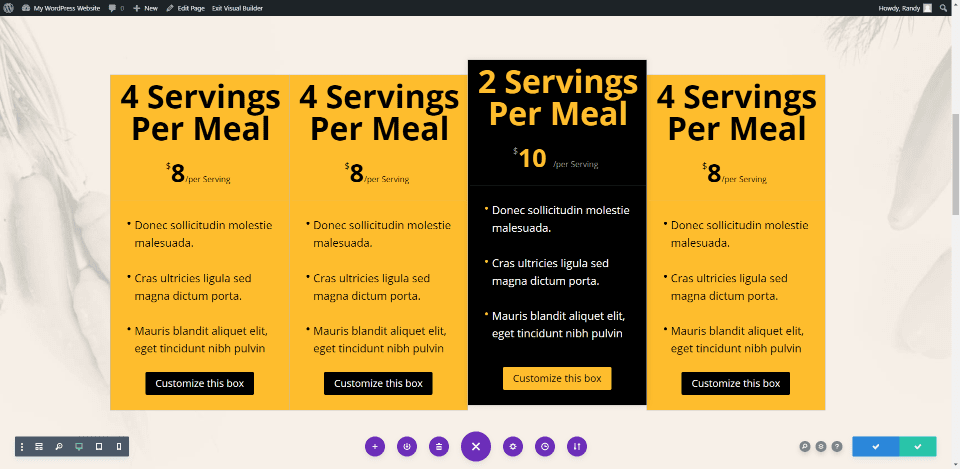 Add unlimited pricing tables within the module.
Features
Heading background
Body background
Custom button
Bullets
Excluded items
Unlimited pricing tables
Make any pricing table a featured table
Style each table individually
Hover animations
Scroll effects
Custom CSS
Price: $89 | More Information
Ending Thoughts
That's our look at the 8 best WordPress pricing table plugins. These plugins cover a wide range of features and include multiple price ranges. Whatever your needs are for a pricing table for your WordPress website, you're sure to find what you need on this list.
We want to hear from you. Which is your favorite WordPress pricing table plugin on this list? Let us know in the comments.
Featured Image via Vector pro / shutterstock.com