This
article
was originally published on
this site
Are you looking for the best geolocation plugins for WordPress?
Geolocation is an excellent tool for using your visitor's IP address to learn where they're physically located. This helps you to create more personalized offers for your clients or leads and, in turn, get more conversions across your site.
But how can you leverage the power of geolocation if you're not a coder or don't consider yourself "tech-savvy?"
That's where the right geolocation plugin comes into play. These tools will do all the heavy lifting, so you can use geolocation to build a stronger marketing strategy.
But before we dive into the list of the 7 best geolocation plugins for WordPress, let's get clear on what "geolocation" is and why it's so effective for marketers.
What Is Geolocation in Marketing?
Geolocation is a technology that allows you to learn about your visitor's physical location based on the IP address they're using to reach your website.
This information allows you to create and present more personalized offers to a portion of your site's traffic. In fact, there are several benefits for marketers and small business owners to use geolocation in their marketing strategy.
Some of these benefits include:
Create a More Targeted Audience: By knowing where your audience is located, you can present them with regional discounts, offers, or content topics that will interest them most.
Convert More Visitors into Customers: Geolocation supports both digital stores and drives traffic to brick-and-mortar shops. That means you can use geolocation to drive revenue through both channels.
Get Better Local Reviews: You can use geolocation to figure out who is in your region. This portion of your site's traffic would be ideal for outreach to generate more reviews for your physical store.
These are just a few of the advantages of geolocation in marketing, but there are many others.
But what would using geolocation look like in the real world?
Imagine you just opened a small retail store and created a website to add a new sales channel. You're getting lots of online traffic, but not as many people are dropping by your physical location.
You could create a special offer on your website to encourage more people to visit. Then, you can target this offer to people who are specifically in your store's region.
Here's an example of a popup you might use: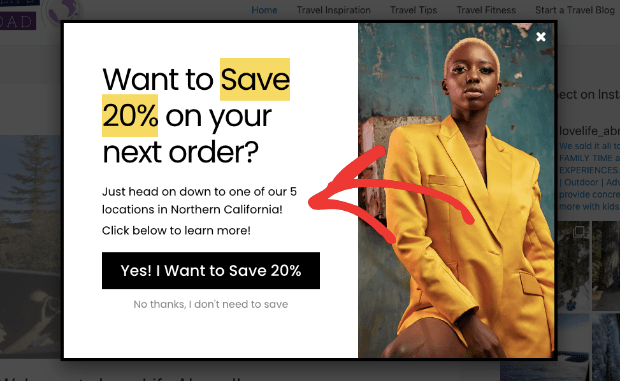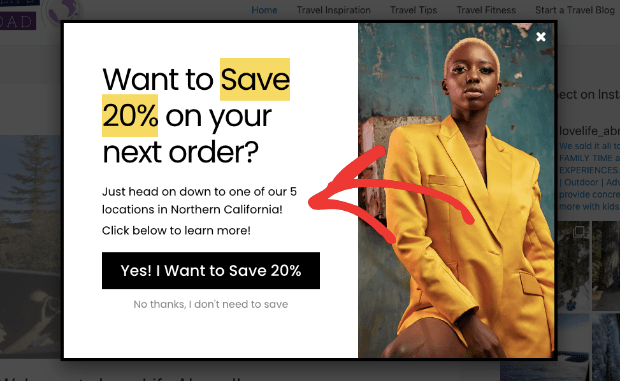 That way, you're only presenting your discount to people who are actually able to visit your physical shop.
And your other site's traffic won't feel like they're missing out on a special deal because they won't see the offer in the first place.
That makes geolocation the perfect solution for drumming up more foot traffic to your store from your digital marketing strategy.
Now for the big question: how do you use geolocation technology for your website if you're not very technical and don't have the budget to hire a developer?
If you're using WordPress, the answer is easy: you can install a geolocation plugin in minutes.
So let's turn our attention to the 7 best geolocation plugins that you can use to drive more sales today.
7 Best Geolocation Plugins to Drive Sales
1. OptinMonster




OptinMonster is hands down the best way for marketers and business owners to use geolocation to get new leads.
That's because OptinMonster has a built-in geolocation targeting rule that allows you to present offers to people based on their physical location.
This is the perfect tool for combining your digital marketing strategy with your physical store's sales.
And the best part is that OptinMonster is so easy to use, it doesn't require any coding or technical experience at all.
Instead, you'll simply download the plugin like you would with any other WordPress plugin you've installed in the past. Once you're set up, you'll select one of OptinMonster's pre-built templates: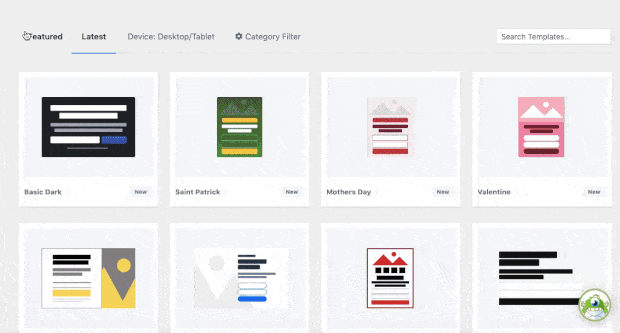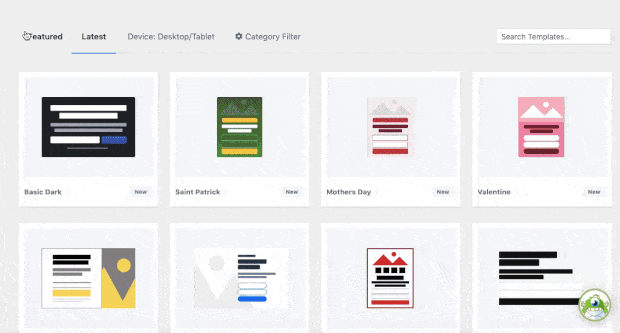 OptinMonster has over 50 templates you can choose from, and they all look great across devices. Plus, these templates are made for each type of campaign, like popups, floating bars, fullscreen welcome mats, and more.
All of the campaign templates look great out-of-the-box, but you'll likely want to make a few modifications to personalize your offers.
Doing so couldn't be more simple. To change the text in your campaign, for example, you can use OptinMonster's inline text editor: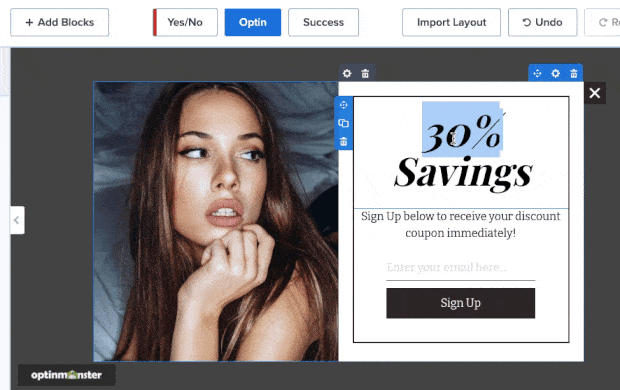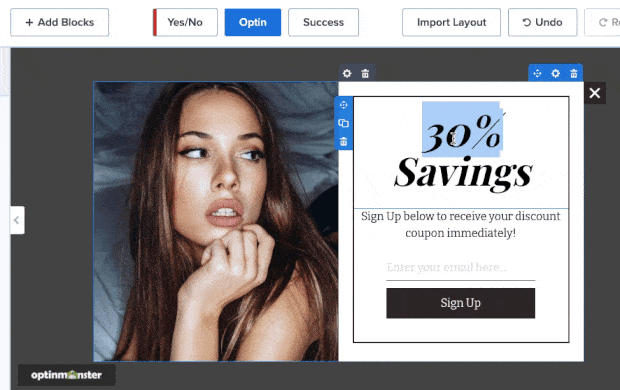 And to add new features to your campaign (like images, video, chatbots, and more), everything can be done with a drag and a drop: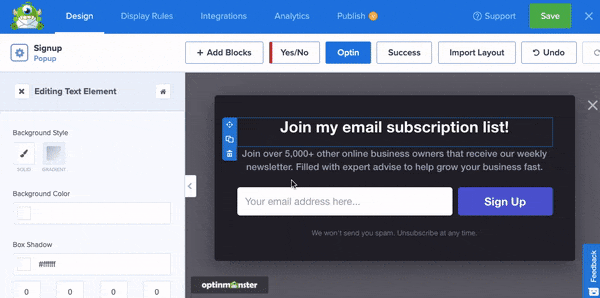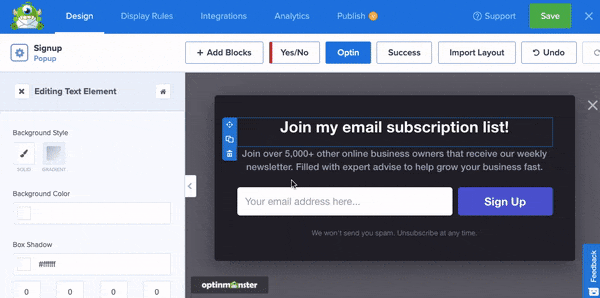 This allows anyone to quickly and easily create the perfect campaign for their store.
But now comes the good part: you can target these campaigns to people based on where they're physically located using OptinMonster's Geo-Location targeting rule: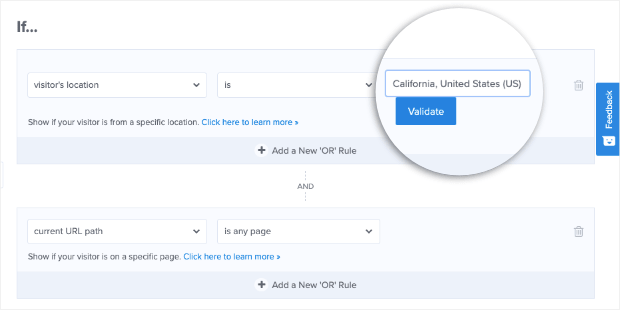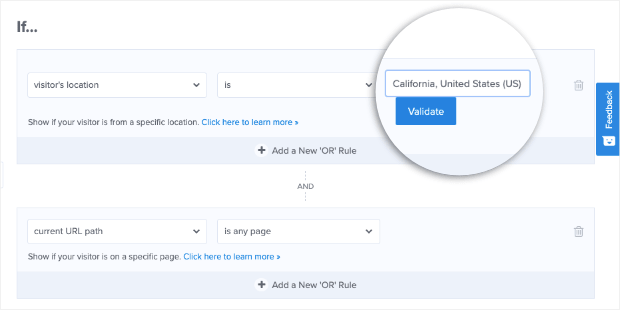 This lets you select the region of people you want to see your campaign. Then when someone from that region visits your website, their IP address will trigger the campaign to appear.
In the end, you can build better and more targeted offers to present to your site's visitors and drum up more foot traffic to your store's physical location.
Sound too good to be true? Check out how the outdoors store Sportique increased conversions by 200% using OptinMonster's geo-location targeting rule.
You can get the same results by clicking below and starting your 100% risk-free OptinMonster account today:
Sign Up For OptinMonster Today!BONUS: Done-For-You Campaign Setup ($297 value)Our conversion experts will design 1 free campaign for you to get maximum results – absolutely FREE! Click here to get started →
2. WPForms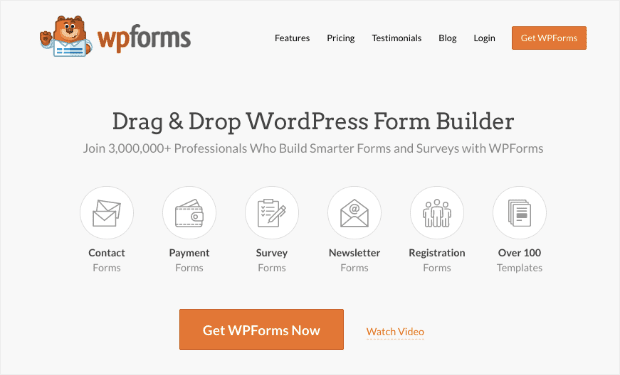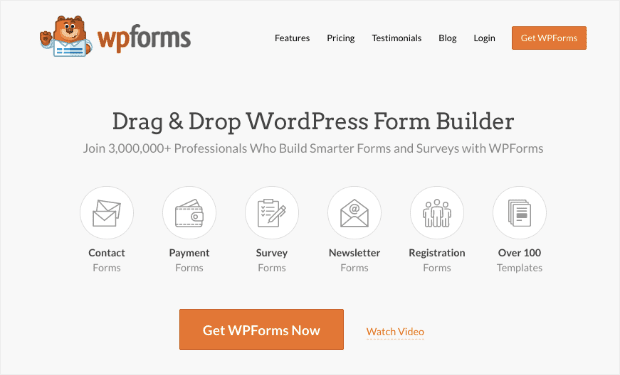 WPForms is the best form building plugin for WordPress. It allows you to create any kind of form you want for your website, including;
Contact
Payment
Survey
Newsletter
Registration
And more…
WPForms is the perfect solution for adding forms to your website because it's so easy to use. They have tons of pre-built templates that you can use to make the perfect form FAST.
Plus, you can add new form fields with their drag and drop editor to save time, energy, and headaches in the campaign creation process.
From there, you can integrate other marketing tools with all of your forms, including payment gateways to collect payments through your site.
But here's the best part: WPForms also comes with a Geolocation addon that can be used to add 2 excellent features to your forms:
Address Auto-Complete: This automatically suggests addresses as your visitors are filling in their address.
Form Entry Geo-Location: This will capture the physical location of everyone who fills out your form so you can create more targeted offers to them in the future.
This makes WPForms one of the best geolocation plugins for WordPress and one of the most versatile marketing tools at your disposal.
Features
Drag and drop form builder
Pre-made templates
Survey and polling tools
Form landing pages
Integrations with 3rd-party tools
CSV exports
And much more…
Get started with WPForms today!
3. PushEngage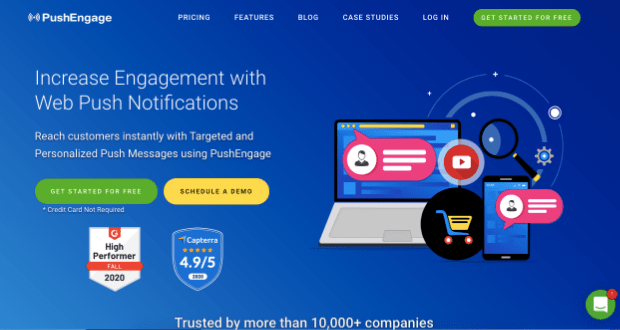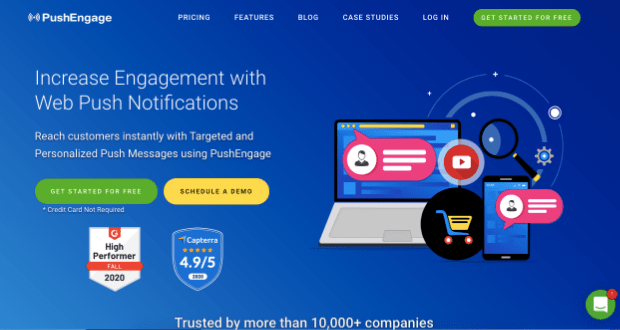 You might know PushEngage as one of the best push notification plugins for WordPress. It allows you to send small messages directly to your subscribers' browser on both desktop and mobile devices.
And since you don't ask for any personal information from your site's visitors, your subscription rates for push notifications are typically very high.
But what does any of this have to do with geolocation?
PushEngage allows you to segment your audience based on location. "Audience segmentation" simply means splitting up your entire audience into smaller sub-groups.
Doing so allows you to personalize your messaging within your audience to get even higher conversion rates from your marketing efforts.
And with PushEngage, you can send notifications to people based on their physical location: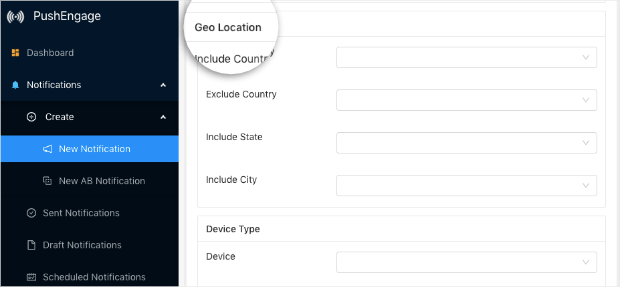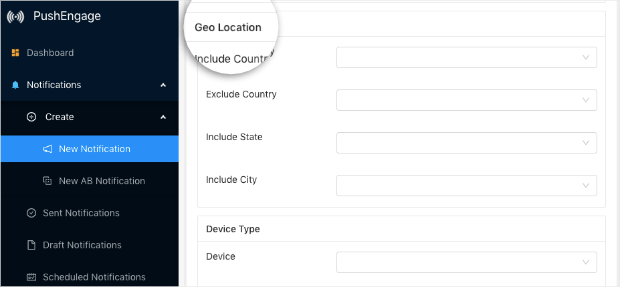 This helps you let people know about in-store sales, promotions, events, and more.
And with PushEngage, you'll be sure that each of your notifications is targeted and relevant to the people receiving them.
Features
A/B split testing
Audience segmentation
Powerful analytics for optimized sending
Customizable optins
Flexible styles
And much more…
Get started with PushEngage today!
4. Geotargeting PRO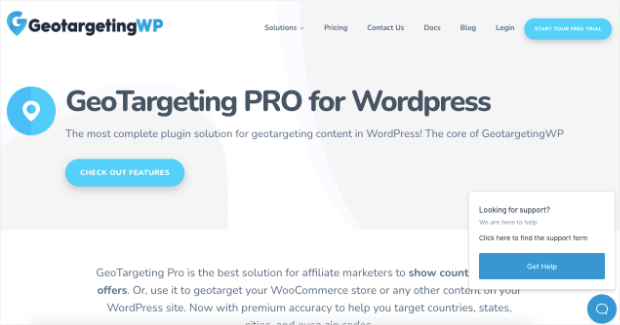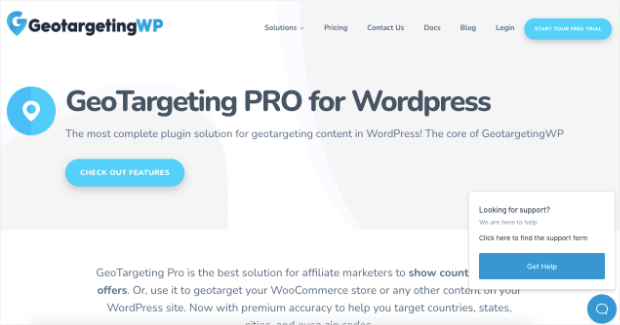 Geotargeting PRO is a great geolocation plugin for WordPress that allows you to show content to your site's traffic depending on where they're coming from.
With Geotargeting PRO, you can geotarget parts of your website, including:
Posts, pages, WooCommerce products, and more
Specific areas of your website (with shortcodes)
Page-builder content
Sidebar widgets
Navigational menus
And more…
Geotargeting PRO is the perfect solution for affiliate marketers and eCommerce business owners to create country-specific offers to their audience.
This is particularly helpful for things like shipping, where costs can fluctuate depending on the user's location.
While you might be able to offer free shipping in North America, for example, it might not be feasible to offer it to your European customers.
With Geotargeting PRO, you have complete control over what content or offers people see based on their physical location.
Features
Create regions
Make geotargeted navigational menus
Continue using WordPress full page caching
Leverage geotargeted widgets
And much more…
Try out Geotargeting PRO today!
5. Geolocation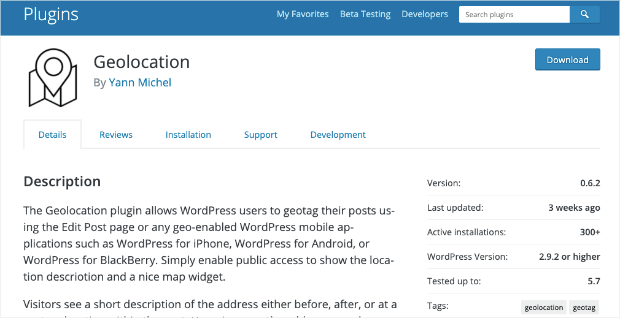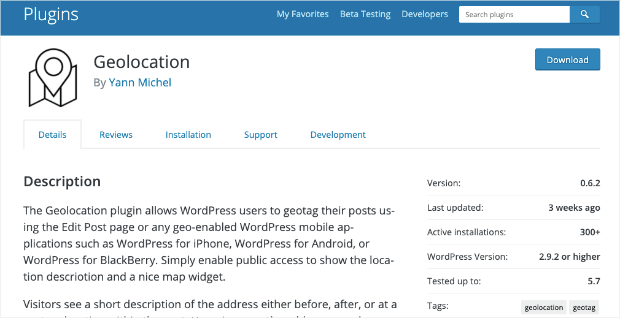 Geolocation is another WordPress plugin that allows you to geotag content across your website. It also allows you to show a map with a pin on each post to improve user experience (UX) among your readers.
If you're sharing information about your store's location (or another location relative to your content), your readers can quickly see where you're talking about.
Plus, if you're showing multiple locations, this plugin lets you create "journeys" on the map so users can see how to get from Point A to Point B.
All you need is a Google Maps API key to get started, and this free plugin will do the rest!
Features
Use shortcodes to display maps
Improve UX by making posts more visible
Show multiple locations on 1 post or page
Only requires a Google Maps API key to get started
Try out Geolocation today!
6. CF Geo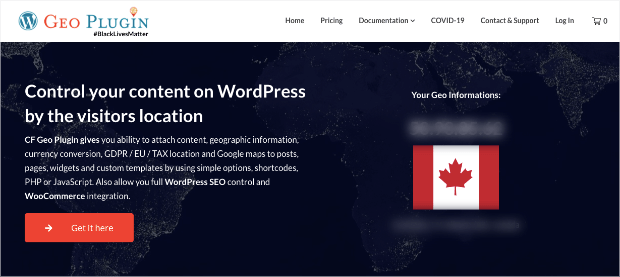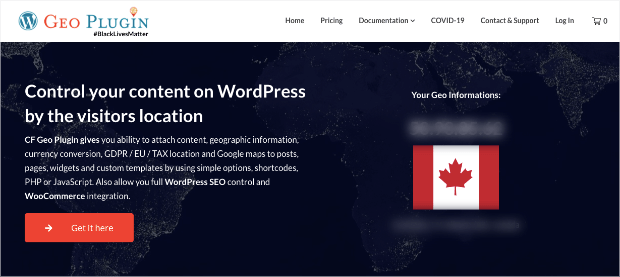 CF Geo is an excellent plugin for marketers and business owners who want to offer country-specific content to their visitors.
It also allows you to add a currency converter to your site, which helps if your online store has international customers.
With CF Geo, you have the ultimate geotargeting solution for your WordPress site. For affiliate marketers, this lets you promote your affiliate products to countries where your commissions will apply.
For eCommerce store owners, you can show people your products' pricing in their native currency. Plus, you can add GDPR/EU/TAX information to your pages or content.
You can also add Google maps to your posts to improve UX.
Finally, CF Geo comes with a WooCommerce integration so you can get started personalizing your store in minutes.
Features
Display or block locations for content
Compatible with Google Maps
WooCommerce integrations
Shortcodes make customization easier
SEO-friendly
Try out CF Geo today!
7. GEOmyWP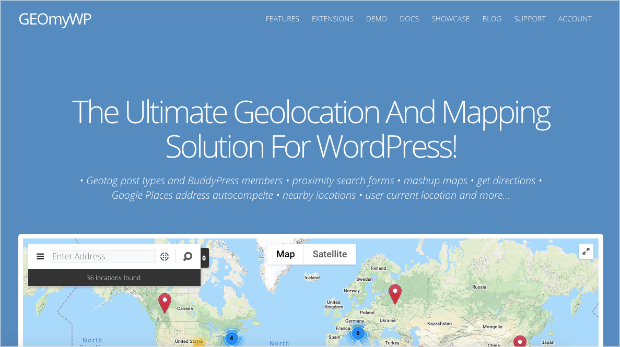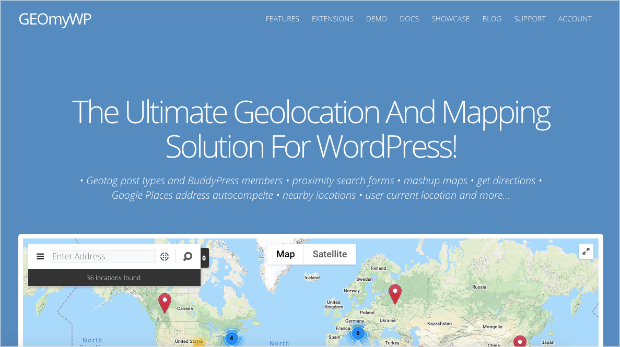 GEOmyWP is the last geolocation plugin on this list but certainly not the least qualified to be here. With this plugin, you can geotag different parts of your website.
That makes this plugin suitable for dating sites, business directories, community sites, and all other location-dependant websites.
GEOmyWP also works with BuddyPress, so all of your community members can add their location to their profiles. This gives your community more control over what they can share, which goes a long way toward improving UX.
Plus, other users can search for posts, pages, or user profiles based on location.
If you're looking for a geolocation plugin to personalize your site's content and improve your community's UX, GEOmyWP is definitely worth looking into.
Features
Geotag post types
Use proximity search forms
Display maps on posts or pages
Allow users to get directions
Auto-complete addresses
Show nearby locations
And much more…
Try out GEOmyWP today!
And that's all for today! These have been 7 of the best geolocation plugins that marketers and small business owners can start using today.
Sign Up For OptinMonster Today!BONUS: Done-For-You Campaign Setup ($297 value)Our conversion experts will design 1 free campaign for you to get maximum results – absolutely FREE! Click here to get started →
We hope you enjoyed this post and that it helped you find the right tool for your business. If you did enjoy the read, then you might want to check out the following resources, too:
These articles will have everything you need to learn more about how geolocation can get you more leads, boost conversions, and drive more sales.

Published by Nathan Thompson
Nathan Thompson is a father, a writer, and a lover of travel (in that order). When he's not wrestling with his kids, you'll likely find Nathan giving his eyes a much-needed break from screens with a good book or planning a family trip with his awesome wife.