This
article
was originally published on
this site
Are you looking for the best online survey tools that can help you get more customer feedback and increase sales?
Online surveys are a great way to better understand your customers. You can use surveys while developing a new product or simply trying to improve user experience (UX) across your site.
But for many business owners and new marketers, getting people to fill out their surveys can be a challenge. With the right tools, though, creating, distributing, and analyzing online surveys can be super easy.
That's why, in today's post, we're excited to share some of the best online survey tools on the market. But first, let's look at some of the features you want to look for in a survey tool.
Let's get started!
What You Need in an Online Survey Tool
When you're collecting surveys for business, there are 3 things you need to consider. Your survey form should:
Be user-friendly
Include powerful analytics
Leave room for growth
First, you need to be able to create and distribute your surveys quickly. You have so many things to focus on if you're running a business that you don't want to spend wasted hours figuring out how to make a simple survey.
Especially since there are so many tools that make the process easy.
Second, you want to make sure that your results can be shown and digested fast. The online survey tools listed below gather all the data you need in a visually appealing way. You also want a way to display the results on your website if you're going to share what you've learned.
Finally, your tooling should leave room for growth. As you start running surveys, you'll likely get more respondents. When your audience grows, you may need different questions, use conditional logic (to change questions based on the previous response), or include other advanced features to get you more accurate data.
Fortunately, many online survey tools check all these boxes. And now that you know what you're looking for in a survey tool for businesses, let's dive into our list.
7 of the Best Online Survey Tools
1. WPForms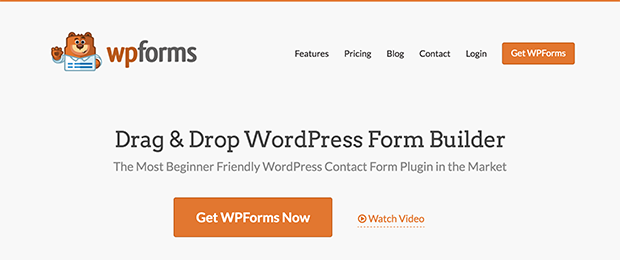 WPForms is hands down the best WordPress form building plugin available. And the fact that it comes with a powerful and easy-to-use Survey and Polls addon makes it the #1 online survey tool on our list today.
You can use the Survey and Polls addon with existing WPForms features like multi-page forms, email integration, and conditional logic to create highly engaging WordPress surveys.
Creating your survey takes just a few clicks with a drag and a drop form builder.
The plugin has smart survey fields like the usual text, dropdown, radio button, and checkboxes, but you can also use ratings like stars, hearts, thumbs-up, a Likert scale, and more.
One of the things we love most about WPForms is its robust survey reporting.
With WPForms, you get beautiful, real-time reports and graphs based on survey responses. You can use a shortcode to show off the survey results on any page of your site, export the reports to share them on social media and in presentations, or even print them to use in your printed marketing materials.
Get started with WPForms today!
2. OptinMonster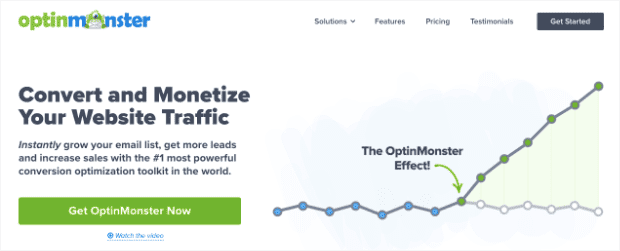 OptinMonster is the best lead generation software on the market that makes it SUPER EASY for you to encourage your visitors to fill in surveys. This means OptinMonster is the perfect online survey tool that can be used in many different contexts.
Let's take a look at 3 ways OptinMonster can help you create, collect, and promote surveys on your site:
Collect instant feedback to improve UX
Redirect traffic for longer surveys
Target and segment your audience
a) Collect Instant Feedback to Improve User Experience (UX)
One feature about OptinMonster is that you can easily embed survey forms directly on your campaigns. That means you can distribute your survey quickly and easily to your entire site or to select customers using our targeting rules: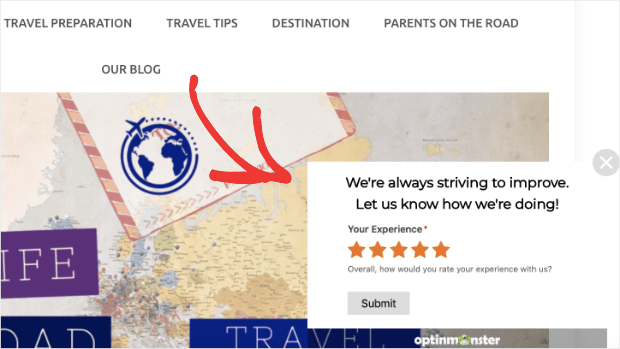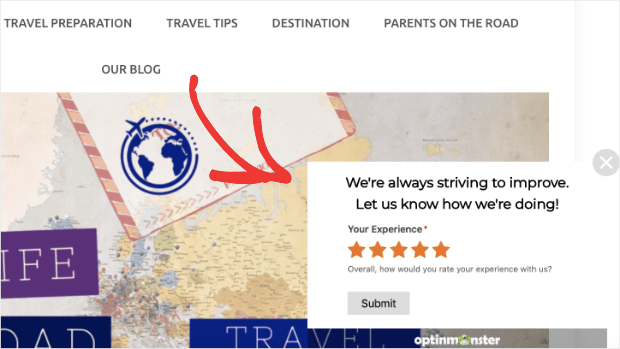 This can be useful if you're trying to get customer feedback to improve parts of your product, services, or website.
b) Redirect Traffic to Longer Surveys
Long-form surveys can be invaluable for eCommerce merchants and publishers alike. Longer surveys allow you to gather more insight into your audience, so you can improve your business.
These surveys include things like:
Customer satisfaction surveys
Product improvement surveys
Target audience research surveys
And many more. But all of these surveys have the same problem: How do you get enough customers to fill out your surveys to collect the data you need?
With OptinMonster, you can grab your audience's attention with an Exit-Intent® popup. These campaigns appear as a user is actively trying to leave their browser page. And if you add a special offer or promotional deal to your exit-intent popup, you're bound to get better results: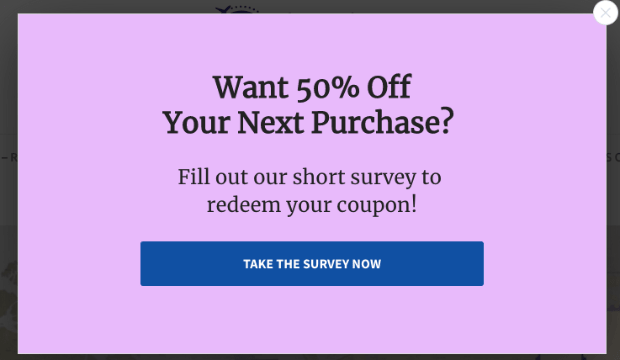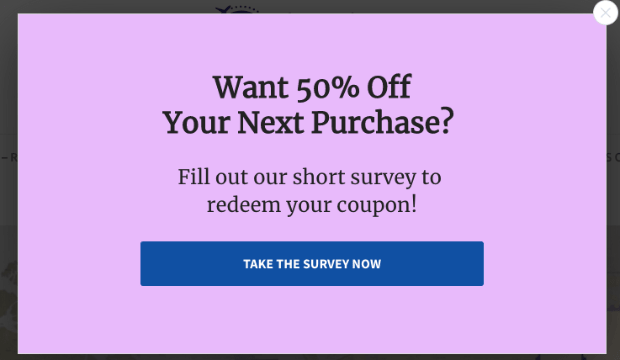 Exit-intent popups are an incredibly powerful way to recapture abandoning visitors and get them to take your survey.
In fact, exit-intent popups are how Fastrack was able to recover 53% of their abandoning vistiors.
You can use the same technology to re-engage people who are leaving your site and direct them to your survey form.
c) Target and Segment Your Audience
Finally, we recommend that you use OptinMonster's advanced features to personalize messaging to your survey takers.
This not only improves UX, but it will also lead to getting more people to take your surveys. Ok, but what does all this look like at a practical level?
Here are a few of OptinMonster's features that can specifically help you get more survey responses:
These are just a few example of how OptinMonster can help you promote and collect survey data.
All of these features will increase the number of people who take your survey, making OptinMonster one of the best online survey tools at your disposal.
Get More Survey Results Today
3. RafflePress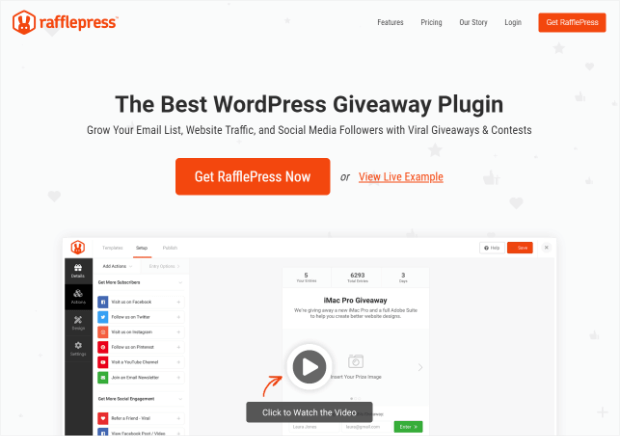 You may know RafflePress as the world's best giveaway plugin. It allows you to run online viral contests to boost engagement with your brand.
But they also have an awesome feature that lets you add polls and surveys to your giveaways.
This means you can turn your boring survey form into a full-on contest. If users fill out the poll or survey, they can enter to win a pre-determined prize. And setting it up is easy.
Simply add the Polls and Surveys action to any giveaway and choose the response type (a single answer or multiple answers using checkboxes). You can even make the survey questions mandatory if you want, or change the number of giveaway entries per question.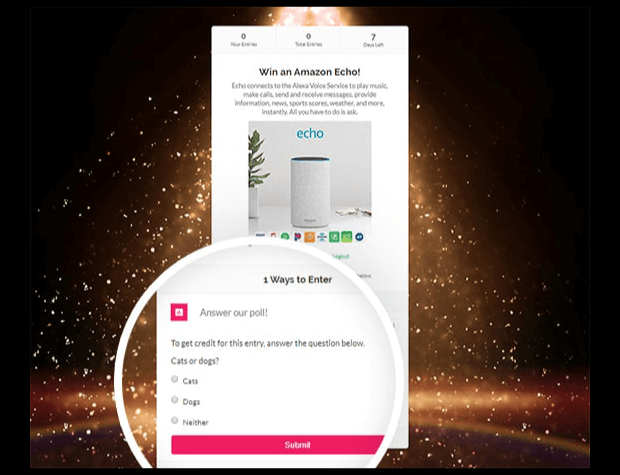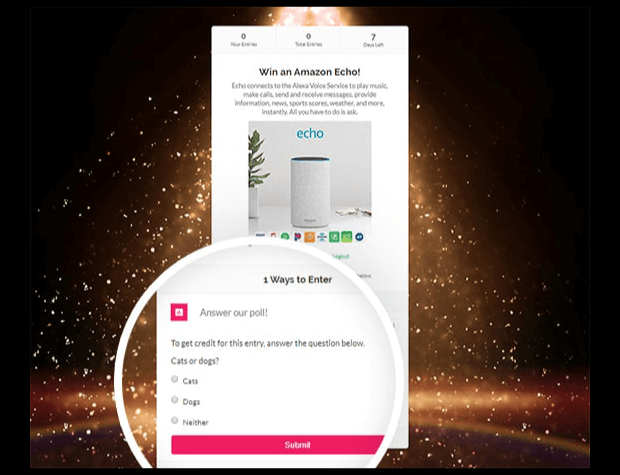 Plus, the poll results show up in an easy-to-understand visual graphic, so you can get a quick overview of the results: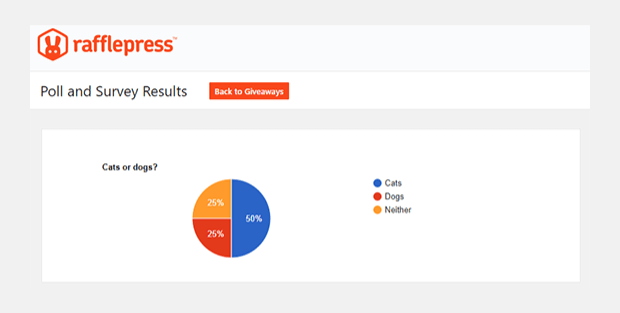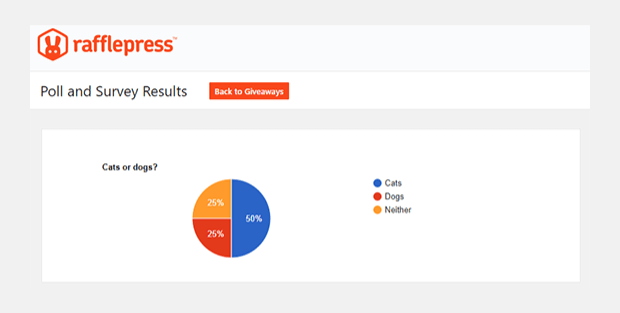 Get started with RafflePress today!
4. TrustPulse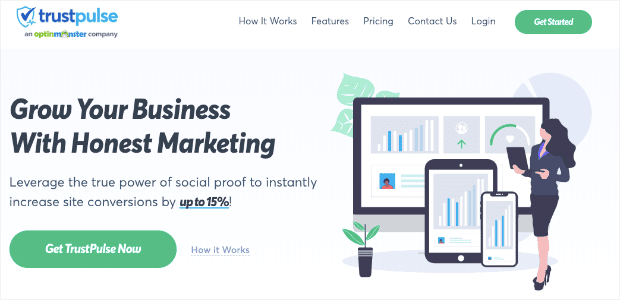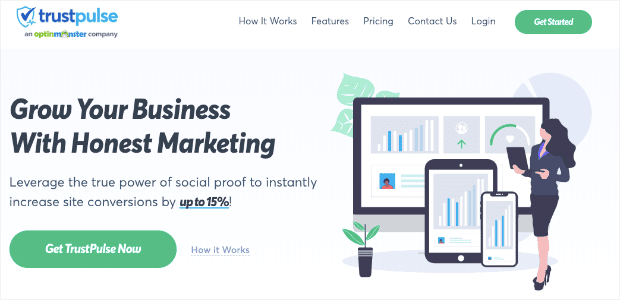 TrustPulse is the #1 social proof software on the market. It allows you to create social proof notifications in a matter of minutes.
These notifications are small messages that appear when someone interacts positively with your brand.
You can create triggers to make these social proof notifications appear based on when users fill out a form on your website. That means you can create a notification whenever someone takes your survey.
Here's an example of what that would look like:



When your site's visitors see these notifications, you can instantly boost your survey responses. That's because social proof notifications make your website appear more credible and make your survey look more popular.
As a result, you get more survey respondents, which brings you more social proof, which gets you even more survey respondents.
TrustPulse is the perfect online survey tool to help you get as much data as possible.
Get started with TrustPulse today!
5. Formidable Forms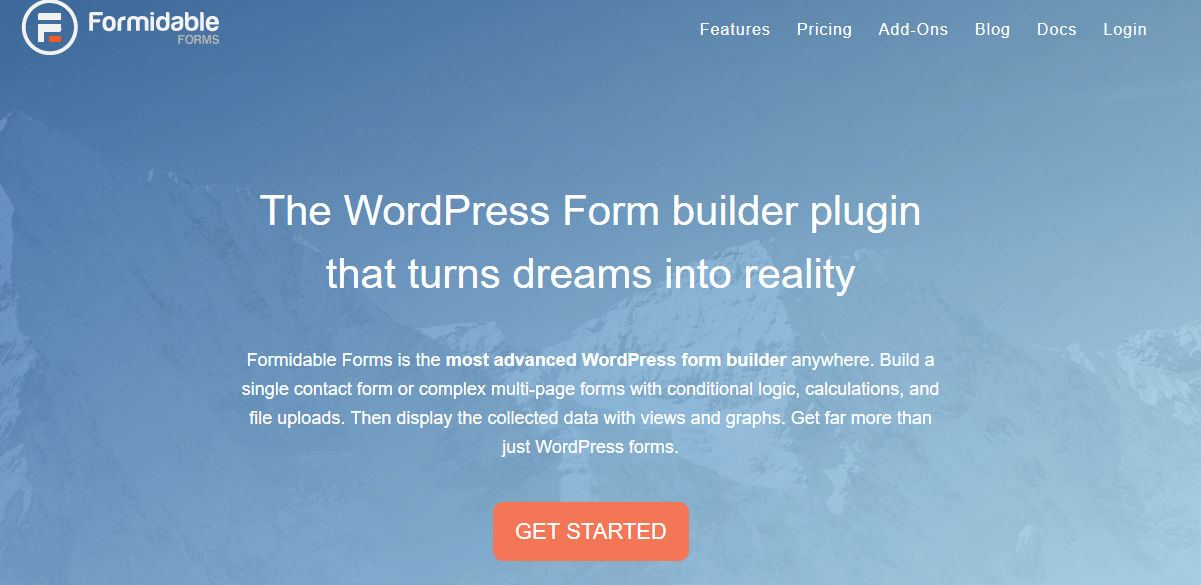 If you're looking for online survey tools that can go from simple-to-advanced, Formidable Forms fits the bill.
This plugin comes with ready-to-use form fields like checkboxes, dropdowns, and Likert scales. It also has a simple drag and drop builder that you can use to design the complex surveys of your dreams.
Formidable Forms gives you many excellent options to show your survey results in eye-catching charts, graphs, tables, histograms, and more. Then, you can embed the results on your posts and pages to share your findings.
Plus, formidable forms integrates easily with many email service providers (ESPs), so you can store new leads and improve your email marketing strategy.
Get started with Formidable Forms today!
6. SurveyMonkey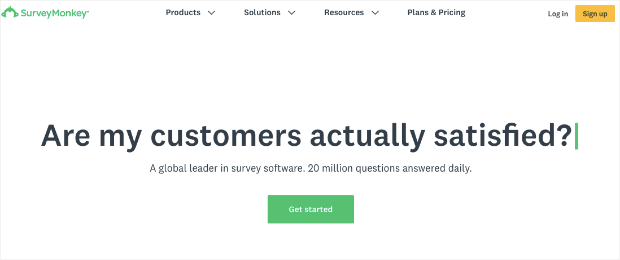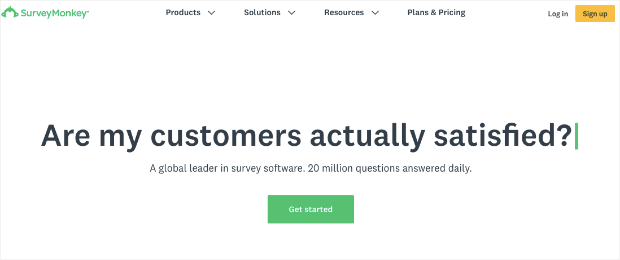 No list of survey tools would be complete without mentioning SurveyMonkey. This is a free online survey tool that lets you create and distribute detailed surveys.
It's an easy-to-use, comprehensive, and all-around excellent survey tool.
The only thing we should mention is that while it's technically free, many of the advanced features are paid. So if you're a small business, you may need to upgrade to get the results you're looking for.
Nonetheless, SurveyMonkey makes it easy to build surveys and gives you powerful analytics to analyze the results.
7. Google Forms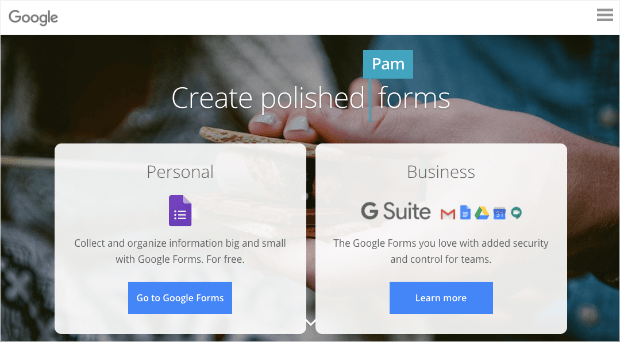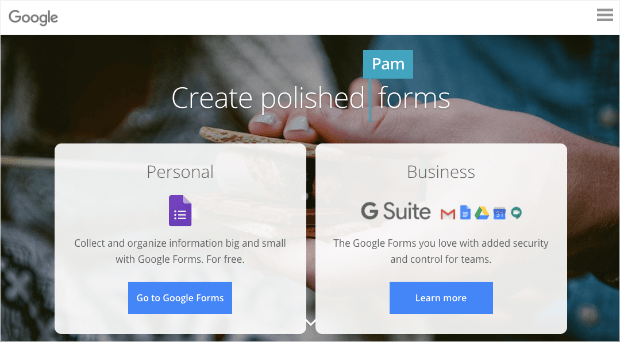 Google Forms is an excellent online survey tool like SurveyMonkey, but it's genuinely free. By that, we mean there are no upgrades necessary.
You can build simple surveys, require users to include their email address (to grow your contacts), and gather the results quickly.
Google Forms is accessible through your private or professional Gmail account, and you can embed these forms anywhere with a shortcode. In fact, you can even embed a Google Form in your OptinMonster campaigns: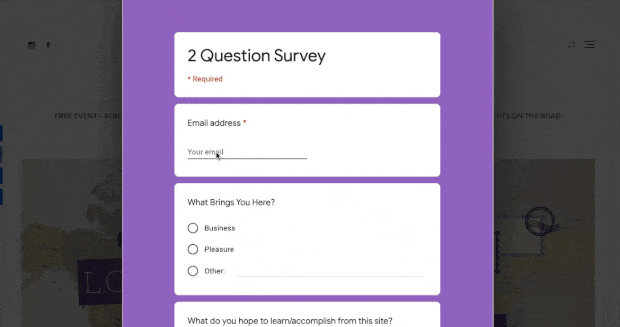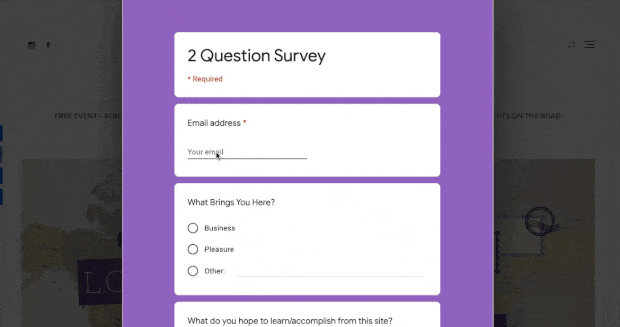 The set up is quick, easy, and saves you a ton of time.
Though it's not the most advanced software in terms of features, Google Forms is by far one of the best free online survey tools you'll find.
Ok, so now for the big question: what survey tools do you need for your business?
What Are the Best Online Survey Tools for Businesses?
As we said earlier in this article, being the best online survey software for businesses requires 3 things:
Be user-friendly
Include analytics
Leave room for growth
So, what's the best online survey tool around?
That's easy: WPForms.
WPForms is flexible, easy to use, easy to design, and comes loaded with features. You can embed it with OptinMonster to create powerful survey popups on your website.
Plus, it does more than just create surveys. That means you can use WPForms to make any form on your website, such as:
Newsletter signups
Even registrations
Payment collection
And much more.
It's because WPForms is such an extensive tool that we recommend above all others.
We hope you enjoyed learning more about our picks for the best online survey software for small businesses. If you did, you might want to check out some of the following helpful articles:
These posts will have everything you need to get more survey responses, learn about your audience, and increase profits.
Ready to get started? Get started with OptinMonster today!

Published by Nathan Thompson
Nathan Thompson is a father, a writer, and a lover of travel (in that order). When he's not wrestling with his kids, you'll likely find Nathan giving his eyes a much-needed break from screens with a good book or planning a family trip with his awesome wife.