This
article
was originally published on
this site
Are you looking for the best email verification tools?
Email verification service helps you filter out fake or incorrect emails before they make it to your list.
In this post, we will share the best email verification tools you can use to keep your list clean.
Choosing the Best Email Verification Tool
Are you wondering how you can verify an email address without sending an email?
The best email verification tools check for the following things without sending an email:
Invalid email formats
Incorrect domain names
Temporary emails
Blacklisted emails
A good email verification service makes sure your email marketing campaigns are reaching real, engaged email subscribers. It removes invalid emails from your list, which helps you boost your open rates, email delivery rates, and ulimately helps you save money.
Of course, there are several email verification tools available today. We've handpicked the best email verification services on the market, so you can easily choose the best one for your needs.
Best Email Verification Tools
1. OptinMonster



OptinMonster is the best lead generation tool that also comes with an email verification tool as an addon. It blocks fake or misspelled email addresses before they can make it to your list. With OptinMonster, you can add email verification directly to your lead capture forms. And it integrates seamlessly with all email service providers.
With OptinMonster's Lead Verification feature, you can block:
Temporary email addresses from being submitted
Specific IP addresses
Free email addresses
You can also autocorrect typos of popular email platforms, like Gmail, Yahoo, Hotmail, and more.
One great feature of OptinMonster's email verification service is that it saves you money.
Most email service providers, like Constant Contact, Mailchimp, AWeber, and so on, charge you based on how many people you have on your list. Since OptinMonster verifies email addresses before they're added to your list, you will never end up paying for a fake subscriber.
On top of that, OptinMonster also allows you to easily build lead capture forms using stunning prebuilt templates and a drag and drop builder. So, OptinMonster can also help you grow your email list.
If you want to start verifying your leads and grow your list expontentially, sign up for OptinMonster. It's 100% risk-free with its 14-day trial.
Start Verifying Emails Today!
2. Email Hippo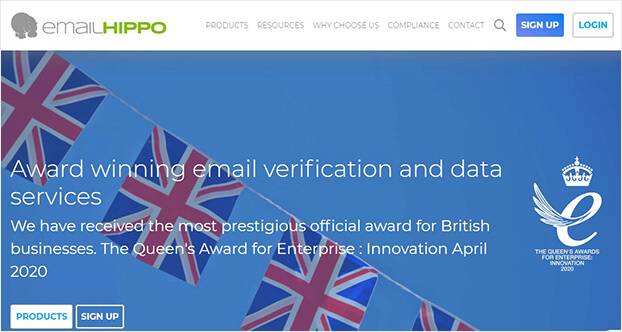 Email Hippo is a simple free email verification service.
All you have to do is enter the email and wait for the tool to run the verification process. Email Hippo will provide an assessment and email quality score, along with its recommendations. For example, if it detects a fake email, Email Hippo will suggest you not to add the email to your list.
Of course, this means you will first need to collect the emails before you can manually verify them. That also means unless you run the verification process every once in a while, you may end up paying more fees to your email service provider.
Email Hippo offers a paid version with more extensive features. But, because it's an API, you will need some technical knowledge to set it up.
3. Neverbounce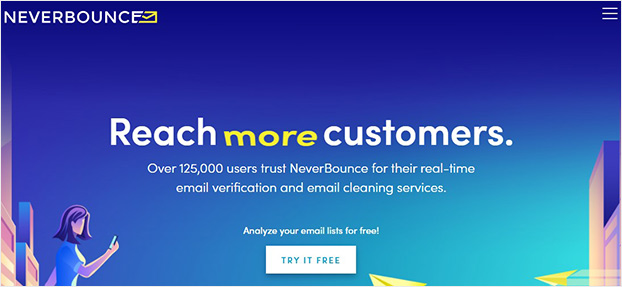 Neverbounce is a freemium email verification tool.
You get to check 5 email addresses for free without having to create an account, and it lets you test single emails or bulk lists.
Neverbounce checks for fake and misspelled emails. You can integrate it with your email service provider to do automatic, daily checks.
You can verify the emails in 2 ways: You can either verify them once in a while after collecting the email addresses or do real-time lead verification by integrating it into your lead capture forms.
One thing to keep in mind is that the pricing is based on the number of emails you need to verify.
4. Hunter.io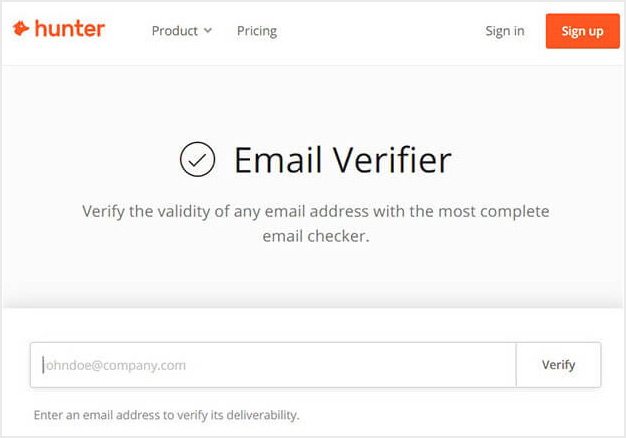 Hunter.io is a popular email finder that comes with a free email verification service.
Just like most basic email verification tools on this list, to verify emails, you'll have to add the email addresses manually to the verification field.
Hunter.io performs a few checks to identify if the address is invalid. It checks for web sources of the address and temporary email addresses.
This tool also comes with a free bulk email verifier. So, you can upload your list and wait for Hunter.io's report. The free plan comes with 50 verifications per month.
There's no real-time email verification, so you will need to have the addresses and then add it to Hunter.io's email checker.
5. Mailfloss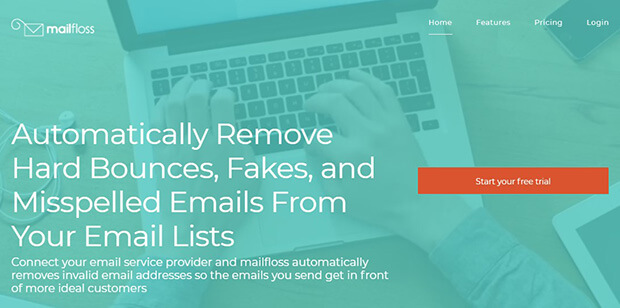 Mailfloss connects to your email service provider and automatically removes invalid email addresses.
One of the best things about Mailfloss is that it will scan your list for typos of popular email service providers.
Mailfoss only validates emails once they have been added to your list.
6. VerifyEmailAddress.org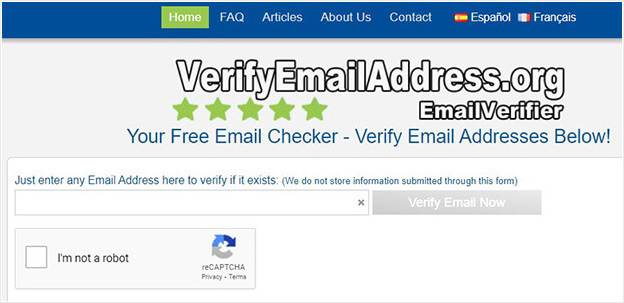 Looking for a free email verification service?
VerifyEmailAddress.org is a simple free email checker. Just add the address and it will root out bad emails.
It's also a free bulk email verifier, so you can scan your entire list. This is a good tool for businesses that send unsolicited cold emails, NOT for those who want to build an engaging email list.
7. AeroLeads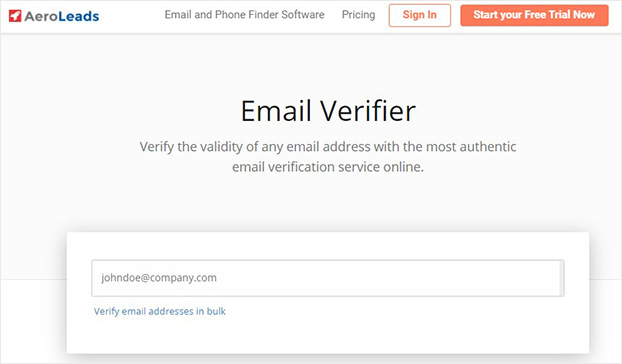 AeroLeads is an email finder that comes with a bulk email verifier.
It checks for bounces, email formats, and webmail addresses. AeroLeads also identifies temporary email addresses.
There you have it. Now, you can know the best email verification tools you can use to keep your email list clean.
So, what's the best email verification tool? Our pick is OptinMonster. It allows you to do real-time lead verification. And, it also offers tools to grow your list at the same time.
Start Verifying Emails Today!
We hope you found this article helpful. And if you did, you might enjoy these resources:
Ready to start verifying your emails? Get OptinMonster today.
The post 7 Best Email Verification Tools to Improve Deliverability appeared first on OptinMonster.