This
article
was originally published on
this site
Backing up your website often is one of the best ways to protect it. Recent backups can help if you run into an error that you don't know how to fix, or if a plugin or theme update breaks your website. Most websites can benefit from daily backups, or even multiple backups per day.
Handling this task manually can be very time consuming, however, which is where WordPress backup plugins come in. Let's talk about why it makes sense to use a plugin to back up your website, and then introduce six top solutions!
Why You Should Use a WordPress Backup Plugin
Although backing up WordPress manually is possible, it's not the best use of your time. To create a full backup, you have to copy the contents of your WordPress root folder and export its database. Then you have to decide whether to store that backup locally or in the cloud (ideally in both places). Repeat that process a few times, and you'll soon realize that there are many ways to spend your time more productively.
Of course, there are alternatives to manual backups. If you're using WordPress, you have three options:
Use a web host that offers automatic backups. Most managed WordPress hosts offer this feature, and will back up your website daily. They also give you the option of restoring backups from your hosting dashboard. This level of service usually costs a bit more than basic hosting.
Pay for a WordPress maintenance service. If you want a more hands-off approach to maintaining your website, WordPress maintenance services ensure that it's always running in top shape. That typically includes automatic backups, but again does come at an extra cost.
Use a WordPress backup plugin. With the right plugin, you can be in full control of your backup schedule. Plus, you can decide how to store those backups, as most plugins enable you to download the files or upload them to cloud services. Even better, some solutions can be used for free.
If your web host offers automatic backups, you'll need to find out how often they do so and how easy it is to restore your website using the provider's tools. Even if you're satisfied with your host's backup functionality, we still recommend that you use a plugin as well.
For example, let's say that your web host backs up your website daily. In our experience, most hosts only store copies of your site going back a week or two. If you ever have to roll back to an earlier version of your site, you'll need an additional solution.
With a WordPress backup plugin, you can store additional copies of your site in other locations (and keep them as long as you want). In most cases, using a plugin is much cheaper than a WordPress maintenance service, so it's the approach we recommend if you're a DIY kind of person.
6 Best WordPress Backup Plugins
In this roundup, we're going to introduce you to our top six picks for WordPress backup plugins. Although most of them share similar features, each tool offers a slightly different approach to creating copies of your site. All of them also have strong ratings and reviews, as well as reliable support from their developers.
1. UpdraftPlus



UpdraftPlus is one of the most user-friendly WordPress backup plugins you can use. It enables you to create backups on demand, and select whether you want to include both your database and site files:



By default, this plugin stores backups on your server. However, you can also download backup files to your computer or connect UpdraftPlus to a cloud storage service. Out of the box, the plugin supports multiple such services, including the following options: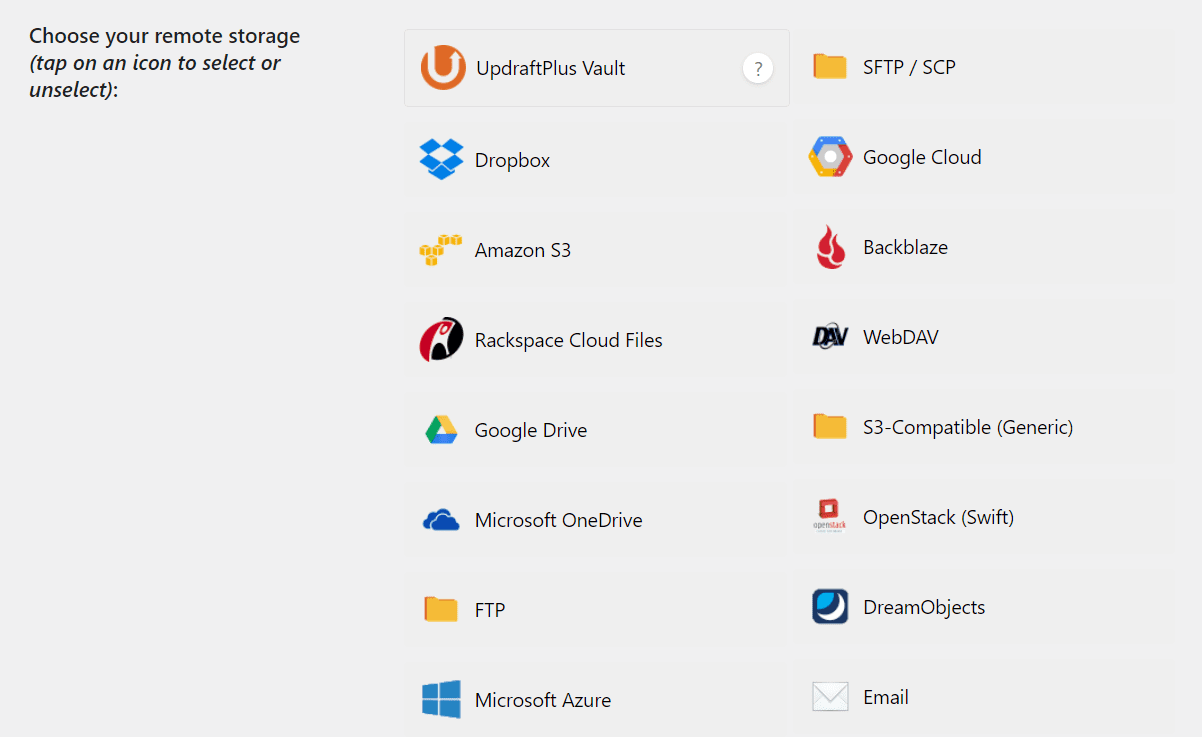 UpdraftPlus enables you to download full backups or only the specific parts you need, such as your database, files, plugins, and themes. You can also use it to restore any existing backup with a single click.
The free version of this plugin lets you schedule backups and decide how many of them you want to store in case you need them. If you pay for UpdraftPlus premium, you'll be able to schedule incremental backups. That means the plugin will only add to your existing backups if you make changes to the website, saving you some storage space.
Key Features:
Set up automated backups for your website and decide how many copies to store
Store backups on your site's server or upload them to a cloud storage service
Download full backups of your site (or parts of them)
Restore backups with a single click
UpdraftPlus is for you if…
…you want to use a WordPress backup plugin that enables you to store copies of your site on its server and upload them to the cloud. The downside of the UpdraftPlus' free version is that you can only connect it to a single cloud storage service. However, that should be more than enough for most sites.
Price: Free, with premium licenses starting at $70 (and then $42 per year) | More Information
2. BackWPup


BackWPup is a plugin that's all about scheduling WordPress backups. It enables you to schedule "jobs" with full control over what to include in each backup and how often they should run. You can schedule backup jobs to run manually, with WordPress cron jobs, or with commands using WP-CLI: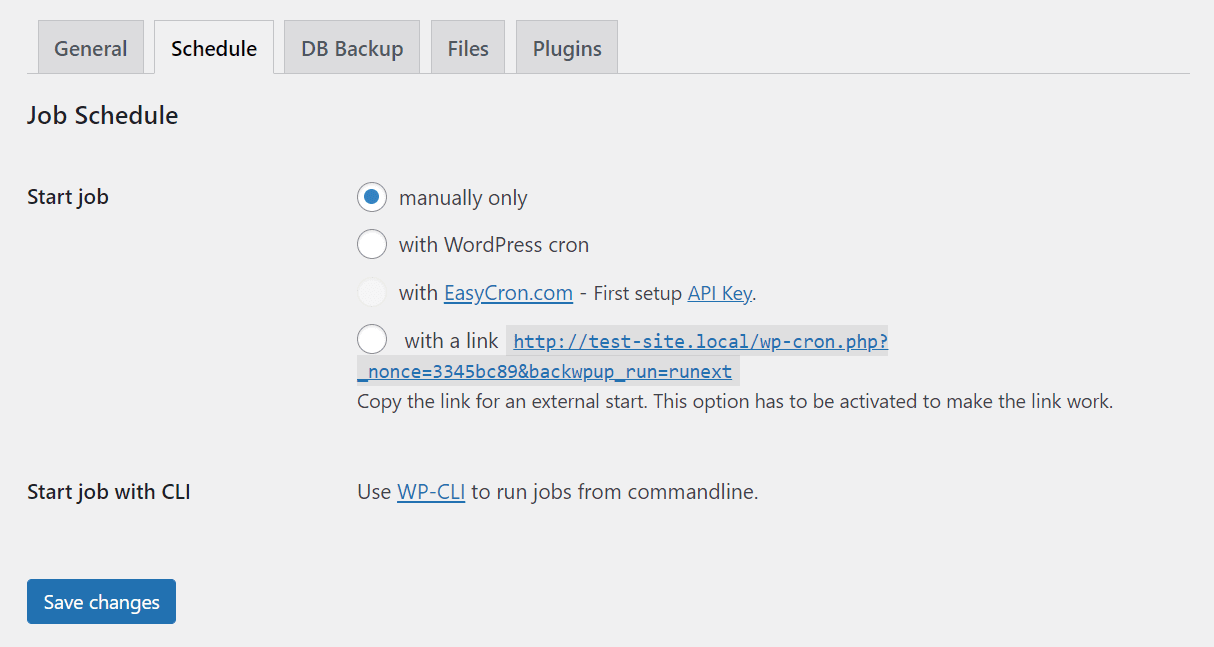 You can decide what database tables, WordPress folders, and plugins to include in each backup job. In practice, that means you can set up jobs to back up specific tables periodically, and create full copies of your website on a more frequent basis.
BackWPup lets you store your backups on your site's server, send them via email, or upload them to a cloud storage service: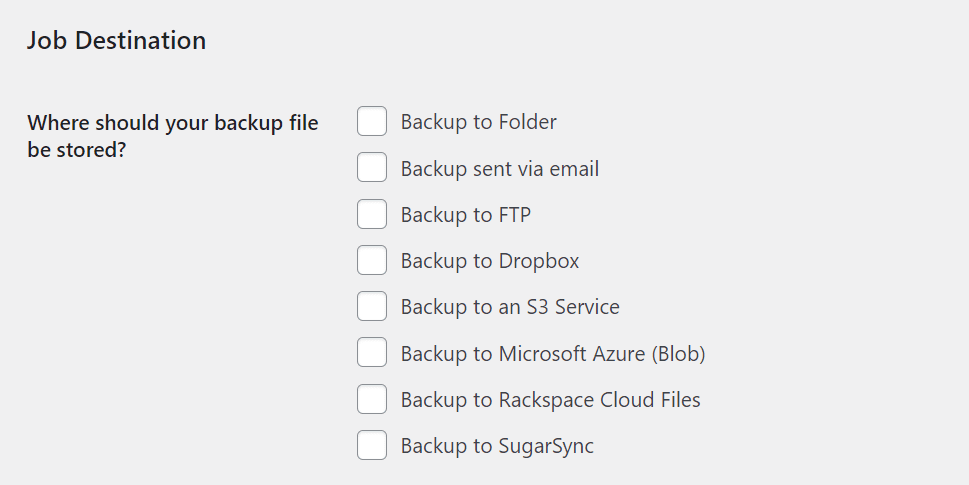 The main downside of using BackWPup is that the free version of the plugin doesn't include backup restoring functionality. That means you have to restore your backups manually or pay for the premium version.
Key Features:
Schedule backup jobs using multiple methods
Get full control over what parts of your database and files to include in each backup job
Store backups on your server or third-party cloud storage platforms
Email backup files to a set location
BackWPup is for you if…
…you want a solution with comprehensive scheduling functionality, and you're comfortable restoring WordPress backups manually.
Price: Free, with premium licenses starting at $69 per year | More Information
3. WPvivid Backup



WPvivid Backup offers both backup and migration functionality for WordPress sites. With this plugin, you can schedule full or partial (database or files) backups for your website on any schedule you want. It also lets you create backup files on-demand: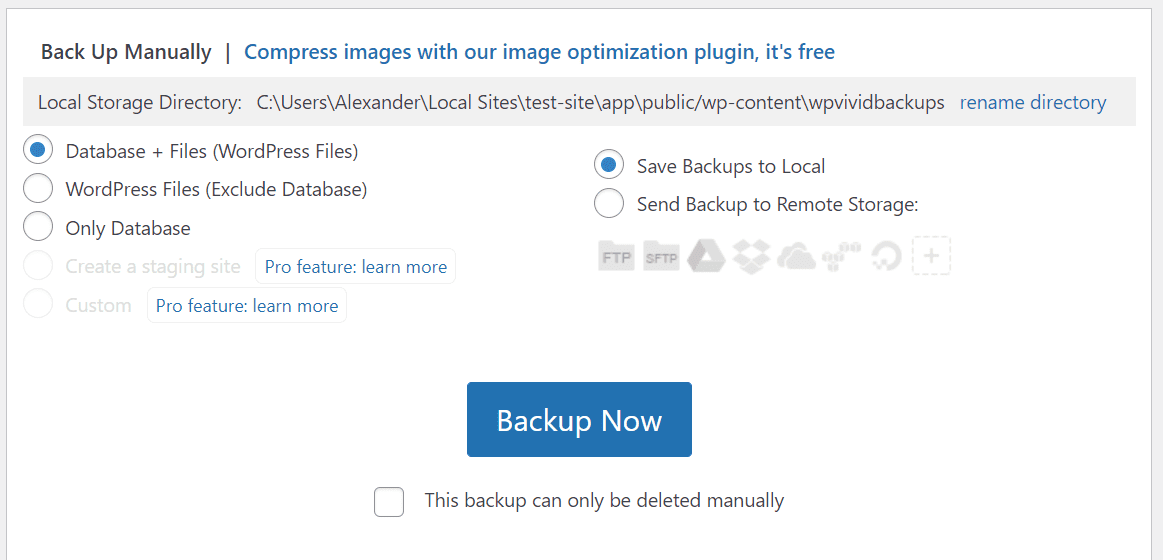 Once your backups are created, you can download them or upload them to a cloud storage service:



You can also restore backups with a single click, and the plugin keeps detailed logs of all of the tasks it runs.
What sets WPvivid Backup apart is that you can also use this plugin to easily migrate WordPress websites. If you install WPvivid Backup on two websites, you can connect those sites using a secret key. Then you get the option to make a copy of one of your sites and import it into the other. This feature is perfect if your new host doesn't offer free migrations and you don't want to perform that task by hand.
It's also worth noting that WPvivid integrates with MainWP. You can use that integration to schedule backups for all of the sites that you manage from your MainWP dashboard.
Key Features:
Create one-click backups
Restore backups with a single click
Download backup files or upload them to the cloud
Migrate your website using another WPvivid Backup installation
Integrate WPvivid Backup with a MainWP account
WPvivid Backup is for you if…
…you're planning on migrating your website soon or you use MainWP. As far as migrations go, WPvivid Backup makes the process almost as simple as letting your web host do it for you.
Price: Free, with premium licenses starting at $49 per year | More Information
4. All-in-One WP Migration



Although All-in-One WP Migration is primarily a WordPress migration plugin, it's also one of our favorite backup tools. This plugin makes it very simple to create one-click backups of your website, which you can restore just as easily:



However, you can't use All-in-One WP Migration to schedule backups. The free version of the plugin doesn't support exporting backups to cloud storage either. Instead, you have to pay for an extension to access almost every cloud storage platform you want to export backups to: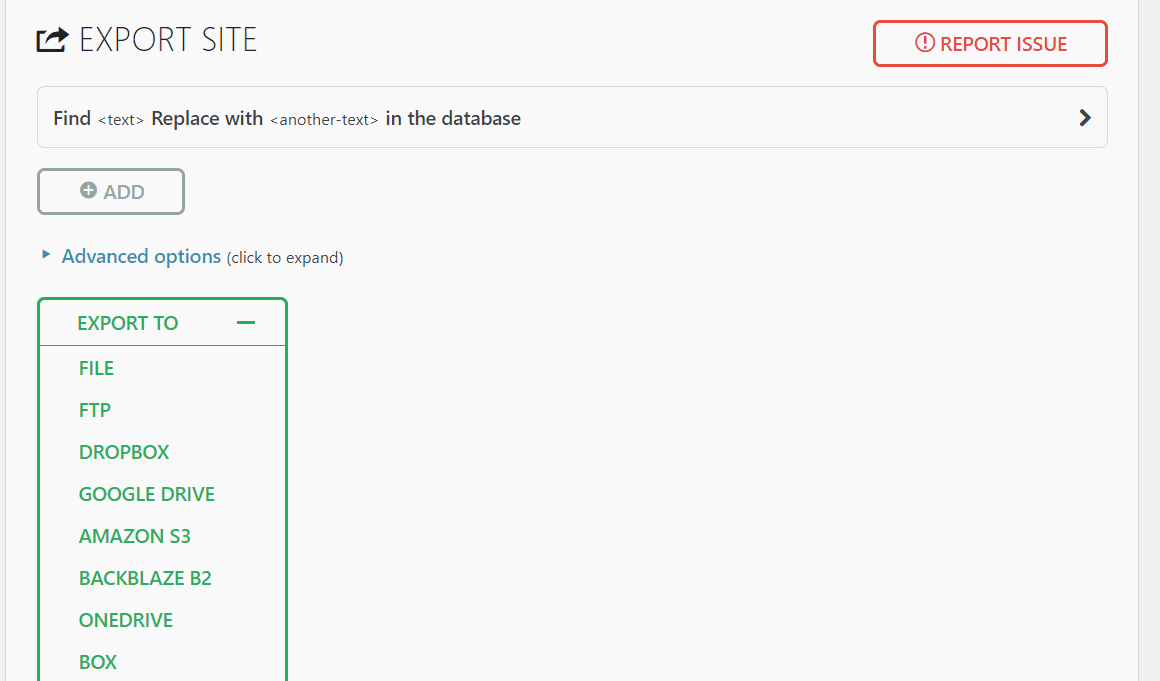 One area where this plugin excels is when it comes to migrations (as its name implies!). You can import copies of your site using the same plugin on another website, and it will work just as well as a manual migration. Moreover, the plugin is famous for being able to upload large files even on web hosts that limit your resources (for example, if you use shared hosting).
Key Features:
Create one-click backups of your website
Download copies of your backup files
Export backups to the cloud
Restore backups with one click
Import backups on other websites
All-in-One WP Migration is for you if…
…you don't want to schedule backups. This plugin is perfect if you want a tool that enables you to create full backups of your site on demand without having to tinker with complicated settings. It's also your best option if you're migrating your website to a web host that limits the size of the files you can upload.
Price: Free, with premium extensions available | More Information
5. Database Backup for WordPress


In some cases, you might only want to back up your WordPress database and not all of your site's files. Database Backup for WordPress enables you to do just that. Moreover, the plugin gives you full control over which database tables you want to save: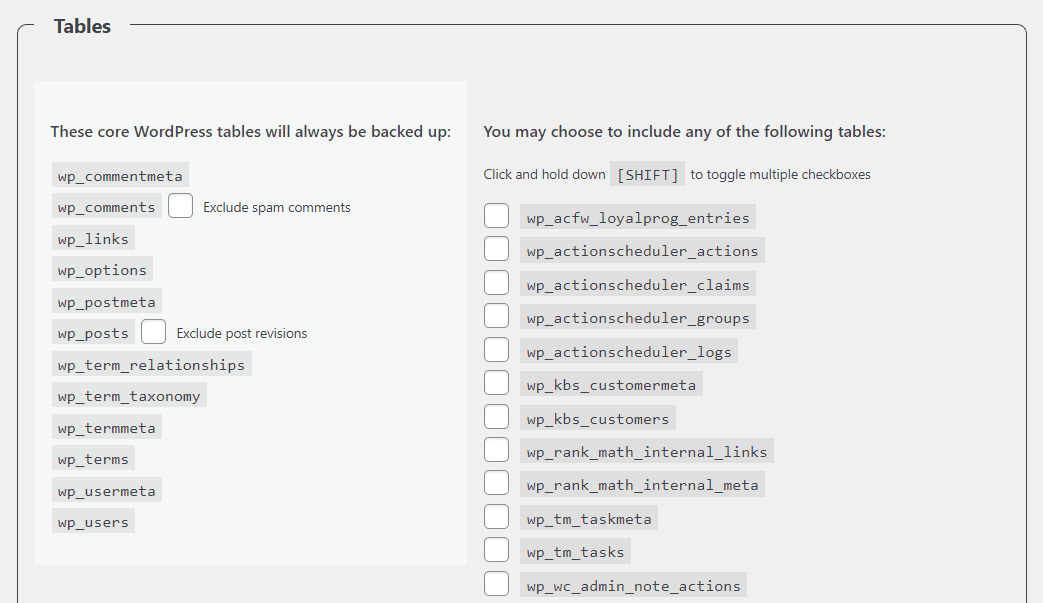 Database Backup for WordPress is handy if you use many plugins that add custom tables to your website. With this tool, you'll be able to save data from the specific tables you need without having to dig through phpMyAdmin.
This plugin enables you to schedule backups and download the resulting files to your computer. It can also automatically email database backups to any email address you choose.
Key Features:
Back up your WordPress database
Decide which tables to include in your backups
Schedule database backups
Download database backup files to your computer
Email backup files to an email address
Database Backup for WordPress is for you if…
…you want a WordPress backup plugin that enables you to save copies of your database and target specific tables. Keep in mind that to restore your site, you'll still need the rest of its files. That's why we recommend using this plugin alongside another backup tool, or if your web host creates copies of your site for you.
Price: Free | More Information
6. Backup


The simply-named Backup is a relative newcomer among WordPress backup plugins. It's still in early development, but we decided to include it because it offers one of the most user-friendly interfaces you can find. With this plugin, you can create backups on-demand or schedule them: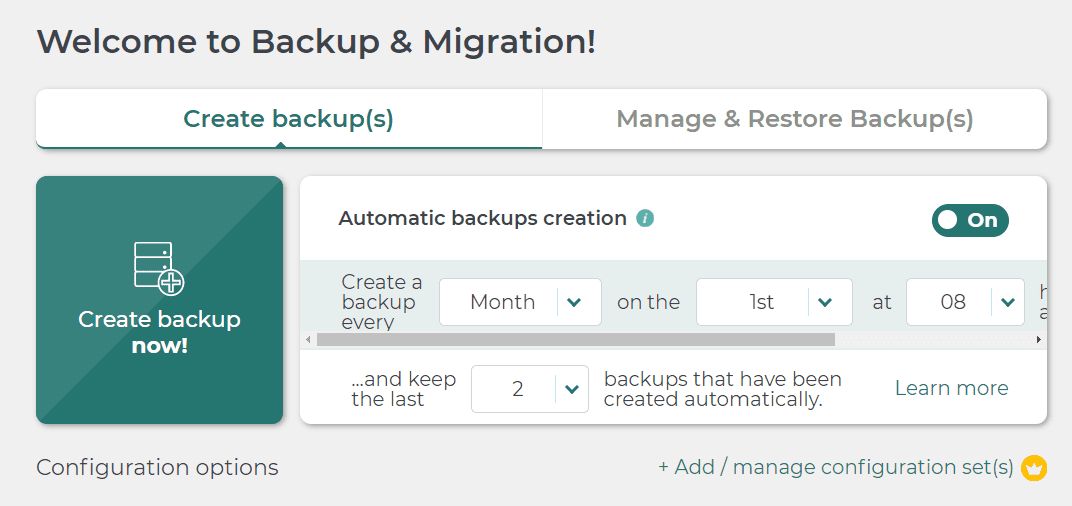 In addition, it gives you total control over what files to include in your backup. You can exclude plugins, themes, uploads, or the entire contents of your wp-content folder. You can also set up filters to exclude files based on specific criteria, such as their name or size: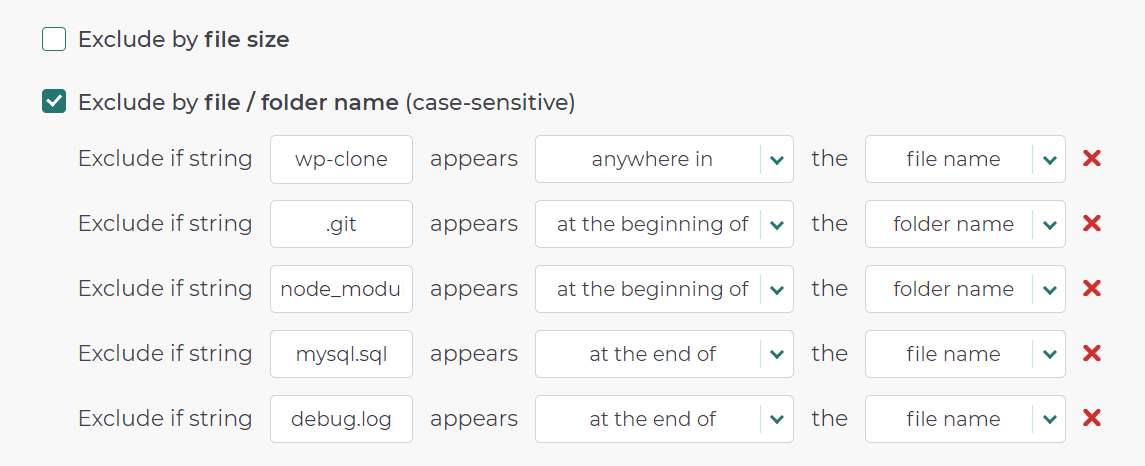 So far, the free version of the plugin only enables you to send backups via email or download them manually, along with storing them on your server. However, the developer is working on including integrations with several cloud-storage platforms for the plugin's free version.
Key Features:
Create backups on demand or schedule them
Decide what files and folders to exclude from your backups
Restore backups with one click
Store backups on your server
Download backups manually or email the files
Backup is for you if…
…you want a user-friendly WordPress backup plugin. For now, the plugin only enables you to download backups manually or send them to an email address, along with storing them on your server. If you want to back up your files to the cloud, we recommend that you opt for another plugin (until this one adds that feature). As it's still in development, we'd also recommend testing this plugin out on a staging site first.
Price: Free, with premium licenses starting at $19.98 for six months | More Information
Conclusion
Backing up your website is non-negotiable. It's the single most important thing that you can do to secure your site and protect its data. If you ever run into a site-breaking bug, having a recent backup can also save you from spending days troubleshooting the error (and potentially losing revenue during that downtime).
If your web host offers automatic backups, that's fantastic. However, we also recommend setting up a WordPress backup plugin to create additional copies of your site on any schedule you want. Our top recommendations are UpdraftPlus if you want full website backups, and Database Backup for WordPress if you only want to back up your database.
Do you have any questions about how to back up your WordPress website using these plugins? Let's go over them in the comments section below!
Featured Image via hanss / shutterstock.com