This
article
was originally published on
this site
Do you want to offer email marketing solutions that are repackaged with your own branding?
When you run an agency or email marketing business, you'll need to rely on tools and platforms that help your clients grow their businesses.
White-labeled email marketing solutions allow you to rebrand the tools by replacing their logos with your own and creating a subaccount for your clients.
Now, there are plenty of white label email marketing tools out there, which also means choosing the right one for your needs can be challenging.
In this post, we'll show you the top white label email marketing tools that let you create a subaccount for your clients and help them convert visitors into email subscribers.
Why Use White Label Email Marketing Tools
When you work with clients, there are times when you need to grant them access to your work and send progress reports. When you do so, you wouldn't want them to see the logo and names of software that you rely on.
To solve this issue, many marketing tools let you hide their labels and add your own branding. So with white label tools, you can:
Scale your business easily without creating your own software and marketing tools
Expand your product offerings by rebranding software products that exist on the market
Get readymade reports with your company logo
Grant clients access to the dashboard to approve projects or make changes
For many reasons, white label solutions are really helpful in expanding and growing your business.
Now, let's dive into the top white label email marketing tools.
Top White Label Email Marketing Tools
1. OptinMonster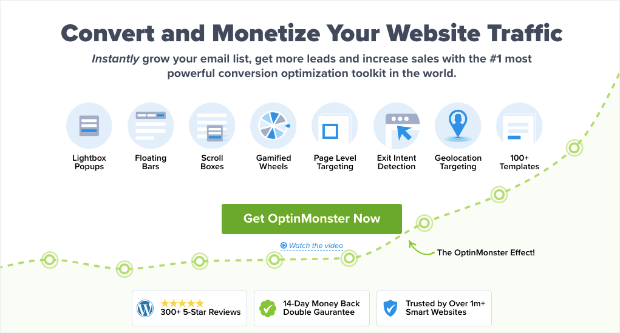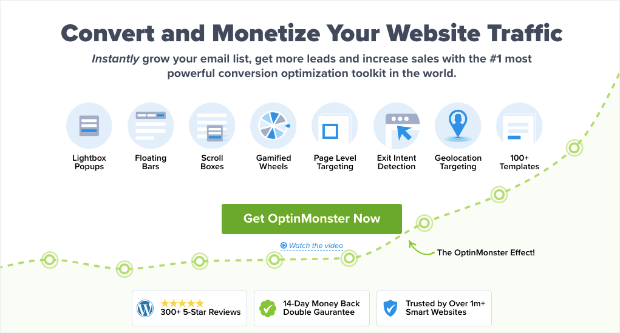 OptinMonster is the #1 lead generation tool on the market. It helps you grow email subscriber lists by allowing you to create stunning lead generation campaigns like popups, floating bars, inline forms, and slide-ins.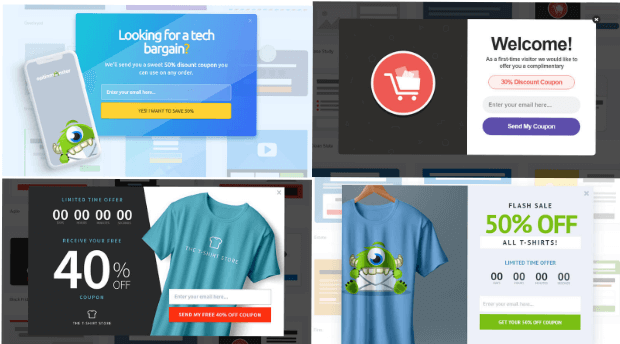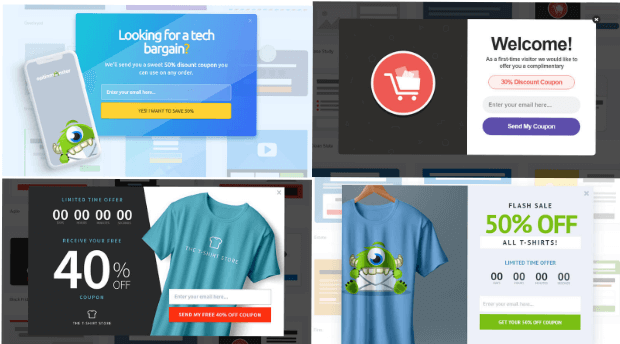 With OptinMonster, you can easily remove the OptinMonster logo and branding from the campaigns.
When you're creating a campaign, you simply need to click on the OptinMonster logo. This will open up the settings menu where you can use the toggle switch to disable the 'Display Powered By Link' option.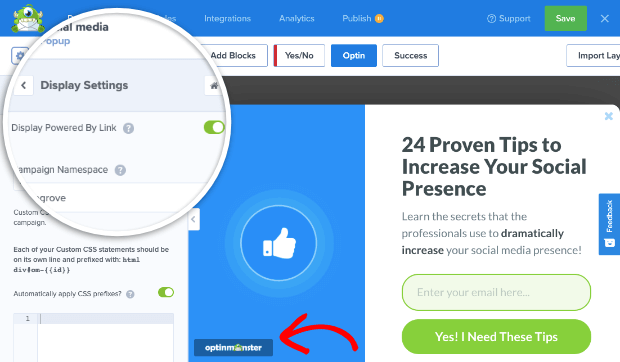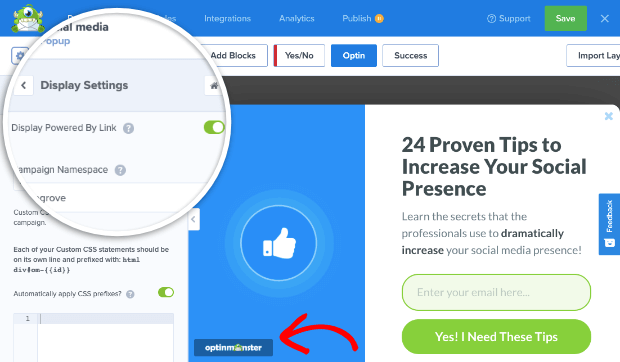 Added to that, you can transform the OptinMonster dashboard and add your own custom branding.
Under 'My Account' on the OptinMonster dashboard, you'll need to open the Branding tab.
Here, you can add a name, logo, icon, and copyright text. And you can customize the color of the background, text, and buttons to match your own brand.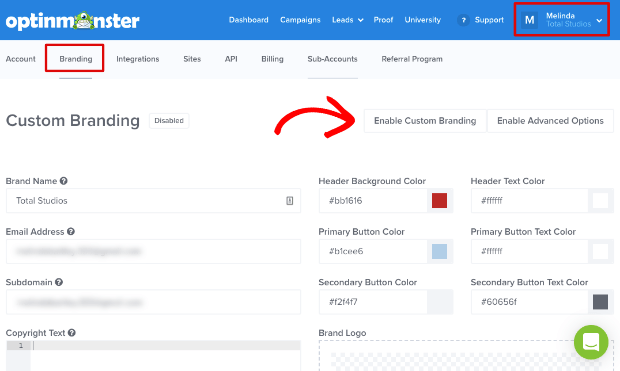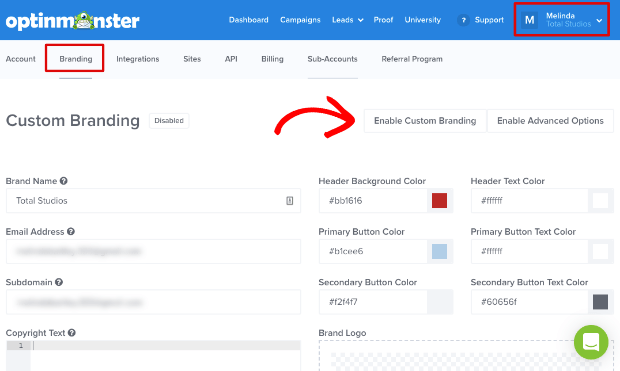 Once you enable custom branding, the dashboard will change to match your preferences.




Next, you can invite a client or team member to collaborate on campaigns. You'll find this option on the Publish page of any campaign you create.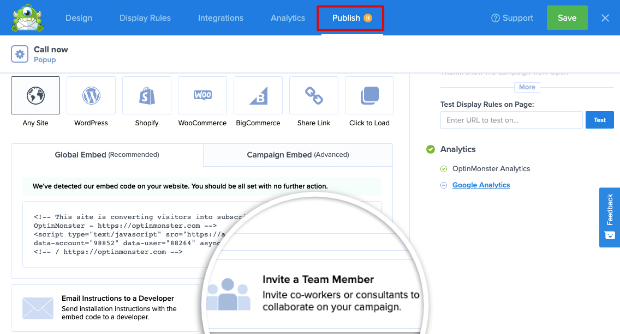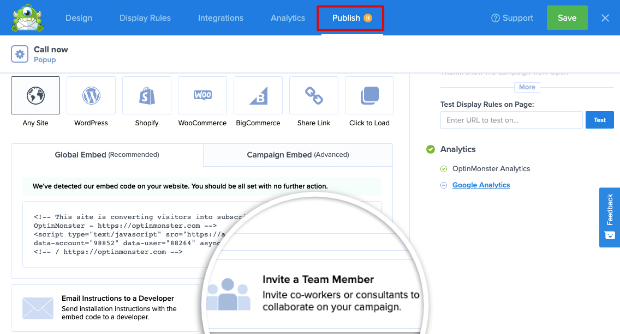 Or you can access the My Account » Sub-Accounts page to invite new users.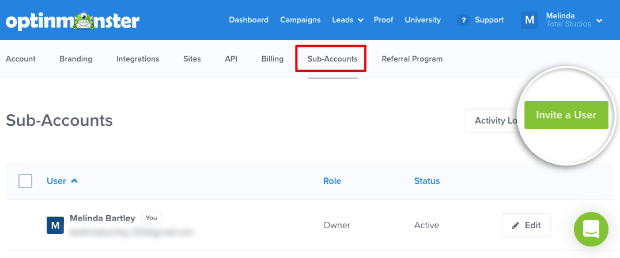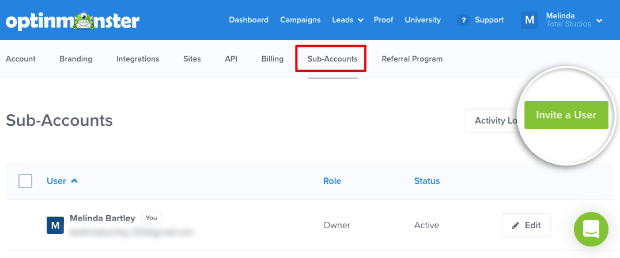 OptinMonster lets you assign different levels of permission for your clients or team members. You can make them a viewer, author, manager, or admin and also assign which sites or folders they have access to.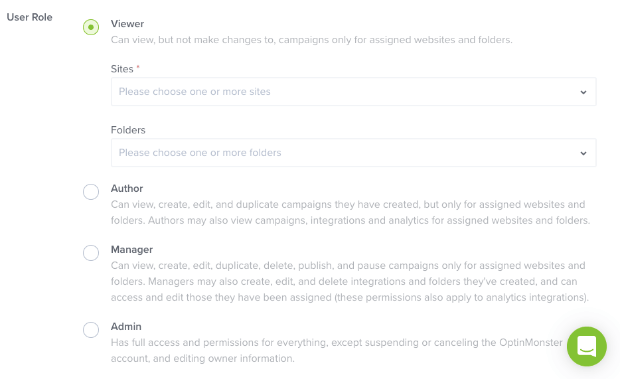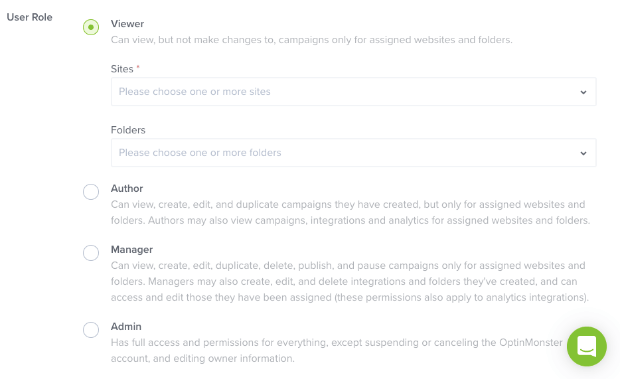 To create client-specific folders, you can do so from the dashboard. You can first create the folder from the taskbar on the left, and then add any campaign you create to the specific folder, like so: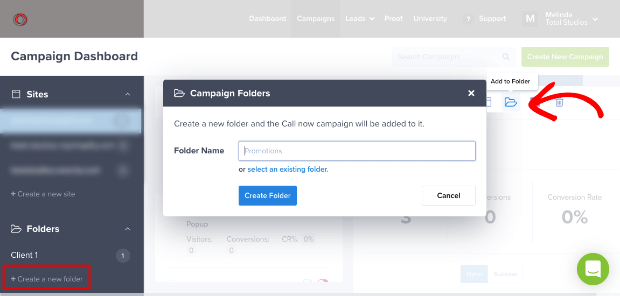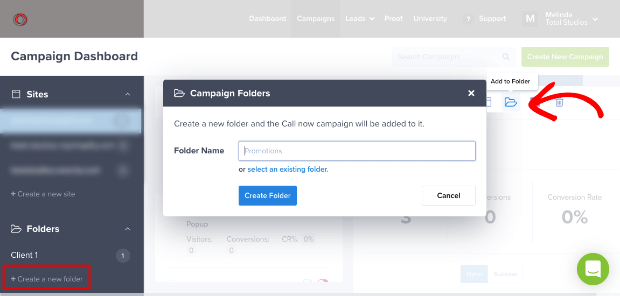 In this way, you can grant access only to the client's campaign, folder, or site and not your entire account.
OptinMonster makes it easy to organize and manage your clients, and let them see only what you want them to see.
Get Started With OptinMonster Today!
BONUS: Done-For-You Campaign Setup ($297 value) Our conversion experts will design 1 free campaign for you to get maximum results – absolutely FREE! Click here to get started →
Highlights
Complete white label and custom branding solutions for dashboard and individual campaigns
Allow clients to access dashboard to collaborate on projects
Set permission levels for users
Manage multiple clients with dedicated folders
Analytics to create reports for clients
Integrates with all popular email service providers like Constant Contact and Sendinblue
OptinMonster ships with 50+ stunning template designs and a drag and drop builder to set up high-converting lead generation campaigns in minutes. And it has powerful targeting features and campaign triggers to maximize conversions.
Pricing
OptinMonster's white label solutions are available with the Pro plan that costs $29 per month.
2. MonsterInsights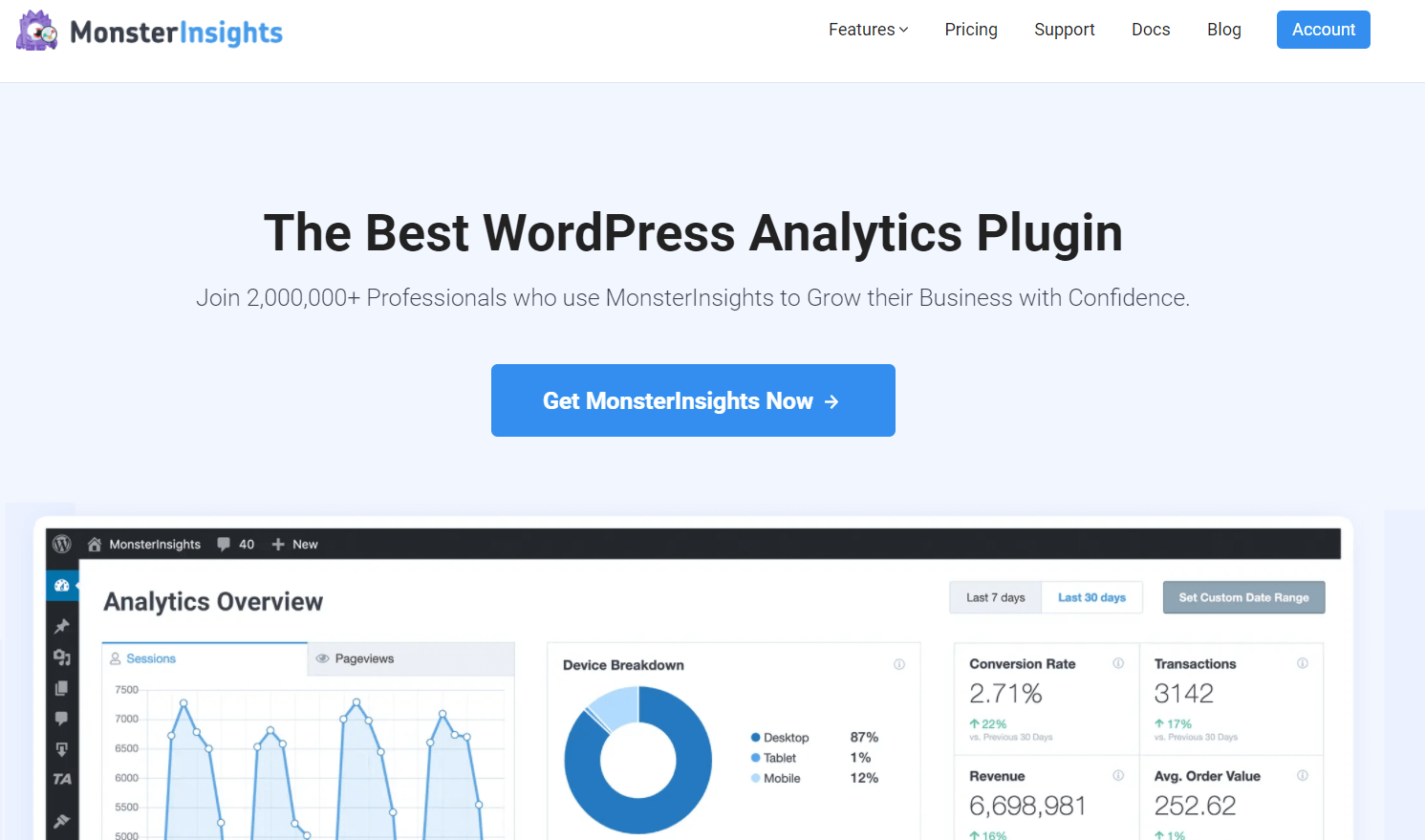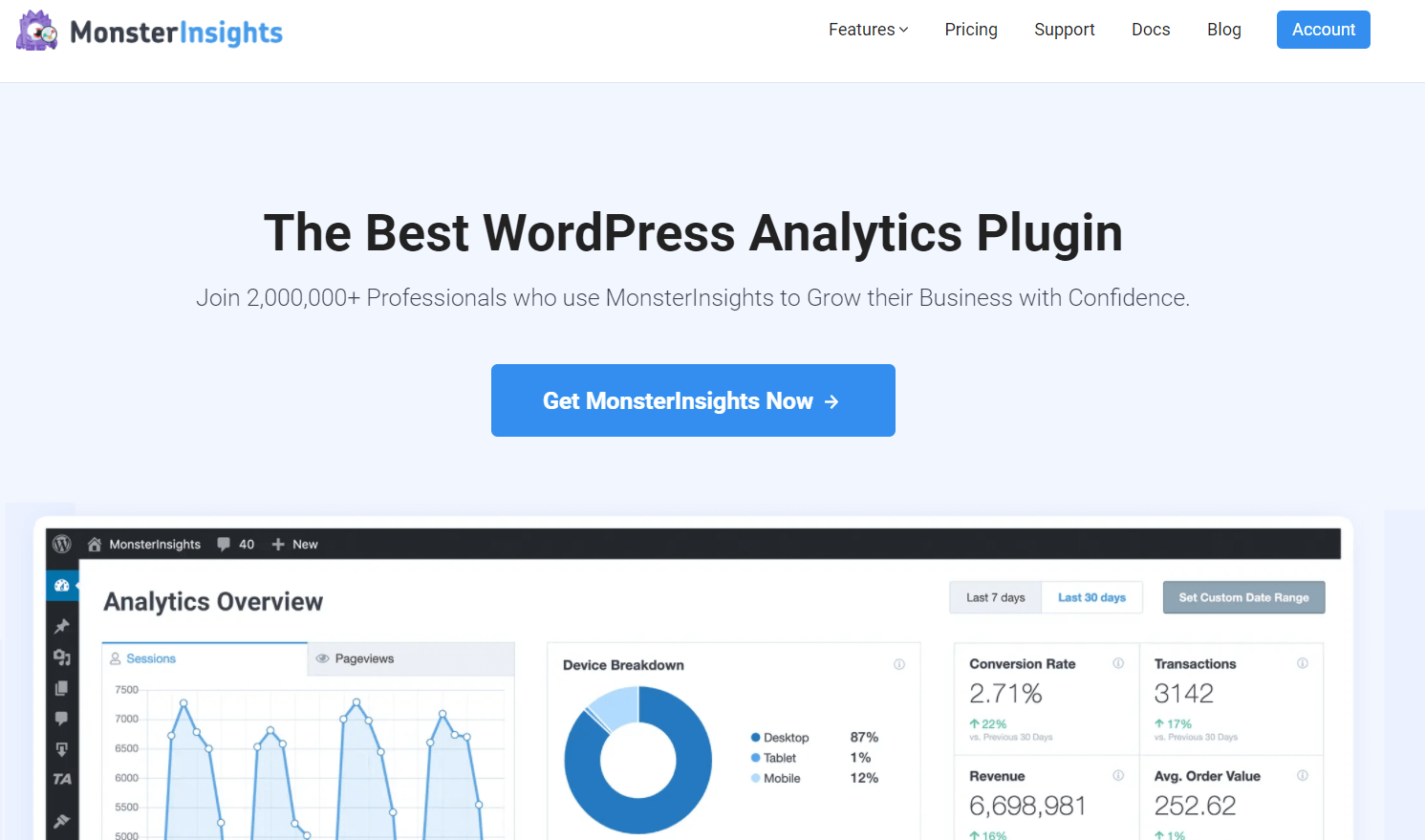 MonsterInsights is the best analytics plugin for email marketers.
It has specific features to help email marketers track the performance of their lead generation and subscription forms.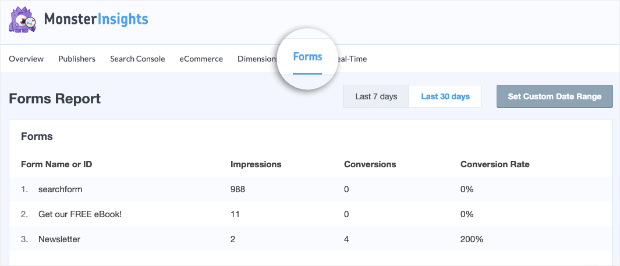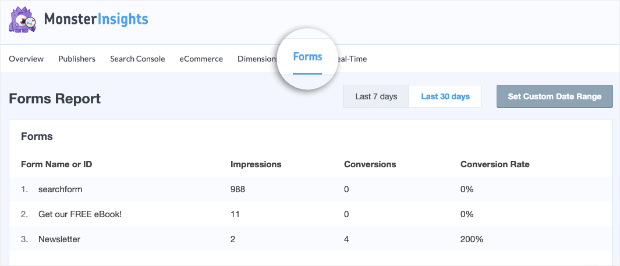 MonsterInsights also shows you top-performing posts, pages, and products that you can use to convert into emails. Plus, you can set up custom dimensions that you want to track.
You can easily enable and disable MonsterInsights on your client sites and also manage which sites the MonsterInsights license is active on.
You can connect MonsterInsights with your client's Google Analytics account and view statistics directly from your WordPress dashboard. So you won't need to log into their Google Analytics profile each time to get the stats you need.
Added to that, you can generate beautiful reports with valuable insights to show clients. These reports can be exported as PDFs. And MonsterInsights also provides weekly email summaries that you can automatically send to clients.
MonsterInsights lets you rebrand all of these reports and summaries.
You'll find these options under the Advanced tab in the MonsterInsights dashboard.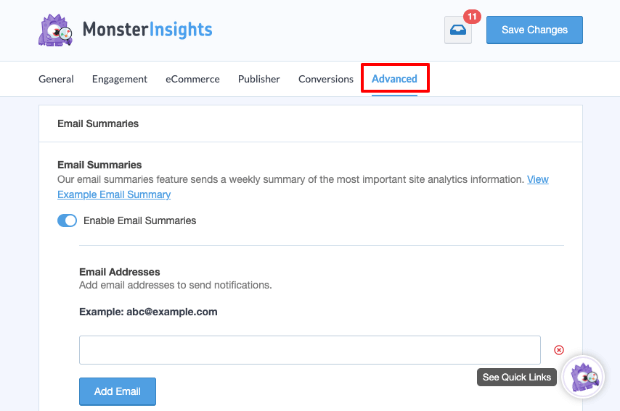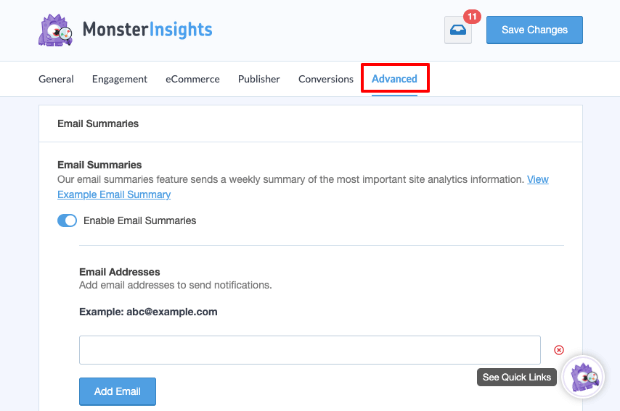 Here, you can add the client's email to whom you want to send the reports. And then use your own custom logo for both the PDF reports and email summaries.
With MonsterInsights, you can also set up permission roles for different users if you want to grant them access to the MonsterInsights dashboard.


It lets you allow clients to view reports and save settings.
With MonsterInsights, you'll have all the data you need to make your email marketing efforts successful.
Highlights
Easy to setup and connection to client websites
Find top performing and converting products to create email marketing campaigns
Track performance of signup forms
Customized PDF reports
Weekly email summaries sent automatically with your branding
Control access permissions for clients and team members
Pricing
You can get started with a lite version of MonsterInsights for free. Paid plans start at $99 per year.
3. Constant Contact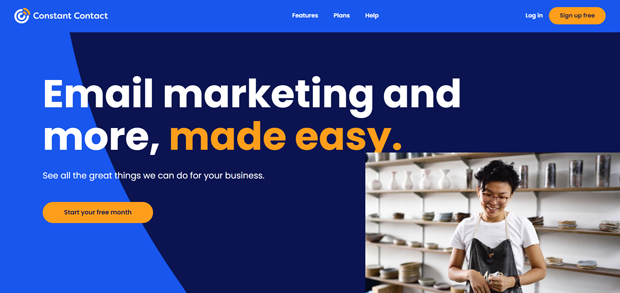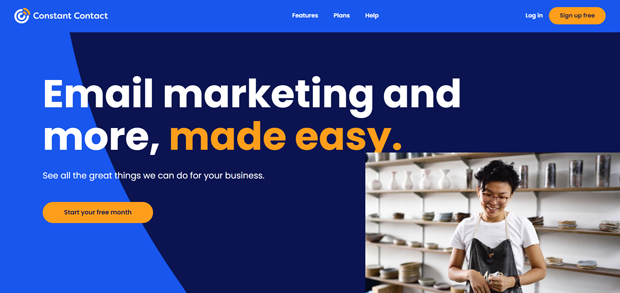 Constant Contact is the best and most popular email service provider. It's widely used to create and send email broadcasts and sequences.
Constant Contact lets you remove their logo from emails including survey invitations and event-related emails.
To do this, you'll need to contact a support representative and request them to remove the Constant Contact logo from your account.
You can also add your logo to the email footer instead of the Constant Contact logo. For this, you simply need to describe the footer changes you want to make and upload the image you want to use.
You can customize everything about the footer, however, Constant Contact makes it compulsory to have an unsubscribe link, an About our Service Provider link, and a physical mailing address.
If you're using the Inline or Popup signup forms from Constant Contact, you can remove the logo there as well. You simply need to edit the form settings when you're creating a campaign and you'll see an option to disable the logo.




Constant Contact also offers an agency partner program. It's a reseller program that gives you access to powerful online marketing solutions for your clients.
It lets you set up and manage your client's email marketing accounts on your own. Or you can even use your referral link to let Constant Contact do it for you.
You'll receive a one-time cash bonus and share the monthly revenue of all accounts you sign up for.
Highlights
Add multiple user accounts for 'Account Manager' or 'Campaign Creator' roles
97% email deliverability track record
Smart eCommerce automation tools to process data and predict the best outcome
Send emails bearing custom branding
Control email delivery time, frequency, and promotional offers
Segment based on purchase activity, website visits, activity and gender
Analytics to provide valuable insights into performance and progress
Reliable support team provides help over live chat, phone, email, and forums
Pricing
Constant Contact's pricing plans start at $20 per month. There are additional charges for white label and custom branding solutions.
4. AWeber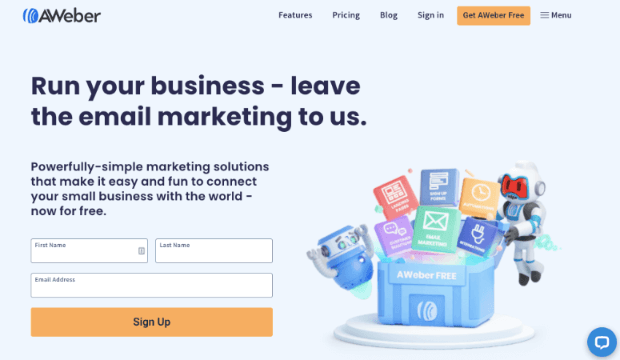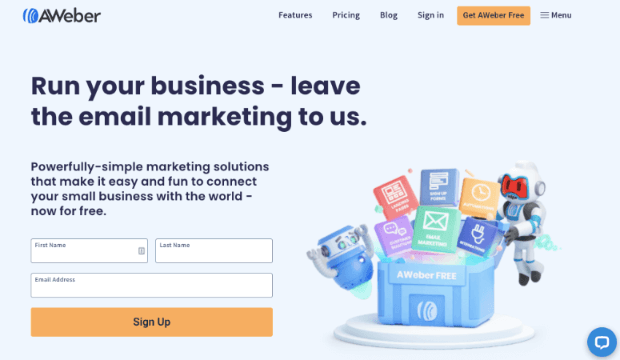 AWeber is a powerful email marketing platform.
It lets you design and create custom templates without ever having to write any code. The drag and drop builder lets you customize everything about your email so you can add your own branding, logo, and color schemes.
You can also create custom branded templates that you can use for all your campaigns instead of customizing every new email.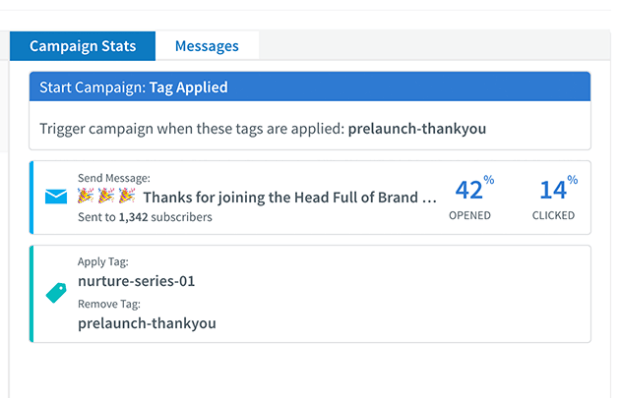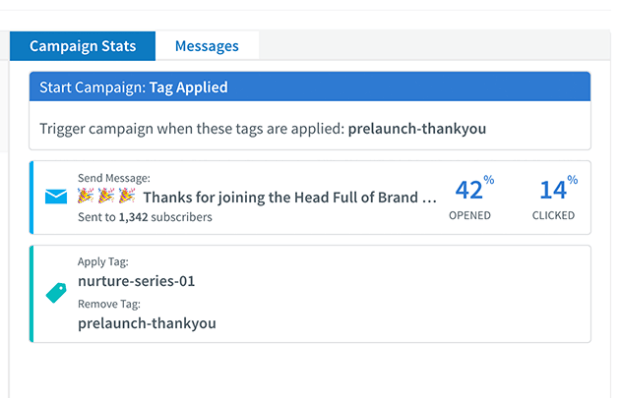 AWeber offers a co-branded private label option where you can set up your own company name and branding and use their services. You can market it as your own, however, the AWeber logo will show up in your account dashboard.
It's not intrusive so it shouldn't pose any issue with clients when you grant access your dashboard.
Highlights
Automate email broadcasts created from latest blog posts
Set email campaign triggers and create targetted email flows
AI powered email template designer to create branded newsletters in seconds
Drag and drop email builder with access to a free template library
Easy subscriber management and segmentation
Analytics and reports that contain data that matters
Pricing
There's a free plan for up to 500 subscribers. The Pro version starts at $16.15 per month.
5. Mailjet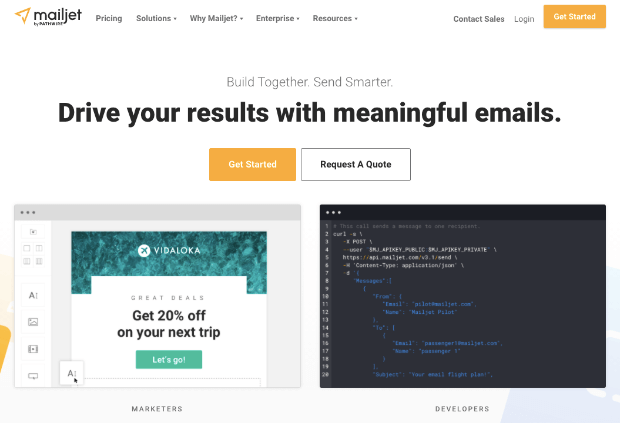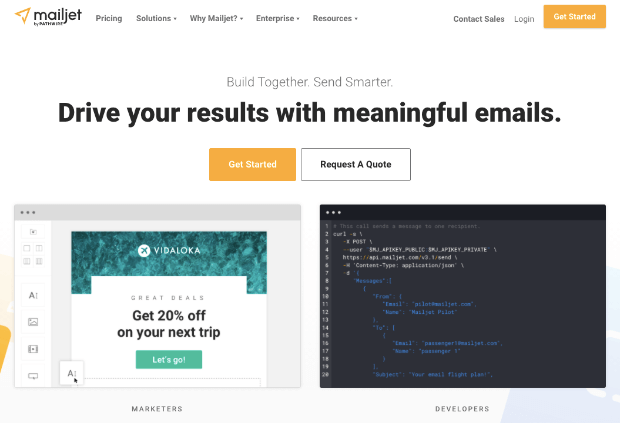 Mailjet is a unique email marketing solution that makes it easy for marketers and developers to work together.
It also combines template-based marketing and transactional email sending in one online app.
It has one of the best white label solutions among email service providers. Using Mailjet, you can offer a custom-branded email builder, contact database, and template management under your company name.
Plus, you can add 'email sending infrastructure' to your portfolio as it lets you white label that as well.
Mailjet lets you select what features you'd like to offer your customers so you don't have to pay for the ones you don't need.
Some of the features that can be white labeled include Advanced Statistics, Segmentation, Multiple Languages, Templates, and Contact Management.
And when it comes to managing multiple clients, Mailjet has a user-friendly dashboard. You can add and manage master and sub-accounts.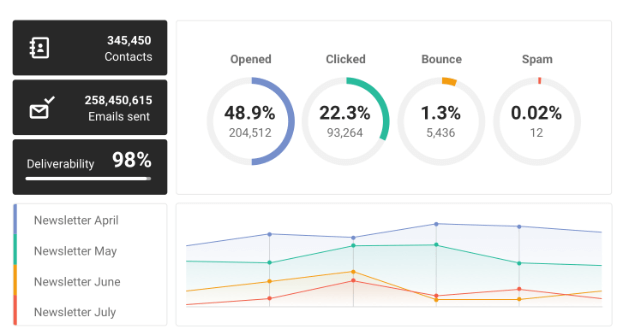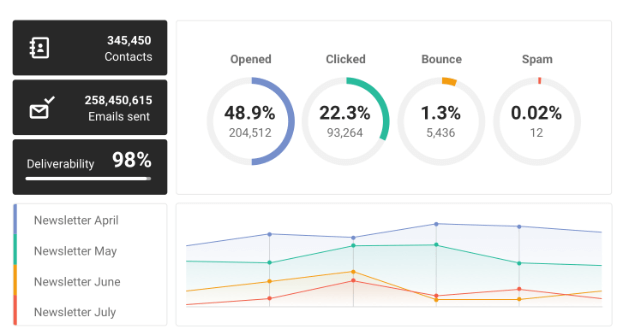 Highlights
Robust account management system to manage multiple clients
Share templates with individual or selected clients together
Control and restrict access as needed
Monitor analytics for each client to make informed decisions
Support for onboarding, API integration, and deliverability
Pricing
Mailjet's white label solution comes with custom pricing. You'll have to contact Mailjet support to get started.
6. ActiveCampaign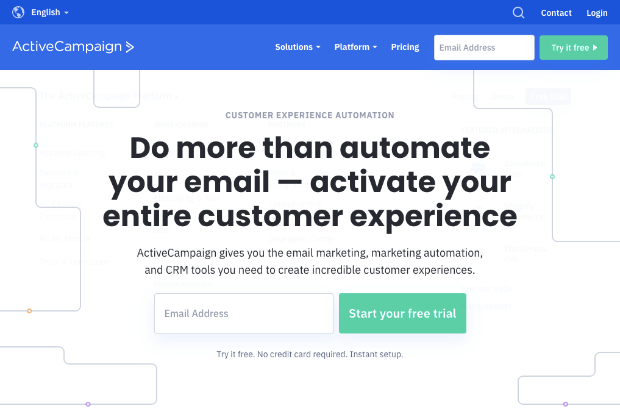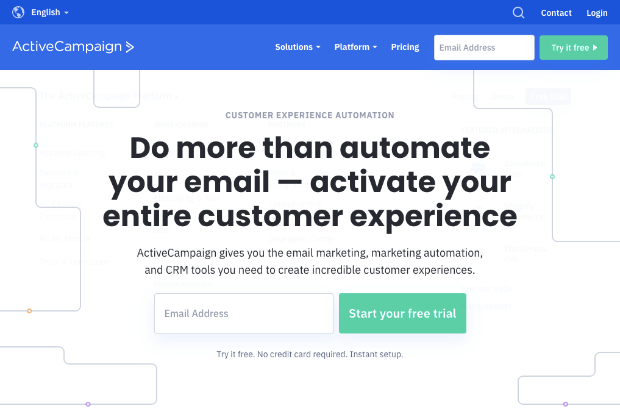 ActiveCampaign is another excellent email marketing platform.
It gives you access to email marketing automation and CRM tools so you can achieve great results that you can proudly show your clients.
ActiveCampaign's white label solution can add a ton of value to your agency or business. It lets you rebrand their platform with your own logo, custom domain, and cosmetic changes.
It also makes room for HTML and CSS rebranding options.
Added to that, you can rebrand a specific customer account so you can actually make the dashboard suit the client's brand as well. This personalizes their experience.
And ActiveCampaign lets you remove all instances of their branding with a single click.




Highlights
Add custom pre-built templates and automations for clients
Create custom buttons or import your own CSS
Allow clients to sign into your dashboard through your own website
Single click option to remove all ActiveCampaign branding
Behind the scenes support to answer client queries
Pricing
ActiveCampaign starts at $9 per month. Most of its white label features are in the Enterprise plan that starts at $229 per month.
And there you have it! That's our list of the best white label email marketing tools every email marketer should know about.
Verdict: The Best White Label Email Marketing Tools
Even though we've narrowed it down to the Top 6 white label email marketing tools, we know it can still be difficult to make a decision.
So here's our pick of the best tools for email marketers that can be white labeled.
When it comes to email marketing, it's best to use a combination of value-add tools such as Constant Contact along with OptinMonster and MonsterInsights.
You can white label and integrate all 3 tools so they work in tandem with each other. This way, you'll have everything you need to make your email marketing business a success!
Get Started with OptinMonster Today!
BONUS: Done-For-You Campaign Setup ($297 value) Our conversion experts will design 1 free campaign for you to get maximum results – absolutely FREE! Click here to get started →
We hope you liked this article, and if so, you may also be interested in the Best Email Marketing Automation Tools to Transform Your Business.
And if you're having trouble with getting emails delivered, check out Why Your Emails Go in the Spam Box (and How to Make Sure They Don't).
Want to get more email subscribers with white labeled lead generation campaigns?
Join OptinMonster today!
Published by Melinda Bartley
Melinda is a writer who started penning stories for kids when she was just a kid herself. When she's not writing, you'll find her running her animal welfare org or spending time with her dogs and her big fam!