This
article
was originally published on
this site
Looking for the best Linux hosting provider for your next website project?
It turns out that most of the web hosts today are running Linux. And, in terms of figures, let's just say that more than 96% of the top 1 million web servers are Linux-based, while the remainder is shared between Windows (taking up 1.9%) and FreeBSD (with 1.8%) [1].
Wondering why?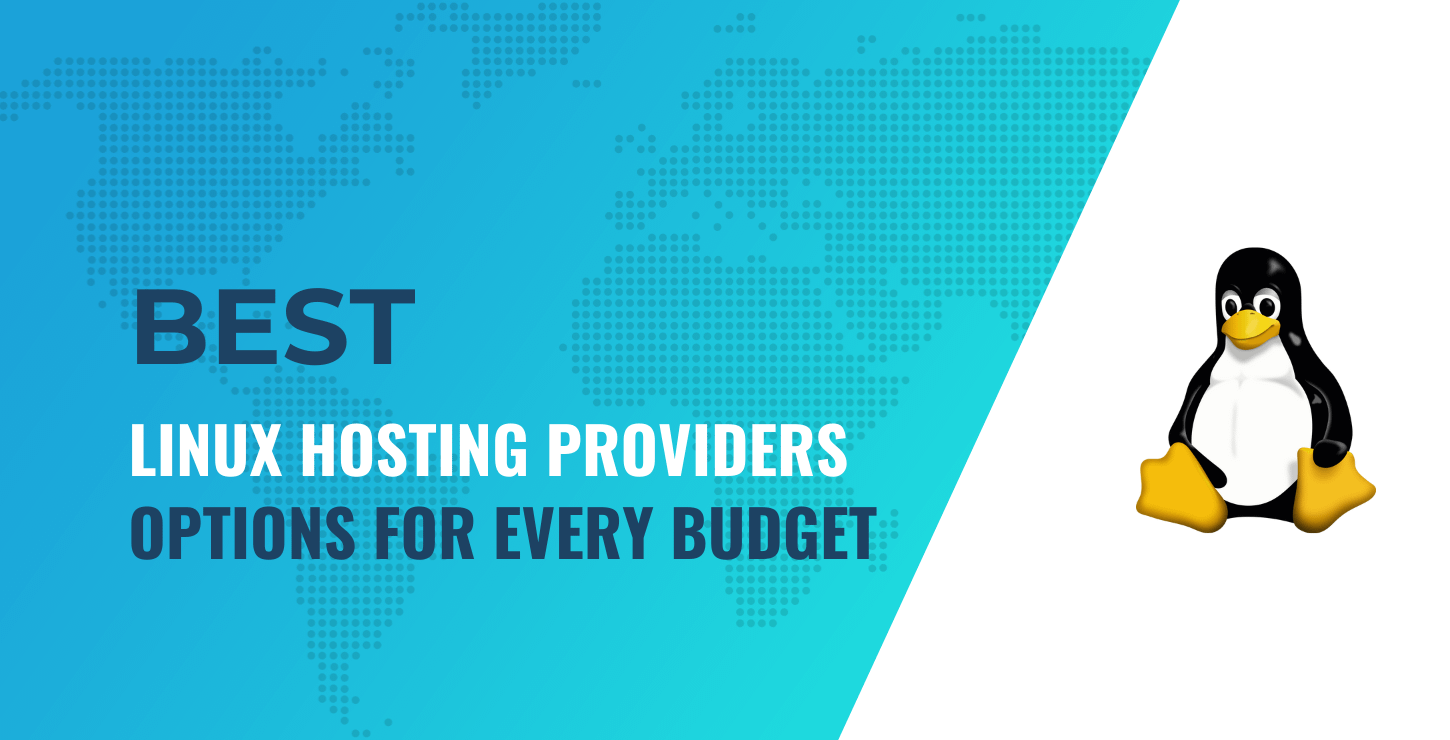 Well, the truth is, all those web hosts are probably prioritizing Linux for the same reasons you do. It's an open-source OS platform that's powerful, versatile, and, most importantly, completely free of charge. The same cannot be said of Windows and the likes.
As such, it seems that while you'll have an easy time finding a Linux web host, it's going to take you a heck of a lot of back-and-forths to evaluate all the options and identify the best Linux hosting company.
Luckily for you, though, we understand that you might not have the time for such a cumbersome exercise. So, of course, we gladly took up the task and did everything for you.
It's a great honor for me to now present to you the best Linux hosting companies. So, tag along as we reveal not only their core features but also the accompanying Linux hosting packages you'll be getting.
What to look out for in the best Linux hosting companies
To select the best Linux hosting service for your business, application, or website, you should prioritize the following:
Hosting Environment
This is where you choose the hosting environment based on your specific needs. If you intend to set up a small business site, for example, shared Linux hosting would be appropriate. The likes of VPS and dedicated server hosting, on the other hand, are reserved for resource-demanding sites and applications.
Hosting Features
This refers to the specific provisions and tools that come with the hosting servers. And while web hosts with the most advanced selection of features might seem alluring at first, you should, instead, focus on finding the one that offers the most ideal feature-set for your hosting needs.
Storage and Bandwidth
Again, this depends on your specific needs. The bigger the website and the higher its traffic volume, the bigger the amount of storage and bandwidth you'll need. And while you're at it, you might want to prioritize the Linux web hosts with upgradeable hosting packages, which should be accompanied by data centers that are located conveniently close to your target audience.
Backups
Don't stop at the primary storage provisions. Ideally, your Linux hosting provider should additionally offer regular website backups as a security measure.
That means that in case of a disaster such as a system shutdown, crash, malware attack, or network infiltration, you won't lose your precious data. You'll simply restore it all from your backed-up copies.
Security
Speaking of security, you should always keep in mind that it goes deeper than just SSL certification and data backup. The best Linux hosting services apply a wide range of additional precautions to protect not only their servers and networks, but also their users' websites, applications, and computing instances.
Scalability
One of the reasons you're even setting up a website or web application, in the first place, is to facilitate digital growth within the interwebs. As such, you'll need a Linux web host that can sequentially accommodate the growth as your site expands.
You should be able to easily upgrade or downgrade your hosting features and resources as the website needs change.
System User-Friendliness
At the foundation level of all these hosting features and provisions, each web host runs many technically complex applications server processes. They should, therefore, take it upon themselves to build a front-end system that organizes everything, simplifies the user operations, and then relays the management controls through an intuitive UI.
Customer Support
Even with a user-friendly system, you're bound to experience technical difficulties every now and then. Whatever problem you encounter, you should be able to easily get in touch with technical support agents – who, on their end, should be knowledgeable enough to offer quick assistance in the shortest time possible.
With that, let's proceed straight to the big reveal. Here's the ultimate breakdown of 2021's top Linux hosting providers.
Best Linux hosting providers in 2021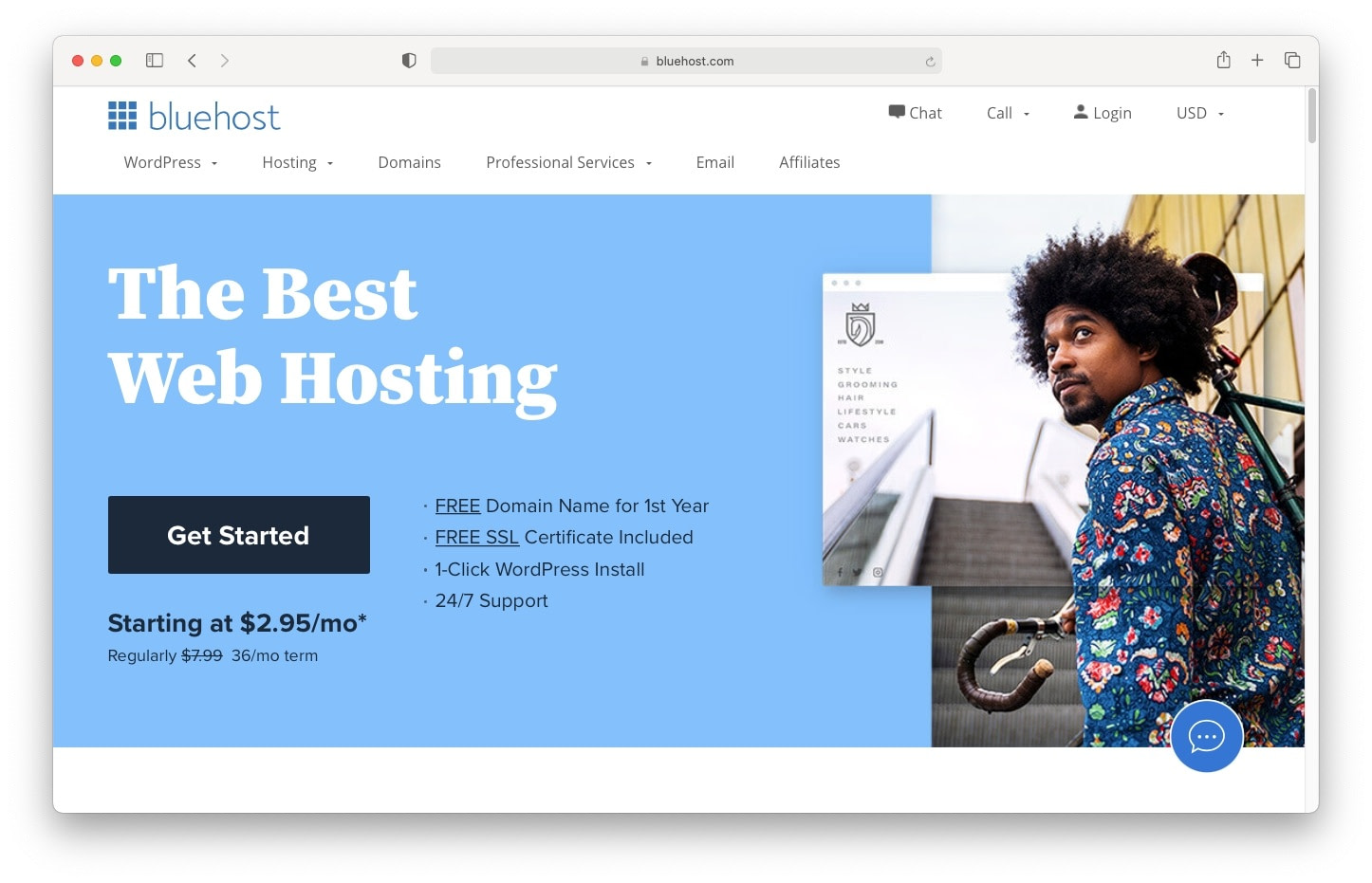 Free SSL certificate.
Free CDN included.
AI-driven website templates.
24/7 customer support.
SSD storage.
Pre-installed WordPress.
Website builder tool.
Unlimited bandwidth.
Root access.
Multi-server management.
RAID storage.
30-day money-back guarantee.
Dedicated IPs.
Certainly not a debutant in the industry's top ranks. Bluehost has, for long, been a Hall of Famer in a wide range of web hosting service categories – including WordPress hosting, managed hosting, high-performance VPS hosting, shared hosting, web hosting for beginners, and ecommerce hosting.
Well, as it turns out, Bluehost doesn't disappoint either when it comes to Linux hosting. This is one of the many web hosts whose servers happen to be running Linux across all the available environments. As such, you'll be getting not only shared Linux hosting, but also VPS Linux hosting, and dedicated Linux hosting options.
Shared is, of course, the cheapest – with its long-term subscription plan charging as low as $2.75 per month if you commit for 36 months. Whichever shared Linux hosting option you end up choosing, at least you'll be guaranteed a cPanel, email hosting, data backup, free domain, a content delivery network, plus a free SSL certificate. And while the basic plan for beginners comes with 50 GB SSD storage, a slight upgrade will give you unlimited storage, as well as the privilege to bring in an unlimited number of websites.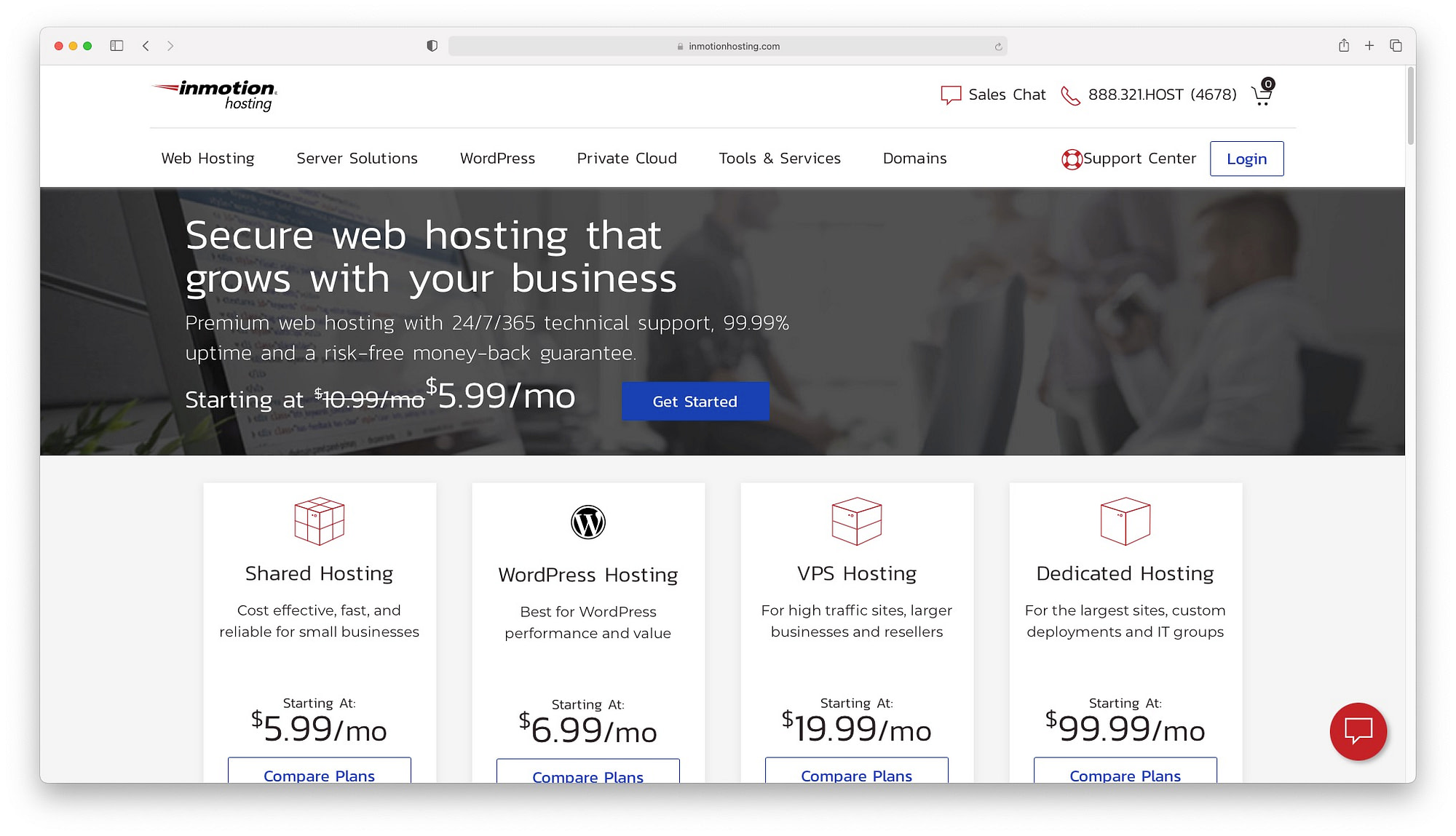 Shared and enterprise hosting solutions.
Free drag-and-drop website builder.
1-click installs on 400+ free applications.
Malware protection.
Unlimited emails with spam filtering.
Unlimited storage and bandwidth.
Advanced server caching.
Unlimited MySQL databases.
Resource monitoring dashboard.
Server snapshots.
24/7/365 customer support.
90-day money-back guarantee.
DDoS protection.
InMotion Hosting is another industry veteran – as it has been in the web hosting business since 2001.
Through all these years, the company has been running Linux-based web servers, progressively optimizing their features as it rose through the industry ranks – to the point of now being featured prominently among the best Linux hosting providers.
In particular, InMotion Hosting is a great consideration if you're looking for US-based servers that are not only affordable, but also offer versatility, fast speeds, high redundancy, ecommerce support, and managed hosting.
We're specifically recommending US-focused sites because InMotion Hosting's data centers happen to be conveniently positioned across both US coasts. Whichever of these two locations you end up choosing for your site, the servers will effectively cater to your US-based web visitors.
Besides, you also get to capitalize on InMotion's "Max Speed Zone", which is great at optimizing performance for high-traffic sites and ecommerce transactions.
That said, you'll notice that InMotion Hosting specializes in not only shared hosting, but also VPS, dedicated, reseller, and managed WordPress hosting.
The shared option is pretty okay for standard websites – as it comes with marketing tools, a security suite, multiple email accounts, unlimited bandwidth, advanced caching for as low as $2.49 per month.
3. A2 Hosting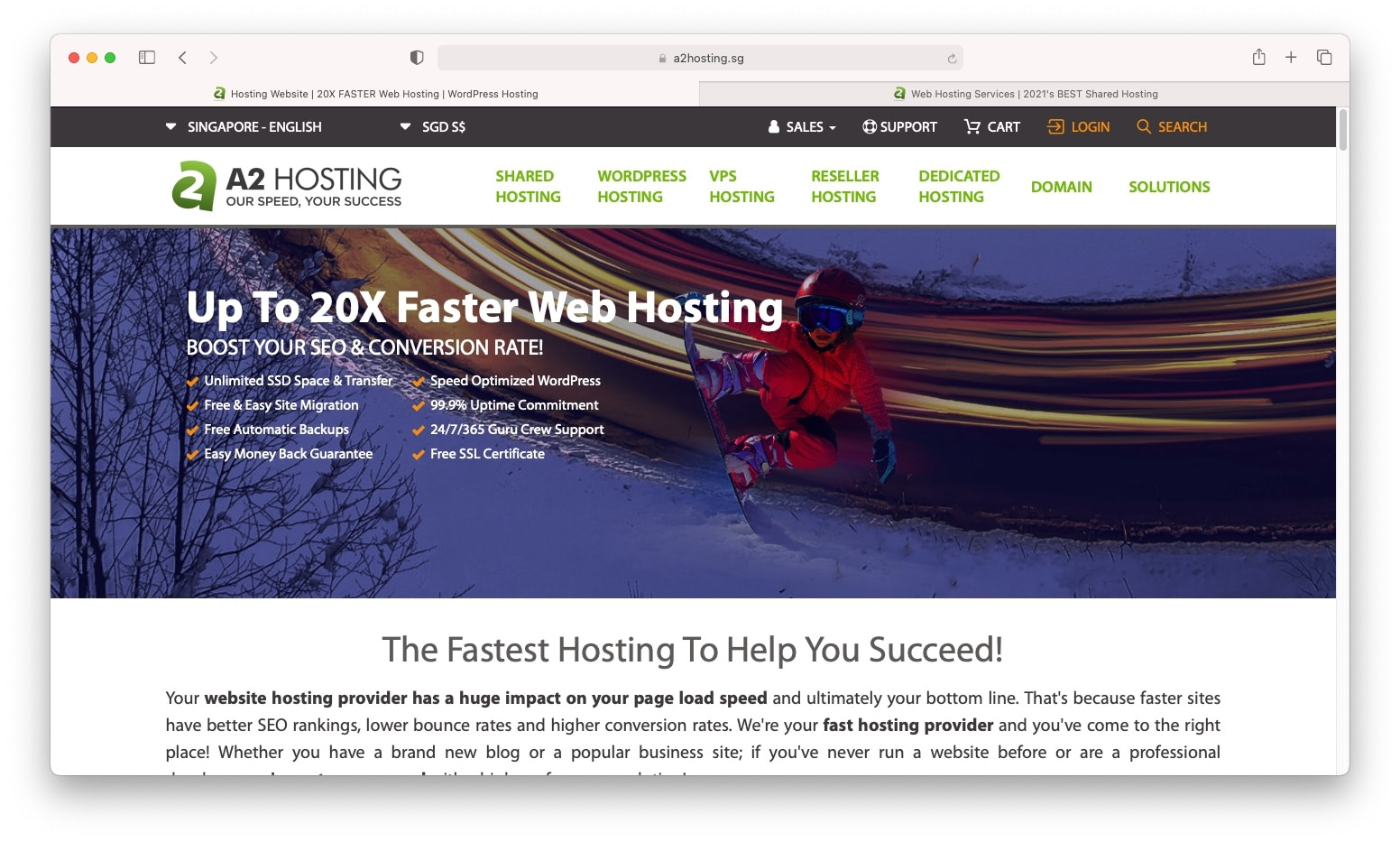 Free site migration.
Root access.
24/7 customer support.
Customize your server's resources and power.
Managed server security.
99.9% uptime commitment.
Command line management.
Ultra fast NVMe storage options.
Webuzo 1-click software installer.
Free automatic backups.
Unlimited SSD storage.
Cloudflare CDN.
Third on our list of the best Linux hosting providers is A2 Hosting, a company that began as a developer-focused web host back in 2003, before expanding in the subsequent years to specialize in performance-optimized hosting. So performance-oriented is it, in fact, that A2 Hosting was among the pioneers of high-speed solid state drives in the hosting industry.
It didn't stop there. A2 Hosting has since evolved into a powerhouse that offers an array of smart performance features across all its packages, including the Linux hosting plans.
You could, for instance, move your average-performing website to A2 Hosting's "Turbo Servers" to increase its page load speeds by up to 20 times. That's because the Turbo Hosting here comes with, among other features, advanced caching tools, optimized website management software, accelerated CPU performance, etc.
And no – in case you're worried about the accompanying costs, it turns out you don't have to pay that much. A2 Hosting is generous enough to grant Linux users with Turbo privileges even on their shared hosting packages.
But, get this – while shared Linux hosting here starts at $2.99 per month, you only get to move to the Turbo Servers after upgrading to A2 Hosting's Turbo Boost plan – which would revise your web hosting subscription costs upwards to at least $9.99 per month if you settle for a 3-year billing cycle.
4. Hostinger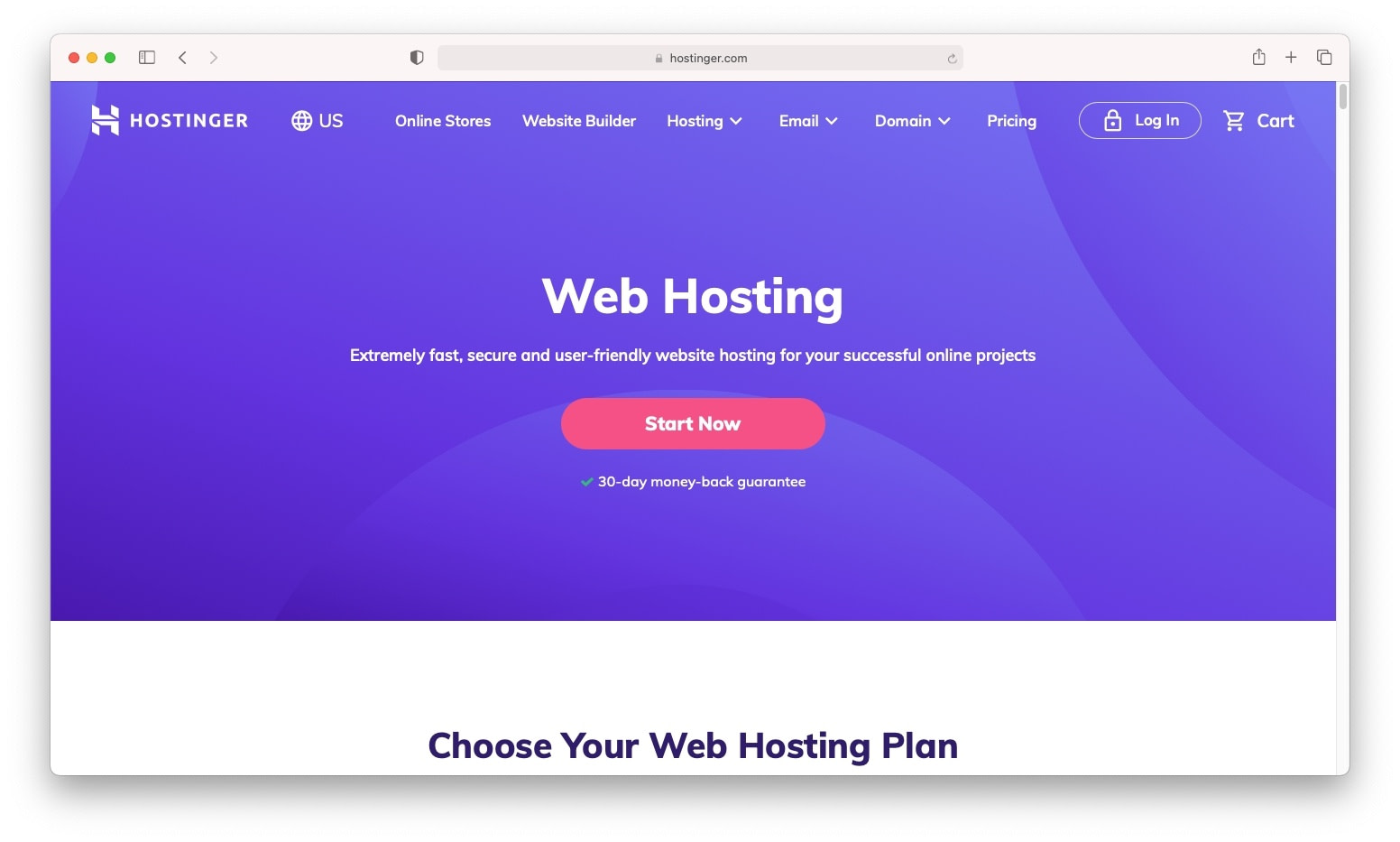 30-day money-back guarantee
WordPress optimized.
24/7/365 chat support.
Free CDN.
Daily backups.
Unlimited databases.
Unlimited bandwidth.
Unlimited SSL certificates.
DNS management.
99.9% uptime guarantee.
Dedicated IP addresses.
Multiple PHP versions.
CentOS operating system.
IPv6 support.
Full root access.
Multi-object caching.
Started in 2004, Hostinger is yet another popular web host whose feature and pricing strategies saw it grow tremendously in popularity over the years, to the point of establishing itself as one of the industry's most recognized Linux hosts. It now boasts more than 29 million users across over 178 countries, who continue to enjoy – among other benefits – Hostinger's favorable balance between pricing and server performance.
Yes, that's right. Hostinger isn't your regular competitively priced Linux host. Rather, the price-feature pairings on its package offerings are so exceptional that they've made Hostinger one of the most celebrated web hosts when it comes to value. As such, you could say that this is the best Linux hosting provider for businesses with a particularly restricted budget.
You can, for instance, get yourself a shared Linux hosting package with decent features for as low as $1.39 per month. That'll give you all the standard bells and whistles – including 30GB of SSD storage, 100 GB bandwidth, a free SSL certificate, full-time customer support, CloudLinux optimization, a cache manager, two MySQL databases, plus much more.
An upgrade doesn't cost much either, as you can substantially upscale your server resources for only $2.59 per month. This negligible price markup will push your Linux hosting server to the next level with extras like 100 GB of SSD storage, up to 100 email accounts, 100 websites, 100 subdomains, and 100 parked domains, along with unlimited bandwidth, unlimited MySQL databases, and unlimited FTP accounts.
5. HostGator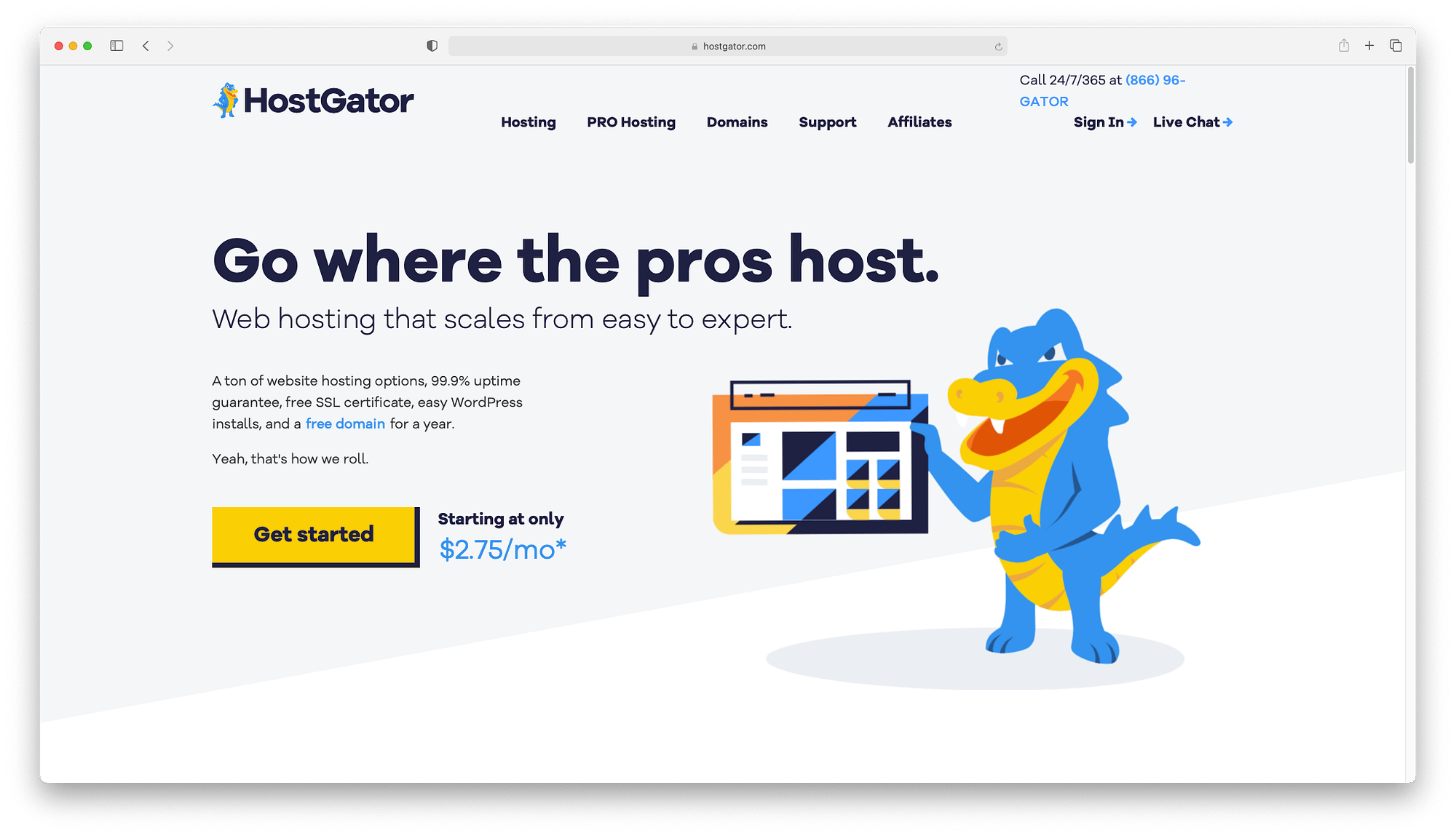 HostGator Website Builder.
Multiple hosting types available.
Free SSL certificates.
Unmetered bandwidth.
Free site transfers.
99.9% uptime guarantee.
Free domain.
Free dedicated IP.
eCommerce tools.
24/7/365 support.
45-day money-back guarantee.
IP-based firewall.
Full or semi-managed server.
Multi-thread CPUs.
As a veteran who has been in the industry for almost two decades, HostGator has capitalized on its vast experience to develop increasingly versatile hosting environments – which now handle not only Linux, but also Windows operating systems.
In particular, HostGator is recognized as one of the best Linux hosting providers for semi-technical users. Although the packages here are not always as cheap as some of the corresponding competitor offerings, you'll be pleased that their Linux hosting features are great at providing semi-technical users with all the flexibility and system control they might need.
Don't get me wrong, though. HostGator doesn't exclude everyone else. On the contrary, the platform tries to cater even to technically unskilled users. They should, for instance, have an easy time working with the features and tools that accompany HostGator's shared hosting packages.
This class of budget users can get started for as low as $2.75 per month – which would grant them unmetered disk space and bandwidth, free SSL certification, a website builder, free domain registration, a 45-day money-back guarantee, plus many other essentials.
6. DreamHost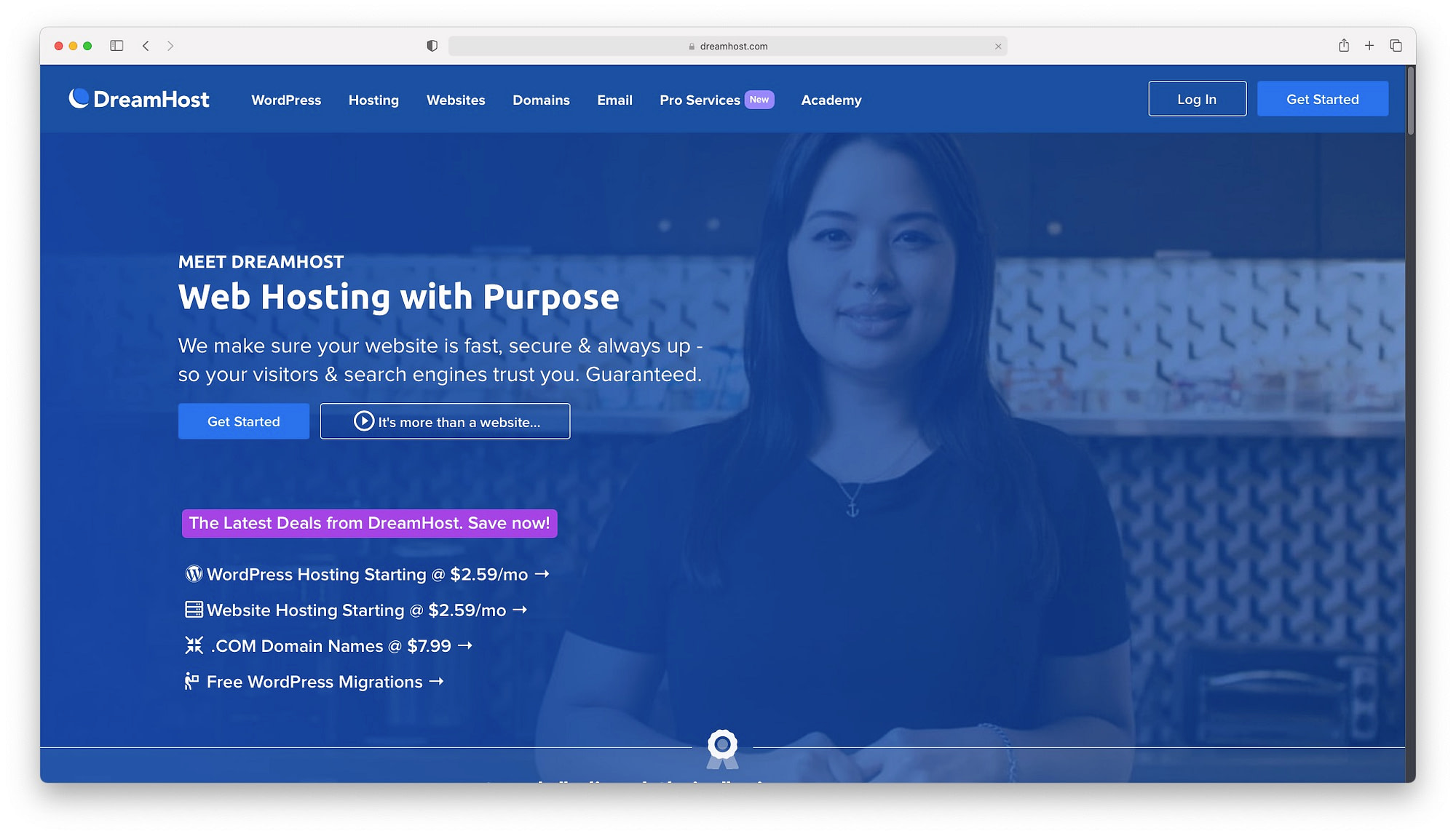 Unlimited SFTP users
IPv6 support.
Unlimited MySQL databases plus local servers with root access.
200+ starter site templates.
Drag-and-drop website builder.
Free privacy protection.
Automated backups.
Unlimited bandwidth and storage.
Free WordPress migrations.
Unlimited email accounts.
Reseller and sub account features.
Apache or Nginx.
Ruby version manager (RVM).
DDoS protection.
RAID 1 storage.
Last but not least is DreamHost, which interestingly, happens to be the eldest veteran in our best Linux hosting compilation.
The company was founded in 1996, after which it gradually worked its way to the top of the all-in-one web hosting market, alongside other dominant players like Bluehost, HostGator, InMotion, and A2 Hosting.
The term "All-in-one," to be specific, means that DreamHost is a Jack of all trades. It has expanded its platform to provide not only shared hosting, but also VPS hosting, cloud hosting, managed WordPress hosting, and dedicated server hosting.
One of the best things about all these hosting environments is that they run on Linux. Although DreamHost is very versatile when it comes to web hosting solutions, it tries to maintain a uniform hosting ecosystem throughout its platform.
Now, if you're torn between the options, you might want to keep in mind that while DreamHost's shared Linux hosting is suitable for beginners, growing businesses would be much better off with either cloud hosting, VPS hosting, or dedicated server hosting.
You see, although the shared hosting packages are generous enough to provide favorable goodies like free SSL certification, a free domain, a website builder, and free migrations, it's only the cloud, VPS, and dedicated packages that can actually isolate your server resources.
The basic DreamHost package is a steal at just $2.59 with a free domain and unlimited bandwidth just two of the sweeteners you'll enjoy when you sign up. On the other hand, for the more technically minded users, a cloud package can be yours from just $4.50 /mo with 100 GB of block storage and free bandwidth.
Conclusion: the best Linux hosting provider in 2021
⭐ Based on all the Linux hosting features and packages we've reviewed, we can conclude that while DreamHost and Bluehost are the best Linux hosting providers for users who prioritize scalability and flexibility, Hostinger is the most cost-effective option for budget users.
💪 If you're seeking performance-optimization tools, though, you might want to check out A2 Hosting – while the likes of InMotion Hosting are particularly ideal for US-focused websites.
That said, we strongly encourage you not to restrict yourself to these options. Although we've tried our best to identify the best Linux hosting providers, we still suggest that you check out other dominant market leaders. We're talking about the likes of SiteGround, TMD Hosting, Cloudways, and WP Engine.
You never know – one of these providers could ultimately turn out to be the most suitable Linux host for your specific business and website needs.
If you have any questions about the top hosts out there and how to pick one, feel free to let us know in the comments below.
…
Don't forget to join our crash course on speeding up your WordPress site. With some simple fixes, you can reduce your loading time by even 50-80%:
Layout and presentation by Chris Fitzgerald and Karol K.
References
* This post contains affiliate links, which means that if you click on one of the product links and then purchase the product, we'll receive a commission. No worries though, you'll still pay the standard amount so there's no cost on your part.