This
article
was originally published on
this site
Are you trying to figure out how to sell digital downloads with WooCommerce?
While many people use WooCommerce to sell physical goods or run a dropshipping site, other businesses monetize digital products.
This can include things like audio files, PDFs, eBooks, and much more.
So how can you sell these digital goods from your online store?
That's exactly what we'll be answering in today's post. We'll walk you step-by-step on how to sell digital downloads with WooCommerce.
Then we'll share 5 expert tips on how you can increase sales FAST.
Ready to get started? Let's dive right into the tutorial.
How to Sell Digital Downloads With WooCommerce
The good news is that selling digital downloads from WooCommerce is incredibly simple.
As the demands for selling digital goods increased, WooCommerce has updated its platform to make the process quick and easy.
First, go to your site's admin dashboard. Find and click Products » Add New.
Then fill out some information about your like the title, description, category, and so on: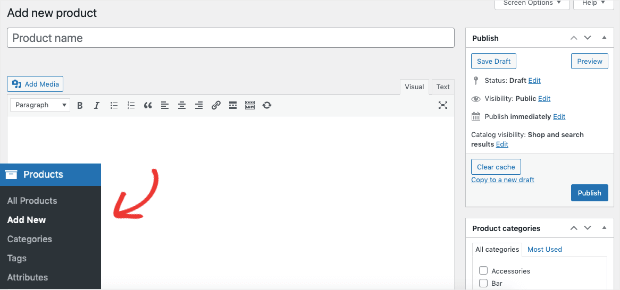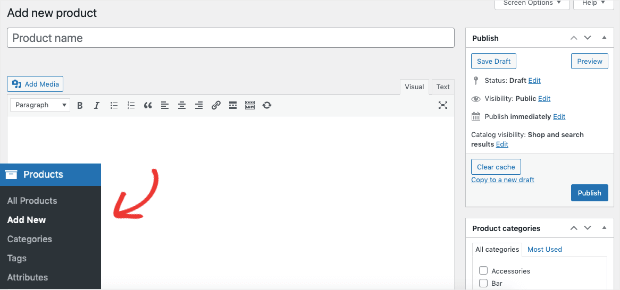 When you've finished, scroll down to the Product Data table.
This is where you'll be able to select what kind of product this is, and you can also check a box to tell WooCommerce that it's a digital item: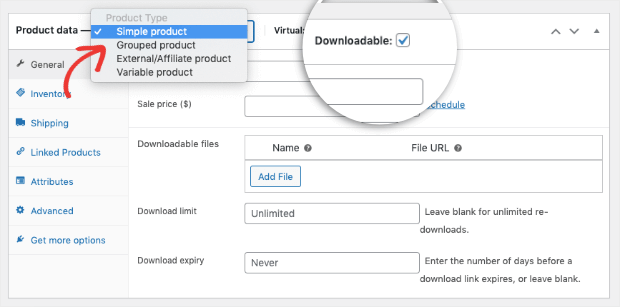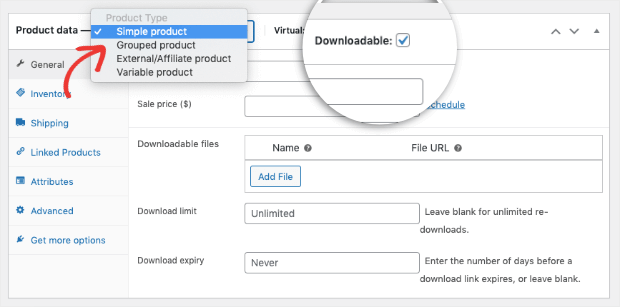 By making your products downloadable, you won't have to worry with other fields like Shipping or Inventory. This makes the entire process much more simple.
You can then add a few details about your product, including:
Price: How much your product costs at normal pricing.
Sale Price: How much your product costs when the item is on sale (you can also schedule sales with just 1 click).
Downloadable Files: Allows you to upload the digital file that customers can buy.
Download Limit: Restricts how many times the item can be downloaded.
Download Expiry: Lets WooCommerce know when the downloads should no longer be available.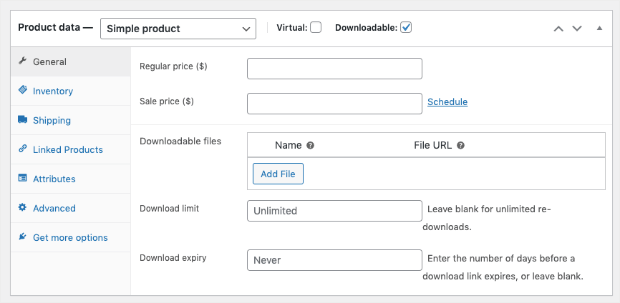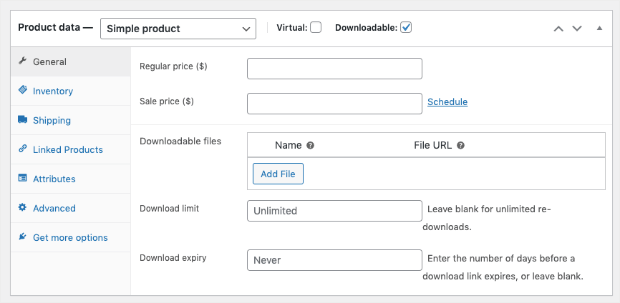 The exact specifications will change depending on the digital products you sell.
But you should be aware that these fields are available for customization.
All that's left is to add an image of your downloadable product (if needed) and make sure the product page looks how you want it to.
When you're happy with it, go ahead and hit Publish.
Easy, right?
But here's the problem: just because CAN buy your product doesn't mean they will buy your product.
So that begs the question, "How can you get even MORE sales for your WooCommerce digital products?"
Let's turn to our 5 easy suggestions for boosting revenue from your online store.
5 Ways to Sell More Digital Products
Again, we've already covered how to sell digital downloads with WooCommerce.
Our goal today, though, is to make sure your customer's actually hit the Purchase button.
That's why we've compiled the following 5 expert tips to boost sales for your online store. Plus, we've added the tools you need to make the process EASY.
Let's begin.
1) Capture Abandoning Visitors
One of the biggest challenges facing online business owners is cart and site abandonment.
Cart abandonment occurs when people have an item in their shopping cart but don't follow through with checkout.
Site abandonment, on the other hand, occurs when someone visits your WooCommerce store, looks around, and leaves without taking ANY action.
Both types of abandonment are major problems. But the good news is that both problems have an easy solution.
You can recover abandoning visitors with exit-intent popups.
An exit-intent popup is a campaign that appears as users are navigating out of your website.
Imagine a visitor reaching your digital download product page. They spend a few seconds looking at it but end trying to leave the page.
This triggers a popup to grab their attention and contact information for follow-up emails.
Here's an example of what an exit-intent popup might look like: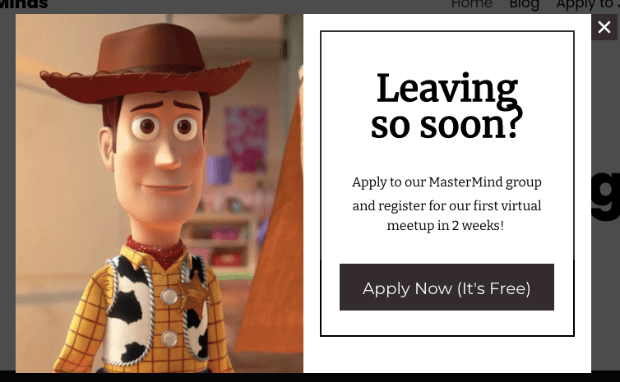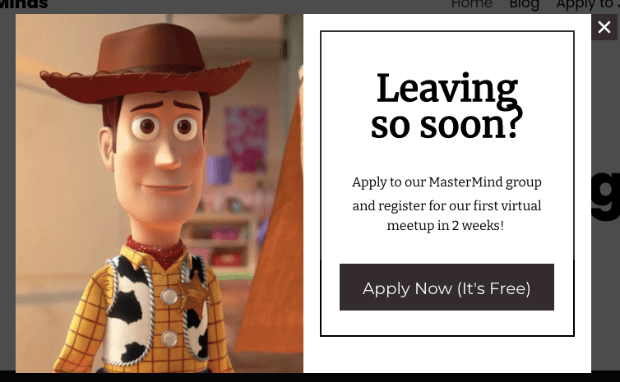 In the end, exit-intent popups have been proven to grow email lists and drastically BOOST sales.
But how can you make these campaigns if you're not very technical?
That's where OptinMonster comes in: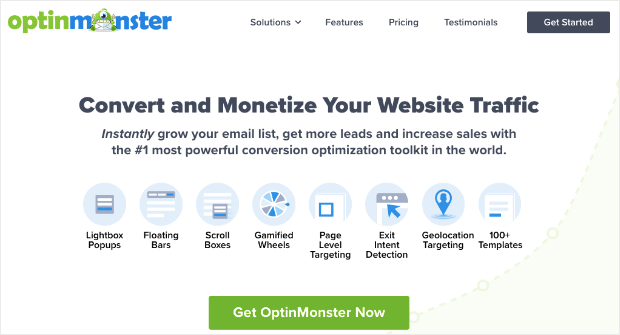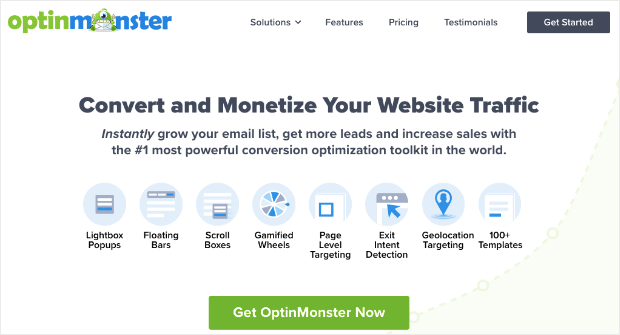 OptinMonster is a premium lead generation plugin for WordPress that you can use to build high-converting campaigns FAST.
Here's how it works:
You start by choosing one of OptinMonster's many campaign types. These include things like:
Popups
Floating bars
Fullscreen welcome mats
Slide-in scroll boxes
Gamified spin-to-win wheels
And more…
From there, you can select from any of OptinMonster's 50+ templates: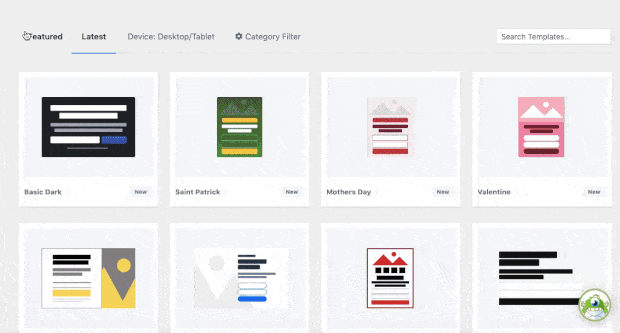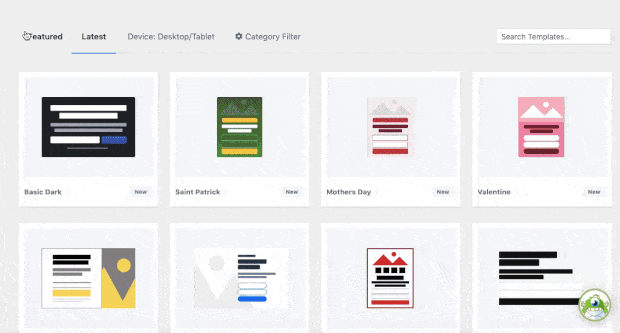 These are all mobile-friendly and 100% responsive, so you know they'll look and function great across devices.
Then, your campaign will appear in the OptinMonster editor. This is where you can add new features or change the text without any coding experience.
That's because OptinMonster has a drag and drop editor that makes modifications EASY: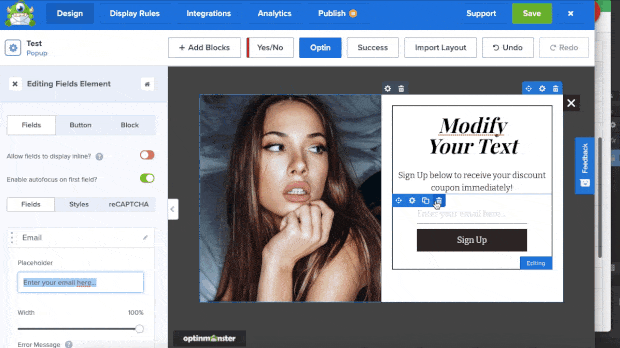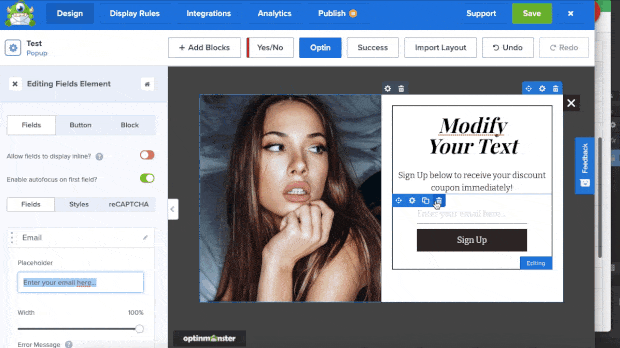 Once your popup looks the way you want it to, it's time to set your exit-intent trigger.
Doing so couldn't be easier. That's because you'll select the option from a simple menu list of available display rules: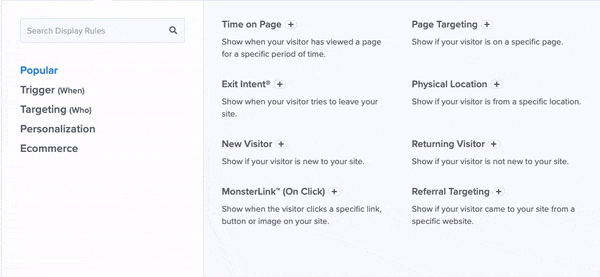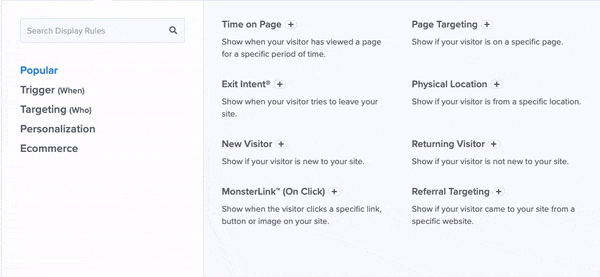 Then you can set your modifications for the exit-intent rule according to device and sensitivity:




And if your customer sees the campaign but still doesn't buy your product?
That's OK!
With this campaign, you'll still get your customer's email address. Then you can sync the campaign with your email service provider in just a few clicks.
And from there, your new lead will go through your email marketing sales funnel.
These popups are the same method that companies like Fastrack use to recover 53% of their abandoning users.
We're confident that you can see similar results by clicking below and starting your 100% risk-free OptinMonster account today:
Get Started With OptinMonster Today!
BONUS: Done-For-You Campaign Setup ($297 value) Our conversion experts will design 1 free campaign for you to get maximum results – absolutely FREE! Click here to get started →
2) Incentivize Your Audience
As a business owner, you have specific actions you want your customers to take.
But in order for them to do so, you need to make it worth their time.
In other words, you need to incentivize your audience to take action.
This can be done in a few ways, but the most effective is with a sale or discount on your downloadable product.
As we mentioned earlier, you can quickly create and schedule sale prices for all of your digital goods directly in WooCommerce.
Again, though, you'll run into the same problem as before: just because people CAN buy your product doesn't mean they actually will.
That's why you need an effective strategy for promoting your discounts and offers.
In the last tip, we talked about how OptinMonster is perfect for exit-intent popups. But it can do so much more.
Remember, OptinMonster gives you access to tons of campaign types. These include things like:
Popups
Floating bars
Gamified wheels
Fullscreen welcome mats
Slide-in scroll boxes
And more…
You can leverage these campaigns to get more engagement from your audience.
Imagine, for example, showing a sale for your digital product in a floating bar on key pages across your site: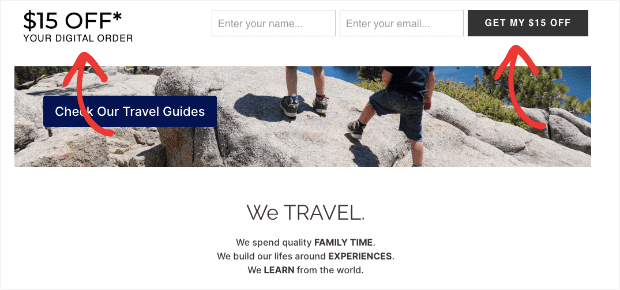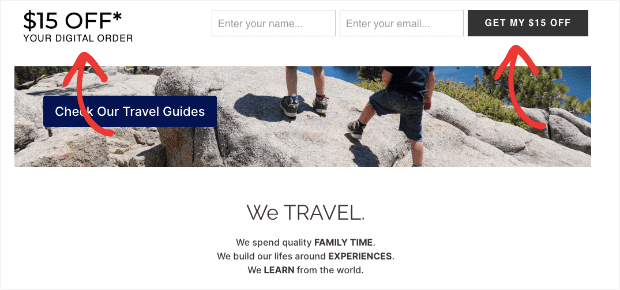 And you also have the ability to target these campaigns to any page on your website.
Or you can let your user's behavior determine whether or not the campaign will appear. You have 100% control over when, where, and to whom this incentive appears.
As a result, you'll have a more personalized customer journey and more sales for your WooCommerce digital download.
3) Add Social Proof
It's no secret that when it comes to marketing, social proof just works.
Online consumers are hardwired to look for signs of social proof to be sure others have tested (and loved) your products.
That's why you should leverage social proof across your website to increase conversions for your digital downloads.
Social proof can take many forms, including:
Reviews
Testimonials
Social media posts talking about your brand
Case studies
And much more…
But the most effective form of social proof comes in the form of a small notification.
These messages looking something like this:




The example above would be for physical products, but you can create the same type of notification for digital downloads, too.
How? You can quickly create social proof notifications with a tool like TrustPulse: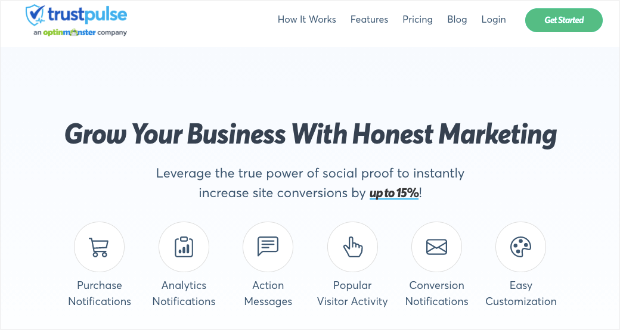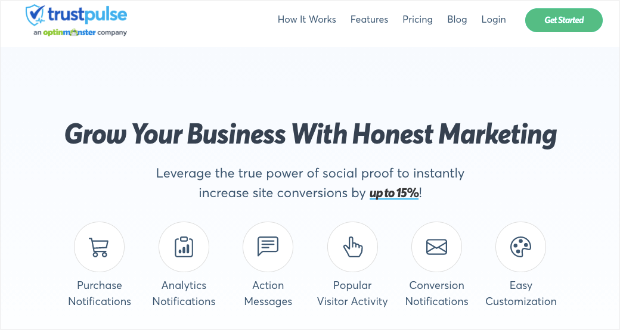 TrustPulse is hands down the best social proof software on the market. It lets anyone create highly effective social proof notifications in minutes.
Plus, there are no technical or coding skills required.
Once you download and activate the TrustPulse plugin, you'll have immediate access to 4 types of campaigns:
Recent Activity: Show a live stream of website activity like purchases, registrations, signups, and more.
On-Fire: Display the number of people taking action on your website in a given period.
Visitor Analytics: Highlight active interest in your site by showing real page visitors over time.
Action Message: Show a single static notification to drive more visitors into action.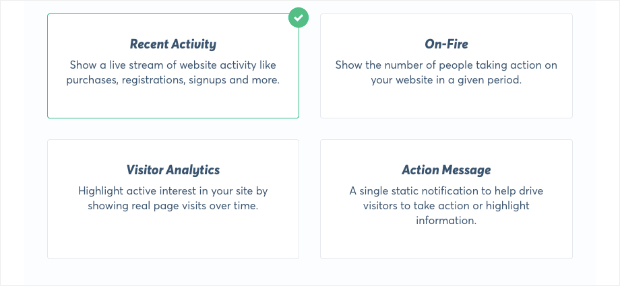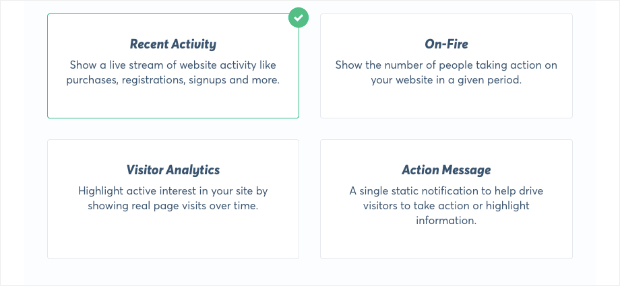 These options allow you to leverage social proof at any stage. They also ensure that you never have to rely on fake social proof to make sales.
That's because you can use Visitor Analytics or Action Message campaigns when you're just starting out.
Visitor Analytics campaigns count the number of people who check out your digital download, even if they don't make a purchase.
And Action Messages can be used to redirect visitors to your product page.
Then your Recent Sales and On-Fire notifications will begin appearing as more of your site's visitors download your digital items.
Every notification is fully customizable, can be created in minutes, and can be targeted to any page on your website.
It's no surprise that TrustPulse users have seen instant boosts in sales by up to 15%.
Ready to see it in action for yourself? Get started with your 100% risk-free TrustPulse account today!
4) Run an Online Contest
So far, we've looked at a few ways you can boost sales from people who are already on your website.
But what about getting more people who AREN'T on your website to come visit your product page?
For that, there's no better solution than running an online contest.
In many cases, you'd want to make the prize something your target audience really wants. So it only makes sense to create a contest around your digital product.
Not only will this expand your brand's presence online, but it will also educate more of your audience on what your product is and why it's the perfect solution to a problem they face.
And if you use a tool like RafflePress, you can design these contests to get TONS of traction: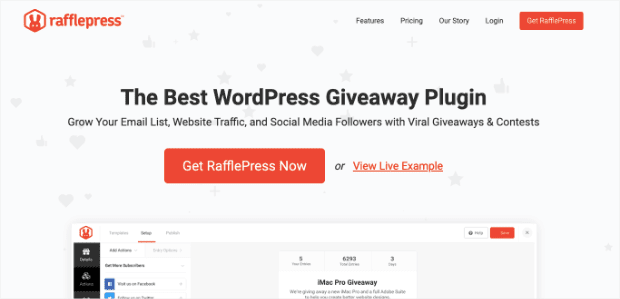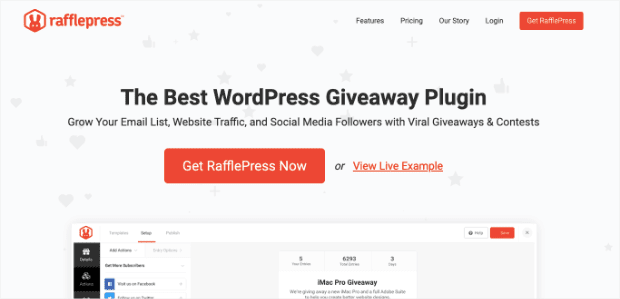 RafflePress is the best giveaway and contest builder plugin for WordPress.
It doesn't just let you design and manage your giveaways. Instead, it helps you create contests that are more likely to go viral.
Here's why…
RafflePress lets people enter contests with "entry tickets." But each participant can have multiple entry tickets depending on the actions they perform.
That means you can grow your business in several ways with the same contest.
You could, for example, award 1 entry ticket for users who check out your product page. But then you can add 3 entry tickets to people who sign up to your email list.
Now a single participant can have 4 entry tickets which will increase their odds of winning.
As you can imagine, this gives people an extra incentive to interact with more of your calls to action (CTAs).
Ok, but how does this help you sell more digital downloads with WooCommerce?
After the contest is over, you'll have 1 winner. That means you'll also have:
1 solid lead for a testimonial in your hands
A long email list with warm leads who've shown direct interest in your product
From there, you just need to nurture your leads through some email marketing best practices.
But the best part is that RafflePress doesn't require any technical or design experience.
You can create contests with a drag and drop builder. Then you can generate share links or even a custom landing page for your contest.
This allows you to use your site's traffic by redirecting them to the landing page. But you'll also be able to share links to your page on social media, with your mailing list, to affiliate partners, and so on.
All of this serves to boost your contest's popularity and, of course, get more sales for your digital download.
Get started with your 100% risk-free RafflePress account today!
5) Leverage Push Notifications
If you aren't currently using push notifications to reach your audience, then you're missing out.
Push notifications are small messages that appear on your audience's browser. But they also stay on their browser until there's an interaction:
They either need to click to visit your product page or click to close the notification.
Either way, they need to click.
Plus, these messages are easy to subscribe to since your visitors only need to hit an Allow button to sign up. That means they never have to hand over personal details like their name or email address.
Imagine having an audience of thousands that you can instantly share your digital product with.
How can you make that happen? We highly recommend going with a software like PushEngage: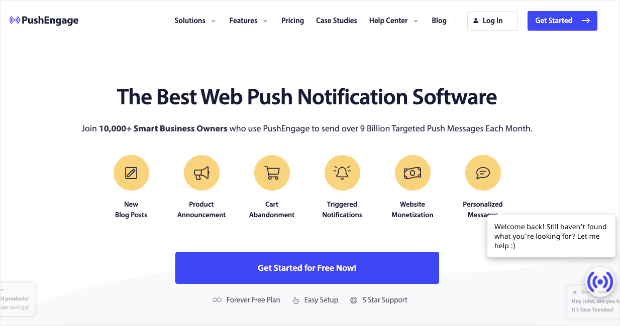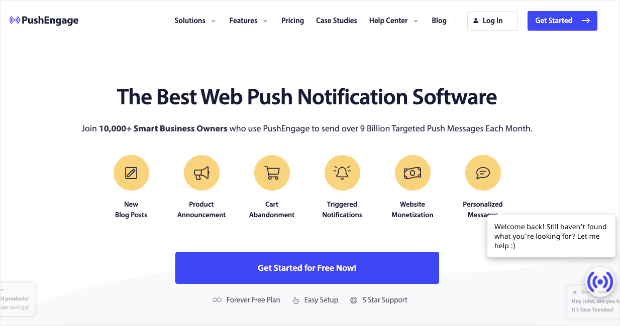 PushEngage is the leading push notification software on the market today.
It has everything you need to target your audience and send high-converting messages. Plus, it comes with all the bells and whistles you'd expect from a premium software.
For example, you can divide your subscribers into audience "segments." These are simply smaller sub-groups within your larger audience.
These sub-groups are often organized based on interests, buying patterns, or demographic similarities.
Then you can send personalized messages to each group to get MORE sales.
You can also create a "drip" sequence that automates the entire process. When a new subscriber shows up, they'll be sent through a messaging funnel that's intended to convert more leads into customers.
Other key features include A/B testing, campaign scheduling, cart abandonment sequences, and much more.
Want to see it in action for yourself? Try out PushEngage 100% risk-free today!
And that's all for now!
This has been a tutorial on how to sell digital downloads with WooCommerce. Plus, we've added 5 proven techniques for boosting the sales of your digital goods FAST.
We hope you enjoyed this post. If you did, you'll definitely want to check out the following resources:
These articles will have everything you need to see higher conversions and drive more revenue from your online store today!

Published by Nathan Thompson
Nathan Thompson is a father, a writer, and a lover of travel (in that order). When he's not wrestling with his kids, you'll likely find Nathan giving his eyes a much-needed break from screens with a good book or planning a family trip with his awesome wife.