This
article
was originally published on
this site
It should come as no surprise that when something is tailored to your interests and personal habits, then you are far more likely to engage with it. You're more likely to open a junk email that says, "Jimmy! Open this now!" than simply "Open this now!" You are also far more likely to purchase an upsell from an ecommerce store that has been personalized for you based on  your shopping history than something presented at random. If you're running an ecommerce store, you should invest in some personalization options for your customers in some way. Doing so will increase conversions, return rate, and overall customer satisfaction.
What is eCommerce Personalization?
Personalization for an ecommerce store is just targeting a specific user or group instead of showing every single visitor the same messaging and products. You can personalize your site in a number of ways, from using their names in communication with them to providing relevant upsells based on purchasing history to shooting someone an abandoned cart email or using their social posts about your brand on your website.
When considering where to start, remember that ecommerce personalization is just about tailoring your store to a certain user (or kind of user). You are looking to boost your site's UX for that person or persons by making what they see as relevant to them as possible. With that in mind, there are a number of ways you can do this, and many of them are pretty simple and easy to implement.
Consider, though, that you must protect that personalization data. That requires opt-ins and cookies, and you must be sure that your store complies with regulations such as GDPR and CCPA.
1. Personalize Product Recommendations
Anyone who has bought an item online has probably had personalized product recommendations pushed in their faces. From the moment that you add an item to your cart, you often see "Frequently Bought Together" lists and "You Might Also Like" bundles. That is a personalized product recommendation.
One of the easiest ways to accomplish this is through a plugin or extension to your system, like the Product Recommendations add-on for WooCommerce.



Additionally, you can use the Divi upsell module alongside the theme's condition options to personalize when and how different products and parts of your ecommerce shop appear. You can use a number of the other Divi WooCommerce modules to personalize the recommendations, too. These include the aptly named Related Products Divi module.
2. Use Semantic Search
We can probably all agree that the default WordPress search feature is pretty lackluster. That's why one of the best personalization tools for your WooCommerce shop or ecommerce store is a solid, semantic search extension like Fast Simon.



Semantic coding and searching basically means that you are using human language for the site instead of machine language. Various semantic search tools let you use synonyms for product descriptions, gender-based filtering, conversational questions, and using AI to help refine searches after multiple queries.
Semantic search tools offer ecommerce personalization because the user sees what they mean to see. Not what the software interprets as a string of keywords.
3. User-specific Discounts
Everyone loves to save money. One of the best ways to convert a potential customer into a paying customer is to entice them with a discount. For instance, you might offer a first-time user 25% off their purchase via a pop-up after they've browsed for a certain time period.
This is a very easy task to pull off. You can do it with a simple Divi opt-in module and a little conditional logic. In any module's Settings, under the Advanced tab, and in the Conditions area, you can set a condition for the discount module to appear only if the user Has Not Visited a Specific Page. If they've been to your store before, the module offering the discount will not appear.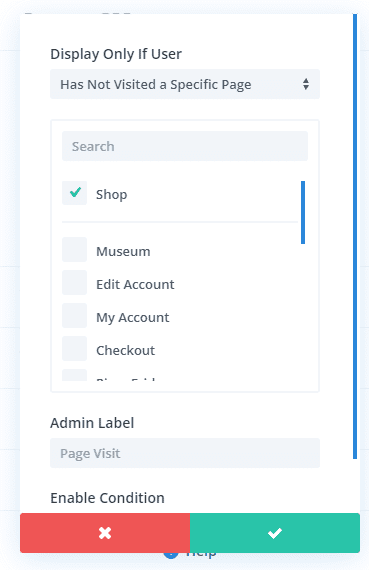 You can apply this sort of logic to return visitors, too. Maybe offer them a 10% discount on a return visit. Additionally, you can provide discounts to logged-in versus non-logged in users, too. That way you incentivize people to both register and purchase at the same time (instead of using a guest checkout, perhaps).
3. Use Their Names
This one is simple. If it's at all possible, capture your users' names. The first name will do just fine. As we mentioned above, users are far more likely to open an email or click a link that is personalized to them. They might ignore one addressed to everyone.
The simplest and easiest way to capture their name through either user registration on your site (through either membership or becoming a customer) or via email optin with a provider that allows the use of merge tags (such as *|FNAME|* with Mailchimp).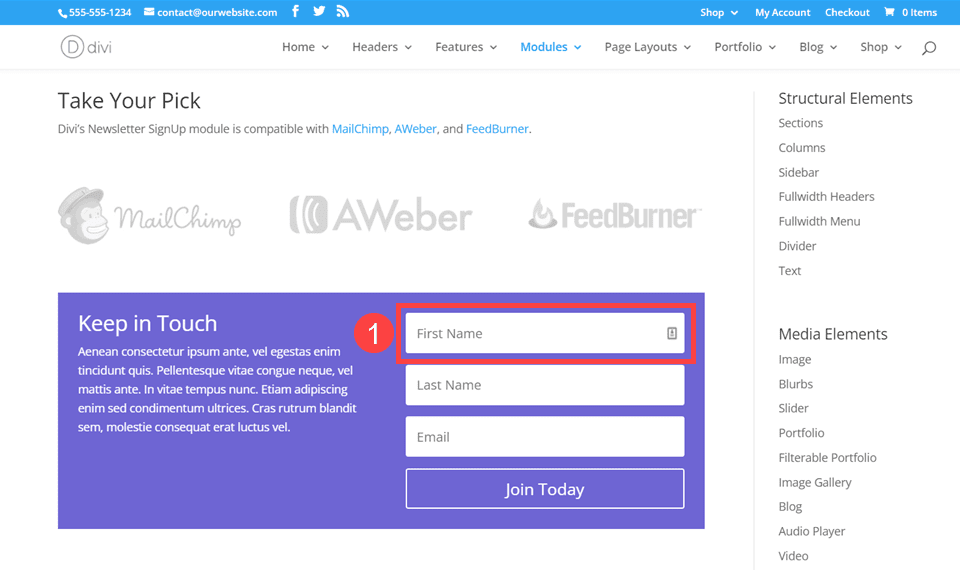 Whatever your method of learning the user's name, you can use it in multiple places across your store. "Picks just for you, Ashley!" or "Don't miss out, Sarah!" with different banners across your site. Maybe you could send an email saying "Bart, we know you love skateboards so check out these deals."
Whatever the method, you can significantly increase conversions by personalizing someone's shopping experience.
4. Target Users Based on Behavior
There really is no better converting ecommerce personalization than the abandoned cart email. When someone almost buys something, there are a hundred reasons why they didn't complete the sale. It doesn't matter if we know the reason or not. Sending a reminder email can jar them into finishing the sale. Because they were most likely interrupted during the process rather than making a decision to stop.
Behaviorally targeted emails can also help bring users back. Emails that are personalized with new items in categories in which they've shopped might draw them back in. If a segment of your users have only ever purchased from your store when they use a discount code, then send an email to everyone in that segment with a discount to bring them back!
You can choose from a number of different tools to accomplish this. WooCommerce Memberships is a great place to start. If you have the kind of shop that really benefits from return users, implement a loyalty program where users can redeem points. There is no dearth of options to do so. There's GamiPress, the WooCommerce Points and Rewards extension, and YITH's points and rewards plugin that will all have your users on their best behavior.
5. A/B Test All The Time
Finally, if you want to know how to personalize your store for your unique demographic, you should definitely be looking into A/B testing. Basically, you run multiple versions of the same page and determine which one performs better and why. You can then drill down and do another A/B test with even more optimized pages.
You don't even have to do it with just pages. Divi has built in A/B testing capabilities that you can take advantage of for sections, rows, and modules within a page. Not just the whole page.
You can A/B test for logged in versus non-logged in users. You can run A/B tests on users who reach your site organically versus those who come by referral traffic. After that, you can A/B test individual pages within each segment you had previously A/B tested.
You get the point. What matters is that you are constantly evolving and testing. You learn exactly how to personalize your ecommerce store based on how your actual users react to and interact with your site.
Also, be sure to perform A/B tests with your email provider, too. Nearly every blast email service allows A/B testing across segments and groups, and as you learn what best practices work for your site, you can apply those to your email marketing, too. And the other way around, too.
Wrapping Up with eCommerce Personalization
The most impactful way to get more ecommerce sales, more traffic, more return traffic, and higher conversions for your site is through personalization. It can be through user-by-user discounts, emails where you just use a person's name, or a massive A/B testing campaign where you dig through metrics to fine-tune every aspect of your shopping experience. Whichever method(s) you choose, just remember that the point of it all is to interact with your customers in a more personable way, understanding that they're humans whom you are serving and not just a data point in a Google Analytics report. Treating people like people is the highest converting tactic there is.
What sorts of ecommerce personalization have you done for your online shops?
Article featured image by Lemberg Vector studio / shutterstock.com