This
article
was originally published on
this site
Choosing the right hosting service can be difficult. With so many options available, it can be hard to tell which one will best suit your needs. If you're looking for the best Windows hosting, the specialized nature of this service can make it even harder to know which traits to pay attention to when making your decision.
Fortunately, we've done the research for you, so you don't have to spend hours agonizing over the pros and cons of each company. By familiarizing yourself with the features offered by the leading web hosts, you can confidently pick the hosting service that's right for you.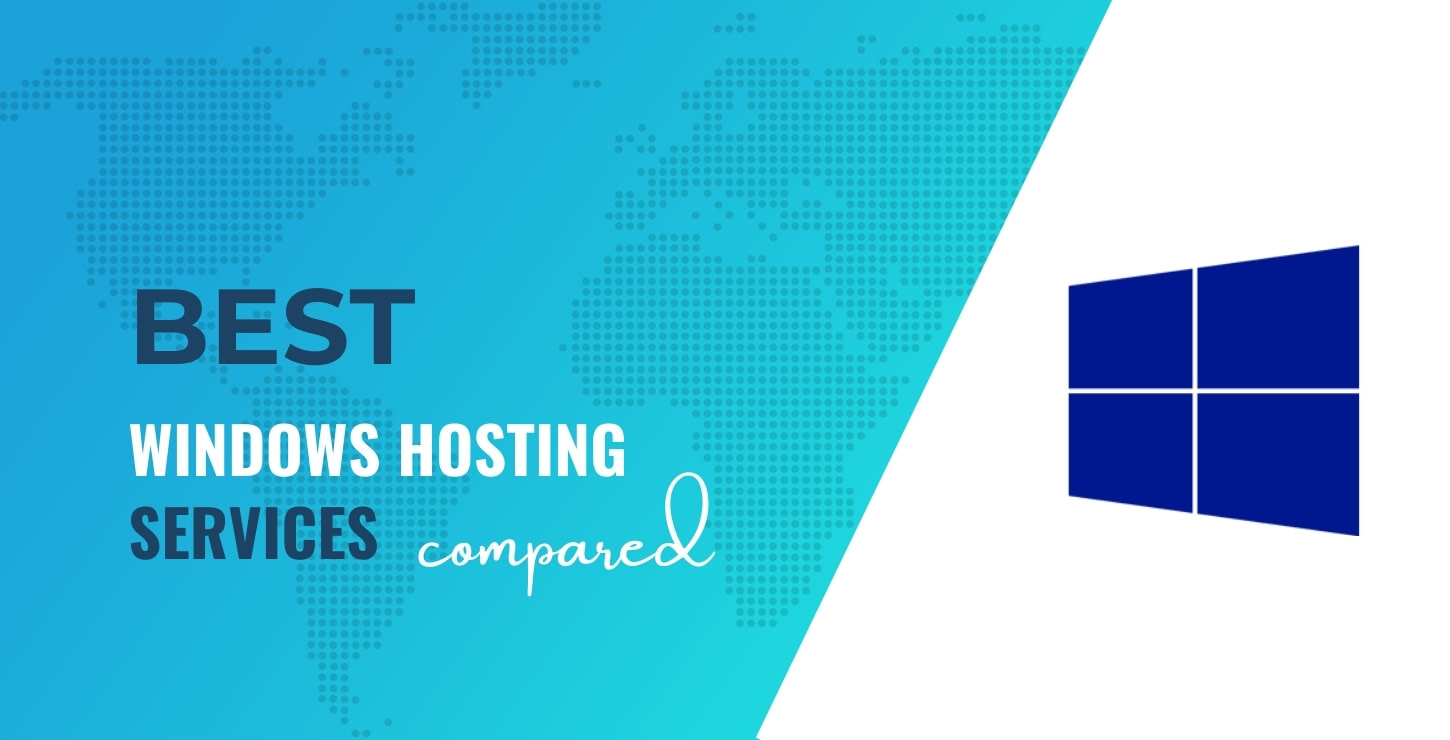 In this article, we'll cover a few of the benefits of choosing Windows servers over Linux servers. Then we'll guide you through five of the best Windows hosting services in 2021. Let's get started!
Why you might want to use Windows servers instead of Linux
Most web hosts use the Linux operating system for their servers. Linux is an open-source language, which means that other users can access, edit, and even contribute to its core structure.
While Linux is a flexible and effective system, it's not your only option. Some companies offer Windows hosting instead. This operating system can offer users more control than Linux. For instance, Linux-based hosting typically comes with the user-friendly cPanel, an interface designed to simplify the management experience. By contrast, Windows servers often give you access to a Plesk control panel. Plesk enables you to tweak several features for a higher degree of control.
Furthermore, you'll have an easier time basing your site on Microsoft tools if you use a Windows server. For example, you'll have access to Microsoft Exchange, which will help you send secure emails and set up an interactive calendar.
If you choose Windows hosting, all your tech will be compatible from the start. This means you won't have trouble making sure your programs work well together.
Windows hosting offers a few other handy features. For instance, Remote Desktop can be incredibly helpful if you need to access files while you're away from your office. This program is almost always compatible with a Windows server.
If you're familiar with the Windows PC operating system, you'll probably recognize the user interface offered by your host. Thus, you might also find it very easy to use, which can lead to a more streamlined navigation experience.
Windows hosting is a Linux alternative with a lot of potential. Whether you're looking for the right Windows hosting for your business or simply because it's a personal preference, chances are there's a service that will meet your needs.
Best Windows hosting services in 2021 (top options)
To get you started, here's our rundown of the top five Windows hosting services in 2021. We encourage you to consider each company's strengths before committing to a plan.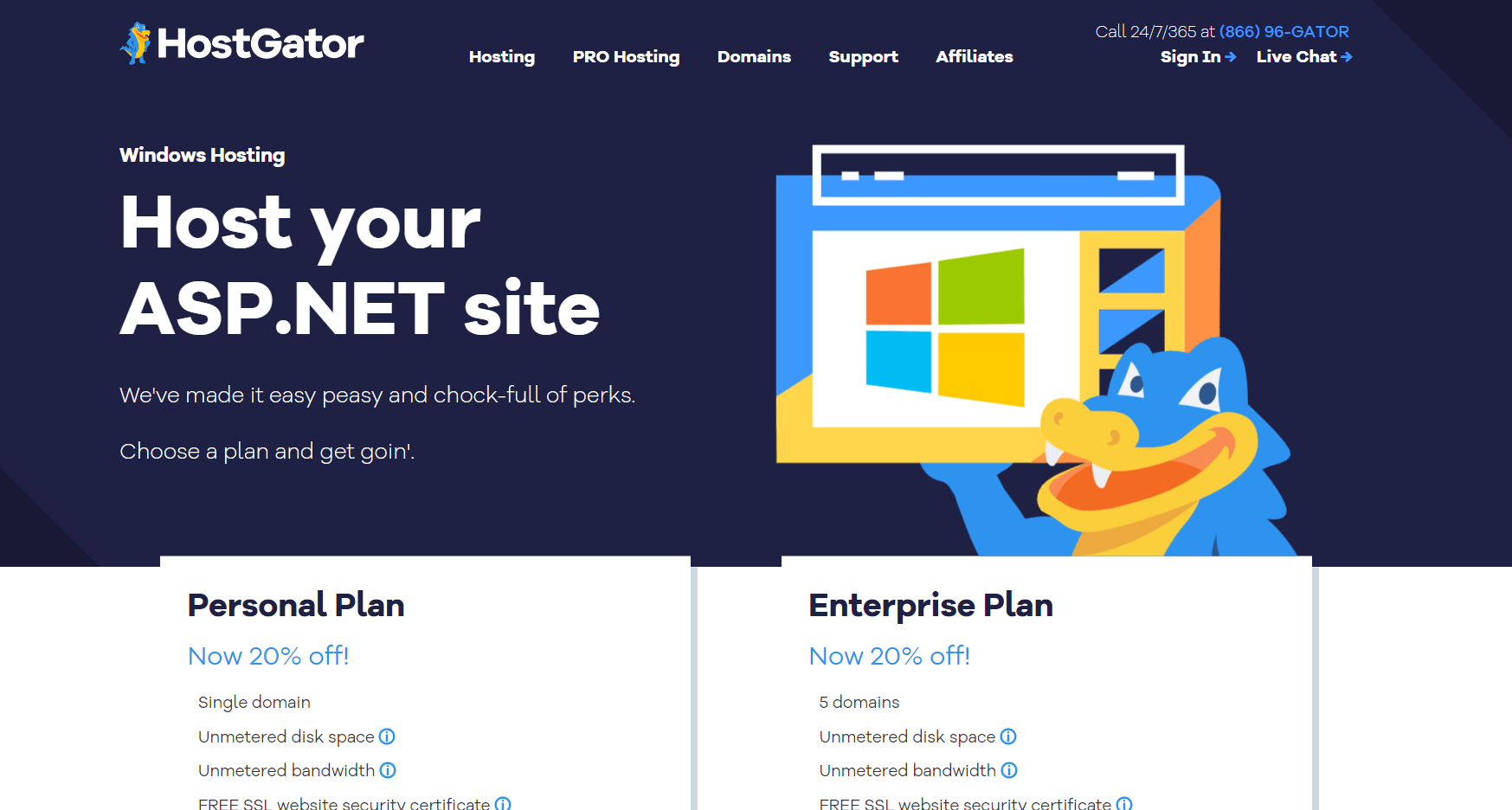 HostGator is a popular – and affordable! – Windows hosting service. Even the cheapest plans will give you access to unmetered bandwidth and disk space. This makes HostGator a welcoming starting point for small businesses or individuals.
What's more, your bandwidth isn't the only thing without limits. HostGator imposes very few caps on things like subdomains, email accounts, and access databases.
⚙️ Features:
Instant installation process for WordPress, to give you a quick start
The ability to schedule your administrative tasks for added peace of mind
A free dedicated IP address with any enterprise plan
These strengths make HostGator a suitable choice for small organizations and business owners. Note that while the unmetered aspects are certainly generous, the company will cut you off if they feel that you're exceeded their reasonable limit. Nevertheless, this is a rare occurrence.
HostGator also offers a whole array of support options. You can call a support agent, use live chat, or access a knowledge base if you require assistance. They even respond to requests through Twitter. Thus, HostGator might be a good fit if you like a helping hand from time to time.
💵 Pricing: HostGator can be a bit limited in terms of pricing options. You can choose from a personal plan at $4.76 per month, or an enterprise plan at $14.36 per month.
The real difference between these plans comes down to the number of domains you can use. The personal plan offers one domain, while the enterprise plan offers five. Both come fully loaded with all the features you'd expect from the best Windows hosting services.
2. IONOS by 1&1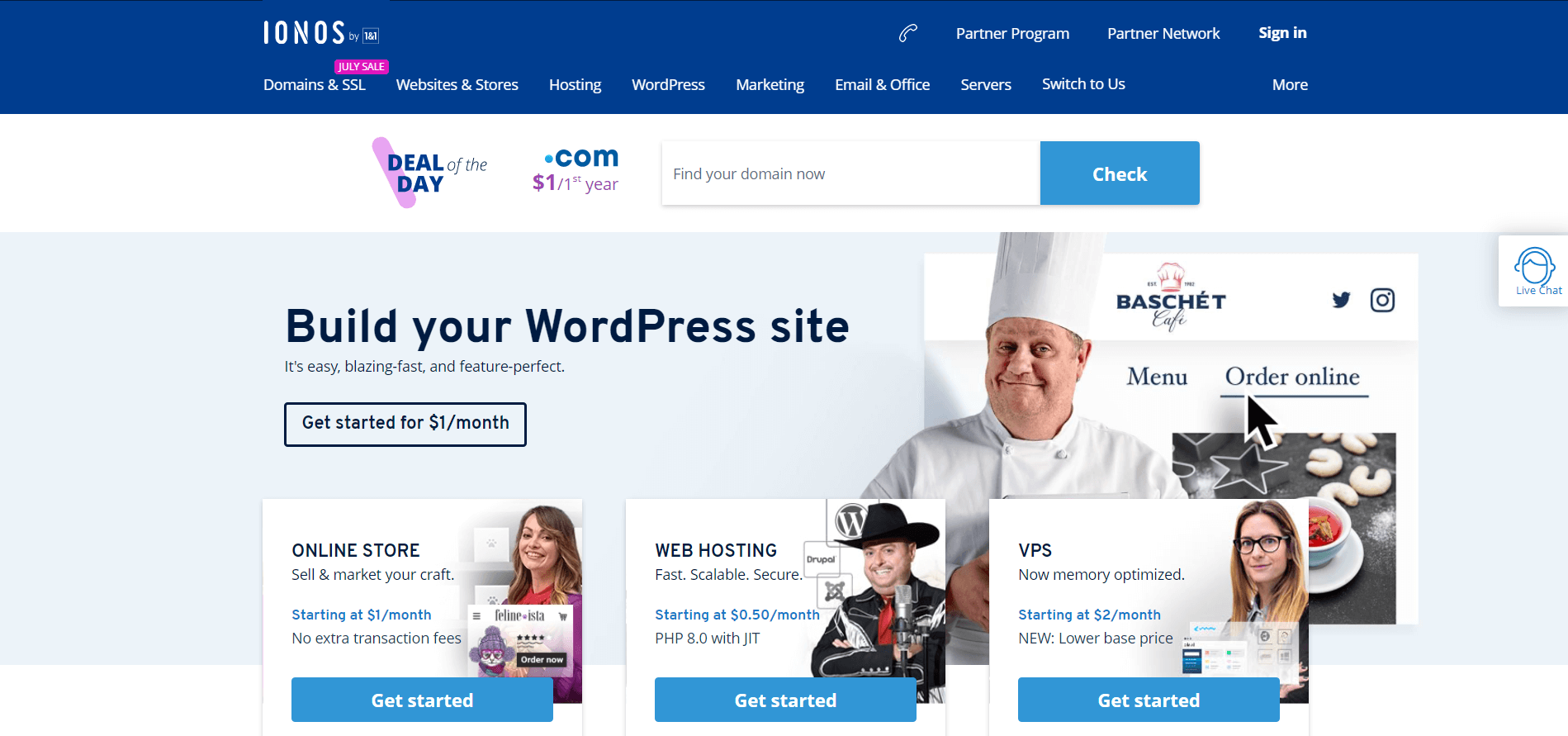 If you're interested in cutting-edge technology, IONOS may be the right solution for you. This hosting service runs on the most recent Windows Server 2019, and boasts state-of-the-art data centers.
Furthermore, IONOS still manages to be fairly affordable. This means you don't have to overspend to get top-tier service. Instead, you can choose a plan based on your needs, and rest assured, you'll get effective results.
⚙️ Features:
Data centers that come with the highest possible levels of data safety accreditation
The use of Railgun Content Delivery Network (CDN) to reduce latency issues
A free personal consultant with every hosting plan
The security here is incredible – you'll even get an SSL certificate and DDoS included in your plan. Thus, we recommend IONOS if you handle sensitive data regularly. You can have peace of mind knowing that your site is secure and your customer data is protected.
💵 Pricing: Now, let's take a look at pricing options. You can get started with IONOS for as little as $5 per month. This will enable you to run a single website. You'll also gain access to 100 GB of storage and 25 MS SQL databases.
You might also choose to scale up to the Expert plan. This will cost $10 per month. For that price, you'll be able to run up to 50 websites. Furthermore, you'll get access to 500 GB of storage with 500 MS SQL databases.
3. Liquid Web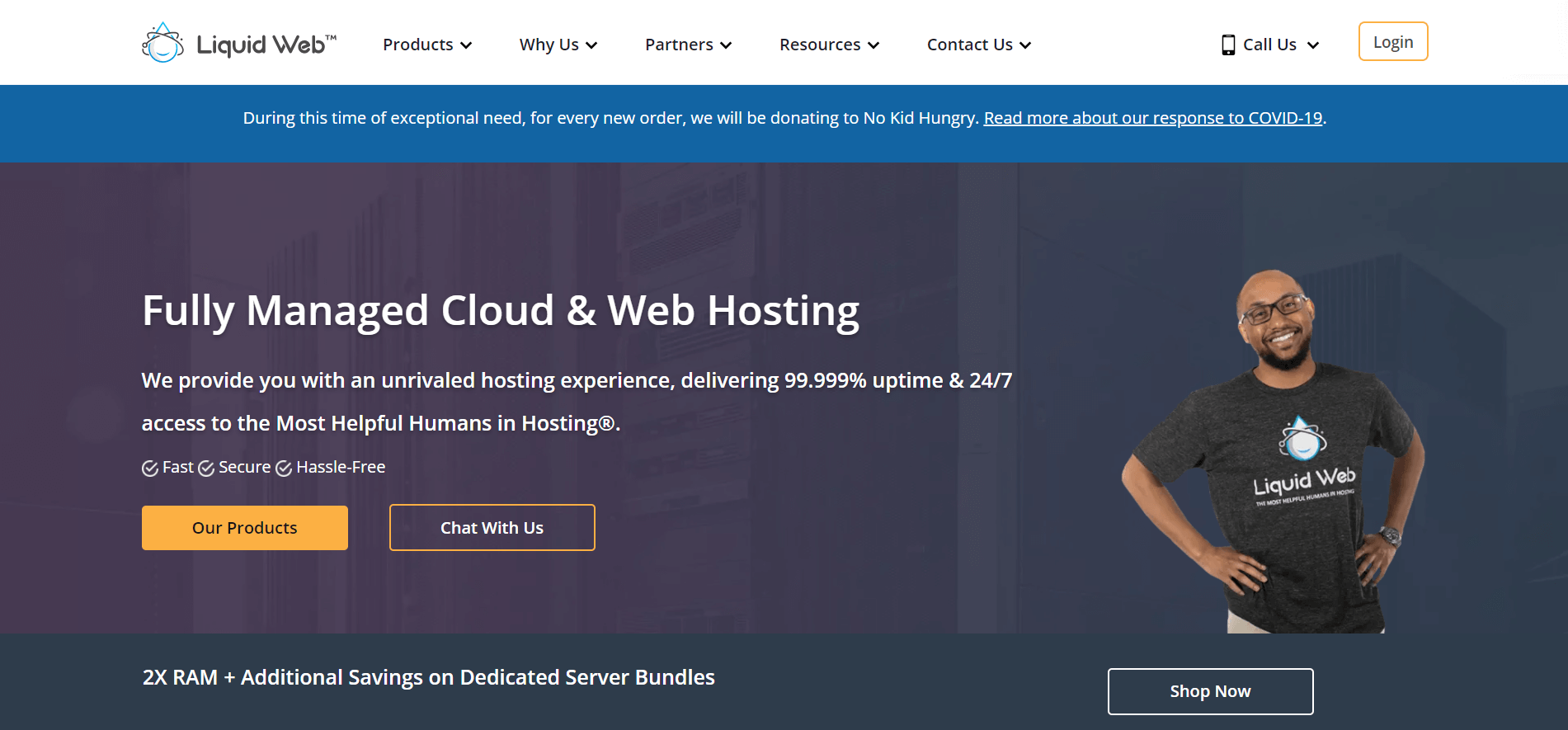 Scalability is a priority for a lot of people. If you have dreams of turning your small business into a larger one, you might want to check out Liquid Web. This Windows hosting service is a feature-rich option that prioritizes growth, allowing users to scale up without any issues.
Furthermore, you have plenty of options to get started. You can choose from a Virtual Private Server (VPS), a dedicated server, or a cloud server. All of them will run Windows.
Additionally, all of these options are very secure. Integrated backup services mean you don't ever have to worry about a possible tech disaster.
⚙️ Features:
A quick and easy server setup
Access to over 250 support technicians with certification in Windows
A promise to replace any faulty hardware within 30 minutes of identifying the problem
As you might expect, Liquid Web is a smart choice if you're looking to grow your business. Switching between plans is easy, and they have options for virtually every need you might have.
Liquid Web might also be the most suitable option if you're interested in a premium solution. Higher-tier plans can get expensive, but they deliver impressive features and resources on a huge scale.
💵 Pricing: Liquid Web's VPS starts at $15 per month. If you prefer a dedicated cloud server, that price increases to $149 per month.
A dedicated physical server will run you $169 per month, and plans top off at the most expensive level with a VMware private cloud. This will cost you $510 per month.
4. Hostwinds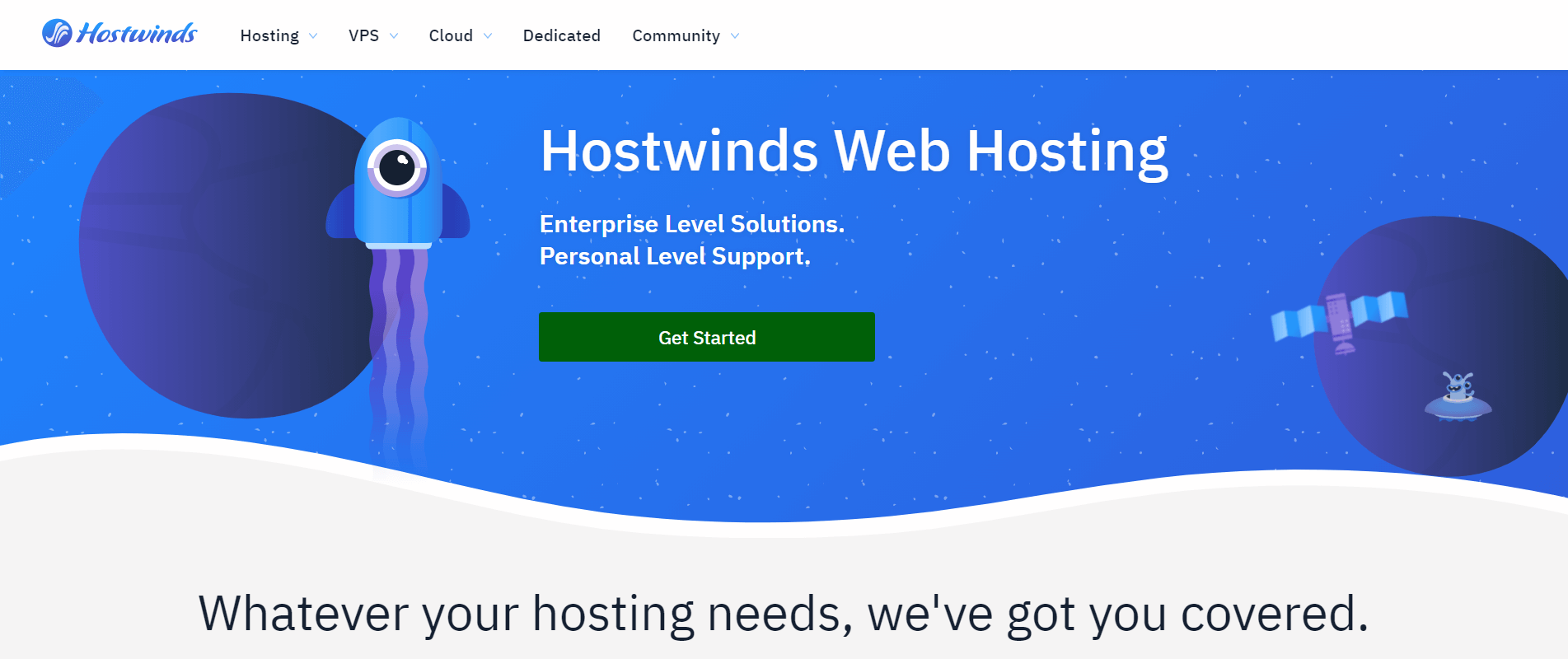 Hostwinds might be the best Windows hosting for larger organizations. With a robust VPS and impressive enterprise hardware, you can rest assured that your needs will be met.
We're also fans of Hostwinds' redundant network. This means that there's no single point where the connection can fail. Your remote desktop will always be available when you need it.
⚙️ Features:
Fully managed plans available if you prefer a hands-off approach
An uptime promise of 99.999%
The latest Intel CPUs on hand to ensure seamless service
Hostwinds has a fairly simple scaling plan. Therefore, you can easily upgrade to a more advanced solution should you outgrow your original needs. This can be helpful if you're trying to avoid switching services. You can simply move into the pricing tier that makes the most sense.
Hostwinds is also a strong option if you wish to cover your management bases. The company offers server monitoring, fully managed plans, and nightly backups to help you ensure that your business is safe. With that kind of support, you might be able to breathe a little easier.
💵 Pricing: You can get started with Liquid Web at $12.74 per month. This will give you access to 30 GB of storage and 1 TB of bandwidth. This is one of the higher entry prices on this list, but the storage and bandwidth are fairly generous.
The highest-tier plan available will cost you $431.24 per month. You'll gain 750 GB of storage and 9 TB of bandwidth. Of course, there are also intermediate plans, so you'll have plenty of options to choose from.
5. DreamHost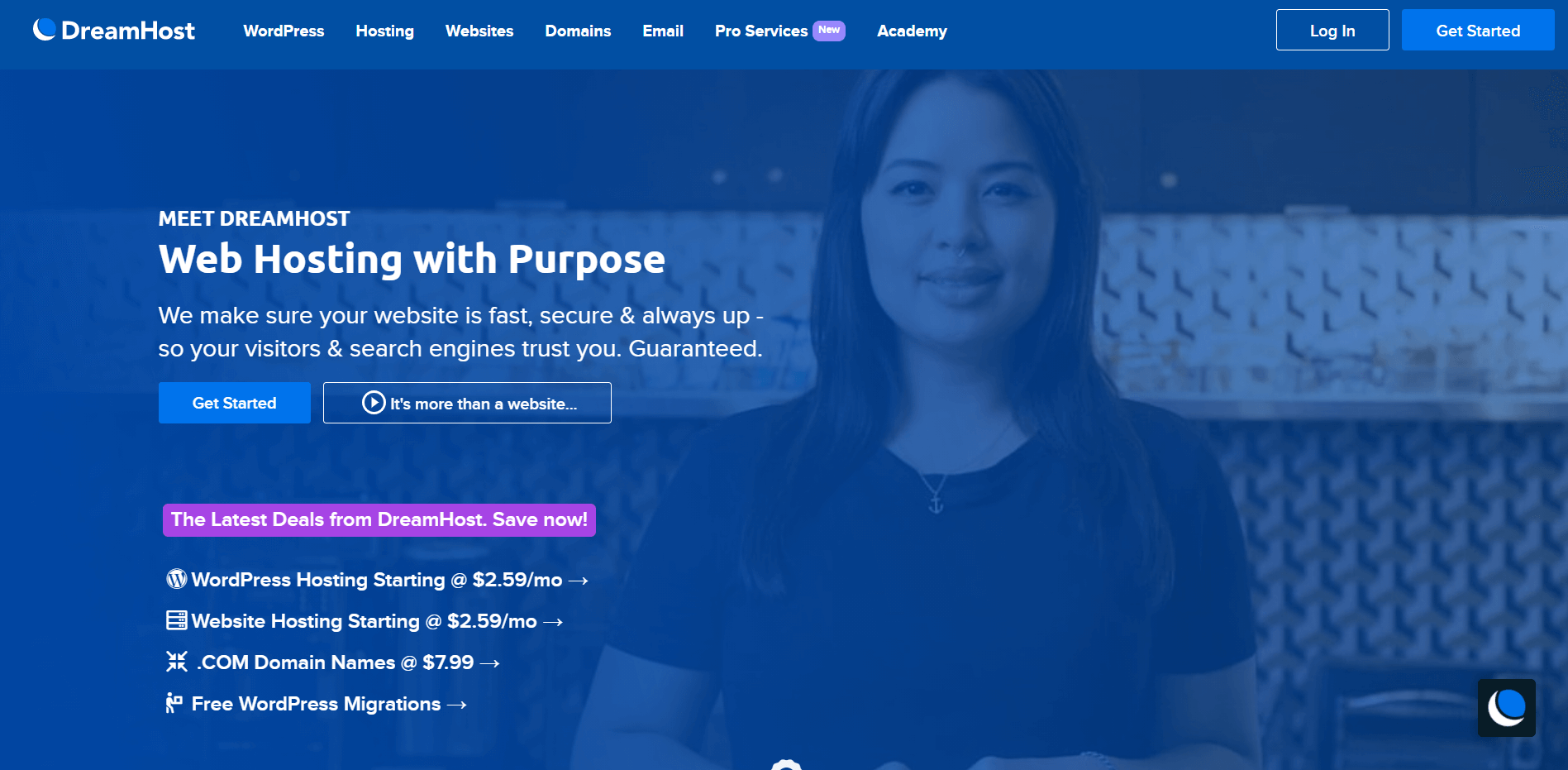 DreamHost is one of the most popular web hosts out there, and for good reason. This web host offers a 100% uptime guarantee, which also applied to their unmanaged cloud Windows hosting plan.
In addition, DreamHost works on open-source code and publicly disclosed architecture. There are no secrets with their tech – all community members are free to take a look at it themselves. If you're interested in learning more about how your Windows host operates, this might be a big bonus for you.
⚙️ Features:
Full root access and control over your own setup
An average start time of less than 30 seconds
Accelerated networks for extremely quick service
Its open-source code makes DreamHost a powerful choice for developers. Moreover, it comes with extra tools, like vast programming libraries, which can help you dig deep into the code.
If you're not into the nitty-gritty, DreamHost still allows for a lot of flexibility. For example, you can opt for a preloaded operating system or bring in your own.
💵 Pricing: When it comes to pricing plans, DreamHost has an unusual 'predictable pricing' structure. This means you'll only ever be charged for up to 600 hours in a month. Your exact price will vary depending on usage, but it won't go above that 600-hour threshold.
The ultimate cost usually depends on your server choice and how much memory you need. On the lower end, the gp1.semisonic option tops out at a maximum of $4.50 per month. On the higher end, the gp1.hyperspeed will cost $96.00 or less per month.
Conclusion
Windows hosting offers plenty of benefits. For instance, you might prefer using Microsoft technology, or simply appreciate the control and freedom this operating system can give you. While there are several web hosts that offer Windows hosting, it's important that you evaluate the features offered by each service so that you can choose the one that best suits your needs.
In this article, we covered several impressive Windows hosting services. However, one of them stands above the rest: Liquid Web. With powerful features and room to grow, this hosting service can be the perfect solution for you if you're looking to expand your business. Nevertheless, HostGator is also a strong choice if you're a small business on a budget.
Do you have any questions about selecting the best Windows hosting service for your needs? Let us know in the comments section below, and we'll do our best to help you out!
…
Don't forget to join our crash course on speeding up your WordPress site. With some simple fixes, you can reduce your loading time by even 50-80%:
Layout and presentation by Chris Fitzgerald and Karol K.