This
article
was originally published on
this site
Cloud storage can provide a variety of benefits. It can make collaboration easier, streamline your workflow, and help keep your data safe. However, you might find it hard to choose the best business cloud storage service from the sea of possible options.
Fortunately, there's an effective way to narrow down your choices. By understanding the strongest features offered by some of the top cloud storage companies, you should be able to select the provider that's best equipped to meet your needs.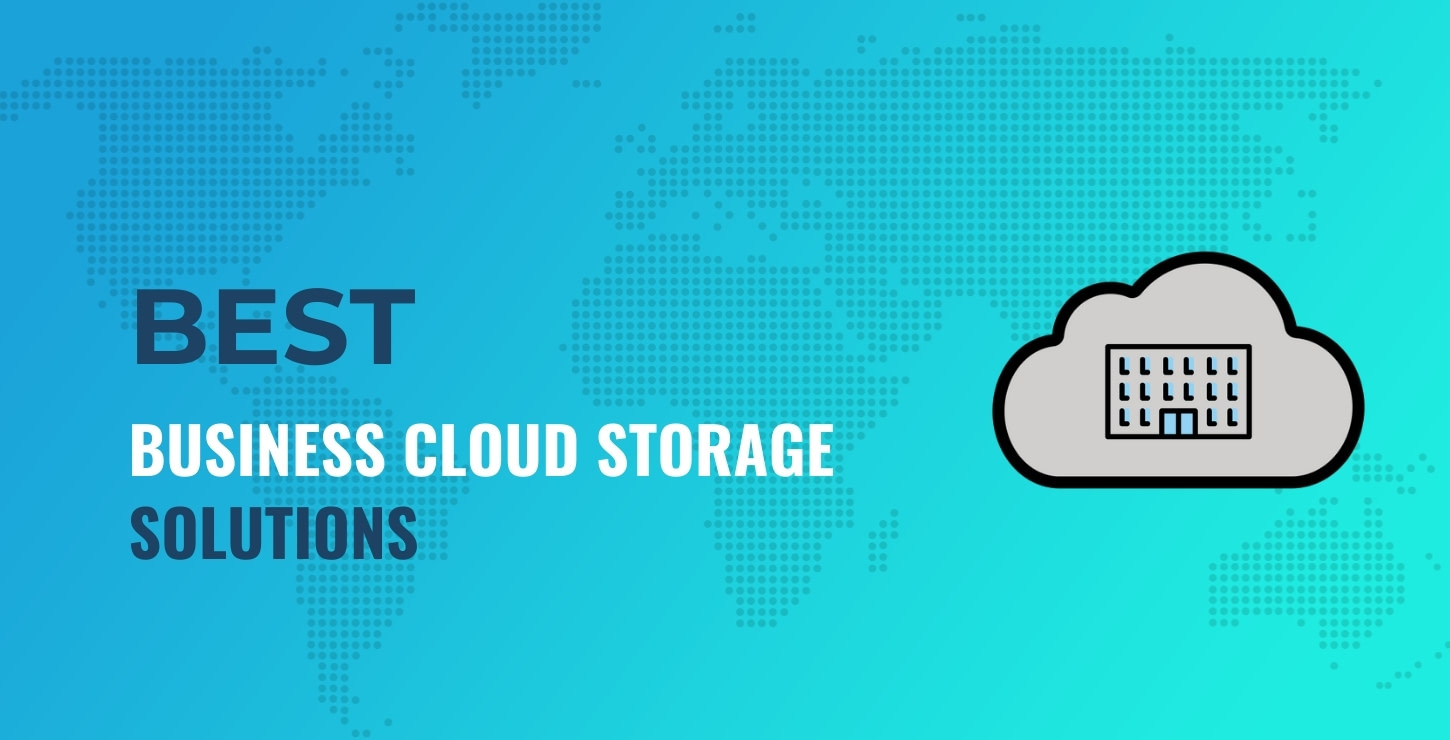 In this article, we'll cover a few essential things to consider when choosing a cloud storage solution. Then, we'll look at the top five candidates in 2021. Let's dive right in!
What to look for in business cloud storage and file-sharing solution
Everyone has different reasons for needing a cloud storage solution. For example, you might want to share important information with high-paying clients in a safe and efficient manner. Alternatively, you could simply want an easier way to manage your documents while you're away from the office.
Regardless of your goals, there are a few traits you might want to consider when looking at cloud storage options. Making sure your solution of choice offers these features can save you from having to switch providers in the future. It can also help you make sure you're getting a fair deal for the price.
The first key area to consider is security. We recommend looking at the steps your cloud storage service takes in order to prevent cyberattacks. If you're the kind of person who takes password management seriously, you may also want to think about other security features, such as pin-protected documents.
This kind of granular access control might also interest you if you're focused on collaboration. One of the biggest advantages of the best business cloud storage solutions is that they let you work remotely with other people in your company (and possibly even external users).
However, team collaboration may cause some issues. For instance, a user might accidentally delete important documents. Thus, you might want to consider what backup and data recovery options your service offers.
Finally, you may also want to look for a solution that comes with robust integrations. A cloud storage service that's compatible with your other workplace technology can go a long way towards streamlining your working procedures.
Best business cloud storage solutions in 2021
Now that you know what to look for, here are our favorite options for a powerful cloud storage solution.
When it comes to a workplace multi-tool, it's hard to find a better candidate than Google Workspace. This cloud storage platform is a powerful, well-rounded solution. As you might expect, it also lets you easily integrate many other Google tools, such as your company Gmail.
Google Workspace takes a simple yet effective approach towards cloud storage. Here are some stand-out features that demonstrate it:
⚙️ Features:
Real-time collaboration with color-coded names and a built-in chat
The option to invite others to view or edit a file without an email attachment
Offline editing for documents, spreadsheets, and slideshows
If you're looking for the best business cloud storage for team collaboration, we recommend opting for Google Workspace. Instant updates make editing with your colleagues a seamless experience. Additionally, since Google is so popular, most people will likely be familiar with the interface.
We also recommend Google Workspace if you deal with a lot of clients. The platform offers granular access options that range from a private document to a link that anyone on the internet can edit. Thus, you can keep all your data in one place, even if you need different security options.
💵 Pricing: Google Workspace pricing plans start at $6 per user per month. This will get you 30 GB of cloud storage per user, plus a custom business email and other features. You can also scale up to $18 per user per month, which gives you 5 TB of cloud storage per user.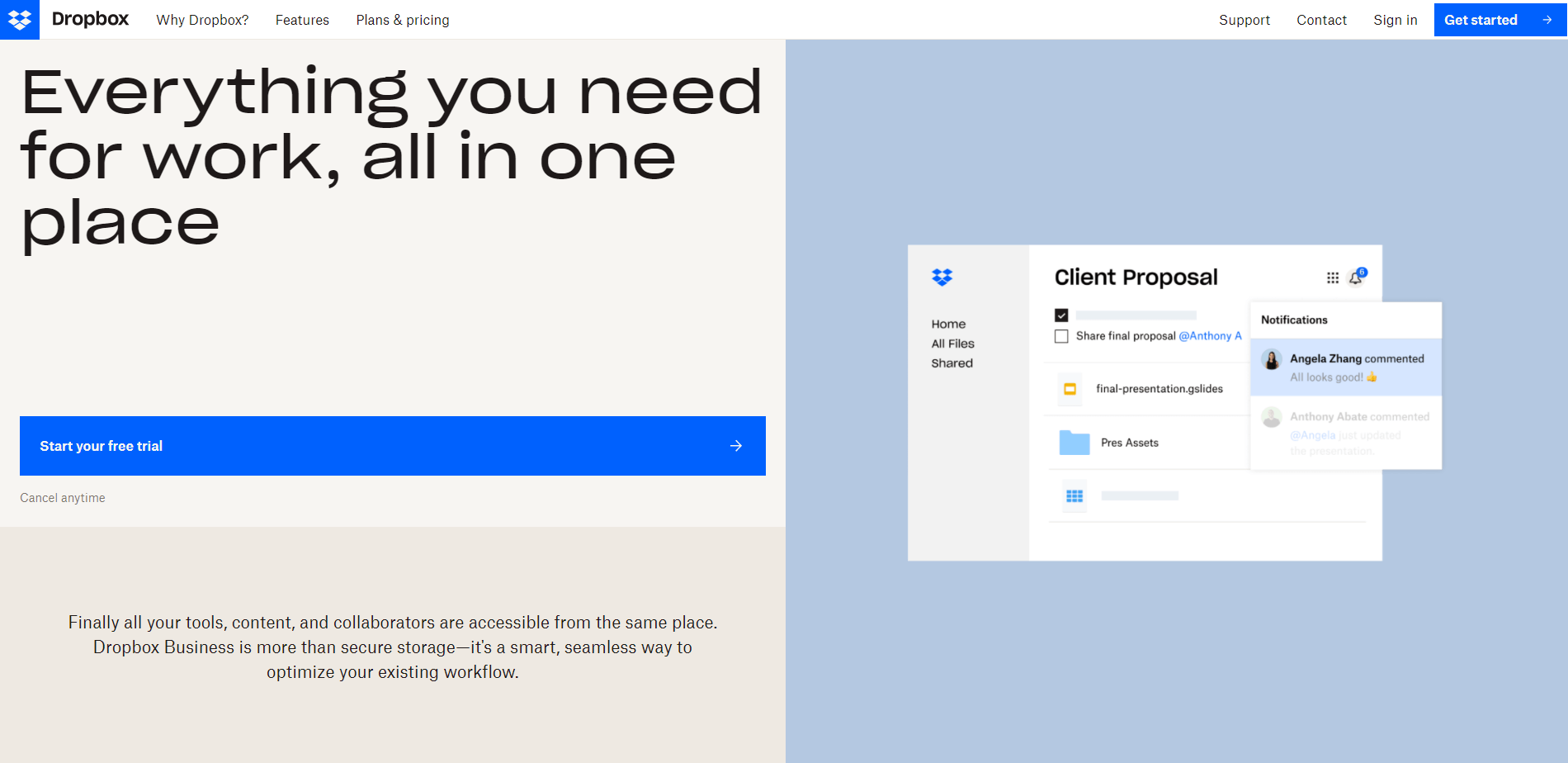 Dropbox Business is one of the biggest names in the cloud storage ecosystem. It's not hard to understand why, either. With an emphasis on data security, you and your clients can rest assured that your documents are safe.
However, Dropbox isn't just about security. Its cloud storage offers several impressive features, such as:
⚙️ Features:
The option to restore anything in your Dropbox account for up to 30 days
Direct integration with popular tools such as Slack and Zoom
The option to use legally binding eSignatures with Dropbox's own technology
Dropbox Business makes it easy to recover lost documents, protect data with passwords, and review your audit log. Therefore, it might be the best business cloud storage option for you if you prioritize security.
Dropbox Business also offers small-scale plans. You can choose a single-user plan or more complex options that start at three users. It could be a smart choice if you're running a small business but want a full-featured solution.
💵 Pricing: There are several payment plans available for Dropbox Business. These start at $16.58 per month for one user and 3 TB of secure storage. The advanced plan starts at $20 per month per user. You can also contact the team directly for a large-scale solution.
3. Box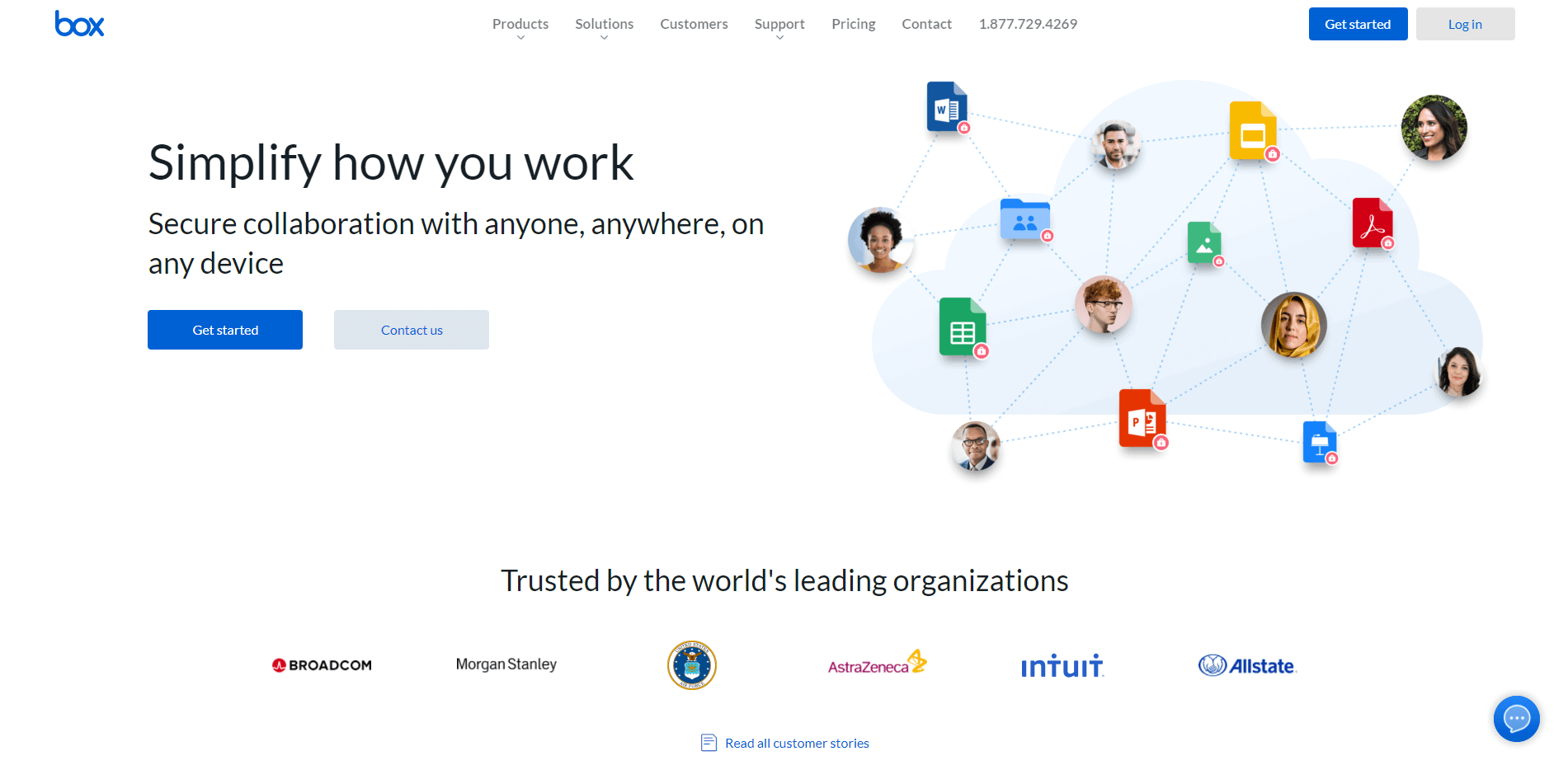 Whether your business is big or small, you can probably benefit from saving some time. That's where Box comes in. This cloud storage platform strives to cut down on unnecessary actions, so your company can become even more efficient.
This streamlined approach is present in most of Box's features, from editing to security. Nevertheless, the platform still offers powerful features, which include:
⚙️ Features:
Automated machine learning that can set policies to detect security threats
The possibility to create complex approval workflows without a single line of code
The option to use developer tools and APIs to tailor the cloud to your company's exact needs
Box offers a simple interface, but you can modify the settings as your business plan evolves. If you want a flexible solution, Box might be the right choice.
We also recommend Box if you're looking for powerful administrative tools. This service enables you to track and log each action through a special console. This means you can keep a close eye on your organization's data.
💵 Pricing: Box's plans start at $15 per user per month. This will give you access to unlimited storage, and the ability to upload files up to 5 GB in size.
4. Egnyte
Large businesses usually have more complex needs. If you're running a big company, Egnyte is definitely a candidate for the best business cloud storage solution.
Egnyte is a formidable tool that's packed with options. For example, you can opt for a cloud-only or hybrid product. This can be helpful if you're only starting the transition to digital storage.
In addition to these versatile options, you may also want to consider some of Egnyte's other powerful features:
⚙️ Features:
A document sharing API that Egnyte has specifically designed to prevent security risks
Storage syncing that saves resources by only transferring changes, not the entire document
A data residency functionality that helps you meet requirements for your country
Given these features, we recommend Egnyte for large companies. However, its powerful functionality can also be beneficial for smaller organizations. In particular, you may want to consider Egnyte if you have plans to scale up your business in the near future.
Furthermore, Egnyte is a strong choice if you work with medical records. The company offers document support for the Health Insurance Portability and Accountability Act (HIPAA). This means you can spend less time worrying about regulations and more time working with patients.
💵 Pricing: Egnyte's plans start at $10 per user per month. You'll gain access to secure collaboration, file syncing, and audit reporting features.
5. Sync.com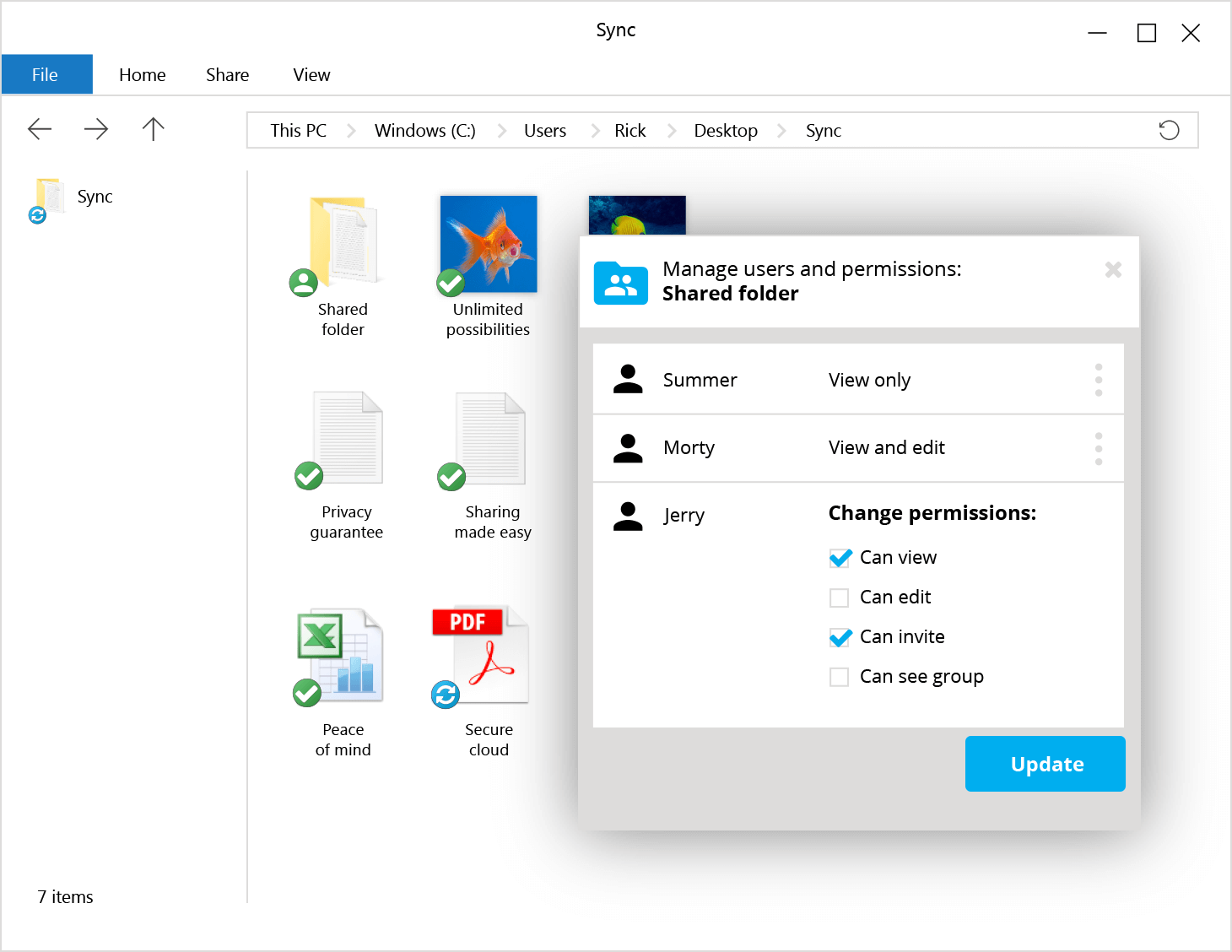 If you're looking for an affordable, yet robust, business cloud storage solution, you should consider Sync.com as a top candidate. With this platform, you won't have to spend a fortune to enjoy impressive features. For example, some plans offer unlimited data transfers.
There are plenty of other advanced functions worth considering, such as:
⚙️ Features:
An encrypted platform to provide granular access control for your data
The option to preview your documents without having to download a copy
Built-in rollback features to protect you in the event of malicious actors or hardware failure
We highly suggest Sync.com if you're working on a tight budget. It is one of the best value options on the market today. However, Sync.com can also be a smart choice if you're a bit inexperienced with technology. The platform offers strong priority support for every customer. Thus, you'll never need to worry about getting a helping hand when you need one.
💵 Pricing: As we mentioned, the pricing plans for Sync.com are generally very affordable. The Teams Standard plan begins at $5 per person per month. For larger groups and expanded storage options, there's also the Teams Unlimited plan. This starts at $15 per user per month.
Conclusion
Cloud storage is a modern-day necessity for many businesses. However, given the wide selection of options that are available, finding the right solution for your business can be a little challenging. Fortunately, you can narrow down your options by understanding what the top companies have to offer.
All of the options we've introduced in this article are worth a look. However, we're particularly impressed by Google Workspace. In terms of collaboration features as well as value, it's the best business cloud storage solution currently available.
Do you have any questions about the cloud storage solutions featured in this post? Let us know in the comments section below!
…
Don't forget to join our crash course on speeding up your WordPress site. With some simple fixes, you can reduce your loading time by even 50-80%:
Layout and presentation by Chris Fitzgerald and Karol K.