This
article
was originally published on
this site
Looking for WordPress professionals to help you with your business website? We're jumping in to recommend some of the best WordPress agencies for quality web development, design, performance optimizations, marketing, and more. Let them handle the technical side of your business while you're busy growing it!
We sought variety for this post, so expect both full-stack and niche agencies. It's up to you to choose based on what you need most and your current budget.
Check them out!
What do WordPress agencies usually offer?
Maybe you have worked with WordPress agencies before and know what their job is. If you haven't, an agency provides a mix of services that imply varied technologies and expertise. They are the professionals you need when you lack the knowledge or time to do the work yourself.
But, before we start naming specific WordPress agencies that we picked for this post, let's have a glimpse at the most common services they have in their offers:
👨‍💻 Website development
It involves building sites from scratch or revamping existing ones. It also implies coding custom tools and solutions to meet the client's needs.
🎨 Website design
It's about changing the interface of your site to make it look more modern and attention-grabbing. Improving the user experience by making it visually intuitive and easy to navigate is another important design trait.
🔧 Plugin and app development
If you need custom functionality that none of the existing plugins cover, an agency can build a plugin or tool that does exactly what your website is missing.
⛑️ Server and website maintenance
An agency comes with solutions to fixing the issues that cause your website to go down or not work properly. They improve your site's performance, do updates, remove suspicious tools, check for conflicts, back up your content, and run security tests regularly.
🔗 Hosting, integrations, and migrations
You'll also stumble upon WordPress agencies that will set up your website for you. For example, migrate from another platform, set up the hosting, install WordPress, and make the necessary integrations based on your business profile.
📈 Consulting and marketing services
Apart from development, you'll see many WordPress agencies offering marketing services that grow your business, increase sales, or bring more traffic to your site. In this category, there are site audits, search engine optimization, social media strategies, email marketing, content creation, and other marketing campaigns.
Best WordPress agencies to hire for your business in 2021
Let's get to it now! Here are the best WordPress agencies on the market that will provide you with quality services and professional help:
DevriX
If you're looking for an agency that has much experience working with big clients, enterprises, and corporations, DevriX ticks all the criteria. With over 10 years in building and maintaining WordPress websites, they are more than capable of handling all your requests and building a quality end product for you.

Services
Top picks from the portfolio
Diginomica
Website revamp, server migration, and mobile optimization.
Density
Development, migration, and additional services involving WordPress development.
WPRiders
WPRiders is a company that helps small to mid-sized businesses, startups, and nonprofits with their website development. The team is all about building WordPress websites, digital products, online platforms, and custom plugins to help you keep up with the latest trends in web technology.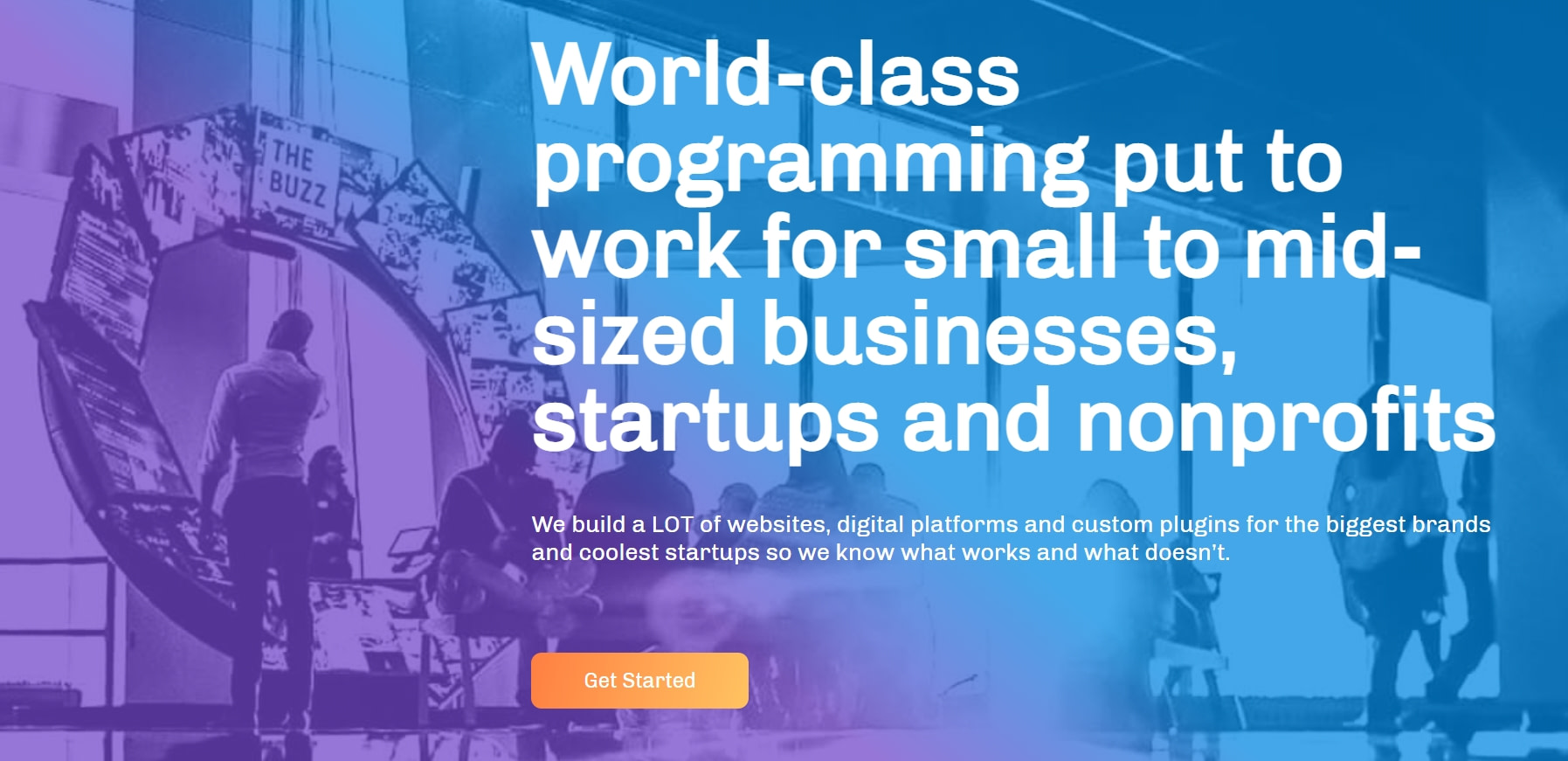 Services
WordPress and plugin updates
Plugin review and replacement
Security and backups
Custom features
WordPress and WooCommerce support
Top picks from the portfolio
eRecruiter
Migrated the site to WordPress and revamped its design and performance.
Human Made
With 10 years of WordPress experience, the Human Made team's goal is to help marketers thrive online. They offer services that automate your marketing team's efforts from a technical standpoint.
Human Made are the developers of Altis – a WordPress platform that simplifies workflows, makes your content engaging, and speeds up decision-making.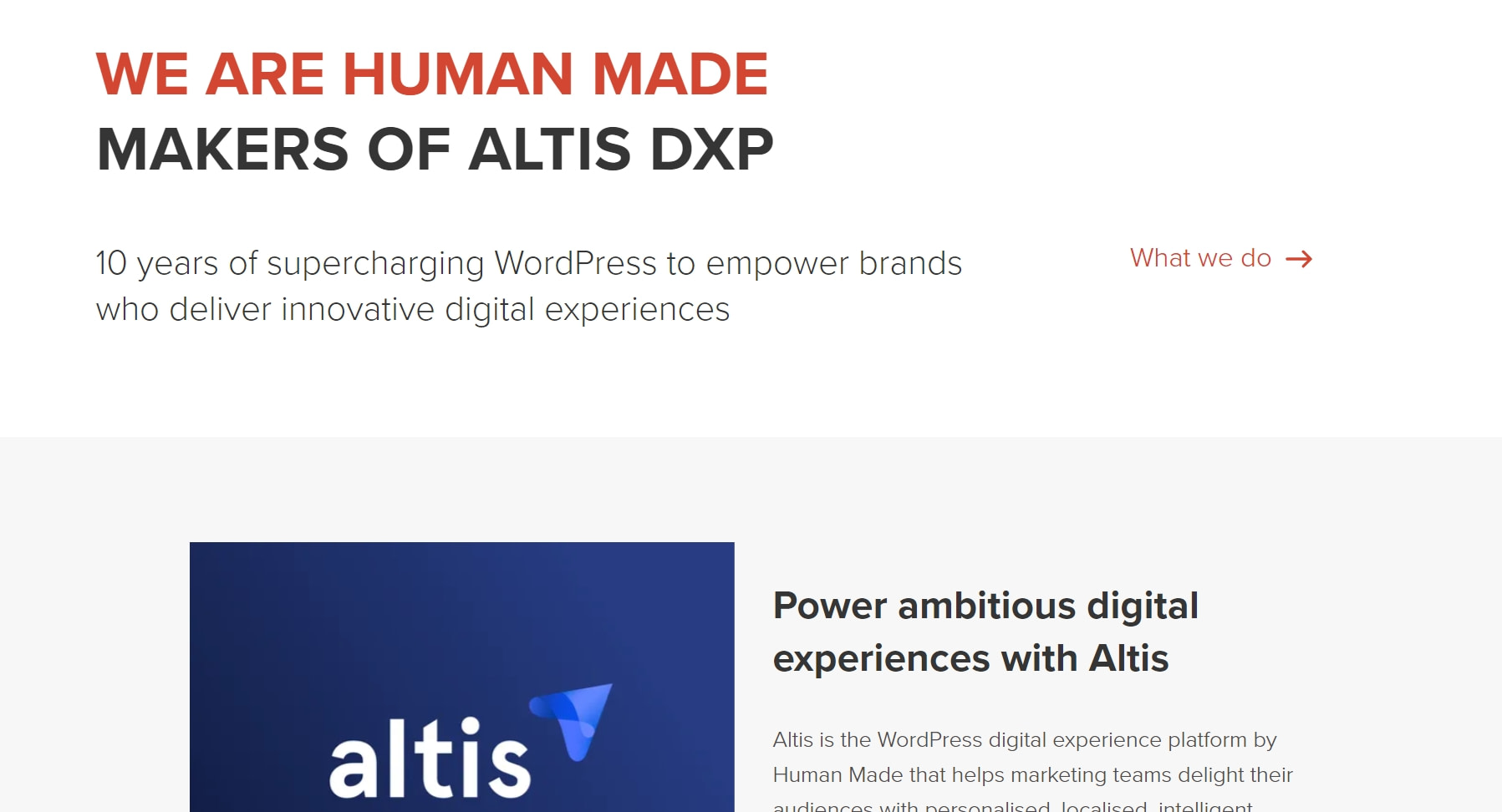 Services
Altis, the WordPress digital experience platform
Custom digital experience development
Digital and cloud infrastructure
Top picks from the portfolio
TechCrunch
Improved speed, user experience, and reader engagement.
Capgemini
Migrated website from Drupal to WordPress and created a new culture of creation.
10up
10up is one of the popular WordPress agencies, handling the technical side of the business for content creators. The team comprises around 200 experts who build websites and tools for business owners. From development to digital strategy and management, 10up will provide various services for your project to succeed.

Services
Digital strategy and management
Software engineering
User experience and interactive design
Cloud infrastructure
Top picks from the portfolio
GoDaddy
Designed and built WordPress themes for small businesses on GoDaddy's WordPress hosting platform.
WebDevStudios
If you don't want to get your hands dirty with fixing and maintaining your business website on a regular basis, WebDevStudios will handle the job for you. Their services are available not only to small to mid-size businesses but also to startups, enterprises, and marketing agencies.
If you need more than just technical advice, you can hire WebDevStudios for business strategy and planning, too.

Services
Consulting and discovery
Custom development and design
Performance and security
Content migrations
Support and maintenance
Top picks from the portfolio
Starbucks
Developed an employee training system using WordPress and BuddyPress.
Microsoft Blogs
Migrated content, designed custom templates, provided ongoing support and maintenance.
SiteCare
SiteCare is a team of WordPress developers and digital marketers focused on website maintenance and marketing. Some of the WordPress development services include custom post types, template customization, mobile optimization, troubleshooting, stylesheet adjustments, plugin setup, and more.


Services
WordPress maintenance
WorPress development
Security audits
Web accessibility
Speed and performance optimization
Marketing and SEO services
Wholegrain Digital
The Wholegrain Digital agency is about all things green! The WordPress websites that Wholegrain Digital builds are sustainable (less polluting), accessible, optimized for SEO, and user-friendly. If you're supporting the environmental cause, you will find benefits in working with this agency.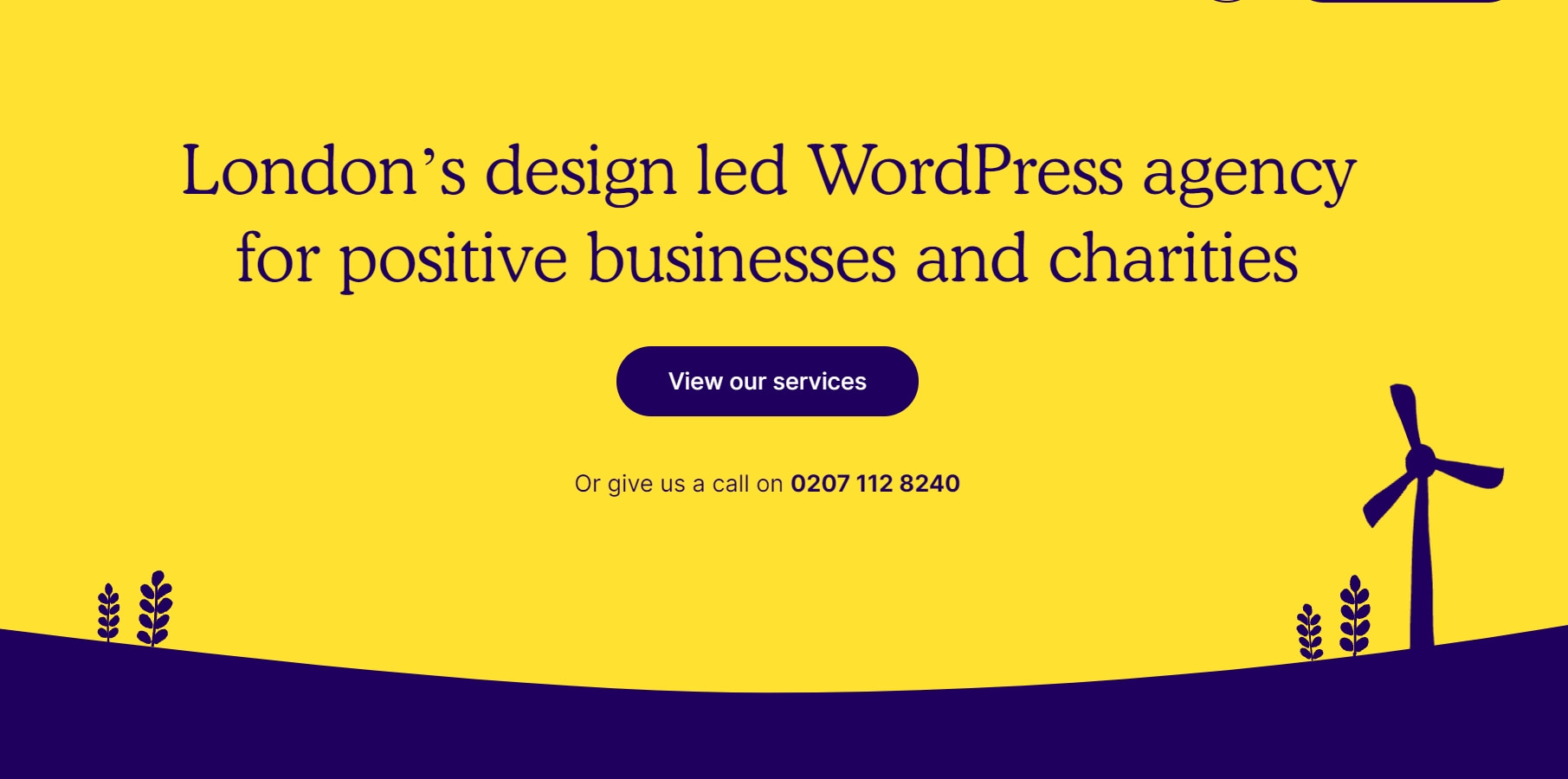 Services
Digital sustainability
Digital strategy
UI/UX design
Front-end development
Enterprise WordPress development
Web performance
Top picks from the portfolio
Ecover
Created a custom blog template (accessible and low-carbon).
TreeStory
Built a low-carbon website that reflects the brand's cause – sustainable forestry.
Codal
With offices in the USA, India, and England, Codal is empowering companies to succeed by offering high-quality UX design, development, and business services. Unlike the other WordPress agencies on this list, Codal provides services for many other technologies. For example, popular eCommerce platforms and Android/iOS apps.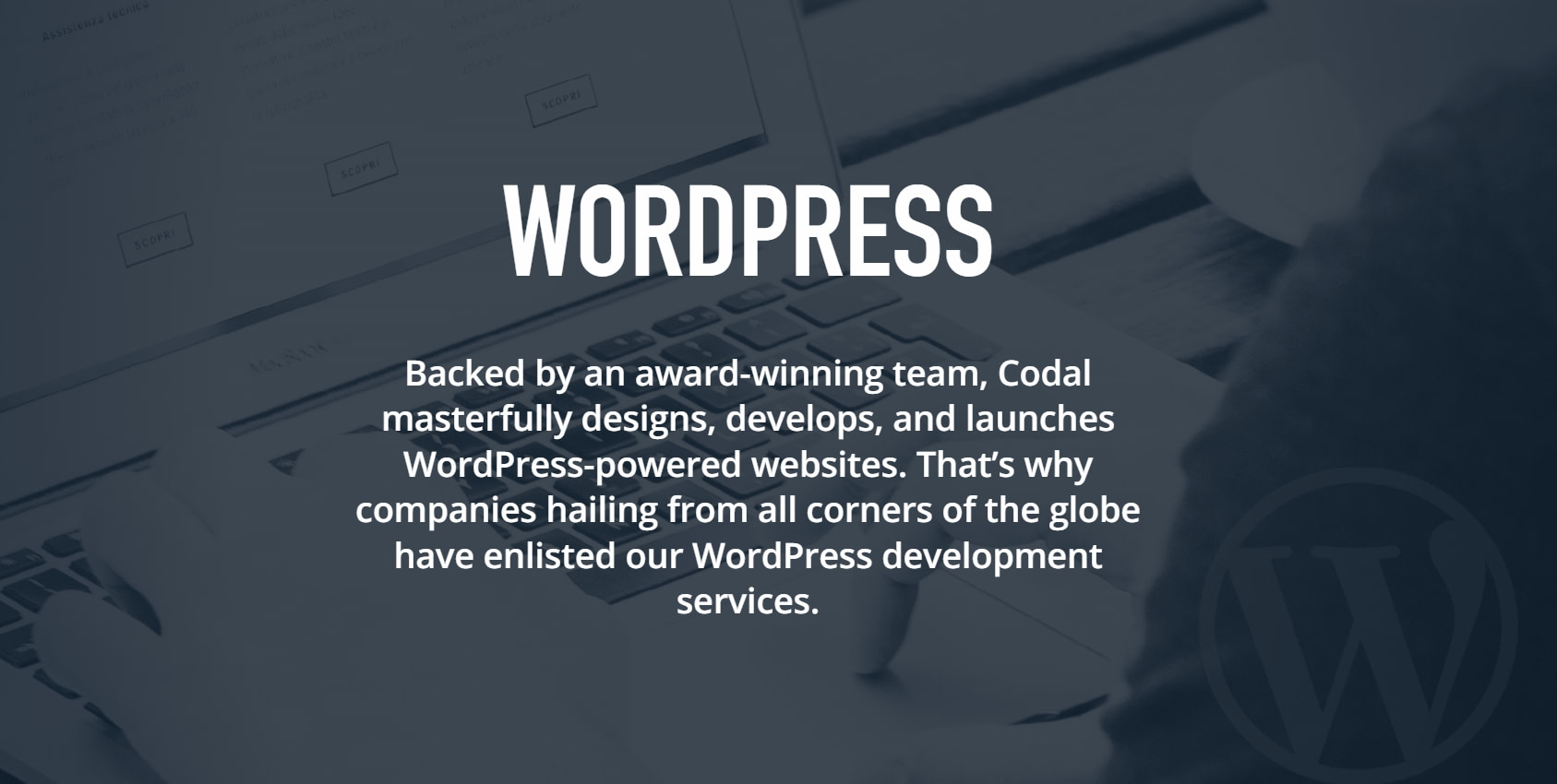 Services (for WordPress)
Expert thought leadership
Integrations with your digital ecosystem
Complete website customization
Brand alignment and UI design
Top picks from the portfolio
CURE
Migrated website from Drupal to WordPress, refreshed the design, optimized it for new functionality, and removed outdated features.
CallPotential
Built custom API integrations, designed an engaging user interface, streamlined data security.
Squarebird Digital
Squarebird is an all-in-one agency. It offers web development services and helps creative businesses with inspirational solutions. A few of these solutions are content writing, social media, videography, and illustrations.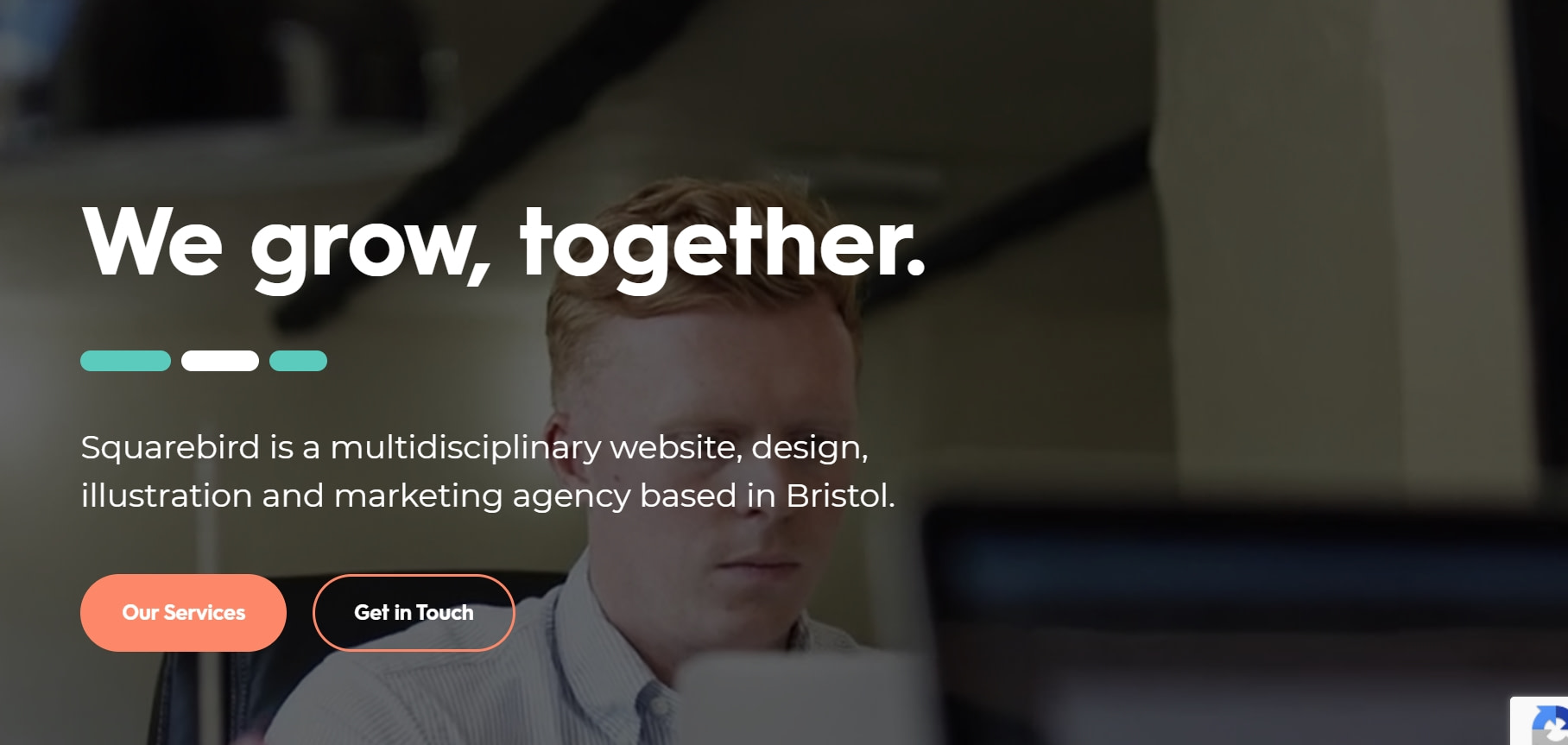 Services
Web development and design
Responsive websites
Compelling content and copywriting
Website imagery
Search engine optimization
Fast hosting
UI/UX services
Top picks from the portfolio
Tru-Tension
Helped the brand launch their business online from redeveloping the site to marketing the product.
ETM
Developed the website with a focus on interactive animations and engaging design.
Uplers
While Uplers is not a WordPress agency per se, they do offer WordPress development services. Their service catalog is not limited to development only, however. Uplers is a good agency to collaborate with if you need design tweaks and help with marketing tools and strategies.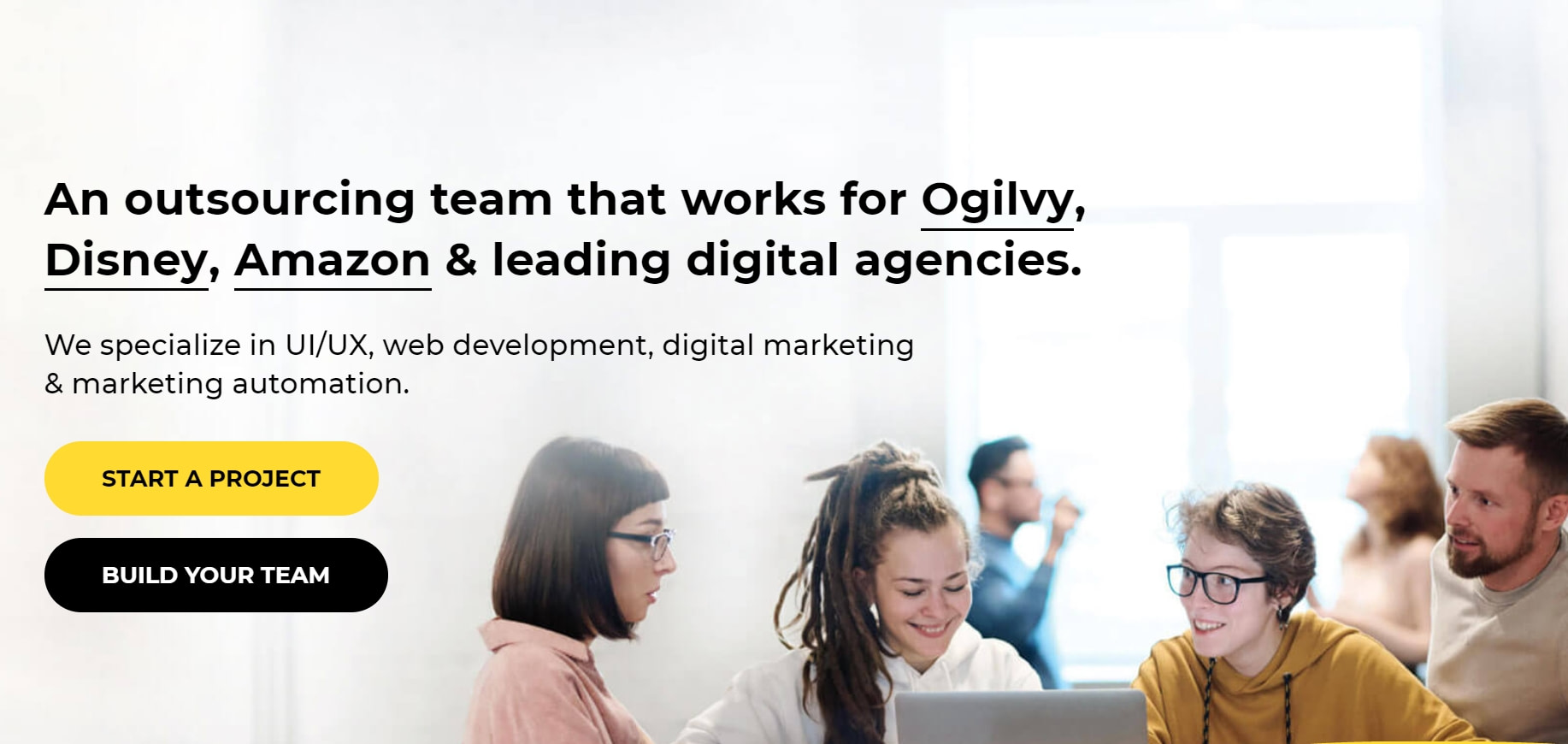 Services
Front-end development
Search engine optimization
Marketing: search engine marketing, advertising, email marketing
Top picks from the portfolio
Repeat Booking
Built the brand's website from scratch – from development to full marketing functionality.
Elite
Set local development solutions with multiple developer logins and QA servers for testing. They helped the business expand its services to larger geographical areas.
Valet
Valet is one of these WordPress agencies that are truly dedicated to their niche. In this agency's portfolio, you will find projects set on making their clients' WordPress sites performant and accessible. If you own an eCommerce store, the Valet team will optimize it to increase sales, too.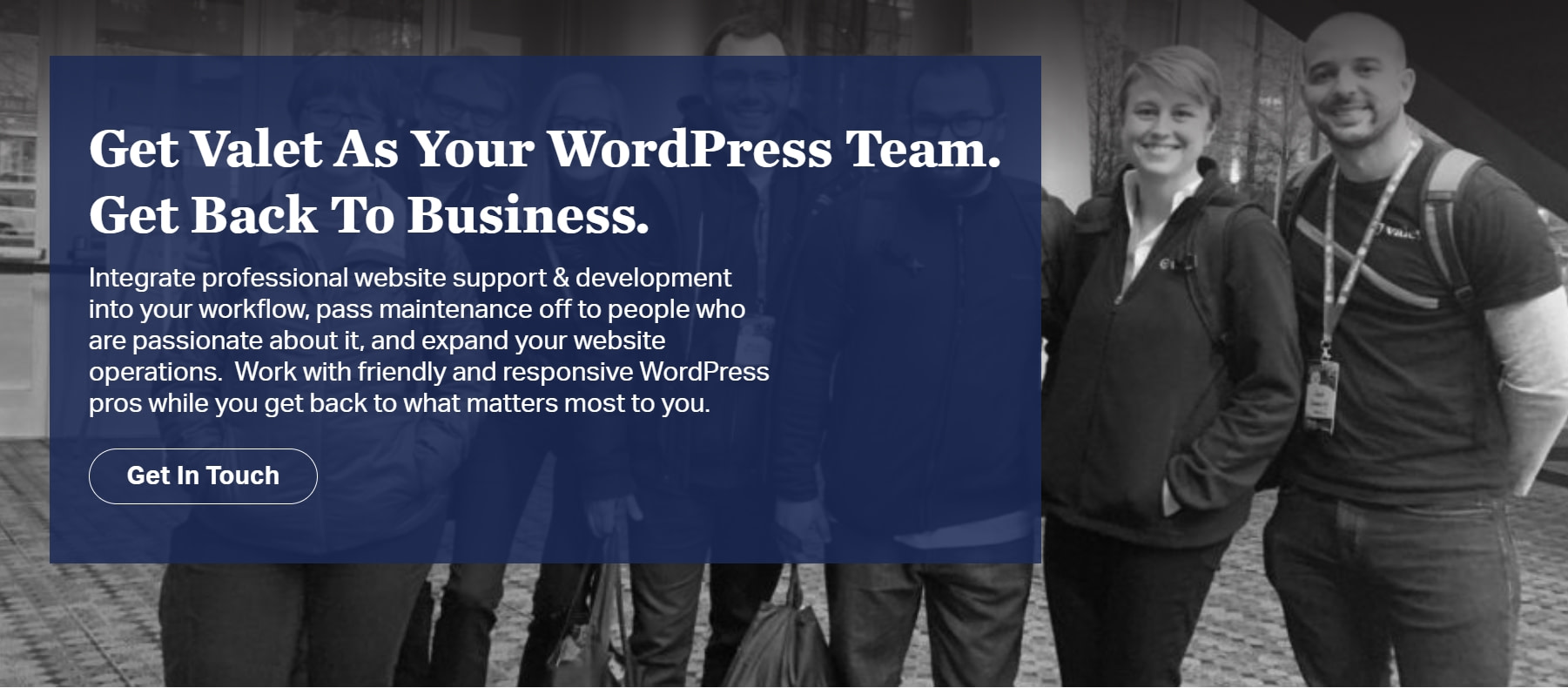 Services
SparX IT Solutions
SparX IT Solutions is one more company that's not one of the classic WordPress agencies. The team has vast expertise in many technologies and online platforms. Regarding WordPress, SparX offers a multitude of services that will build or improve your business website from a technical point of view.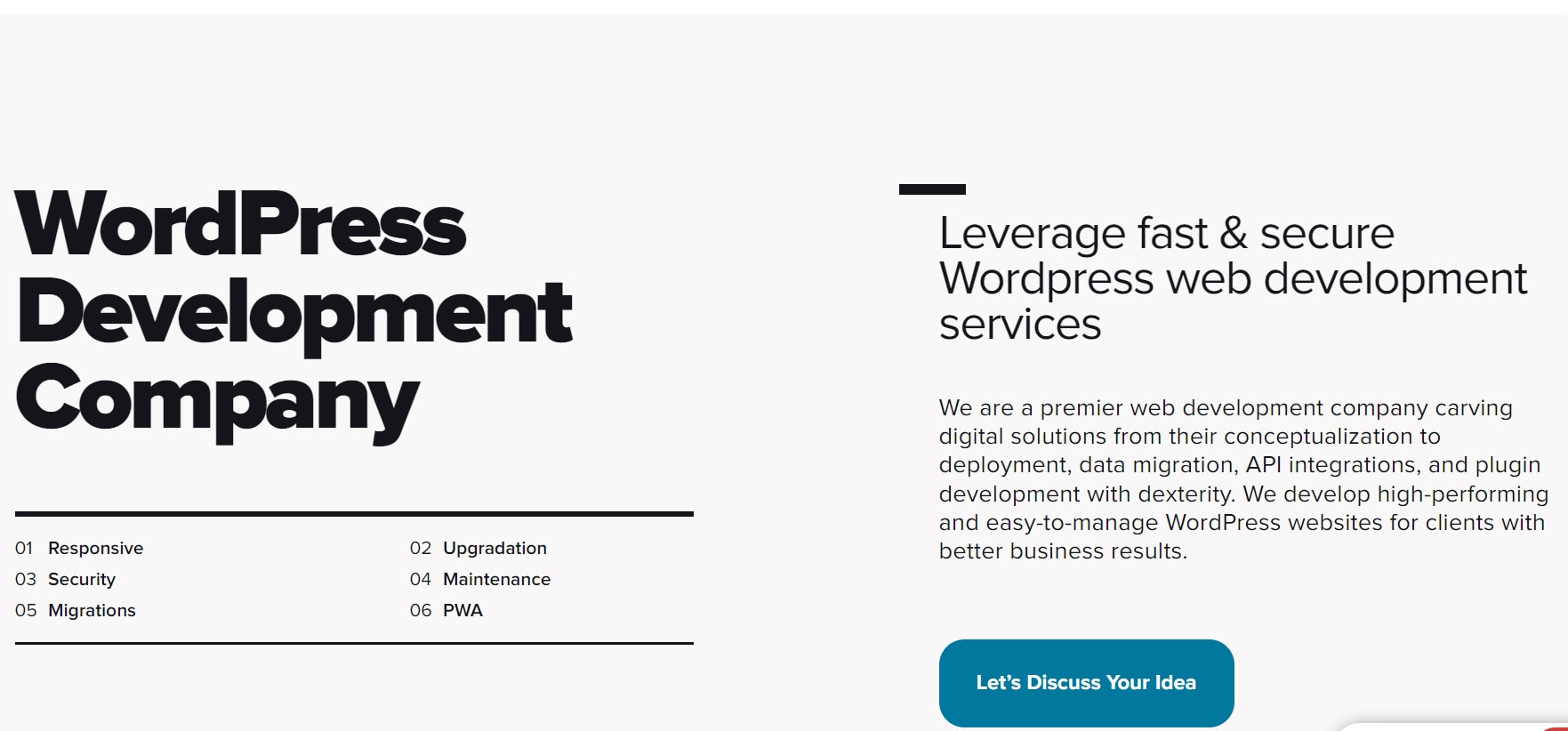 Services
WordPress installation and configuration
Responsive design
eCommerce and payment solutions
CMS development
Bug fixing
Support and site maintenance
Top picks from the portfolio
Coveti
Built the website from scratch with WordPress, HTML, and PHP.
Bodyscape Yoga
Built the website from scratch with WordPress, HTML, and Bootstrap.
Crowd Favorite
Among the varied range of digital services that Crowd Favorite provides, expect a good number of them to be about WordPress. This agency focuses on offering the best development solutions to enterprises and eCommerce businesses. Crowd Favorite specializes in open-source and CMS development.

Services
WordPress enterprise integration
eCommerce integrations for WordPress sites
WordPress performance audits
Web design integration
Web applications
Custom web development
Database and performance optimization
Digital strategy
Top picks from the portfolio
Cellular One
Built consumer-centric design to achieve optimal user experience and accessibility.
ZUKi Petshop
Redesigned the eCommerce site and improved speed, performance, and user experience.
WisdmLabs
One of the more niched WordPress agencies on this list is WisdmLabs. It offers WordPress development services to e-learning and eCommerce businesses. Apart from providing custom development, the team also creates their own WordPress themes and products for LearnDash and WooCommerce.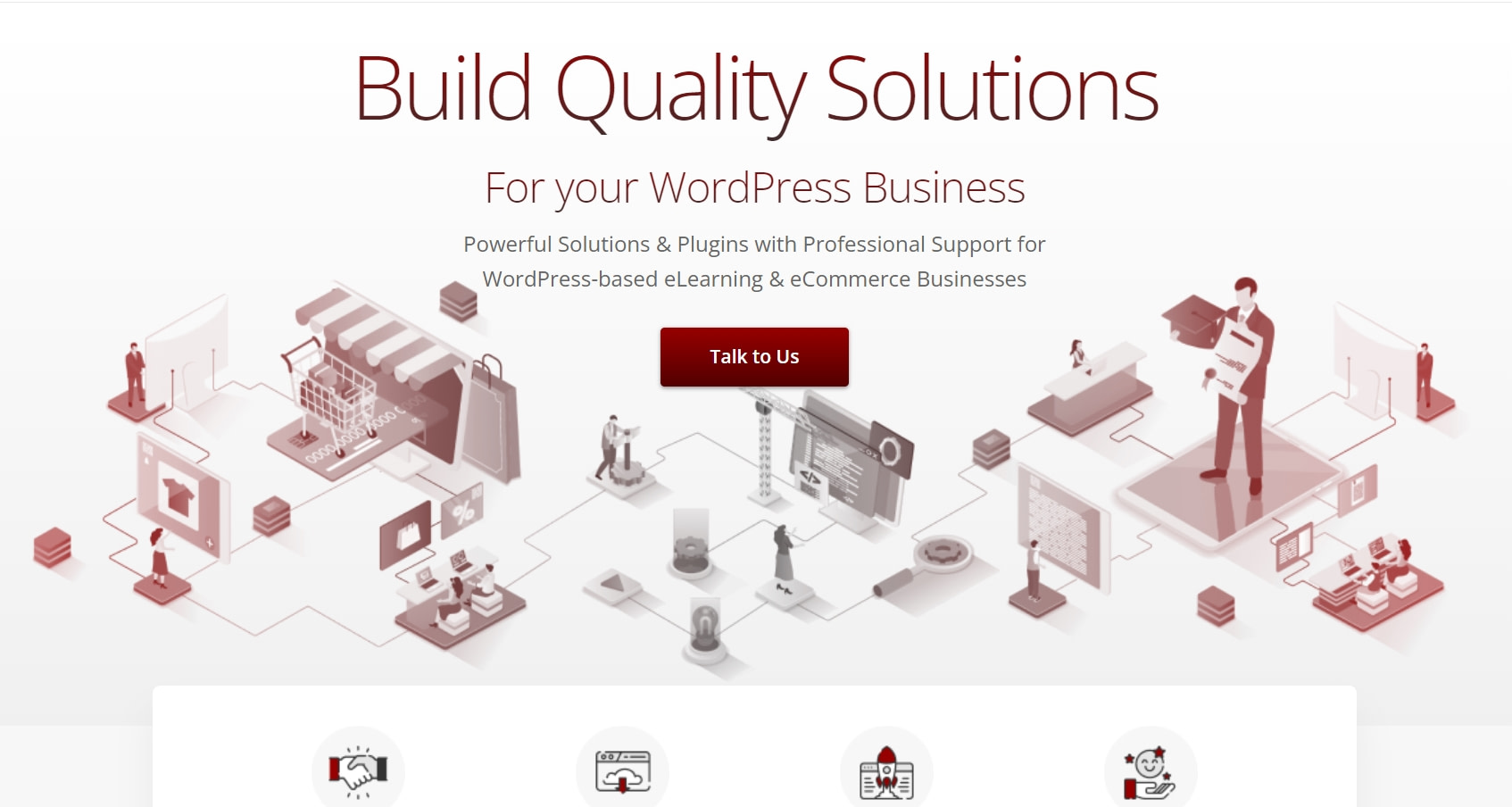 Services
Custom web development
WordPress consultation
Custom extension development
Experience design and branding
External software integrations
Managed WordPres services
WooCommerce and LearnDash development
Top picks from the portfolio
School Ninja
Set up an online learning model for students and teachers.
The Tao of Tea
Built an effective eCommerce system with WordPress and WooCommerce.
Saucal
Even more niched, Saucal is a company that offers WooCommerce services only. If you own an eCommerce business hosted on WordPress, Saucal experts will build, improve, and maintain your website to make sure you're not missing out on any sales.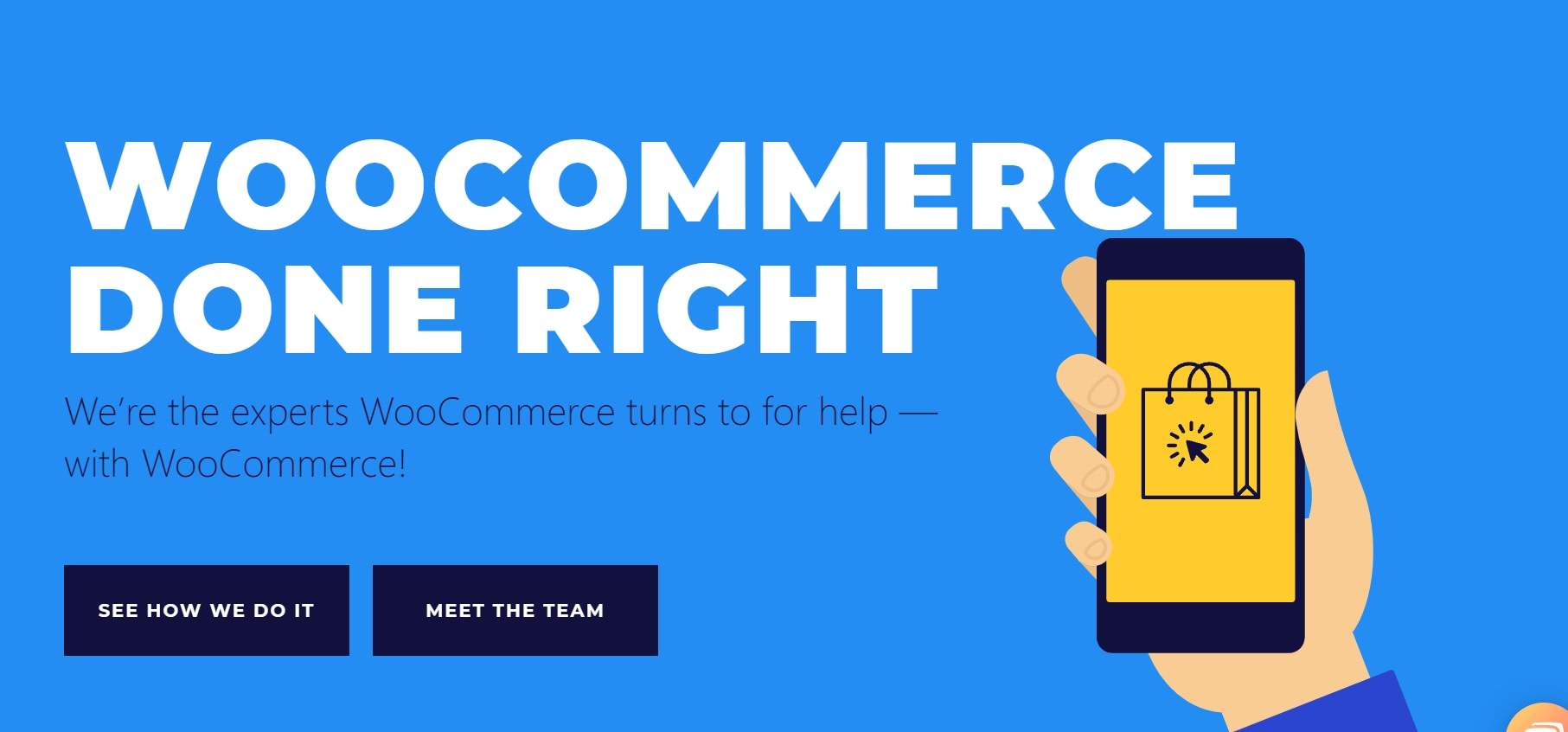 Services
Top picks from the portfolio
No Pong
Improved website performance, customized plugins, and migrated the servers.
Output
Increased sales and reduced costs with a custom app and bundle completion plugin.
Conclusion
Maybe you've already set eyes on a few WordPress agencies from this list that seemed to be a good fit for your goals. If you haven't, take your time to go through the portfolios, services offered, and also values and missions of each company that you're considering.
All of them provide quality WordPress services, but it's still on you to do the research before making your final pick. Hopefully, our post has been helpful and made your decision easier!
Do you have experience working with a WordPress agency? Let us know in the comments section below!
…
Don't forget to join our crash course on speeding up your WordPress site. With some simple fixes, you can reduce your loading time by even 50-80%:
Layout and presentation by Adelina Tuca and Karol K.