This
article
was originally published on
this site
It's hard to do most types of computer-based freelance work if you don't have some quality apps by your side. More specifically, what are the best apps for freelancers who work on Mac?
In this roundup, we list 15 of our favorite apps, show you what makes each of them awesome and who should use them.
We cover apps in a handful of different categories, so you should be able to find something for you no matter if you're a freelance writer, designer, developer, or you're in some other more original line of work.
At the same time, we don't want to make this list obvious, so you'll not find things like MS Office, Slack, or Zoom here. I'm guessing you're already well aware of those.
Some of these apps require a payment right from the get-go, but many can be either tested for free or come with a true free-forever plan.
15 best apps for freelancers who work on Mac
Now that I've piqued your interest, let's get stuck in and look at the fifteen apps that made the showcase (in no particular order).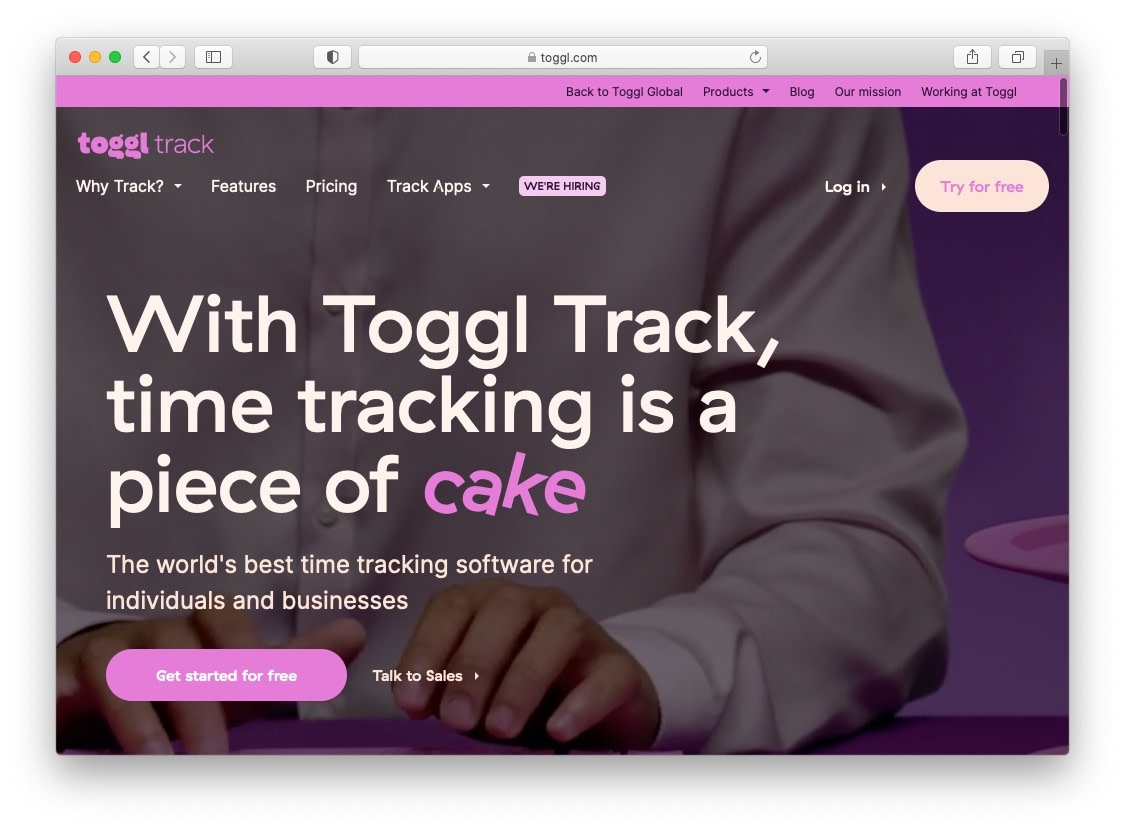 Toggl is one of three work-time-related apps on our list. We all know that tracking one's time is a key component of every freelancer's day to day. However, "time tracking" is not a singular challenge, and there's not one app out there that covers every possible aspect of it.
Toggl is all about putting you in control and giving you a start-stop timer that can be enabled whenever you start working on a client's project.
Then, you can generate a report after the workday/project is over and send it to the client for approval. Those Toggle reports are also commonly acceptable in the freelance space, so, in many cases, your clients won't require any other record of your work. That is, of course, except for the final deliverable that you've been hired to do.
💵 Pricing: Toggl is free for up to five users. There are some feature limitations, but nothing that would prevent you from using the tool effectively. The premium plans start from $9/user/mo.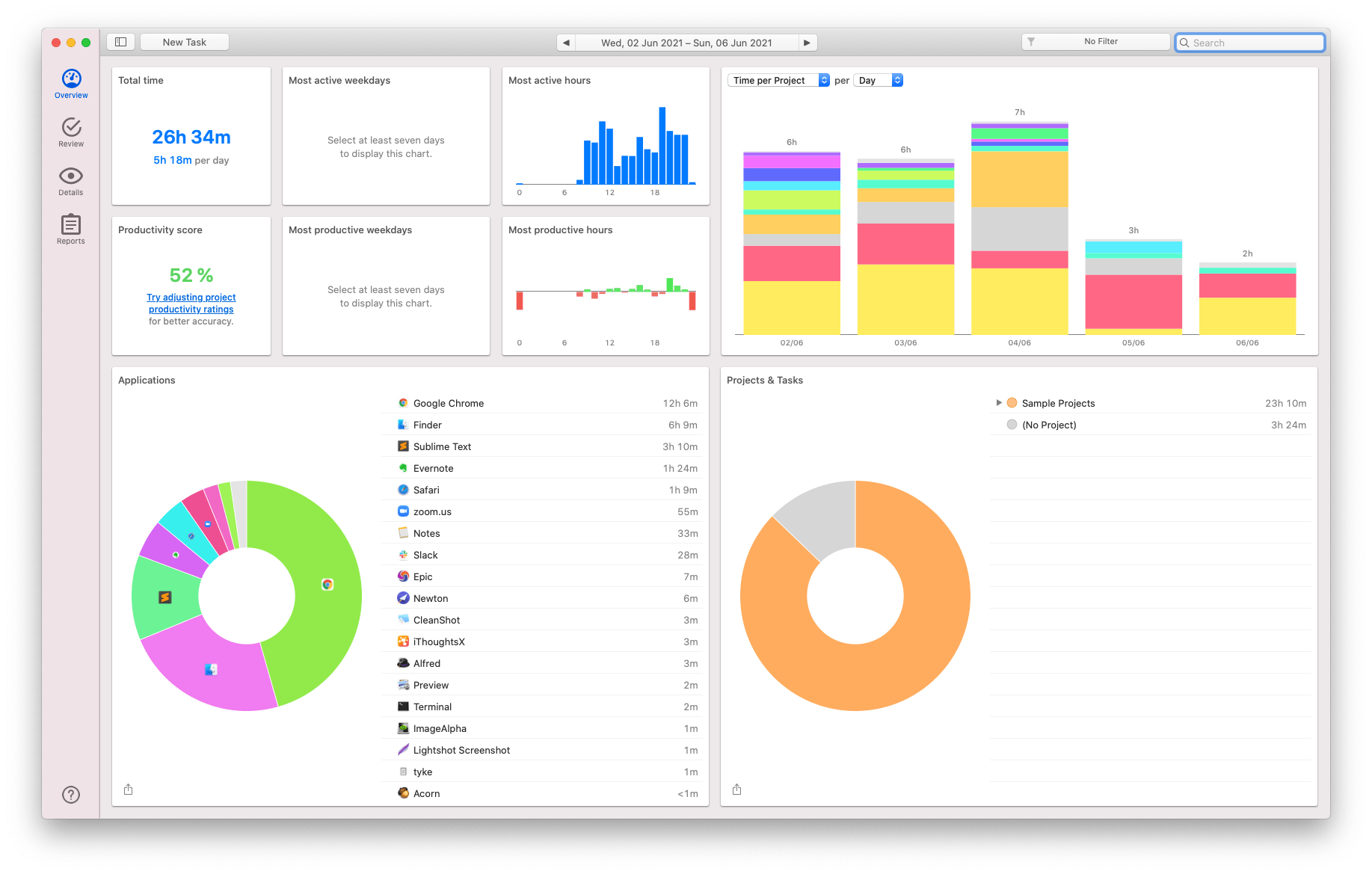 Timing is another great app in the realm of time tracking. Unlike Toggl, Timing is meant to be more of a back-end tool for managing your workday for your own information rather than to then share it with clients.
Granted, Timing has some features that can be indeed applied to tracking client work, but it's not the main thing that makes the app awesome.
What's unique about Timing is that it works on complete autopilot. It just sits there quietly in the background and tracks how you're using other apps on your Mac, records the time spent in each, and also tries to categorize them based on some common characteristics.
At the end of the day, you can review how much time you've spent in Chrome (on certain websites), in Photoshop, Slack, or in whatever other app you use frequently. With this data, you can find your bottlenecks and improve your workflow to be more efficient.
💵 Pricing: Starts from $6.50/user/mo. There's a 14-day free trial.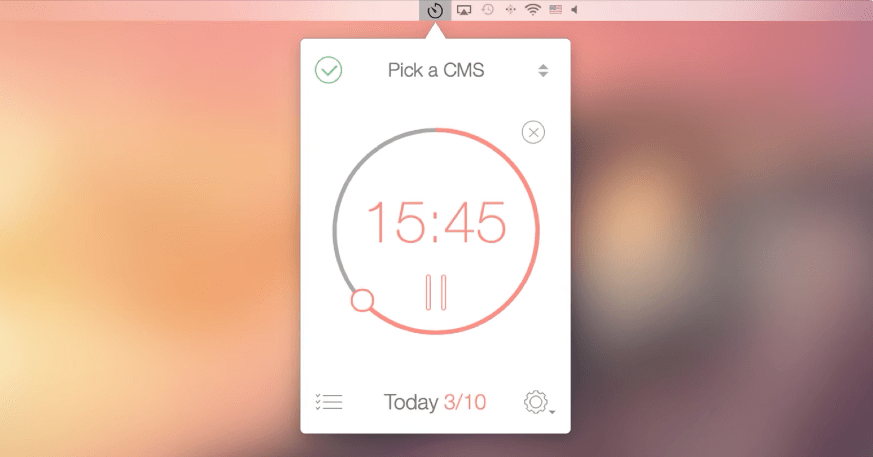 This is the third and final time-related Mac app on our list of the best apps for freelancers.
This one, as the name would suggest, is a focus timer. The idea is simple; you pick a desired length of work session and click "play." When the time is up, Be Focused will sound an alarm.
You can set the time to the classic Pomodoro of 25 minutes or you can set any other interval that works for you. You can also set the lengths of the breaks in between the work sessions. If you're into focus timers, this is one of the best ones available for Mac.
💵 Pricing: Free in the Mac App Store.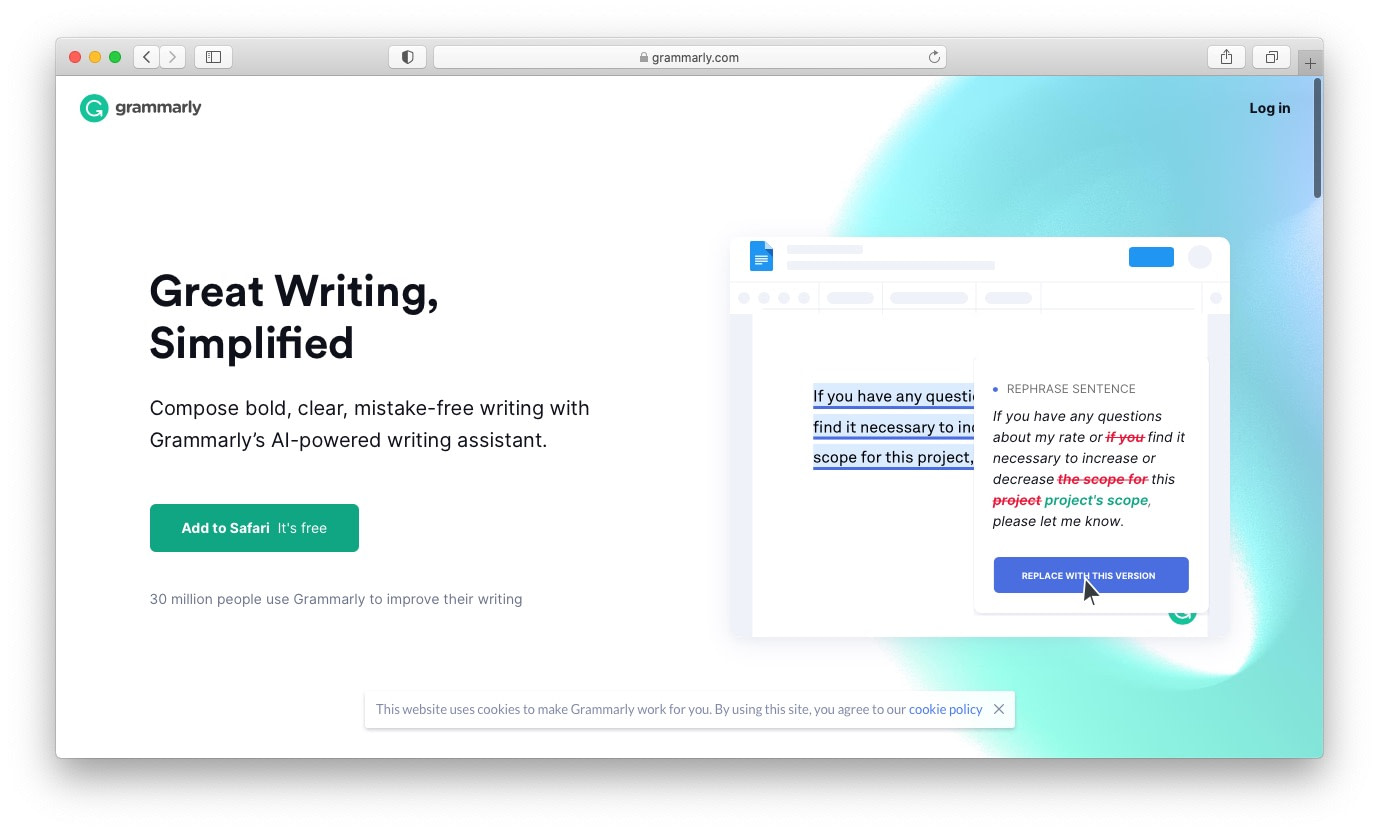 Grammarly is one of the few must-have apps for every freelancer. In simple terms, Grammarly helps you write better.
And you don't even have to be a writer to benefit from it. No matter our line of work, we write a ton of stuff every day! Think emails, DMs, proposals, even Slack messages. It's just better for your perceived professionalism (so to speak) for all of those to be grammatically correct, readable, and clearly understandable. Grammarly helps you with all that!
💵 Pricing: There's a free version with all the essential features, plus some pro plans if you want Grammarly to give your work an even closer look (most useful for freelance writers).
Imagine waking up one day and having lost all your client project data 🤯. Sounds more like a nightmare than something you'd want to wake up to.
Unfortunately, data loss happens. And it does happen a lot. Modern solid state drives (the ones that come with Macs nowadays) have been an improvement over the previous HDD technology, but they're still not perfect.
In fact, studies say that 8% of new hard drives break down within the first 18 months of you owning them[1]. This is bad.
Luckily, one of our best apps for freelancers is designed to mitigate the risk of disk failure and data loss. Enter Backblaze, the online cloud backup and storage service.
The great thing is that Backblaze will back up your entire disk. Then, if you ever need the data back, they will mail you a physical copy of your data.
Backblaze is one of those tools that help you sleep at night knowing that your data is saved not only on your local computer, but somewhere in the cloud as well.
💵 Pricing: Backblaze is just $6/mo.
👉 Here's our other post covering the best cloud backup services in more detail.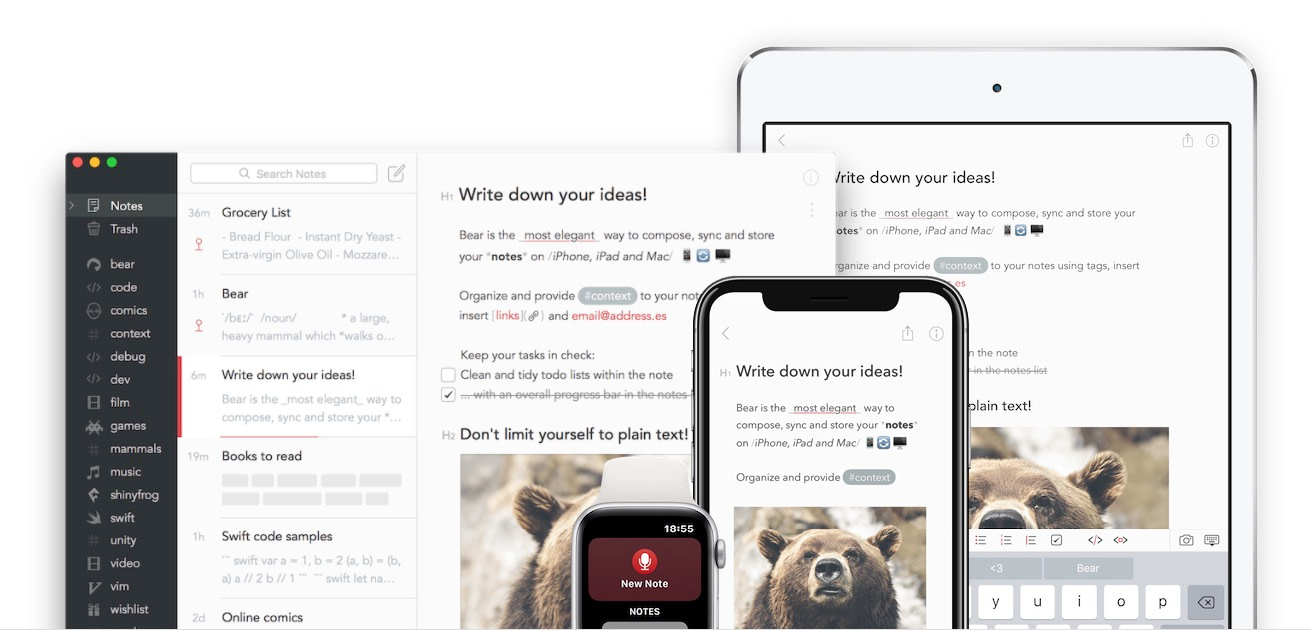 Bear has regularly ranked near the top of the best apps for freelancers because it long been one of the best-designed note-taking apps for Mac. And it's not just me saying this; they've been awarded multiple times for their sleek interface and overall functionality.
The cool thing about Bear is that you can use it for whatever purpose you need – be it simple notes, article writing, as well as sharing ideas with friends and family.
There are apps available not only for Mac, but your mobile devices as well.
Writing in Bear is also super quick and user-friendly since the app is fully integrated with the Markdown syntax.
💵 Pricing: There's a capable free version. If you want note templates, syncing between all your devices, and export features, you can upgrade to Bear Pro. The prices start at $1.49/mo.
⚡ Alternatively, if you need an app for doing more serious writing (books, articles), you can try out iA Writer and Ulysses.
Sublime Text is one of the best apps for freelancers when it comes to working with standard text files.
It has neat syntax coloring for different scenarios (like writing source code), themes (you can adjust what the main app window looks like), side-by-side and split-pane modes, auto completions, and a lot more.
This app is a must if you're programming, but even if you're not, it's still going to give you a much better experience working with text files than any of the native Mac apps.
💵 Pricing: You can download the app for free. However, there are some limitations on how you can use it. Here's the direct quote:
Sublime Text may be downloaded and evaluated for free, however a license must be purchased for continued use.
Every once in a while, we all have to take a screenshot of what's on our screen and then send it to a client. Granted, Mac takes pretty neat screenshots natively. But we can still do better!
This is where CleanShot X comes into play. This app not only lets you take screenshots of the exact area you want, but then also annotate them after the fact.
CleanShot X also has some pro-level features. For example, it will let you capture even the parts of the window only accessible by scrolling – it will patch everything together. Another cool thing is that you can hide all your desktop icons for an overall cleaner look.
💵 Pricing: From $8/mo. Also includes cloud storage for your screenshots.
⚡ If you'd prefer a free alternative, check out Lightshot. But keep in mind that you shouldn't use this app for capturing sensitive personal info.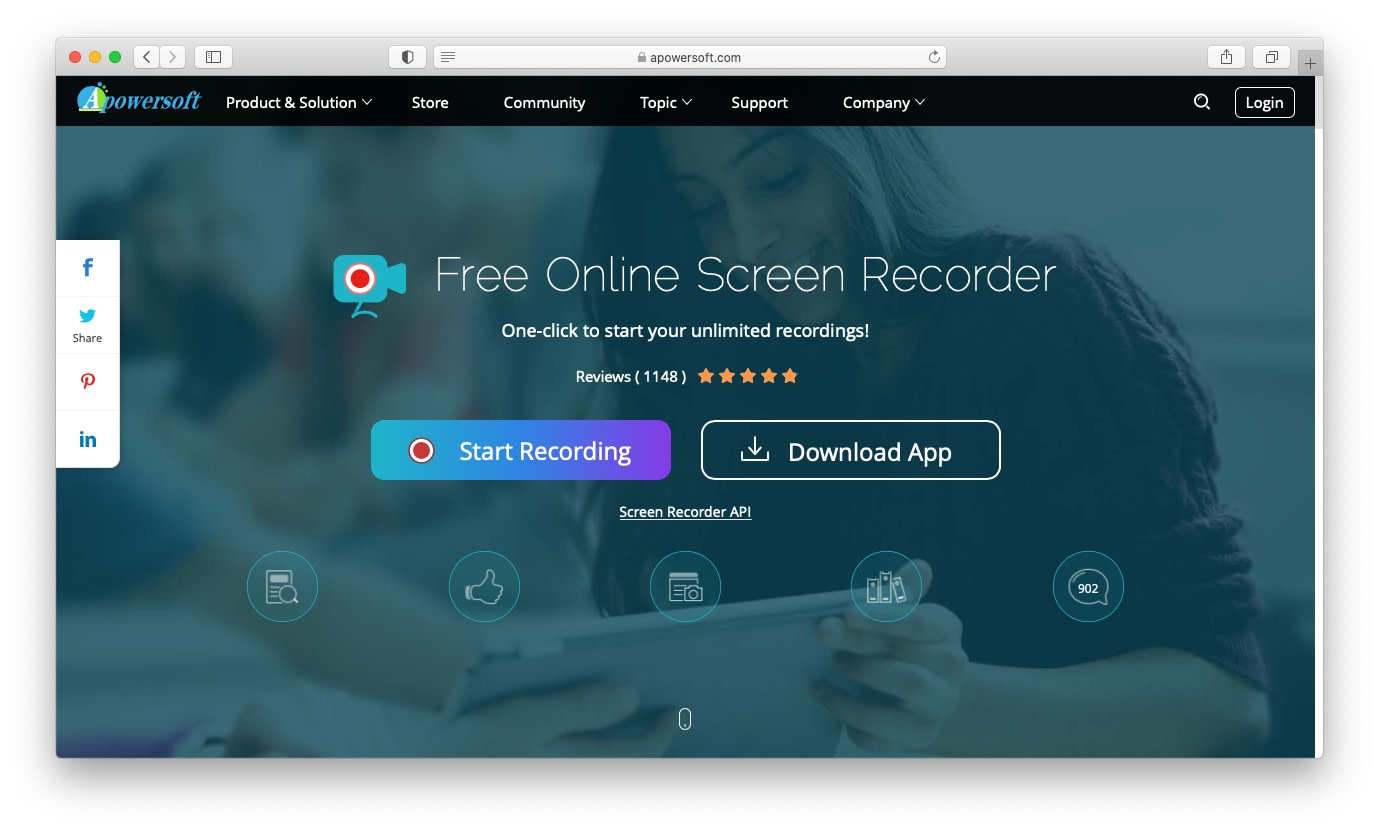 ApowerREC is a screen recording software. Although we don't need these things often, when we do, we really want the tool to work without any hiccups! ApowerREC is one such tool.
This app also allows you to process your recording afterwards, compress the video file, and upload it to the cloud.
💵 Pricing: There's a free version. It adds a watermark to your videos. For a fully unlocked version, the pricing starts at $39.95/year.
⚡ Alternatively, you can use Camtasia. By many it's regarded as the best screen recording app available, but it does come with a bigger price tag.
👉 Here's more on screen recording software and how to pick the best one for your needs.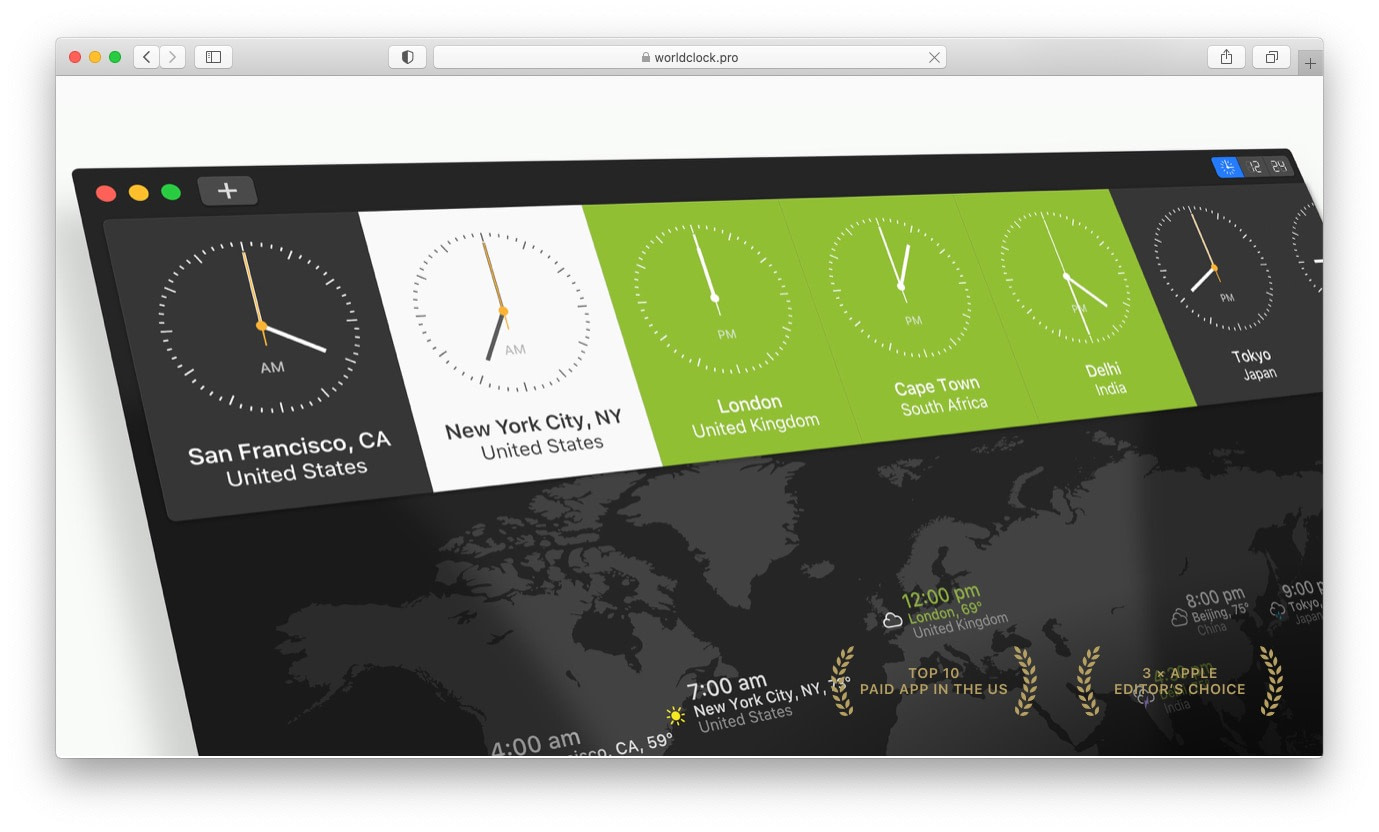 This can be an extremely useful app for freelancers working with clients around the world and in different time zones.
World Clock Pro will give you a nice widget with all your preconfigured time zones neatly presented in one place.
If you appreciate a more visual presentation, World Clock Pro can show you all your locations and their current times on a world map.
💵 Pricing: You can try it out for free, then it's $0.99/mo.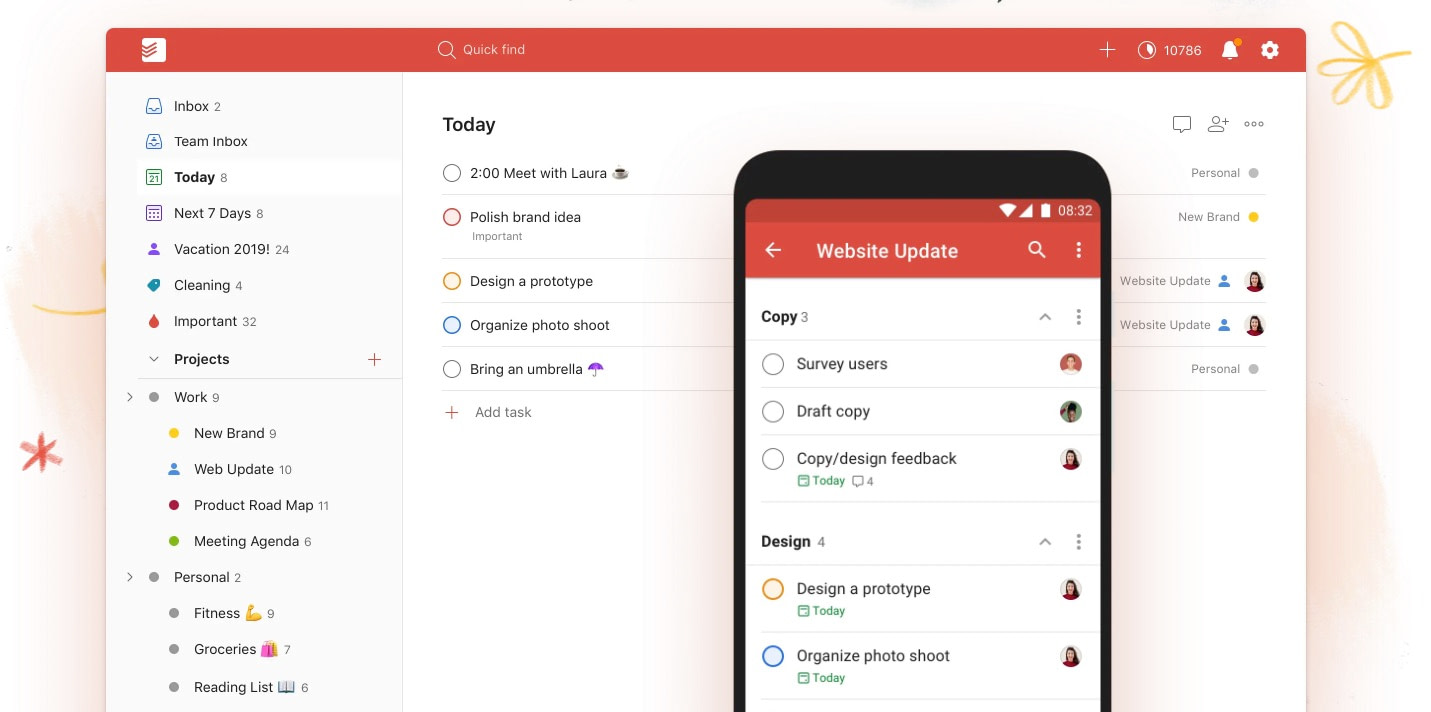 Everyone needs a to-do app…this is unquestionable, right? But the only problem is that there are probably hundreds of such apps, and all of them will tell you that they're the best. What is the exact perfect app for you will depend on your workflow, the types of tasks you're executing and whether you're working on your own or as part of a team.
In the end, Todoist is our favorite to-do app on the market, but we also encourage you to see what else is out there and experiment with at least a couple of them on your own.
💵 Pricing: Todoist is free for up to three active projects and five collaborators per project. The paid plans start from $3/mo.
👉 Here's our other resource that covers the best to-do apps in more detail.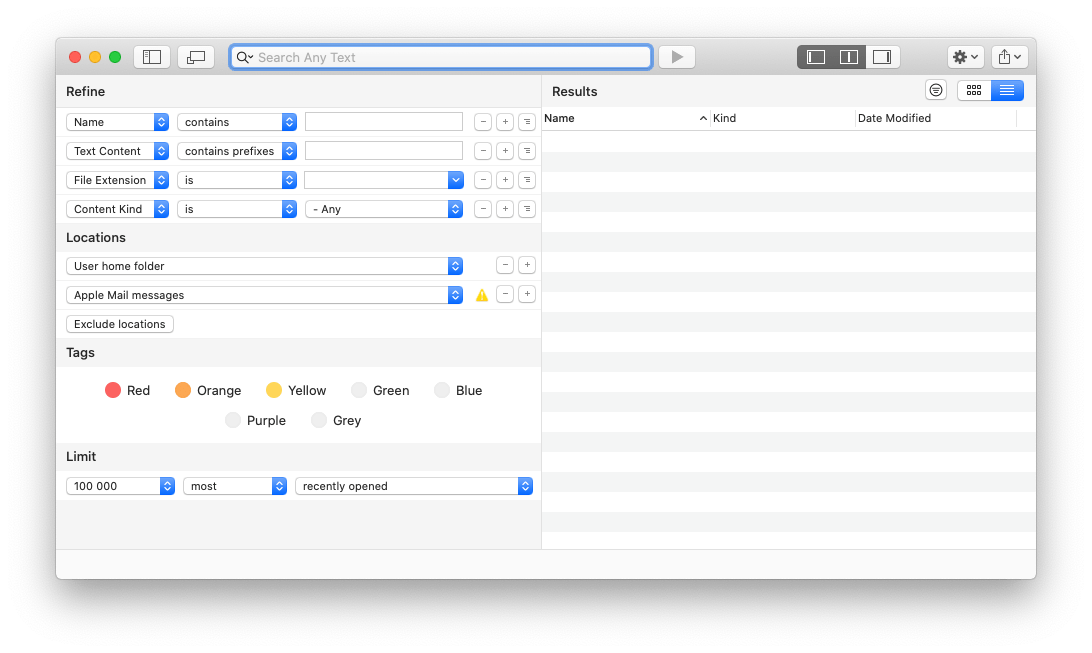 This one's pretty original. Not only in name but in functionality as well. What it says on the tin is that it's a file search app – as in, it will help you find files on your Mac.
Sounds pretty straightforward, but this tool is actually rather advanced! It's not just about entering a name of a stray file and hoping that it'll find it. You can add a range of combination criteria, set locations to look into first, and search in several places at once.
HoudahSpot is really useful if you're looking for a client file that you know you have somewhere(!) but you're absolutely clueless on how to get to it.
💵 Pricing: You can try out the app for free. The single user license is $34. You can use it on unlimited computers.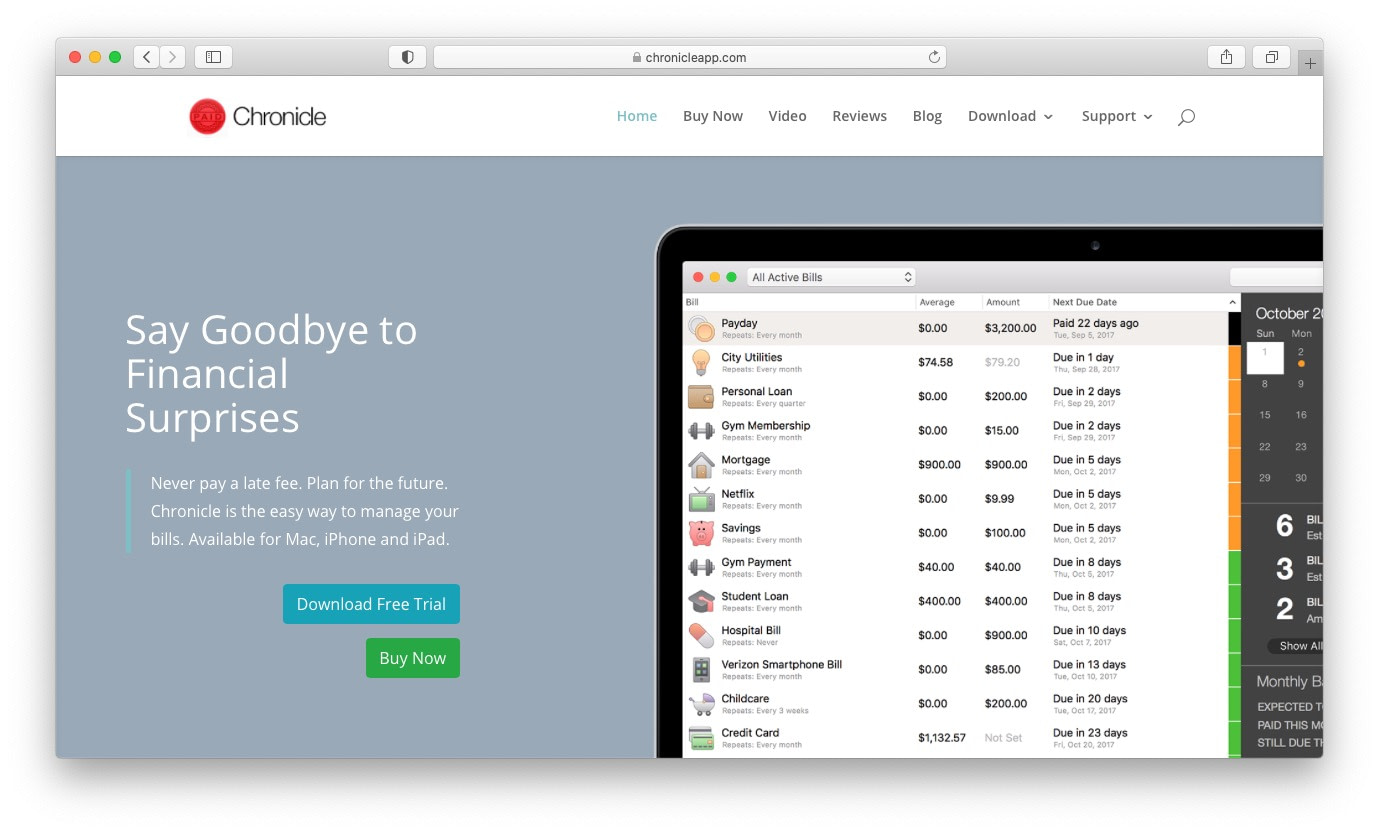 Chronicle is an interesting app that will help you stay on top of your expenses, bills, and even income streams.
It will track all your subscriptions and other expenses, let you know when things are due, and help you understand your spending better.
This can be especially useful if you're a freelancer and have a lot of software subscriptions and other recurring costs.
💵 Pricing: There's a free trial that allows you to manage up to five bills with no time limit. The price of the full unlocked app is $19.99.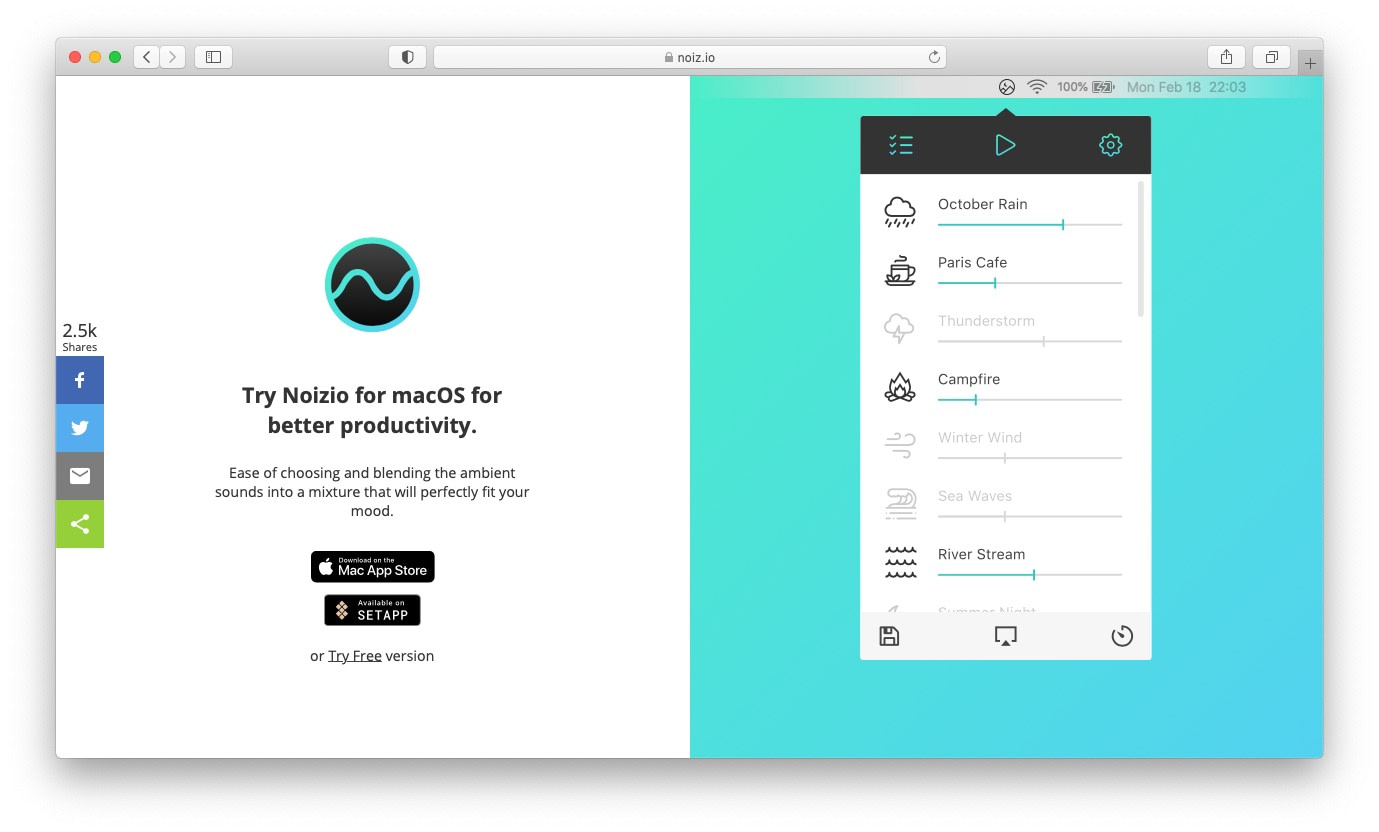 Noizio can be a huge work productivity app for the right type of person. If you like to have a sufficient level of ambient noise around you, but going to a cafe is not convenient, you can emulate your favorite sounds with Noizio.
The app lets you choose from a catalog of sounds and set their loudness in a really granular level. There's rain, cafe noise, thunderstorm, wind, waves, river, campfire, clock, deep space, and loads of other noises.
💵 Pricing: There's a free version available called Noizio Lite. The main Noizio app is $9.99 in the Mac App Store.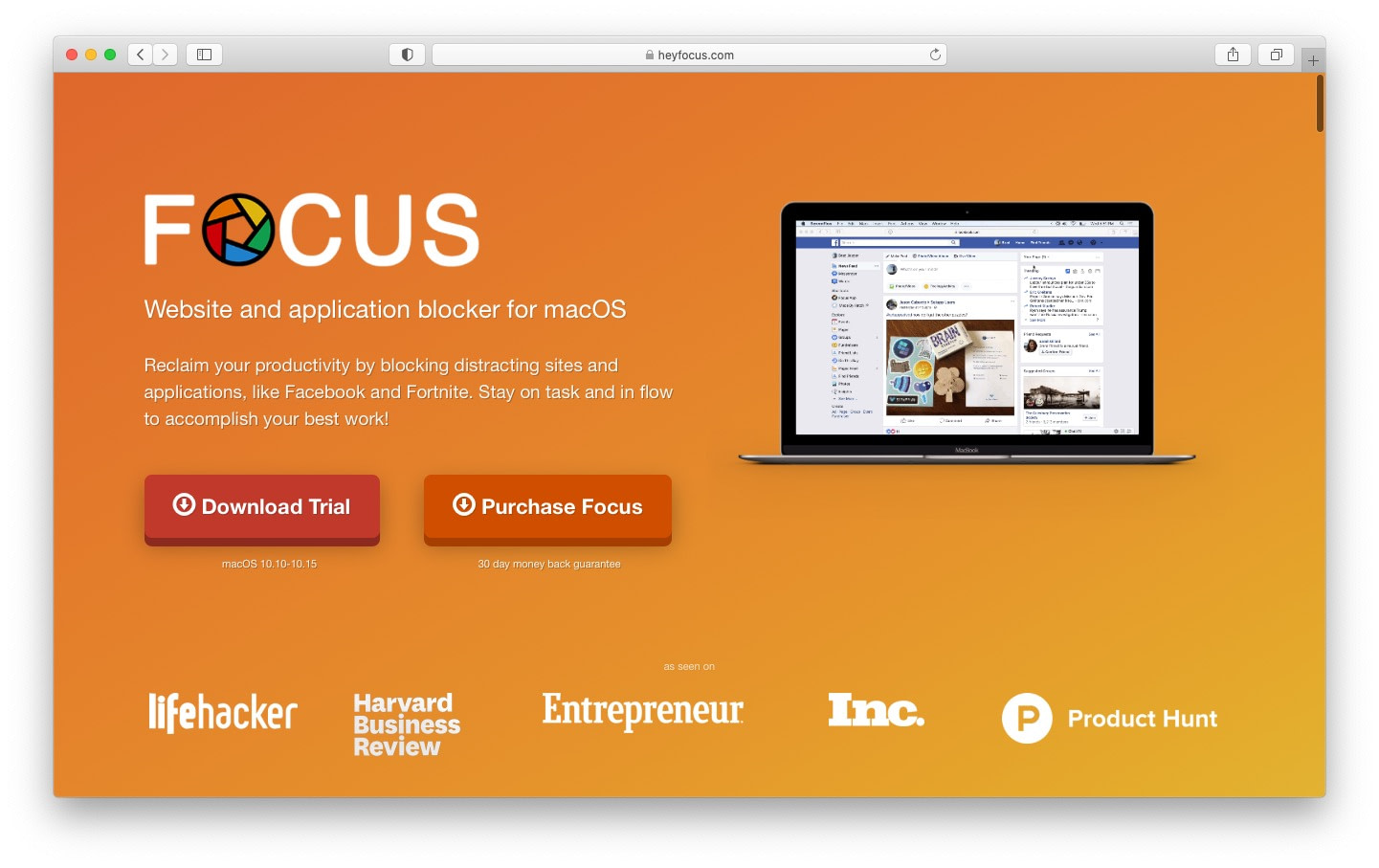 Let's end on a high note with an app that will block all your distractions and literally force you to only interact with the client project you should be working on right now!
What Focus does is simple; it blocks distracting websites and apps. It will suggest what you should perhaps block first (the usual offenders) but you can also set your own list.
You can also enable Focus for X minutes at a time or during certain hours throughout the day. There are also reports to track your productivity over time.
💵 Pricing: There's a free trial. After that, Focus starts from $19 as a one-time purchase. There are also higher tiers with even more advanced features.
Got all your best apps for freelancers?
So that's our full list of the best apps for freelancers! Most of these apps either provide a functional free plan or at least a free trial. This means that you can test them out before you'll need to spend a dime.
Is there anything else that should find its place on our list of the best apps for freelancers? Don't hesitate to share your favorite Mac apps in the comments below.
…
Don't forget to join our crash course on speeding up your WordPress site. With some simple fixes, you can reduce your loading time by even 50-80%:
Layout and presentation by Chris Fitzgerald and Karol K.
References