This
article
was originally published on
this site
Do you want to engage your customers with newsletters and email campaigns?
Newsletters keep your customers interested in your brand and encourage them to return to your site more often.
Fortunately, there are plenty of Shopify newsletter apps that help you make your email marketing campaigns successful.
In this post, we'll show you the best newsletter and email marketing apps for Shopify to grow subscribers and improve engagement.
Let's dive straight into the list!
Best Newsletter Apps for Shopify
We've selected the best Shopify apps that will help you run successful newsletter campaigns for your store. And we've broken the list down into different apps you'll need at each stage of your newsletter journey.
These stages include:
All the apps mentioned in this list are available in the Shopify app store or you can get them from the app's official website.
Building Your Newsletter Subscriber List
To start your newsletter marketing journey, you'll first need to build an email list. And if you already have one, you can use this app to grow your subscriber base.
1. OptinMonster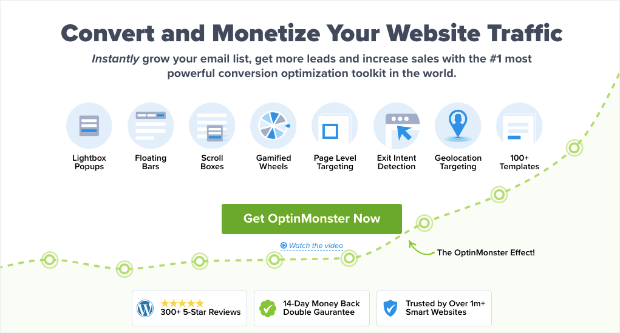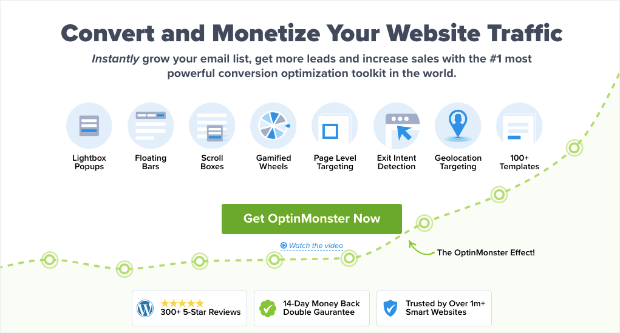 OptinMonster is the most powerful lead generation tool for Shopify.
This is the #1 tool you'll need to start your newsletter journey because it helps you collect leads and grow your subscriber list exponentially.
With OptinMonster, you can turn your simple email signup form into stunning popups, floating bars, scroll boxes, inline forms, and slide-ins. And when you give your visitors an irresistible offer that adds value, they'll be happy to share their email address and become a subscriber.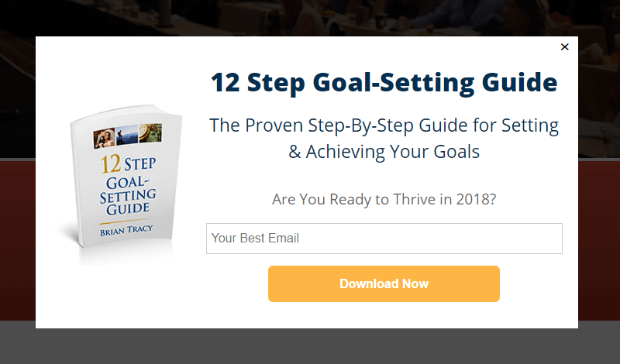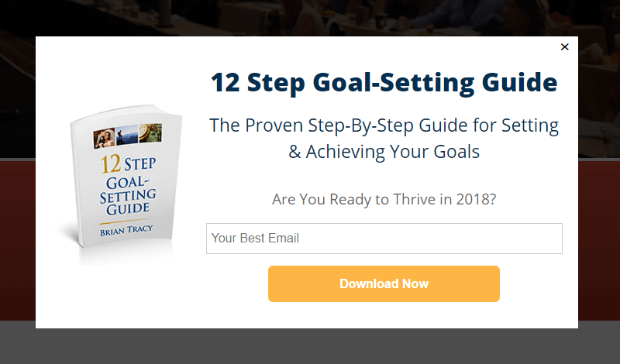 OptinMonster comes with 50+ beautiful templates and 9 campaign types so you can set up high-converting campaigns in minutes.
Plus, the drag and drop builder makes it easy to customize your campaigns to suit your site's theme and your brand.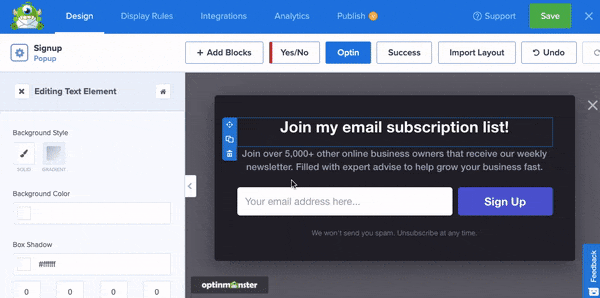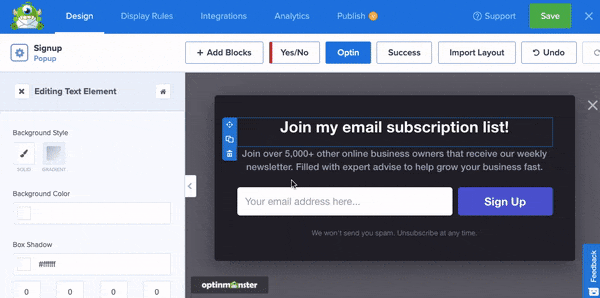 OptinMonster also has specially designed targeting features for Shopify. That way, you can trigger your campaign based on user activity or interests, such as 'cart contains', 'number of items in cart', and 'product targeting'.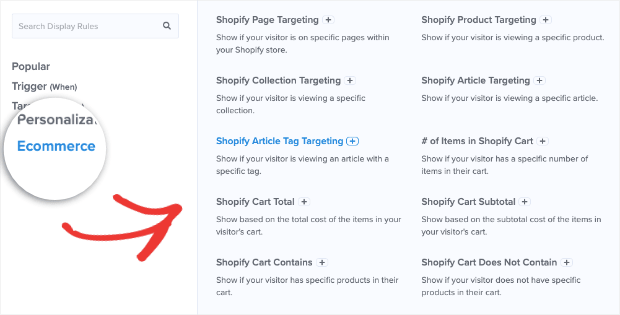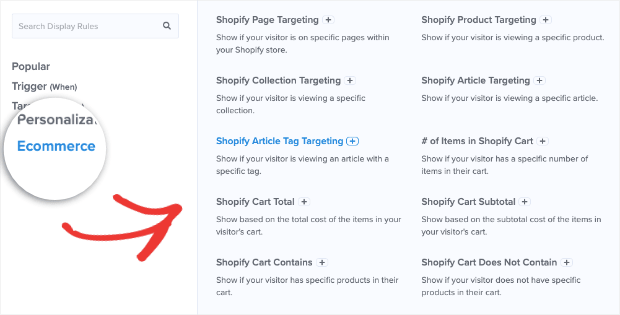 OptinMonster is the only tool you'll need to grow your subscriber list at incredible rates. Check out How AdamEnfroy.com Got 11K+ Email Subscribers with OptinMonster.
Standout Features
50+ ready to use templates to set up high-converting campaigns in minutes
9 campaigns types including popups, floating bars, inline forms, and gamified wheels
Drag and drop builder to customize campaigns
Powerful targeting features like Exit-Intent® and InactivitySensor™
A/B testing to see what engages your audience and performs better
Valuable analytics and reports that give you actionable insights
Integrates with all popular email marketing services like Constant Contact and Mailchimp
24/7 best in class support
Pricing
Starts at $9 per month with 14 days no-risk money-back guarantee.
Ready to get started? Click below to begin your risk-free OptinMonster account:
Get Started With OptinMonster Today!BONUS: Done-For-You Campaign Setup ($297 value) Our conversion experts will design 1 free campaign for you to get maximum results – absolutely FREE! Click here to get started →
Designing Your Newsletter
Once you have an email list, you can create weekly and monthly newsletters. Some apps let you create and customize your own designs while other apps pull products from your site and automatically generate newsletters to reduce your work.
There are 3 apps we particularly love when it comes to creating newsletters.
2. Newsletters by Promo.ai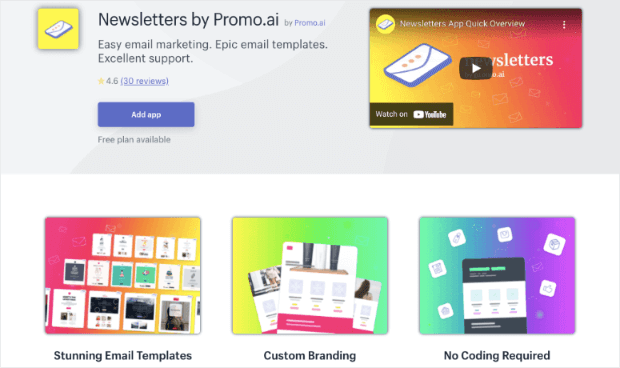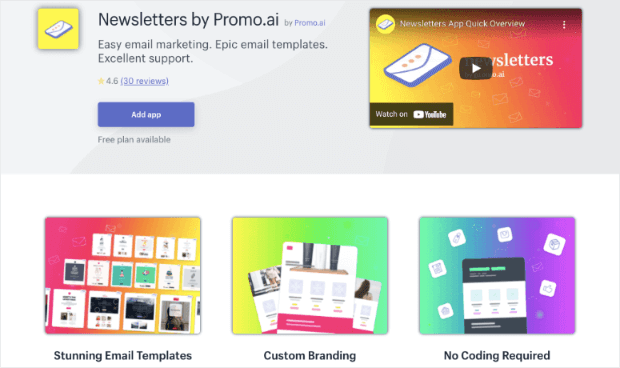 Newsletters by Promo.ai lets you create stunning newsletter designs for your weekly or monthly broadcasts.
It automatically imports the latest Shopify products, articles, and news that you've published on your site. That way, you can convert them into beautiful newsletters.
You can also choose from readymade templates for all major marketing events like flash sales, Christmas, and Black Friday.
Standout Features
Customize designs with an easy-to-use template editor
Download and export newsletters to email service providers
Add your own global branding and style to all newsletters
Manage unsubscribers and check for spam before sending your newsletter
Pricing
Free plan available. Paid plans start at just $5 per month.
Get started with Newsletters by Promo.ai today!
3. Catalog Maker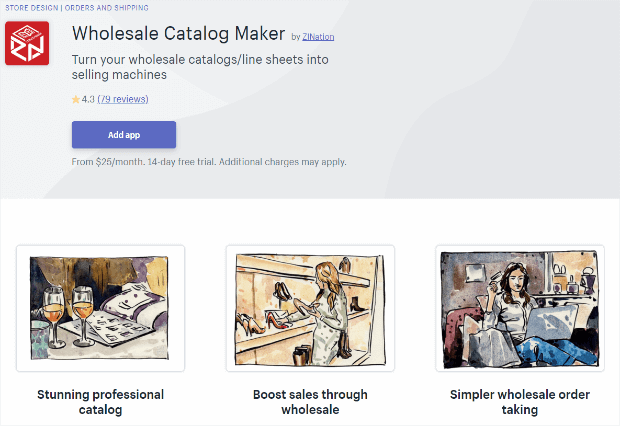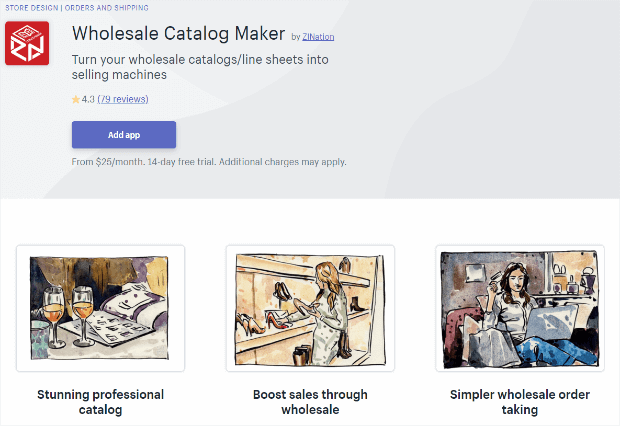 Catalog Maker lets you design professional-looking catalogs from your Shopify collections.
You can then share these catalogs in your newsletters so customers can shop from their inbox. This is one of the most attractive ways of getting customers to come back to your store.
The app has tons of templates and a drag and drop editor to create a catalog in minutes.
In addition to catalogs, you can create invoices, receipts, product recommendations, and even thank-you notes.
Standout Features
DIY catalog maker
Omnichannel distribution to share your catalog in emails, website, and social media
Download PDF catalog for printing
Pricing
Paid plans start at $25.
Get started with Catalog Maker today!
4. Relevon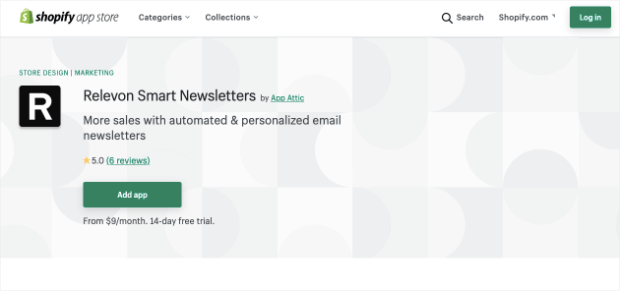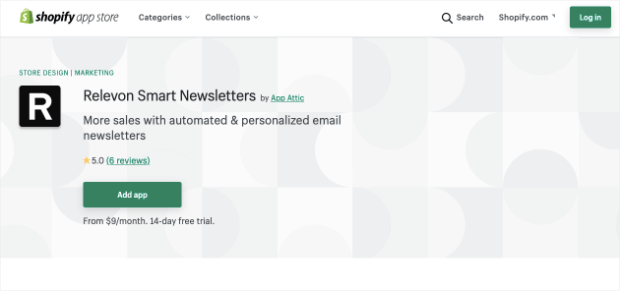 Relevon helps you automate your newsletter designs in minutes.
It uses your customer data to showcase the products your subscriber base is most likely to buy.
Relevon then automatically creates newsletters for you so you can spend less time designing them.
Standout Features
Set up recurring schedules for daily and monthly newsletters
Customize the email template
Use customer insights from behavior tracking
Built-in customer segmentation for repeat, VIP, and churn customers
Pricing
Paid plans start at $9 per month.
Get started with Relevon today!
Broadcasting Your Newsletter
After you've designed your newsletter, you'll need to rely on an email service provider to send broadcast emails. If you send bulk email addresses from a personal email, it will get flagged as spam and won't reach your subscribers.
You need to have the proper infrastructure set up that shows you're sending legit business emails. And these tools will help you do that.
5. Constant Contact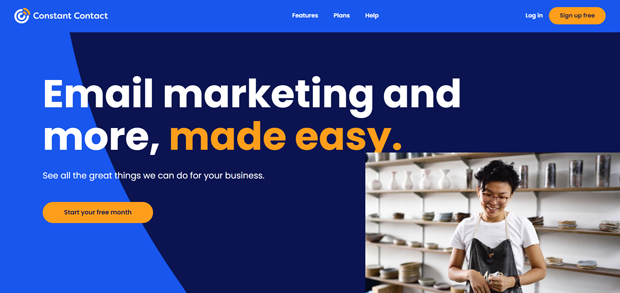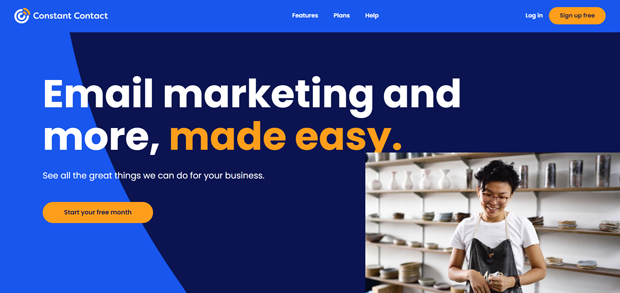 Constant Contact is the most popular email marketing service that offers direct integration with Shopify.
It's super simple to set up and you can start sending newsletters, surveys, events, and other email campaigns right away.
What we really love about Constant Contact is that it comes with A.I.-driven tools that make it easy to segment and target your subscriber base.
Added to that, it has tons of templates to create newsletters fast. And its drag and drop builder makes it easy to customize them.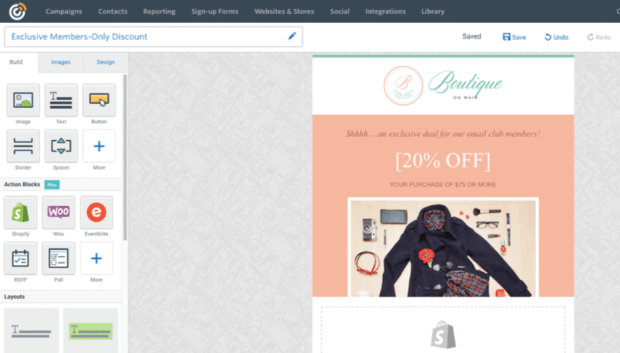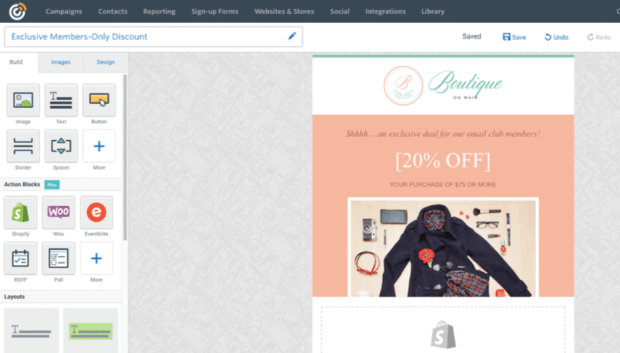 With Constant Contact, you can automate your email campaigns and deliver periodic newsletters to your subscribers.
Standout Features
Collect and manage email addresses from your website, mobile devices, and social media
eCommerce automation tools to process data and predict the best outcome
Customize and personalize newsletters and emails
Control email delivery time, frequency, and promotional offers
Segment based on purchase activity, website visits, activity, and gender
Gain valuable insights with analytics
Best email deliverability track record
Fantastic support team provides help over live chat, phone, email, and forums
Pricing
Constant Contact has two pricing plans:
Email: Starts at $20 per month based on the number of contacts
Email Plus: Starts at $45 per month based on the number of contacts
You can get started for free for a month to try it out before you invest in it.
Get started with Constant Contact today!
6. Sendinblue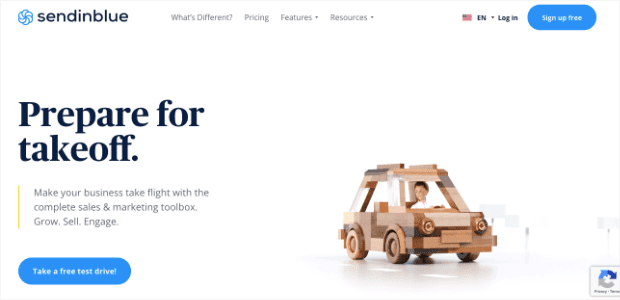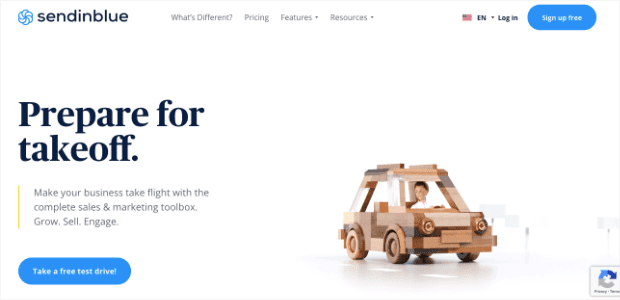 Sendinblue is the most intuitive platform for Shopify newsletters. It has a bunch of sales and marketing tools that you can use to grow your online store.
It comes with a user-friendly dashboard that makes it easy to create and send newsletters in Shopify.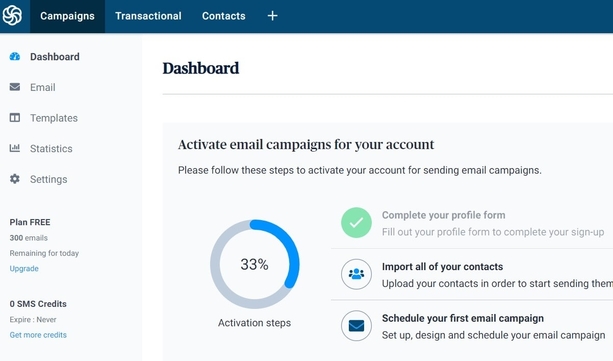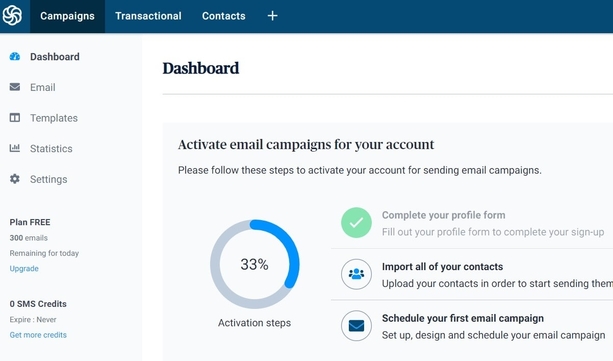 You can add custom signup forms on your site to grow your contact list.
It also lets you create dedicated landing pages for each of your campaigns. So when a subscriber clicks on a link in your newsletter, they'll be directed to your high-converting landing page.
Standout Features
Pricing
Sendinblue has a free plan that lets you add unlimited contacts and send up to 300 emails per day. The paid plans are as follows:
Lite: $25 per month for up to 10,000 emails per day
Premium: $65 per month for up to 20,000 emails per day
Enterprise: Contact Sendinblue for a custom volume of emails
Get started with Sendinblue today!
7. Drip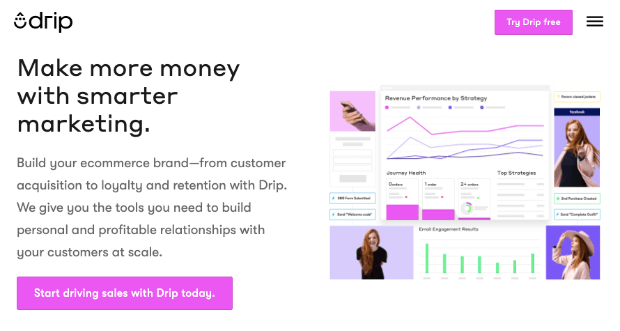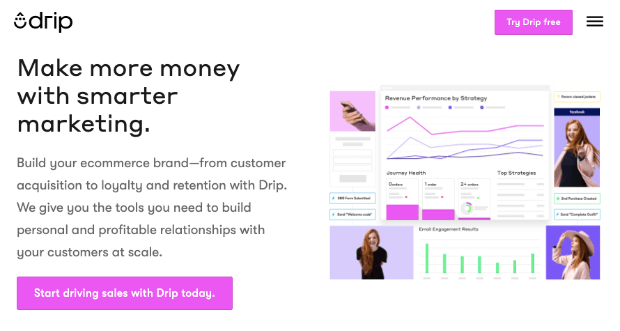 Drip is a popular marketing platform that's easy to connect to Shopify to send newsletters.
It gives you insights to see how people interact with your brand, so you can segment your audience and tailor your messages.
What stands out about Drip is that it recommends audience segments for better results. Plus, you can use A/B testing to determine what works better so you can get higher open and click rates for your emails.
Standout Features
Personalized newsletter campaigns
Capture and convert website traffic with customizable forms
Organized data to build better strategies
Automate based on subscriber behavior
Pre-built workflows to set up campaigns and automated sequences
Pricing
Drip has a free 14-day trial. Paid plans start at $19 per month.
8. Klaviyo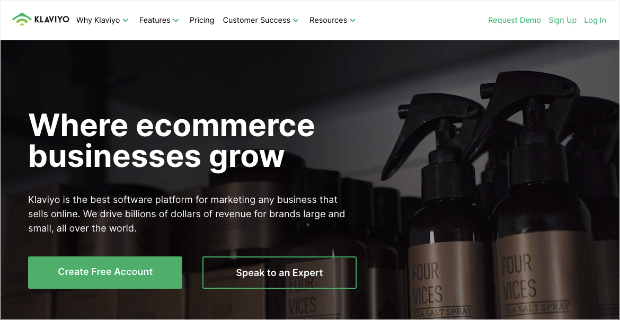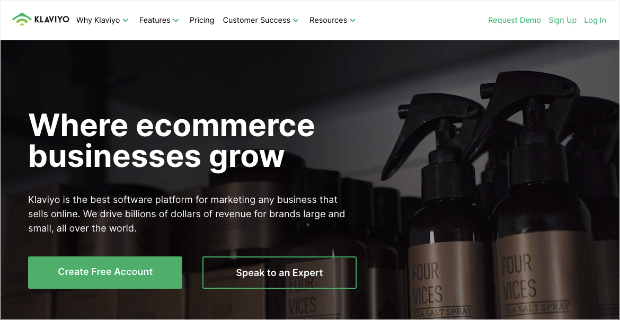 Klaviyo is a leading eCommerce platform and one of the best Shopify apps you can use for your newsletter campaigns.
It gives you valuable eCommerce data to tailor emails and newsletters that your customers will like. It has tons of targeting options for new customers and returning customers.
Added to that, Klaviyo integrates with other Shopify apps like OptinMonster. So you can create custom Klaviyo popups to get more subscribers for your newsletter.
Standout Features
Automate your welcome series, abandoned cart, and other email campaigns
Prebuilt forms to get more signups
Templates to craft your newsletters
Pricing
Klaviyo is free for up to 250 subscribers. Paid plans start at $20 per month.
Get started with Klaviyo today!
Elevating Your Newsletter Marketing
Once you start broadcasting newsletters to your subscribers, you can use other tools to expand your newsletter marketing strategy.
These tools can take your newsletters to a higher level and bring in better campaign results.
9. Littledata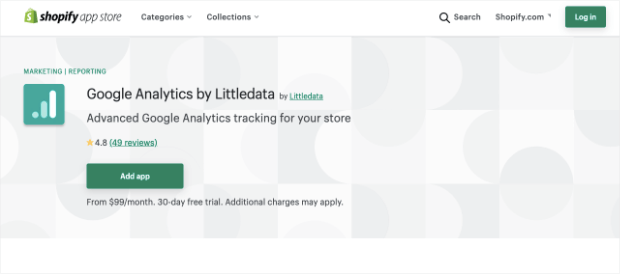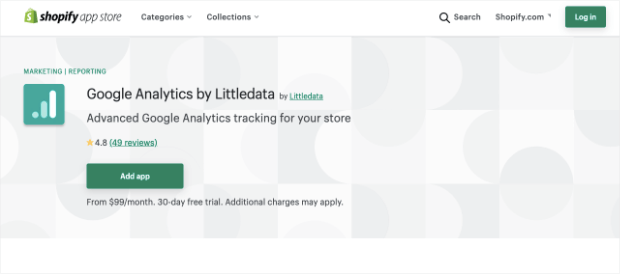 Littledata lets you track the success of your newsletter campaigns.
It gives you valuable and actionable insights into your store and your customers' preferences.
You can also see which products and articles are performing well and use this data to tailor your newsletters. That way, you can get maximum returns from your email campaigns.
Standout Features
Google Tag Manager (GTM) enabled to track campaigns
Works with Google Analytics and other connected reporting tools
Accurate data in easy to read reports
Pricing
Starts at $29 per month
Get started with Littledata today!
10. Shopify Back In Stock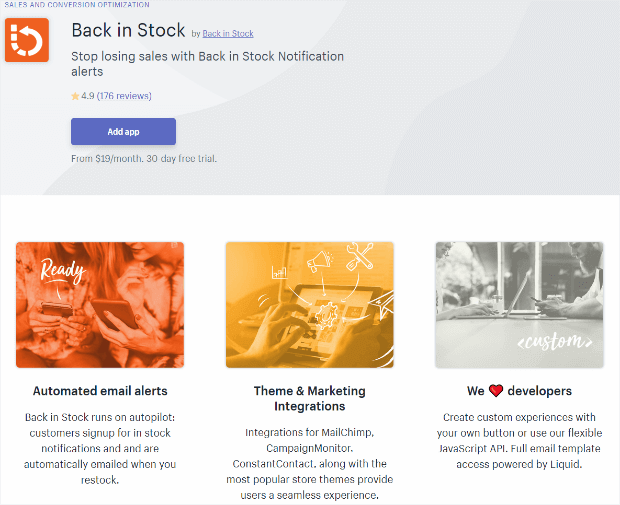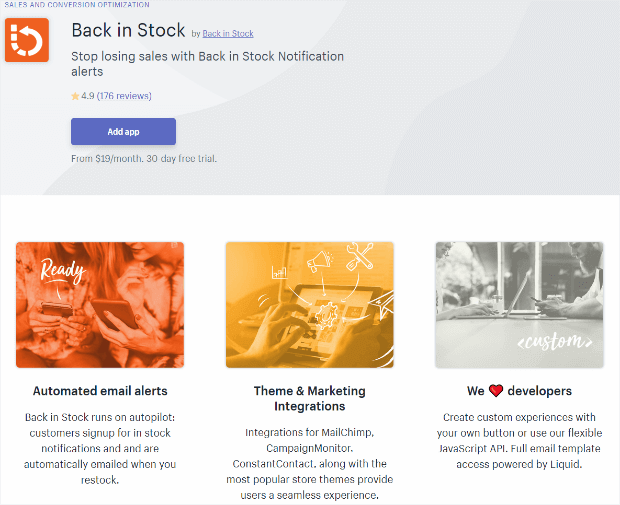 Back in Stock is another great app to add to your Shopify newsletter app kit.
It lets customers sign up for your email subscriptions so that they can be notified when a product is back in stock.
That means along with your regular newsletters, you can send automated email notifications to bring back customers who were interested in your 'out of stock' products.
This app is easy to install and use. It also helps you understand which products are most popular so you can tailor your newsletters to promote these products and engage with your audience better.
Standout Features
Simple installation in less than 30 seconds
'Email me when available' button will immediately appear on all relevant product pages
Notify customers via email and SMS
Measure demand for out of stock products
PricingThere's a free plan available. The pro version starts at $19 per month.
Get started with Back in Stock today!
11. Yotpo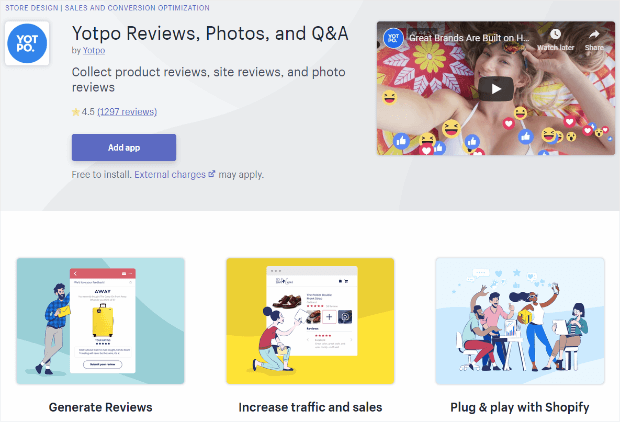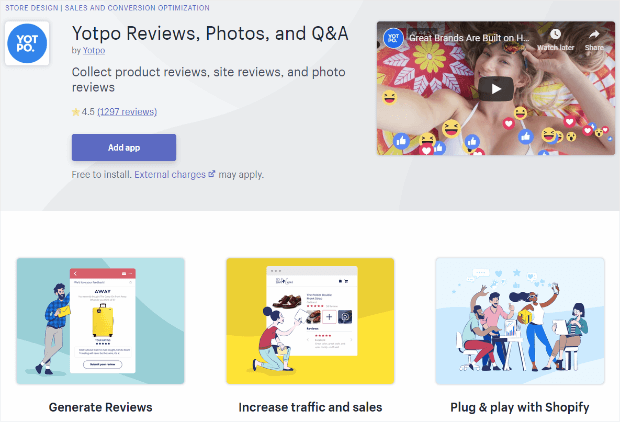 Yotpo is one of the best Shopify apps to increase sales and conversions on your site. It works by helping you get more product reviews, site reviews, and ratings.
You can use this app to send out automated email newsletters requesting reviews and photos from customers.
Yotpo then lets you showcase these reviews and photos on your website and social media platforms.
It's easy to set up and you can even import existing reviews from other platforms. You can moderate all reviews received, and can also use Yotpo to get social media traffic to your store.
Standout Features
Send out requests for customer reviews and ratings
Showcase these reviews and photos on your website and social media platforms
Add coupons to incentivize customers to leave a review
Integrate with your Shopify Store in a single click
Pricing
Yotpo is free, but if you want additional features such as user-generated photos, rich snippets, and more, pricing starts at $19 per month.
Get started with Yotpo today!
12. Referral Candy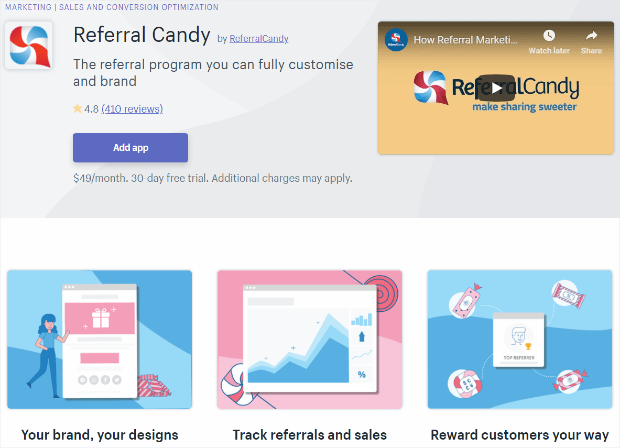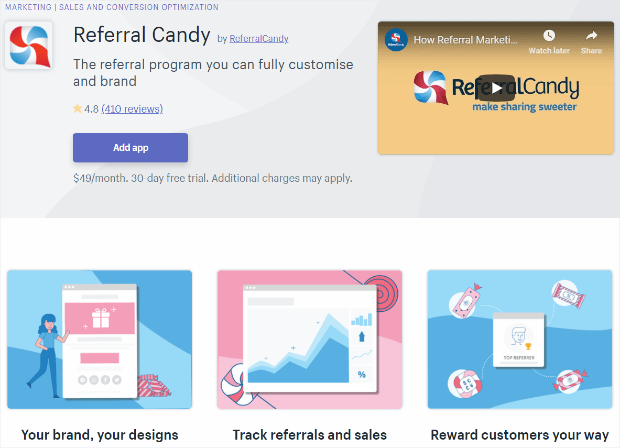 Referral Candy is one of the best Shopify apps to give your customers incentives to refer their friends.
It integrates with many popular email service providers so you can send out referral programs in your newsletter campaigns.
You can create separate campaigns to target those who have already signed up for your referral program and those who haven't. That way, you can send out targeted email content and calls to action to get the best results from your email marketing strategy.
The Referral Candy system also includes automatic reward delivery and referral reminders. You can set up the program, choose the referral reward, and it will run on auto-pilot paying those who successfully refer people.
You'll also get access to a dashboard where you can track and manage your referrals.
Standout Features
Incredibly fast setup
Easily embed referral links in emails and newsletters
Customize your emails using the Theme Editor
Track referrals and sales
Add rewards your customers will love
Pricing
This app starts at $49 per month.
Get started with Referral Candy today!
And there you have it! That's our list of best newsletter apps for Shopify. Now you should have everything you need to grow your subscriber list, automate emails, and send out targeted newsletters to your Shopify subscribers.
Ready to start your newsletter marketing?
Build Your Newsletter Subscriber List!BONUS: Done-For-You Campaign Setup ($297 value) Our conversion experts will design 1 free campaign for you to get maximum results – absolutely FREE! Click here to get started →
We hope this post helped you find the best newsletter app for Shopify. If you enjoyed this article, you may also like:
These articles will have everything you need to make your store successful in the long run.
Published by Melinda Bartley
Melinda is a writer who started penning stories for kids when she was just a kid herself. When she's not writing, you'll find her running her animal welfare org or spending time with her dogs and her big fam!