This
article
was originally published on
this site
Looking for the best Shopify personalized recommendation apps to increase your store's sales?
Shopify is one of the most popular eCommerce platforms in the world–and for good reason. It's a low-cost solution that anyone can use to start an online store in a matter of minutes.
Plus, there are tons of powerful apps that you can use to reach your marketing and sales goals to grow your business.
And, today, we'll be looking at a specific type of Shopify app to help you improve your bottom line and drive more profits.
That's because we'll share 11 of the best Shopify personalized recommendation apps that you can start using right now.
To help you navigate through the tools, we created this helpful table of contents:
Otherwise, let's dive straight into the list:
11 Shopify Personalized Recommendation Apps
1. OptinMonster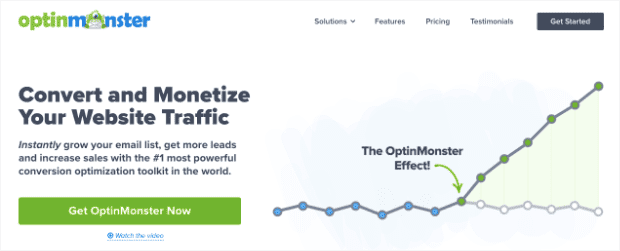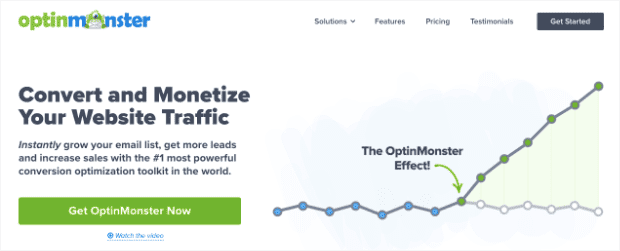 OptinMonster is the #1 lead generation app for Shopify. It lets you create powerful optin campaigns such as popups, floating bars, fullscreen welcome mats, and more.
With OptinMonster, anyone can create stunning and professional optin campaigns in a matter of minutes, regardless of their coding or technical experience.
This makes OptinMonster one of the best ways to create targeted offers to your Shopify customers.
Everything starts by selecting one of OptinMonster's 50+ pre-built templates for the type of campaign you want to create: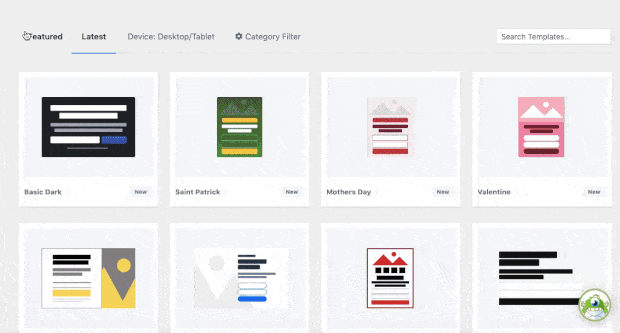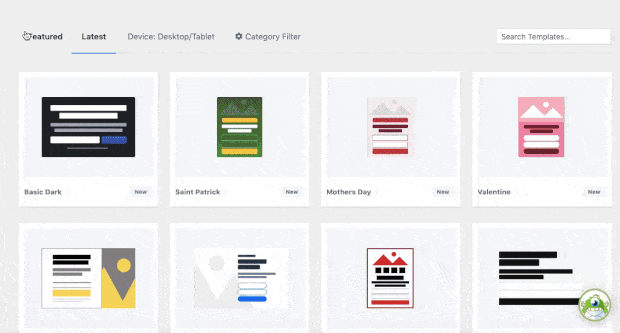 These templates save you time, money, and headaches in the campaign creation process. Plus, they're designed to look great across devices: mobile, tablets, and desktop.
From there, you can use the campaign editor to design the perfect offer for your audience. To modify the text, for example, you'd simply use the inline editor to make changes directly to your campaign: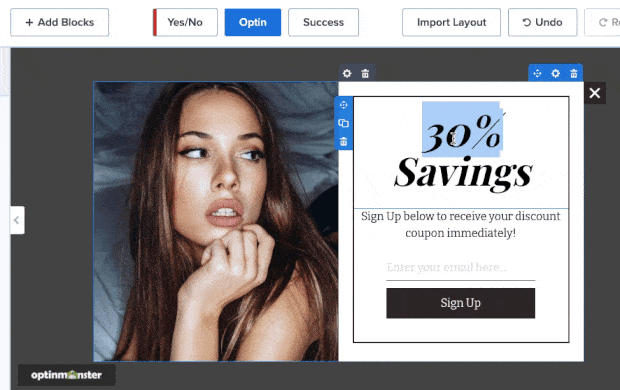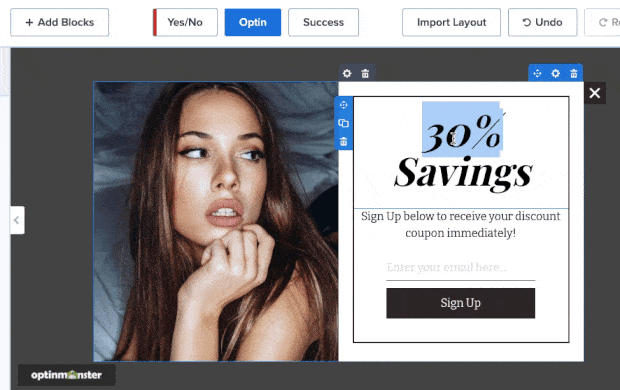 And if you want to add new features to your template, that's no problem. You can add elements to your campaign with a drag and a drop, such as:
Images
Videos
Text
Chatbot
And much more…
Just select the feature you want to add and drag it into place: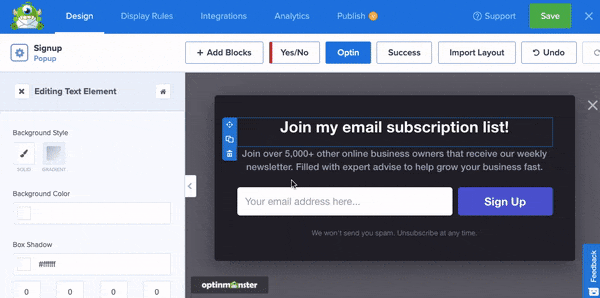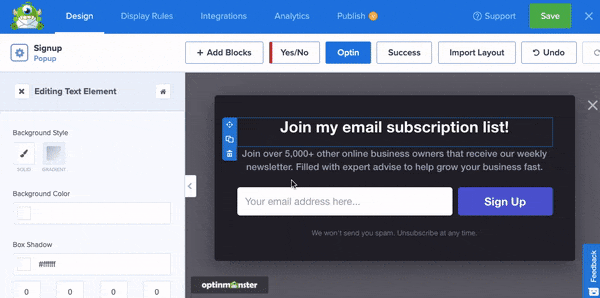 And since all of these features come as "blocks," everything stays organized to give you a professional campaign in a matter of minutes.
But now, you may be wondering, "how does this help personalize your Shopify store's recommendation?"
This is where OptinMonster's powerful targeting rules come into play. You can create offers for parts of your audience who meet specific criteria or behave a certain way on your site.
These are called "targeting rules," and they're incredibly effective. A few of OptinMonster's most powerful targeting rules include:
Exit Intent® Technology: Show campaigns to people who are actively leaving your site or abandoning their cart.
OnSite Retargeting®: Display fresh offers to returning users to avoid "popup fatigue."
Page-Level Targeting: Make campaigns appear on specific URLs to cross-sell, upsell, or make targeted product recommendations.
These are just a few of the ways OptinMonster can help you create personalized recommendations for your Shopify store's visitors. There are, of course, many others you can use.
OptinMonster even comes a range of targeting rules made specifically for Shopify: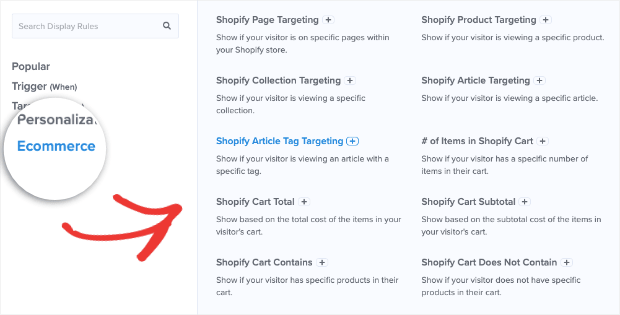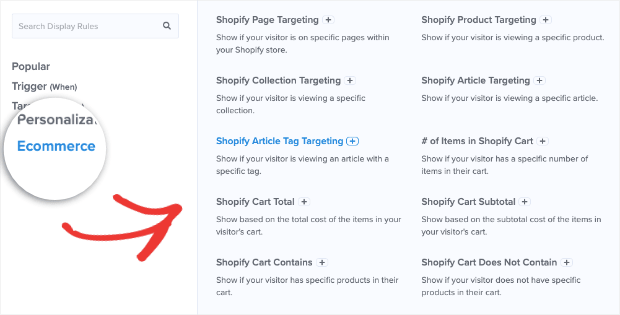 These out-of-the-box rules help you completely personalize the customer journey for your online shop and boost sales fast.
These are the same tools that companies like Urban Southern used to increase their sales by 400%.
You can achieve the same success with your Shopify store by clicking below and starting your 100% risk-free OptinMonster account today:
Create Optin Campaigns for Shopify Today!BONUS: Done-For-You Campaign Setup ($297 value)Our conversion experts will design 1 free campaign for you to get maximum results – absolutely FREE! Click here to get started →
2. TrustPulse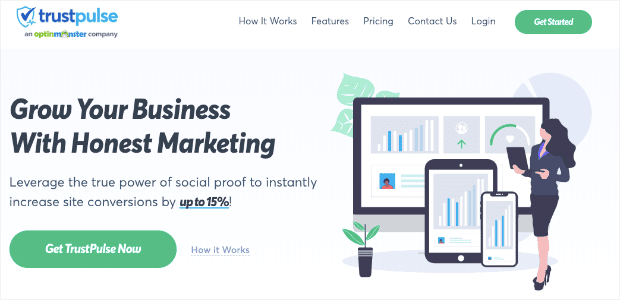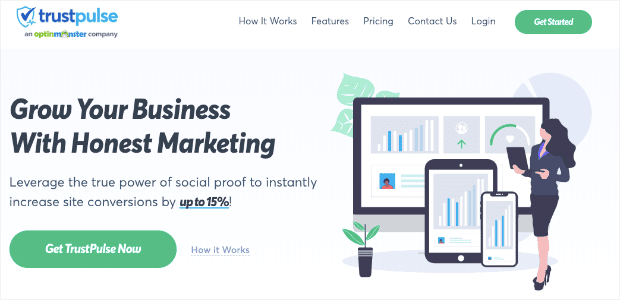 TrustPulse is hands down the best social proof software on the market. And that makes it one of the best Shopify personalization apps you can use.
While you may not find this app natively through Shopify's app store, TrustPulse can be used with any website builder or eCommerce platform.
This software allows you to leverage the power of social proof by creating powerful notifications. These small messages help build trust in your brand and, as a result, drive more sales for your store.
Here's an example of a live sales notification (you've likely seen them before):




This campaign would appear when one of your customers makes a purchase. Then your other Shopify store visitors would see the notification and be motivated to do the same.
It's effective because it relies on the consumer behavior known as FOMO ("fear of missing out"). When people see others getting benefits from your online store, they'll want those same benefits and be more likely to make a purchase.
But TrustPulse doesn't limit you to live sales notifications. These messages can help you increase your:
Newsletter signups
Webinar registrations
Survey respondents
Positive reviews and testimonials
Or any other marketing and sales goal you might have.
And if you're just getting started, you can rely on 2 types of campaigns to create social proof, even before you've made an actual sale:
Action Messages: Show a static message to your site to promote new deals or special offers
Visitor Analytics: Display the number of people who have looked at a specific page to boost the page's credibility (and popularity)
These campaign types allow you to use authentic social proof when you're starting out, so you don't ever have to use fake social proof to boost sales.
Finally, you can target these notifications to specific areas of your Shopify store to personalize the user experience (UX).
This lets you add custom recommendations to pages of your site, so more of your visitors take the actions you want them to.
Features
Easy to set up
Codeless campaign design
Flexible design options
Real-time event tracking
Smart targeting
Actionable analytics
It's no wonder that TrustPulse users have seen an instant boost in sales by up to 15%.
Pricing: Paid plans start at just $5/month, making this one of the most powerful and affordable social proof software on the market.
Get started with TrustPulse today!
3. PushEngage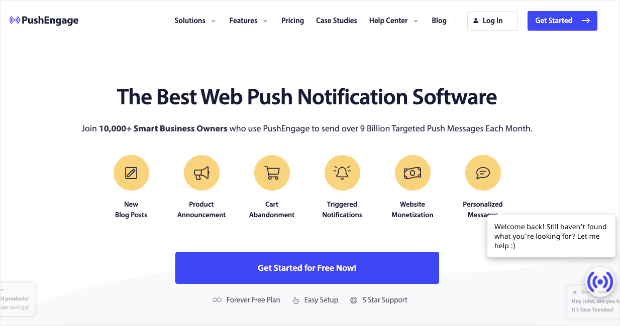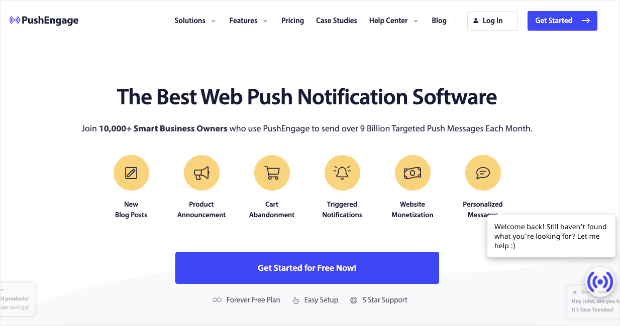 PushEngage is the world's best web push notification software. It gives you direct contact with your Shopify visitors long after they've left your site.
Push notifications can be an incredibly effective tool for making personalized recommendations.
That's because you can create "audience segments" for more targeted messaging. Audience segments refer to breaking up your entire audience into smaller groups.
This lets you send messages based on a group's purchase history, topical interests, pages visited, and much more.
Imagine, for example, that you sell women's clothing from your Shopify store.
And you noticed that people who purchased a specific type of jeans also tend to buy one of your designer handbags.
You could create an audience of customers who buy that pair of jeans and, later, send a message directly to their browser to recommend that handbag you know other users love.
This level of personalization in your marketing efforts leads to huge sales for your store. It's also why PushEngage can be one of your Shopify store's best product recommendation tools.
Features
Easy installation
A/B testing
Drip series for automated messaging
Audience segmentation
Direct and immediate communication with customers
Pricing: There is a free version to get you started at zero risk. Paid plans begin at only $25/month.
Get started with PushEngage today!
4. Frequently Bought Together (by Code Black Belt)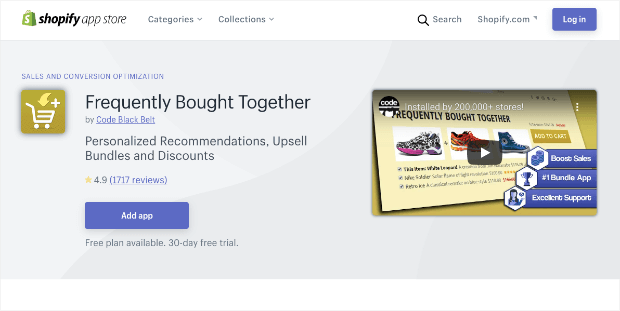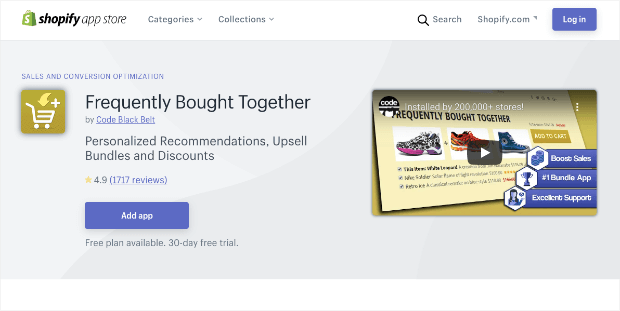 The Frequently Bought Together Shopify app is a great way to create personalized recommendations, upsell products, and give your customers new discounts.
This is a well-reviewed and reliable app that strives to get you more sales fast by increasing your overall order value.
As customers look through your store's products, they'll see related products that can be added to their cart in a single click.
This app relies on powerful AI technology that has been trained by over 1 billion orders. That means you're getting the most advanced recommendations possible from a tried and tested Shopify app.
In the end, this simple app delivers results exactly as promised: it gets your store higher conversion rates and more sales.
Features
Smart recommendation types
Bundle discounts
Customizable UI
Ability to display product ratings
Easy installation
24/7 support
And more…
Pricing: This app comes with a 30-day free trial and has a free plan available.
Get started with Code Black Belt's Frequently Bought Together app!
5. LoopClub's Personalized Recommendations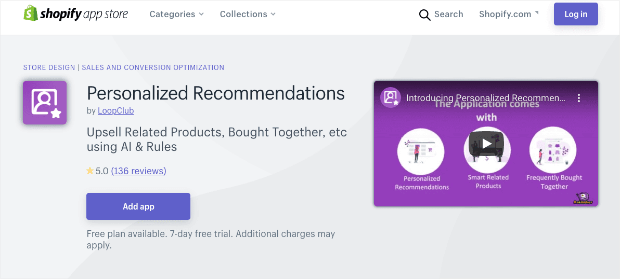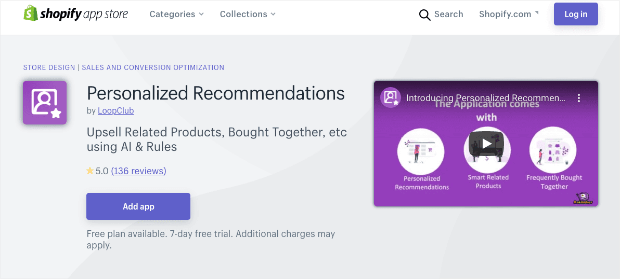 LoopClub's Personalized Recommendation app is a great way to leverage AI technology to personalize your customer journey.
You can do so by making highly targeted upsells, bought-together bundles, "bestseller" recommendations, and much more.
This app is designed with one goal in mind: making your Shopify store more profitable.
Plus, everything is super easy to set up and install.
You can use page widgets to place your personalized recommendations to have total control over where your offers appear and who sees them.
Then you'll get detailed analytics reports so you can track sales and optimize your funnel. This ensures you're never leaving any money on the table.
Finally, LoopClub's Personalized Recommendation app integrates with other Shopify apps and marketing tools to create a more powerful sales strategy.
Features
No manual set up
Machine learning product recommendations
Recommendation rules for product tags & type
Custom CSS & templates
Easy to customize with user-friendly widgets
Price: There is a free plan that you can use to get started. The paid version is $9.99/month.
Try out LoopClub's Personalized Recommendations today!
6. Wiser's Personalized Recommendations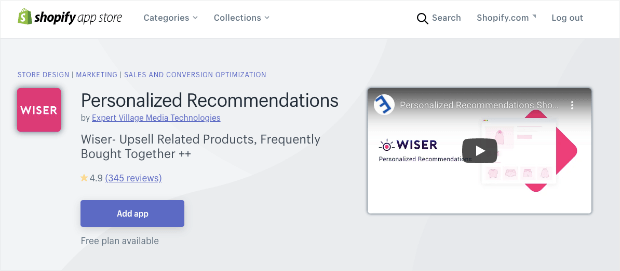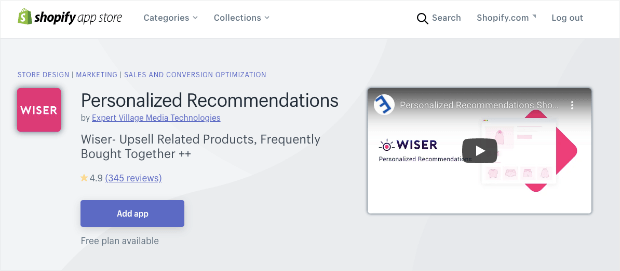 Wiser's Personalized Recommendations app is similar to the app we just saw. It specializes in helping you boost your overall cart value through upsells, bundled offers, frequently bought-together product recommendations, and more.
Like the other Shopify personalized recommendation apps we've seen, Wiser also uses AI technology to make the most targeted recommendations possible.
One thing that separates this app from the others is that they recently came out with "Wiser Pops."
These allow you to take the same kinds of product recommendation widgets (frequently bought together, similar products, top-selling items, new arrivals, and so on) and create popup campaigns for your store.
This feature also comes with A/B testing, so you can always rest assured that you're getting the highest conversion rates possible.
Features
Hand-picked or manual recommendations available
Machine learning product recommendations
Email-based recommendations
In-depth analytics reports
Easy to install
Pricing: There is a free plan available. Paid plans start at $19.99/month.
Try out Wiser's Personalized Recommendations today!
7. Frankie's Personalized Recommendations


Frankie's Personalized Recommendation app (by Hiplee) is another tool you can use to make product recommendations across your Shopify store.
It's a lightweight app with well-designed code to maintain your site's performance. Plus, the product recommendations perfectly match your store, which boosts UX.
To date, Frankie has created over 250 million product recommendations. This is important as it's powered by AI technology which improves its effectiveness over time.
You can now leverage that power for your own Shopify store and get full support along the way.
It also makes recommendations in real-time. That means whenever a user clicks somewhere on your store, Frankie updates its recommendations specifically for that person.
In the end, this level of laser-focused personalization gets you higher conversions and more sales.
Features
Real-time recommendations
Powered by AI technology
A/B testing for better results
Easy setup
Custom engagement
15-day money-back guarantee
Pricing: This app starts at $69/month, making it one of the pricier options on the list.
Try Frankie's Personalized Recommendations today!
8. Personalization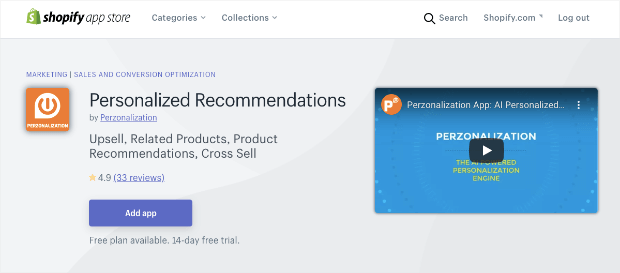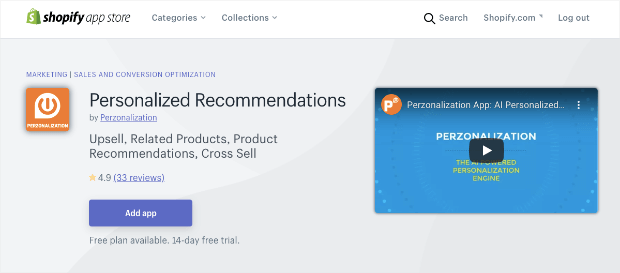 Personalized Recommendations by Personalization is a powerful but cost-effective tool you can use to make product recommendations in your Shopify store.
Like the other apps on this list, Personalization uses the most up-to-date AI technology to make recommendations to your store's visitors.
Everything can be set up with a single click, and the app comes with a 14-day free trial. That means you can try it out at zero risk.
With this app, you can make recommendations such as:
Finally, you can now add your recommendations to email newsletters to increase revenue from your email marketing strategy.
Features
Pricing: There is a free plan available. Paid plans begin at $9.99/month.
Try Personalization today!
9. Product Recommendation Quiz (by RevenueHunt)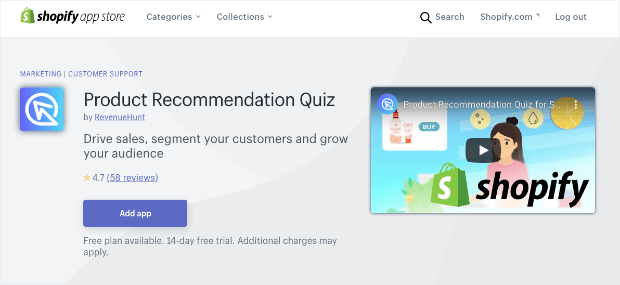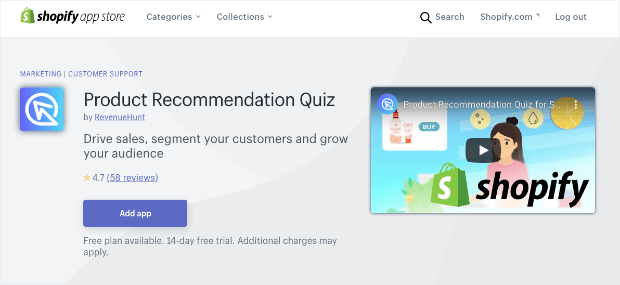 Product Recommendation Quiz is a fun addition to any Shopify store that will definitely boost sales.
This app creates a personalized experience for all of your Shopify customers through interactive quizzes.
Users can take these quizzes to find the products that suit their unique needs rather than scrolling endlessly through your product pages.
Plus, as you gather more information about your customer, you can create highly targeted future recommendations through email-based offers or push notifications.
And since users enter their email address to take these quizzes, your new leads will be sent directly to the customer relationship management (CMS) software you use.
This means that the Product Recommendation Quiz app will accomplish 3 goals:
That makes this app one of your best bets for growing your Shopify store.
Pricing: There is a free plan available. Paid plans begin at $39/month (though there is a 14-day free trial you can use to get started).
Try out the Product Recommendation Quiz app today!
10. Personalizer by LimeSpot


Personalizer by Limespot is another product recommendation app for Shopify that you can use to increase sales from your store.
It uses AI technology to create more targeted recommendations that are updated in real-time.
You also have total control over how your product recommendations look with Personalizer's visual editor. This lets you easily design your recommendations even if you don't have any technical or design experience.
Plus, this app comes with A/B testing so you can continuously improve your sales funnel for optimal results.
Finally, you'll get detailed analytics about your store's performance. You can use that data to create a strong marketing and sales strategy for the fastest growth possible.
Features
AI technology updating recommendations in real-time
Visual editor
A/B tests
Audience segmentation
Detailed analytics
Email-based recommendations
Pricing: Plans start at $10/month and comes with a 14-day free trial.
Try out Personalizer by LimeSpot today!
11. Cart Convert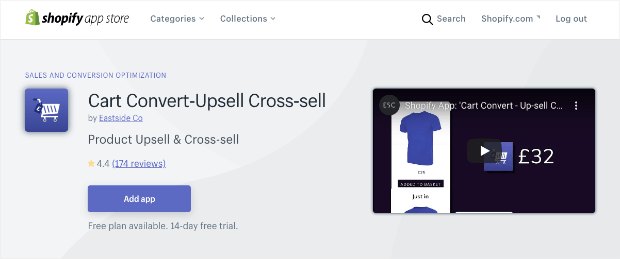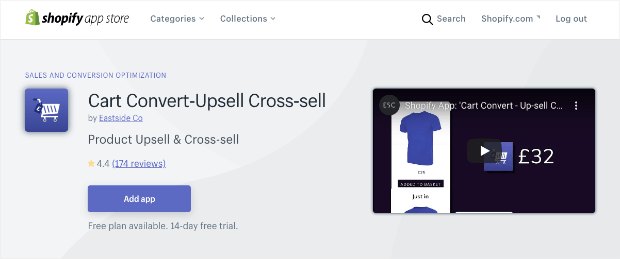 Cart Convert is the last Shopify personalized recommendation app on the list, but certainly not the least qualified to be here.
This is a simple but effective app that can be great for any new Shopify store owners.
With Cart Convert, you can increase your average order value with targeted upsells and cross-sells. Make as many offers as you'd like, and display them to specific parts of your store's visitors.
You have full control over where your offers appear, which means you can personalize and improve your user journey.
Finally, you'll get detailed analytics reports to help you make better data-driven decisions. This information lets you know what's working and, more importantly, what's not.
Over time, you can refine your marketing flow and create a more profitable sales strategy.
Features
Unlimited offers
Detailed analytics
Targeted offers by page or category
Customizable messaging
Offer simulator to test which products will be recommended
Try out Cart Convert today!
Which Is the BEST Shopify App on the List?
So far, we've looked at 11 Shopify personalized recommendation apps that you can use to increase sales.
And while all of these options are great, we're confident that OptinMonster is your best bet.
That's because no other tool on the list lets you target offers with the variety of campaign types provided by OptinMonster.
Plus, OptinMonster integrates with other Shopify apps, so you can embed custom product recommendations directly in your popups, fullscreen welcome mats, slide-in scroll boxes, and much more.
With OptinMonster, you aren't limited to making product recommendations. You can also boost sales by:
Offering discounts and coupons
Running special deals like free shipping
Growing your list to nurture new leads
Gamify your store with a spin-to-win wheel popup
And much more.
If you want to personalize UX across your site and increase sales in the process, OptinMonster is definitely the way to go.
Create Optin Campaigns for Shopify Today!BONUS: Done-For-You Campaign Setup ($297 value)Our conversion experts will design 1 free campaign for you to get maximum results – absolutely FREE! Click here to get started →
And that's it! These have been 11 of the best Shopify personalized recommendation apps on the market.
We hope this article helped you find the right Shopify app for you. If you enjoyed the post, you might want to check out the following resources:
These will have all the information you need to get more leads and drive even more sales from your Shopify store.

Published by Nathan Thompson
Nathan Thompson is a father, a writer, and a lover of travel (in that order). When he's not wrestling with his kids, you'll likely find Nathan giving his eyes a much-needed break from screens with a good book or planning a family trip with his awesome wife.