This
article
was originally published on
this site
In the 21st century, planning any kind of event manually can feel too 'old school'. If you have access to the right tools, you can easily set up a website that enables you to schedule events, manage attendance, send reminders, and even process payments. All of that is possible thanks to WordPress events plugins.
In this article, we're going to talk about what the best WordPress events plugins have in common, and then we'll introduce you to our top picks.
Let's get right to it!
What Makes for a Quality WordPress Events Plugin?
WordPress events plugins usually offer a variety of features that enable you to plan and manage multiple events (even simultaneous ones). In most cases, this type of plugin gives your users the opportunity to see a calendar of upcoming happenings, and decide which ones they want to sign up for: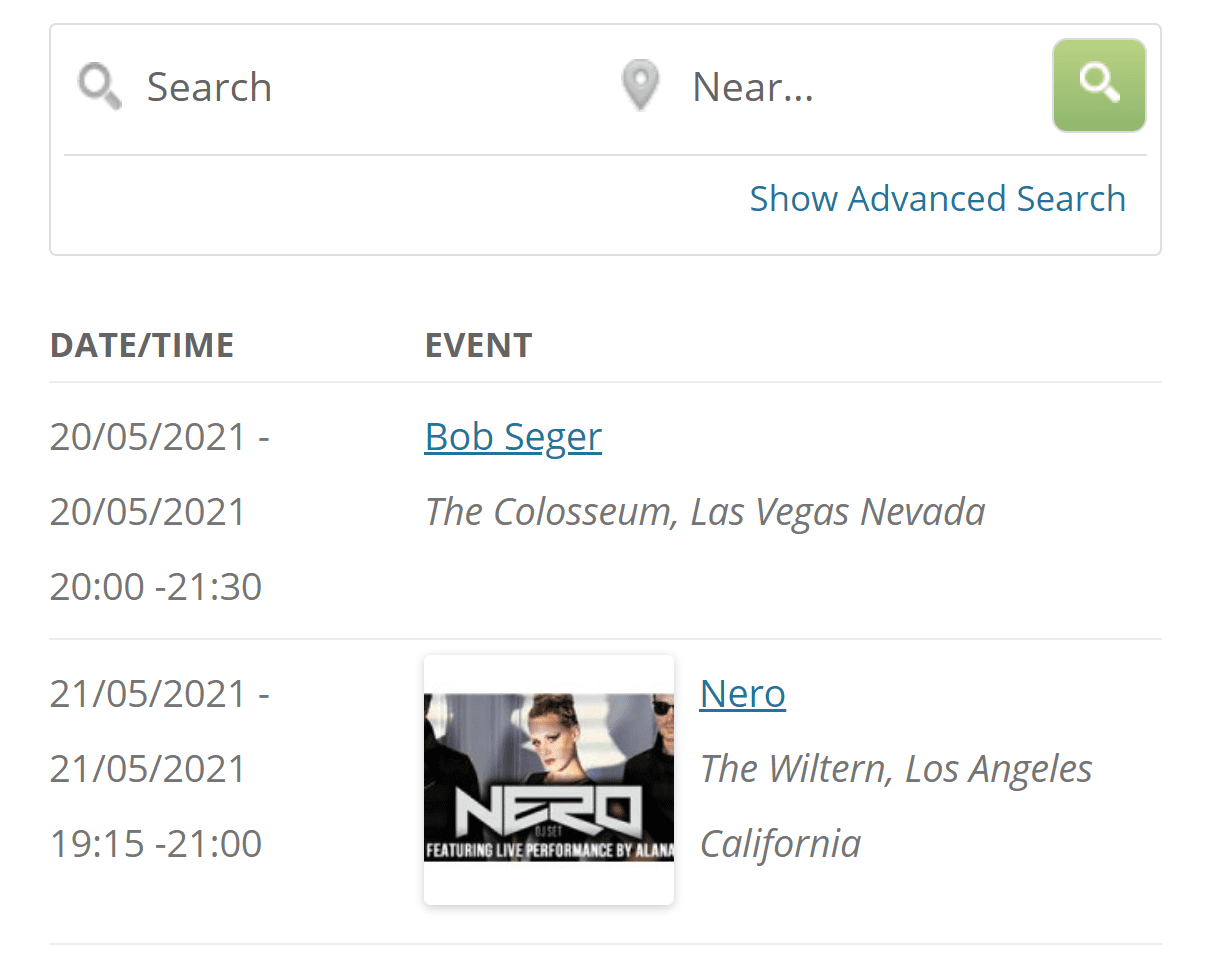 The primary goal of an events plugin is to make it so you don't have to process attendance, confirmations, and payments manually. You can set up an event using your tool of choice, and let users sign up for it through your website at their leisure.
Other features to look out for in a WordPress events plugin include:
Broad theme compatibility. The events plugin you choose should work with your favorite theme, so you don't have to switch to a new one.
A variety of customization options. Ideally, your plugin of choice should provide you with plenty of calendar styling options and customization features for event signups.
Integration with third-party event planning and calendar services. If you want to use Google Calendar or Facebook (or any other service) to plan events, your WordPress plugin should offer easy integration options.
By using a plugin to manage events, you'll be able to focus more of your attention on other, more important tasks. Fortunately, since this is WordPress we're talking about, you get plenty of options to pick from.
11 Best WordPress Events Plugins
For this roundup, we put together a list of WordPress events plugins that offer free versions. In many cases, you can also opt to purchase a premium license to get access to additional features.
However, it's our goal to recommend plugins that work well and offer plenty of features, even if you choose to use a free license. Plus, these plugins have strong reviews, satisfied user bases, and consistent updates.
1. The Events Calendar



The Events Calendar is perhaps the most popular WordPress events plugin, and it's one that we've covered in the past. This tool lets you import events from other calendars, and create your own using a simple editor: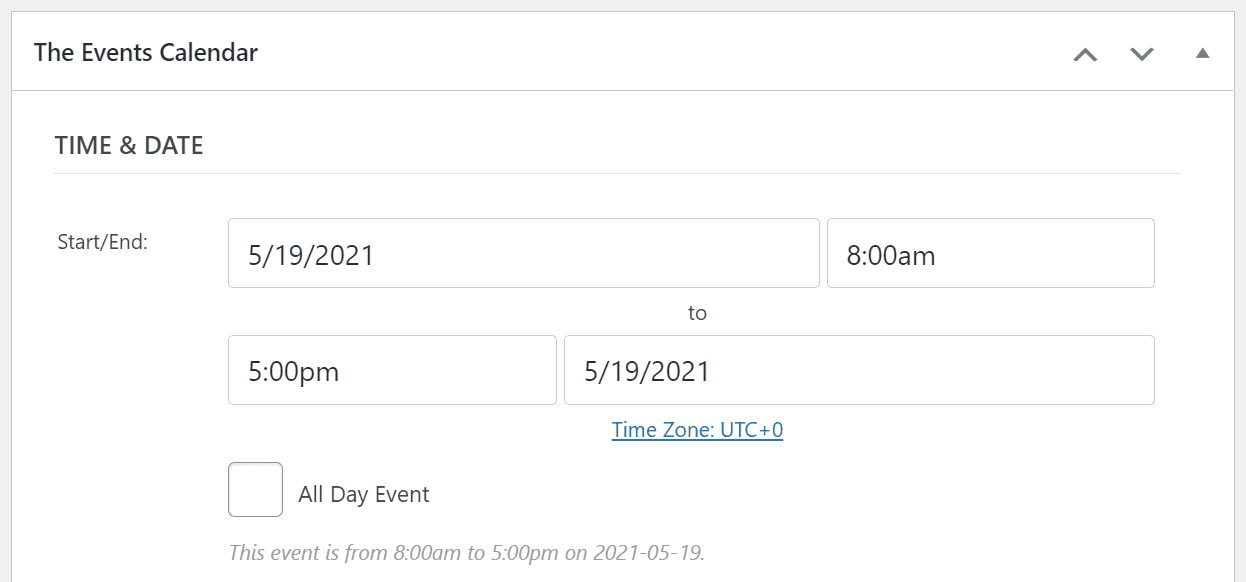 With this plugin, you can set up a calendar that includes featured events and search functionality. It can also display date information for whichever time zone your users are in, show locations using maps, and much more.
The Events Calendar offers a basic template for your calendar that works well with most themes. However, you can also customize your calendar's appearance using CSS if you prefer.
Key Features:
Set up an events calendar for your website
Add as many events as you want
Create featured events
Provide a search bar to help users find the events they're looking for
Import events from third-party platforms
Customize your calendar's style using CSS
The Events Calendar is for you if…
…you want a responsive events calendar that looks good with most themes. If you're comfortable using CSS to customize your content's style, you'll love this plugin. Plus, The Events Calendar is fully compatible with Divi, which makes for easier customization.
Price: Free, with premium licenses starting at $99 per year | More Information
2. Events Manager



The Events Manager plugin lets you add events to a central calendar, and manage locations, categories, and even bookings for them. Although the base plugin doesn't include payment functionality, you can enable that using a WooCommerce add-on.
Another feature that sets Events Manager aside is that you can enable users to submit events using a front-end form: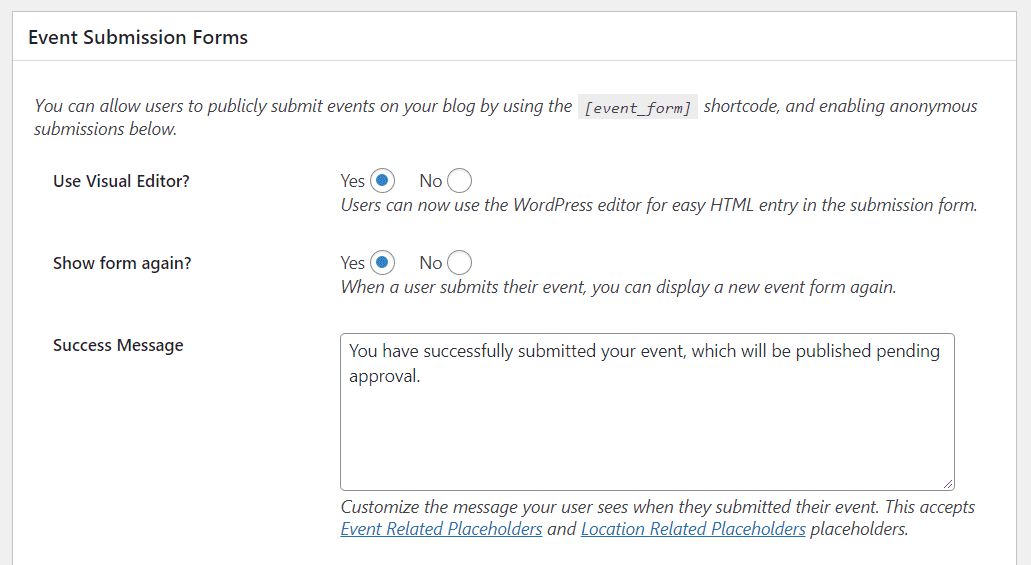 Although you don't get a lot of styling options for your calendar, this plugin gives you a lot of control over your events pages and how users interact with them.
Key Features:
Set up an events calendar
Add events manually or enable users to submit their own
Manage event bookings
Customize the behavior of your events pages
Event Manager is for you if…
…you want a plugin that lets users add their own events to your calendar. This tool is also useful if you want to process bookings, although you'll need to use an add-on if you want to collect payments.
Price: Free, with premium licenses starting at $75 per year | More Information
3. Modern Events Calendar Lite



Next up, Modern Events Calendar Lite is perhaps the easiest WordPress events plugin to get started with. It provides an intuitive setup wizard that covers everything from calendar styles to colors, countdowns, and more: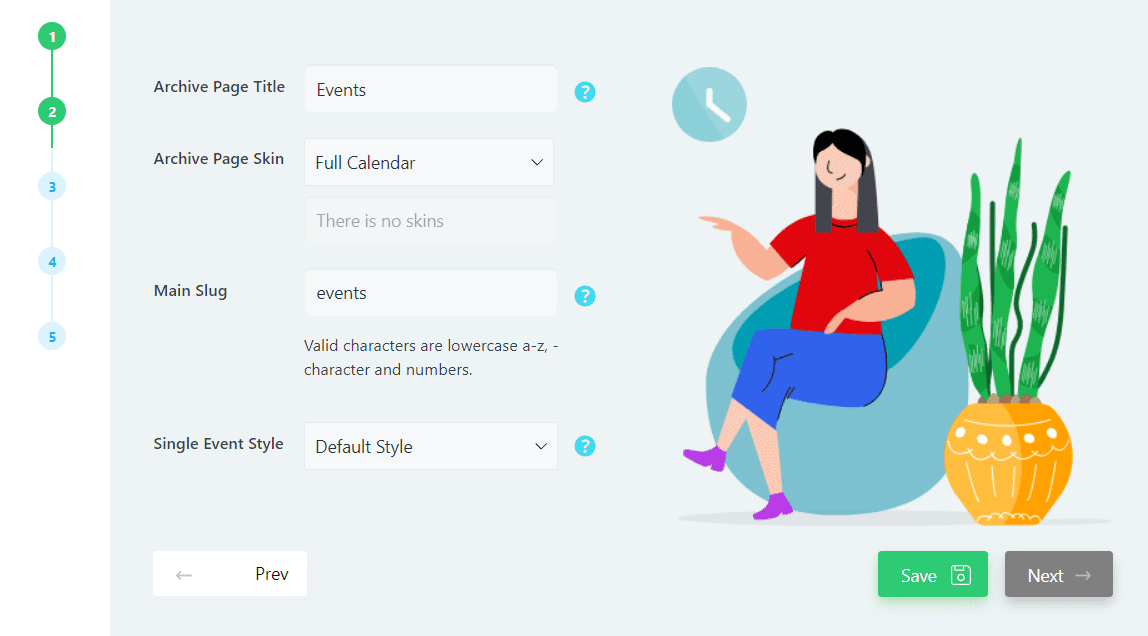 With Modern Events Calendar Lite, you can add events manually and enable users to submit their own. The plugin also lets you store information about categories, locations, and organizers.
This solution's free version doesn't include calendar theme functionality. However, it does let you customize your calendar's style, including its typography and colors. You can also use custom CSS for further modifications.
Key Features:
Set up an events calendar
Add new events manually and enable users to submit their own
Use a setup wizard to configure your events calendar
Manage event categories, locations, and organizers
Modern Events Calendar Lite is for you if…
…you want to use a WordPress events plugin that's easy to set up and customize. This particular plugin also offers a broad range of add-ons, including one for Divi integration.
Price: Free, with premium licenses starting at $75 per year | More Information
4. Simple Calendar


The Simple Calendar plugin lets you import events from Google Calendar, and display them on your website using various styles. You can show multiple calendars and customize their appearance with the plugin's built-in settings: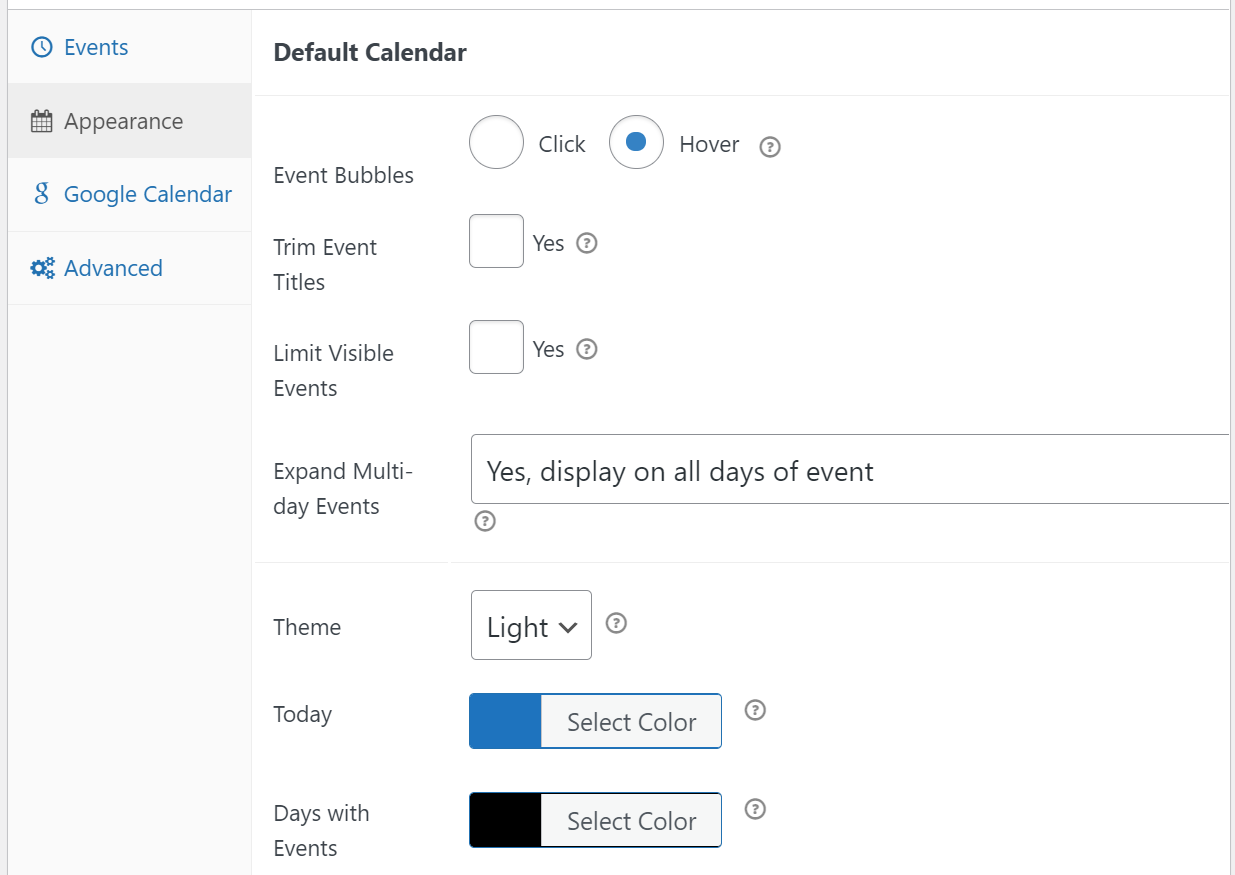 Simple Calendar also enables you to modify the structure of each event that you display using a simple shortcode system. Each calendar comes with its own shortcode, so you can display it anywhere you want on your site.
Key Features:
Display Google Calendar events in WordPress
Use shortcodes to customize the layout of each event's information
Display events using shortcodes
Customize the style of your calendar and events sections
Simple Calendar is for you if…
…you rely on Google Calendar to manage events, and you'd like to integrate that platform with WordPress.
Price: Free, with premium licenses starting at $49 per year | More Information
5. Event List



If you're looking for a very straightforward option, Event List enables you to display a list of events using either shortcodes or widgets. You can add new entries using a simple editor, and include information such as locations, times, and descriptions: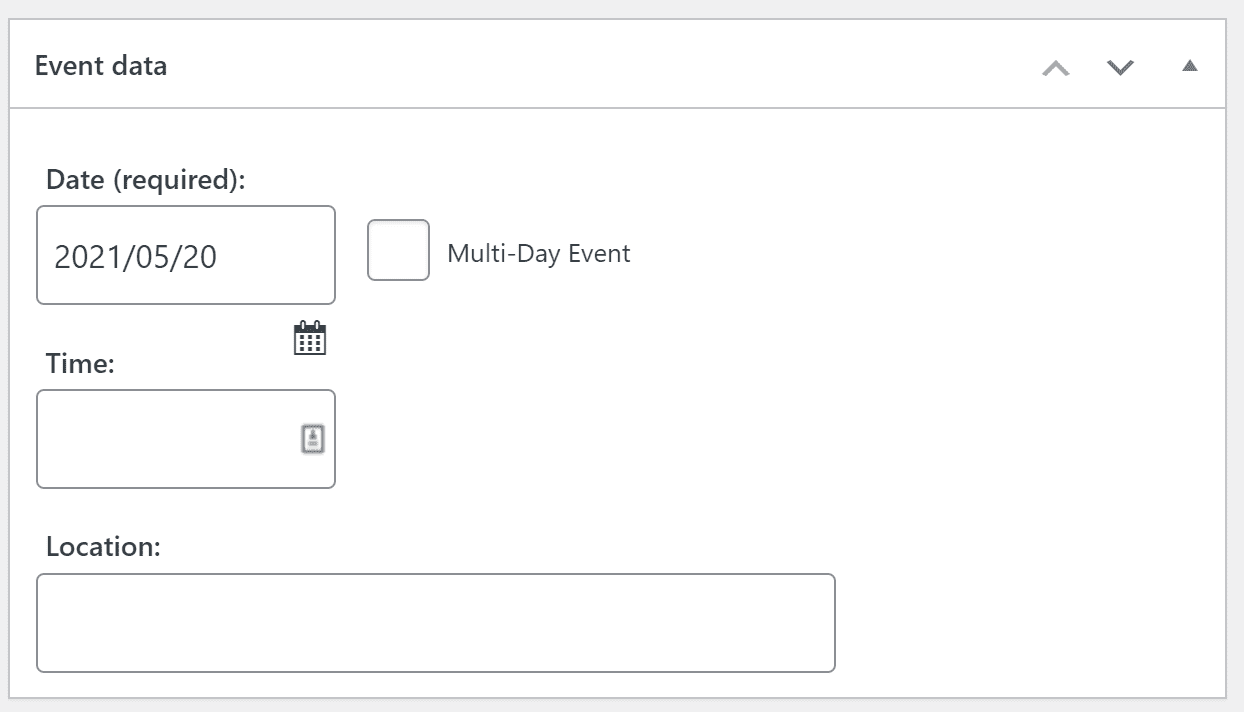 This plugin can also generate an event feed for your website, and help users navigate and search through entries quickly.
When compared to most other WordPress events plugins, Event List doesn't include a lot of features. However, that makes it perfect if you just need a little help setting up a well-organized list of events.
Key Features:
Display an event list using a shortcode or widget
Add new events to your list using a simple editor
Event List is for you if…
…you don't need help when it comes to booking attendees or synchronizing events with third-party calendars. The plugin helps you create and display a list of events, and that's it.
Price: Free | More Information
6. Event Calendar WD



Next on our list, Event Calendar WD lets you set up multiple calendars for your website, each with their own individual events. You can also add event locations, organizers, and categories, and that information can be shared between calendars.
On top of that, this plugin includes multiple display options for each calendar: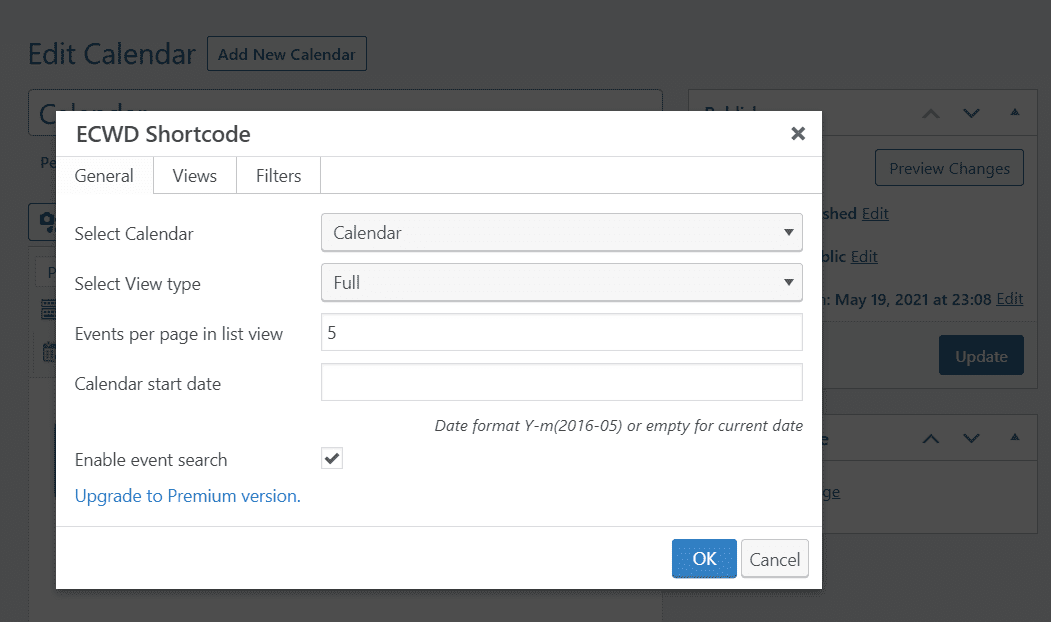 Event Calendar WD lets you hide past events, and show related ones when users open specific entries in your calendar. You can also show an event's details when users hover over it, and add social sharing buttons to your event pages.
Key Features:
Set up multiple event calendars
Add individual events to each calendar
Display calendars using shortcodes
Manage event locations, organizers, and categories
Hide past events
Show related events
Enable social sharing for events
Event Calendar WD is for you if…
…you want to set up multiple calendars for a single website, and enable social sharing for increased event exposure.
Price: Free, with premium licenses starting at $25 for six months | More Information
7. Events Made Easy



If you're looking for a WordPress events plugin that can do just about everything, Events Made Easy should be one of your top picks. This tool enables you to add events to a calendar, manage bookings, process payments, send email reminders, and a lot more: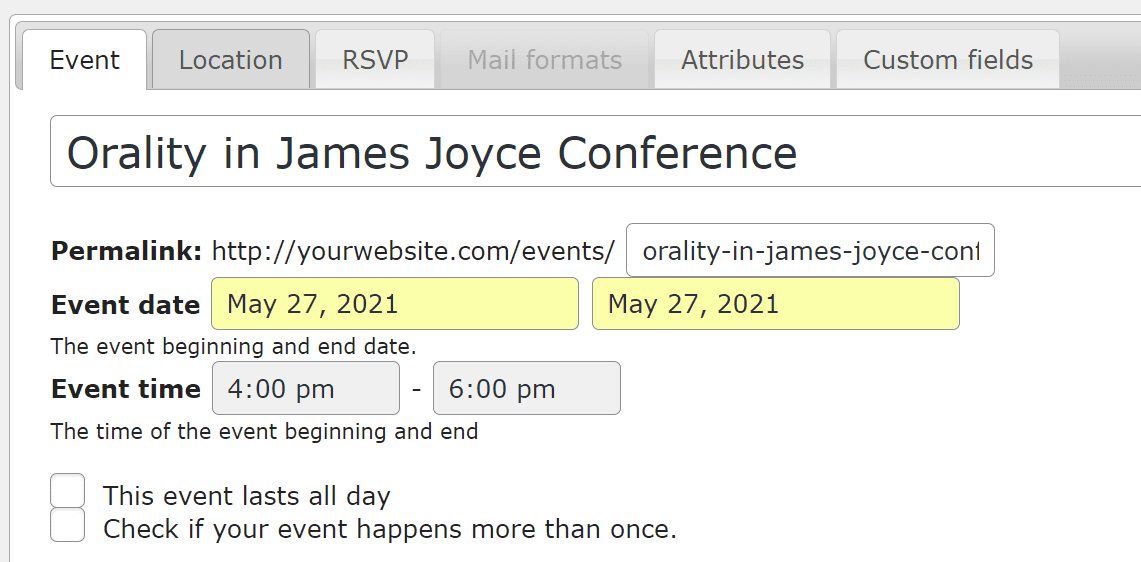 The plugin lets individual users and groups of people book their attendance at events, and you can even set up membership plans. What's more, Events Made Easy provides support for multiple payment processors.
Key Features:
Set up events and manage attendance
Manage bookings for both individuals and groups
Process payments using multiple processors
Send event reminders via email
Create membership plans for your events
Events Made Easy is for you if…
…you want a WordPress events plugin that includes built-in payment processing, and enables you to manage bookings for individuals and groups. However, keep in mind that this plugin includes a huge range of settings to configure, which means that it has a steep learning curve.
Price: Free | More Information
8. WooCommerce Event Manager



If you want to manage events and sell tickets using WooCommerce, this is the plugin for you. WooCommerce Event Manager enables you to sell multiple types of tickets, include add-ons with each sale, and manage attendance:



Since this is a WooCommerce extension, you can set up any payment processors you'd like to use. WooCommerce Event Manager also helps you send email confirmations and even PDF versions of the tickets users purchase.
Key Features:
Use WooCommerce to sell tickets for your events
Manage events and create multiple ticket types with different values
Create add-ons for your event tickets
Process payments using your preferred WooCommerce-compatible gateways
WooCommerce Event Manager is for you if…
…you're already familiar with WooCommerce, and you want to use it to process ticket sales. This plugin is also one of the only WordPress event tools that lets you add upsells when users purchase tickets to an event.
Price: Free, with premium licenses starting at $75 | More Information
9. WP Event Manager



WP Event Manager enables you to add events to a calendar, and let users to sign up for them. However, the plugin's main selling point is that it enables users to create and submit events for your website's calendar through the front end: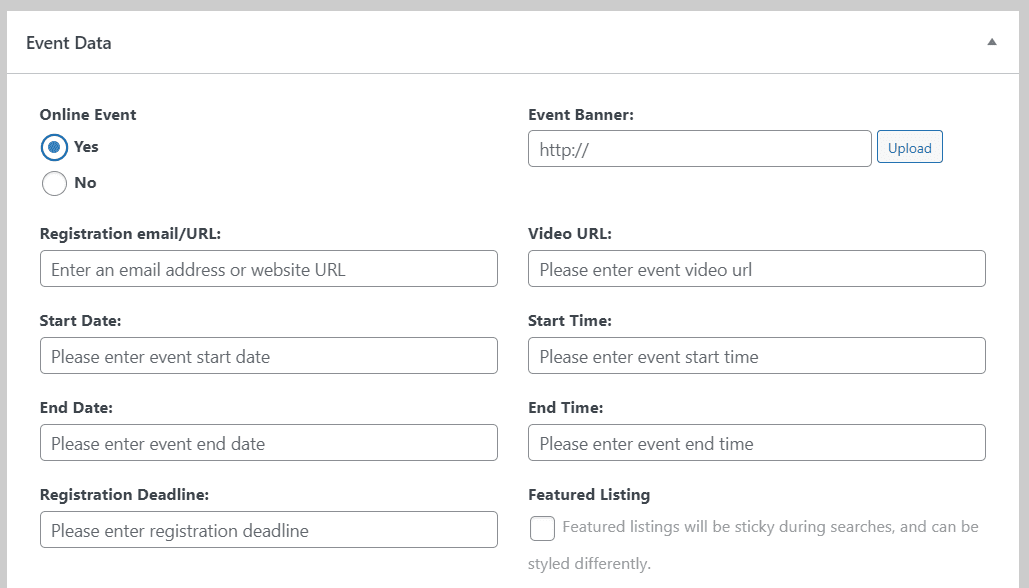 Event organizers get access to dashboards where they can review their submissions, check signups, and edit entries. On your end, you can customize the form that visitors use to submit events, and even add new fields to it.
Key Features:
Add events to your calendar manually
Enable users to submit events and add them to your calendar
Provide users with a dashboard they can use to review their submissions
Add custom fields to the public event submission form
WP Event Manager is for you if…
…you want to run a website that enables users to coordinate events with one another. Using this plugin, you can essentially create your own version of Meetup (and similar websites) using WordPress.
Price: Free, with premium add-ons available | More Information
10. Timetable and Event Schedule by MotoPress



When you need to create complex timetables with multiple types of events, Timetable and Event Schedule is a fantastic choice. For example, if you offer multiple types of classes, you can add custom columns to your calendar and use color-coding to differentiate each one: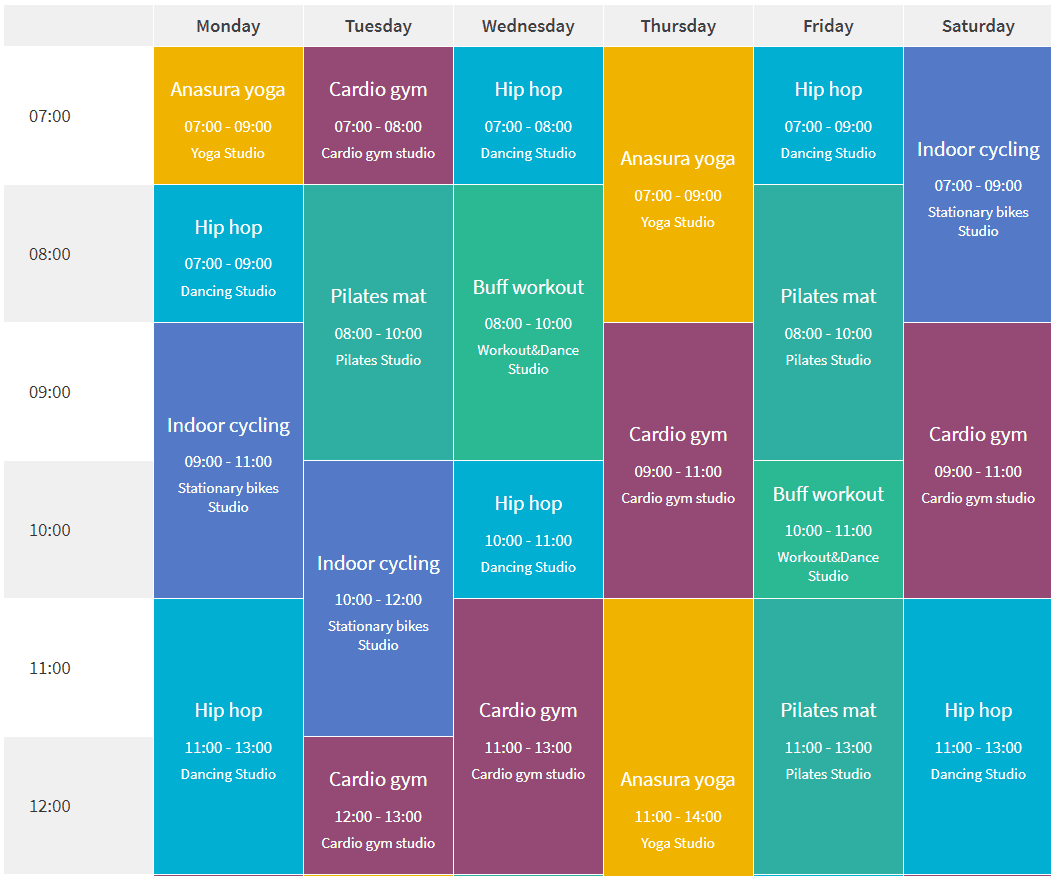 You can also use Timetable and Event Schedule to create event calendars. However, the plugin really shines when it comes to daily timetables. To insert a timetable on your website, you can use shortcodes or blocks.
Key Features:
Create complex event timetables for your website
Color-code your timetables
Add custom columns to each table
Use shortcodes or blocks to insert timetables onto your website
Timetable and Event Schedule by MotoPress is for you if…
…you run a business that offers events on a set schedule. You can create a timetable that lets visitors find the events they want and see when they're happening.
Price: Free | More Information
11. Event Organiser



Last on our list, Event Organiser enables you to create an events calendar and add as many entries as you need to it. It also lets you manage organizers and venues, as well as event categories.
However, what really sets this plugin apart is that it makes it easy to create recurring events with complex schedules: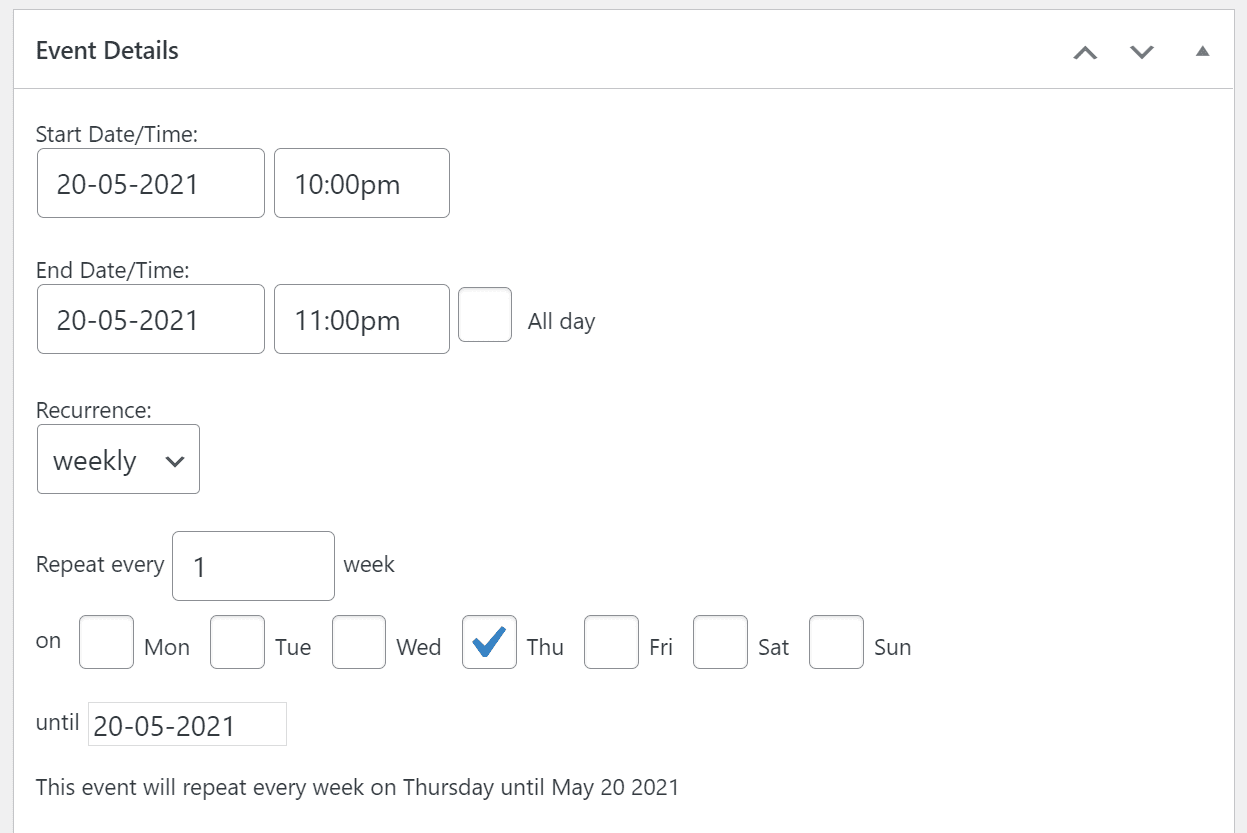 For example, you can set up events that occur on the third Tuesday of every month, or once every quarter. The plugin also helps you set up exceptions for recurring events, and you can add custom fields to the individual event information pages (in addition to the wide range of fields provided by default).
Key Features:
Set up an events calendar
Add events to your calendar manually
Create one-off or recurring events
Configure recurring events with complex schedules and exceptions
Add custom fields to your event pages
Event Organiser is for you if…
…you want to set up a calendar that includes recurring events. In that area, this plugin gives you more control than almost every other option. However, it doesn't include booking or user management options unless you opt for its premium extensions.
Price: Free, with premium licenses starting at £50 (approx. $71) | More Information
Conclusion
Planning events is already a full-time job, and managing them as well is often too much for one person to do alone. With the right WordPress event plugin, you'll be able to focus on planning and let your website handle the management for you. That can include sharing event information, processing bookings and payments, and simply sharing a calendar or featuring upcoming occasions.
Fortunately, there are a lot of fantastic WordPress event plugins to choose from. One of the best all-around picks is The Events Calendar, which is fully compatible with Divi. If you're looking for a free plugin that includes a wide range of features, we can also recommend Events Made Easy.
Do you have any questions about how to manage events using WordPress? Let's talk about them in the comments section below!
Featured Image via VectorKnight / shutterstock.com