This
article
was originally published on
this site
Maintaining a healthy website without access to WordPress maintenance services can be challenging. From performing updates and backups to fixing common WordPress errors, you may find yourself struggling to stay on top of everything and ensure that your site keeps running smoothly.
Fortunately, there are plenty of companies that offer professional WordPress maintenance services. These platforms take care of all those tedious technical tasks, so you can focus your efforts on growing your business.
In this post, we'll discuss what to look for in a WordPress maintenance service. We'll also review ten of the best options to help you choose the right solution for your website. Let's get started!
What to look for in a WordPress maintenance service
Every website requires essential maintenance. This includes backups, updates, and performance optimization. You'll find that almost all WordPress maintenance services will include these important tasks.
However, you may want to check the frequency of those services. For example, if you're constantly publishing new content on your website, we recommend opting for a company that offers daily backups (at a minimum).
Meanwhile, if you run an ecommerce website that stores sensitive user information, you may want to choose a company that prioritizes updates and security. Some WordPress maintenance services come with features, such as firewalls and malware scanning, to help keep your website safe.
Mobile and tablet optimization should also be something to look into. Some services will advise you on this kind of optimizations or even handle them on their own.
Another key criteria to consider is your budget. Comprehensive maintenance plans tend to be pricey. However, if you run a small website, you may want to opt for something simpler. Moreover, some companies offer specific 'a la carte' maintenance services, such as bug fixes, so you don't have to pay for services you don't need.
If you have a managed WordPress hosting plan, you may also want to make note of the tasks that are handled by your provider. This way you can avoid purchasing services that you're already paying for.
Best WordPress website maintenance and support services in 2021
There are plenty of reputable companies that offer WordPress maintenance services, and the options can seem a little overwhelming. That's why we've put together a list of the best WordPress maintenance providers to help you choose the right solution for your business.
1. SiteCare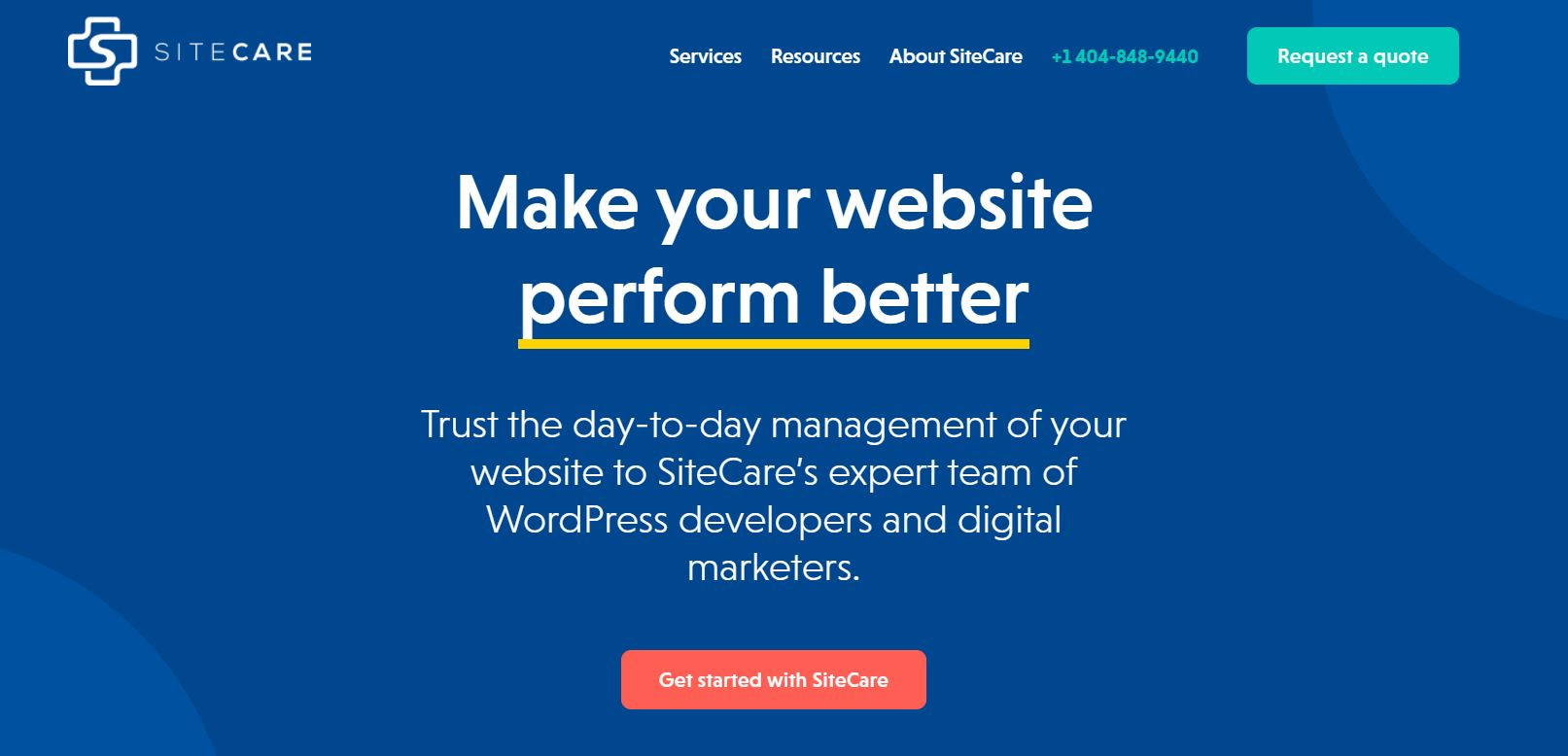 SiteCare offers a broad range of services designed to help your business grow its online presence. This includes WordPress maintenance and support, which covers everything from regular updates and daily cloud backups to site migrations and web development.
Let's take a closer look at some of the services offered by SiteCare:
Speed and performance optimization, including image file compression, browser caching, and plugin audits to help your site run faster
24/7 malware scanning and brute force protection, to ensure that your content is protected against cyber attacks
Emergency WordPress help for urgent issues, including hacked sites and the infamous white screen of death
Given its array of support services, SiteCare can be a suitable option for any type of website, including WooCommerce stores and popular blogs. The company also offers managed cloud hosting, which you can pair with your WordPress maintenance plan.
💳 Pricing: SiteCare's maintenance plans start at $990 per year.
You may also be interested in:
2. WP Buffs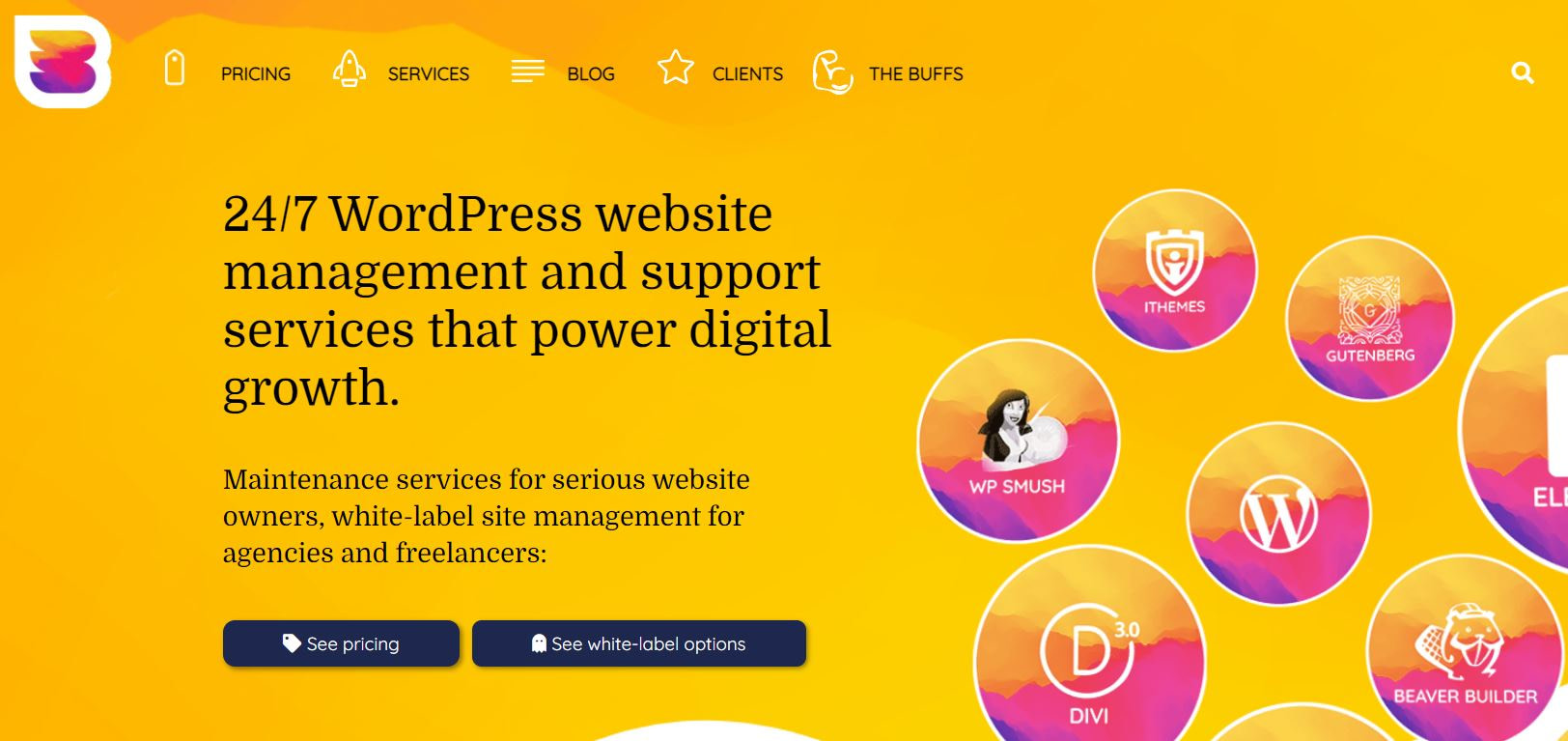 WP Buffs can handle just about every maintenance task for you, while also offering additional services such as premium plugins and unlimited website edits. The team uses three powerful WordPress plugins to ensure that your site is secure and fully optimized. These are WP Rocket, WP Smush Pro, and iThemes Security Pro.
Here are some of the main services offered by WP Buffs:
Real-time external backups of your website, with access to one-click restores
24/7 site monitoring and emergency support
Mobile and browser optimization to ensure that your site looks great on every device
Complete malware removal if needed
WP Buffs also provides expert support for websites with advanced functionality. This includes membership and multilingual sites. Therefore, you may want to consider using this service if you have particular ecommerce needs or requirements.
💳 Pricing: Maintenance plans for site owners start at $79 per month. If you run a large ecommerce site, you may want to opt for the Perform plan, which costs $219 per month.
3. Maintainn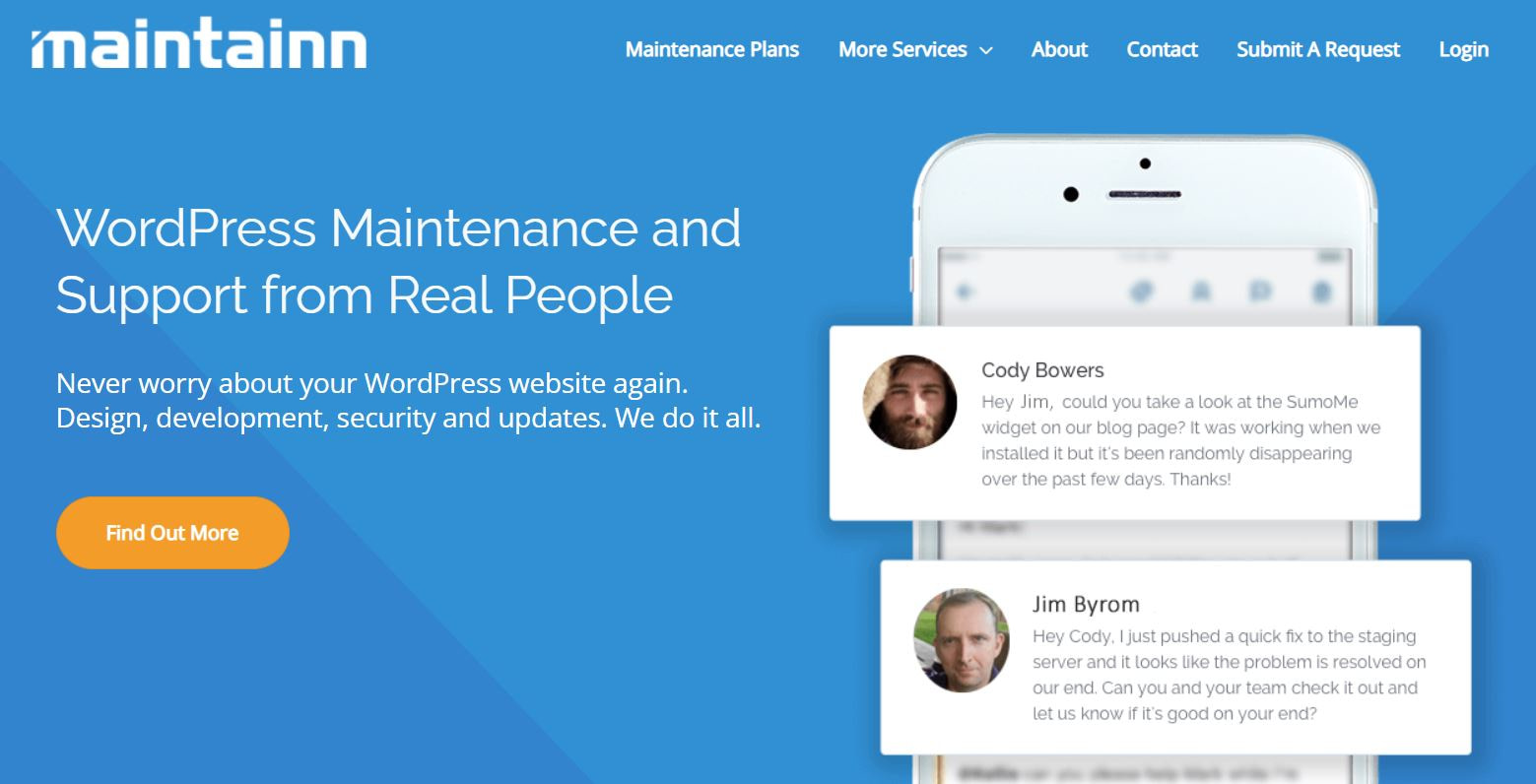 If you need assistance with site maintenance as well as web design, Maintainn may be the right solution for you. This company offers essential services, such as weekly updates, and can handle most development requests you may have.
Maintainn takes care of several tasks for you, including:
Data migrations
Website security
Offsite backups
Moreover, the company has a set of tools that enables you to easily monitor your site's health and performance. These can be accessed from your Maintainn Dashboard.
For instance, the Site Scanner tool compares your WordPress core files with the ones available on the WordPress.org repository, to help you ensure that they haven't been altered. You can also manage your plugin updates from the same dashboard. Therefore, you may want to consider opting for Maintainn if you want to retain some control over your site's maintenance.
💳 Pricing: Maintainn's plans start at $54 per month.
4. FixRunner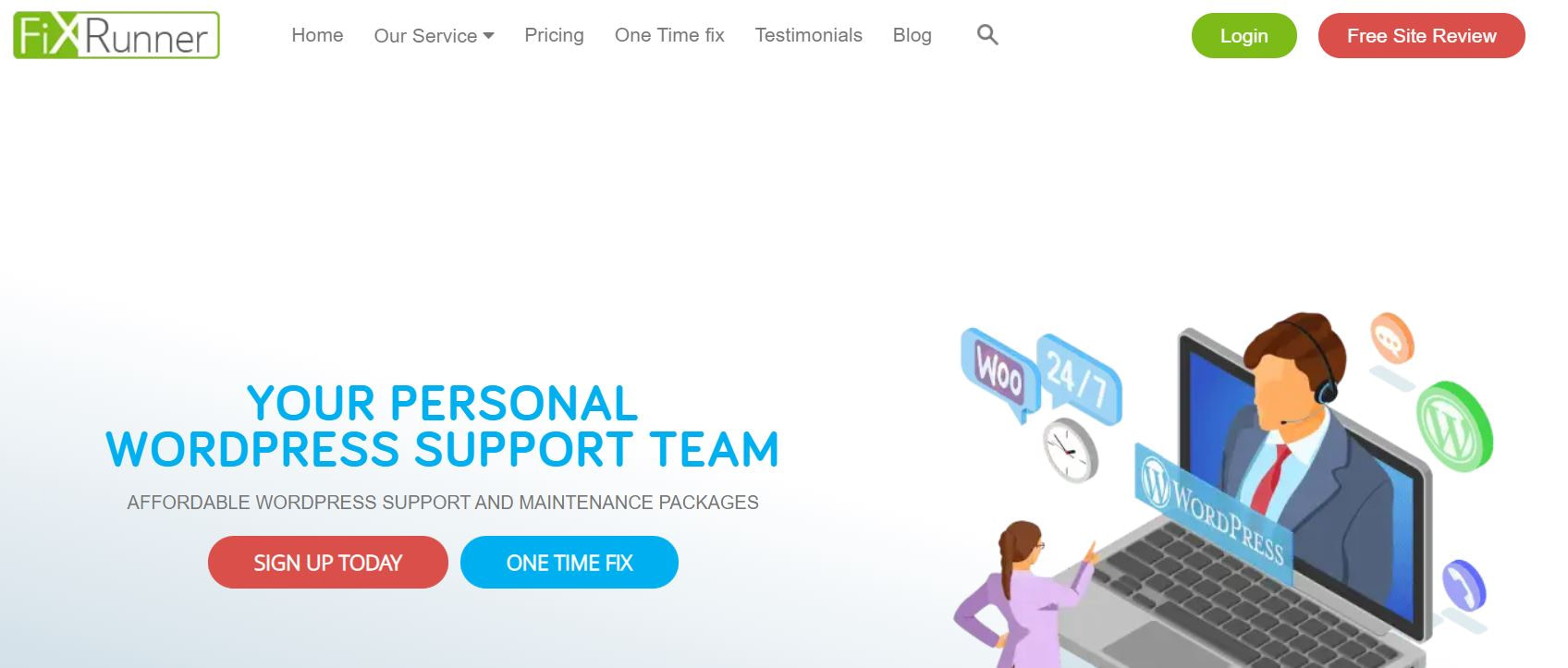 As you may have noticed, WordPress maintenance services are not cheap. However, FixRunner offers premium-level website support at affordable prices.
This company handles a variety of maintenance tasks, such as:
Daily backups and quick restores
24/7 website security
Uptime monitoring
If you run a small business and are looking for a cost-effective solution, FixRunner may be the best option for you. The company also provides professional WooCommerce maintenance and support.
💳 Pricing: Plans start at $69 per month.
5. WP SitePlan

Another suitable option for small businesses is WP SitePlan. This company offers affordable maintenance packages for websites with various requirements.
Some of the services offered by WP SitePlan include:
Database optimization to help ensure that your site is error-free
Tracking analytics to assist with your marketing efforts
Regular updates and backups
WP SitePlan has an efficient onboarding process for new customers. Once you purchase a plan, you'll receive instructions on how to securely share your site's credentials with the team. Your plan will be fully implemented in just 48 hours.
💳 Pricing: The Secure plan starts at just $29 per month and includes basic maintenance tasks for static sites. If you run a WooCommerce store, you can opt for the Support plan, which costs $89 per month.
6. GoWP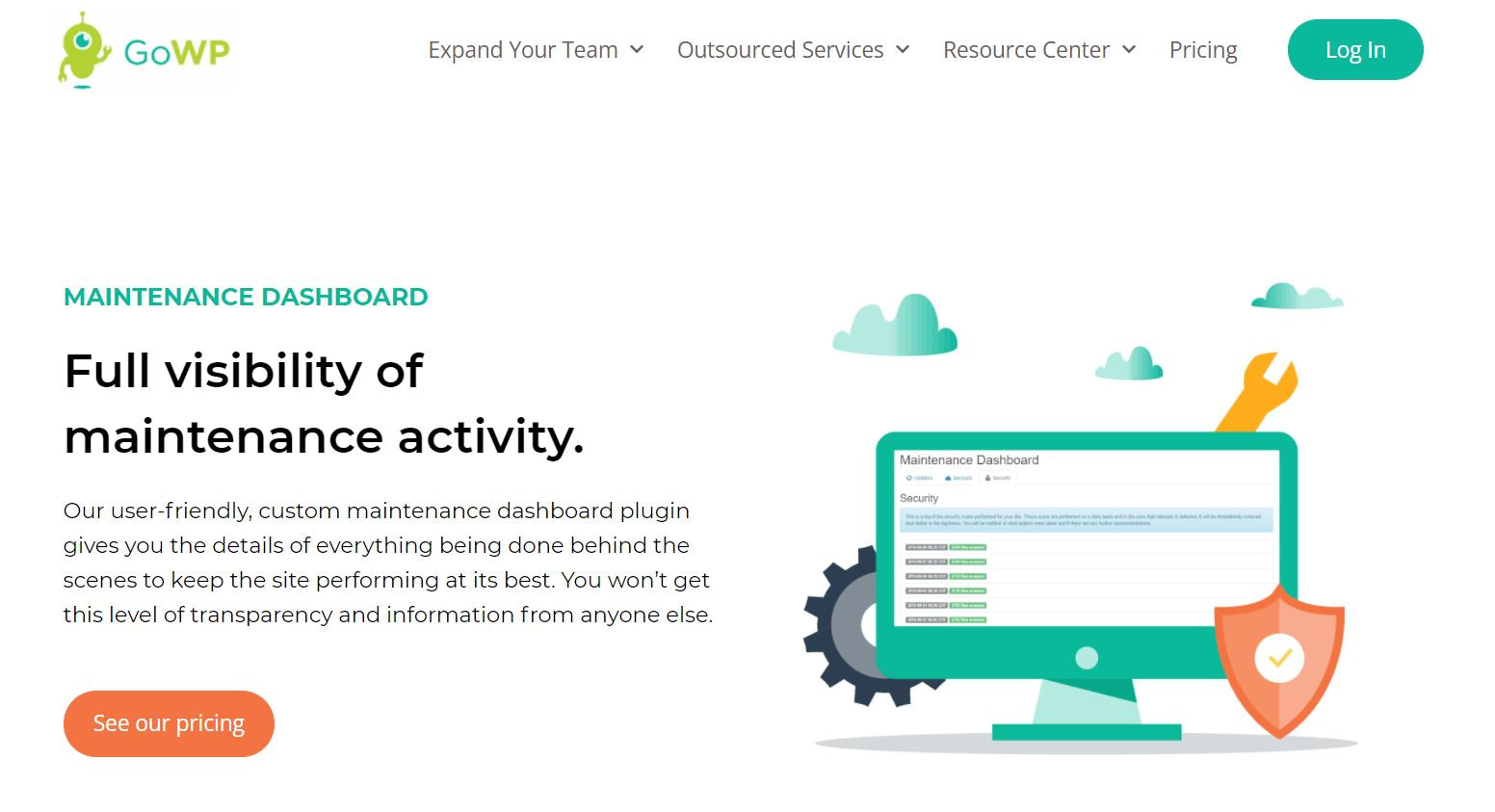 GoWP caters to digital agencies that are looking to outsource their WordPress maintenance. This service is particularly useful for designers and developers who handle a large portfolio for clients and need some outside help.
GoWP's maintenance plan for agencies includes the following features:
You'll also get access to the GoWP maintenance dashboard plugin, so you can keep track of all maintenance activity. This dashboard also comes with a white label option for agencies and web professionals.
💳 Pricing: GoWP's maintenance service starts at $29 per month.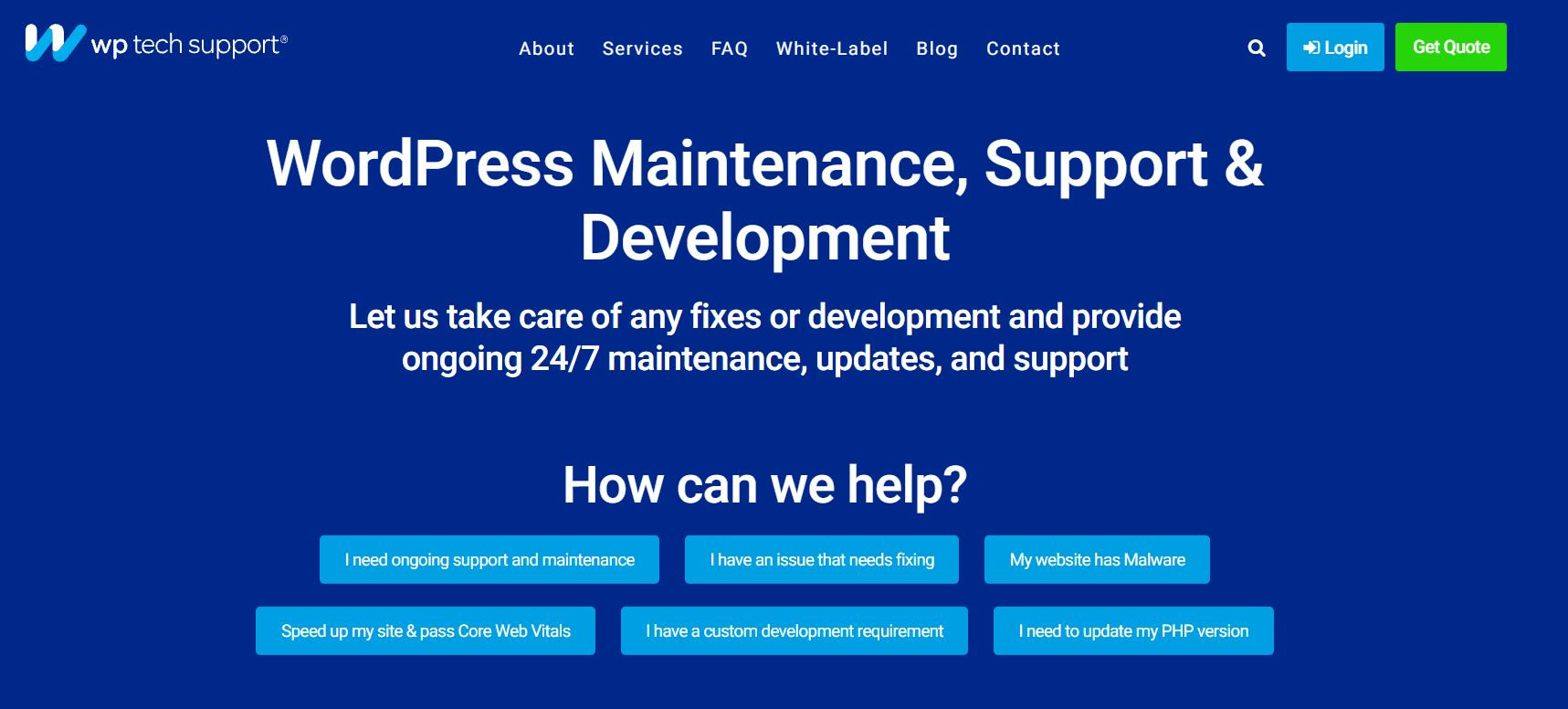 If you're looking for a more flexible service, WP Tech Support may be able to meet your needs. This company offers a range of plans for different requirements and budgets. Instead of purchasing a full maintenance package, you can opt for a one-time fix or a specific service, such as malware removal or site optimization.
Meanwhile, here's what you get with a basic WP Tech Support maintenance plan:
If you opt for a higher-tier plan, you'll also benefit from PHP updates, SEO optimization, development support, and other features. WP Tech Support also offers maintenance plans for ecommerce sites with advanced functionality.
💳 Pricing: The Standard plan starts at $55 per month.

Total WP Support offers the core set of WordPress maintenance services to meet the basic needs of any website. However, the company also provides more advanced plans and ecommerce support for websites with particular needs.
Every Total WP Support plan includes the following services:
WordPress security, which covers virus scanning, spam management, malware cleanup, and other features
Regular updates and cloud-based backups
Basic maintenance, such as database optimization and post revision clean-ups
24/7 uptime monitoring
The plans are also affordable, which makes Total WP Support an ideal option for site owners with small budgets. You'll also have access to reliable WordPress support.
💳 Pricing: The Essential Plan starts at $49 per month, and as the name suggests, it includes all the essential maintenance services. For an extra $60 per month, you can add ecommerce support to your plan.
9. WP Runner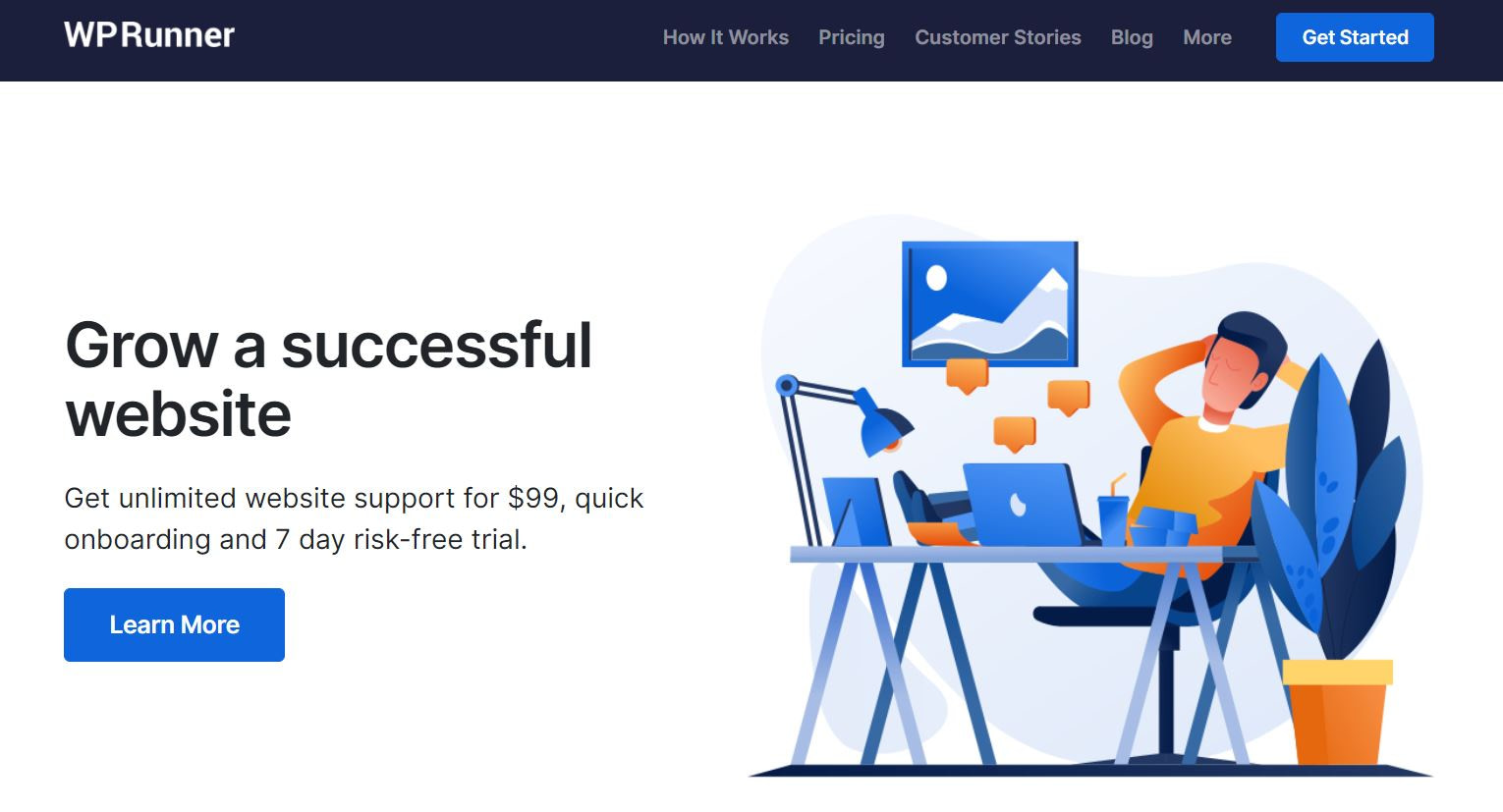 Many WordPress maintenance services come with a variety of packages and features, which can be a little confusing if you're just looking for something basic. To keep things simple, WP Runner offers just two plans: Unlimited Support and Premium Support.
Both plans include the following features:
Monthly performance and security audits
24/7 uptime monitoring
Regular backups
If you opt for Unlimited Support, you'll get unlimited 30-minute website tasks. Meanwhile, the Premium Support plan comes with unlimited one-hour website tasks, and you'll have your own dedicated developer and project manager.
💳 Pricing: The Unlimited Support plan costs $99 per month. If you're looking for something that's a little cheaper, WP Runner also offers a $59 per month standard plan. This comes with all the features included in the Unlimited Support plan, except for unlimited website support. Instead, you get 30 minutes of support time per month.
10. FixMyWP

FixMyWP is slightly different from the other WordPress maintenance services we've covered in this post. This company offers fast one-time fixes for hacked sites and plugin and theme issues as well.
It also offers a combined hosting and maintenance service, which includes:
Database optimization
Uptime monitoring
Security scans and malware removal
Daily site backups
Weekly WordPress updates
There are two plans available: Single-Site Hosting & Maintenance and Multi-Site Hosting & Maintenance. Both plans come with free support for plugin or theme issues. If you're looking for an all-in-one solution, FixMyWP may be the right option for you.
💳 Pricing: The single-site plan costs $20 per month, while the multi-site plan costs $60 per month.
Conclusion on WordPress maintenance services
If you run a busy website or business, you may have little time for troubleshooting WordPress errors or managing updates and backups. Fortunately, there's no shortage of WordPress maintenance services out there.
⭐ Some companies like FixRunner and WP SitePlan offer affordable packages that include all the essential maintenance tasks, including backups, updates, and optimization.
💪 If you have a membership site, a bigger content site, or an online store, you might want to opt for services like WP Buffs or WP Tech Support.
Do you have any questions about using WordPress website maintenance services? Let us know in the comments section below!
…
Don't forget to join our crash course on speeding up your WordPress site. With some simple fixes, you can reduce your loading time by even 50-80%:
Layout and presentation by Karol K.