This
article
was originally published on
this site
Virtual desktop software offers a secure way for employees to work from anywhere using any device. And, at the same time, it can drastically reduce infrastructure costs.
What happens is that your hardware and software runs off a cloud instead of using the CPU you have locally. The desktop OS can be part of a hardware infrastructure housed in a secure data center or can simply be another normal machine in a different location. Your operating systems, data and apps are separated from the local computer and run from a remote server instead. Users can access these apps through any device and everything appears as if it runs on their local machine.
How is this useful? First off, there are huge savings on infrastructure costs. Additionally, with all data in one place, it's easier to secure it. Moreover, management and maintenance of hardware and software is centralized, and only authorized persons can access it. Additionally, besides improving productivity and efficiency, virtual desktop software promotes the Bring Your Own Device (BYOD) culture as well.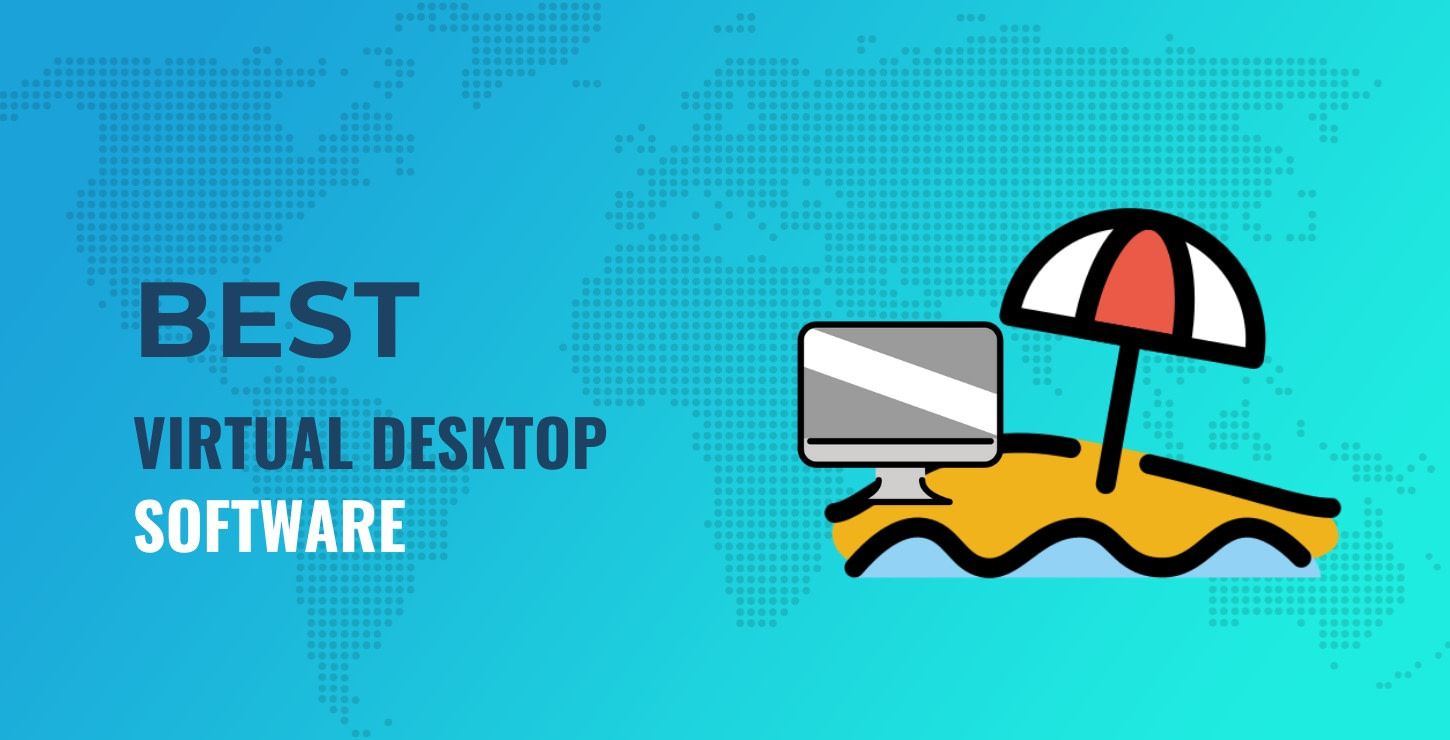 In case you're looking to implement virtual desktops, here are some features you should look for. Keep in mind that the price depends largely on hardware and software requirements, number of users, level of security and other features. The best virtual desktop software is likely to:
Allow access from any device, anywhere. Great for working from home.
Grant administrative control to add new users and software.
Store data securely in the cloud.
Provide firewall, end-to-end encryption and automatic, regular backups.
Have multiple data center locations for faster access speeds.
Offer multiple operating systems – Windows, iOS, Linux and more.
Include load balancing to allocate users evenly across host pools.
Offer high level of graphics performance.
Include a user-friendly cloud management console.
Allow easy deployment, management and scaling of all your applications.
Allot dedicated resources for each server.
Offer profile management / user virtualization.
Best virtual desktop software in 2021
💸 Pricing:
Three plans – Basic, Business and Enterprise starting from $40/month for a single user, $70/month for four users, scaling to $1,120/month for 64 users.
🧰 Key features:
Fully managed desktop-as-a-service solution
Built-in security
Multi-user desktops, Supports dual monitors
Global data centers for a fast experience
Secure remote access
Daily backups
Built-in live support
Multi-factor authentication
Published apps to deliver an on-premises app as a web app
Intuitive management console
💸 Pricing:
Lite at $4.95/month, Basic at $8.95/month, Shells Plus at $13.95/month and Shells Pro at $24.95/month. The number of processors, storage and memory varies with the plans.
🧰 Key features:
Allows you to download, store, access or edit your files on any device
Work without being limited by device or operating system
Automatic, safe back-ups to cloud
Firewalls and end-to-end encryption for data privacy
Update performance, speed and memory with a single click
Top end technology at affordable costs
Comes pre-equipped with mobile terminal view and iOS and android apps
Scales easily
Global presence
Turn any old device into a computer with Shell
💸 Pricing:
Pricing depends on a number of variables – for instance, the monthly charges for 10GB user volume and 80GB root volume with 2 GB memory is $21. The price varies from region to region too, and hourly billing is also possible.
🧰 Key features:
Fully managed service allowing you to scale up or down quickly
Users can access their workspace from Windows, Mac, Linux, Chromebooks, tablets and supported browsers
User data security within Amazon Virtual Private Cloud
Pay-as-you-go pricing model to optimize costs
Built-in auto scale load balancing
Suitable for contingent workforce and remote teams
Bring your own Windows desktop license to Workspaces
Separate educational pricing available
Encrypt storage volumes of Workspaces
Persistent storage in the AWS cloud
💸 Pricing:
The rates vary depending on operating system, storage, included internet traffic and more. For instance one Public IP Windows 10 desktop with 20GB storage would cost $13/month. Per hour rates are also available.
🧰 Key features:
Start with a small server and scale up as you go
Use management console to upgrade or clone additional servers
13 data centers across four countries
Run any Windows and Linux operating system
Fast processors and networking speeds
Guaranteed dedicated resources
Store data securely on secure backup server
Centralize software management by installing it on a single machine and allow access to any number of remote desktops
SSD drive storage
Simple management console and API
💸 Pricing:
The pricing includes two parts – user access rights and Azure infrastructure costs to deploy and manage your virtualization environment. One and three year plans are about 72% cheaper than the pay-as-you-go model. Since pricing can be highly variable, there is a pricing calculator to help you out.
🧰 Key features:
Scalable – can save costs using existing eligible Windows licenses
Deploy within the Azure portal alongside other Azure services
Deliver Windows 10 desktops and applications anywhere virtually
Built-in intelligent security
Run multiple concurrent user sessions
Reduce infrastructure costs by right sizing virtual machines
Manage virtual environment from the Azure portal
Integrate Azure Virtual desktop into existing desktop and app virtualization environments
Remote app streaming
Multi factor authentication and role-based access control
💸 Pricing:
The pricing of this virtual desktop software starts from $0.89/hour + $19.99/month.
🧰 Key features:
Managed desktop as a service
Secure remote access
Deploys rapidly and scales quickly
Multi-device and cross-browser functional
Cloud-based and Windows-based
Powerful GPU technology
One-click sharing with guests
On-premises cloud technology or third-party data center of your choice
Compatible with many programs used by professionals regularly
Proprietary technology to deliver greater processing power and speed for both business and education
💸 Pricing:
A Horizon Universal Subscription costs $16.50 per 'Named User' per month and $26.70 per 'Concurrent User' per month. A Horizon Apps Universal Subscription costs $8.25 per 'Named User' per month and $13.40 per 'Concurrent User' per month.
🧰 Key features:
Functionality going beyond Microsoft Windows Virtual desktop
User environment management
Advanced power and application management
Support for hybrid environments
Secure access to digital workspace
Multi-cloud architecture
Horizon Cloud partners with Microsoft Azure for better experience
VMware Apps Volume is available on Microsoft Azure – simplifies app management and saves storage
Load balancer ensures great end-user experience
VMware End-User Computing Portfolio to help transition to cloud
💸 Pricing:
The price varies with term and number of users. For a one-year contract it works out to $10.29/user/month. For a three-year contract, it's $8.23/user/month.
🧰 Key features:
Quick and easy deployment of desktops and apps
Supports Windows and Linux apps, and desktops
Secure remote access to users everywhere
On-premises or cloud service
Any device access
Microsoft Teams optimization within a virtualized environment
Unified management console that simplifies large-scale deployment
Configuration logging to track administrative changes
Centralized image management
Universal print server
💸 Pricing:
Basic at $2/user/month (one identity source and one app connection); Standard at $4/user/month (two identity source and five app connections); Enterprise at $6/user/month (unlimited identity sources and app connections).
🧰 Key features:
Seamless integration with Microsoft Office 365
Remotely lock or wipe lost devices
Web-based dashboard that allows access from any device
Mobile device reporting
Enhanced security with extra authentication features
Reports and alerts on all aspects of user access
Multi-domain support
Password sync
Log and track corporate device inventory
100% cloud powered
💸 Pricing:
To download supported versions of the RedHat software, you'll need to purchase subscriptions that typically come in one- and three-year terms. It gives you access to support, guidance, updates, security and more.
🧰 Key features:
Enterprise virtualization platform
Supports resource-intensive and critical applications
Built on Linux
Open-source and scalable
Integrates with other Red Hat and external partner solutions
Virtualizes Windows and Linux workloads for improved performance
Intuitive tools for easy setup
Build and deploy as many template VMs as you want
Support for desktop and server profiles
Centralized management