This
article
was originally published on
this site
If you want to be fit and healthy, choosing one of the best fitness apps available will turn your workouts into a habit and diminish your tendency to find excuses when it comes to physical activities. Just like you're washing your teeth before going to bed, you can make time to work on your fitness every day, even for 10 minutes!
We've tested several fitness apps for this post and picked ten that we considered the best based on criteria like workout plans, features, interface, and unique offers. Read further to find out which app can help you fulfill your fitness goals and how.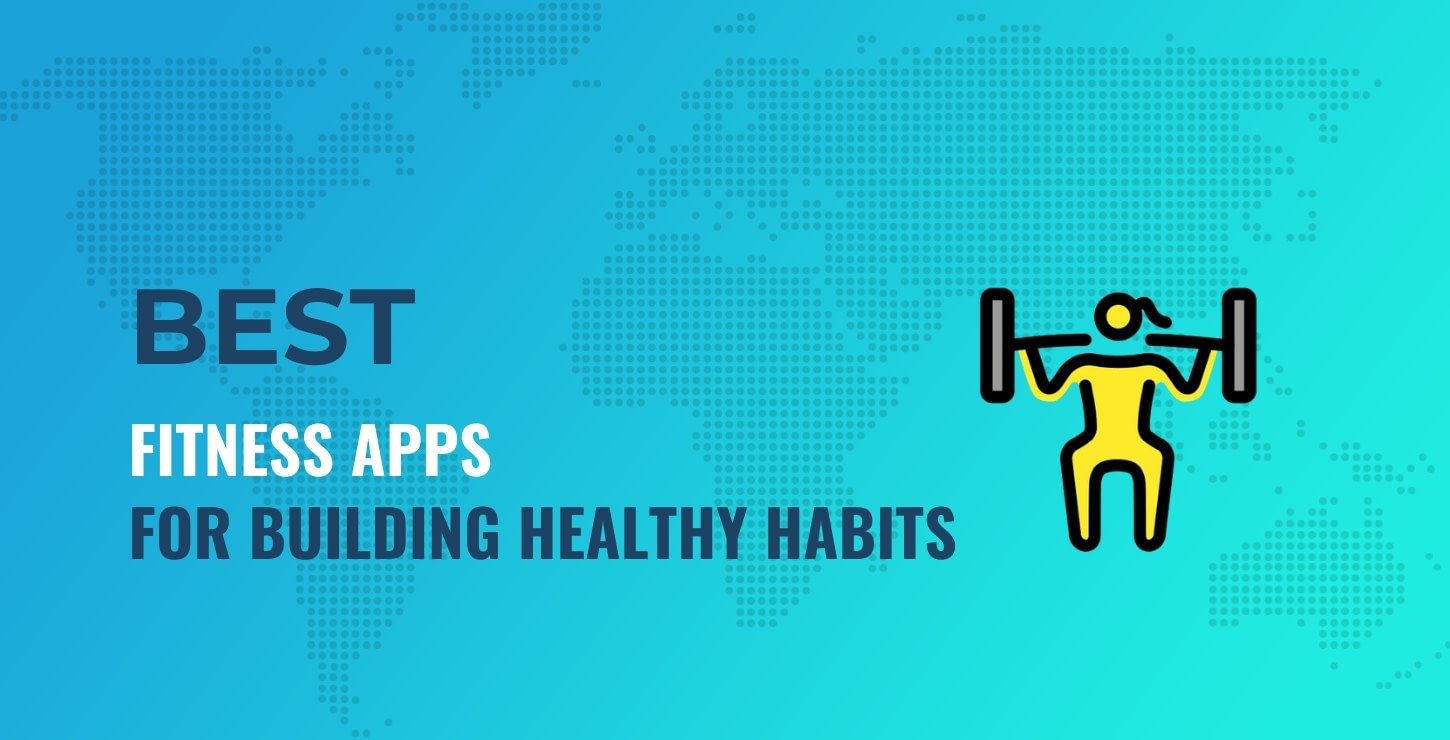 Best fitness apps for workouts and healthy habits in 2021
Now that we've talked about why fitness apps are valuable, let's look at ten of the best options for fitness lovers. Each of these apps can help you build a successful fitness routine, so the best option for you will depend on the features you consider essential to a healthy lifestyle.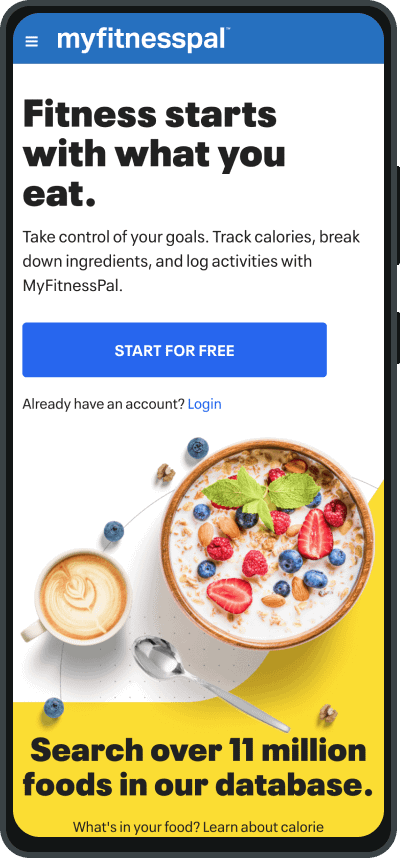 MyFitnessPal is one of the best fitness apps out there and, without a doubt, one of the most popular (with 50M downloads so far).
Unlike the other apps that we're going to feature, this one was made for general tracking of your habits. You can use it to record your daily meals and your exercises for insightful statistics.
This app helps you get an overview of your health, so you know what are the aspects that you can improve in your lifestyle.
It's a good app if you want to see the big picture of your general health that includes nutrition information, calories, steps, and workouts.
Features ⚙️
Recipe recommendations based on your preferences (e.g. high-protein meal, post-workout meal, or calorie-based meal).
Workout routines held by professional coaches (or custom routines that you can create).
Food tracking: calorie intake, ingredients breakdown, barcode scanning.
Exercise logging.
Price 💸
Free
$9.99 per month or $49.99 per year
MapMyFitness is an app that records your training sessions, your routes, and the calories you burn. You can add pictures to each workout if you want to give it a personal touch.
This app brings occasional challenges that you can join together with other users, whose record you can see on the app's dashboard.
You can start your own challenges and invite friends who use MapMyFitness.
Overall, this app has a focus on the community. It's like a social media channel where people post their workouts and routes in the feed.
Features ⚙️
Personalized training plans.
Pre-recorded workout routines.
Activity tracking: walking, running, hiking, climbing stairs, interval training, etc.
Live tracking and heart rate analysis.
Group challenges and social interaction.
Price 💸
Free
$5.99 per month or 29.99 per year
This is a fitness app with a nice and friendly interface that suggests workout plans based on your goals and current fitness. It doesn't have a free version, you need to pay after seven days of trial.
As the name says, the app keeps you engaged for one month, which can be a boost in motivation for less active people.
With 30 Day Fitness, you can also track your meals and make sure you won't exceed the daily number of calories that you need to keep up with your goals.
Features ⚙️
Personalized fitness plans.
Various workout challenges.
Progress tracking: calories, total workout time, number of workouts per week, etc.
Price 💸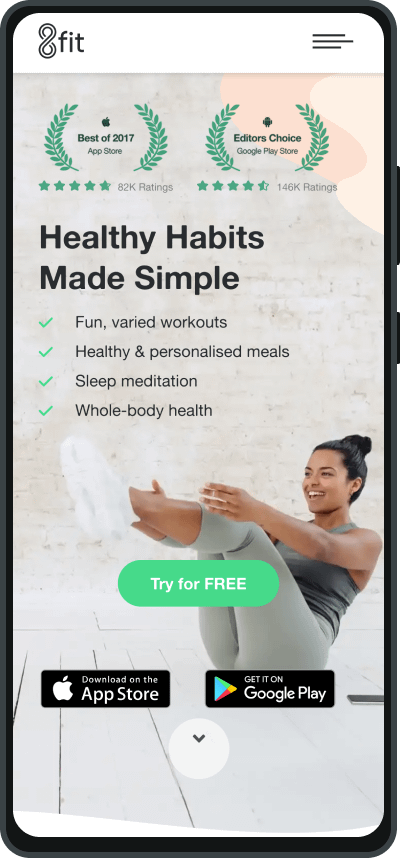 8fit is another app that combines physical activities with nutrition. The app comes with personalized workouts that are well-structured and easy to follow – each workout signals the beginning and the end of a new exercise with sound effects, so you know when to get ready for the next round.
Through the 8fit app, you can choose your favorite coach, see your progress, and check the countdown until you reach the goal.
In the premium version, the app provides a meal generator based on calories and other filters that you can add.
Features ⚙️
Meditation programs.
Personalized meals.
Varied workouts.
Weekly streaming classes.
Price 💸
Free
$20 per month or $59 per year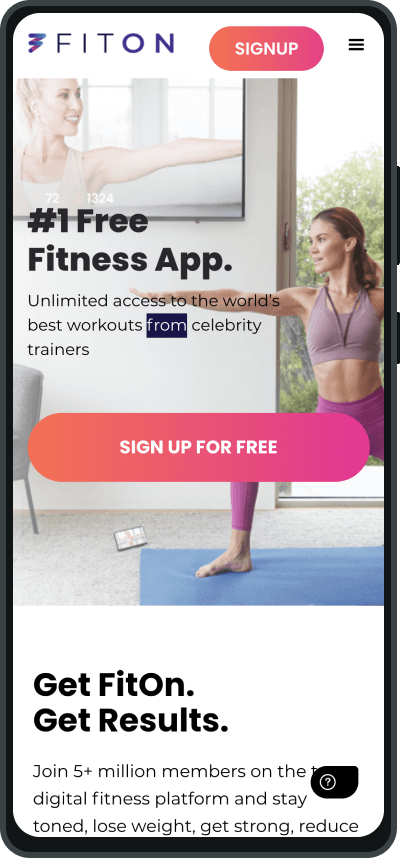 What's cool about FitOn is that you can sync it with your Google calendar and set reminders for your upcoming workouts. This way, you can create a routine and take your regular physical activities more seriously, as part of your schedule.
You can also invite friends to classes, connect fitness devices, and get meal recommendations.
Features ⚙️
Daily Fix programs (e.g. computer break, work stretch, mindfulness).
Regular challenges.
Trending workouts.
Lots of categories to choose from (via filters).
Scheduled streaming sessions.
Price 💸
Free
$23 for 6 months or $38 per year
You may also be interested in: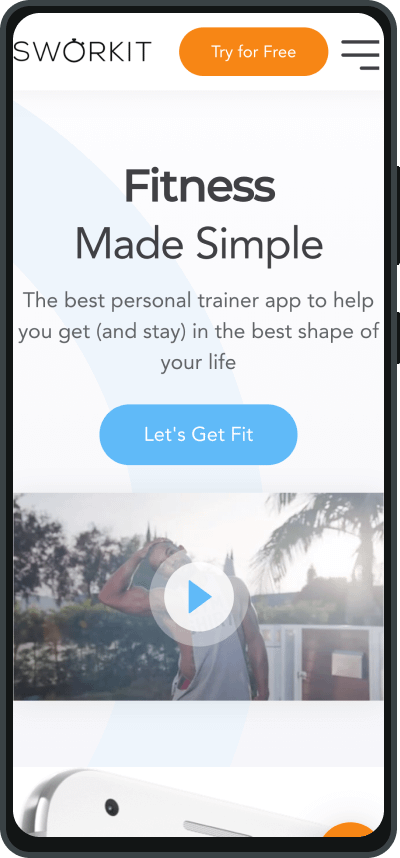 Sworkit is one of the best fitness apps that you will find out there. It focuses entirely on recommending the perfect workout type for you based on your preferences and goals.
Before choosing your workout, you can see its difficulty, the equipment requirements, and even download it to your phone. If you want to maximize the calorie-burning or go with light warm-ups, the app has all of these covered.
You can also customize every workout by adding or removing exercises, so that you make sure you have fun while sweating.
Features ⚙️
Inactivity feature (you can set the app to remind you whenever you haven't worked out for X days).
Custom workouts.
Many filters to choose your type of workout (out of over 400 workouts).
Various reminders that keep you active.
Price 💸
Free
$12 per month or $74 per year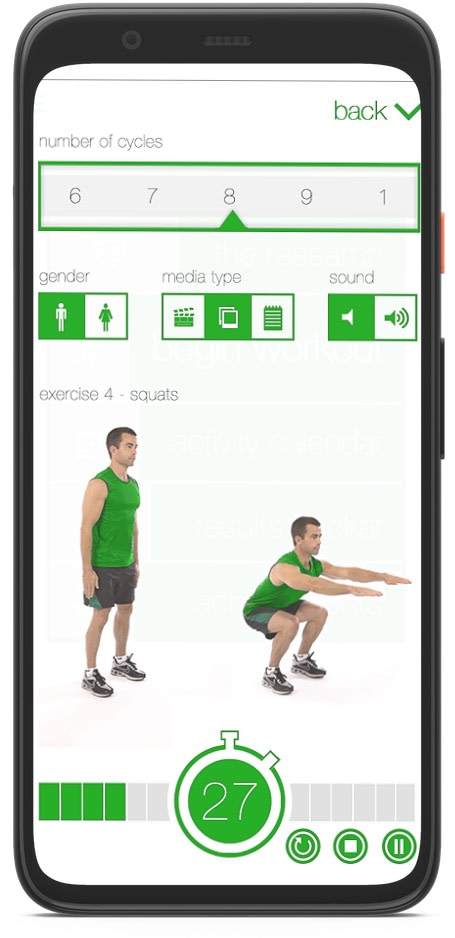 A simple app for short activities. If you want to be consistent at working out, then 7 minutes are perfect to squeeze in every day. The app has nice analytics about your weight (lightest and heaviest weight), daily streaks, pauses, repetitions, total minutes of workout, and the number of times you managed to work out in the last 30 days.
The workouts are quick and easy to follow; they have a great voice-over and nice animated visuals that guide you throughout the session.
If you're looking to break a sweat every day, 7-minute workouts are efficient in the long term, and this app can help you stay fit even when you're busy.
Features ⚙️
Video and audio instruction from professional coaches.
Images and text direction with a step-by-step guidance.
Workout progress and analysis.
Price 💸
Free
$3.50 (one-time payment)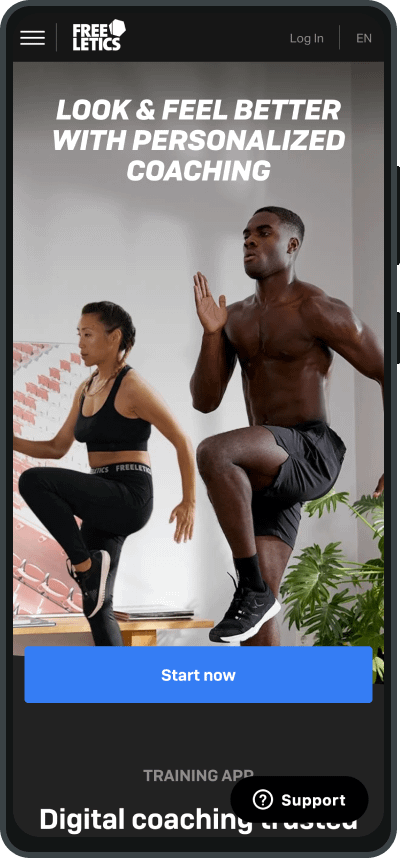 One of the best fitness apps that lets you be selective about your workout conditions: choose workout days/equipment, exclude an exercise, avoid sprints or runs during your plan, select limited training space or quiet training, etc.
Apart from getting a very personalized workout plan, you can combine exercise with eating healthy. You can change the nature of your workout any time if anything comes up in your schedule, so you don't need to start another plan from zero.
If you like to be surprised, you can check the app feed where you can join the workout of the week.
Features ⚙️
Workout program selectivity (you can tailor the training the way you want to make it fun).
Custom meal plans.
Workout of the week that you can choose for diversity.
Price 💸
Free
$59 every 3 months, $102 every 6 months, or $133 per year
If your favorite workout is running, check out this app. It provides audio guidance during your full running session that tells you when to walk, run at a slower pace, or run in sprints. When you complete a session, you unlock the next session that involves running on longer distances.
At the end of the run, you can see your progress on the map, with time, distance, and calories burned. You can also find your friends who use Runkeeper and see their activity in your feed.
The app comes with two categories: running for exercise and training for a race. Based on your goals, you can find a fitting plan that will help you get to the finish line.
Features ⚙️
Custom running groups and challenges.
Tracking of many cardio activities, like hiking, biking, walking, skating, skiing, etc.
Goal-setting tools and virtual race sign-ups.
Running tracker insights with the analysis of your workout.
Real-time tracking.
Price 💸
Free
$9.99 per month or 39.99 per year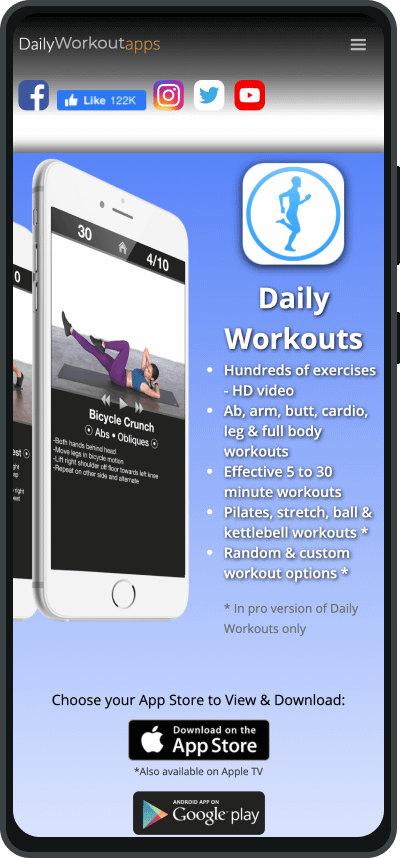 A popular free app that's great because of its simplicity. Its interface and functionality are also very straightforward. You can choose what group of muscles you want to train, and it will give you sessions for that particular goal.
A nice thing about this app is that you can choose the short, medium, or extended version of the workout based on your availability at that moment.
You can also set repetitive reminders for specific days and hours when you want to work out. At the end of the workout, you find out how many calories you burned per workout, per day, and per week.
Features ⚙️
Google Fit integration.
In-app streaming videos (full yoga and fitness classes).
Workout progress and general statistics about your fitness.
Workout randomization and customization options.
Price 💸
Free
$29 (one-time payment)
Conclusion on the best fitness apps
We picked these specific tools for our list of the best fitness apps because we liked their set of features and cool interfaces. The diverse workout sessions, custom training plans, and other health-related incentives (e.g. nutrition tracking and meal generators) might turn out to be the push that you need to make a change in your life.
Most of the apps come with free versions, so money shouldn't be an impediment to improving your lifestyle and taking care of your health more.
Is there any cool app that we've missed? Feel free to share what your idea of the best fitness app is and how it helps you stay fit and healthy.
…
Don't forget to join our crash course on speeding up your WordPress site. With some simple fixes, you can reduce your loading time by even 50-80%:
Layout and presentation by Chris Fitzgerald and Karol K.